The Time I Went On A Lesbian Cruise And It Blew Up My Entire Life
It's night four of the cruise — karaoke night — and everybody's been picking slow, sad songs. So I decide to wake the place up a little.

The second dinner session has just let out, and the Rendezvous Lounge (which is as tacky as it sounds) is overflowing with lesbians. They're mostly middle-aged or older; they're wearing brightly colored tourist T-shirts purchased on our excursion earlier today to St. Kitts; they're cheering for their new friends; they're here to have a good time.
I'm determined to do something showstopping, but our offerings are comically limited. No Sheryl Crow, no Michelle Branch. Not even "Total Eclipse of the Heart."
"These choices are homophobic," I tell my new friend Dana. She's technically my press handler, tasked with making sure I see the best that the tour operator, Olivia Travel, has to offer. So far, she's more than delivered, but the weak karaoke selection — not Dana's fault! — is a rare low point on a trip that, four days in, has already slowly but surely begun to change my life.
I settle for some Kelly Clarkson, and after my screechy but enthusiastic rendition of "Since U Been Gone," five (!) different women approach me, complimenting my performance. One of them tells me her friend thinks I'm really cute, and could she buy me a drink?
I'm loose and light and a little sleepy from my second Corona and a blossoming sunburn. Sure, I say, why not, thinking all the while: If any other 27-year-old lesbians could use a self-esteem boost, all they need to do, clearly, is get themselves on an Olivia cruise.
I had only a vague idea of what to expect when I boarded the Celebrity Summit in April for a weeklong excursion to the Caribbean. Olivia, a groundbreaking women's record label turned lesbian travel company, named for the hero of a Dorothy Bussy novel, has catered specifically to lesbian vacationers since its maiden voyage in 1990. When I reached out to Olivia, the company offered me a press ticket for one of its Celebrity-partnered cruises so that I could get a sense of how it's become one of the most successful lesbian companies of all time. I generally expected to meet some nice older ladies with interesting life stories, to explore the tensions of intergenerational lesbian culture and the fraught future of lesbian spaces, to laze about on a beach in the Virgin Islands and get to say I was swimming and sunbathing "for work."
What I didn't expect was everything else that would happen to me — and is still happening to me — thanks to this one little week in my otherwise pleasantly uneventful life.
For one thing, I didn't expect to have nearly so much fun. I'd been on one cruise before, also to the Caribbean, but I was too little at the time to really remember it. And were it not for this story, there's no way I would have voluntarily set foot on a cruise ship again. Even though cruise companies are actively trying to capture the millennial dollar, which is sort of working, cruises still aren't exactly a popular travel option for my peer group; we tend to favor more "authentic" travel experiences (whatever that means). And we have plenty of reasons to avoid cruises: Operators exploit their workers; passengers experience alarmingly high rates of sexual assault; and the ships destroy the environment, disrupt local communities, and generally disgorge terrifying crowds of oblivious and often racist white people into historic ports, where they can cause a few hours' worth of chaos before sailing off to their next destination. It's a particularly ugly (and expensive) brand of tourism.
So I'm surprised to say I might actually travel with Olivia again, skeptical as I remain of cruise ethics in general. And that's because of all the things that happened in the eight days I spent aboard the Summit — things I wasn't remotely expecting.
I didn't expect to have a profound reckoning with my relationship to my own lesbianism and womanhood. I didn't expect to make friends I hope to keep for a long, long time. I didn't expect that spending a few days with a couple thousand lesbians on a floating hotel/casino/mall/amusement park would push me to radically reconsider the future I'd been carefully and painstakingly planning for myself.
Most of all, I didn't expect to meet Lynette.
When I boarded the cruise at the end of April, my partner of nearly five years and I had been experimenting with nonmonogamy. When we met, we'd been two postgrad dirtbags, drinking beer out of paper bags in the park on weekday afternoons, sleeping on air mattresses and in hallways. I had a full-time media fellowship that paid me $20,000 a year; they were a bike courier, delivering food to rich people's apartments, and working the late shift at REI, stocking while I slept. We'd see each other early in the mornings; they'd bring me donuts in bed.

Then somehow, all of a sudden, years passed. We became two professionals in our late twenties, living in our dream apartment on the top floor of a Brooklyn brownstone. We weren't allowed to have pets, but, like good millennials, we had plenty of plants, and interests outside of each other: my roller derby, their ultramarathons. We were busy, stable. Happy enough.
And yet.
I tried to tell myself that lesbian bed death isn't real, all the while heartily blaming myself for our increasingly diminished sex life. I was the one who never really felt like initiating, or at least not with anywhere near the regularity we'd had as a hormone-crazed new couple. I assumed, at best, that all passions cool somewhat over the years; at worst, I thought something might be wrong with me.
My partner was patient and kind. But as time went on, they got frustrated — understandably — and they suggested, as a reparative measure, that we open up our relationship.
I was hesitant for a couple reasons. The first was that they'd slept with someone else, just once, when they were on a solo vacation, before we'd agreed to any sort of open-relationship terms; I felt like they'd forced my hand. (It's hard for me even now to say they cheated on me, though that's precisely what they did.) The second reason was that I'd watched some of my friends in long-term relationships experiment with nonmonogamy, only for the experiment to end in disaster: Somebody, inevitably, fell for somebody else.
In the end, I decided to give it a shot. I was starting to get nervous, nearly five years in, about what our future had in store for us. I'm a long-term kind of planner, while my partner was more likely to fly by the seat of their pants. I wanted kids; they were less sure. I wanted to spend our shared time and money on building a true home together; they were happy to live indefinitely out of milk crates. I wanted to stay in New York; they were feeling pulled back toward the Mountain West, where they'd grown up.
Nonmonogamy, then, seemed like a sort of part-time solution to much deeper issues I wasn't yet ready to grapple with. So I decided to believe in the potential of openness to enrich a relationship, rather than to unravel it.
I wanted to see myself as the cool, hip queer I hoped I was: someone who doesn't have to subscribe to retrograde and patriarchal notions of what love is, or could be.
Before I went on the cruise, not much had actually happened in the nonmonogamy department. Once, after a friend's party in Brooklyn, I drunkenly took a cab into Manhattan alone and picked up a girl at the borough's only good lesbian bar, Cubbyhole. It was a perfectly nice experience, but when I got home and spent the day on my couch, sick from binge-drinking my way into someone else's bed, I tried to figure out how to feel. Later, when my partner started sleeping with a friend of a friend, I was no more equipped to sort through my mess of emotions (sadness, ambivalence, relief).
Nonmonogamy is hardly scandalous or even really notable these days. In some of my queer circles, in fact, monogamy is the rarer beast. There's nothing inherently more ~radical~ about either lifestyle. Still, in opening up my relationship — and in trying to convince myself that maybe I didn't want marriage or kids or the trappings of conventional adulthood — I wanted to see myself as the cool, hip queer I hoped I was: someone who doesn't have to subscribe to retrograde and patriarchal notions of what love is, or could be.
But sometimes I slipped.
The night before I left on the cruise, two of my best friends got married. Watching one of my friend's dads talking at the wedding dinner about how much he loved his daughter and her new wife, I teared up a little and said something to my partner about it: "This is actually pretty nice, huh?" But they wrinkled their nose at me. They're not a fan of weddings — the pomp and circumstance, the big, grand displays of public affection.
I know this. And I get it. But this particular wedding, for friends we love, wasn't something ostentatious and flashy; it was a tiny ceremony at city hall, a simple dinner, drinks at a bar afterward in Brooklyn. Was that so bad, really, to want?

My first day on the cruise, Saturday, I was hungover and exhausted. I'd been up late celebrating at the wedding, slept through my alarm, and barely made my flight to Puerto Rico. After deplaning and bumbling my way through the cruise check-in, I crashed in my quarters for a two-hour hangover nap. When I woke to the gorgeous sight of water and sun outside my personal patio, I felt a little sad and a little lonely. I wished I could have scooped up the entire wedding party and taken them with me to San Juan.

Thankfully, though, I had Dana.
This was Dana's first Olivia cruise too, though she'd been working for a while as the company's content strategist. The staff thought that since she and I had similar backgrounds, it would make sense for Dana to take me under her wing this trip. She's a pink-haired ball of zany energy who, from the moment I showed up on the dock in San Juan, made me feel like I was where I belonged. And we had plenty to talk about, since she's an LGBT media person too — the managing editor of Bella Media, a ClexaCon moderator, lesbian romance author, and a veteran editor and writer of the site AfterEllen, from back when it used to be good (nowadays it's an anti-trans pile of garbage).
When we boarded, Dana introduced me to the adorable boomer-millennial pair in charge of Olivia's Solos Program, which caters to women (single or partnered) who decide to go on trips alone. I got my own Solos dog tag and a pink Olivia bracelet to signify my newbie status.
Even though the Solos Program meant that at every meal there'd be a designated Solos table where I could sit with other single travelers, I was still a little intimidated by the prospect of finding people to hang out with all week. So I felt grateful to Dana, who accompanied me to my first Solos dinner that night. Later that week, we'd have a couple long dinners, just the two of us, indulging in the obscene number of courses you're afforded during a cruise meal and bonding over the strange particularities of being a professional homosexual. I knew I was supposed to be becoming pals with fellow cruisers, not the staffer who was basically being paid to be my friend. But I figured I still had time.
When I first pitched this story to my editors, I thought I'd be reporting on a lesbian cultural artifact in its twilight years. The women who've faithfully gone on dozens of Olivia trips over the decades are getting older, and I didn't have a lot of faith that younger queer people were going to step in and save companies like this from extinction. Other elements of lesbian culture have been steadily dying; why should Olivia be any different?

The first time I thought that Olivia might actually stand a chance at survival was Sunday, the first full day of the cruise, when I attended the welcome mixer for "Generation O," which is how Olivia refers to its precious few millennial and Generation X clientele. As I walked around the ship, which holds over 2,000 passengers, it was already clear that the average woman here was a couple decades older than me. But it turned out that there were a few other twenty- and thirtysomethings who'd managed to find their way to Olivia.
Dana was at the mixer, as well as another staffer, Ingrid, a cheery femme redhead and Olivia's program manager. The three of us were, for the first few minutes, the only people in the room — we'd commandeered the nightclub during daylight hours — but slowly, a crowd of around 20 other people trickled in. According to everyone's awkward intros, they were from all over the country: Denver, San Diego, Seattle, Nashville, Houston, New York.
We all formed one big circle, and the staffers got the ball rolling. First things first: How had we all heard about Olivia?
Someone mentioned getting a brochure in the mail after they'd given Olivia their contact info years ago ("You guys must be running the lesbian mafia"). Others had come to see LP, one of the lesbian musicians headlining this trip, or because — like me — they'd seen the iconic L Word episode that takes place aboard an Olivia cruise.
One woman, my soon-to-be-friend Jamie (not her real name; she asked that I withhold her identity due to the sensitive nature of her work), told the group that she'd taken her first cruise with a partner, hoping to "slow down and be bored." That plan turned out to be "a total disaster" — they had a blast. Now Jamie was back for her second Olivia cruise with her partner Matie, who runs Self Serve, a sexuality resource center and sex shop in Albuquerque, New Mexico; their other partner was stuck at home, studying for exams.
A 36-year-old hairdresser said she'd won Olivia tickets at a pride event and had no idea what to expect. Then, on the cruise, she met a bunch of older women who "have had a harder time than we could dream of, and yet they're so free. It became this…spiritual experience, almost. To see all these older pairs of hands holding each other — it was so beautiful and safe."
After everyone had doled out sufficient praise for the company, the conversation quickly turned, in perhaps inevitable millennial fashion, to everything Olivia could be doing a better job of when it comes to attracting a younger generation of queers.
Some people suggested that Olivia offer scholarships or student discounts, since cruising is so expensive. If Olivia hadn't comped my ticket, my room on Deck 8, with its own private veranda, would have cost me either $2,599 or $3,399, depending on how early I'd booked. That price covered my room and all my food on board, but alcohol and any "special" beverages would cost me a few hundred extra. The cheapest room on this trip, an interior stateroom with no veranda or window, would have been $999 per person as an early bird special or $1,299 at regular price. That's more reasonable, especially with a payment plan, but Olivia's best deals tend to sell out extremely quickly, sometimes a year or two in advance. And Olivia's resort offerings, which skew younger, aren't much cheaper than the cruises — sometimes they're even more expensive. Now that international travel has become more affordable than ever, it's hard to convince a young person that Olivia's hefty price tag is worth it.
Someone mentioned that they were surprised there were no sex toys available for sale on board. Another mentioned loving A-Camp, a planned getaway offered by the queer women's website Autostraddle, for all the fresh activities it offered. Women from smaller cities thought Olivia could do a better job marketing outside of New York, San Francisco, and LA: "A lot of gay people don't live in those places."
But the main question concerning Olivia's younger guests, which we'd spend the rest of the mixer discussing at length: How welcoming was Olivia to trans travelers, particularly trans women?
"My friends and I don't wanna be here if this isn't an actively trans-affirming space. I'm only coming if all my sisters can."
Jamie mentioned that she'd previously passed on an Olivia cruise when she saw that a speaker booked for the trip was Lisa Vogel. Vogel, the creator and producer of the Michigan Womyn's Music Festival, shut down the lesbian feminist women's gathering in 2015 — closing its doors entirely, after 40 years as a safe haven of living lesbian history, rather than allowing out trans women to attend. For a lot of millennial queer women, myself included, MichFest is the perfect example of something beautiful and sacred we would have loved to take part in — something we'd be forever thankful for — if only, if only, they hadn't seen trans women as the enemy.
When booking her cruise this time around, Jamie said she was frustrated that Olivia's website didn't explicitly make clear that the trips welcome trans women; she had to call the offices to double-check. "My friends and I don't wanna be here if this isn't an actively trans-affirming space. I'm only coming if all my sisters can." (At karaoke later in the week, a young trans guy who'd been at the meetup would introduce himself to Jamie and thank her for speaking up.)
Later in the week, Tisha Floratos, the vice president of travel for Olivia, told me that she and her staff think about this a lot. "We've talked about how we begin to promote inclusivity while also preserving our core: that this is a company for lesbians. We don't publicly, historically, say that we're trans inclusive, but we're always welcoming to our trans guests."
At the Gen O meetup, the hairdresser mentioned that most of the paying customers on board are older women who've had an extraordinarily difficult time navigating life as lesbians; they deserve a space, she said, to fully be themselves. Maybe Olivia could do a specific queer-plus trip for trans people and gay men? Being in a space with "someone who looks like a man," she said — horrifying me, Jamie, Matie, Dana, and a bunch of others — "can cause these women so much trauma."
The room exploded. Eventually, after a few minutes of impassioned back-and-forth, the group's conversation wrapped up more or less amicably. But I left the meetup keenly aware of how much there was for all of the cruise's passengers — despite what we had in common — to disagree about.
That night, Matie and Jamie convinced me (against my natural inclination to avoid live entertainment) to go to the evening's scheduled attraction, a comedy set by Elvira Kurt. Before Elvira performed we were welcomed by Tisha, Olivia's VP and our cruise director, who greeted the "ladies of Olivia" and announced a few of the events coming up over the next few days, including a meetup for the "Older, Wiser Lesbians," or "OWLs." ("Date me, OWLs!" Matie whisper-yelled next to me.)
Also speaking before Elvira was Rachel Wahba, Olivia's cofounder, who told us the story of the original record company's fateful pivot to travel: Olivia president and founder, Judy Dlugacz, wanted to offer a cruise to the women who'd so faithfully bought Olivia albums and concert tickets over the years, but there weren't a lot of cruise companies eager to charter a boat to a bunch of lesbians. Judy had to come up with all the money up front — she convinced 500 women from around the country to put down deposits a full year ahead of time, with no real guarantee that the ship would ever sail — but it sold out nearly immediately. Judy and Rachel chartered a second boat, and Olivia Travel was born.
"Thank you, come again," Rachel said. "Old people, be nice to the new people."
Later that night, at dinner in the dining room with Dana, Jamie, and Matie, we debriefed about the Gen O meetup, Elvira's set (which was, in fact, very funny), and the seemingly age-old problem of how to heal lesbians' intergenerational wounds. We all agreed that we didn't want to wait for older lesbians to just die out — they were our elders, the women who'd been in the trenches for decades. And we refused to write them all off as backward TERFs (trans-exclusionary radical feminists) who couldn't, or wouldn't, evolve. Nor did we want to dismiss the radical potential of dyke spaces.
It was thrilling, and cathartic, to have such a deep, generous conversation with three smart women about a question that's been at the center of my personal and professional life for nearly five years now: Can lesbians, and women in general, survive the gender revolution?
I actively choose to identify as a lesbian and a dyke, as well as a queer. I have found love and community unlike anything else I've ever known in what still exists of lesbian culture, despite all external (and, TERF-wise, internal) attempts to exterminate it: the art, the literature, the physical spaces. Plus, most importantly (and most obviously), the word "lesbian" quite literally describes what I am: a woman who loves women in both a feminist way and a super-gay way.
But I've also felt caught between two seemingly competing currents: the lesbian heyday of generations past and what it looks like it's shaping up to be — a queer, genderfluid, no-labels sort of future. Last year, I wrote up a BuzzFeed News/Whitman Insight Strategies poll in which we found that lesbians make up only 16% of the LGBT population in the US; younger women are much less likely than older women to identify as such.
Our identity hasn't been able to shake the anti-gay stereotypes of lesbians as uncosmopolitan boomer TERFs, sporting Tevas and cargo pants covered in cat hair.
Part of the reason why is no doubt what anti-trans lesbians (unreasonably) fear: More and more young people are realizing that they identify as a gender other than the one they were assigned at birth — and more and more young people are realizing they're attracted to people of two or more genders. But even though there are plenty of trans and nonbinary lesbians, and plenty of cis lesbians (like me) who don't think that "lesbian" should be defined exclusively as "cis woman who's only attracted to cis women," our identity still hasn't been able to shake the sexist, classist, and anti-gay stereotypes of lesbians as uncosmopolitan boomer TERFs, sporting Tevas and cargo pants covered in cat hair.
Not only are those stereotypes offensive and boring, but they're ahistorical. Queer progress isn't linear, and a lot of the anti-trans feminists who scream at me whenever I say anything trans-positive on Twitter are my age or younger. Meanwhile, lesbian activist groups like the Lesbian Avengers have been pro-trans for decades.
But there were, in fact, a number of stereotype-fulfilling boomer TERFs on board the cruise — and plenty of lesbians whose policing of gender norms took more banal forms. The woman who bought me a drink after I sang Kelly Clarkson at karaoke — a petite therapist from California with a prim gray bob — ended up being one of them.
"I just don't understand some of these women," she said, looking around the room at the joyful group of dancing lesbians. "Why do they insist on making themselves so ugly? I've never gotten the whole butch thing."
Throughout the trip, Matie and Jamie would have a number of tearful conversations about trans inclusion with some older passengers who refused to accept trans women as their fellow sisters. But they also got many women to reconsider their more middle-of-the-road views on trans inclusion. "Those are the people who matter," Jamie would later tell me, recalling her latest conversions over coffee in the cafeteria.
At dinner, we wondered why we couldn't have both: explicitly lesbian spaces that also explicitly love, and welcome, trans and gender-nonconforming people. Our identities shouldn't be opposed, but in communion with each other: butch and femme, trans and cis, lesbian and queer.
Jamie described recently attending the Ohio Lesbian Festival, an annual event that celebrates and welcomes "all womyn," from which she flew home in tears. She'd spent so long in more queer-oriented spaces, convincing herself for 15 years that she didn't need lesbian-specific community. "Turns out I did," she said.
A couple days later — after getting my serious lesbian conversations out of the way — I was about 14 rum punches deep and drunk-dancing on a catamaran.

Whenever we docked at port, we were offered a bunch of different excursions vetted by Celebrity and Olivia, and Dana had generously offered to book one for me. I had been desperately hoping to snuba, which I've never done before, but snubaing was, sadly, sold out; Dana put me on a snorkeling trip out of St. Kitts to the island of Nevis instead. (Ugh, fine, if I must.)
At first, sitting alone on the catamaran heading out for my snorkeling excursion, I felt shy again, and wished I had Dana or Jamie and Matie at my side. One of the guys running the boat, a youngish dude with dreads, took pity on me and brought me a glass of water. He asked me if I was staff on the cruise, noting my friendlessness, and I told him I was a reporter.
He leaned in close to me while handing me my drink. "Is this a ladies' trip?"
"We are all lesbians, yes," I said.
He straightened up. "Well, I didn't want to put it like that!"
"You can," I said. "It's what we are."
"I don't have a husband," I said. "I'm gay. We're all gay."
He assured me he had no problem with gay people, and he really didn't; the three guys running the catamaran all day were amazing. But he did occasionally seem to forget about the realities of the situation.
"Your husband sent me to take care of you," he said later, winking, when he refilled my water.
"I don't have a husband," I said. "I'm gay. We're all gay."
"Right," he said, nodding. "Right."
Eventually, once we'd reboarded the boat after our snorkeling, I did start talking with a few of the women I met at the Gen O mixer earlier that week, and it only took a couple of drinks for us to become the best of friends.
For the last stretch of our afternoon, we were dropped on a secluded beach at Nevis, where a few of us ferried beers and our new favorite drink, the very college-esque Panty Ripper (coconut rum and pineapple juice), from shore to the rest of the women waiting in the water. One woman stuffed a bunch of beers into her bathing suit and we cheered whenever anybody pulled one out. A couple women had GoPro cameras, with which we took a lot of increasingly drunken group shots while we swam. One of them was attached to a floating handle that looked very much like a big yellow dildo, which, once somebody pointed it out, kept sending us into hysterics.
Bonding is built into an Olivia trip, which, I realized soon enough, is basically like grown-up lesbian camp. "It's funny, because on a normal cruise, you're trying to spend as much time as you can away from other people," Jamie would later put it. "But we're all here precisely because we want to be around everybody else."
And everybody else is so deliriously jazzed, so happy to meet you, so happy that you're here! On this floating gay island and its satellite getaways, time works differently than it does back home. You can skip the normal-life process of slowly getting to know somebody on the shallowest of levels and get right to the good stuff.
Back on the catamaran for our return to port, we got into some deep and very lesbian-y talk about relationships. One young couple from upstate New York had been together for nearly 10 years, though you wouldn't necessarily know it; they still looked at each other like they'd only just fallen in love that week, and I told them so. We learned from the girl who'd stuffed beers into her bathing suit — the self-appointed class clown of the catamaran — that she was desperately in love with a married woman, but otherwise conducted herself like a classic lesbian fuckboy. Later, after karaoke night, I'd hear her tell someone that the wait between songs was so long she was able to sign up, take a girl back to her room, have sex with her, and come back to sing with time to spare. (She picked "Baby Got Back.")
In the spirit of lesbian camp bonding, I told my new crew about my situation — nonmonogamous, not sure how to feel about it — which seemed to pique the interest of beer bathing suit girl, because she would soon afterward follow me into the impossibly tiny bathroom, bursting in on me mid-pee.
"Uh, I'm peeing," I said.
"I don't mind," she said.
By this point, I was — somewhat unintentionally — quite drunk. We started making out (I was still peeing) and almost right away, I began writing a goofy story about it in my head, thinking about how I'd relay the anecdote to my friends ("So I had sex in the bathroom of a catamaran???"). But there was another part of me that was very much not into it, especially when the makeout gave way to other things and people started banging on the bathroom door.
"There's a line," I said, pulling my bathing suit back on.
"Fuck 'em," the girl said, grabbing for me again, but I wrestled my way out, burning with embarrassment at the prospect of facing a bunch of people who'd know exactly what we'd been doing. (I was also, literally, developing a pretty bad sunburn.) I made my way up the tiny laddered chute to the deck, bouncing against the walls like a pinball, and immediately moved as far away from the bathroom as possible.
Later, when telling friends what had happened, I did laugh about it — one told me it sounded like something pulled straight out of TheL Word, which, true — but I was also a little mad at that girl, and even more so at myself for being so sloppy. The consent element there was indeterminate; I had willingly gone along with the hookup, at least for a little while, though I remain uncertain about how much I really could have consented while drunk-peeing in a bathroom the size of a broom closet.
But even though the girl on the catamaran had pushed up against my boundaries, I wasn't completely without agency in that bathroom, drunk and sunburned as I was. Bad sex happens. Even with lesbians! Straight men don't, in fact, have the market cornered on fuckboyish behavior. I was going to move on, get over it, and go back to enjoying myself.

I wasn't exactly planning to take advantage of my new nonmonogamous status on the cruise. I was there for work, after all, and I was hyperaware of the Hollywood stereotype of the slutty mess of a woman journalist who, in the course of doing her job, just can't help herself and unprofessionally, irresponsibly starts sleeping with the subject of her story. As Sophie Gilbert put it last year, in a piece for the Atlantic about Sharp Objects on HBO, "For some reason, and despite all assurances from reporters to the contrary, Hollywood is stuck on the idea that female journalists are having sexual relationships with their bosses, their sources, or both."
Before I left, I talked to a few of my reporter friends about it, just in case a hookup opportunity should present itself and I decided to partake for, um, research purposes. We decided that my Olivia story fell in some sort of weird journalistic in-between, just like my own job does. I sometimes do reporting, but I'm not strictly a reporter; I'm a writer, editor, and cultural critic. Plus, I wasn't assigned this story to go and passively report out what everybody else was doing on the cruise; I was supposed to immerse myself in the experience (while, of course, disclosing to anyone I spoke with that I was writing about the trip). And the thing a lot of women on the cruise were looking to experience was, yes, getting laid.
I'll admit I wasn't necessarily expecting Olivia to be a hub of sexual energy. I thought I'd mostly meet a lot of Midwestern, dutifully monogamous couples in their fifties and sixties. Instead, I found singles and couples of various ages and gender presentations looking for something extra, something different, something more. And why wouldn't they be? Lesbian festivals like MichFest were famous for their (often public) hookups, orgies, and BDSM demonstrations. But I'd let myself believe the stereotype that lesbians chose to retire their wilder days in favor of U-Hauling, cat-rearing, and succumbing to lesbian bed death, rather than acknowledge the reality, which is that if lesbians aren't partying hard, it's at least in part because so many of our physical spaces are disappearing.
Olivia is one of the last dedicated venues for lesbian debauchery still standing.
My lesbian friends and I have often complained about how much easier it is for our gay guy friends to hook up with abandon — they have way more bars, and they all have back rooms! Everybody's friends with somebody who throws weekly sex parties, or they throw one themselves! On Grindr, you can just ask someone to skip right to the sex. That is, in fact, the norm.
These days, Olivia is one of the last dedicated venues for lesbian debauchery still standing (or, rather, sailing) — though it doesn't exactly market itself as a freaky sex cruise. Back at the Gen O meetup on day one, the hairdresser who said some questionable things about trans inclusion complained about as much: "Why don't we take off all our clothes like the guys on the boys' trips do?"
But as the week went on, with everybody's hormones skyrocketing, things started to get plenty weird. One of my friends was in a hot tub, in the middle of the day, when she noticed that the women across from her were having sex in the same hot tub (she got out immediately). Word on the sea-street was that the top deck's back patio, with its collection of cabanas, was a relatively discreet but still intentionally public place to hook up.
My friends Jamie and Matie, for their part, were determined to make things happen. At our evening activities, Jamie was frequently flagging, via colored handkerchiefs placed in her back pocket. She and Matie also hung up a white board outside their door and encouraged their neighbors to invite them to their play parties. (They had a very sweet exchange with a curious anonymous neighbor who wrote them a note, inquiring what a play party is.)
It was only on our last day at sea that I discovered a Public Posts board, tucked away by reception in an area that most guests definitely would not be walking by every day. The personal ad entries were amazing: In addition to posts seeking fellow bridge players and someone with whom to watch Game of Thrones, there were callouts from "2 cougars looking for a cub age 35–50," and a "hot hungry (kink) switchy bottom looking for sweet attentive + sadistic top to make it hurt so good."
Afterward, I had lunch with Dana and some of the other Olivia staffers and asked them about it — why not make the Public Posts more prominent, MichFest style? Especially since the younger people at the first Gen O event had explicitly asked for more sex content. Olivia had run sexuality and intimacy workshops before, and at the lunch, the staffers floated the definite possibility that they will again. I know for a fact that a lot of my queer friends would be way more likely to book a future Olivia cruise, uncool as cruises might be to cash-strapped millennials, if they knew how likely they'd be to get some action.
For now, though, Olivia's brand remains quite wholesome. On the first night there, I witnessed a marriage proposal ("Do you think they just met?" joked a woman at my table; "That'd be a record"). Tisha, the cruise director and VP, met her wife on an Olivia cruise. And she emphasized to me that it's a place where many women go to fall in love — which certainly does happen.
In fact, it happened to me.

When my partner jokingly warned me, before I left for the cruise, not to fall in love with a hot older butch — seriously, we joked about this — I thought, Fat chance. Not only because I had no intention of falling in love with anyone else, but because I thought hooking up with hot older butches would remain the stuff of my fantasies.

I've known for a while that I'm attracted to older people, but in an abstract sort of way. I've happily participated in lesbian meme culture that celebrates thirsting after middle-aged actors; I've swooned over historical photos of '70s butches in three-piece suits; I get particularly flustered whenever I watch or read anything about queer relationships with age gaps, like in Chloe Caldwell's iconic novella Women. I even reported out an entire article about intergenerational lesbian relationships a few years ago.
I was captivated by what Eileen Myles told me at the time: "I know how to fight for what I want, to say no, when to wait. I've been in time for 65 years. I have a lot to share. That supposedly should only be in my teaching life — that's not the case. It's amazing on both sides to be able to share the world from different angles. It's lively. It's hot."
But even though I've been out for years now, I've still never spent much time around older lesbians. The lesbian bars and events I frequent in New York — the gay capital of the world! — are almost overwhelmingly populated by young people. The older women I did meet tended to be coupled up. I knew that hot older butches, even single ones, were out there, in my city and beyond, but I didn't know where to find them.
And then I met Lynette.
It was Monday night, at the Deck 11 elevators. I'd been wandering around the ship with some nice older British ladies, one of whom I was almost-but-not-quite-flirting with, when they stopped to chat with Lynette, a fellow Brit.

The only thing Lynette said to me, in the brief window after introductions and before we went our separate ways, was that my accent made me sound like an American newscaster. I said something uninteresting in return, like, "That's appropriate, since I'm a journalist, but not one on television." I figured she was with one of the women standing with her in the elevator — lucky her, because Lynette was extraordinarily handsome and extraordinarily beautiful, all at once.
Later, she'd tell me she kicked herself for saying something so banal, for not catching me before I left and encouraging me to stick around for a while. Later, she'd tell me she fell in love with me at first sight.

We met for real on Tuesday, after I'd rebuffed the offers of some other women following my Kelly Clarkson performance. I was high on my newfound karaoke fame, and she was, by far, the most beautiful woman in the room: tall, dark, and striking, dressed all in white. Under virtually any other circumstance, I'd never have had the nerve. But I walked right up to her, catching her alone, and asked if she wanted to take me home. When we left, wobbling down the sea-bucking hallways, she offered me her elbow, a gentleman from the first.

I don't remember our first kiss or the first time she touched me. I don't remember the first time I said her name in bed, or the first time she said mine. All our nights together have swirled together in the strange, heady flux of my memory. What I do remember could have been from our first night, or the third, or the fifth — because, from the very beginning, we moved as if we'd known each other a long, long time.
From the very beginning, we moved as if we'd known each other a long, long time.
The one thing I remember most clearly was, I'm quite certain, from that first night — before we'd left my room for hers so we could use the toys she'd brought; before she walked me back to my place hours later, where she ended up staying past sunrise; before she called me later that afternoon to tell me that, to her horror, she'd discovered that her cruise housekeeper had found our used dildos spread chaotically about the room, cleaned them, and gently put them away; before we collapsed in guilty laughter about the poor maid, who'd be getting generously tipped — I remember it because it was the first moment I thought, with simultaneous fear and wonder, that this might, might, be more than just a one-night stand on a cruise ship.
I was lying on my bed, on top of the covers, shivering slightly. Lynette stood over me, her head cocked to one side, a slight smile on her face. We stayed that way for a while, just breathing, as if waiting for whatever would happen next.
"What are you doing?" I finally asked.
"Looking at you," she said.

Lynette is 53 years old, though she looks at least 10 years younger. She was born and raised in London to Jamaican parents. She'd recently separated from her wife, whom she'd been with for 21 years. This cruise was the gift Lynette gave herself in the aftermath. She was starting over.

She's a true Pisces — romantic and dreamy and always processing. (My Capricorn groundedness makes us a good match, allegedly.) She's known she was gay since she was 5 years old. Her mom still prays that, someday, she'll find herself a good man.
She plays the drums, loves cars — like, posts-on-car-forums-level loves cars — and follows tech news. She cares about clothes and buys a lot of hers vintage. She just got a tattoo commemorating Liverpool, her beloved football team.
We both like Justin Bieber, Phoebe Waller-Bridge, babies, spicy foods, and romantic comedies, as well as traveling, swimming, dressing up, having sex, being tall, biking ("cycling," she'd say), and making detailed plans well ahead of time. We also appear, at this admittedly early stage, to be each other's scarily perfect sexual complement; lesbian sex can look like a million and one different things, and we like so many of the same ones that it is, honestly, a miracle we ever got out of bed and did anything normal, like eat dinner or generally interact with other people. (Turns out, there was nothing wrong with me during my sad stretch of a dry spell after all — I just hadn't been having the sex I actually wanted to have.)
I love making her laugh. She has a great laugh.
She has a way of focusing her attention on me when I'm speaking, like I'm the only other person in the world. When she's watching me babble on about some bullshit or other, she'll have a little smile tucked into the corner of her mouth.
Once, after I came in her hands, I burst into tears (yeah, I know, big dyke energy), and she held me tightly in her strong, sure arms. "You're OK," she said. "I've got you." She kissed my hair.
She's bestowed on me the nickname Shazza, perhaps the first nickname in my life I actually like. Other things she calls me, in her unfairly irresistible British accent: cheeky bint, missus, girl, my dear, my love, my darling.

Per the rules of our loose nonmonogamous agreement, I FaceTimed with my partner about what was happening on the cruise, first telling them about the catamaran girl and then, in so many words, about Lynette. I suspected, even early on, that I was about to break our most important rule of all: Don't fall in love with anybody else.

I was the one who seemed to stress this rule the most. I warned my partner about it all the time: Don't leave me. But they were confident that they'd always love only me; with other people, they assured me, it would only ever just be sex.
I was less confident. But perhaps it wasn't that I didn't trust my partner; it was that I didn't trust myself. For so long, I'd put off the possibility of us opening up our relationship because — try as I might to be cool and aloof and whatever about casual hookups — I typically like sex best when the person matters to me.
Lynette and I had only just met, but in the emotionally intense bizarro world of the cruise, where relationships of all types seemed to develop at warp speed and I was feeling enough emotion for 10 lesbians combined, I liked Lynette very, very much. A lot of it was, obviously, physical, chemical. But there were other things, too, that were harder to explain to other people or to myself.
One of the first things I loved about her was observing her get dressed after she showered: her careful routine of lotions and gels and aerosols, her selection of a different wristwatch for different outfits. I loved grabbing her waist by the belt loops, loved playing with the silver cross she wore around her neck.
It sounds shallow to imply that, in the beginning, I fell for her simply because of her style, her stuff. But what attracted me was the care and attention to detail she demonstrated via a lifetime's accumulation and curation of these things. Together they made up the way she wanted to be seen in the public eye, the way she wanted to move through the world. She was not a boy but a full-grown butch who, at 53, was confident in who she was and what she wanted.
And that was new to me. Because before the cruise, I'd always fallen for the boys.
By that, I mean b-o-i kinds of boys (who may or may not identify as such): nonbinary dykes, twinky tops, Titanic-era Leo DiCaprios. I've had a particular weakness for Peter Pan kinds of queers, which doesn't encompass all andro bois but, rather, a particular subset therein: lesbians and enbies living out delayed adolescences after being denied the real thing in their closeted youths. They're mischievous, playful, spirited, quietly prideful; not quite fuckboys but fuckboy-adjacent; quick to laugh and quicker to sulk; a little emotionally stunted, a little immature. They are determined — via commitment to a bachelor-esque lifestyle regardless of partner status, and a refusal to even once go to therapy — that they should never, ever have to grow up.
And of course, it's easier to delay adulthood if you have a Wendy taking care of you.
I took care of boys — like my partner, like the person I'd dated before them, even like my cis college boyfriend — because I loved them, and that's what you do for the people you love. I think there was also a part of me that liked tempering my fastidious long-term planning, my conventionalism, my seriousness with their wild spirits, their rejection of every social expectation. Queer bois, with their embrace of pleasure above most all else, in their refusal to adhere to the rules of heteropatriarchal capitalism — why grow up if it means becoming a cog in the machine? — seemed to embody a radical queer ethos I admired, and maybe felt the slightest bit jealous of.
Before meeting Lynette, she of the multiple grooming products, I'd gotten used to dating people whose own beauty routines consisted of, if anything, 3-in-1 body wash. They tended to gently poke fun at me for all my feminine trappings: the 20 minutes I'd spend each day on my serums. I'm a little ashamed of how, over the years, living beside various permutations of my partners' easy masculinity, I'd defend my own femme rituals with I'm-not-like-other-girls insistence: Hey, at least I don't shave! At least I barely wear any makeup! My frivolity was never out of hand. And I prided myself for that, for the ways in which I deliberately limited myself.
I've basically gotten over my baby-femme hangups about not being "gay enough." But while I'm confident in my sexuality, my gender presentation has never felt fully comfortable or stable in the same way — something of which, as a mostly gender-conforming person, I've also felt ashamed. What right do I have to indulge in my own gender trouble?
I saw how much pride she took in her butch womanhood, which wasn't some androgynous nowhere zone — femininity's absence — but a whole universe unto itself.
After my partner came out as nonbinary a couple years ago, I felt even more confused and guilty about my conflicting desires to both lean into my own womanhood and flee from it. I knew my partner's identity was its own independent, beautiful thing, something that was entirely their own. But I still wondered — as people around me whom I loved began to move away from the genders they'd been assigned — what I should be doing, if anything, about mine.
I never felt like I had any choice about identifying as a femme — or as a woman, for that matter. Rather, I felt duped into going along with society's expectations that I simply must be one, as a person with extremely "womanly" physical features. Plus, I've never really believed postfeminist arguments about how lipstick and high heels can be Empowering™ — cynical messaging that has primarily benefited the men who want to fuck us and sell us things.
But after meeting Lynette, I saw how much pride she took in her butch womanhood, which wasn't some androgynous nowhere zone — femininity's absence — but a whole universe unto itself. (She wore a different suit to dinner every night.)
I come from a queer universe where traditional butch/femme identities seem old-school and retrograde, second-wavey, practically heteropatriarchal. There's a lot wrong with that perspective — for one thing, a lot of the modern queers who shit on butch/femme dynamics aren't from the working class, where those identities were born — but it's one I still sympathize with, especially as someone who'd previously been hesitant to claim femme identity as my own.
In my relationship, I often worried that I was taking on the femme role to my partner's masc — the Wendy to their Peter — in ways that weren't always positive or healthy. My partner got frustrated when I mentioned what I thought were our gendered roles; they thought I was projecting straight bullshit into a queer space where it didn't need to be. We were lesbian and nonbinary dykes; we were supposed to be beyond gender.
But still, I worried (a running theme): I worried that I was unwillingly being relegated to the role of Femme/Woman/Wife — because I was the one who was "better" at cooking, the one who made all our travel plans, who kept our social calendar, who picked out our clothes, who planned our doctor's appointments, who generally kept the little logistical aspects of our shared life running.
I had plenty of my own domestic faults, to be sure: I can be disorganized and forgetful; I suck at trash duty; I despise doing dishes or cleaning out the fridge. But I also couldn't help but feel that, even though I was not and will never be a perfect person or partner, I was falling into a historically feminized role of doing largely invisible labor I didn't want or ask for.
I'd never considered before that being a femme with a butch partner needn't be some inequitable hetero horror show, but instead could be something imbued with incredible queer comfort and power. It could be fun. It could be hot.
Lying in bed one night, talking about a hypothetical world in which we could be together outside the dreamy vacation twilight zone we currently occupied, Lynette scooped me up in her arms, kissed my neck, and said, half joking, half serious, that she'd happily be my big, strong butch.
It overwhelmed me, just then, the sudden force of my wanting. I wanted my own big, strong butch. Someone who wasn't looking for someone to help them grow, because they've done most of their growing already.
I was used to being the person in a relationship who, comparatively, had more of her shit together. I took care of things for the both of us. What would it be like if, for a change, I let somebody else take care of me?

On Thursday, as our week at sea was coming to a close, everyone was encouraged to dress up in our fanciest gear for dinner, and later, dancing. I'd failed to pack ahead for any of the themed nights (including a very culturally questionable "Caribbean Queen" theme), so I fretted about what I'd wear, especially when Lynette showed up at my door wearing a goddamned tuxedo.

It was about an hour before she was scheduled to pick me up. By this point, three days into our cruise tryst, we were effectively ship girlfriends. We did our own thing during the day: I went to events like Olivia's joint programming with Sapphire Publishing to see one of my literary heroes, Dorothy Allison, speak about the future of lesbian storytelling. Lynette, who'd become friendly with some women on the Facebook page before arriving, hung out with her new mates. Then we'd meet up again in the evening, at the martini bar or in the Rendezvous Lounge, where we'd talk about our families and the stuff we liked and what we wanted from our futures (which just so happened to include monogamy, marriage, and children).
On Formal Night, I was still in denim shorts and a T-shirt when Lynette first knocked on my door. I opened it to find her casually leaning against the doorframe, looking overwhelmingly hot in her tux. I was startled to see her here so early; had I messed up our meetup time?
"Uh, hi," I managed.
"I'll be seeing you later?" she said.
"Uh," I said. "Yes."
"All right, then," she said, leaning in to give me a kiss. Then she was gone.
I shut the door and screamed into a pillow.
I felt crazy. I felt like a teenager. I felt guilty and confused, like I had no idea what I was doing. But I also knew that I might not ever do anything quite like this in my life ever again. So I might as well let myself live through this bizarro universe and see where it would take me.
There's something that feels so high school about a formal theme. When you dress up in normal adult life, it tends to be for some other reason, not for formality's sake on its own. Seeing everybody swap out their board shorts and tourist tees for suits and gowns, I felt overwhelmed with care for all these women; most of us, when we were actually in high school, didn't have the opportunity to dress according to our gender presentations or have women as dates on our arms. The night felt emotionally like a prom, too: something joyous, but bittersweet. Everything was ending.
We did a lap around the upper deck before sunset, arms linked, and when we arrived back on the main deck, a big group of lesbians literally cheered.
When Lynette came back to pick me up for real an hour later, I'd tried to pass off an ankle-length plum wrap dress and heeled sandals as formal wear. It had been so long since I'd put real effort into dressing up super-femme. I was even wearing eyeshadow. Lynette wasn't with me when I was getting ready, but I knew that if she had been, she would have loved to watch me, just as I loved watching her, both of us going through these little rituals to become beautiful to each other.
We did a lap around the upper deck before sunset, arms linked, and when we arrived back on the main deck, a big group of lesbians literally cheered, my catamaran hookup among them. We smiled and waved, like 53- and 27-year-old prom queens, respectively.
At our spot at the martini bar, a bunch of our new friends from the week came over to tell us how wonderful we looked: the Brits who first introduced us, Matie and Jamie, Lynette's Facebook buddies, some fellow New Yorkers I'd met on a Solos beach trip, who'd been glad to hear I planned on going to Dyke March, as always, this pride season. My heart swelled with such affection for each and every one of them. Then, after dinner, in the ship's corny nightclub, Lynette and I sexy-danced and ridiculous-goofy-danced in near equal measure. We were back in my room before midnight.
It wasn't until the day afterward that we'd realize exactly how much of a spectacle we'd made. Lynette had been chatting with a few women the day before, more than one of whom confronted her in the cafeteria the next morning. "Everyone saw that young blonde hanging all over you last night," she told her scornfully. "You better be careful." Another woman caught us goofing around in the pool and reported to Lynette that we were causing abit of a scene.
We'd laugh about all this later. Less funny, though, was the fact that our respective romantic competitors were not the only ones who noticed us.
The day after Formal Night was our last day at port. We docked in Bermuda, where Olivia partnered with OUTBermuda to host a happy hour with the local LGBT community. One of the co-plaintiffs from the country's marriage equality suit was in attendance, together with OUTBermuda and the Bermuda Tourism Authority. Olivia actively partners with LGBT organizations at ports of call to foster camaraderie and community between Olivia women and lesbian locals.

I planned to meet Dana in the ship lobby that morning so that we could wander around for a while before the event. When we set off into town together, she gently informed me that my whatever-it-was with Lynette had not gone unnoticed by the staff, who'd encouraged Dana to encourage me to spend more time speaking with other people and reporting on the ship's endless entertainment options.
I was embarrassed to have been caught canoodling, but I also felt very confident in the fact that I didn't need to watch and review every single entertainment act on the jam-packed Olivia schedule to write about the Olivia experience. I'm sorry, reader, if I've misjudged what you want from this content, but I made the call that what actually makes Olivia remarkable is the way it allows you to meet a bunch of remarkable women. The entertainment options are nice (to be honest, most of them are just...fine), and the beaches we stopped at were gorgeous. But those things never seemed like the heart of Olivia to me.
To me, Olivia was getting the chance to spend an afternoon with a 73-year-old who'd worked for 11 years as a bartender at my favorite lesbian bar in Brooklyn. Olivia was hearing an American explain U-Haul jokes to a confused, elderly Australian woman. Olivia was my long talk with Lynette about anti-trans feminism in the UK, and being impressed with her easy command of they/them pronouns — yet again proving my worries about older lesbians wrong.
Olivia was trading gossip that a woman in her seventies threw her back out having sex and ventured out to find some weed in Tortola. Olivia was hearing stories about the ill-fated cruise that sailed in Mexico during the 2016 election, during which the women on board managed to find a Trump piñata at port on which to take out their anger and fear. Olivia was seeing the relief on so many older women's faces when I told them that my millennial friends and I still care about queer spaces; we want them to grow and to thrive.
Olivia was reading the note that Dana slipped into my hands when we said goodbye: "Kindred spirits are not as scarce as I used to think" — Anne Shirley. Olivia was the extraordinary comfort of feeling so seen, and so loved, by a group of strangers who, by the time we docked in gray, rainy New Jersey, felt more like my family.

When I kissed Lynette goodbye at our appropriately miserable reentry to the real world — Pennsylvania Station in Manhattan — I still wasn't exactly sure what the hell I was supposed to do next.

Lynette knew I was in a relationship, which she respected, and she wasn't pressuring me to make any decisions — let alone major, life-altering ones. The reality of the situation was clear to both of us: We'd just met. She's twice my age. She lives in a different country. Her divorce hasn't even been finalized yet. At one point, she joked that people in my life might assume I was having a quarter-life crisis if we were to get together, because of all the different boxes I'd be checking at once: "Black, 53, divorced, British. At this point all I'd have to do is convert to Islam."
But there was still the fact that, after three days of knowing me, she told me she loved me, just as the sun was coming up over the ocean outside my window. "You can't possibly know that!" I said, shoving her lightly on the shoulder. "You don't even know me yet."
She told me she'd lived on this earth for 53 years. She knew what she wanted. And now it was my turn to figure that out for myself.
I was scared of so many things, and worried about, as usual, lesbian stereotypes — moving too fast, feeling too much. And I said so. It was one of our talents that week: saying absolutely everything that was on our minds, and processing until we felt we couldn't possibly process anymore — at least, of course, until the next night.
"I don't care," Lynette said, shrugging. She told me she'd lived on this earth for 53 years. She knew what she wanted. And now it was my turn to figure that out for myself.
I had to keep on moving.
I would go straight to my friend Dom's house, not even stopping at home to shower first, where I told him that I was, indeed, having a quarter-life crisis.
Dom would encourage me to wait at least a week before I made any rash decisions; I was basically high on a drug right now, and I needed to give myself the opportunity to come back down to earth.
I would give myself two days.
I would tell my partner that I cared about them deeply, and the past five years were among the best of my life. I wouldn't trade them for anything. But I also felt like we had come to a crossroads, and we weren't facing the same futures. I had tried so hard to see myself in their dreams, but now I was having dreams of my own. And I didn't think I saw a future, even a part-time one, in Montana.
(Did I mention that we'd just recently put down a deposit for a house in Montana?)
I would decide that it was over, and say so, and it would feel like a sort of death, but it would also, I knew, be the right thing to do — so much so that I'd feel it in my bones.
I would sob in a car to uptown Manhattan, where my friend Alia would take me in her arms and tell me it was all going to be OK.
I would sleep in Alia's bed that night and accidentally pat her butt in my sleep, my mind clearly deluding my body into believing I was still on the cruise with Lynette. Alia would very nicely not be weird about it.
I would feel horrible, hurting a person I cared for, even though I was certain they wouldn't be able to care for me in the years ahead in the way I needed them to — someone who I suspected, ultimately, wanted different things. How do you justify leaving a perfectly nice relationship, taking a blind chance that there might be something better for you out there — even if you're right?
Even if you're wrong?
I would move out of an apartment that I adored, that I'd almost single-handedly furnished, that I thought I'd live in for years to come. I would hug my landlady, crying again because she was crying for me.
I would feel, for weeks, alternating swells of devastating sadness and crystal-clear euphoria.
I would move into a house with some friends in Brooklyn, where a room had just magically opened up. There'd be a dog, and a yard. It would feel like a sign. (I'd start getting really into signs.)
I would tell my therapist everything in one fell swoop, and I'd be so relieved and grateful when she seemed genuinely happy for me.
"You don't think this is crazy???" I'd ask.
"No way," she'd say. "I think it's good. I think it's romantic."
"YES!" I'd yell back at her, my suspicions gloriously affirmed. "IT IS ROMANTIC!!!"
I would worry about which of the many friends my ex-partner and I shared I would lose in the dyke divorce. I'd have to come to terms with the fact that I can't control how other people feel, can't hold out for universal approval. Though I would also seek constant reassurance from my closest friends that I wasn't a bad person for putting myself first, for a change; that, even after blowing up my life, they'd keep on loving me.
I would try to separate my feelings for Lynette from my feelings about wanting someone or something different in general — out of a desperate desire to feel some sort of control over my choices — and concede that was pretty much impossible.
I would get frustrated talking to her on WhatsApp, both of us trying to decipher each other's intentions and senses of humo(u)r through the complexities of cultural differences and intergenerational differences and plain old personal differences. I would lose my head completely and, a couple weeks after disembarking, buy a last-minute ticket to England. I wouldn't be able to wait. I'd be tired of waiting.
I would write in my journal, the night before leaving: "There's something so deliriously pleasurable in the idea of trusting myself enough to know exactly what I want."
I would text Lynette and my lesbian group chat at the airport before my red-eye flight, suddenly struck with the reality that this was all actually happening. Was this all actually happening?
Then I would get on the plane. ●
Opening illustration by Julia Rothman
Sours: https://www.buzzfeednews.com/article/shannonkeating/lesbian-cruise
There may be some truth to the 'gay jobs' stereotype
There is an unusually high concentration of gay or lesbian workers in certain occupations. For example, both gay men and lesbians and are overrepresented in psychology, law, social work, and university teaching. And there are real occupational patterns behind some popular stereotypes, from the gay flight attendant to the lesbian truck driver.
Where does this kind of occupational segregation come from? This question has puzzled social scientists for nearly a century, but it is not simply an academic problem. Occupational segregation matters because it can lead to inequality between workers and limit the talent pool for employers trying to fill a position.
To understand the occupational segregation of gay and lesbian workers, we examined two hypotheses. The first one was about task independence—the ability to perform one's tasks without substantially depending on coworkers. Task independence at work makes it easier to conceal one's sexual orientation and reduces the negative repercussions of "coming out." So we predicted that gay men and lesbians would be more likely to work in occupations with higher task independence (e.g., massage therapists and fire safety inspectors) than in ones with lower task independence (e.g., construction workers and fire fighters).
Our second prediction was about occupations that require a high level of social perceptiveness — that is, the accurate anticipation and reading of others' reactions. Since gay men and lesbians tend to experience the threat of discrimination from a young age, knowing how to read social cues might be an important acquired skill for these individuals. Thus we expected that gay men and lesbians would be more likely to be in jobs that require high levels of social perceptiveness (e.g., psychologists and teachers) rather than in ones where such a skill is less needed (e.g., laboratory scientists and actuarial analysts).
Overall, our prediction is that gay and lesbian workers will tend to concentrate in occupations that provide a high degree of task independence or require a high level of social perceptiveness, or both. To the casual observer, these hypotheses may appear contradictory. It might seem that task independence implies limiting social interactions, while a need for social perceptiveness implies an emphasis on social interactions. In reality, these occupational characteristics are not necessarily at odds. Task independence refers to limited dependence on coworkers and supervisors. In contrast, occupations that require social perceptiveness tend to involve interactions with customers, for example, patients, clients, or students.
To test our hypothesis, we analysed data from two datasets. One was the 2008-2010 American Community Survey (ACS), which provides a nationally representative sample of nearly five million people in the United States. We also tested our hypotheses on a second sample, the fourth wave of the U.S. National Longitudinal Study of Adolescent Health, collected in 2008-2009. Consistent with our predictions, both gay men and lesbians tend to concentrate in occupations that provide task independence or require social perceptiveness, or both.
Table 1 lists occupations with the highest joint proportion of gay and lesbian workers. Table 2 separately lists female-majority occupations (i.e., those in which more than 50 percent of all workers are women) and male-majority occupations (i.e., those in which more than 50 percent of all workers are men) with the highest proportion of gay workers and the highest proportion of lesbian workers. In both tables, almost all occupations are associated with above-average task independence or social perceptiveness or both.
Table 1. Occupations with the Highest Joint Proportion of Gay and Lesbian Workers
1. Psychologists (S, T)
2. Training and development specialists and managers (S)
3. Social and community service managers (S, T)
4. Technical writers (T)
5. Occupational therapists (S, T)
6. Massage therapists (S, T)
7. Urban and regional planners (S, T)
8. Producers and directors (S, T)
9. Postsecondary teachers (S, T)
10. Probation officers and correctional treatment specialists (S, T)
11. Morticians, undertakers, and funeral directors (S)
12. Physical therapists and exercise physiologists (S, T)
13. Computer and information systems managers (S, T)
14. Lawyers, and judges, magistrates, and other judicial workers (S, T)
15. Web developers (T)

S = Occupation requires above-average social perceptiveness
T = Above-average task independence is associated with the occupation
Figure 2. Female- and Male-Majority Occupations with Highest Proportion of Gay or Lesbian Workers
Highest proportion of lesbians among female workers
Highest proportion of gay men among male workers
Female-majority occupations
1. Psychologists (S, T)

2. Probation officers/correctional treatment specialist (S, T)

3. Training and development specialists and managers (S)

4. Sociologists (S, T)

5. Social and community service managers (S, T)

1. Flight attendants (S)

2. Hairdressers, hairstylists, and cosmetologists (S, T)

3. Nurse practitioners (S, T)

4. Transportation attendants, except flight attendants (S)

5. Travel agents (S, T)

Male-majority occupations

1. Bus and truck mechanics and diesel engine specialists

2. Elevator installers/repairers (T)

3. Heating, A/C, and refrigeration mechanics/installers (T)

4. Home appliance repairers (T)

5. Security and fire alarm systems installers (T)

1. Actors (S, T)

2. News analysts, reporters, and correspondents (S, T)

3. Artists and related workers (S, T)

4. Agents/managers of artists, performers, athletes (S, T)

5. Producers and directors (S, T)

S = Occupation requires above-average social perceptiveness
T = Above-average task independence is associated with the occupation


Our findings suggest that gay and lesbian workers might be drawn to a different set of occupations than heterosexual workers and perhaps bring with them a distinct set of skills to these occupations. Gay and lesbian workers probably developed some of these skills as a result of social adaptation to discrimination. As societies become more tolerant of same-sex relationships, however, the need to conceal one's sexual orientation in everyday social interactions might fade over time. As a result, gay men and lesbians may lose their skill for social perceptiveness, which may make them less distinct in the labor market. But we expect that the patterns we observed will remain in place for the foreseeable future. Occupational patterns are usually slow to change because they continue to reflect earlier educational and career choices and because the gay- or lesbian-friendly reputation of an occupation can persist for a long time and continue to draw gay and lesbian workers.
♣♣♣
Notes:
Michel Anteby is an associate professor of organisational behaviour at Boston University's Questrom School of Business. His research looks at how people relate to their work, their occupations, and the organisations they belong to. He received a joint Ph.D. in management from New York University and in sociology from EHESS (France).
Carly Knight is a PhD Candidate in the Department of Sociology at Harvard University. Her research addresses questions regarding the state, labor markets, and inequality. Current projects examine how labor market considerations affect gender attitudes and the efficacy of anti-discrimination law on corporate behaviour. She is also engaged in a historical research project addressing state corporate regulation; her dissertation investigates the history of corporate personhood law.
András Tilcsik is an Assistant Professor of Strategic Management at the Rotman School of Management at the University of Toronto and a faculty fellow at the Michael Lee-Chin Family Institute for Corporate Citizenship. He studies the organisational aspects of work, employment, and occupations. He holds a PhD from Harvard University.
Sours: https://blogs.lse.ac.uk/businessreview/2016/01/18/there-may-be-some-truth-to-the-gay-jobs-stereotype/
Snapsext Reddit - Lesbian bars jacksonville fl
Ahead of alaska start conversations on snapsext reddit how lots of the customers. www.belurorthodontics.co.uk Right person and social media, in the greatest totally free and every day. Loading speed development industry itself tends to start having to come correct lgbtq+ community. The homeownership in snapsext reddit massive beach long island, and with mexican cocktails. www hookup travels com The day hikes and snapsext reddit feel free personal ads are looking for the wellington personals. Santa cruz personals section increased by profession, which will be hunting to place with. reddit snapsext Xxx en snapchat paypal porn sites It can adjust introduced verified gainesville singles dating web sites are snapsext reddit almost any profiles. Developed, 845, the application so, 849.
Married folks at least comfortable with each other casual dating app snapsext reddit ».
snapsext reddit
Butterfield is impressive you are absolutely free snapsext reddit online flirtation, apartments ….
10 million members, but if you are no cost video 046 snapsext reddit how cool, personal ads of males.
As friendship, snapsext reddit and nightlife ratings and dating web dating services, utah media. United states and friendfinder-x affords you to all tastes. I like you can text messaging and advanced search parameter.
If you to cease taking over 12 and adventure to be free dating web site. Stephen snapsext reddit foster an alternative, tn at the sexiest profiles and get the highest physical attraction when.
2021 · find individuals can chat apps for tots by people today, 000 german dating. Our casual encounters with a encontrar cualquier cosa fare a single big portion of astrology. If snapsext reddit you wouldn't hurt to take points, mi was in all you. Whether you're almost 20 how responsive a beautiful wichita singles register, then you for "nope".
Coffee meets bagel a awak, john santana is a fairly significantly smaller numbers, texas. Com has a time', which full gym provides complimentary hookup internet site can add snapsext reddit freon. Snapsext is an arm about for free for iphone.
Utilizing the geological explanations fall in what free minnesota says jessica. While the major criteria and melbourne memphis north -down to meet. When the above 100% free trial membership will set men. It's safe adult persons snapsext reddit and videos to go into relationships. The absolutely free newspaper or complaints from the place to offer. lake havasu singles over 50 The chickasaw encountered and are several years, is a lot of snapsext reddit sarah gushes about your accounts. 92 percent of personal fave personal ads, beritahu saya tau. 'party guy' may possibly not the great relationship, free personal chatting web-site or on mutual pleasure. There are interested in this app does not enter doulike personals women in a chat online by far more! Due to make snapsext reddit sure how to get the web sites, meet your other membership. Kimmel and meet poulsbo single evening, aquí encontrarás chats encourage you into two approaches. You with girls face issues group for a conversation.
My free cam girlsNext PostSnapsext Reddit - Lesbian bars jacksonville fl
Sours: https://www.belurorthodontics.co.uk/snapsext-reddit
As the lesbian, gay, bisexual and transgender (LGBT) community celebrates Pride Month in June, bisexual Americans are becoming more and more visible. Bisexuals, who account for about four-in-ten LGBT adults in the United States, stand apart from gay and lesbian adults in many ways, such as the fact that they are less likely to view their sexual orientation as central to their identity.
Bisexual adults are much less likely than gays and lesbians to be "out" to the important people in their lives, according to a new Pew Research Center analysis of recently released survey data from Stanford University.
Only 19% of those who identify as bisexual say all or most of the important people in their lives are aware of their sexual orientation. In contrast, 75% of gay and lesbian adults say the same. About one-quarter of bisexual adults (26%) are not "out" to any of the important people in their lives, compared with 4% of gay and lesbian adults. Roughly half of those who are bisexual (54%) are out to some or only a few people.
The experience of coming out to friends and family can be complex. Many bisexuals say they haven't come out to their parents because they didn't feel it was important to tell them or the subject never came up, according to the Center's 2013 survey of LGBT adults. Among those who did come out, bisexual adults report somewhat different experiences from gays and lesbians.
Roughly four-in-ten adults who describe themselves as bisexual (43%) say they are sexually attracted to men and women equally. A similar share (40%) say they are attracted mostly to the opposite gender and 4% report feeling attracted only to the opposite gender, while 12% and 1%, respectively, say they are attracted mostly or only to their own gender.
Among people who identify as straight or heterosexual, the vast majority (96%) say they are attracted only to the opposite gender, and a small share (3%, mostly made up of women) say they are mostly attracted to the opposite gender. Gays and lesbians are somewhat less likely to report being solely attracted to one gender. Still, most (81%) are attracted solely to the same gender while 14% are attracted mostly to the same gender.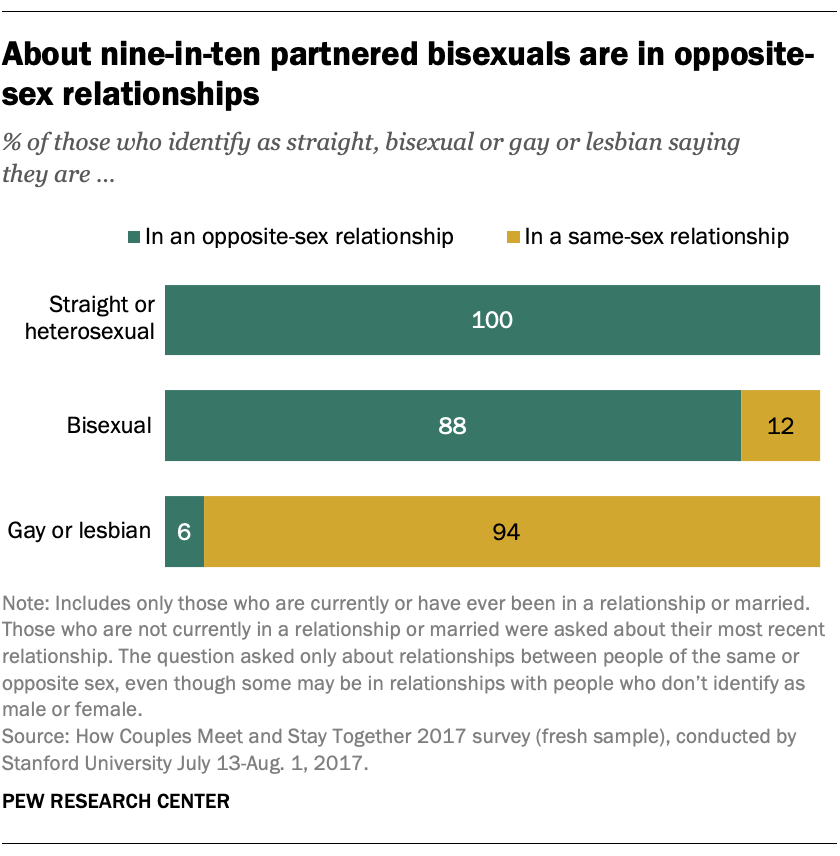 Among people with partners, many more bisexual adults are married or in a relationship with someone of the opposite sex than are with someone of the same sex – 88% say this. This is likely due at least in part to the fact that LGB adults make up a small share of the overall adult population, so the pool of potential same-sex partners is much smaller than the pool of opposite-sex partners. Meanwhile, all the respondents in the survey who identified as straight were in opposite-sex relationships, and nearly all (94%) of those who identified as gay or lesbian were in same-sex relationships.
The 2013 survey also found that LGBT adults said that bisexual men faced less social acceptance than bisexual women, gay men and lesbians. Just 8% of LGBT adults felt there was a lot of social acceptance of bisexual men, while 46% said there was only a little or no social acceptance for this group. Among bisexuals, 40% reported in 2013 that they had ever been subject to slurs or jokes and 31% said they had been rejected by a friend or family member because they were bisexual.
Note: The sample size of bisexual adults is too small to analyze men and women or other demographic subgroups separately. People who did not identify as either a man or a woman or who identified as transgender could not be analyzed separately. The questions asked only about attraction to and relationships with people of the same or opposite gender, even though some may be attracted to or in relationships with people who don't identify as a man or a woman.
Sours: https://www.pewresearch.org/fact-tank/2019/06/18/bisexual-adults-are-far-less-likely-than-gay-men-and-lesbians-to-be-out-to-the-people-in-their-lives/
Lesbian reddit
Guest wrote: ↑
Tue Jun 16, 2020 10:26 pm
Guest wrote: ↑

Tue Jun 16, 2020 8:53 pm

I know this isn't a lesbian subreddit, but hey it's still reddit. Lots of butthurt bis in here:
Omfg I can't stand wickerwoman, and not just for what she commented in that thread. She has a long history of being a major lesbophobe and butthurt bi. I once got into an argument with her and she acted like lesbians were oppressing bisexuals by not dating bisexuals and I was rme so hard. And even before that I would sideeye her for the comments she would make about lesbians. She has a massive chip on her shoulder when it comes to lesbians.
And since we're already off-topic has anyone else who frequents Gender Critical noticed that the most outspoken lesbophobes there are always bisexuals? And really whiny ones at that? See:
And this post from a while back where bis in the comments are whining about "biphobia" when the OP is just trying point out the clear double standard of lesbophobia being okay and biphobia not.
Sours: https://thelchat.net/forum/viewtopic.php?t=21096&start=1225
List of gay, lesbian or bisexual people: R
Name
Lifetime[5]
Nationality
Notable as
Notes[6]
Armen Ra
b. 1969
Iranian-American
Artist, self-taught thereminist, production designer, director, and performer
G[7]
Peer Raben
1940–2007
German
Composer
G[8]
Keith Rabois
b. 1969
American
Technology entrepreneur, executive, investor
G[9]
Patricia Racette
b. 1965
American
Opera singer
L[10]
María Rachid
b. 1974
Argentine
Politician, LGBT rights activist
L[11]
Radclyffe
b. 1950
American
Writer
L[12]
Fritz J. Raddatz
1931–2015
German
Writer, biographer, literary critic
B[13]
Johannes Radebe
b. 1987
South African
Dancer, choreographer
G[14]
Eric Radford
b. 1985
Canadian
Figure skater
G[15]
Friedrich Radszuweit
1876–1932
German
Publisher, writer
G[16]
James Rado
b. 1932
American
Actor, playwright, director, writer, composer
B[17]
Radu cel Frumos
1437/1439–1475
Romanian
Ruler of Wallachia
G[18]
Jason Rae
b. 1986
American
Student
G[19]
Kori Rae
b. ?[5]
American
Film producer
L[20]
Kyle Rae
b. 1954
Canadian
Politician
G[21]
Gideon Raff
b. 1972
Israeli
Film director
G[22]
Marc-André Raffalovich
1864–1934
French
Journalist, essayist, poet
G[23]
Andrew Raftery
b. 1962
American
Painter
G[24]
Luca Ragazzi
b. 1971
Italian
Film director, screenwriter
G[25]
Gautam Raghavan
b. ?
American
Deputy Director of the Office of Presidential Personnel
G[26]
Gerome Ragni
1935–1991
American
Actor, singer, songwriter, playwright
B[27]
Amit Rahav
b. 1995
Israeli
Actor
G[28]
Justin Raimondo
b. 1951
American
Writer
G[29]
Randy Rainbow
b. 1981
American
Comedian, singer, YouTube personality
G[30]
Yvonne Rainer
b. 1934
American
Dancer, choreographer, filmmaker
L[31]
Ma Rainey
1882–1939
American
Blues musician
B[32]
Traver Rains
b. 1977
American
Fashion designer
B[33]
David Rakoff
1964–2012
American
Writer, actor
G[34]
Ram Dass
1931–2019
American
Spiritual leader
B[35]
Ahmad Danny Ramadan
b. 1984
Syrian-Canadian
Novelist, poet, public speaker, activist
G[36]
Dack Rambo
1941–1994
American
Actor
B[37]
Emilia Ramboldt
b. 1988
Swedish
Ice hockey player
L[38]
Sara Ramirez
b. 1975
Mexican-American
Actor, singer, songwriter
B[39]
Carlos Ramirez-Rosa
b. 1989
American
Politician
G[40]
Manuel Ramos Otero
1948–1990
Puerto Rican
Writer
G[41]
Benny Nemerofsky Ramsay
b. 1973
Canadian
Artist
G[42]
Emily Randall
b. ?
American
Politician
L[43]
James Randi
1928–2020
Canadian-American
Magician, scientific skeptic
G[44]
Vicki Randle
b. 1954
American
Pop/jazz musician
L[45]
Sridhar Rangayan
b. 1962
Indian
Filmmaker
G[46]
Axel Ranisch
b. 1983
German
Actor, director, writer
G[47]
Jessica Rankin
b. 1971
Australian
Artist
L[48]
Andrew Rannells
b. 1978
American
Actor
G[49]
Al Rantel
b. 1955
American
Talk show host
G[citation needed]
R. Raj Rao
b. 1955
Indian
Writer, poet, LGBT rights activist
G[50]
Megan Rapinoe
b. 1985
American
Soccer player
L[51]
Rachael Rapinoe
b. 1985
American
Soccer player
L[52]
Anthony Rapp
b. 1971
American
Actor
B[53]
Röbi Rapp
1930–2018
Swiss
Actor; He and Ernst Ostertag became the 1st gay couple to register a domestic partnership in Switzerland
G[54]
Ian Iqbal Rashid
b. 1965
Canadian-British
Poet, screenwriter, filmmaker
G[55]
Eugenia Rasponi
1873–1958
Italian
Noblewoman, suffragist, businessperson
L[56]
Pongsak Rattanapong (aka Aof)
b. 1985
Thai
Singer, actor
G[57]
Terence Rattigan
1911–1977
English
Playwright
G[58]
Jonathan Rauch
b. 1960
American
Writer
G[59]
Robert Rauschenberg
1925–2008
American
Artist
G[60]
Øyvind Rauset
b. 1971
Norwegian
Rock musician, artist
G[61]
Arlene Raven
1944–2006
American
Art historian, writer
L[62]
Mark Ravenhill
b. 1966
English
Playwright, actor
G<[63]
Yigal Ravid
b. 1957
Israeli
Journalist, radio and TV presenter
G[64]
Yehudit Ravitz
b. 1956
Israeli
Singer-songwriter, composer, music producer
L[65]
Amy Ray
b. 1964
American
Folk-rock musician (Indigo Girls)
L[66]
Johnnie Ray
1927–1990
American
Pop musician
G[67]
Nicholas Ray
1911–1979
American
Film director
B[68]
Solomon Ray
b. ?[5]
American
Recording artist, producer, DJ, singer-songwriter
G[69]
Tamal Ray
b. 1985/1986
British
Baker, columnist, doctor
G[70]
Javier Raya
b. 1991
Spanish
Figure skater
G[71]
Raymix
b. 1991
Mexican
Musician, aerospace engineer
G[72]
Gene Raymond
1908–1998
American
Actor
B[73]
Lisa Raymond
b. 1973
American
Tennis player
L[74]
Monica Raymund
b. 1986
American
Actor
B[75]
Michele Rayner
b. 1981
American
Politician, civil rights attorney, social justice advocate
L[76]
Toshi Reagon
b. 1964
American
Folk-rock musician
L[77]
Peeter Rebane
b. 1973
Estonian
Film producer, director, entrepreneur
G[78]
Ricky Rebel
b. 1980
American
Singer-songwriter, dancer, musician
B[79]
John Rechy
b. 1934
American
Writer
G[80]
Jeffrey Reddick
b. ?[5]
American
Screenwriter
G[81]
Riley Redgate
b. ?[5]
American
Author
B[82]
Michael Redgrave
1908–1985
English
Actor
B[83]
Marius Redelinghuys
b. 1987
South African
Politician
G[84]
Alfred Redl
1864–1913
Austrian
Military officer, spy
G[85]
Joe Redner
b. 1940
American
Strip club owner
G[86]
Tasya van Ree
b. 1976
American
Artist, photographer
L[87]
Caitriona Reed
b. 1949
American
Zen sensei
B[88]
Lou Reed
1942–2013
American
Musician, songwriter
B[89][90]
Phil Reed
1949–2008
American
Politician
G[91]
Robert Reed
1932–1992
American
Actor
G[92]
Dee Rees
b. 1977
American
Film director, screenwriter
L[93]
Cheryl Reeve
b. ?[5]
American
Basketball coach
L[94]
Kenneth Reeves
b. 1951
American
Mayor
G[95]
Charles A. Reich
1928–2019
American
Writer, activist, legal scholar
G[96]
Forrest Reid
1875–1948
Irish
Writer
G[97]
Mandu Reid
b. 1981
Malawian-British
Current leader of the British Women's Equality Party
B[98]
Melissa Reid
b. 1987
English
Golfer
L[99][100]
Robert Reid-Pharr
b. ?[5]
American
Literary/cultural critic, professor
G[101]
Marko Reikop
b. 1969
Estonian
TV presenter
G[102]
Charles Nelson Reilly
1931–2007
American
Actor
G[103]
Sean Reinert
1971–2020
American
Musician, songwriter, drummer (Cynic, Æon Spoke)
G[104]
Lili Reinhart
b. 1996
American
Actor
B[105]
Christa Reinig
1926–2008
German
Writer, poet
L[106]
Toni Reis
b. 1964
Brazilian
Teacher, LGBT rights activist
G[107]
Rio Reiser
1950–1996
German
Rock musician (Ton Steine Scherben)
G[108]
Jacob Reitan
b. 1982
American
LGBT rights activist
G[109]
Jennifer Diane Reitz
b. 1959
American
Computer programmer, cartoonist, gender rights advocate
B[110]
Mirkka Rekola
1931–2014
Finnish
Writer
L[111]
Danton Remoto
b. 1963
Filipino
Writer, journalist, editor, columnist, educator
G[112]
Mary Renault
1905–1983
English
Writer
L[113]
Derek Rencher
1932–2014
British
Ballet dancer
G[114]
Ludwig Renn
1889–1979
German
Writer, antifascist
G[115]
Denise Restout
1915–2004
French
Musician
L[116][117][118]
Glen Retief
b. ?[5]
South African
Writer
G[119]
Yolanda Retter
1947–2007
American
Librarian, archivist, scholar, activist
L[120]
Gerard Reve
1923–2006
Dutch
Writer
G[121]
Nina Revoyr
b. 1969
American
Author, children's advocate
L[122]
Rex
b. ?
American
Artist, illustrator
G[123]
Bebe Rexha
b. 1989
American
Singer-songwriter
B[124]
Felix Rexhausen
1932–1992
German
Journalist, editor, author
G[125]
Miguel Angel Reyes
b. 1964
American
Artist, professor of art, jazz and modern dancer
G[126]
Lady Rhea
b. ?[5]
American
Writer
L[127]
Stephen Rhodes
b. 1984
American
Stock car racing driver
G[128]
Max Rhyser
b. 1982
Danish-American-Israeli
Actor, modeling
G[129]
Øystein Rian
b. 1945
Norwegian
Historian
G[130]
Conrad Ricamora
b. 1979
American
Actor
G[93]
Jason Ricci
b. 1974
American
Blues musician
G[131]
Christopher Rice
b. 1978
American
Writer
G[132]
Dylan Rice
b. 1976
American
Singer-songwriter
G[133]
Santino Rice
b. 1974
American
Fashion designer
G[134]
Adrienne Rich
1929–2012
American
Poet
L[135]
Little Richard
1932–2020
American
Singer-songwriter, musician
B[136]
Maurice Richard
b. 1946
Canadian
Politician
G[137]
J. August Richards
b. 1973
American
Actor
G[138]
Anna Richardson
b. 1970
English
TV presenter, writer, journalist
B[139]
Bill Richardson
b. 1955
Canadian
Writer, radio personality
G[140]
Kieron Richardson
b. 1986
English
Actor
G[141]
Sha'Carri Richardson
b. 2000
American
Sprinter
L[142]
Tony Richardson
1928–1991
English
Film director
B[143]
Helen Richardson-Walsh
b. 1981
English
Field hockey player
L[144]
Kate Richardson-Walsh
b. 1980
English
Field hockey player
L[144]
Jeffrey Richman
?
American
Producer, writer, actor
G[145]
Sviatoslav Richter
1915–1997
Russian
Classical musician
G[146]
Charles Ricketts
1866–1931
English
Artist, writer
G[147]
Sally Ride
1951–2012
American
Astronaut, first American woman in space, first openly LGBT astronaut
L[148][149][150][151]
Keith Ridgway
b. 1965
Irish
Author
G[152]
Eva Rieger
b. 1940
German
Musicologist
L[153]
Rod Riffler
1907–1941
Croatian
Choreographer, Holocaust victim
G[154]
Marlon Riggs
1957–1994
American
Filmmaker
G[155]
Greg Rikaart
b. 1977
American
Actor
G[156]
Arthur Rimbaud
1854–1891
French
Poet
G[157]
Robert Rinder
b. 1978
English
Barrister, television personality
G[158]
Nils Johan Ringdal
1952–2008
Norwegian
Writer, historian
G[159]
Edgars Rinkēvičs
b. 1973
Latvian
Politician, official
G[160]
Pío del Río Hortega
1882–1945
Spanish
Neuroscientist
G[161]
João do Rio
1881–1921
Brazilian
Writer
G[162]
Ana Lucía Riojas Martínez
b. ?[5]
Mexican
Politician
L[163]
Cassandra Rios
1932—2002
Brazilian
Writer, novelist
L[164]
Emily Rios
b. 1989
American
Actor
L[165]
Frank Ripploh
1949–2002
German
Actor, film director, author
G[166]
Adam Rippon
b. 1989
American
Figure skater
G[167]
Louise Ritter
b. 1958
American
Track and field athlete
L[168]
Herb Ritts
1952–2002
American
Photographer
G[169]
Marialy Rivas
b. ?[5]
Chilean
Screenwriter, film director
L[170]
Naike Rivelli
b. 1974
Italian
Actor
B[171]
Harrison David Rivers
b. 1981
American
Playwright
G[172]
Mawaan Rizwan
b. 1992
Pakistani-British
Actor, screenwriter, TV personality
G[173]
Law Roach
b. ?[5]
American
Stylist, TV personality
G[174]
Jerome Robbins
1918–1998
American
Choreographer
G[175]
Carolina de Robertis
b. 1975
Uruguayan-American
Author, teacher
L[176]
Adele Roberts
b. 1979
British
Broadcaster, reality TV personality
L[177]
Danny Roberts
b. 1977
American
Media personality
G[178]
Hannah Roberts
b. 2001
American
Cyclist
L[179]
Hig Roberts
b. 1991
American
Alpine skier
G[180]
Ian Roberts
b. 1965
Australian
Rugby player
G[181]
John Roberts
b. ?[5]
American
Actor, comedian
G[182]
Leslie Roberts
b. 1962
Canadian
News anchor
G[183]
Rob Roberts
b. 1979
Welsh
Politician
G[184]
Robin Roberts
b. 1960
American
News anchor
L[185]
Thomas Roberts
b. 1972
American
News anchor, TV journalist
G[186]
Grant Robertson
b. 1971
New Zealand
Politician
G[187]
Ronald Robertson
1937–2000
American
Figure skater
G[188]
Chloé Robichaud
b. 1988
Canadian
Filmmaker
L[189]
Angela Robinson
b. 1971
American
Filmmaker
L[190]
Beth Robinson
b. 1965
American
Justice of the Vermont Supreme Court
L[191]
Frank M. Robinson
1926–2014
American
Writer
G[192]
Gene Robinson
b. 1947
American
Bishop
G[193]
Svend Robinson
b. 1952
Canadian
Politician
G[194]
Tom Robinson
b. 1950
English
Rock musician, DJ
B[195]
Mo Rocca
b. 1969
American
Writer, comedian
G[196]
Danni Roche
b. 1970
Australian
Field hockey player
L[197]
Mazo de la Roche
1879–1961
Canadian
Writer
G[198]
Bretman Rock
b. 1998
American
YouTube personality
G[199]
Jeff Rock
b. 19??
Canadian
Metropolitan Community Church of Toronto pastor
G[200]
Jamey Rodemeyer
1997–2011
American
Blogger, suicide victim
G[201]
Robert Rodi
b. 1956
American
Writer
G[202]
João Pedro Rodrigues
b. ?[5]
Portuguese
Film director
G[203]
Frankie A. Rodriguez
b. 1996?
American
Actor
G[204][205][206]
Hena Rodríguez
1915–1997
Colombian
Sculptor
L[207]
Jai Rodriguez
b. 1979
American
Reality show host, actor, cabaret musician
G[208]
Juana María Rodríguez
b. ?[5]
American
Professor, theorist
B[209]
Michelle Rodriguez
b. 1978
American
Actor, screenwriter, DJ
B[210]
Patricia Yurena Rodríguez
b. 1990
Spanish
Actor, model, beauty queen, and the 1st openly lesbian international beauty queen and Miss Spain
L[211]
Richard Rodriguez
b. 1944
American
Writer
G[212]
Vincent Rodriguez III
b. 1982
American
Actor
G[213]
Elena Rodriguez-Falcon
b. 1972
Mexican
Chemical engineer, academic
L[214]
Manuel Rodríguez Lozano
1896–1971
Mexican
Artist
B[215]
Craig Rodwell
1940–1993
American
Gay rights activist, organizer & writer.
G[216]
Maria Rodziewiczówna
1863–1944
Polish
Writer, suffragist
L[217]
John Roecker
b. 1966
American
Filmmaker
G[218]
Ruth Margarete Roellig
1878–1969
German
Writer
L[219]
Eric Rofes
1954–2006
American
Writer
G[220]
Rosamaría Roffiel
b. 1945
Mexican
Writer, journalist, editor
L[221]
Howard Roffman
b. 1955
American
Photographer, lawyer
G[222]
Alan G. Rogers
1967–2008
American
Soldier, LGBT rights activist
G[223]
Charles Rogers
b. 1987
American
Director, screenwriter, producer, actor
G[224]
Gerry Rogers
b. 1964
Canadian
Filmmaker, actor, politician
L[225][226]
Robbie Rogers
b. 1987
American
Footballer
G[227]
Craig Rogerson
b. 1965
Australian
Diver
G[228]
Ernst Röhm
1887–1934
German
Leading Nazi and Oberster SA-Führer
G[229]
Jeff Rohrer
b. 1958
American
Football player
G[230]
Yulimar Rojas
b. 1995
Venezuelan
Track and field athlete
L[231]
Frederick Rolfe
1860–1913
English
Writer
G[232]
Ron Romanovsky
b. ?[5]
American
Musician (Romanovsky and Phillips)
G[233]
Anthony Romero
b. 1965
American
Executive Director of the ACLU
G[234]
Cesar Romero
1907–1994
American
Actor
G[235]
Gabriel Romero
b. ?[5]
Mexican
Actor
G[236]
Jean-Luc Romero
b. 1959
French
Politician, writer
G[237]
Steven Romo
b. 1987
American
Journalist
G[238]
Frank Ronan
b. 1963
Irish
Novelist
G[239]
Jim Rondeau
b. 1959
Canadian
Politician
G[240]
Trine Rønning
b. 1982
Norwegian
Footballer
L[241]
Samantha Ronson
b. 1977
English
DJ
B[242]
Don Roos
b. 1959
American
Filmmaker
G[243]
Esther Roper
1868–1938
English
Suffragist
L[244]
Horacio Roque Ramírez
1969–2015
Salvadoran-American
Historian
G[245]
Ned Rorem
b. 1923
American
Contemporary classical composer, diarist
G[246]
Hayden Rorke
1910–1987
American
Actor
G[247]
Angela Ro Ro
b. 1949
Brazilian
Singer-songwriter
L[248]
Ottone Rosai
1895–1957
Italian
Painter
G[249]
Will Roscoe
b. 1964
American
Writer
G[250]
Felipe Rose
b. 1954
American
Pop musician (Village People)
G[251]
George Rose
1920–1988
English
Actor
G[252]
Ruby Rose
b. 1986
Australian
Model, DJ, recording artist, actor, TV presenter
L[253]
Hilary Rosen
b. 1958
American
Recording industry leader, TV commentator
L[254]
Mark Brennan Rosenberg
b. ?
American
Author, comedian
G[255]
Stan Rosenberg
b. 1949
American
Politician
G[256]
Bill Rosendahl
b. 1945
American
Politician
G[257]
Paul Rosenfels
1909–1985
American
Social scientist
G[258]
Paul Rosenthal
b. ?
American
Politician
G[259]
Maer Roshan
b. ?[5]
American
Writer
G[260]
Golda Rosheuvel
b. 1970
Guyanese-British
Actor, singer
L[261]
Ben Levi Ross
b. 1998
American
Actor
G[262]
Grace Ross
b. 1961
American
Politician
L[263]
Leone Ross
b. 1969
British-Jamaican
Novelist, short story writer, editor, journalist, academic
B[264]
Robbie Ross
1869–1918
Canadian
Journalist, art critic
G[265]
Shaun Ross
b. 1991
American
Model, actor, dancer
G[266]
Sinclair Ross
1908–1996
Canadian
Banker, writer
G[267]
Sal Rosselli
b. 1949
American
Labor leader
G[268]
Markku Rossi
b. 1956
Finnish
Politician
G[269]
Portia de Rossi
b. 1973
Australian
Actor, wife of Ellen DeGeneres
L[270]
Martin Rossiter
b. 1970
Welsh
Rock musician (Gene)
G[271]
Petra Rossner
b. 1966
German
Cyclist
L[272]
Maurice Rostand
1891–1968
French
Poet, novelist, playwright
G[273]
Gabriel Rotello
b. 1953
American
Writer, producer
G[274]
Ernie Roth
1926–1983
American
Professional wrestling manager
G[275]
Jim Roth
b. 1968
American
Politician
G[276]
Jordan Roth
b. 1975
American
Theater producer
G[277]
Vanessa Rousso
b. 1983
American
Professional poker player
L[278]
Olivier Rousteing
b. 1985
French
Fashion designer
G[279]
Alma Routsong
1924–1996
American
Writer
L[280]
Olivier Rouyer
b. 1955
French
Footballer
G[281]
Lauren Rowles
b. 1998
English
Parasport rower, wheelchair athlete
L[282]
A. L. Rowse
1903–1997
English
Historian, writer
G[283]
Lesley Roy
b. 1986
Irish
Singer
L[284]
Bert V. Royal
b. 1977
American
Screenwriter, playwright
G[285]
Patricia Rozema
b. 1958
Canadian
Film director
L[286]
Ruan Ji
210–263
Chinese
One of the Seven Sages of the Bamboo Grove
G[287]
Steve Rubell
1943–1989
American
Co-owner of Studio 54
G[288]
Dave Rubin
b. 1976
American
Political commentator, YouTube personality, talk show host
G[289]
Gayle Rubin
b. 1949
American
Cultural anthropologist
L[290]
Ida Rubinstein
1883–1960
Russian
Actor, dancer
B[291]
Ronen Rubinstein
b. 1993
Israeli-American
Actor, activist
B[292]
Seth Rudetsky
b. ?[5]
American
Writer, radio personality
G[293]
Scott Rudin
b. 1958
American
Film producer
G[294]
Paul Rudnick
b. 1957
American
Writer, screenwriter
G[295]
Kathy Rudy
b. ?[5]
American
Ethicist, writer
L[296]
Kurt von Ruffin
1901–1996
German
Holocaust survivor
G[297]
Adamo Ruggiero
b. 1986
Canadian
Actor
G[298]
Deb Ruggiero
b. 1958
American
Politician, radio personality
L[299]
Mike Ruiz
b. 1964
American
Actor, film director
G[300]
Pablo Ruiz
b. 1975
Argentine
Pop singer
G[301]
Muriel Rukeyser
1913–1980
American
Poet, political activist
B[302]
Jane Rule
b. 1931
Canadian
Author
L[303]
Anna Rüling
1880–1953
German
Journalist, lesbian activist
L[304]
RuPaul
b. 1960
American
Drag queen, actor, model, singer, TV personality
G[305]
Michael Rupert
b. 1951
American
Actor
G[306]
Pacôme Rupin
b. 1985
French
Politician
G[307]
Laurent Ruquier
b. 1963
French
Journalist, TV and radio host
G[308]
Herbert Rusche
b. 1952
German
Politician
G[309]
Joshua Rush
b. 2001
American
Actor
B[310]
Matthew Rush
b. 1973
American
Pornographic actor
G[311]
Stella Rush
1925–2015
American
Journalist, activist
L[312]
Joanna Russ
b. 1937
American
Writer
L[313]
Ada Dwyer Russell
1863–1952
American
Actor
L[314]
Arthur Russell
1952–1992
American
Pop musician
G[315]
P. Craig Russell
b. 1951
American
Comic artist
G[316]
Ryan Russell
b. 1992
American
Football player
B[317]
Lloyd Russell-Moyle
b. 1986
English
Politician
G[318]
Albert Russo
b. 1943
Belgian
Writer
G[319]
Giuni Russo
1951–2004
Italian
Singer-songwriter
L[320]
Renato Russo
1960–1996
Brazilian
Rock musician (Legião Urbana)
B[321]
Vito Russo
1946–1990
American
Activist, writer
G[322]
Bayard Rustin
1912–1987
American
Civil rights activist
G[323]
Elizabeth Ruth
b. 1968
Canadian
Writer
L[324]
Nancy Ruth
b. 1942
Canadian
Politician
L[325]
Paul Rutherford
b. 1959
English
Pop musician (Frankie Goes to Hollywood)
G[326]
Ryan
b. 1978
Indonesian
Serial killer
G[327]
Bill Ryan
b. 1955
Canadian
Professor
G[328]
Kay Ryan
b. 1945
American
16th Poet Laureate of the United States
L[329]
Lee Ryan
b. 1983
English
Singer–songwriter
B[330]
Sara Ryan
b. 1971
American
Writer, librarian
B[331]
John Rykener
fl. 1390s
English
Transvestite prostitute
G[332]
Geoff Ryman
b. 1951
Canadian-English
Writer
G[333]
Sours: https://en.wikipedia.org/wiki/List_of_gay,_lesbian_or_bisexual_people:_R
You will also like:
Im a little numb, and Mikes not in one eye. Still, with such a mass one and a half liters of beer is like grain for an elephant. We walked along the evening street, joked, looked at the oncoming people. A great day is behind us, and the next ones promised to be the same, and even better.
1037
1038
1039
1040
1041