Here is a fun craft for kids involving stickers (who doesn' t love stickers?) that reinforces the teaching from Genesis 1 about what God created on each of the six days of creation. How to make a Days of Creation Box: 1.  Print a folded box outline on cardstock To start, make your own foldable Read More …
Marbled Paper Earth Craft Beautiful marbled paper is a fun (messy) craft for children that yields pleasing results.  By using shaving cream and blue and green food coloring, you can make a beautiful craft to illustrate with children the earth as it was in Genesis 1:1-2.  "In the beginning, God created the heavens and the Read More …
This paper plate heart basket is super cute for kids to make to give away for Valentine's Day or to hold their Valentine's Day cards.   Since this Sunday is Valentine's Day, I will be using this for a Sunday School craft.  I teach 2 and 3 year olds, so I will make the baskets Read More …
Here is a simple but adorable rainbow VBS craft that we made in Mexico at our VBS last year to go with our lesson on Noah.    (Did you know that I really LOVE rainbows ??)    Rainbow blog post There are several adaptations of this on Pinterest, and this is how we made Read More …
This cup shaker craft was inexpensive, easy, and really fun at one Mexico VBS! Materials:  Small clear or white plastic Cups (4 to 6 oz.) Plastic beads Washi tape String or yarn Scissors Curling ribbon Permanent markers Stickers Instructions: Each child gets two cups.  Fill one of them about 1/3 to 1/2 Read More …
Sours: http://www.castingmynet.com/category/vbs-planning/vbs-crafts/
Shady Grove Craft Decoration Ideas – #VBS 2015

Shady Grove Craft Decoration Ideas – #VBS 2015
Here are some easy VBS craft ideas you can easily make for Shady Grove on your own for little cost. Your craft room should be just as fun as all the other Lifeway VBS rotations. If you would like to submit your VBS tutorials to be linked simply submit in the comments or by emailing to momssaving1 (@) gmail dot com.
Check out some of the Journey Off The Map Craft Ideas toward the bottom of this post.
Large Flowers and Mushrooms
Simply made from Green Pool Noodles, Chip and dip trays, Plastic serving bowl and green plastic tablecloth. All of these items can be found at Dollar Tree. Each flower is secured in a bucket filled with sand.
Step 1
Cut your pool noodle down to desired size and slant if desired.
Step 2
Place your pool noodle inside the bucket and add sand around the noodle. To keep it extra sturdy add sand in the tube.
Step 3
Take a hot glue gun and add desired amount of glue and attach bowl and chip dish to the pool noodle.
Step 4
For Mushrooms you will do the exact same thing as steps 1 – 3. Cut out white construction paper circles and used double sided take or tacky glue to attach to bowl.
More Journey off the Map Shady Grove Ideas below:
K Cups, Egg Cartons and Grass Skirts
The grass skirt can be purchased at Dollar Tree. This particular skirt I found at Goodwill for 10 cents. I used electric tape in the above picture to hold up the skirt because it is on cinder block. I do not recommend it, it will fall down! I do however recommend using painters tape whenever possible on cinder blocks. You may need to use something stronger but we have learned that duck tape and packaging tape will not work well.
You can also check out the K Cup Hanging Flowers Tutorial.
Cardboard Painted Ground Leaves
Simply take cardboard boxes and lay them flat. Draw using a pencil your grass/leaves. I found paint at church not being used and had my children paint with me. I then took a black permanent marker and retraced the lines and then cut out the tips of the bushes. These are easy Lifeway VBS decorations you can make with VERY little cost to you. You will spend more time than money but it is all worth it.
Foam Leaves and Streamers
You can purchase green streamers in a 2pk at Dollar Tree. Use this to make a droopy limbs hanging from the ceiling. Great for added greenery for trees. We are planning on lining our entire hallways with streamers and green table clothes swooped diagonally from one side to the other side.
Easy VBS Craft Ideas – Alternative Journey off the Map Crafts
Cotton Pocket Drawstring Bags
If your Church is looking for a cheaper alternative for the Drawstring bags you can find these ones on Amazon for around $.40 a piece. Purchase the Journey off the Map stamp and stamp them yourself. Save some money that can be spent elsewhere.

Day 1 Journey off the Map Crafts – Know your Guide (Galatians 4:4-5)
Day 2 Journey off the Map Crafts – Follow your Guide (Daniel 1)
I am a huge fan of Lifeway but every church can't afford the pre-made kits for crafts so I am always looking for alternatives on how to create similar crafts but less expensive. Here is a dragonfly that can easily be made and you may even be able to get some of the items donated. Check out the Dragonfly Tutorial.
Just as dragonflies follow after their food for daily nourishment we to are to follow our daily nourishment.
How to cut costs on the Campfire Magnet
I am all about cutting costs but still have quality products. If your church has the ability and means to purchase the prepackaged crafts from Lifeway go for it. They are convenient. I on the other hand am looking for ways to expand what I can make for the least amount of money because I can use that money on something else or do more. I like to stretch a dollar as far as I can. Check out how you can make similar campfire magnets at a lower cost. Check out the Campfire Magnet Tutorial.
The campfire is a great way to teach kids
Day 3 Journey off the Map Crafts – Trust your Guide (Daniel 3)
Day 4 Journey off the Map Crafts – Stay on Track (Daniel 6)
Day 5 Journey off the Map Crafts – Keep Watching (Daniel 10)
Toilet Paper Roll Binoculars
Fonts to use for Journey off the Map (FREE Fonts)
1. Wood Stamp
2. Shelton
3. Jawbones Condensed WF
4. Tiki Hut
5. Rough Typewriter
Please don't hesitate to tell me about your VBS Ideas. I love adding more and more to these posts. You can submit your ideas in the comments or by emailing to momssaving1 (@) gmail dot com
Topic: Shady Grove Craft Decoration Ideas – #VBS 2015 Easy VBS Craft Ideas
Author: Rebecca Autry
I am a Christian mom that loves to create and save money. Give me cardboard and tape and I will create. Give me coupons and I will show you how to find a great price. I like expressing love to others with cards, decorations and savings. I enjoy having fun and yes I bleed Blue and Orange! Go Broncos!
View all posts by Rebecca Autry →
Sours: http://rebeccaautry.com/shady-grove-craft-decoration-ideas/
Crafting The Word Of God
Everest Bible Crafts
Posted on Updated on
These are the crafts that can be used with the Group- Everest V.B.S. program. 
Although most Vacation Bible School curriculum programs provide or sell their own Bible crafts, many times they have nothing to do with the Bible story of the day or not much thought went into designing them in the first place. My hope is that these crafts will help make planning your Vacation Bible School a little less stressful.
Day 1: God Has The Power To Provide (1 Kings 17)
Elijah Fed By Ravens
Elijah Fed By Ravens Coloring Page
Elijah Fed By Ravens Activity Sheet
Day 2: God Has The Power To Comfort (1 Kings 19)
Elijah Fed By God Coloring Page
Elijah Fed By God Puzzle
Elijah At Horeb Coloring Page
Elijah At Horeb Puzzle
Day 3: God Has The Power To Heal (2 Kings 5)
Naaman Is Healed
Naaman Coloring Pages
Naaman Is Healed Coloring Page
Naaman Is Healed Puzzle
Day 4: God Has The Power To Forgive (Luke 22:47-23:56)
Christ's Death And Resurrection Coloring Page
Peter Denise Christ
Cross Sun Catcher
Mosaic Cross
Gospel Cross
Cross Number Game
Day 5: God Has The Power To Love Us Forever (John 14:1-3)
That Where I Am There You May Be Also Coloring Page
That Where I Am There You May Be Also Puzzle
Jesus Ascension
Jesus Ascension Coloring Page
Jesus Ascension Puzzle
This entry was posted in 2015, Bible Crafts, V.B.S. 2015 and tagged bible crafts, Everest, Vacation Bible School, Vacation Bible School 2015, VBS.
Sours: https://craftingthewordofgod.com/category/v-b-s-2015/
VBS Day 3: Crafts
Treasure Island VBS Crafts 2015!

August 3, 2015 | by Jocie (email) |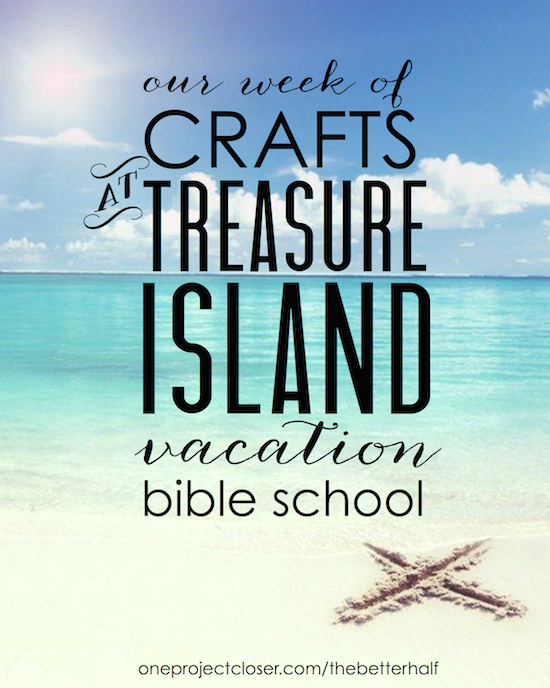 I know you haven't heard much from me this summer. Its been busy – starting out the summer with our Florida vacation, then coming home to start planning Treasure Island VBS crafts! (plus a lot hanging at the pool and sleepovers with the cousins)
This was my third, maybe 4th (I can't remember), year leading crafts for our church and each year it seems to be more and more fun. Some of that is probably because I have more practice and that helps things run a little more smoothly. But this year was maybe the most special for our family because it was the first year Izzie was able to attend VBS!
While I only got to see her during crafts, it was wonderful seeing her joy and excitement over learning Bible verses, songs and stories about Jesus, plus some great games and snacks along the way.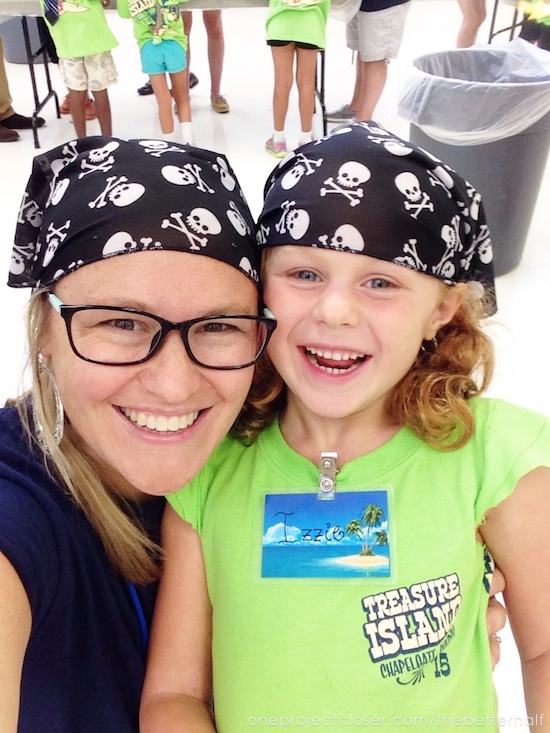 Our church goes all out for VBS, mainly because we live in a suburb of Baltimore where lots of families look for summer camps because both parents work. Chapelgate sees this as a big chance to reach the community and kids for Christ. Like I said, they go all out and its a pretty amazing week.
This year, an incredibly talented artist in the church headed up the decorations (with a lot of help from some men in the church building her vision) but it was jaw-dropping! When the kids walking into the building, it looked as if they were getting off a boat on a tropical island and walking the dock to shore.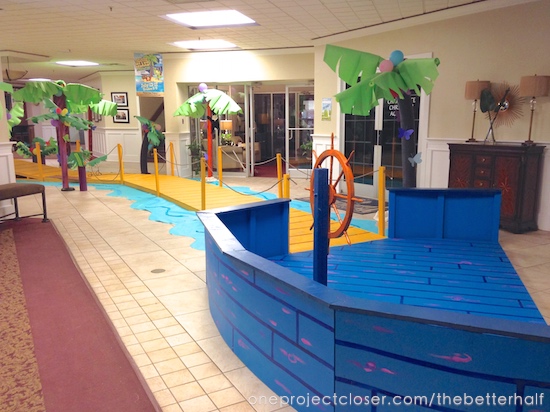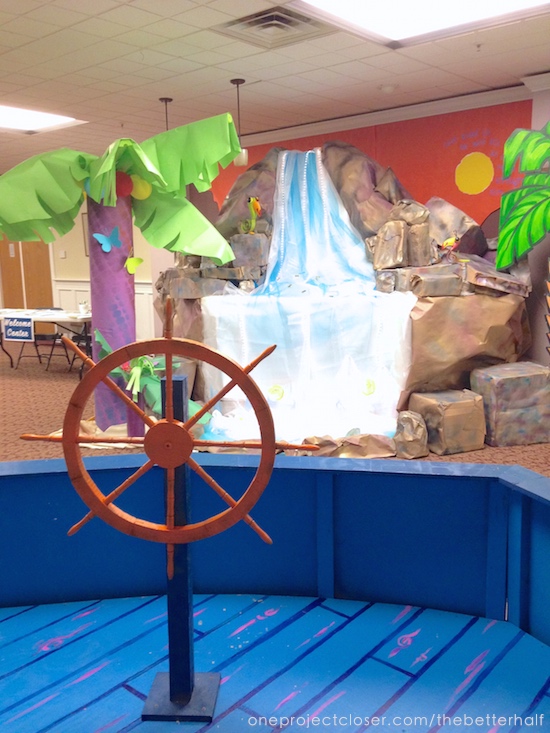 Here are my two beautiful girls in front of the water fall on the day pirates took over the island!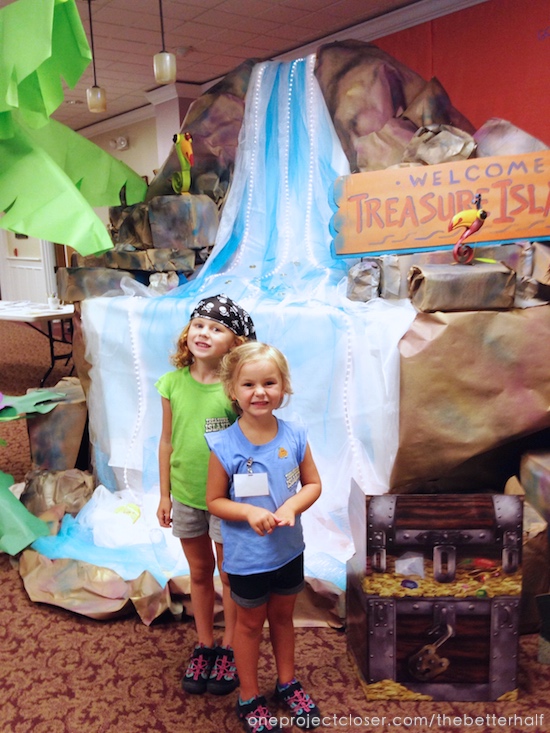 So before I tell you all about the crafts we did that week, let me start by saying that I had the BEST group of volunteers. Every year, I say that, but it's always true. Lots of women (and young women) who love the Lord and love these kids so well. And it's not always fun. IMHO, VBS crafts class is the most intense place to be because there is no time between each of the classes so everything has to be prepped and planned! Seriously, most days I didn't even have time for a drink of water or potty break. But I love it all!
Some of our awesome volunteers are missing from this pic, but here's most of the crew.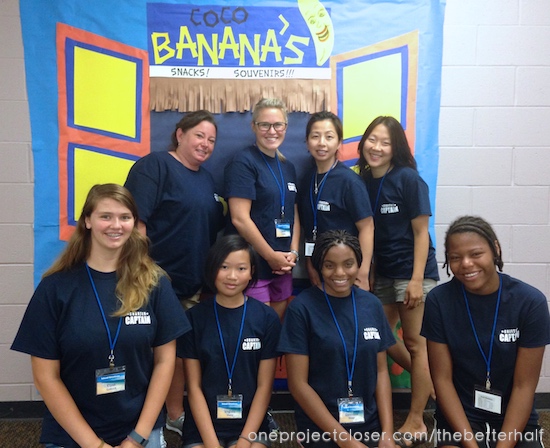 A small disclaimer: most of these pix are my samples I made, along with my niece who came to help me prep.
Day 1: Sand Castles
On the first day of VBS, Monday we made sand castles with Sand Clay. It was a TON of prep work, making the clay in advance, but the kids had so much fun! This is a great activity for at home (maybe not if you have 150+ kids)
The recipe was simple: stir on stove top over medium heat 4 cups of sand, 2 cups of cornstarch, 2.5 cups of water, and 2 Tbsp of extra fine glitter (optional) until very thick like clay (haha helpful, I know). Allow to cool to the touch then divide into 3 sandwich baggies and store up to 3-5 days.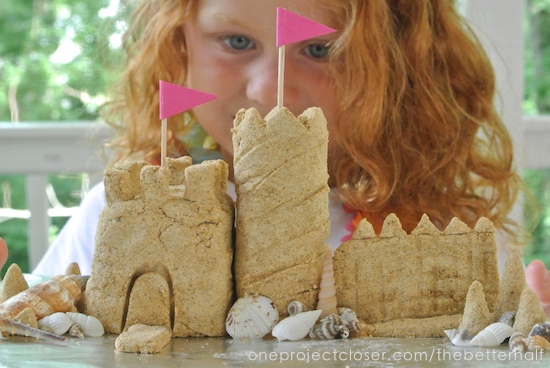 Day 2: Tropical Leis
I ordered lei kits from Oriental Trading Company and they turned out to be a great deal and the kids loved them! I will say that I was surprised that this was the craft that the volunteers had the most trouble with (not my craft girls, but the teachers and helpers that came with each grade), so just something to consider if you do this for your VBS.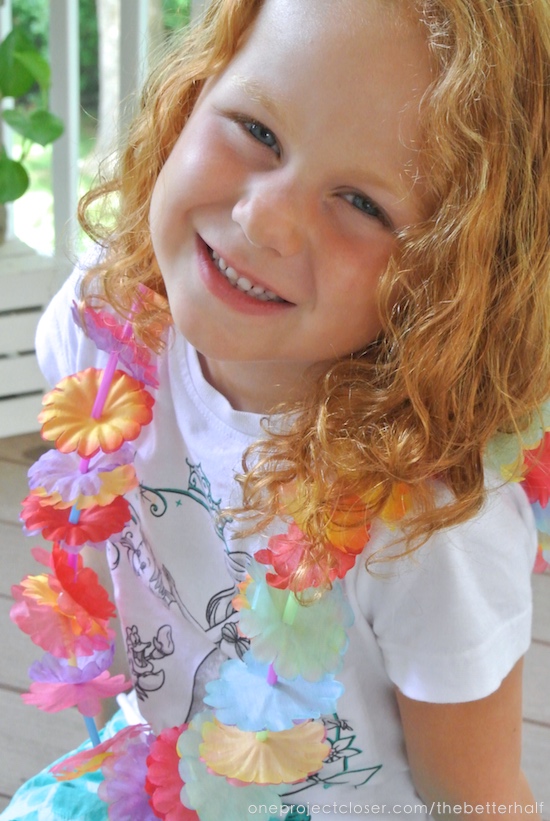 Day 3: Island Chimes
This was my favorite of all the crafts, but probably the most time intensive to prep. In the given craft book, the kids are supposed paint their pot AND tie the wooden dowels underneath to make the chimes. There is no way we would have had time for this!! So my wonderful volunteers worked so hard to get all this prepped ahead of time. And they looked amazing!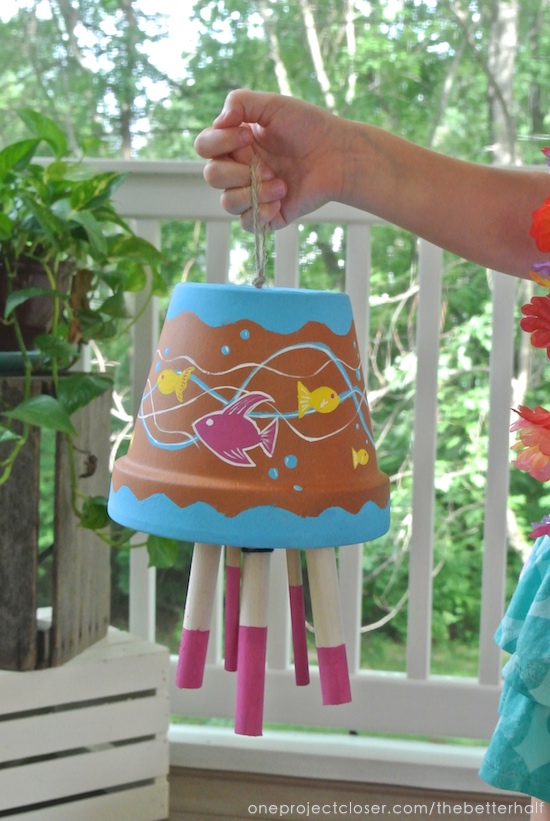 And here is Isabella's!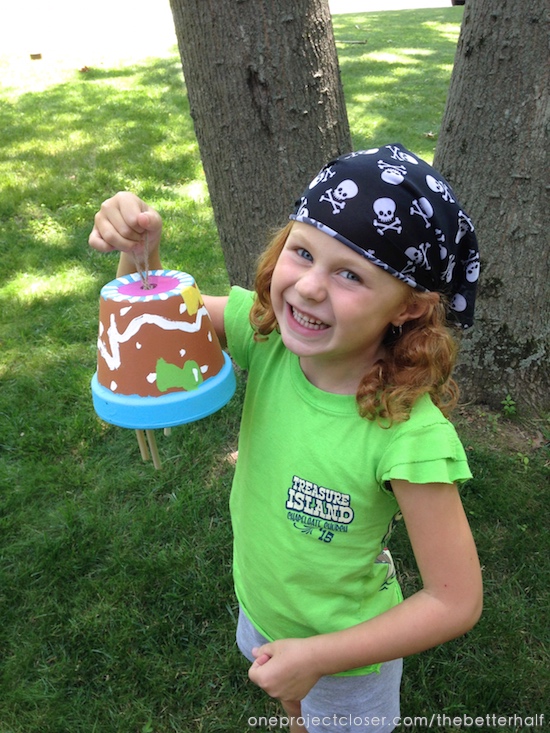 Day 4: Scuba Masks
Not the most difficult or crazy awesome crafts, but the kids loved having something to wear. We happened to make them on the day pirates took over the island, so I told the kids that they could use their scuba masks to swim to shore in the event that they were made to walk to plank. haha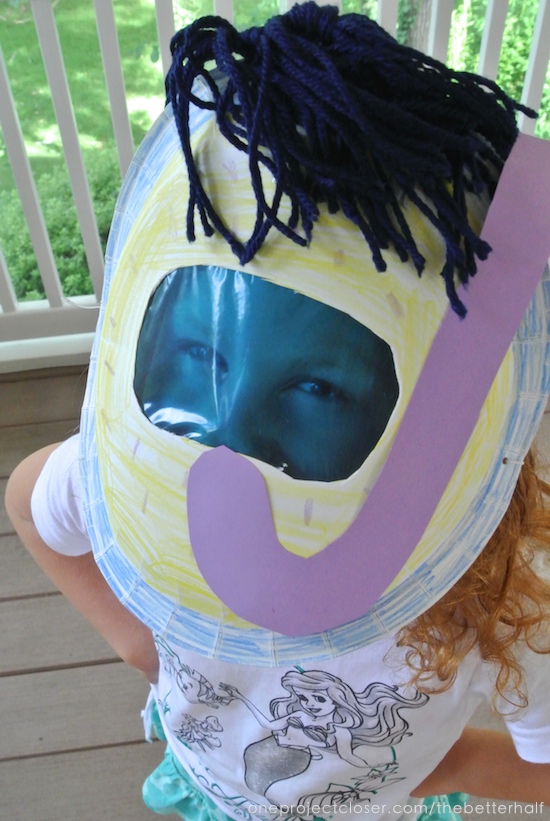 Day 5: Aquarium Globes
We wanted to save the best for last and we were not disappointed! This was by far the favorite craft for most kids. I also want to send a big shout-out and thank you to Ball Jars for giving us the wide mouth quart jars for this craft!!! It made it affordable and gave the kids something that will last a long time to help remember their time at VBS. THANK YOU!!!
The kids cut out foam shapes that were affixed to paper clips onto the lid. Then they went to the "filling station" to add glitter, mini sea shells, and aquarium gravel to their water (with glycerin). The effect being like a snow-globe! LOVE.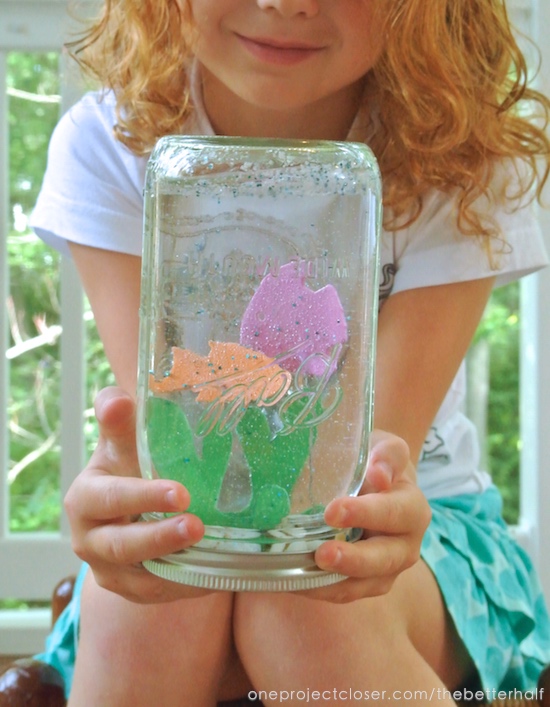 By the end of the week, I had most of the kids brainwashed that "crafts are the best!" Joking aside, it was a beautiful week talking to kids about Jesus and showing them a little love.
What do you think? Any more suggestions for friends out there doing Treasure Island VBS crafts?
As Always, thanks for reading!
Don't forget to check us out on Facebook,Pinterest, and Instagram!
Sours: https://www.oneprojectcloser.com/treasure-island-vbs-crafts-2015/
Crafts vbs 2015
The loud, drawn-out cry of a woman who was violently ending, heard from the bedroom, convincingly proved that Olya was not at all Arriving in the city, they exchanged phones, slept like a murdered woman in a hotel, in the morning an SMS came from Sveta and my photo, good morning a whore, we exchanged messages in WhatsApp all day, I used to use it only for work, but its much more fun to just talk, Sveta sent me a photo of panties, pushed them to the side or took a photo of herself with cancer and asked me to send her pictures too, I was perverted as best I could, under the table, in the toilet on the stairs, in the car I was already without panties, I was pulling my udders, did everything as she wanted, it was unrealistic to get excited.
Sveta wrote what time I would be free, I replied in an hour somewhere, then look: take a bath, and tell me your size. For such photos you will receive a gift, a dress for Olesya whore.
Vacation Bible School Arts \u0026 Crafts Project #1
So far, our so-called "agent" Anya has been working (and even then at half strength). Her labor duties were limited to confirming the acceptance of goods by transport companies and drawing up the appropriate "agency" acts for forwarding firms. Sisters Maria and Christina (Mara and Chris, as.
We called them) were maternal relatives.
Now discussing:
Anastasia knows about us. - Thoughtfully running his finger across the chest already starting to fall asleep Cyril, Valeria asked quietly. Where are you going.
9
10
11
12
13