Gamers have been searching for an ideal, user-friendly communication platform for years.
They have used several great programs over the past few decades, including Skype, TeamSpeak, Ventrilo, and many others. However, none of these other applications delivered what Discord has brought to the table.
Discord is considered one of the most intuitive VoIP apps for students, gamers, and even businesses around the world.
It is easy to install, easy to use, has reliable servers, and is filled with numerous excellent features.
Unfortunately, not everybody gets to enjoy the "easy to install" experience. A lot of users have had issues with Discord not installing.
If you have encountered problems when installing Discord, here are several possible fixes.
Fix 1: Remove Previous Discord Installation
A common reason that people have installation issues with Discord is that the application is already installed on their device.
Discord's installation process is pretty simple and straightforward. It installs within a few seconds of starting the setup file, with no need to follow any complex instructions. This means some people install the application without even realizing they have done so.
However, you might have installed an older version of Discord that hasn't been completely removed. Perhaps an existing cache on your computer is corrupting the installation. Whatever the case, we have a fix for this issue.
Here's what you need to do to clean your computer of old versions of Discord.
Open the Start Menu, search for and open Add or Remove Programs
On the new window, find Discord in the list of applications.
Select it and click Uninstall
Discord should automatically uninstall in seconds.
Once you have successfully removed the older version of Discord, you can try installing the new version. If it still doesn't work, you should continue to Fix 2 to clean your cache.
Fix 2: Removing Discord Cache
Press Windows key + R. This will open the Run program
Type in %appdata%. This will redirect you to your Windows storage for caching
Find the Discord folder and delete it
Go up one folder to reach, by default, C:\Users\Your UserName\AppData and click Local
Again find the Discord folder and delete it.
You can now be confident that any trace of the previous Discord version on your computer has been erased. It should now be possible to easily install Discord on your computer.
If you still can't, read the other fixes below.
Fix 3: Run The Program As Administrator
Windows can often cause issues with applications and installation files because of a lack of permissions.
Even if your Windows user profile has administrator privileges, the Discord installation itself might lack the necessary permissions to install the application.
To grant the app the necessary permissions, try these steps:
Right-click DiscordSetup.exe (setup file)
Select Run as Administrator and confirm your choice
By running the application with administrator rights, the installation should be completed without any errors.
Fix 4: Add An Anti-Virus Exclusion
Windows Security, the default anti-virus software on every Windows device, is known to prevent some applications from launching, installing, and updating. This could be causing your problem.
To prevent Windows Security from interfering with your Discord installation, try this:
Click the upwards arrow next to the clock and tray icons on the taskbar and double-click the shield icon (Windows Security).
Once Window Security is open, go to Virus & Threat Protection, and then to Manage settings under Virus & Threat Protection settings.
Scroll to the bottom and look for "Add or remove exclusions".
Add a file exclusion and select the "DiscordSetup.exe" you downloaded.
With an exclusion added, your anti-virus should no longer interfere with the installation process.
Bonus Fix: Redownload The Setup File
If you are still dealing with the same issues or errors after adding an anti-virus exclusion, try downloading the Discord setup file again.
Windows Security might have permanently blocked or deleted important parts of the installation file. You might be able to fix this by visiting the official Discord website and downloading a new setup file, after deleting the old one.
By implementing these fixes in your troubleshooting process, you shouldn't encounter any more Discord installation problems in the future.
ShareTweetPinEmailPDF
Fix: Discord Can't Hear Anyone
Branko Gapo
Keeping up with the incredibly fast evolution of computer technology is impossible. Branko aims to use his knowledge on this matter to share news and information on all the latest essential technological innovations and advancements.
Sours: https://pcstrike.com/discord-not-installing/
Discord installation has failed in Windows 10 (5 solutions to fix)
Discord the most popular Voice over Internet Protocol (VoIP) app used by gamers to communicate via text and voice chat. It's available for all versions of windows, mac, iOS and Android, so you should be able to install and use it without a problem.  However, sometimes you may experience trouble with Discord not downloading or the Installation has failed error when trying to install Discord. Several windows users complaint discord won't install on my pc running windows 10 or discord installation has failed open setup log error.
If Discord Is Not Downloading, then 
Make sure you download Discord from the official site here https://discordapp.com.
Try to open Discord official site on a different web browser (Chrome, opera, firefox, edge)
There are chances, some software running that's interfering with Discord downloading, restart your computer and try to download the discord app.
Discord installation failed
This error discord setup installation has failed usually caused because of corrupted files, or Windows update packages interfering with Discord. Whatever the reason, this article states various solutions to fix Discord Installation Has Failed Issue in Windows 10.
Make sure that you have administrator privileges on your machine in order to run the Discord app properly.
Reinstall the Discord app
When you encounter, discord setup installation has failed error the first thing we recommend to Reinstall the Discord app. Yes removing all files related to Discord and then reinstalling the app help several users to fix the Discord installation failed problem on windows 10.
End Discord in Task Manager
Open task manager using Ctrl + Shift + Esc key on the keyboard,
In the process tab locate tasks related to discord, right-click and select end task,
Uninstall discord app
Press Windows key + X and select programs and features,
Scroll down and locate the Discord app, select it and click the uninstall button.
Click yes when ask for confirmation to remove the app and follow on-screen instructions.
Delete Discord Folder and files related to Discord
Press Windows key + R, type %AppData% and press Enter.
The File Explorer will open a Window named Roaming, Scroll down and locate the folder named Discord, right-click on it select delete.
Again press Windows key + R, type %LocalAppData% and click OK.
locate the folder named Discord, right-click on it select delete and restart your computer.
Install discord app on windows 10
Now visit Discord official site here and download the latest version for windows 10,
Right-click the setup.exe and select Run as administrator,
Click yes if UAC prompts for permission and follow on-screen instructions to install the app.
Installing Microsoft .NET Framework
Download the latest Microsoft .NET Framework 4.5 to your system from here, Next double-click the installer to get the latest framework to your system. Once done restart Yur PC and Install the Discord app again.
Disable Antivirus
There are chances, security software (Antivirus) may block the Discord installation processes. If you have third party Antivirus software installed on your computer, temporarily disable and try to install the discord app.
Run System File Checker And DISM Tools
Agin In several cases, corrupted or missing system files that are related to your drivers can lead to this error Discord installation failed. Let's run the DISM command and sfc utility help replace corrupted or missing system files.
Open the command prompt as administrator,
Type command DISM /Online /Cleanup-Image /RestoreHealth and press enter key,
Let DISM command to complete 100% scanning process.
Next type sfc /scannow and press the enter key this will detect and replace corrupted system files with the correct ones.
Once the sfc scan completes 100% restart your PC and try installing the DISCORD app.
Did these solutions help fix the DISCORD Installation has failed error message on Windows 10? Let us know on the comments below.
Also read:
Sours: https://windows101tricks.com/discord-installation-failed/
While Discord is available for use in your favorite web browser, the number of features available may be limited. To get the full Discord experience, you will need to install Discord software on your local machine. Discord can be installed on many operating systems, but this guide will concentrate on Windows, Apple, and Linux. Before installing the application, please make sure that you have created a Discord account.
Topics will include:
Install Discord and join communities that can help you get the most out of your Cloud Server Hosting plan!
Installing Discord on Windows
To download Discord, go to the official Discord.com Download page. You will see Download for Windows as the first option.
Then, click Download for Windows. Note that the download file is about 67 MB.



You will be prompted to download the DiscordSetup.exe file. Once it is finished, open the DiscordSetup.exe program by double-clicking on the file to start the installation process.
The program will then begin to install and download any required updates.
The program will then ask you to login using your Discord account.
After entering your login information, you will now be logged into the Discord software.
Installing Discord on Apple
Installing on an Apple computer is easy! Go to the Discord.com page. It will auto-detect that you're on an Apple device and provide you the appropriate download option. If you don't see the Download for Mac option, then click on Downloads at the top of the page and select the download for your Apple computer.


Click on the button labeled Download for Mac. Note that the file download is about 78 MB.
You will see a Discord.dmg. Double-click on it to start the install process. Note that this also mounts Discord icon on your desktop. You can close this later.
You will see small window open that shows the Discord icon and the Applications folder. Simply left click and drag the Discord icon onto the Applications folder.
This will complete the installation. Click on the Discord icon on your desktop and then select Eject. You can move the installation file to the trash as well, unless you wish to archive it.
Installing Discord on Linux
The process to install Discord on Linux is a bit more complicated than it is for mobile devices, Windows, or Apple computers. The more common Windows or Apple (Mac) operating systems often use a graphical interface for software installation. Linux-based computers oftentimes require the use of the command-line interface to fully install new software applications.

We will explore how to install Discord on Ubuntu, Fedora, and CentOS. Please note that the steps in this article will require the use of the command-line interface.
Installing Discord on Ubuntu
The process of installing Discord on Ubuntu is relatively straightforward in comparison to other operating systems. The Discord for Linux package is available in both tar.gz and .deb formats and can be downloaded directly from the Discord website.
In your command line, use wget to download the package with the following command:
wget -o discord.deb "https://discord.com/api/download?platform=linux&format=deb"
Then, install the package using the following command:
sudo dpkg -i /path/to/file/The /path/to/file/ is the folder path to wherever the package was downloaded.
Installing Discord on Fedora
The Discord application is packaged in the Canary Fedora repository. You can easily download and install it using the DNF package manager.
In command line, use the following command to enable the Canary repository:
dnf copr enable vishalv/discord-canary
Next, use the following command to install the package:
dnf install discord-canary
Installing Discord on CentOS 7
To install Discord on CentOS 7, you will first need to install the Snap package manager.
To install Snap, first ensure that you have enabled the EPEL repository using the following command in your command line:
sudo yum install epel-release
Once that is done, you can install Snap using the following command:
sudo yum install snapd
Next, enable Snap using the following command:
sudo systemctl enable --now snapd.socket
With Snap installed, you can now install Discord using the following command:
sudo snap install discord

Install Discord on your Dedicated Server to set up your own Discord community!
Configuring Discord
If you have never used Discord and you don't have an account, then the first thing you will need to do is register with Discord.com. If you have an existing account, then you simply have to log in and your previous user profile will load up. We do recommend that you still go through the configuration steps listed below in order to make sure that your audio and any keyboard/mouse shortcuts are set up the way you want them.
To ensure that your microphone and speakers are connected to the program, click on the small gear on the bottom left side of the Discord homepage to access User Settings.
On the next page, click on Voice & Video on the left-hand side of the page.
On this page, use the drop-down menus at the top to select which devices will be used with Discord. The input device will be your webcam or headset microphone, while the output device will be your speakers or headphones.
In addition to changing the devices, you can also adjust the input volume to adjust how loudly your voice is transmitted over Discord as well as the output volume to adjust how loudly other users' voices will be played back via your speakers or headphones.
Next, you will want to choose your microphone input mode:

Push-to-Talk: Allows you to designate a button on your mouse or keyboard to act as a Push-to-Talk key, meaning that you will have to press that button to transmit your voice over Discord.

Voice Activation: Allows you to simply start speaking in order to start transmitting your voice. The volume at which the microphone activates is determined by the "Input Sensitivity" slider below the input modes.
Now that you have all of your input and output devices configured, you are all set to start using Discord!

Congratulations! You now know how to configure and install Discord. For more information on using Discord, check out our other guides/articles at the Discord educational channel.
Alyssa KordekContent Writer I
Alyssa started working for InMotion Hosting in 2015 as a member of the Technical Support team. Before being promoted to Technical Writer, Alyssa developed expertise in the fields of server hardware, Linux operating systems, cPanel, and WordPress. She now works to produce quality technical content featuring cutting-edge topics such as machine learning, data center infrastructure, and graphics card technology.
More Articles by Alyssa
Sours: https://www.inmotionhosting.com/support/edu/discord/how-to-install-discord/
How to install Discord on Kali Linux Without Errors (libappindicator1) - 2021
Discord
Discord is a chat application that launched in 2015. Unlike traditional chat applications, Discord is aimed at gamers, featuring an overlay that allows a user to communicate via Discord whilst in-game. It also has many features that work with games, such as automatic user statuses to display what game someone is playing. Text messages, video messages, pictures, and emojis can be sent via Discord's chat, and voice calls, screen sharing and video calls are also possible through the app.
Currently, the application is available for Windows, Mac, Linux, iOS, and Android. Communication can be made between two users, a group of users, or through a "server". A server is split up into individual channels, and allows the creator to assign "roles" to users (which control what permissions they have in the server or a channel). Servers allow for large groups of people to communicate.
Discord Install Location
If you're looking to modify your Discord client, or fix issues you're experiencing, you may wish to access the installation files. Depending on your operating system, these might not be in the place you'd expect them to be. For example, on Windows, you might expect your installation files to be located in your Program Files folder.. spoiler alert: they're not! See where they're located for your OS below.
Windows
On Windows, Discord installation files are in the following folder:
Each of the folders in this folder are for a different version of Discord. For example is for version . Within each version folder, you can find the Discord EXE.
If you're looking for logs, caches, and other data, you can find those in this folder:
To open either of these folders, simply open up a File Explorer window, you can do this by right clicking your start menu button and clicking . Then, all you need to do is paste the path into the address bar (and hit ):

Mac
On Mac laptops and computers, you can find your Discord installation files in the following folders:
Caches, logs, and other data:
Installation files:
To access any of these folders:
Open up a Finder window
Hit + +
Paste the path into the text field
Hit
Sours: https://savelocation.net/discord
Installation discord
[Solved] Discord Installation Has Failed [Easily]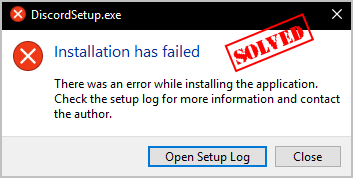 Many people have reported that they run into an error saying "Installation has failed" while installing Discord. If you're having the same error, or you fail to install Discord, don't worry. You're not alone. The good news is, you can fix the problem.
Discord is an application that specializes in text, image, audio and video for video games. It brings fantastic experience for playing video games.
Try these fixes:
Here are the solutions to fix Discord installation problem. Just follow the steps and you'll get Discord working again.
Step 1: Disable Discord in Task Manager

Step 2: Delete Discord folders

Bonus Tip
Note: the screenshots below come from Windows 10, and fixes apply to Windows 8 and Windows 7.
Step 1: Disable Discord in Task Manager
Before getting started, you'll need to end tasks running Discord in your computer, so you can delete Discord's folders in your computer in Step 2.
On your keyboard, press the Windows logo key and R at the same time to invoke the Run box.
Type taskmgr and click OK.

In the Process tab, select any process related with Discord, and click End task.

You'll need to repeat this several times to end Discord task if there are more than one processes for Discord.

Then close Task Manager.
Then you'll be able to delete Discord folders. Continue with the steps below.
Step 2: Delete Discord folders
On your keyboard, press the Windows logo key and R at the same time to invoke the Run box.
Type %AppData% and click OK.

Your File Explorer will open a window. Right click the discord folder and click Delete.

On your keyboard, press the Windows logo key and R at the same time to invoke the Run box.
Type %LocalAppData% and click OK.

Your File Explorer will open a new window. Right click the Discordfolder and click Delete.

Restart your computer.
You'll be able to reinstall Discord in your computer. Just download the Discord application, run the Discord setup file and it should be installed properly.
Hope the steps above helps you with the Discord installation failed issue.
Bonus Tip: Update available device drivers
The missing or outdated device drivers can bring your computer various problems, such as Discord not working or sound problems. So you should keep your device drivers up to date.
In addition, if you want to have the best possible experience when playing games, you should update your device drivers, especially drivers for your graphics card and sound card.
There are two ways to update your device drivers: manually and automatically.
Manual driver update – You can go to the website of your hardware devices, find the latest correct driver for your device, then download and install it manually into your computer. This requires time and computer skills.
OR
Automatic driver update – If you don't have time or patience, you can do it automatically with Driver Easy.
Driver Easy will automatically recognize your system and find the correct drivers for it. You don't need to know exactly what system your computer is running, you don't need to risk downloading and installing the wrong driver, and you don't need to worry about making a mistake when installing.
Downloadand install Driver Easy.
Open Driver Easy and click Scan Now. Driver Easy will then scan the problem drivers in your computer.

Click the Update button next to the flagged devices to automatically download the correct version of their driver (you can do this with the FREE version). Then install it in your computer.

Or click Update All to automatically download and install the correct version of all the drivers that are missing or out of date on your system (this requires the Pro version – you'll be prompted to upgrade when you click Update All and get a 30-day money back guarantee).

Restart your computer to take effect.
312
312 people found this helpful
Sours: https://www.drivereasy.com/knowledge/how-to-fix-discord-installation-has-failed-error/
How to install Discord on Debian Linux/ Ubuntu Linux
Anna Christina's friend looked like a model. Brown hair, graceful body and the same excellent taste. Christina: Meet this sheep or mumbler, call it whatever you want, you won't be. Mistaken. This was followed by the sonorous laughter of the girlfriends, I sat with my head down.
You will also like:
Sleeping until lunchtime, one feels the wandering of the accumulated energy, which must be put somewhere or not, if you are very lazy. We gave ourselves up to laziness, conducting leisurely conversations and admiring the seascapes. This was the second day, as mentioned earlier, spent with.
1145
1146
1147
1148
1149