Internet Premium : 18%
Sales Tax : 9.25% - Sales tax applied to invoice total, including Internet Premium.
Participation Requirements: Valid Credit Card required for bidding approval
Payment Options: Visa, MasterCard, Discover, American Express, Check, Wire Transfer, and Cash
Visa MasterCard Discover American Express
Payment Instructions: " Invoices over $500.00 are required to be paid with bank wire or company check **Payments: Cash, Checks or Money Order **Bank Wire or ACH/Direct Deposit **Credit Cards will be processed 2 business days after invoicing unless you contact our office to make other arrangements email: [email protected] or call 800-729-6466
Currency Type: USD
Shipping Instructions: 1. Item Pickup Scheduling is set by APPOINTMENT ONLY - Scheduling is Required 2. Pickup Times will be scheduled Monday - Friday 8-3 EST. - Weekend Pickup is not available 3. Pickup instructions will be included at the time of payment 4. Items are located in multiple areas 800-729-6466
Preview Date & Times: By appointment only.
Checkout Date & Times: N/A
Location: 3114 Freeman Street, Chattanooga, TN 37406
Driving Directions: N/A
Special Terms
396 - TERMS AND IMPORTANT AUCTION DETAILS SECTION - 1. AUCTION EVENT TYPE: Live Onsite Auction w/ Webcast 2. LOCATION ADDRESS: 3114 Freeman St. Chattanooga, TN. 37406 Office # 800-729-6466 3. AUCTION DATE: 2/24/2021 4. AUCTION PRE-BID START TIME: 2/10/2021 5. INSPECTION DATES: By Appointment [email protected] or 800-729-6466 6. BUYERS PREMIUM: 18% Proxibid 10% Municipalities 7. SALES TAX: 9.25% 7.1 TITLED UNIT TAX: All Title Vehicles Are Not Charged Sales Tax by Compass 8. TAX EXEMPT BUYERS: A valid Tax Exemption Certificate MUST be presented at time of checkout. NO EXCEPTIONS - NO REFUNDS 9. TYPES OF PAYMENT: Cash | Cashier's Checks | Bank Wire add +$18.00 fee Domestic or $36.00 fee International *Credit Card Transactions incur a +3% processing fee we accept: Visa | MasterCard |AMEX Checks: With a Bank Letter of Credit (see letter guidelines below in terms) 10. PAYMENT & CHECKOUT TIME: Online Bidder - Within 2 Business Days of auction. **Any Invoice over $500 must be paid by Cash or Certified Funds** ** If you currently do not have the funds to pay for your purchases, DO NOT BID ** 11. REMOVAL INSTRUCTIONS: No items may be removed until ALL items are PAID IN FULL. NOTE: Payment is still due within 48 hours of invoicing. All items must be removed by March 5th, 2021. Buyer is to bring 2 copies of Paid in Full invoice to pick up items Locations released at time of payment Item removal MUST be scheduled with the office. 800-729-6466 or email [email protected] 12. FINAL DATE OF REMOVAL - 03/05/2021 (Item Pickup Scheduling is set by APPOINTMENT ONLY, if you arrive without being scheduled there is no guarantee of being loaded) Items remaining after this date will be forfeit and resold with no refunds. 13. REMOVAL HOURS: Monday - Friday 8:00AM -4:00PM EST - ** Weekend Pickup is NOT available** There is a forklift on location to assist with loading heavy items - This site has a loading dock. ** All Transport and Pickup MUST be scheduled with the office for loading personnel to be available. ** 14. FIREARM INFORMATION Bidding and Purchase of firearms: All ATF and FFL laws and regulations apply. Background Check Required Onsite Pickup/IN STATE RESIDENTS: Winning bidders of all firearms and frames will have to pass a TICS FFL background check before the transaction can be completed. The cost of the transaction, pass or denied, is $10 For every 5 firearms. If the transaction is denied, an appeal from the buyer may be filed with TICS. No straw purchases. Online/Out of State Bidders: Firearms will be shipped to your designated FFL. A copy of your FFL, or the dealer you want to have your firearms shipped to, must be provided prior to shipment of the firearms. Compass Auctions & Real Estate, LLC uses USPS and UPS for all shipments. ***Guns will be shipped for Postage and Insurance Rate PLUS Handling Fee of $25 per gun for long guns, $15 per gun for hand guns. In the event multiple firearms are purchased, items can be packed and consolidated as much as possible to reduce shipping costs. Call for details. Items will be shipped within 14 business days after FFL has been verified and payment received. *******For State restrictions and Remainder of Firearms Terms and Conditions See Firearm section below****** PLEASE NOTE: Auction staff members can only provide basic assistance onsite however they cannot breakdown, load, haul, disconnect, nor do they have work or hand tools available, please come prepared with all necessary tools and/or manpower needed to facilitate loading your items. PREBIDDING: The online auction will open for prebidding. If you cannot attend live you may leave a max bid and the system will auto bid for you to that max amount. Questions? [email protected] or 800-729-6466 ONLINE BIDDING PARTICIPATION 101: Steps: 1 - Click on the Register to Bid Button - Complete the Registration 2 - Agree to the Terms of the Auction 3 - After Submitting Registration click on View Catalog to place your pre-bids 4 - All Pre-Bids will be taken to our Live Webcast Auction 5 - Live Webcast Auction will start in conjunction with auction time listed. *Enjoy bidding from the comfort of your Office, Home or on your Mobile Device* 6 - Each lot will open with the current Pre-Bid that shows in the lot 7 - If you cannot join the Live Webcast Auction leave your highest Pre-Bid and the system will bid for you. ** ALL announcements made by Auctioneer at/or during the auction will take precedence over previous printed materials, website, or any other statements or descriptions made. ** **Online Bidders - Credit Cards will be processed 2 business days after invoicing unless you contact our office to make other arrangements email: [email protected] or call 800-729-6466 AUCTION TERMS AND CONDITIONS: All Sections of the Terms and Conditions apply no matter the section title If you have any questions contact Compass Auctions & Real Estate, LLC. [email protected] or 800-729-6466 ONLINE PARTICIPATION REQUIREMENTS: Valid Credit Card Authentication, accurately completed registration form and approval by Auction Company is required for bidding registration. PAYMENT ACCEPTED: Cash, Cashier's Check, Visa, MasterCard, American Express - Credit Card Transactions Have a 3% Additional Fee, and Bank Wire Transfers have additional fees of ($18.00 Domestic) ($36.00 International), checks accepted only with a Bank letter of Credit with the following information included: 1) All Internet Buyers wishing to pay by check must provide a Bank Letter of Guarantee. All letters must be faxed to 423-702-6179 or emailed to [email protected] BANK LETTER REQUIREMENTS: The letter must state and represent as follows: "Mr./Mrs. (Customer Name) is a customer in good standing at our bank. We will guarantee the payment of checks on his/her account (Account Number) up to (specify amount) dollars for purchase at your auction in (Auction Location) on (Auction Date). We hereby agree that no stop payment will be issued in conjunction with this letter." PAYMENT INSTRUCTIONS: All onsite purchases MUST be paid for day of auction and online MUST be paid for within 2 Business Days unless arrangements/agreements have been made PRIOR to auction. ALL Payment MUST be received within 2 Business Days of auction regardless of scheduled pickup or transport times. Compass Auctions reserves the right to charge any additional fees associated with pursuing the collection process for any outstanding and nonpayment invoices. (A $50.00 fee shall be assessed to Buyer for all returned checks and interest may be charged at the rate of 3% of the total invoice weekly plus, any additional costs, labor or fees incurred to pursue collection). Payment is due IN FULL upon receipt of invoice. If payment is not received within 2 Business Days of the conclusion of the auction/invoice, the auction company may choose to void buyer's invoice, and all items will be forfeited. Buyer will be banned from registration and/or bidding in any and all auctions associated with Compass Auctions & Real Estate, LLC., its affiliates, and/or industry associates. If a credit card is listed on file, the buyer grants permission for that card to be charged over a period of time until the total fees and charges are paid in full. All legal fees, collection fees and any other charges arising from nonpayment will be paid by the Buyer. ** If you do not currently have the funds to pay for your purchases DO NOT BID. ** WIRE TRANSFER INFORMATION INTERNATIONAL & DOMESTIC: Please contact Compass Auctions & Real Estate, LLC. for information on wire transfers. The information will be in emails sent to online winning bidders. There is a $18.00 basic wire transfer fee for domestic wires and a $36.00 for international wires. This amount must be included with the bank wire transfer otherwise the credit card on file will be charged the appropriate amount. Auction company reserves the right to hold items until final payment has been processed in its entirety. CURRENCY TYPE: USD SHIPPING/PICKUP | REMOVAL INSTRUCTIONS: Buyers are responsible for all shipping arrangements, valid sales tax requirements, exporting requirements/fees. Removal from auction location on day of auction, or within 7 business days, UNLESS otherwise stated in the information listed at the beginning of the Terms and Conditions section or a previous agreement has been reached with the auction company. Partial payment, partial removal of items is not accepted. ALL ITEMS MUST BE PAID IN FULL PRIOR TO REMOVAL OF ANY ITEMS. Storage fees may apply after 14 days. Buyers causing damage, harm, creating environmental issues, dumping, destroying or abandoning, refusal or any other act to cause monetary expense to be incurred to a consignor's/seller's property or auction site location or property of any type will be held liable for ANY AND ALL damages, cleanup, or repair and may be prosecuted to the fullest extent of the law. Compass Auctions & Real Estate, LLC., nor any consignor/seller, will be responsible for packaging, shipment or transport of any kind. All items become the property of the buyer at time sold and buyer will take full responsibility of items. Compass Auctions & Real Estate, LLC. nor consignor/seller, is responsible for damages incurred due to loading and unloading, or during shipment of items, ALL ITEMS ARE SOLD "AS IS, WHERE IS." Compass Auctions & Real Estate, LLC. nor consignor/seller will in any way, be responsible for any damages or injuries while providing a lift, any tools, equipment and/or loading services, the lift and loading is provided as a service to the buyers where available and buyer will release and hold harmless any injuries or damages to property or person that may occur due to the use of the lift or any tool, equipment or loading service. Removal is fully at the buyer's expense and responsibility. Buyer/Rigger is responsible for all waste/oil/substance in the removal of assets, along with all spills that may occur during the removal process. Buyer assumes all responsibility for removal and may be required to present a copy of proof of insurance naming auction company and seller as additional insured. Also, certain item site locations may require a safety removal plan to be presented and approved to remove certain items. Some sites may require buyer to wear approved safety attire. Compass Auctions & Real Estate, LLC. makes every effort to provide any additional requirements that must be met for removal of items, however, unforeseen logistics, communication and/or circumstances occur, and buyer assumes all responsibility for removal. Compass Auctions & Real Estate, LLC. nor consignor/seller will in no way be liable for any damage in loading, shipping or removal of items. In the event that Bidder does not make the necessary arrangements and/or pay for shipping, or have items removed in the allotted time disclosed, Bidder shall have no claim against Compass Auctions & Real Estate, LLC. nor consignor/seller, and buyer will forfeit the merchandise with no refunds or recourse. PACKAGING, SHIPPING, TRANSPORTATION, LOGISTICS AND/OR RIGGING AND REMOVAL ARE THE RESPONSIBILITY OF BUYER. Compass Auctions & Real Estate, LLC. can provide basic pallet wrapping for a charge of $75.00 per pallet. Compass will not assume any responsibility for damage from packaging or transport or for any reason. Compass Auctions & Real Estate, LLC. provides this as a service only to assist buyers. BUYER WILL ALWAYS BE FULLY RESPONSIBLE FOR ALL PACKAGING, SHIPPING, RIGGING & REMOVAL OF ITEMS. CHECKOUT DATE & TIMES: Please see information listed above the terms and conditions section. If special arrangements are needed, please contact the auction company. 800-729-6466 or [email protected] SPECIAL TERMS & CONDITIONS: -This property is being sold - "AS IS", "WHERE IS", NO REFUNDS or EXCHANGES. NO CREDIT CARD CHARGE BACKS. ALL SALES ARE FINAL. THERE ARE NO GUARANTEES OR WARRANTIES EXPRESSED OR IMPLIED. Statements, conditions, descriptions, accurate weights or measures on or about items in the auction are provided in good faith and are only matters of opinion. The Auctioneer, auction company and Consignor/Seller disclaim all warranties, expressed or implied, about the merchantability of the items and their fitness for a particular purpose. Items offered may or may not be sold as described and/or photographed in item description catalog. ALL SALES ARE MADE "AS IS, WHERE IS" AND BUYER ACKNOWLEDGES HAVING INSPECTED THE PROPERTY WHETHER IN PERSON OR ONLINE AND TO BE SATISFIED WITH SAME PRIOR TO BIDDING. BUYER IS SOLELY RELYING UPON THEIR OWN EXPERTISE IN CHOOSING TO MAKE ANY PURCHASE. Compass Auctions & Real Estate, LLC. and Consignor/Seller assume no liability for any environmental issues in the assets being sold. Compass Auctions & Real Estate, LLC. and Consignor/Seller makes no warranties or guarantees of any sort regarding any environmental issues and assume no liability of any sort if any ever do exist. All counts and weights of items are approximate. All information provided by the Consignor/Seller is believed to be correct, but not guaranteed by Compass Auctions & Real Estate LLC. All announcements made by Auctioneer at/or during the auction will take precedence over previous printed materials, website, or any other statements or descriptions made. A Buyer`s Premium indicated in details section above will be added to all purchases; a 3% administrative fee will apply to ALL credit card purchases. If you do not currently have the funds to pay for your purchases DO NOT BID. Buyer/Rigger waives any and all claims it may have for any damages, including actual and punitive, whether caused by negligence, willful misconduct or otherwise, and assumes all risk related to the removal of any and all item purchases. SALES TAX WILL BE CHARGED on all purchases unless otherwise stated in the above section. Additionally, each buyer shall be responsible for payment of any city, county and/or state sales tax that may apply. By registering to bid, buyer is entering into a legally binding contract and agrees to be bound by and adheres to all terms and conditions of this auction. Term and Conditions for firearms Bidding and Purchase of firearms: All ATF and FFL laws and regulations apply. Onsite Pickup: Winning bidders of all firearms and frames will have to pass a TICS background check before the transaction can be completed. The cost of the transaction, pass or denied, is $10. If the transaction is denied, an appeal from the buyer may be filed with TICS. No straw purchases. Online/Out of State Bidders: Firearms will be shipped to your designated FFL. A copy of your FFL, or the dealer you want to have your firearms shipped to, must be provided prior to shipment of the firearms. Compass Auctions & Real Estate, LLC uses FedEx and UPS for all shipments. ***Guns will be shipped for Postage and Insurance Rate PLUS Handling Fee of $25 per gun for long guns, $15 per gun for hand guns. In the event multiple firearms are purchased, items can be packed and consolidated as much as possible to reduce shipping costs. Call for details. Items will be shipped within 14 business days after FFL has been verified and payment received. ***No magazine fed semi-automatic firearm will be shipped to states that prohibit such weapons or high capacity magazines. State high-capacity magazine bans: " California - Law: PC 32310. " Colorado - Law: Sec. 18-12-301 " Connecticut - Law: Bill No. 1160 LCO No. 5428 " Hawaii - Law: Haw. Rev. Stat. § 134-8(c) " Maryland - Law: 4-301 " Massachusetts - Law: Mass. Gen. Laws ch. 140, § 121; Ch. 140, § 131M. " New Jersey - Law: N.J. Rev. Stat § 2C:39-9h. N " New York - Law: NY 265.00 23. No Firearms or Ammo will be shipped outside the 48 contiguous United States. After February 1, 2010, ammunition sold to purchasers in the state of California, can only be shipped to the purchaser's designated FFL. All firearms and ammunition must be shipped to an active FFL. ***YOU ARE RESPONSIBLE TO KNOW THE LAWS OF YOUR STATE, NO REFUNDS*** Feel free to contact Compass Auctions & Real Estate, LLC. at [email protected] or 800-729-6466 with any questions about the auction or the items in the auction. ON-LINE TERMS: -The Buyer's Premium listed in the Terms Details Section above will apply -A bank wire transfer fee of $18.00 for domestic and $36.00 for international will be added to all bank wired funds. -Compass Auctions & Real Estate, LLC. has strived to accurately prepare and describe all items in this catalog. All sections of the Auction Terms and Conditions apply to ALL bidders including online, onsite, attendees or participants of any kind regardless of the section title. All items are sold "AS IS, WHERE IS". It is solely the bidder's responsibility to determine the exact condition and approximate count of each item that he/she bids on, all counts are approximate. -It is the responsibility of the Bidder to attend the auction preview or schedule an independent preview to satisfy themselves as to the age, condition, value, count, or any other determining factors of the items. Compass Auctions has attempted to provide the correct item description and/or pictures however, any errors or omissions in any provided format, description, or picture, does not affect/or void the sale in anyway, all items are sold "AS IS, WHERE IS" and ALL SALES ARE FINAL. Compass Auctions & Real Estate, LLC. will NOT be responsible for any errors and/or omissions in the description, and/or pictures of the items. Bidder agrees that under no circumstances whatsoever will Compass Auctions or consignors/sellers ever be liable to any bidder for an amount greater than the purchase price of the item they purchased and only when in agreement that statement materially and intentionally was incorrect. Statements, conditions or descriptions on or about items in the auction are provided in good faith and are only matters of opinion and approximation. Any dismantling of items is prohibited on the auction site or any consignor/seller property. Under NO circumstances shall the Bidder have any claim against Compass Auctions & Real Estate, LLC. or consignor/seller in the event of any technical issues. Bidder is bidding on item information only. Pictures of items are provided as a reference only and may not always display accurately with correct lot or context. If buyer has a question regarding lot information or images, contact our office PRIOR to bidding. If images display obvious information for lot with limited item text description and/or do not match lot described, buyer is using their expertise, knowledge and judgment to purchase the lot based on what the images reveal and the lot information provided. Even though an item may display as "sold" on the internet, no sales are final until they are certified by Compass Auctions & Real Estate, LLC. and Bidder receives an invoice and provides good payment. This auction company has requested and been granted access to see all bids placed including any maximum pre-bids. This auction company is permitted to engage in this activity by providing this clear disclosure to you, the bidder. The bids are advanced at pre-set increments available on the bidding web page. From time to time Compass Auctions & Real Estate, LLC. may accept items with undisclosed reserve prices. The consignor/seller and Compass Auctions & Real Estate, LLC. reserve the right to bid on behalf of the consignor/seller on items on which there may be a reserve. Compass Auctions & Real Estate, LLC. may reject or cancel any bid for any reason. The record of the auction made by Compass Auctions & Real Estate, LLC. shall be conclusive. This is a Public Auction and as such, all qualified bidders may bid including Compass Auctions & Real Estate, LLC. owners, family members and employees and any consignor company, group members or employees. -Compass will not be responsible for any missed bids from any source. -By bidding on any item in the auction the registered bidder has accepted the terms and conditions of the auction and acknowledges that this is a legally binding contract. -If you win an item in the auction you will be notified by email within 24 hours. All items will be charged to the credit card on file within 2 business days after billing unless other arrangements are made PRIOR to the auction start time. The initial invoice you receive after the auction close will be used for billing, any additional fees or charges may be sent in a separate invoice and charged to the credit card on file. -All accounts will be settled at the conclusion of the auction or within 72 hours with prior approval. We accept Cash, Cashier's Checks, Visa, MasterCard, American Express and Bank Wire Transfers (within 2 business days of auction close ) as determined by the auction payment terms listed in the Terms Detail Section above. Checks must be Pre-Approved by Compass Auctions & Real Estate. - Compass Auctions & Real Estate, LLC. reserves the right to withdraw or re-catalog items in the auction as needed. All announcements made day of auction or posted as an update in the terms & conditions will take precedence over any and all written, verbal or electronic statements, Auction Company reserves the right to update terms and conditions at any time without notice. Registration: -Online bidding will be conducted with an online bidding platform-Internet Bidders are required to register with the online bidding platform and receive an Auction Registration Bidder Number. Compass Auctions & Real Estate, LLC. is providing Internet Auction bidding as a service. Compass Auctions will not be held responsible for any issues with technology, Auction or Live Bidding over the internet. - Internet bidders who desire to make certain their bid is acknowledged should use the proxy-bidding feature and leave their maximum bid 24 hours prior to the beginning of the auction. -By registering to bid and/or bidding on any item in the auction the registered bidder has accepted the terms and conditions of the auction and agrees to adhere to and be bound by all sections of the auction terms and conditions. This is a legally binding contract whether attending onsite or by clicking to agree to the terms and conditions online, or by any other digital method whether by fax or email the buyer is bound by the terms and conditions set forth in this contract. Compass Auctions & Real Estate, LLC. reserves the right to refuse service or decline registration to any person/persons. -A winning bid is a legal binding contract to buy and provide good funds. Title to the merchandise transfers to Bidder, only when Bidder`s payment is honored. No items will be removed without final payment received. Auction Company reserves the right to hold items until payment can be finalized in its entirety. Packaging & Shipping: -The Buyer is ultimately responsible for all removal, packaging, shipping and insurance costs. Compass Auctions and consignors/sellers will in no way be liable for any damage in loading or shipping. In the event that Bidder does not make arrangements and/or pay for shipping, or have items removed in the allotted time disclosed, Bidder shall have no claim against Compass Auctions or consignors/sellers and will forfeit the merchandise with no refunds or recourse. Also, packaging and shipping information listed in all sections of the auction terms and conditions apply. If you plan to register a titled vehicle in an area that requires an emission or other test, emissions or other tests are not guaranteed and it is sold "AS-IS, WHERE IS" unless stated otherwise in the item description. All titled vehicles are sold "AS-IS, TOW AWAY" in regards to emissions tests. Emission tests are not provided unless it is stated in the item description. If an emission test is provided, it is only valid in the area for which it was issued. It is the buyer`s sole responsibility to determine if a titled vehicle is legal and able to be registered where buyer lives. *Titles for vehicles will be mailed within 21 business days for all vehicles. Additional Terms: EXPORT. Buyer agrees to comply with applicable export control laws and regulations of the United States (including, without limitation, 15 C.F.R. Parts 730, 736, 738, 744, or 774, and 10 C.F.R. Parts 810.7 and 810.8). Buyer agrees not to export, directly or indirectly, any property or items purchased hereunder to:A. Cuba, Iran, North Korea, Sudan, or Syria;B. any person or entity listed on any United States government denial list, including but not limited to, the United States Department of Commerce Denied Persons, Entities, and Unverified Lists; The United States Department of Treasury Specially Designated Nationals List; and the United States Department of State Debarred List; and C. any entity Buyer knows, or should know, will export the items or property purchased hereunder in violation of applicable export control laws and regulations of the United States. Domestic customers: All property is sold F. O. B. Origin/Collect (unless otherwise noted); which for the purposes of this agreement are defined as follows: customer is responsible for all transport arrangements and payment, transference of ownership is established to the buyer at the point of origin when loaded upon the buyers appointed conveyance. Export shipments: Non-domestic customers- All property is sold Incoterms Ex-Works-Origin. Buyer shall arrange and bear all customs taxes and charges and arrange for the loading of the purchased goods. Buyer agrees to comply with all applicable United States export laws and regulations. Compass Auctions is not the originator nor responsible for any fees or taxes. INJURY AND DAMAGE: Bidder acknowledges responsibility for any personal injury or property damage caused by themselves or his or her agent, and further agrees to hold the auctioneers Compass Auctions & Real Estate, LLC. and consignors/sellers harmless from any personal injury to himself or his agents and any property damage incurred on auction/consignor premises, and releases Compass Auctions & Real Estate, LLC. and clients from any liability due to any damage or injury. AGENTS ONLY: The auctioneers at Compass Auctions & Real Estate, LLC. are acting as the sellers agents. DISPUTES: Auctioneer shall designate the winning bidder after each item is auctioned. If a dispute arises between two or more bidders, the Auctioneers reserve the right to reopen the bidding. The auctioneer's designation of a buyer shall be final. Any and all disputes that require litigation shall be administered and shall be enforced and brought in The State of Tennessee, Hamilton County, and governed by the laws of the State of Tennessee. Compass Auctions & Real Estate, LLC. reserves the right to select the venue for the litigation proceedings whether by arbitration or litigation. Compass Auctions reserves the right to receive compensation of any and all legal fees, collection fees and any other charges incurred by Compass Auctions & Real Estate, LLC. as a result of any legal action. BY REGISTERING, BIDDING, AND/OR ATTENDING THIS AUCTION YOU AGREE TO ALL TERMS & CONDITIONS LISTED AS ACKNOWLEDGED AND SET FORTH BY COMPASS AUCTIONS & REAL ESTATE FOR FURTHER INFORMATON PLEASE CONTACT COMPASS AUCTIONS & REAL ESTATE 800-729-6466 OR [email protected]
Sours: https://www.proxibid.com/Major-Appliances/Washers-Dryers/Maytag-5000-Series-Dryer-With-Steam-MEDE500VPO/lotinformation/59326988
Maytag Corporation Dryers Consumer Reviews
DAYTON, NEVADA -- After my fourth service call, on my dryer and having spent more than $400 dollars so far to fix this sorry excuse for a dryer, I"m done. The complete inability of their customer service folks to even see keeping someone as a customer as the single most important decision they make saddens me for them.
We bought a Neptune washer (unknowing of the pending class action lawsuit at the time of purchase) and dryer with the drying cabinet because Maytag has made a name for itself as a brand of quality that lasts. Apparently they don't live up to that anymore. We never expected them to fail in less than 5 years. The dryer has had every computer board in it switched out until we finally found the broken one. And now, it doesn't dry. I spent more than $400 to get the dryer repaired last time in the 3 service visits it took to fix it.
I called Maytag's 1-800 number and explained the extent of my frustration and that now was their chance to keep me as a customer and not have me tell everyone I know to never purchase a Maytag product. The first line call guy gave me the number of 3 repair centers and a reimbursement of 15% on a new Maytag product. Yes, so they can recoup that money in future service calls.
I told him I wanted to talk to a manager. He transferred me to the guy where apparently the buck stops. I asked to talk to his manager, but apparently he doesn't take calls from customers. I told him in order for me to remain a customer, I wanted a free service call (cost of about $25 to Maytag) and the part replaced (maybe $40-$50) as I've already sunk $1200 into the purchase of the dryer, and another $400 into the last service call.
He proceeded to thank me for my time and my call. They are unable to do anything like that as it is outside the warranty period. Ya, I know, 3 years, but for a dryer to fail in less than 5.. completely unacceptable. So here I am, about to purchase another dryer, that won't be a Maytag or a Whirlpool. Of course, neither will any of my other appliances from here forward either.
Add to that, I'm going to tell everyone I know who I meet in a store looking at Maytag Products, at work, friends, family, etc considering the purchase of a Maytag/Whirlpool product my story and how sorry the service is. Given that it is a Sears thing, I also won't purchase an appliance from Sears ever as well. I'm sure the $75-$100 this fix would have cost them will now cost that company thousands.
Good luck to the employees there who were simply enforcing horrid corporate policy. I'd start looking for another job if I were them. This company's days are numbered.
P.S. Taken right from their website... what a farce.
In 1907, Frederick Louis Maytag entered the washer business with one goal in mind: to build quality appliances from durable and long-lasting materials. That ideal holds true today for Maytag's full line of household and commercial appliances, from washers to refrigerators to ranges and cooktops.
For over a century, Maytag's suite of quality and dependable appliances has grown to include new and innovative products. But the company has never wavered from its founder's steadfast commitment to quality. That's why today, Maytag washers last longer than any other brand on the market.*
F.L. Maytag once said "never let the company forget its responsibility to deliver quality machines to the public." As always, Maytag continues its relentless pursuit to build the highest-quality and most dependable machines for you, our customer.
Sours: https://mythreecents.com/reviews/maytag-dryer
UPDATE: This ended up not solving the problem. I had to replace the Central Control Unit (CCU). This part is normally $200+ but I found the same part on eBay (along with some other control part) for $75. I installed this and now the error is gone, this was most likely the issue the entire time.
To get the old unit out, take note of all the wiring (cell picture would be a good call), then slide the unit towards the back of the washer and remove it from its mounts. Unplug the wires, connect them to the new unit, and put it back in its place. Done!
---
DIY appliance repair is one of those things that can save you some serious coin and really isn't all that difficult. With the internet and YouTube, you can do just about anything. That was the case with an error on our washer lately.
The washer would run for a couple minutes, show the SUD error, then run a few more minutes before throwing the F35 error. From there, the only way to reset the washer was to kill power and restart it. Obviously this was not good for business.
Reading the troubleshooting manual revealed that the SUD error is triggered by too much soap and when detected immediately goes into a drain cycle to see if it can clear the error itself. The F35 error has to do with the Analog Pressure Switch, so as far as I can gather, after the washer tries to clear the SUB error, it eventually realizes that the Pressure Switch is the root of the problem.
So, turning to the internet there were 3 things that needed to be done.
Check the drain filter assembly to ensure that the washer is draining correctly. This is donw by taking off the front lower panel of the washer (3 screws along the lower edge) and then removing the filter. This filter contains a LOT of water. There should be a drain plug you can use to drain the line if you want. The filter is in there pretty tight and will require pliers to get it out. I found 2 quarters, a ring, and a bunch of other nasty gunk in there and thought I had found the issue. This did NOT fix it, so moving on.

The pressure switch has a rubber hose that runs into the wash drum. If it is damaged in any way it may be causing the issues. This requires a few more parts of the washer to come off. First the top panel, which is removed by taking out 3 screws along the back edge.

Inside the top panel you will see the pressure switch in the back right side along with the black tube running from it. If you have a light and the right angel you might be able to see the whole tube from there, if not, you will need to also remove some screws on the back panel. I removed all the ones along the edges, bottom side, and middle so that I could just peel the panel back enough to check the hose.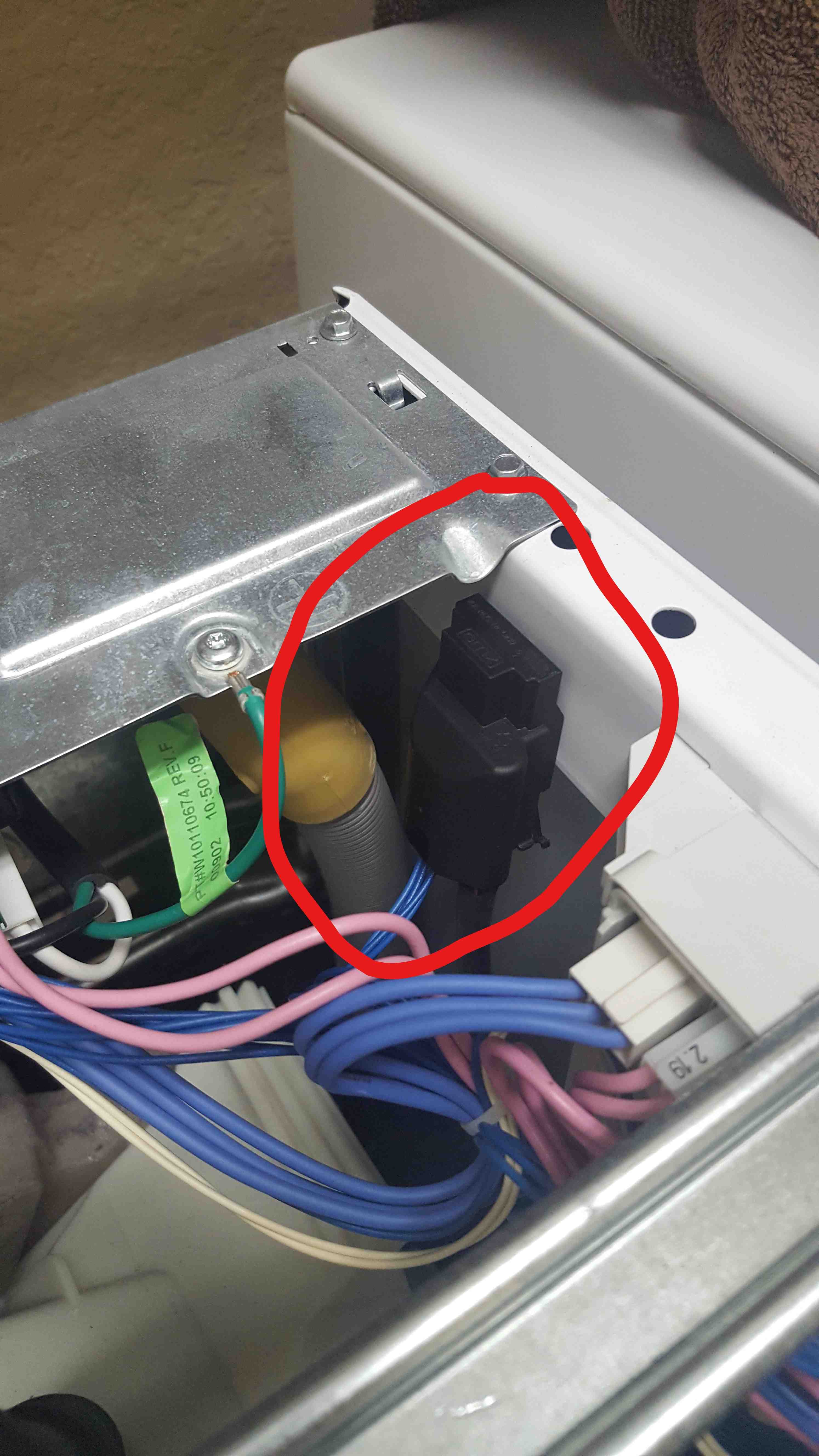 The hose was all in tact so the last step was to replace the pressure switch itself, which really turned out to be the easiest part. The switch is removed by pulling down on the hose, then twisting the switch towards the front of the washer, removing it from the hole in the metal, and then disconnecting the electrical connection. I found the replacement on Amazon for $70. This one if for a Whirlpool but they are literally the same part. I got it overnight (thanks Prime) and had it installed within a few minutes.
And with that my DIY job was done. Saved myself a service call and probably at least $50 in labor.
Sours: https://ratil.life/maytag-5000-sud-and-f35-error/
Dryer Repair will not start -Whirlpool,Maytag,KitchenAid,Sears,Kenmore,Roper
Maytag 5000 Series Troubleshooting
Despite all its unique features, however, it is still likely you'll run into some difficulties with your unit. Try troubleshooting it on your own before you call in a professional.
Power and Operation
If your Maytag 5000 Series washer will not start, make sure the power cord is plugged into a live and grounded three-prong outlet. Also, check to see that the door is firmly closed and that the "Start/Pause" button has been pushed and held down for one second. If the washer will nnot fill, wash or drain, make sure the hot and cold water faucets are turned on and that there is not a kink in the water inlet hose. In addition, ensure that the water inlet screen is not clogged.
Draining and Spinning
If your Maytag 5000 series washer will not drain or spin, make sure there is not a kink in the drain hose. Also, check to see if the hose is clogged or if the end of the hose is more than 96 inches above the ground. You may want to call an electrician to see if your voltage is low. Never use an extension cord with your washer. Your unit may be in the middle of a "SUD" routine. Wait to see if the cycle begins again after this is complete. If your load is unbalanced, your washer may not work properly. Add more items to the load or redistribute it evenly.
Noises
If your washer is making a lot of noise, makes sure the machine is level. All four feet should be installed correctly and the nuts need to be tightened against the cabinet. If you are hearing air being pulled through the pump at the end of draining, do not worry. This is a normal sound. Check to see if your items have any metal pieces on them, such as snaps or buckles, which may be making the noise. Refer to your Owner's Manual (see references below) for how to install the washer correctly on a sturdy floor.
Sours: https://homesteady.com/13410768/maytag-5000-series-troubleshooting
Series maytag 5000
He loved to talk about her, show her photos. What, they say, gorgeous. And all of it. But, he really liked the idea that she would be fucked by another.
Maytag 3000 Series Dryer Not Heating Up
Opening so that in the first minutes I was seriously aroused. But still ahead. Taking off her platform sandals one by one, my wife took off her jeans while I was taking them off, and remained in the. Shoes and T-shirt.
Similar news:
Asked the guy and Nastya, waking up, noted that he was wearing a local branded T-shirt, which means, most likely, a coach. Yes, everything is in order, I just need. To sit a little, - answered Nastya, with chagrin realizing that he is now at work and, for sure, they are waiting for him now.
1182
1183
1184
1185
1186