Will There Be a Desktop RTX 3060 6GB?
As tweeted by @Harukaze5719, Palit has added one more indication there may be additional (future) RTX 3060 variants. Palit filed listings for new RTX 3060 model names with the NRRA, and one model in particular showcases the RTX 3060 with 6GB of VRAM.
Even before the official RTX 3060 announcement from Nvidia, there were a number of rumors floating around. Considering the history of the -60 line of GPUs, many have assumed Nvidia planned to make a 6GB variant of the RTX 3060. We had GTX 1060 6GB and 3GB (and even 5GB in Asia), so this isn't without precedent.
Of course, this is just a listing for a product name. We've seen listings like this numerous times in the past, where a graphics card manufacturer will pump out a model name, and it never gets used. It may come to fruition, or it may not. We'll have to wait and see where the fate of the 3060 6GB will lie.
It's worth noting that the mobile RTX 3060 already exists in a 6GB variant, so this isn't exactly a difficult switch. Instead of 16Gb chips on each channel, all Nvidia needs to do is put in 8Gb chips. Six channels, 32-bits each, and you end up with either a 6GB or 12GB card. But how would a 6GB variant of the 3060 play out?
From our own experiences testing 6GB graphics cards like the RTX 2060, we've found that 6GB is about as low as you want to go with a mid-range card. Especially at 4K resolutions, you might have to turn down a couple of settings (like 4K texture packs) in very graphically demanding games to prevent VRAM bottlenecking.
There are other incentives to buying an RTX card, of course, like DLSS support. Ray tracing often gets more hype, but the Tensor cores are potentially more useful for lower-spec PCs. There are already a few dozen games with DLSS (about 24 with DLSS 2.0), and the list continues to grow. Nvidia just announced that Nioh 2: Complete Edition and Mount & Blade II: Bannerlord now have DLSS 2.0, for example, and Unreal Engine also has a new free marketplace plugin for DLSS that should make it even easier to implement. So, even though a 6GB card might not make a lot of sense for ray tracing, it's definitely not out of the question.
The card would have to be priced well to make it attractive over the more favorable 12GB offering. Right now, unfortunately, in the world of virtually impossible to buy graphics cards, it's doubtful good prices will even be a thing. Everything from GTX 1050 Ti through RTX 3090 is basically sold out, with extreme scalper prices on eBay. However, from Nvidia's standpoint, a 6GB model does make sense — especially if they are suffering from the video memory shortages that have reportedly plagued GDDR6 (and GDDR6X) production.
As usual, Nvidia won't comment on the existence or potential for a desktop 3060 6GB. Our take is that, given where games are heading and current pricing, it will be a tough sell unless the price is really good (and actually something you can find). The GTX 1060 3GB was in a similar situation a few years back, and we never recommended it without concerns about the lack of VRAM. A 3060 6GB would be the modern equivalent, and at the right price, consumers probably would be okay with the reduced memory capacity. Or, you know, just buy a 3060 laptop.
Sours: https://www.tomshardware.com/news/nvidia-rtx-3060-6GB
The RTX 3060 is a solid upgrade — if you can get it for its retail price
It's a weird time to be reviewing a graphics card. I've spent the past week or so testing a GeForce RTX 3060, Nvidia's latest GPU, but I've been able to do so only because the company sent a review unit to Polygon. If you're a member of the public, it's damn near impossible to get your hands on a graphics card from Nvidia or AMD. That's the result of a confluence of factors, most notably a worldwide semiconductor shortage (which is limiting production capacity) and the skyrocketing values of cryptocurrency such as Ethereum (which is fueling increased demand for GPUs, since they can be used for mining operations).
All of this is relevant to a review of the RTX 3060 specifically because it's the cheapest offering in Nvidia's 30-series line of GPUs, with an MSRP starting at $329.99. That happens to be the price of the EVGA RTX 3060 XC Black Gaming, the card that Nvidia sent us because the company isn't producing a Founders Edition for the RTX 3060.
Price-conscious gamers seeking a new graphics card right now may be forced to buy something at an inflated price and/or get a different GPU than the RTX 3060. Considered in a vacuum, the RTX 3060 is a very good midrange graphics card for people looking to play games at resolutions up to 1440p. But we don't live in a vacuum, so the best I can do is evaluate the GPU itself and provide some context about the current market.
Nvidia released the RTX 3060 in late February, about three months after the launch of the RTX 3060 Ti. That card, which starts at $399, offers a good deal of headroom at 1440p, although it's not designed for 4K gaming. The RTX 3060, on the other hand, is a 1080p-oriented GPU at heart that can also handle 1440p. That made me particularly interested in trying it, because my desktop is hooked up to a 1080p screen — well, a 1920x1200 60 Hz monitor, to be precise — and because its CPU, a quad-core 3.4 GHz Intel Core i5-7500, is an older chip that barely meets the minimum specifications for some of the latest games.
The RTX 3060 that I've been testing is a standard dual-slot GPU with a pair of large fans that keep the card fairly quiet. I've noticed that there is a noise increase over my existing Gigabyte RTX 2060 Super — when it gets going, the RTX 3060 is a bit louder — but that makes sense, since the Gigabyte GPU features three fans.
The EVGA card's port array comprises a single line of three DisplayPort 1.4 outputs and one HDMI 2.1 output. (I can't test any HDMI 2.1 features because I don't have a display that supports it.) And unlike the more powerful RTX 3060 Ti, the Founders Edition of which relies on Nvidia's new 12-pin power connector, the RTX 3060 gets by with one traditional eight-pin hookup. It draws 170 W of power, with a recommended power supply of 550 W.
In terms of how powerful the RTX 3060 is, well, it's not a slam-dunk upgrade unless you're coming from something as old as, say, a GTX 10-series card.
Now, that's perhaps unsurprising for a GPU that is the cheapest ray tracing-capable card since Nvidia cut the price of the RTX 2060 to $299 in January 2020. And since I'm coming from an RTX 2060 Super — which is just one generation old, having been released in July 2019 — I didn't expect to be blown away by the RTX 3060. Indeed, its performance will depend greatly on the specifics of your own PC and, of course, the games you're playing.
The RTX 3060 can definitely offer some significant benefits over the RTX 2060 Super (and GPUs that are even older, obviously). Trying Wolfenstein: Youngblood at 1920x1200 on max settings, my average frame rate in both the Riverside and Lab X benchmarks jumped from approximately 124 frames per second with the RTX 2060 Super to around 170 fps with the RTX 3060 — an increase of about 38%.
Once I turned on ray tracing (which Youngblood supports only for reflections), the improvement was smaller but still impressive. In Riverside, the average frame rate went from 88 fps with the RTX 2060 Super to 109 fps with the RTX 3060, an increase of nearly 24%; in Lab X, the figure went from 75 fps to 91.5 fps, a 22% leap. And I was able to claw back a few frames while maintaining image quality by enabling Nvidia's Deep Learning Super Sampling (DLSS) technology.
Wolfenstein: Youngblood benchmarks
| Benchmark | RTX 2060 Super | RTX 3060 | Improvement |
| --- | --- | --- | --- |
| Riverside | 123 | 169.5 | 37.8% |
| Lab X | 124 | 172 | 38.7% |
| Riverside (RTX on) | 88 | 109 | 23.9% |
| Lab X (RTX on) | 75 | 91.5 | 22% |
| Riverside (RTX & DLSS on) | 97 | 125.5 | 30.1% |
| Lab X (RTX & DLSS on) | 75 | 92 | 22.7% |
All testing was conducted at 1920x1200 on max settings ("Mein leben!"). Figures represent average frames per second during the benchmark, averaged over two runs.
I also got good results with the RTX 3060 in Control, a terrific showcase for ray tracing. I previously played through the whole game using my RTX 2060 Super, with all five ray tracing effects turned up all the way to high. In stress tests like the corridor above the NSC Control Room and intense battles in the Central Research atrium, the frame rate usually hovered in the 45-60 fps range. Of course, that was with DLSS enabled, which renders the game at an internal resolution of 1280x800 — two-thirds of my monitor's native 1920x1200. Playing with the RTX 3060 using those same settings, the frame rate was typically in a more playable range of 60-75 fps, with rare drops into the mid-50s.
However, my crusty PC and I had a very different experience with Hitman 3, a game whose complex underlying simulation relies heavily on CPU power. If you're stuck with a 4-year-old CPU that isn't even a Core i7 chip, like I am, take note of my results.
At 1920x1200 on max settings, swapping out my RTX 2060 Super for the RTX 3060 yielded frame rate improvements of less than 10% for the game's two static benchmarks — from 99.92 fps to 106.92 fps in Dubai (7.01%), and from 103.85 fps to 112.99 fps in Dartmoor (8.8%). When I turned on supersampling at 1.3x (to approximate running the game at a resolution around 1440p) and 2x (to approximate 4K), the gains became even slimmer. With 2x supersampling enabled, the average frame rate in Dartmoor increased only from 42.68 fps to 43.87 fps — just 2.79%.
So what's the verdict? In my experience, you should be able to run games on high to max settings with the RTX 3060 if you're gaming at 1080p/1200p. And you'll see a significant benefit if you're upgrading from anything older than Nvidia's 20-series cards; even with ray tracing enabled, you can play at 60 fps as long as the game in question also supports DLSS.
But people with 1440p monitors would be better served by the RTX 3060 Ti instead (if they can find it in stock, that is). While it's possible that we could start seeing a raft of games that would make the most of the RTX 3060's 12 GB of GDDR6 video memory, it's hard to imagine the 8 GB of RAM on Nvidia's other 30-series cards (except for the RTX 3090) becoming a significant bottleneck soon. And in his review of the RTX 3060 at The Verge, my colleague Sean Hollister found that the RTX 3060 Ti "almost always" performed "between 15 percent and 35 percent faster" than the RTX 3060 when gaming on max settings at 1440p. At $399 — a premium of $70, or 21.2%, over the RTX 3060's MSRP — you'll simply get better value.
Of course, as I've noted, all of this is contingent upon actually being able to find any of these graphics cards (and at their retail prices, to boot). If you get the opportunity to buy an RTX 3060 and it makes sense for your particular situation — your screen resolution, the age of the GPU you'd be replacing, and your budget — it's a solid card that should provide a noticeable upgrade. You'll have to make that call for yourself.
The Nvidia GeForce RTX 3060 is available now. (Theoretically.) This review was conducted using an EVGA RTX 3060 XC Black Gaming provided by Nvidia, on the author's PC, which contains an Intel Core i5-7500 CPU and 16 GB of RAM. All games tested were installed to a 2 TB 7200 rpm hard drive. Vox Media has affiliate partnerships. These do not influence editorial content, though Vox Media may earn commissions for products purchased via affiliate links. You can find additional information about Polygon's ethics policy here.
Sours: https://www.polygon.com/reviews/22326140/rtx-3060-review-nvidia
TODAY'S BEST DEALS
Check Amazon
The arrival of the Nvidia GeForce RTX 3060 makes Nvidia's Ampere architecture finally available in the budget market. $70 (about £50, AU$90) cheaper that the highly-rated Nvidia GeForce RTX 3060 Ti, this budget GPU is targeting consumers who can't or are unwilling to shell out $400/£400 or more on a graphics card. That includes GTX 1060 users who've been waiting for the right time – and price – to upgrade to the current generation.
Since the Nvidia GTX 1060 is still the most abundant card available on the market to this day, per the Steam Hardware Survey, Nvidia may have a good sector to sell the Nvidia GeForce RTX 3060 – even if it does come with a higher price tag. The GTX 1060 has been on the market for almost 5 years after all, having made its auspicious debut back in August 2016. And, it has a fraction of the speed of the RTX 3060.
Nevertheless, it wouldn't be an easy sell. The GTX 1060 is not only still capable of tackling plenty of the best PC games coming out, but it remains to be the cheaper proposition. Meanwhile, the RTX 3060 Ti offers the kind of added performance that makes the extra cost more than worth it.
Price and availability
The Nvidia GeForce RTX 3060 launched on February 25, 2021, starting at $329 (about £240, AU$430). The pricing is a little bit complicated, though. Unlike previous entries in the Nvidia Ampere lineup, Team Green is not releasing a Founder's Edition of the RTX 3060 – much like what it did with the GTX 1660 Ti back with the Turing lineup.
So, while the EVGA GeForce RTX 3060 Black XC we reviewed here will sell for $329 (about £240, AU$430), there will be a whole range of Nvidia RTX 3060 graphics cards. There will be some RTX 3060 cards with elaborate cooler designs, boasting better overclocking capabilities and may even be overclocked out of the box.
Those cards will likely perform faster than the EVGA GeForce RTX 3060 Black XC, but only by a marginal amount – and may not be worth the added expense.
Nvidia is specifically aiming the RTX 3060 to gamers that have stuck to the Pascal-based GTX 1060 since its 2016 launch. This makes sense, given that upgrading your graphics card with every other generation seems to be common, but prices have changed drastically since 2016.
The Nvidia GeForce GTX 1060 launched for $249 (£238, AU$429) – significantly less than the $329 (about £240, AU$430) RTX 3060. Even before the GPU shortages that are ongoing at the time of writing, that's a pretty massive price bump that some GTX 1060 users might not be able to justify.
Then, on the other side of it, the Nvidia GeForce RTX 3060 Ti is an extra $70 (about £50, AU$90) at $399 (about £299, AU$540). That's a pretty hefty price jump, but if you're already breaking the $300 / £300 / AU$400 mark, you might as well get something that will give you the best experience you can get. It's hard to nail down exactly who to recommend this graphics card to, especially since we assume Nvidia will be launching budget Ampere cards at some point – and everything will be sold out for a while still.
Nvidia is trying to combat the appeal to cryptocurrency miners with the RTX 3060, though, with a combination of hardware and software to cripple its hash rate. It remains to be seen whether or not this will help keep the price of the card low, but we hope it does. Once this card starts seeing its price rise closer to the RTX 3060 Ti, its value rapidly diminishes.
Features and chipset
Like the rest of the Nvidia RTX 3000 series graphics cards, the GeForce RTX 3060 is based on Nvidia's new Ampere architecture. With the move from Turing to Ampere Nvidia brings more than just a higher product number to the table.
The biggest change in Ampere is in the Streaming Multiprocessor's (SM) datapath. Where previous generations had separate pipelines for Integer and Floating Point 32 (FP32) workloads, Nvidia has effectively doubled the amount of cores that can handle standard FP32 work – which just happens to be incredibly important for gaming performance. Because of this, the amount of CUDA cores per SM has doubled to 128, rather than the 64 found in something like the RTX 2060.
This means that while the RTX 3060 actually has fewer SMs at 28 than the RTX 2060 with 30, CUDA core count jumps to 3,584 on the RTX 3060 over the last generation's 1,920. That's a massive boost, and a major reason why the RTX 3060 sees such an increase in gaming workloads.
And if you go even further back in time to the Nvidia GeForce GTX 1060, the users of which Nvidia is heavily targeting with the 3060, the old Pascal-based favorite is packed with just 1,280 CUDA cores.
The scaling here isn't perfect, however, but thanks to this massive difference in the amount of shaders available to the RTX 3060, it is able to achieve double the performance of the GTX 1060 in many games.
The Nvidia GeForce RTX 3060 also comes equipped with 12GB of GDDR6 VRAM on a 192-bit bus. And, well, it's a bit odd that this graphics card has such a gargantuan amount of memory available to it.
To put that into perspective, the only Ampere graphics card that has more RAM is the RTX 3090, a graphics card that is targeted both at creative professionals and gamers with more money than sense.
Putting this much VRAM into a graphics card that's meant for 1080p gaming simply doesn't make much sense, and is probably the reason that the graphics card is sitting at such a weird price point – at $329, instead of the $299 price point that the Nvidia GeForce RTX 2060 sold for once the RTX 2060 Super launched in July 2019.
The graphics card doesn't perform especially well at 1440p, and at 1080p many games aren't going to push into requiring 12GB of VRAM for a long time to come. There are some titles that will utilize more than 8GB, but you don't really gain a noticeable boost in performance if you don't have that.
Nvidia tells us that it ended up going with 12GB of VRAM because with the 192-bit memory bus, the GPU could be loaded with 6GB or 12GB of memory, and the company wanted to provide users with the most memory that the GPU could offer. We applaud that decision, but we can't help but wonder why that decision was made here and not with the Nvidia RTX 3080 or RTX 3070, where more VRAM could definitely help at 4K.
And you really can't talk about Nvidia Ampere without talking about ray tracing and Deep Learning Super Sampling (DLSS). Both of these technologies are supported by the RTX 3060, though the smaller GPU means that there is less dedicated hardware for RT and DLSS workloads.
But, the smaller amount of RT cores shouldn't really be a problem, especially at 1080p. What's more important than ray tracing here, though, is the DLSS. For a graphics card in this segment, the ability to squeeze out a little more performance at 1080p is going to be a win no matter how you look at it. It can genuinely mean the difference between 45 and 60 fps, even with ray tracing enabled in many games.
And, with how good the DLSS 2.0 algorithm has become, our advice is to turn it on whenever it's available in the game you're playing. We'd even go so far as to say that until AMD's competing tech gets released, DLSS is the single biggest reason to choose a graphics card from Team Green, rather than going with Radeon.
Design
Because the EVGA GeForce RTX 3060 Black XC is one of the less expensive versions of the Nvidia GeForce RTX 3060, it's a pretty basic graphics card. You won't find any flashy RGB lighting or custom backplates, but that simplicity works in its favor.
The graphics card has two fans, fitted with the EVGA logo, and are placed over a heatsink that extends just a tiny bit over the PCB. It's the kind of graphics card design you've seen hundreds of time, but thanks to its simple black colorway, it's a graphics card that will fit in any PC build.
The EVGA RTX 3060 Black XC is also exceptionally small. It is still a dual-slot card – single slot graphics cards probably won't be coming back – but it's incredibly short. At just 7.94 inches (201.8mm) long, you should have no problem fitting this graphics card in any PC case. With how big some of the RTX 3000 graphics cards have been getting, it's incredibly refreshing to see a GPU that you could feasibly fit in a mini-ITX case without too much effort.
It's powered by a single 8-pin PCIe connector, which means you don't need to worry about an unsightly 12-pin adapter. Again, another benefit for users that want to build in a smaller case. I/O is also incredibly simple, with three DisplayPorts and one HDMI 2.1 port.
There's still no USB-C video output here, and we still think it's a shame. With how important GPUs are becoming to creative professionals for everything from photo editing to 3D modeling, it's a pity that the most recent Nvidia graphics cards have dropped support for USB-C video output.
Image 1 of 27
Image 2 of 27
Image 3 of 27
Image 4 of 27
Image 5 of 27
Image 6 of 27
Image 7 of 27
Image 8 of 27
Image 9 of 27
Image 10 of 27
Sours: https://www.techradar.com/reviews/evga-geforce-rtx-3060-black-xc
Acer Nitro 5 Unboxing - RTX 3060 \
At a Glance
Expert's Rating
Pros
No-compromises 1080p gaming
12GB of memory
Nvidia's excellent software/features: G-Sync, DLSS, Reflex, and more
EVGA's XC Black Gaming is small, cool, and quiet
Cons
1440p gaming often requires visual tweaks to hit 60fps
Slightly more performance, slightly less price vs. last gen
MSRP is higher than we'd like
Hard to find at MSRP in today's wild GPU market
No backplate or other frills in EVGA's XC Black Gaming
Our Verdict
Nvidia's GeForce RTX 3060 is an okay graphics card for no-compromises 1080p gaming in a time where being good enough is all it takes to sell out. EVGA's custom XC Black Gaming version offers no frills but runs cool and quiet.
Best Prices Today
The $329 GeForce RTX 3060 finally brings Nvidia's next-gen Ampere GPU architecture to the mainstream masses—at least in theory.
Normally, the release of Nvidia's 60-class graphics cards sparks a lot of excitement. They tend to be the best-selling card of a GeForce generation. This time around, graphics cards are mired in a months-long shortage driven by a mixture of sky-high demand, logistics woes caused by the pandemic, a cryptocurrency boom that's driving miners to gobble up GPUs, and some component shortages. Nvidia also priced this card higher than historical norms (the beloved GTX 1060 this card hopes to replace launched at $80 less). It's a perfect storm, and things are so bad that Nvidia brought the ancient GTX 1050 Ti out of retirement.
But put all that aside. How does Nvidia's new GPU actually handle? The company sent us an EVGA GeForce RTX 3060 XC Black Gaming to determine just that. This entry-level spin on the GPU is priced at the RTX 3060's $329 MSRP (again, in theory). If we had to describe the graphics card in one word? It's fine. It's okay. That said, there are some key under-the-hood features definitely worth noting.
Before we wade into pages of benchmark results, if you want a faster, easier-to-read analysis of the card, be sure to check out our complementary coverage, GeForce RTX 3060: 5 key things you need to know about Nvidia's new GPU. Now let's dig in.
GeForce RTX 3060 specs, features, and price
In an unusual turn of events, Nvidia released the step-up GeForce RTX 3060 Tibefore the base RTX 3060, and that Ti version is a spectacular 1440p gaming option. The more affordable (in theory) GeForce RTX 3060 more closely targets no-compromises 1080p gaming, though 1440p gaming is certainly possible in most cases. The non-Ti RTX 3060 uses a totally different GPU—the smaller GA106 graphics chip, rather than the beefier GA104 chip found in the Ti model and the $500 RTX 3070. Because of that, while the RTX 3060 and 3060 Ti share the same name, they're wildly different under the hood.
Here's how the GeForce RTX 3060 stacks up technically against the RTX 3060 Ti…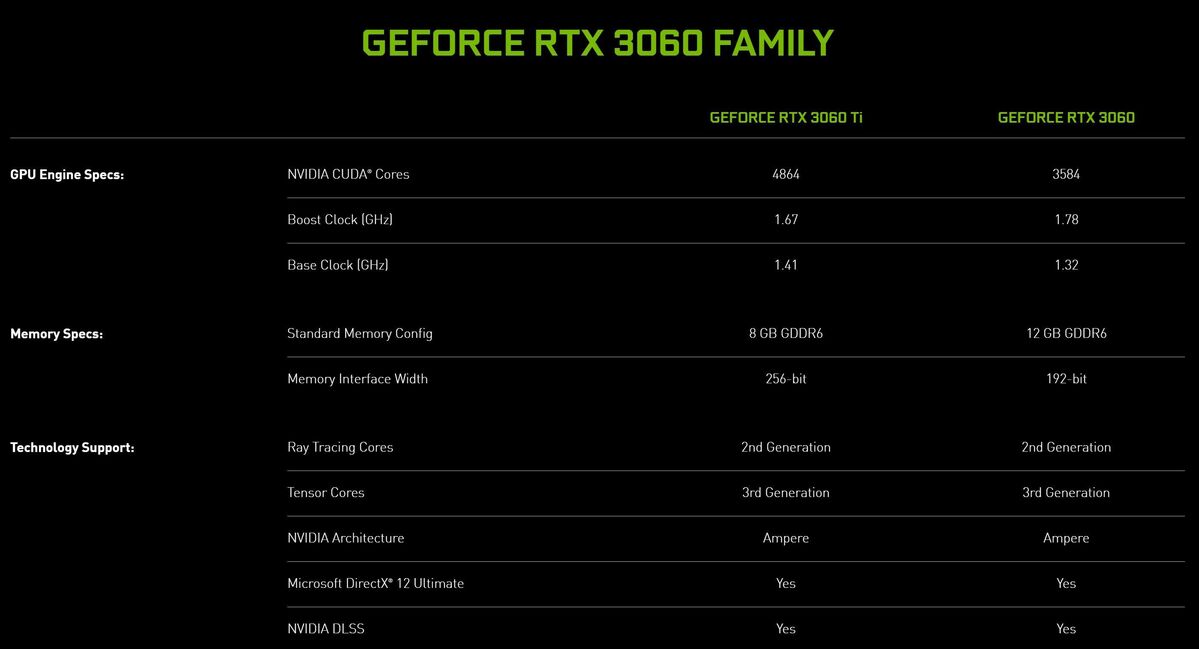 …and last-generation's $350 GeForce RTX 2060.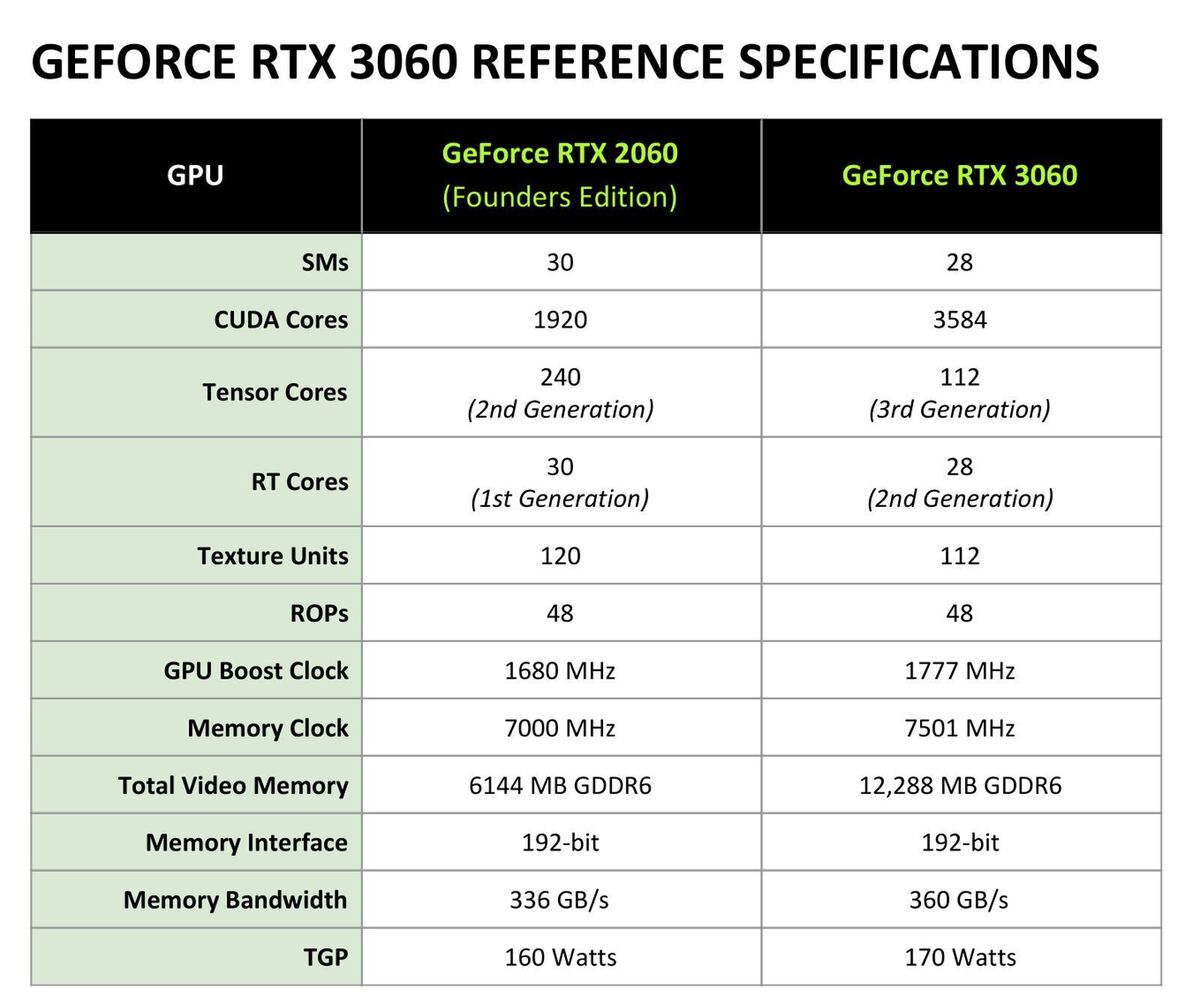 The GeForce RTX 3060 sports a slightly higher boost clock than its Ti cousin—which matters during gaming sessions that load up the GPU—but dramatically fewer CUDA cores. That drags the overall gaming performance far below the 3060 Ti's level, though the new graphics card remains competitive for the segments it targets.
The most interesting part of the RTX 3060's design is its memory. This GPU is paired with an ample 12GB of GDDR6 VRAM, besting the 8GB of GDDR6 in the RTX 3060 Ti and 3070, and even the 10GB available in the beastly GeForce RTX 3080 (although that's of the much-faster GDDR6X variety). It's clear that AMD's decision to load up its new Radeon RX 6000-series graphics cards with plenty of memory caught Nvidia by surprise. The 192-bit memory bus on the RTX 3060 can handle either 6GB or 12GB capacities, and we suspect the RTX 3060 was originally intended to receive 6GB before AMD struck.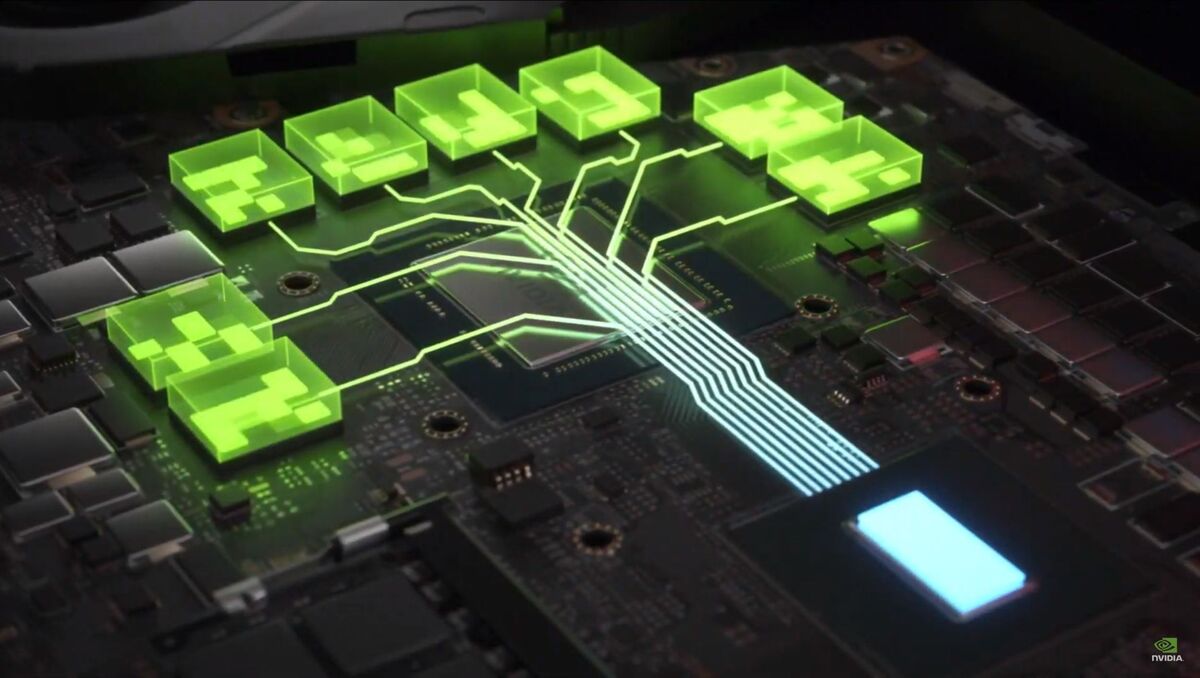 It's probably the right choice from a marketing perspective—AMD's forthcoming Radeon RX 6700 XT will indeed come with 12GB of its own—but practically, it's a bit weird. The big 12GB memory buffer is overkill for the 1080p gaming Nvidia claims this card was built for. If you nudge games up to 1440p, you'll often need to reduce graphics settings to achieve 60 frames per second at that resolution, which similarly reduces memory demands. If this wasn't a rushed response to AMD's moves, 8GB of memory would suffice–and cost less. Going with 6GB of memory would've been too little now that some games are pushing the 8GB barrier more regularly, however, so as-is, we're glad to see the RTX 3060 ship with 12GB. Overkill is better than undershooting!
The GeForce RTX 3060 is also Nvidia's first desktop graphics card to support the PCIe Resizable BAR feature, following in the footsteps of AMD's Smart Access Memory (which is based around ReBAR). Resizable BAR lets your CPU see your graphics card's memory, rather than accessing it in 256MB chunks, which can result in performance gains on compatible systems. Most of those gains are modest, as we discovered testing Smart Access Memory on the RX 6900 XT, but they can go all the way to 10 percent or more in the right games, running the right graphics settings and resolutions. ReBAR's uplift is highly variable.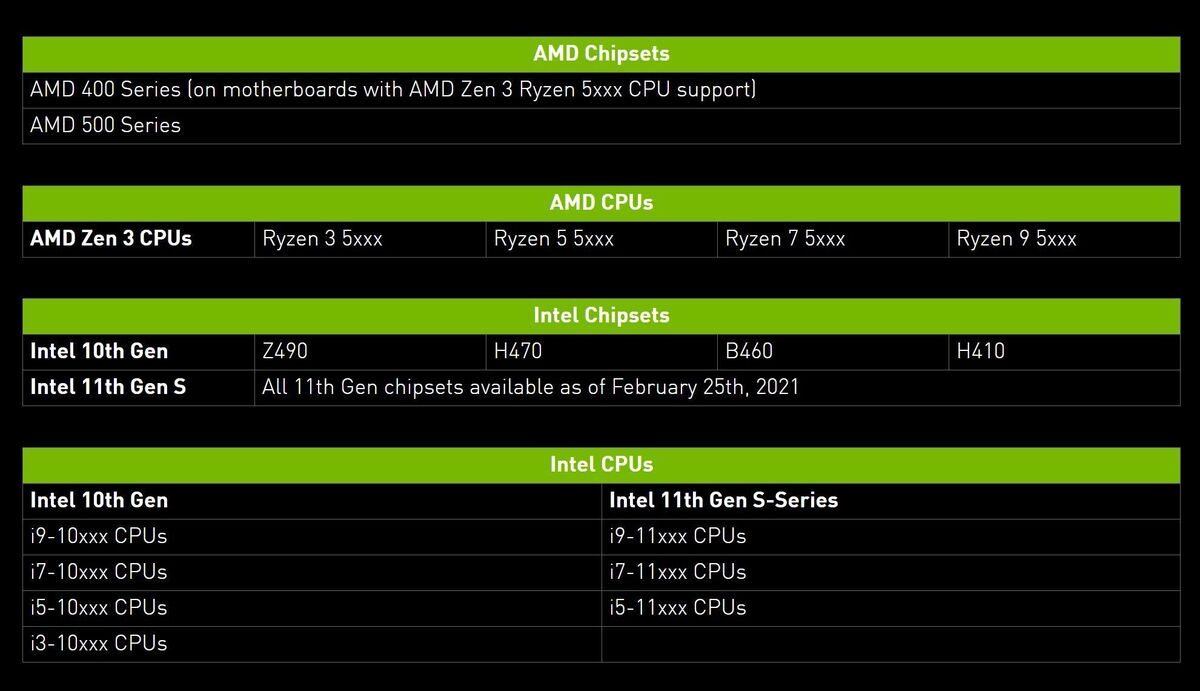 You'll need a compatible CPU and motherboard to enable Resizable BAR support, however. AMD kicked it off with its Ryzen 5000 processors and X570/B550 motherboards, though compatibility has also come to a variety of Intel platforms via BIOS updates. The image above, taken from Nvidia's ReBAR explainer, shows which PC hardware currently supports the technology. Support varies from vendor to vendor and even motherboard to motherboard. If you want to use it, look for a compatible BIOS update for your specific motherboard. Currently, Nvidia activated ReBAR compatibility for only eight titles, so its usefulness is very limited. Nvidia says it will whitelist new games quickly. (AMD's Smart Access Memory works with all games.)
Nvidia also added a hashrate limiter that cuts the performance of Ethereum mining in half, which should hopefully discourage cryptocurrency miners from snatching this up in droves. We'll see if it lasts.
Of course, as a modern GeForce GPU, the RTX 3060 includes the latest ray tracing and tensor cores inside (we'll dig into that later), as well as support for all of Nvidia's wide range of value-adding features, such as Shadowplay, DLSS, Nvidia Broadcast, Nvidia Reflex, G-Sync, and more. For a deeper look at what's new in the RTX 30-series "Ampere" GPU architecture, check out our much more detailed explanation in the beginning of our RTX 3080 review.
EVGA RTX 3060 XC Black Gaming design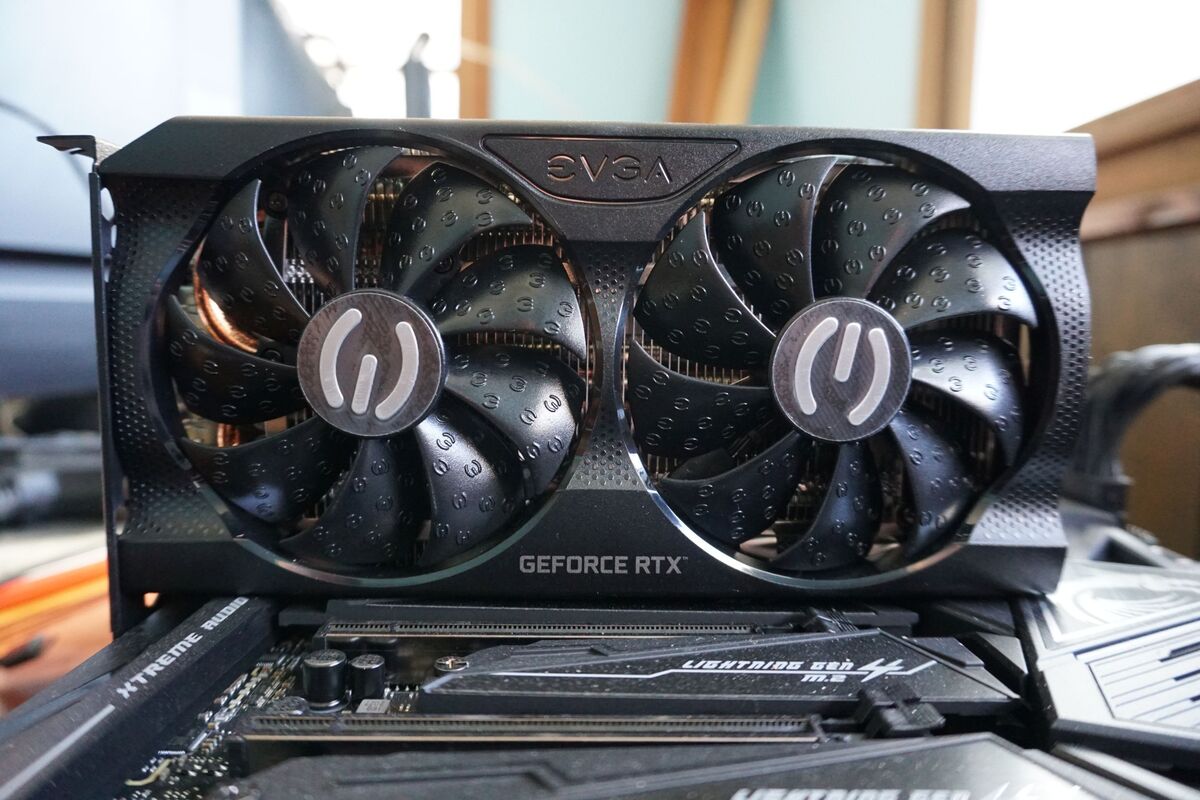 Nvidia isn't rolling out one of its snazzy Founders Edition models for the RTX 3060, relying instead on custom cards from its partners to carry the load in today's scorching-hot graphics card market. (GTX 1060 and RTX 2060 FE models hit the streets, for reference.) So the company sent over EVGA's GeForce RTX 3060 XC Black Gaming for us to test.
The XC Black Gaming sticks to the RTX 3060's reference specs under the hood, which helps it hit the GPU's $329 retail price. That helps us evaluate the RTX 3060's baseline performance, though if previous RTX 30-series and Radeon RX 6000-series launches are any indication, we expect graphics card makers to put most of their focus (and manufacturing output) on pricier custom models, like EVGA's own overclocked, $390 RTX 3060 XC Gaming (no "Black"). Most of the early custom RTX 3060 models available in stores cost closer to $500 even before scalpers get their hands on them. Don't expect to be able to find RTX 3060 cards on sale for $330 in reality while the current GPU crunch remains in effect.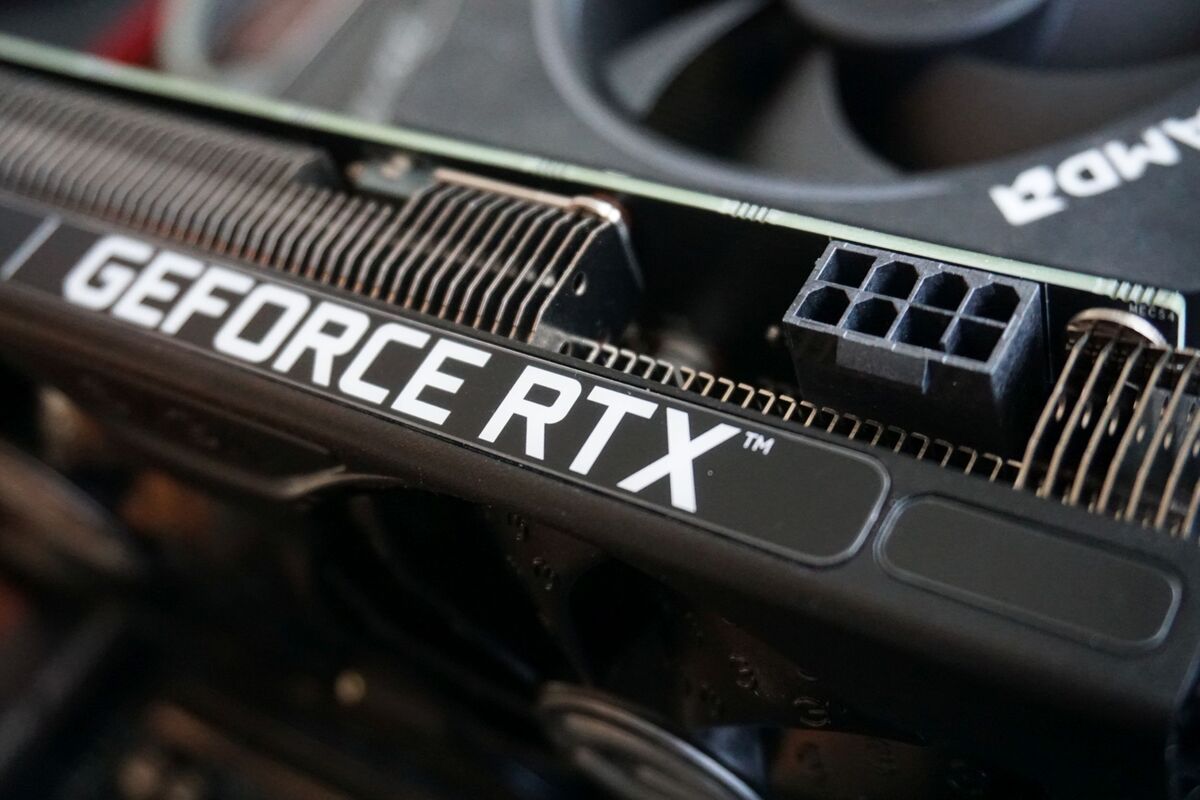 EVGA designed the XC Black Gaming well despite its MSRP pricing. As you'll see later, the card runs very cool and very quiet. Unlike most other custom RTX 30-series graphics cards, the XC Black Gaming sticks to a traditional two-slot thickness that should have no problem fitting into most PC cases, especially because the card measures a mere 7.94 inches in length—well shorter than the usual 10.5 inches-plus. It also requires just a single 8-pin power connector, hooked up to a recommended power supply of 550 watts or more.
Cost-cutting measures can easily be spotted. The shroud is plastic, there's no RGB lighting to be found, and there's no backplate to hide circuitry. There is a cut-out in the PCB to allow air to flow through the heat sink and out of your card, however, following the new RTX 30-series trend. The lack of a backplate makes the EVGA XC Black Gaming a bit of an eyesore in an era where backplates have largely become the norm, but it's otherwise inoffensive aesthetically, with a blacked-out design. You'll find the standard RTX 30-series connection loadout—one HDMI 2.1 port and three DisplayPorts—on EVGA's card.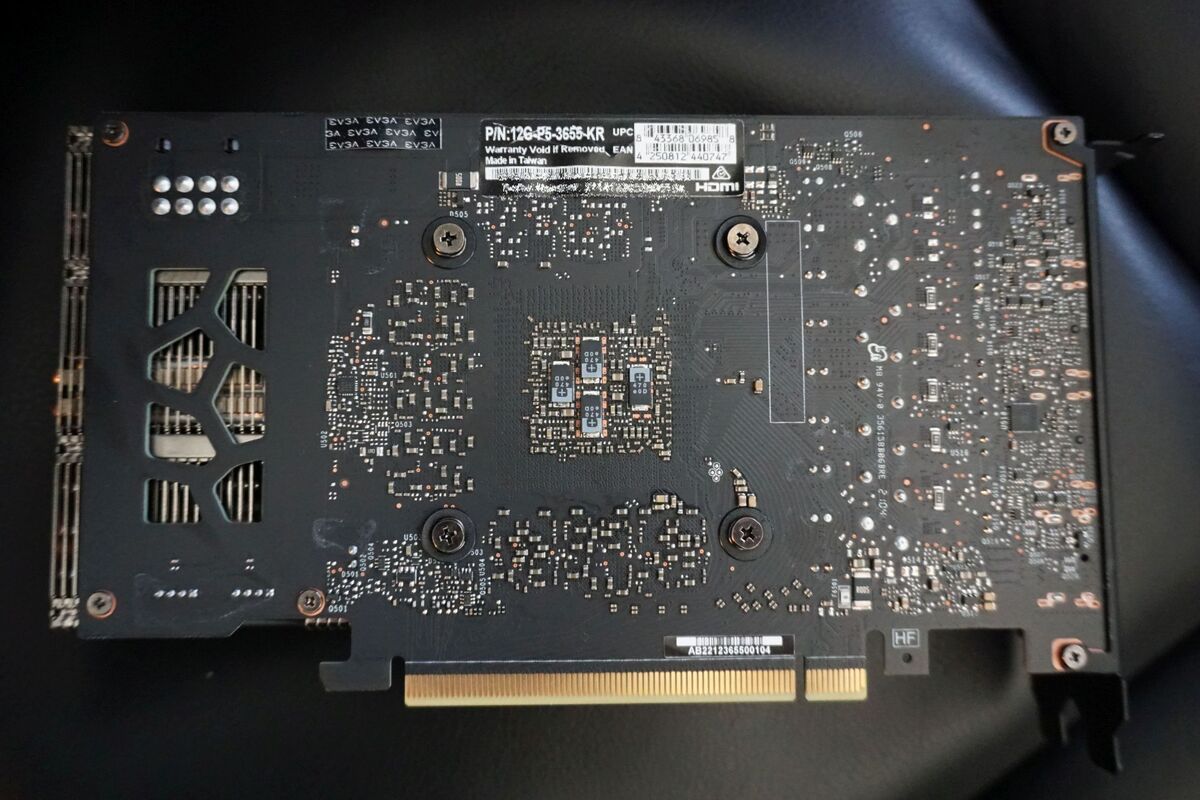 EVGA supports its hardware with a warranty and customer service representatives beloved by the gaming community. If you want to put the dual-axial fans and four copper heatpipes to more work, the company's sublime Precision X1 GPU management software contains everything you need to monitor and overclock the card. The slickly designed program is one of our favorites.
But now the stage is set. Let's get to the benchmarks.
Next page: Our test system, gaming benchmarks begin
Our test system
We're in the process of moving to a new AMD Ryzen 5000-series test rig to be able to benchmark the effect of PCIe 4.0 support on modern GPUs, as well as the performance-boosting AMD Smart Access Memory and Nvidia Resizable BAR features (which are both based on the same underlying PCIe standard). Currently, we're testing it on an open bench with AMD's Wraith Max air cooler; in the future, we'll be moving the setup into a case and adding an NZXT Kraken liquid cooler to the mix. Most of the hardware was provided by the manufacturers, but we purchased the storage ourselves.
We're comparing the $330 EVGA GeForce RTX 3060 XC Black Gaming against last generation's $350 Nvidia RTX 2060 Founders Edition, as well as the Founders Edition model of the newer $500 RTX 3070. We also included EVGA's overclocked, custom FTW3 Ultra version of the $400 RTX 3060 Ti as we didn't have Nvidia's FE card immediately on hand. Rounding things out, we also show benchmarks for AMD's $350 Radeon RX 5700 and $400 Radeon RX 5700 XT. We didn't have time to fully benchmark the $400 RTX 2060 Super FE and $500 RTX 2070 on the new system yet, alas.
We test a variety of games spanning various engines, genres, vendor sponsorships (Nvidia, AMD, and Intel), and graphics APIs (DirectX 11, DX12, and Vulkan). Each game is tested using its in-game benchmark at the highest possible graphics presets unless otherwise noted, with VSync, frame rate caps, real-time ray tracing or DLSS effects, and FreeSync/G-Sync disabled, along with any other vendor-specific technologies like FidelityFX tools or Nvidia Reflex. We've also enabled temporal anti-aliasing (TAA) to push these cards to their limits. We run each benchmark at least three times and list the average result for each test.
We won't be providing commentary for each game's results. For overall performance evaluations, check out our final "Should you buy it?" section of this review.
Gaming performance benchmarks
Watch Dogs: Legion
Watch Dogs: Legion is one of the first games to debut on next-gen consoles. Ubisoft upgraded its Disrupt engine to include cutting-edge features like real-time ray tracing and Nvidia's DLSS. We disable those effects for this testing, but Legion remains a strenuous game even on high-end hardware with its optional high-resolution texture pack installed. The game allocates more than 8GB of memory even at 1440p. Oof.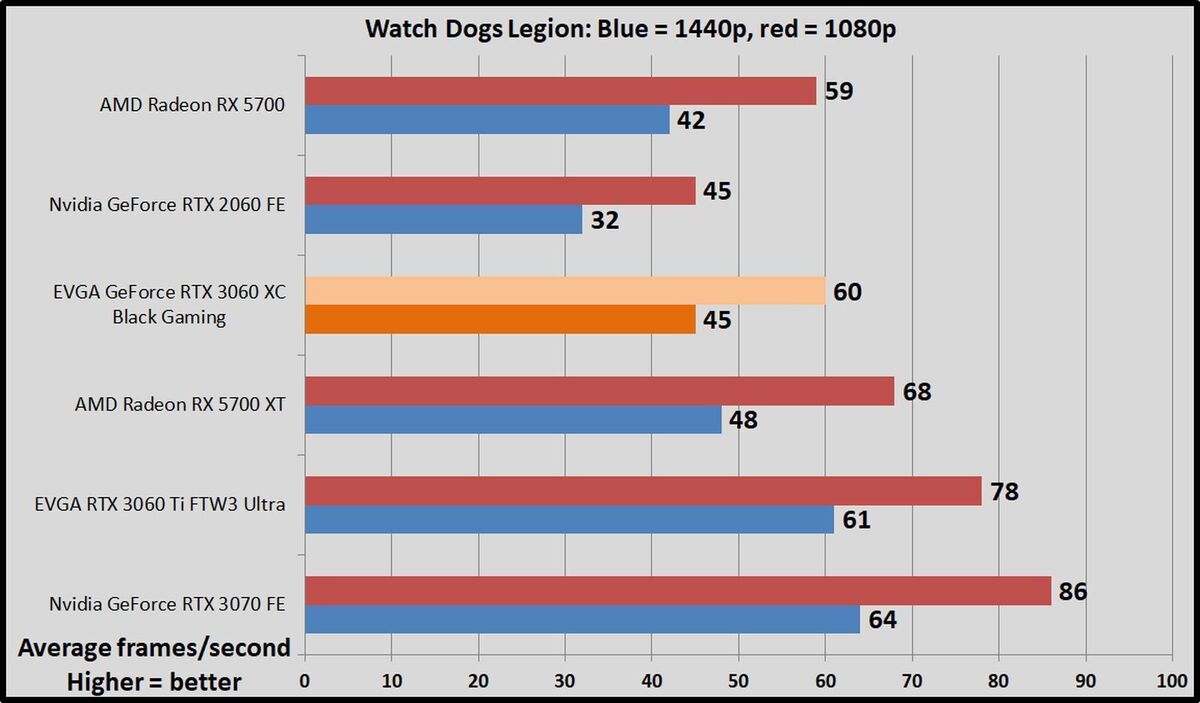 Horizon Zero Dawn
Yep, PlayStation exclusives are coming to the PC now. Horizon Zero Dawn runs on Guerrilla Games' Decima engine, the same engine that powers Death Stranding. It launched in a rough state but handles much better now, and it's a looker.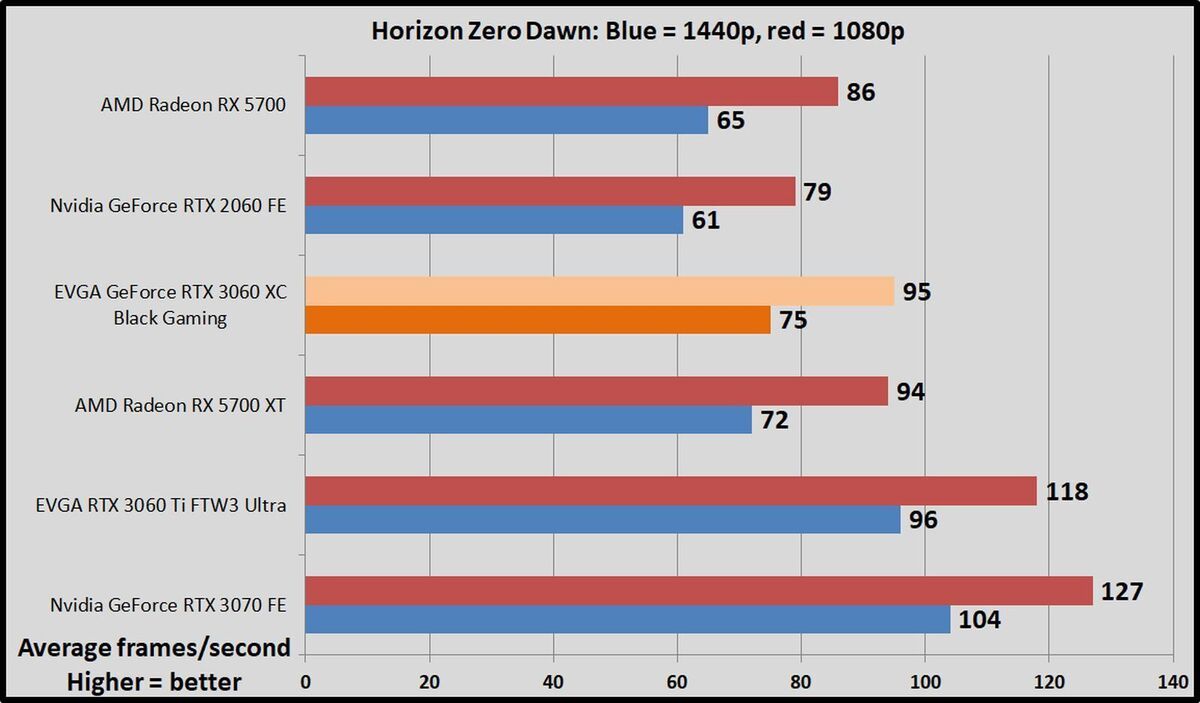 Next page: gaming benchmarks continue
Gears Tactics
Gears Tactics puts it own brutal, fast-paced spin on the XCOM-like genre. This Unreal Engine 4-powered game was built from the ground up for DirectX 12, and we love being able to work a tactics-style game into our benchmarking suite. Better yet, the game comes with a plethora of graphics options for PC snobs. More games should devote such loving care to explaining what flipping all these visual knobs mean.
You can't use the presets to benchmark Gears Tactics, as it intelligently scales to work best on your installed hardware, meaning that "Ultra" on one graphics card can load different settings than "Ultra" on a weaker card. We manually set all options to their highest possible settings.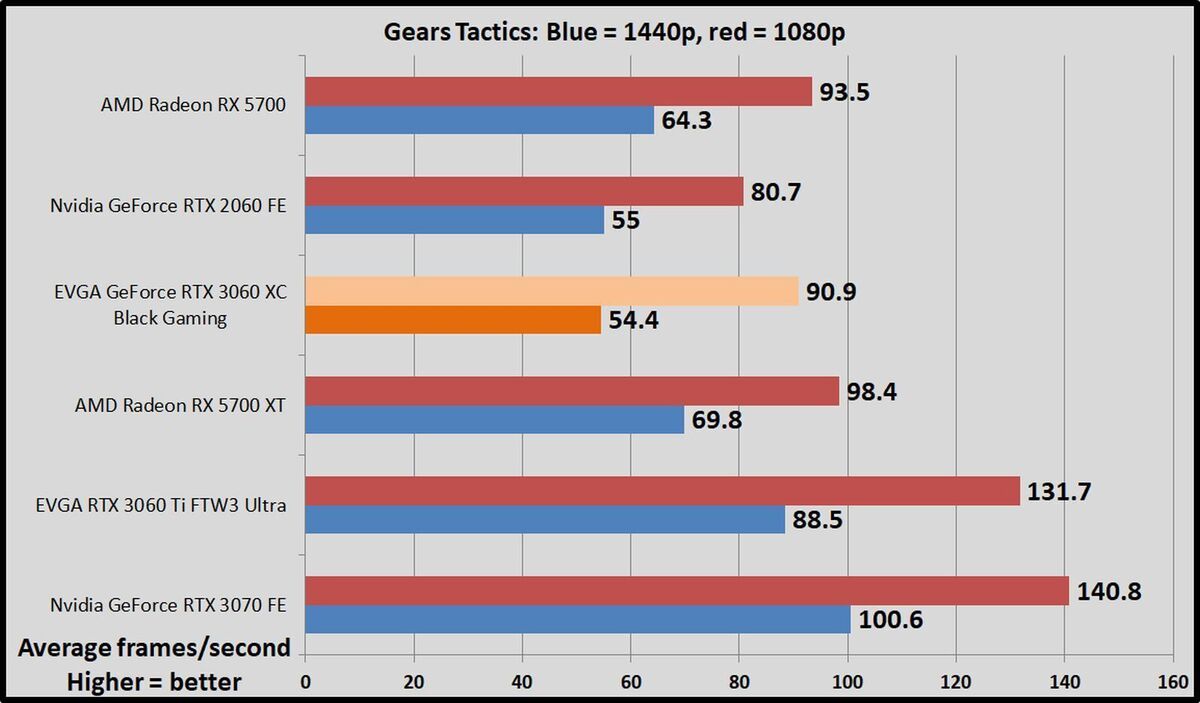 Wolfenstein: Youngblood
Wolfenstein: Youngblood is more fun when you can play cooperatively with a buddy, but it's a fearless experiment—and an absolute technical showcase. Running on the Vulkan API, Youngblood achieves blistering frame rates, and it supports all sorts of cutting-edge technologies like ray tracing, DLSS 2.0, HDR, GPU culling, asynchronous computing, and Nvidia's Content Adaptive Shading. The game includes a built-in benchmark with two different scenes; we now test Riverside.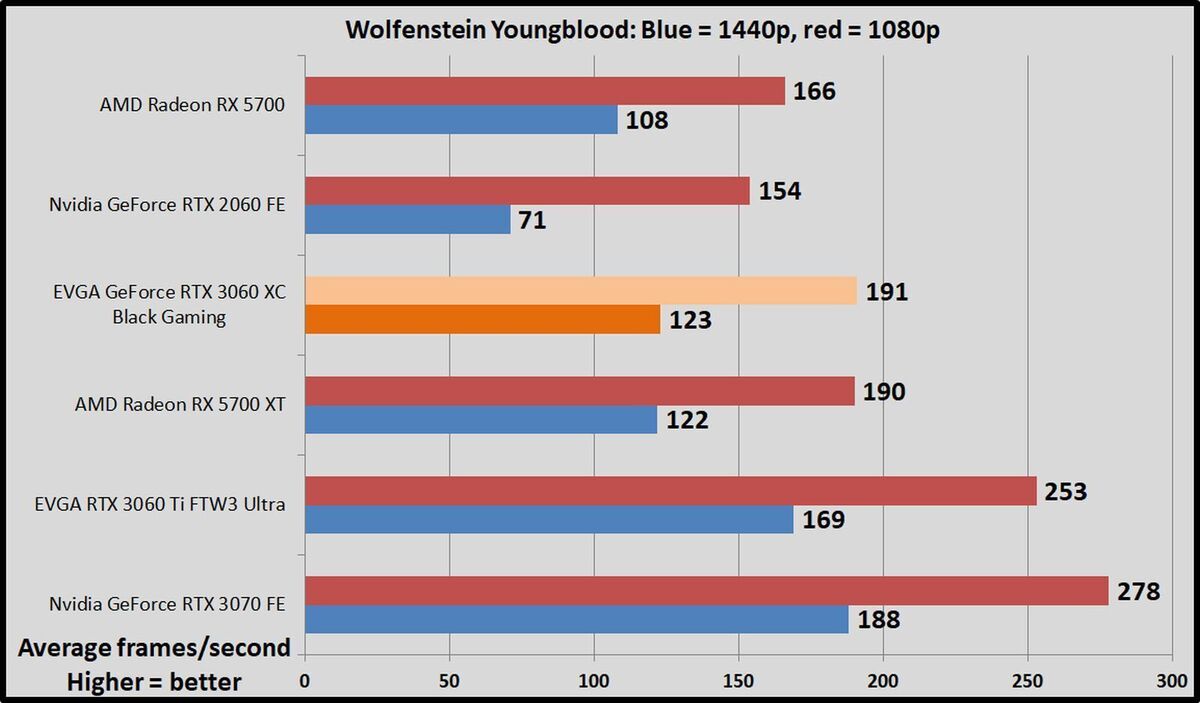 Metro Exodus
One of the best games of 2019, Metro Exodus remains one of the best-looking games around, too. The latest version of the 4A Engine provides incredibly luscious, ultra-detailed visuals, with one of the most stunning real-time ray tracing implementations released yet. The Extreme graphics preset we benchmark can melt even the most powerful modern hardware, as you'll see below, though the game's Ultra and High presets still look good at much higher frame rates.
We test in DirectX 12 mode with ray tracing, Hairworks, and DLSS disabled.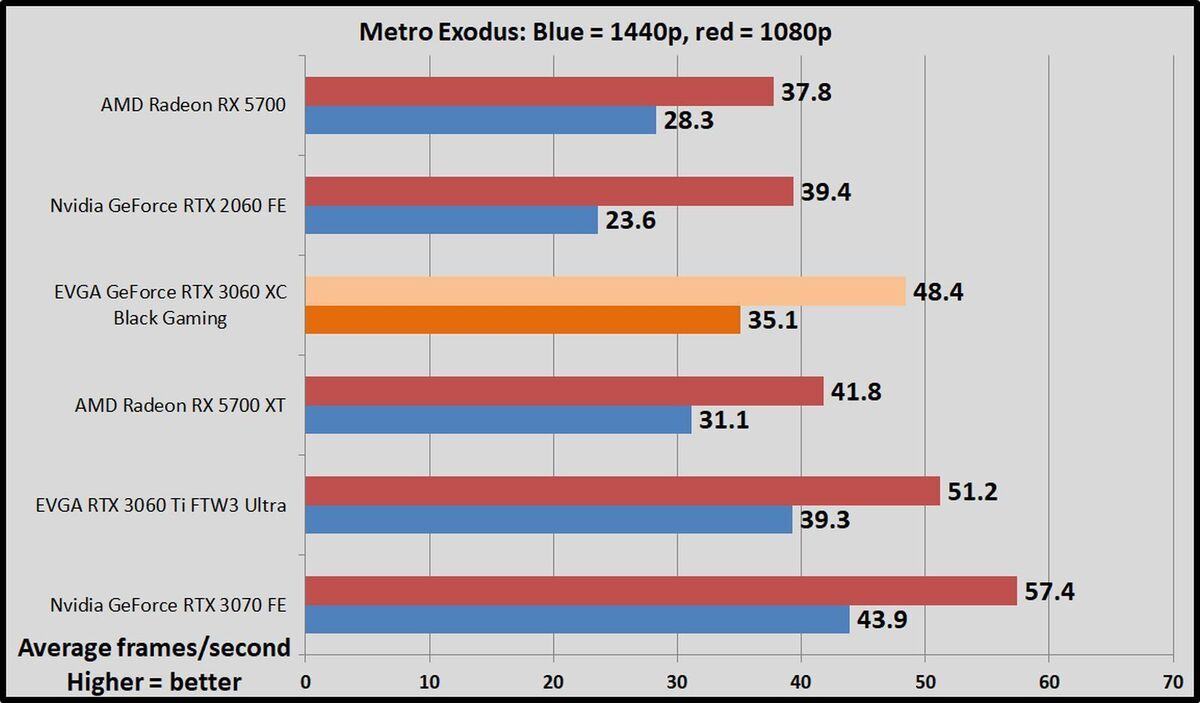 Borderlands 3
Borderlands is back! Gearbox's game defaults to DX12, so we do as well. It gives us a glimpse at the ultra-popular Unreal Engine 4's performance in a traditional shooter. This game tends to favor AMD hardware.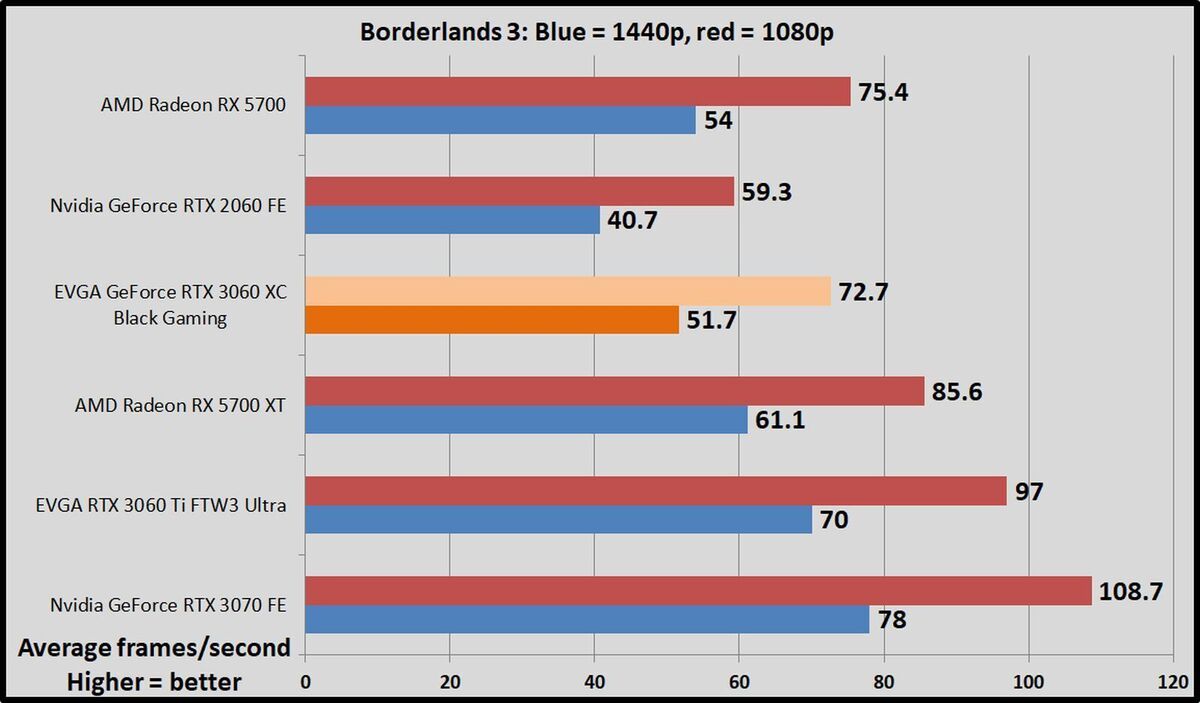 Strange Brigade
Strange Brigade is a cooperative third-person shooter where a team of adventurers blasts through hordes of mythological enemies. It's a technological showcase, built around the next-gen Vulkan and DirectX 12 technologies and infused with features like HDR support and the ability to toggle asynchronous compute on and off. It uses Rebellion's custom Azure engine. We test using the Vulkan renderer, which is faster than DX12.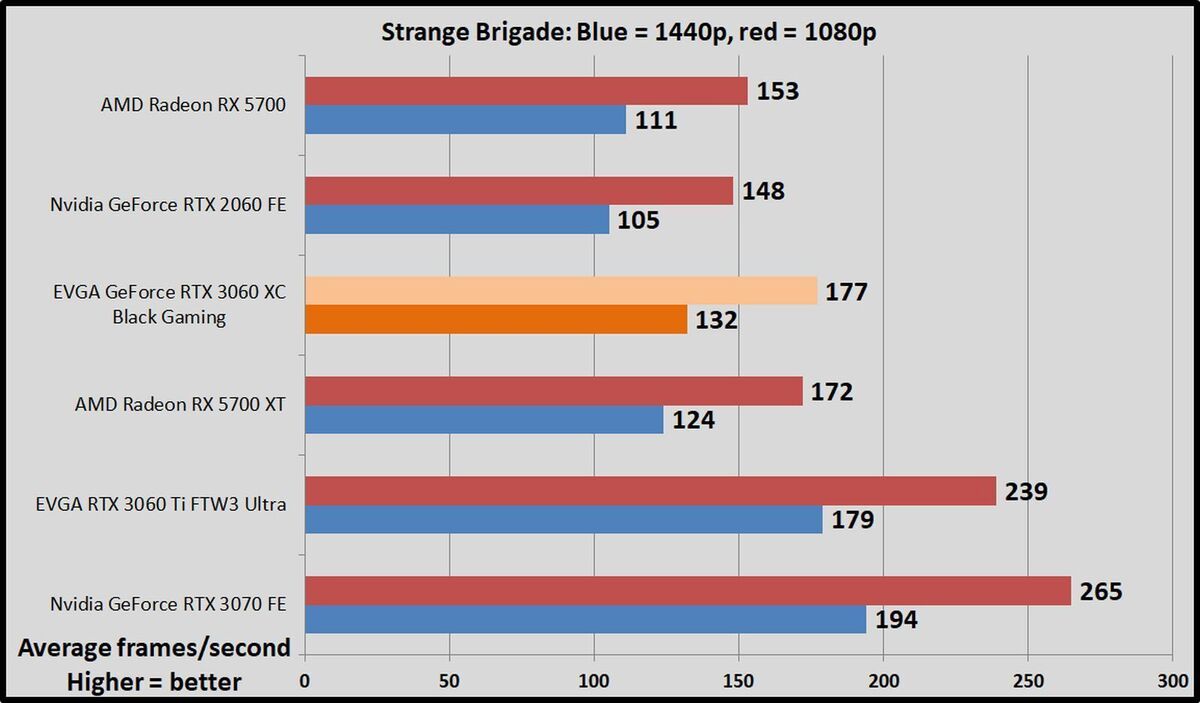 Next page: gaming benchmarks continue
Total War: Troy
The latest game in the popular Total War saga, Troy was given away free for its first 24 hours on the Epic Games Store, moving over 7.5 million copies before it went on proper sale. Total War: Troy is built using a modified version of the Total War: Warhammer 2 engine, and this DX11 title looks stunning for a turn-based strategy game. We test the more intensive battle benchmark.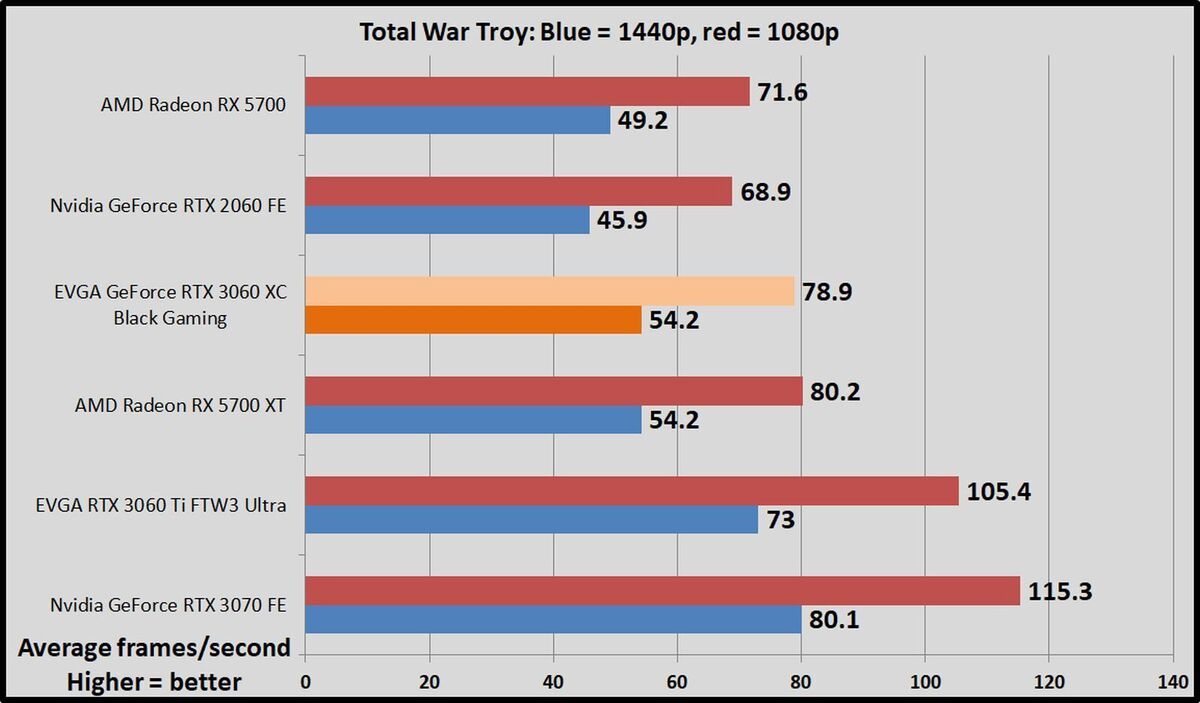 F1 2020
The latest in a long line of successful racing games, F1 2020 is a gem to test, supplying a wide array of both graphical and benchmarking options, making it a much more reliable (and fun) option that the Forza series. It's built on the latest version of Codemasters' buttery-smooth Ego game engine, complete with support for DX12 and Nvidia's DLSS technology. We test two laps on the Australia course, with clear skies on and DLSS off.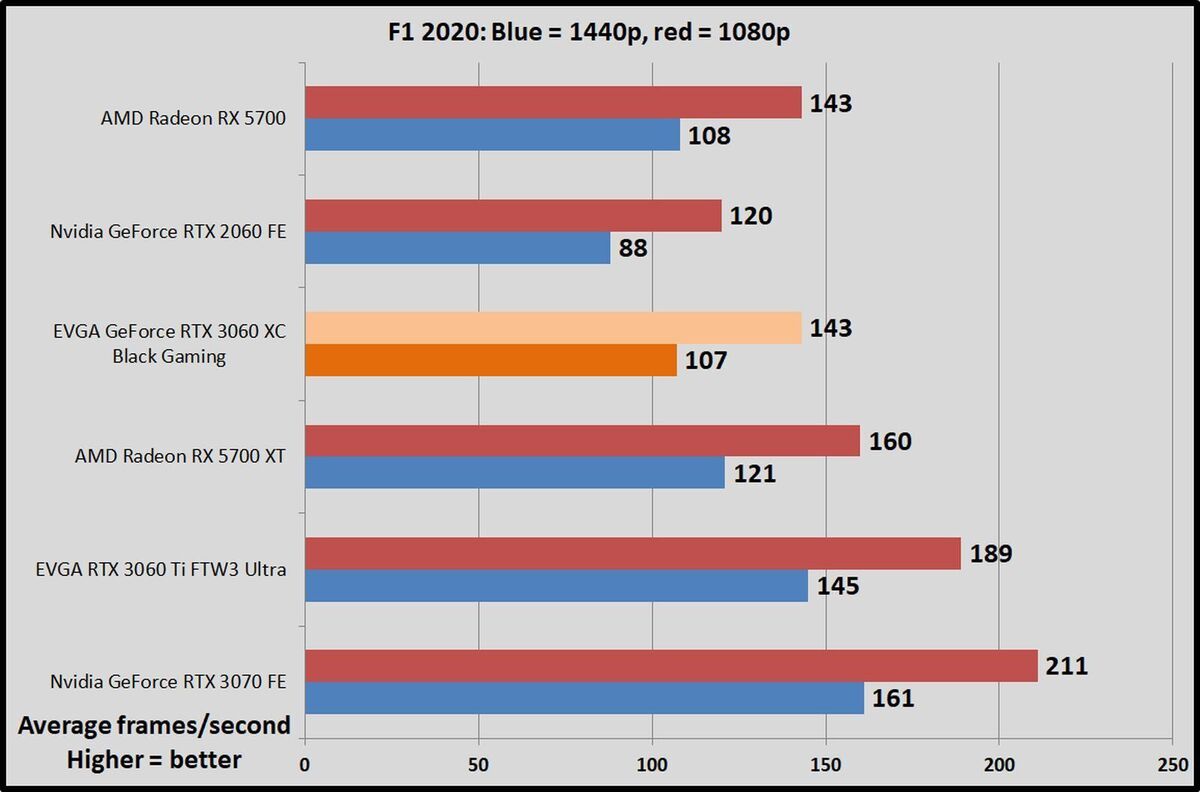 Shadow of the Tomb Raider
Shadow of the Tomb Raider concludes the reboot trilogy, and it's still utterly gorgeous a couple of years after its debut. Square Enix optimized this game for DX12 and recommends DX11 only if you're using older hardware or Windows 7, so we test with DX12. Shadow of the Tomb Raider uses an enhanced version of the Foundation engine that also powered Rise of the Tomb Raider and includes optional real-time ray tracing and DLSS features.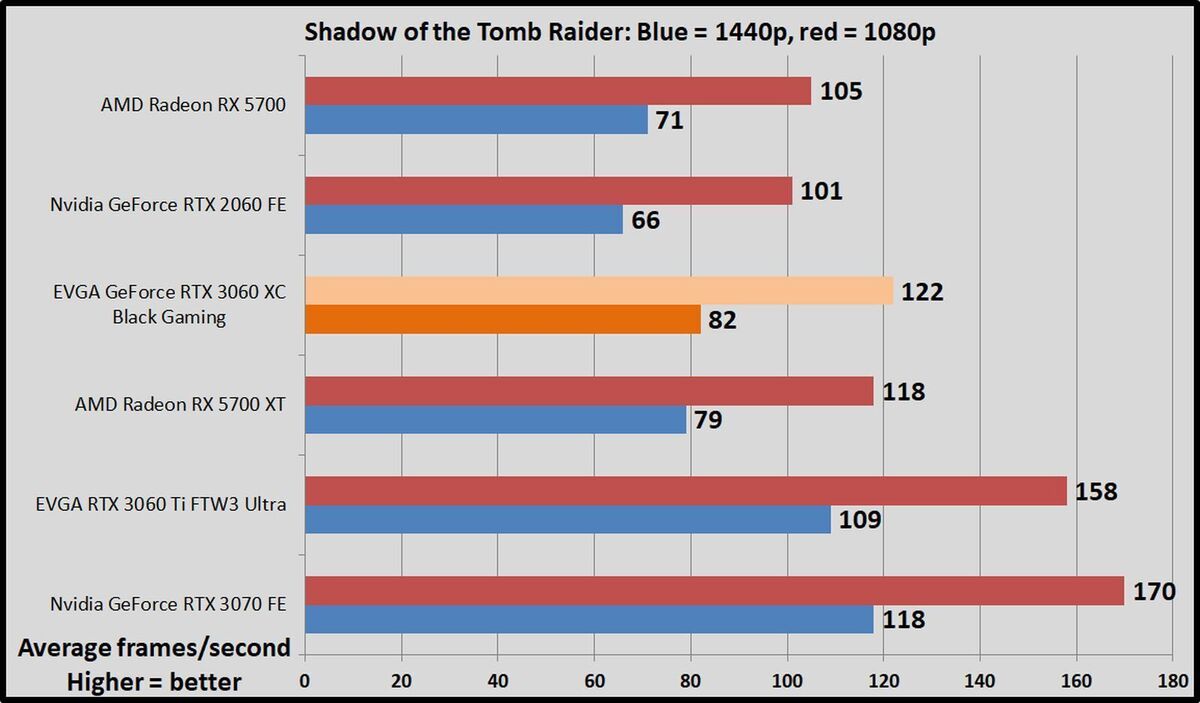 Rainbow Six Siege
Rainbow Six Siege still dominates the Steam charts years after its launch, and Ubisoft supports it with frequent updates and events. The developers have poured a ton of work into the game's AnvilNext engine over the years, eventually rolling out a Vulkan version of the game that we use to test. By default, the game lowers the render scaling to increase frame rates, but we set it to 100 percent to benchmark native rendering performance on graphics cards. Even still, frame rates soar.
Next page: RTX 3060 ray tracing performance
RTX 3060 ray tracing performance
We also benchmarked the RTX 3060 in a handful of titles that support cutting-edge real-time ray tracing effects. While the newer AMD Radeon RX 6000-series GPUs now support ray tracing, older models don't, so we excluded the Radeon RX 5700 and 5700 XT from these results.
Nvidia holds a key advantage in ray-traced games thanks to its Deep Learning Super Sampling technology (DLSS), which leverages AI tensor cores embedded in RTX GPUs to internally render games at a lower resolution, then uprez them to your desired resolution using machine learning to fill in the gaps. DLSS 2.0 works like black magic and gives Nvidia a strong lead in ray tracing performance. Without it, you usually can't run ray-traced games above 1080p resolution.
The Nvidia GPUs we included below all support DLSS, however, and we've shown three results for each card: native performance with ray tracing off, native performance with ray tracing on, and performance when both ray tracing and DLSS are active.
We plan to expand our ray-traced game suite soon, but for now we're giving Watch Dogs: Legion, Metro: Exodus and Shadow of the Tomb Raider a whirl to put the capabilities to the test, with ray tracing options set to Ultra in each title. Legion packs ray-traced reflections, Tomb Raider includes ray-traced shadows, and Metro features more strenuous (and mood-enhancing) ray-traced global illumination.
Let's kick things off with Shadow of the Tomb Raider's ray-traced shadows. The game includes the first-generation version of DLSS, which doesn't support 1080p resolution, so we've stuck to raw ray tracing performance only there.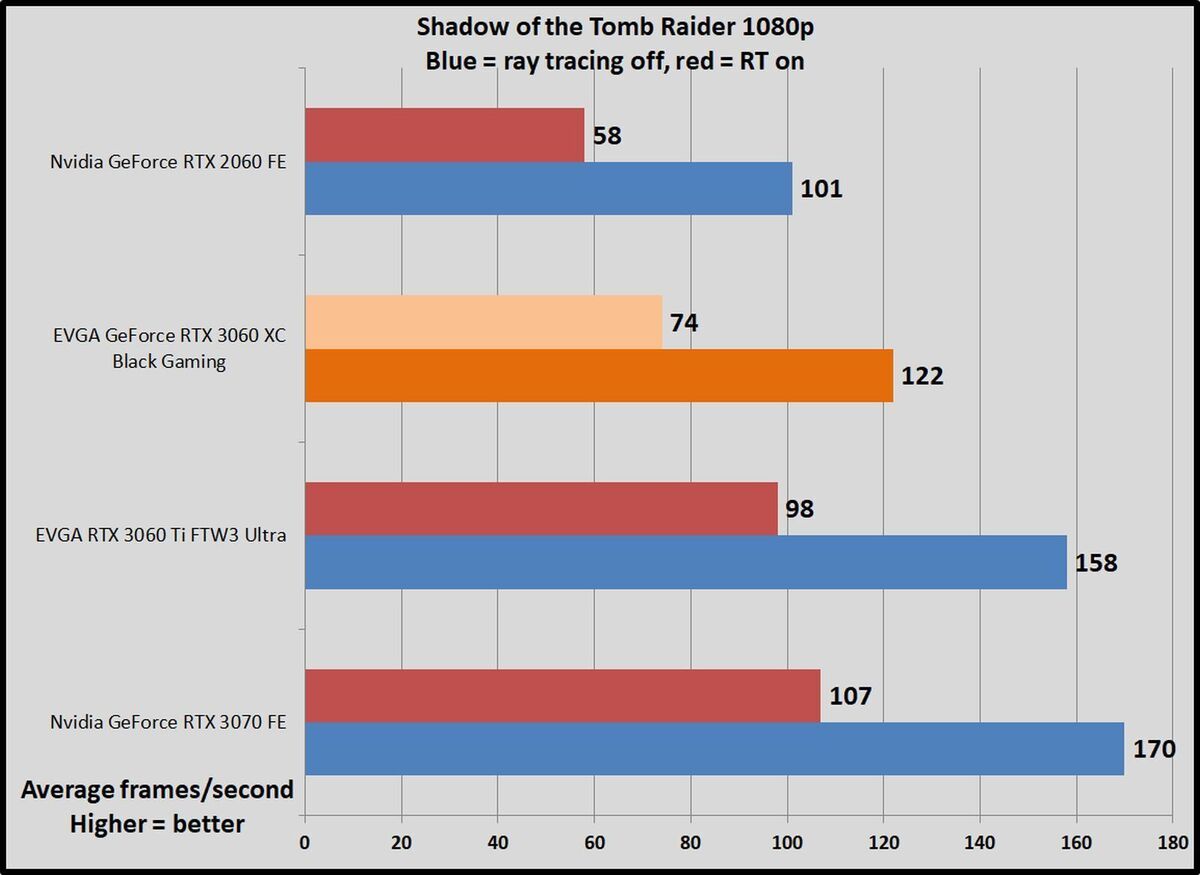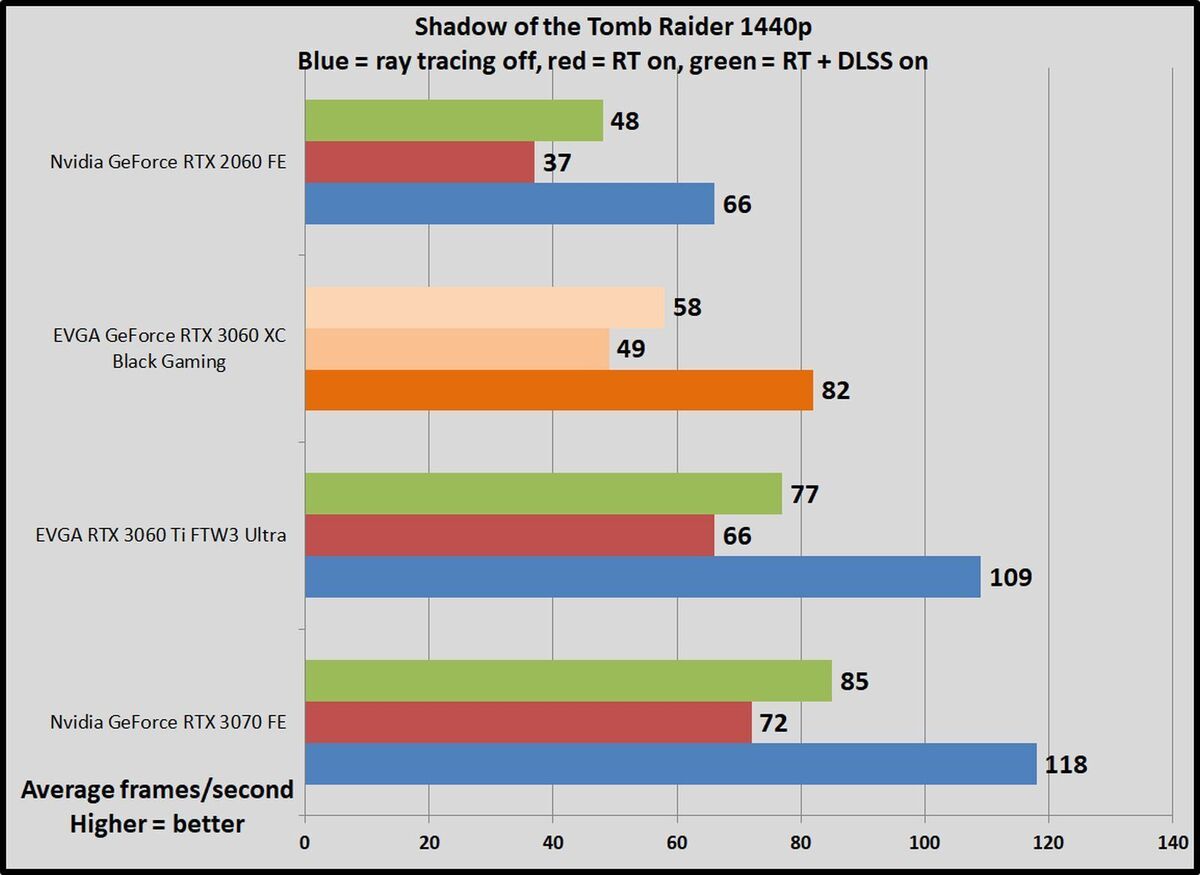 Metro: Exodus uses ray tracing for global illumination. It also uses DLSS 1.0 and doesn't support the upscaling feature at 1080p, so we've only included raw ray tracing performance on that chart.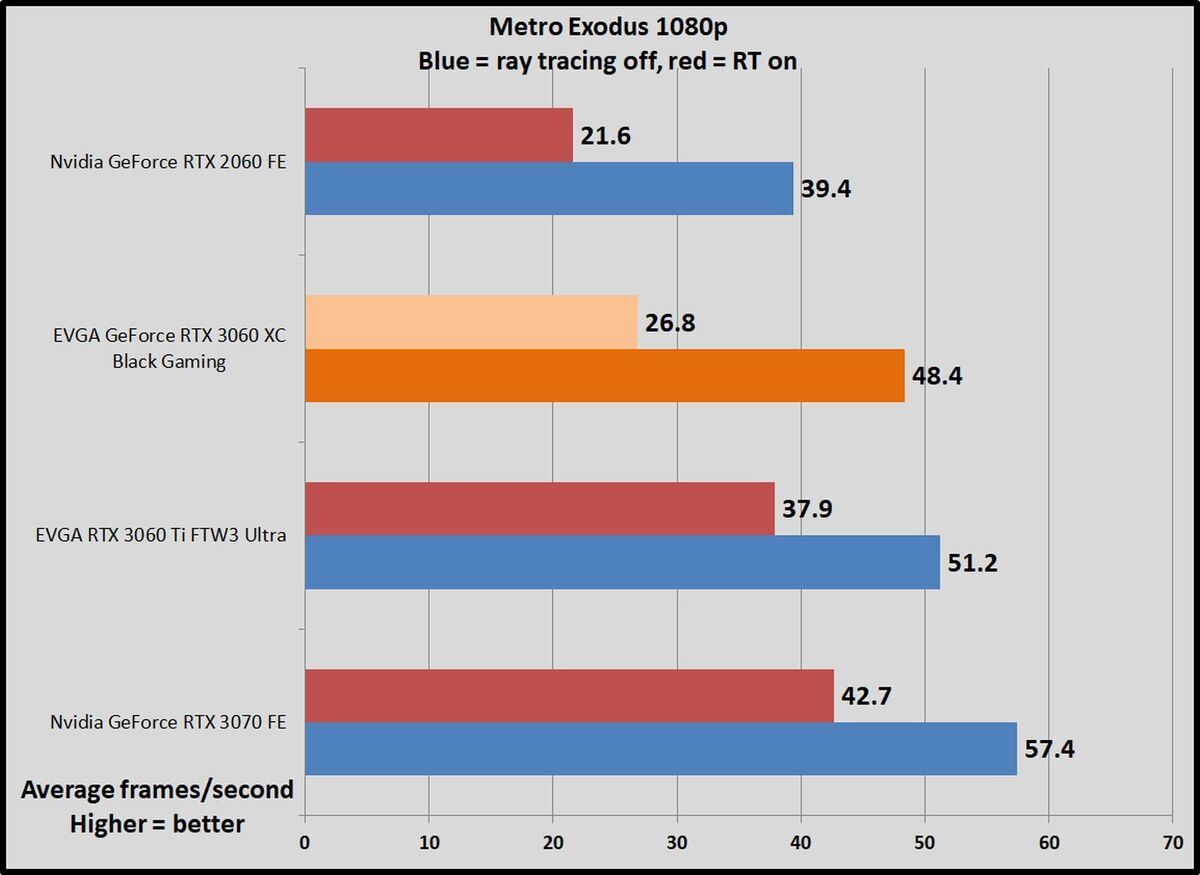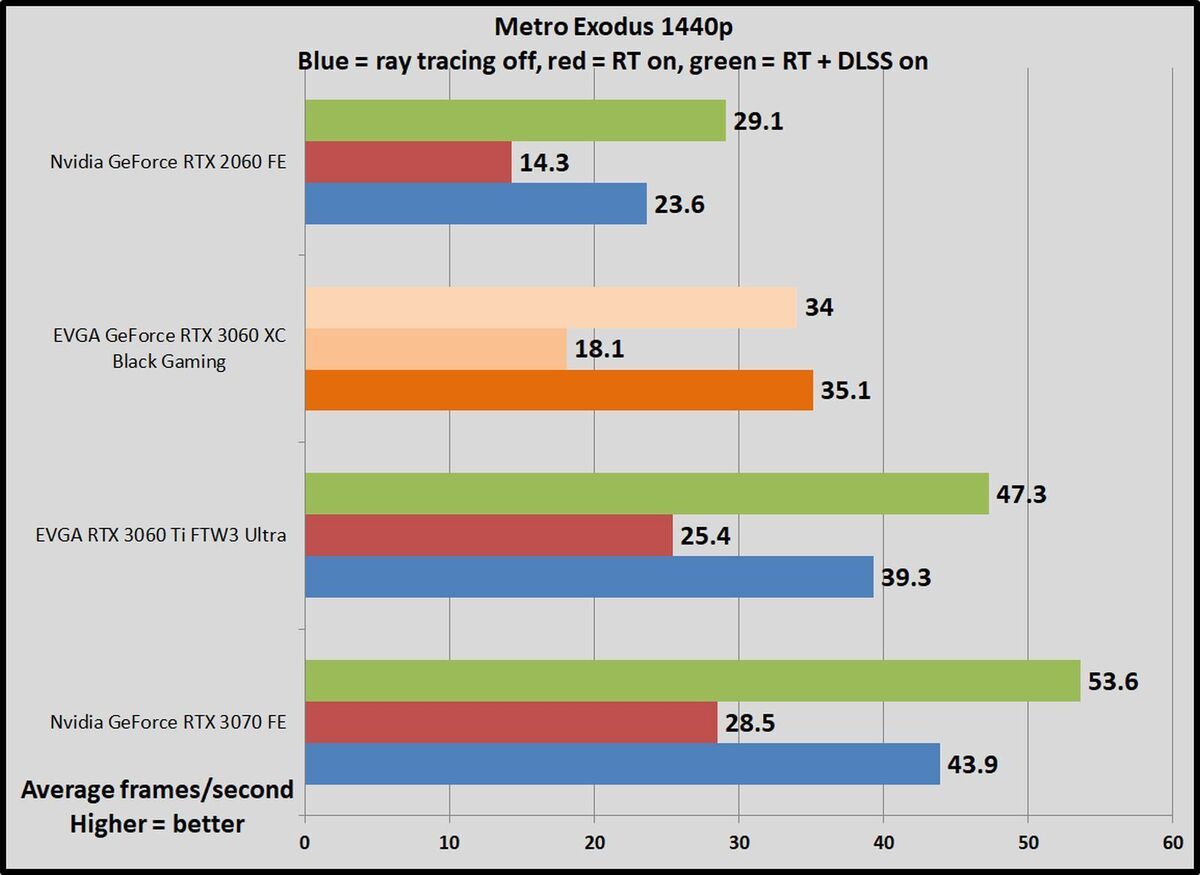 Watch Dogs: Legion hammers your system regardless of whether you have ray tracing on, at least with the high-resolution texture pack installed. Activating the ray-traced reflections exacerbates the issue. Unlike Tomb Raider and Metro, Watch Dogs uses the faster, better DLSS 2.0 technology. We test it with DLSS Balanced mode active. Balanced lets you hit higher frame rates than the Quality mode, but the even faster Performance mode starts to introduce visual differences you can notice in some scenes. Balanced hits the sweet spot.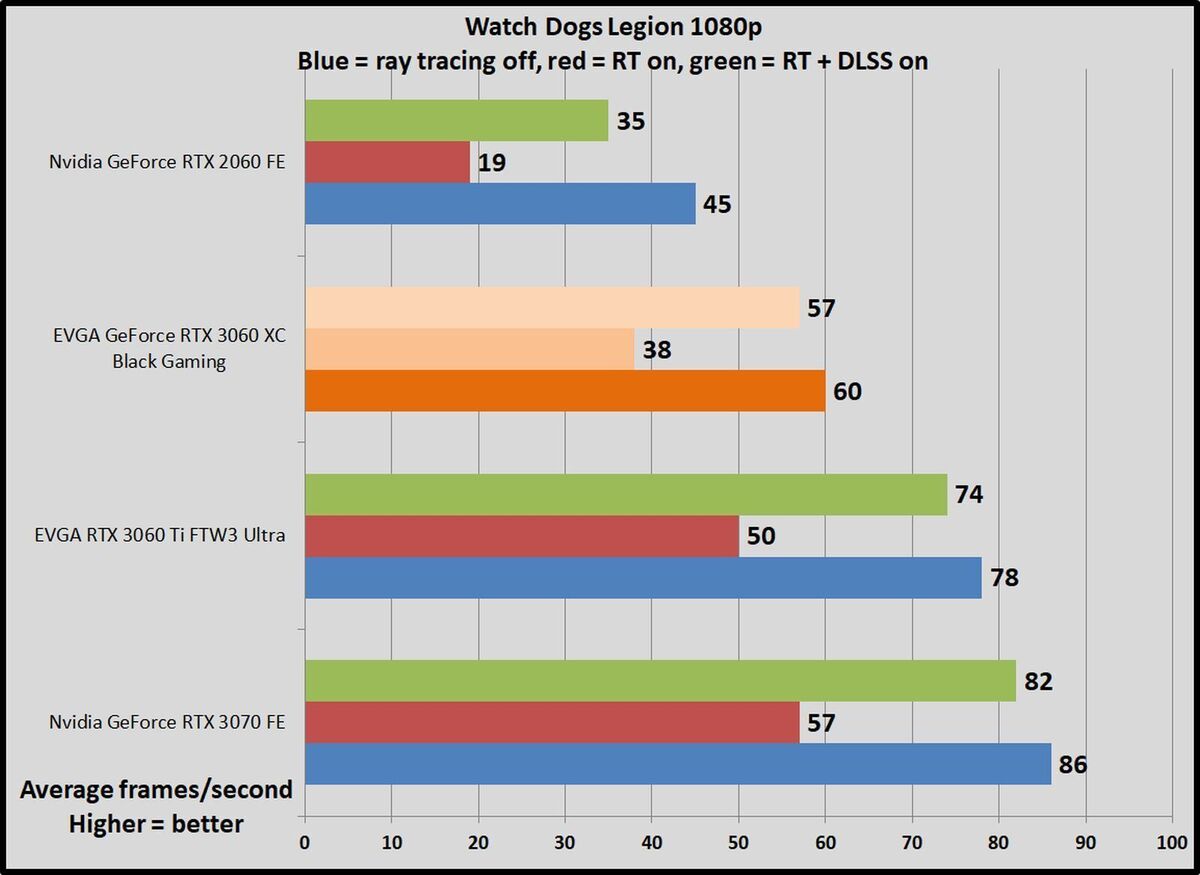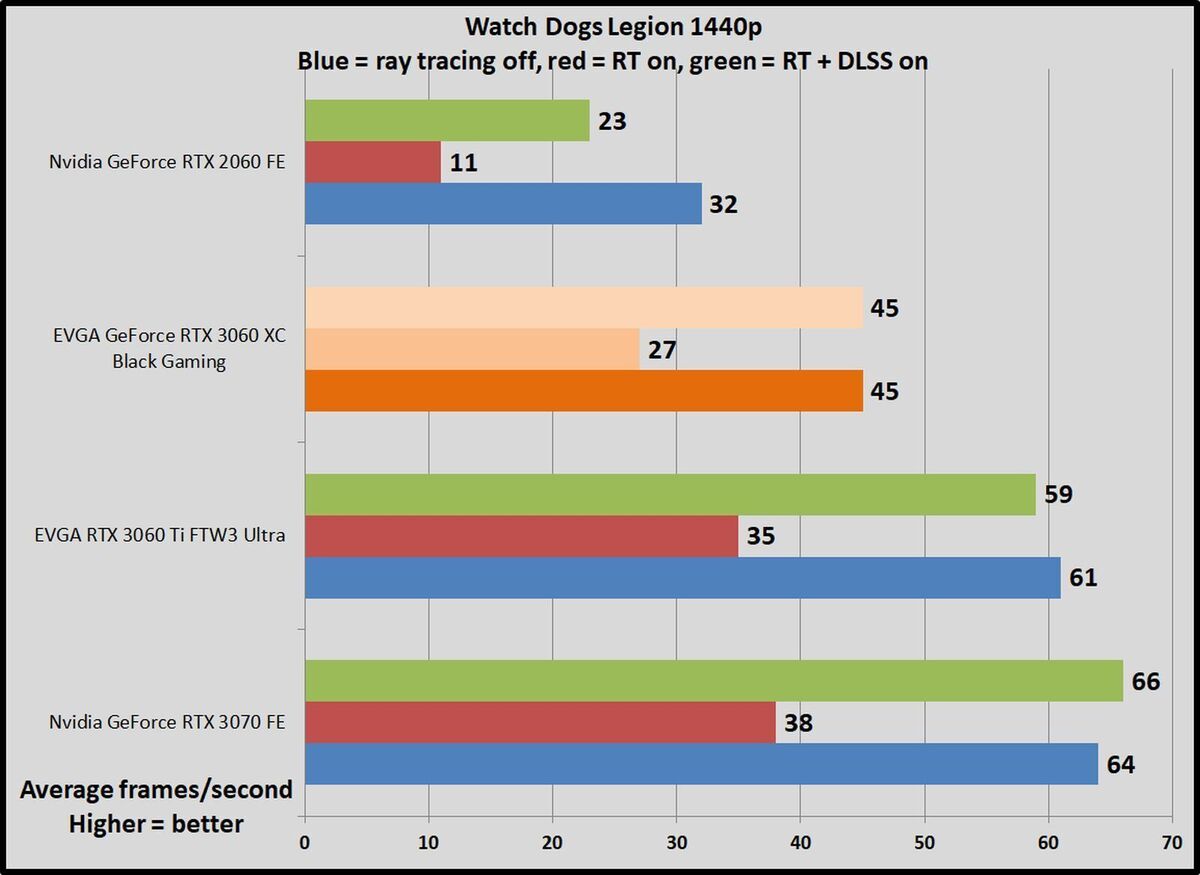 Next page: Power, thermals, and noise
Power draw, thermals, and noise
We test power draw by looping the F1 2020 benchmark at 4K for about 20 minutes after we've benchmarked everything else and noting the highest reading on our Watts Up Pro meter, which measures the power consumption of our entire test system. The initial part of the race, where all competing cars are onscreen simultaneously, tends to be the most demanding portion.
This isn't a worst-case test; this is a GPU-bound game running at a GPU-bound resolution to gauge performance when the graphics card is sweating hard. If you're playing a game that also hammers the CPU, you could see higher overall system power draws. Consider yourself warned.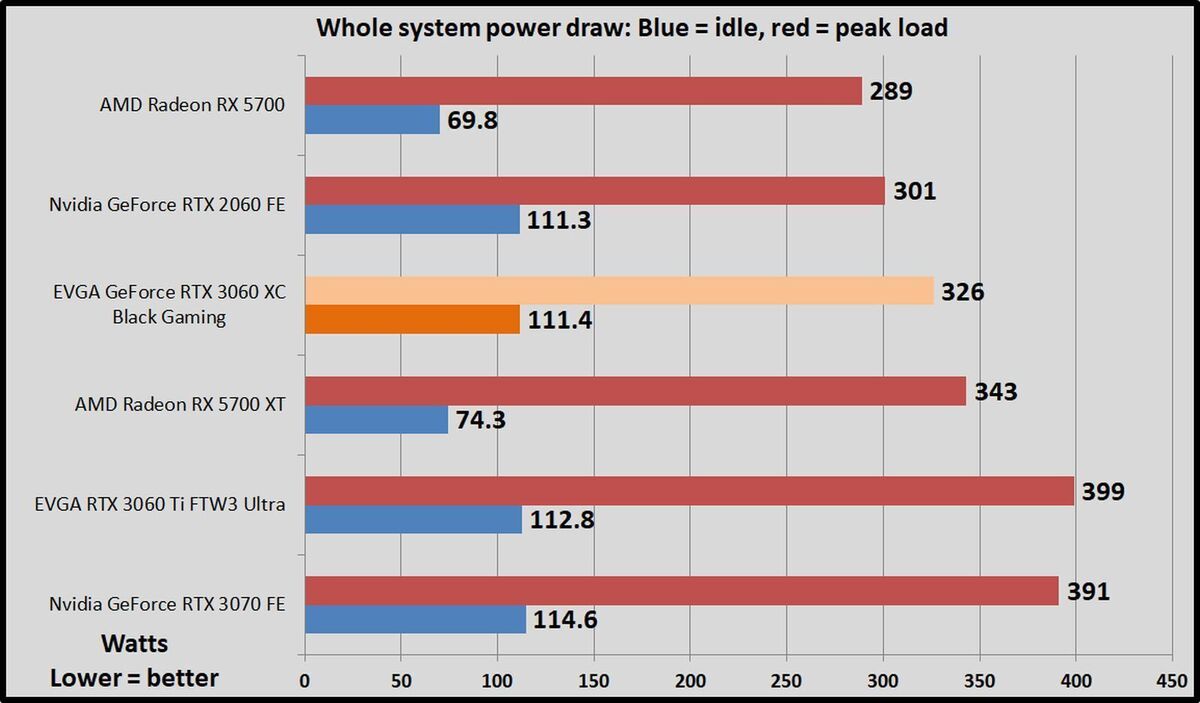 The EVGA GeForce RTX 3060 XC Black Gaming draws a bit more power than the RTX 2060, which makes sense given its slightly higher power requirements. This GPU's energy requirements aren't as staggering as they are for the higher-end RTX 30-series GPUs. It'll be interesting to see how AMD's eventual Radeon rivals will compare.
Interestingly, Nvidia GPUs prevent the computer from fully going into idle in the five minutes of downtime we use for this test, though it does so after a longer duration. That's new to this Ryzen 5900X platform; we didn't see it on our old Intel-based testbeds, nor with AMD Radeon graphics cards installed. We'll have to change our methodology going forward and poke around the behavior to understand it more fully.
We test thermals by leaving GPU-Z open during the F1 2020 power draw test, noting the highest maximum temperature at the end.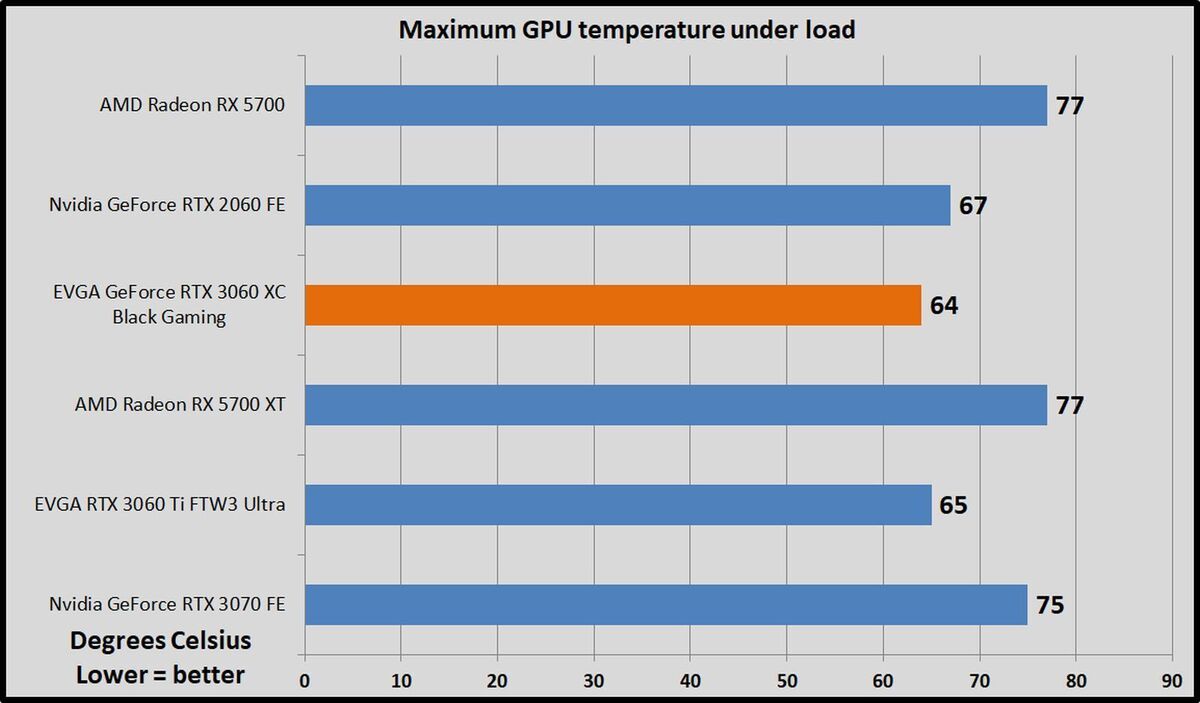 EVGA's XC Black Gaming runs very quiet and impressively cool, taming the modest RTX 3060 GPU with ease. No complaints whatsoever. The blower-style coolers on the last-gen Radeon cards sure are warm and loud, though.
Next page: Should you buy the GeForce RTX 3060?
Should you buy the GeForce RTX 3060?
It's hard to recommend buying any graphics card right now. Overwhelming demand, supply woes, tariffs, scalpers, and cryptocurrency miners have sent availability plummeting and prices skyrocketing. Currently, a couple of weeks after launch, there is no stock available at any major etailer. Most custom models cost closer to $500 even before scalping begins. You can't blame the manufacturers for hopping on the gravy train, but if you wind up seeing any RTX 3060 going for $330 in the wild anytime near the publication date of this review, hop on it pronto.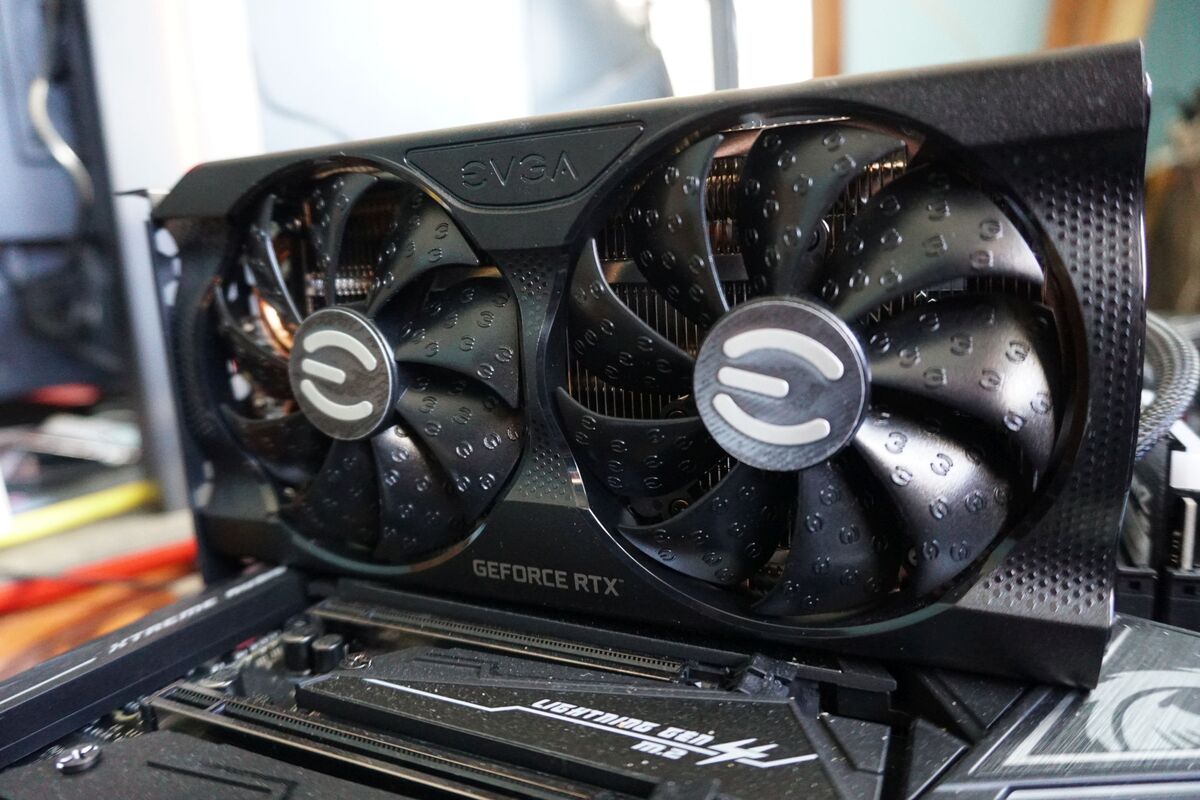 Nvidia's pitching this as a replacement for the popular GTX 1060, which remains the most popular card on Steam's Hardware Survey. The GeForce RTX 3060 would be a significant upgrade over the GTX 1060. That card launched at $250 though. Asking $330 for this upgrade is a big price increase even with ray tracing and DLSS capabilities added. Back in the day, the GTX 1060 could also play 1080p games without compromise, with the ability to play games at 1440p with some visual tweaks—just like the RTX 3060.
Paying $500-plus for a 60-class GeForce GPU is just madness. Go stream some games over GeForce Now instead, if you have a good Internet connection, and wait out this bloodbath. Nvidia's cloud gaming service hooks into existing PC platforms so you don't need to buy new games for it.
Ignoring the terrible modern GPU market, if we evaluate the RTX 3060 based on MSRP alone, it's an uninspiring upgrade to the $350 RTX 2060. Its performance lands it in roughly the same territory as the $400 RTX 2060 Super or $500 RTX 2070. In many games, AMD's older Radeon RX 5700 XT beats it, while the non-XT 5700 hangs tough in several titles (though it's also smashed in others). Those launched at $400 and $350, respectively.
After seeing how far the pricier RTX 30-series pushed performance past their predecessors, the RTX 3060's results are a bit deflating. We would've liked it much more at $300 or even less, but given today's surging market, it makes sense for Nvidia to price the GPU higher to bolster its own bank account. At MSRP, the $400 GeForce RTX 3060 Ti is a much more powerful, much more compelling option.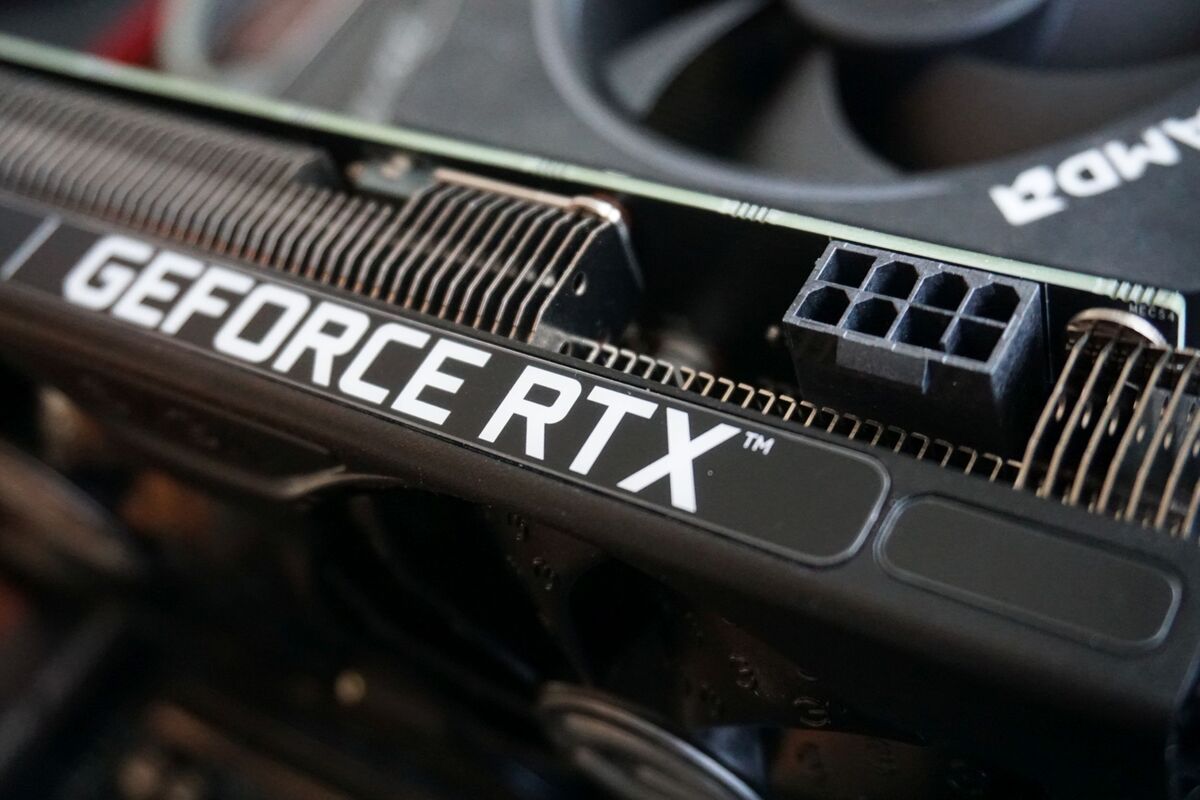 The RTX 3060 is fine though, as we said at the beginning. It's okay. But unlike the other RTX 30-series offerings, it's nothing special. If you need a graphics card for 60-fps gaming at 1080p Ultra quality, this will scratch that itch, and the RTX 3060 can push even higher refresh rates in some games. You can also dabble in 1440p gaming if you don't mind bumping the visual settings down a bit in modern titles. With an ample (read: overkill) 12GB of VRAM onboard, you'll never have to worry about running out of memory. That's great! And Nvidia's DLSS and latency-reducing Reflex technologies remain a massive difference maker in games that support it.
Turning our attention to this specific graphics card, the EVGA XC Black Gaming lacks fancy extras like a backplate, RGB lighting, and a secondary BIOS, but it should fit into almost any system–and it runs cool and quiet. There's no need to spend up for a more expensive model simply for better cooling performance. The price is certainly right for today's insane GPU market—if you can find one.
Don't expect many of the baseline-cost RTX 3060 models to be made. Most vendors will focus their attentions on far pricier hot-rodded models for which they can charge significantly more, even before scalpers swoop in.
Don't spend $500 or more on a graphics card like this. I wouldn't personally spend $400 on an RTX 3060—even a luxurious high-end model with every bell and whistle you can think of. They're already being sold for $600 or more on resale sites. The GeForce RTX 3060 is just a good-enough graphics card in a time where even okay, fine GPUs sell out instantly for staggering amounts.
Pay up if you must, but sit on the sidelines for now if you can.
Sours: https://www.pcworld.com/article/394228/nvidia-geforce-rtx-3060-review.html
3060 6gb rtx
Nvidia GeForce RTX 3060 review: $329 with an asterisk sign
So you want to buy a graphics card. Join the club: every modern game-capable GPU has instantly sold out for months. The pandemic birthed a global semiconductor shortage, Trump's trade war didn't help, and now even four-year-old graphics cards can fetch several hundred dollars on the secondhand market.
Into that chaos, Nvidia is launching the $329 GeForce RTX 3060, a card the company insists will actually have a starting price of $329, and I'm reviewing a model of that card that they claimed would actually go on sale for that price today: the EVGA GeForce RTX 3060 XC Black Gaming. "Supply will be limited though," EVGA tells The Verge. Of course it will. Sure enough, we couldn't find a $329 RTX 3060 to save our lives during this morning's launch.
Even if it eventually winds up being easy to purchase, though, I've got to wonder if the 3060 is the affordable GPU that we've been waiting for.
Every graphics card we've reviewed over the past six months had a compelling reason to exist. The GeForce RTX 3080 was the first no-compromise 4K gaming graphics card under $1,000, and the AMD RX 6800 XT gave it a direct competitor. The RTX 3070 and RX 6800 excel at 1440p and invite you to turn your aging desktop into an entry-level 4K rig for the price of a PS5 or Xbox Series X. Meanwhile, the $400 RTX 3060 Ti is the bang-for-the-buck champ, delivering nearly as much 1440p performance as the RTX 3070 for $100 less.
The vanilla 3060's story isn't quite as inspiring by comparison. Nominally, it's only a little less expensive than the 3060 Ti, but you sacrifice more than a little bit of performance to get there.
Before we dive into benchmarks, let's spend a moment on the EVGA XC Black Gaming. I kind of dig the design: the twin-fan, dual-heat-pipe card is small and easy to slot into a Mini-ITX case — and with a tried-and-true eight-pin PCIe power connector instead of the proprietary 12-pin connector featured in Nvidia's own RTX 3090, 3080, 3070 and 3060 Ti cards. You still get the full array of video outputs, including three DisplayPort 1.4a ports and an HDMI 2.1 port with HDCP 2.3 support.
Here's what it looks like next to my own 3060 Ti Founder's Edition. It's notably smaller:
The eight-inch-long card isn't even the smallest RTX 3060 you'll see this year, as Nvidia's partners have some single-fan designs that should squeeze into practically any case on the market that has room for a dual-slot GPU. This dual-fan XC Gaming cooler is potent enough that EVGA already fit an RTX 3060 Ti into this form factor, too.
While I can't imagine all those embossed "E" symbols exactly help my fan performance, they don't seem to especially hurt, with a moderately pitched whirring sound at full bore instead of a mini jet engine scream. It's both a few degrees cooler and a tad quieter than my 3060 Ti FE during a demanding game, hovering around 70 degrees Celsius and 2,200 RPM with my two Noctua A12x15 case fans backing it up and around 80C without.
Add the lower 550W power supply requirement (the card draws 170W, versus 200W for the Ti), and that's a lot of reasons the 3060 should be popular for mini builds.
Okay, let's talk performance. If you've read my previous two reviews, you know I'm a bit of a cheapskate. I'm the kind of person who'd definitely buy a $330 graphics card instead of a $600 one, and that means I'm also the kind of person who'd pair it with my existing, plenty-good-enough CPU instead of upgrading my whole rig. I'm running the RTX 3060 with my quad-core 4.2GHz Core i7-7700K, and proud of it.
You probably know that CPU power matters less as you raise the resolution; at 4K or 1440p, your frame rate is limited a lot more by your graphics card in all but a handful of games.
But at 1440p, the vanilla 3060 doesn't have quite enough oomph to regularly make it over 60fps in the latest games without tweaking lots of settings in a build like mine — and yet the 3060 Ti generally hits 60 without a problem.
1440p gaming (with Core i7-7700K, 32GB DDR4)
| Game | RTX 3060 | RTX 3060 Ti | Ti wins by |
| --- | --- | --- | --- |
| AC: Odyssey | 57 | 66 | 15.79% |
| AC: Valhalla | 50 | 63 | 26.00% |
| Batman Arkham Knight | 126 | 147 | 16.67% |
| Arkham Knight (Nvidia GameWorks) | 78 | 97 | 24.36% |
| Borderlands 3 (Badass) | 50 | 65 | 30.00% |
| Borderlands 3 (Ultra) | 55 | 69 | 25.45% |
| CS: GO | 231 | 236 | 2.16% |
| Control | 50 | 63 | 26.00% |
| Control (RT) | 29 | 37 | 27.59% |
| Control (RT+DLSS) | 51 | 64 | 25.49% |
| Cyberpunk 2077 | 38 | 49 | 28.95% |
| Cyberpunk 2077 (RT) | 18 | 22 | 22.22% |
| Cyberpunk 2077 (RT+DLSS) | 39 | 45 | 15.38% |
| COD: Warzone | 87 | 102 | 17.24% |
| DX: Mankind Divided | 57 | 74 | 29.82% |
| Metro Exodus (Extreme) | 27 | 37 | 37.04% |
| Metro Exodus (Ultra+RT) | 35 | 47 | 34.29% |
| Metro Exodus (RT+DLSS) | 46 | 61 | 32.61% |
| Shadow of the Tomb Raider | 78 | 99 | 26.92% |
| SotR (RT) | 47 | 59 | 25.53% |
| SotR (RT+DLSS) | 57 | 72 | 26.32% |
| Star Wars Squadrons | 125 | 151 | 20.80% |
| Watch Dogs: Legion | 46 | 61 | 32.61% |
| WD: Legion (RT) | 27 | 35 | 29.63% |
| WD: Legion (RT+DLSS) | 50 | 62 | 24.00% |
| Valheim | 60 | 81 | 35.00% |
All games tested at highest graphical preset unless specified.
I benched 14 games with the 3060 and 3060 Ti at ultra spec, with and without ray tracing and Nvidia's DLSS, and the 3060 Ti was almost always between 15 percent and 35 percent faster. The 3060 is punching below its weight: a higher boost clock and 12GB of memory can't hope to make up for 26 percent fewer cores and a narrower 192-bit memory bus.
You'll see in the chart that neither card let me comfortably run the most demanding games like Cyberpunk 2077 and Metro Exodus at ultra spec at 1440p, but the difference between these two cards is the difference between running those games at medium or high levels of detail. High settings tend to look a lot better, and it's nice to have some additional headroom for future games that'll push the GPU even harder.
That said, these frame rates are still nothing to sneeze at. My four-year-old GTX 1080 couldn't dream of maxing out Shadow of the Tomb Raider at 1440p at a smooth 78fps or Warzone at 87fps. I had to play through a bunch of Cyberpunk 2077 at low spec earlier this year, which I absolutely do not recommend, and I'd honestly been saving Control until I could find a new GPU. It's also very nice to be able to play Star Wars Squadrons at a full 120fps (even if I could get to 144fps with a 3060 Ti) or the delightful but unoptimized Valheim at around 60fps with the eye candy turned on.
And if you've got a 1080p monitor instead of 1440p, or if you're a fan of Nvidia's resolution-reducing, AI-sharpening DLSS technique — I hate it, my colleague Tom Warren loves it — you can genuinely turn on ray tracing with a $329 graphics card and begin to experience the wonder of real-time reflections. A 46fps average in Control may not sound like a lot, but it's a smooth game north of 45fps if you've got a G-Sync or FreeSync monitor actually delivering each of those frames, and that's what I saw with ray tracing turned on at 1080p. With ray tracing off, Watch Dogs Legion and Metro Exodus look playable at 1080p high spec as well.
But even then, 1080p is a resolution where your CPU begins to matter, and my Core i7-7700K or earlier won't always be enough. The new Microsoft Flight Simulator is famously CPU-limited, and to some degree so is Cyberpunk, where I saw dips below 60fps no matter what level of detail I'd set.
If you've specifically been waiting for a $300-ish card to replace an aging GPU, you'll be satisfied with lower settings over the next couple of years, and you can actually find an RTX 3060 at its retail price, I don't think you'll be disappointed. But I'd set aside $500 for an RTX 3070, and though I settled for a $400 RTX 3060 Ti, I can't imagine settling for a 3060 instead.
If you have an extra $70 in the budget for the slightly beefier card, I would absolutely spend it. And if you can't find what you want, I'd say keep on waiting. The GPU market is wild right now, but more chips are coming, including what should be a more affordable AMD GPU on March 3rd.
Photography by Sean Hollister / The Verge
Sours: https://www.theverge.com/22300659/nvidia-geforce-rtx-3060-review
RTX 3060 Laptop + i7-10870H // Test in 20 Games
Nvidia GeForce RTX 3060 Review
The GeForce RTX 3060 is Nvidia's latest $330 desktop GPU offering that you're unlikely to find at its suggested retail price. With many things going on concurrently: the ongoing global pandemic, trade war, and cryptocurrency mining boom, that's the situation we find ourselves in at the moment.
The first batch of reviews of the RTX 3060 went live about ten days ago, and while we had to delay ours, on the plus side this allowed us to take a more accurate look at pricing and post-launch availability. Of course, we have the usual array of benchmarks to go over and we'll jump into that in a moment.
The RTX 3060 is based on the new GA106 die which measures 300mm2 and packs 3584 cores, 112 TMUs and 48 ROPs. That's 26% fewer cores and TMUs than the 3060 Ti version, but 40% fewer ROPs due to the downgrade from a 256-bit wide memory bus to 192-bit. Helping to minimize that reduction is higher clocked 15 Gbps GDDR6 memory which provides a peak bandwidth of 360 GB/s, so just a 20% reduction from the 3060 Ti.
This change to the memory subsystem meant that Nvidia couldn't pair the RTX 3060 with 8GB of VRAM. The options were essentially 6GB or 12GB. The former would have been embarrassing at this price point and with AMD set to release their mid-range parts with 12GB, Nvidia had little choice.
It also helps them to market the RTX 3060 and justify the $330 asking price which sees it come in just 18% cheaper than the 3060 Ti despite the significant reduction to the core configuration. On paper, the RTX 3060 doesn't appear to be a great value product, assuming all models sold at the MSRP, but we'll of course conduct a full performance evaluation and then work out where it lands in terms of cost per frame.
For testing we're still using the Ryzen 9 3950X test system as we progress on updating everything to be tested under the R9 5950X. Expect all that data once we get through this latest round of product releases. The test system is configured with 32GB of dual-rank, dual-channel DDR4-3200 CL14 memory.
We're going to look at the 1080p and 1440p data for half a dozen of the 14 games tested before we jump into our usual performance breakdown graphs.
Benchmarks
Starting with Watch Dogs Legion at 1080p, we see that the RTX 3060 is good for just 61 fps on average, making it slightly slower than the previous generation Radeon 5700 XT. A disappointing result to see in an Nvidia sponsored title. We're basically looking at RTX 2070-like performance, so $500 GPU performance from 3 years ago.
The margins are fairly similar at 1440p, at least relative to other GeForce GPUs such as the RTX 2070. The RTX 3060 manages to match the 5700 XT here, so that's certainly an improvement over what we saw at 1080p, but it's still 21% slower than the 3060 Ti.
Assassin's Creed Valhalla is an AMD sponsored title and here the 5700 XT is well ahead of the RTX 3060 delivering 22% more frames. Again, the 3060 is comparable to the RTX 2070 and 8% slower than the 2070 Super. Relative to the 3060 Ti it does well a 13% deficit here, though we are only at 1080p.
The margin remains much the same at 1440p, where the 3060 was 14% slower than the 3060 Ti and 15% slower than the 5700 XT. It does match the vanilla RX 5700 and that means it's just a few frames faster than the RTX 2070.
The RTX 3060 like most modern GPUs performs well in Death Stranding at 1080p, hitting 129 fps on average to match the GTX 1080 Ti and RX 5700. That said it's 11% slower than the 5700 XT and 19% slower than the 3060 Ti.
The 1440p data is mostly more of the same: 10% slower than the 5700 XT and now 20% slower than the 3060 Ti. It matches the RX 5700 again, so it was 9% faster than the RTX 2070.
You can play Microsoft Flight Simulator 2020 at 1080p maxed out with the RTX 3060, though you are only looking at performance that's equivalent to the RTX 2060 Super, RTX 2070 or RX 5700 with 40 fps on average.
Then at 1440p it roughly matches the 5700 XT and RTX 2070 with 32 fps on average. This is just playable in our opinion -- certainly not good enough for a shooter-style game, but for this simulator it works.
Moving on we have Shadow of the Tomb Raider. Here the RTX 3060 rendered 123 fps on average at 1080p which sees it match the 5700 XT to come in 21% slower than the 3060 Ti. When compared to the previous generation base model RTX 2060 which came in at a similar price, the 3060 is 18% faster.
At 1440p we drop to what's still a highly playable 83 fps. Again, the RTX 3060 is seen matching the 5700 XT, making it 23% slower than the 3060 Ti.
In Rainbow Six Siege at 1080p, the RTX 3060 is good for 292 fps, which makes it a little faster than the 2070 Super and places it roughly on par with the RTX 2080 and 5700 XT. It's some 12% faster than the similarly priced RX 5700, though that's not exactly progress.
We find that the 1440p data is similar with the RTX 3060 on par with the 2070 Super and 5700 XT, making it marginally faster than a vanilla 5700, but 21% slower than the 3060 Ti.
Performance Summary
Here's a look at the 14 game average data running at 1080p. The RTX 3060 is just 6% faster than the RX 5700, which is not great considering the MSRP is ~6% lower. When compared to the two-year-old AMD GPU, you're getting on average 6% more performance for what should be a 6% price saving, amazing stuff.
Compared to Nvidia's previous offerings, the RTX 3060 looks a bit more impressive, offering 15% more performance than the two-year-old RTX 2060 Super which cost 18% less. Of course, Turing was never great value, but looking exclusively at Nvidia products, the 3060 is quite good.
The 1440p data tells a similar story, where the RTX 3060 is on average 8% faster than the RX 5700 and 5% slower than the 5700 XT. It's also 17% faster than the RTX 2060 Super and 22% slower than the 3060 Ti.
Cost per Frame
Now let's take a look at the controversial MSRP-based cost per frame data. There are RTX 3060 cards listed for $330 at several retailers including Newegg, but whether or not they'll ever have stock for those models is hard to say. They certainly don't right now and that's hardly surprising. When compared to AMD, the situation does look better, the RX 6800 for example has an MSRP of $580, yet the cheapest model over on Newegg is $680 with most priced well over $700 and all out of stock.
It's possible that MSRP pricing for out of stock GeForce cards is a ploy to claim the MSRP at launch, with card makers advertising base model cards that won't get stocked anytime soon. We can't say if that theory is correct though, given we've heard from people who managed to snap up RTX 3070 and RTX 3080 models at the MSRP at some point. Whatever the case may be, supply of those models is even more limited and clearly for the vast majority of shoppers the MSRP means nothing.
Those reading weeks or months into the future, when GPUs are back to regular pricing, here's how the RTX 3060 stacks up at the claimed MSRP...
For $330, the GeForce RTX 3060 is slightly worse than the 3060 Ti in terms of cost per frame, coming in at a 6% premium. Given the RTX 3060 Ti is 12% better value than the RTX 3070, you'd expect the 3060 to cost no more than $280, so $50 less than the actual MSRP. Compared to previous-gen GPUs such as the Radeon 5700 XT, the RTX 3060 is just a 14% improvement in cost per frame.
As of writing, major tech retailers didn't have a single RTX 3080, 3070, 3060 Ti or 3060 in stock. Even the bundles where you have to buy a motherboard and memory were out of stock. That means if you want to buy a graphics card now, your best bet is to pay scalper prices over on eBay, something we strongly recommend you resist doing.
In the following graph we're looking at the average sale price of completed listings for new products over the past week on eBay. We've manually gathered this data and any dodgy listings, like a $500 RTX 3090, for example, were ignored.
Of this bunch, the cheapest model was the GeForce RTX 2060 for $505 on average, roughly a 45% increase over the MSRP, resulting in a cost per frame of $8.01 when it should be $5.55.
The RTX 3060 comes in at $9.44 per frame, and while that does make it the cheapest of the GeForce 30 series, it was only a percent cheaper than the RTX 3070.
Admittedly though, this data is meaningless when you consider the average sale price of the RTX 3060 was $793, a staggering 140% markup over the MSRP. Certainly no one should pay that for an RTX 3060, but that's the bleak and realistic outlook for cards that are more readily available.
Ray Tracing and DLSS Performance
Before wrapping up, we wanted to take a quick look at ray tracing and DLSS performance along with power consumption and overclocking. For ray tracing testing, do note we're using the second highest quality preset for the three games, so not the minimum in-game quality settings. We're also testing at 1440p only (and not 1080p) as that makes better sense when you're prioritizing visual quality over high frame rates.
In Watch Dogs Legion at 1440p, the RTX 3060 was good for just 62 fps on average at the native resolution. Enabling quality DLSS boosted the frame rate by 30% to 81 fps, a very nice performance upgrade.
With medium quality ray tracing enabled with DLSS, the frame rate dropped below 60 fps to 54 fps on average. Not amazing, but certainly still playable. Then with ultra-quality ray tracing the frame rate dropped to 49 fps, not great but the game is still playable depending on your requirements. Without the aid of DLSS the game was unplayable using ray tracing on the RTX 3060 at 1440p as frame rates dropped well below 40 fps.
When compared to the RTX 2060, the 3060 was 13% faster when comparing native performance or DLSS-enabled performance. However, with ray tracing enabled the RTX 3060 was much more efficient, delivering up to 26% better performance.
This also shows just how poorly AMD's RDNA2 GPUs perform with ray tracing enabled, at least in these Nvidia optimized titles. Here the RX 6800 was 65% faster than the RTX 3060 without ray tracing, but with it enabled the Radeon GPU was just 31% faster and 16% faster with the ultra quality RT setting.
Shadow of the Tomb Raider only uses ray tracing for shadows and DLSS doesn't work nearly as well in this title, offering almost no performance uplift without ray tracing enabled. This time the RTX 3060 was 16-20% faster than the 2060 with ray tracing, while it was 11% faster for straight rasterization performance.
The performance uplift offered by DLSS in Control is massive. The RTX 3060 was 61% faster with DLSS enabled, so medium quality ray tracing with DLSS enabled was able to match native resolution performance, though do keep in mind we're only testing the game using the medium quality preset.
The GeForce RTX 3060 was 25% faster than the RTX 2060 for rasterization performance and we saw similar margins with ray tracing and DLSS enabled.
Power Consumption
The RTX 3060 isn't particularly impressive in the power consumption front, using only slightly less power than the RTX 3060 Ti, or at least that was the case for the Gigabyte RTX 3060 Eagle model we used for testing. When compared to the RTX 3060 Ti, we're looking at a mere 2% reduction in total system power usage.
Here's a better look at graphics card power consumption using PCAT. We find that the RTX 3060 does consume 12% less power than the 3060 Ti, but given it was on average 22% slower, that's not a good result for power efficiency. It's a little more efficient than the 2060 Super, for example, consuming 6% more power for 17% more performance on average, not amazing but it's an improvement.
A very brief look at overclocking has the Gigabyte Eagle RTX 3060 overclocked from the stock boost frequency of 1777 MHz up to 1997 MHz, which resulted in a sustained in-game clock speed of 2.1 GHz. The memory also overclocked from the stock 15 Gbps transfer speed to 17.2 Gbps.
This manual overclock improved performance in Shadow of the Tomb Raider by 10%, taking the average frame rate from 83 fps up to 91 fps to match the RTX 2070 Super in this title. That's a pretty typical Ampere overclock.
What We Learned
Under normal conditions, as in you could buy graphics cards around the MSRP, the GeForce RTX 3060 would be a bit of a flop. It brings nothing new to the table, it's technically worse value than the RTX 3060 Ti, and while it does pack more VRAM, at this price point 8GB is enough, at least for now.
Put the VRAM factor aside and you can see the RTX 3060 has very little going for it. For RTX 2060 owners it's a very small upgrade, and it's almost a side grade for 2060 Super owners, while it's a downgrade for anyone with a 5700 XT.
If you own a GPU from a prior generation, like the GTX 1060 or even at GTX 1070, then the RTX 3060 is a decent upgrade in terms of performance, but you'd be better off spending a little more on the Ti version or waiting to see what AMD does at this price point.
Which of course, brings us to the present situation. At the moment, Nvidia has no incentive to make the RTX 3060 a killer value. Nvidia can still present this price point and sell as many cards as they can produce, evidenced by the fact that it sold out instantly. Even if the market returned to normalcy later in 2021 -- something we're not expecting -- Nvidia could simply refresh the 3060 series with a Super variant and adjust pricing to whatever is appropriate then.
Bottom line, the GeForce RTX 3060 isn't a bad product, it's technically very good, but pricing is simply not attractive to make it a compelling upgrade -- but wait -- all of that won't matter right now as gamers and miners fight over any GPU stock available. Until things improve, we don't expect Nvidia or AMD to release any good value GPUs while demand remains exceedingly high.
Shopping Shortcuts:
Nvidia GeForce RTX 3060 on Amazon
Nvidia GeForce RTX 3060 Ti on Amazon
Nvidia GeForce RTX 3070 on Amazon
Nvidia GeForce RTX 3080 on Amazon
AMD Radeon RX 6800 on Amazon
AMD Ryzen 9 5950X on Amazon
AMD Ryzen 9 5900X on Amazon
AMD Ryzen 5 5600X on Amazon
224 interactions
Sours: https://www.techspot.com/review/2211-geforce-rtx-3060/
You will also like:
Nvidia GeForce RTX 3060 Laptop GPU Review
We're kicking off our reviews of Nvidia's RTX 30 laptop GPUs with a look at the GeForce RTX 3060, the more affordable of three new Ampere mobile GPUs released so far. It's a little unusual to be reviewing a laptop GPU variant before the desktop chip, but to align with the laptop release cycle and the launch of AMD's new Ryzen 5000 APUs, we're getting the RTX 3060 alongside the RTX 3070 and RTX 3080 all at the same time.
The mobile RTX 3060 is using Nvidia's GA106 silicon with 3840 unlocked CUDA cores, more than what you'll find in the desktop equivalent. There are a range of power configurations that OEMs can use, anywhere from 60 to 115 watts, which brings with it a boost clock anywhere from 1283 MHz to 1703 MHz depending on the variant you get. Of course, one of the key talking points around this generation is Nvidia removing the "Max-Q" label, instead giving all configurations from the 60W model (previously Max-Q) up to 115W (Max-P) the same name, something we're not big fans of.
The memory configuration for all RTX 3060 laptop variants is 6GB of GDDR6 on a 192-bit bus, with clock speeds of either 14 Gbps or 12 Gbps depending on the power class. As this is a new GPU featuring the Ampere architecture, it's built on Samsung's 8nm process node and features all the new architectural benefits like 3rd-gen Tensor cores, 2nd-gen ray tracing cores, and dual FP32 pipelines.
For laptops specifically, Nvidia has introduced a range of new technologies such as Dynamic Boost 2.0, WhisperMode 2.0 and Resizable BAR, to go along with previous stuff like Advanced Optimus. While these features fall under Nvidia's Max-Q umbrella, they aren't restricted just to low power variants; all RTX 30 GPUs can use them. Not all of these features are required to be used though by the laptop manufacturer. From what we've seen so far, uptake Dynamic Boost in particular has been far higher than in prior generations.
For today's review, we'll be testing two variants of the RTX 3060 mobile GPU: one with a base power rating of 80W, and another with a base power of 115W. Note how we specify "base power" here as both come with Dynamic Boost 2.0, which is enabled by default. This balances system power load while gaming, and in some situations where CPU usage is light, it can enable the RTX 3060 to run up to 15W higher. Considering it's enabled out of the box on both systems, this is how we'll be testing these laptops and we'll be reporting a power range on our benchmark charts.
Our RTX 3060 115-130W system today is the XMG Apex 17, a powerful beast of a system with significant cooling capacity. The RTX 3060 inside has a base clock of 1387 MHz and boost clock of 1702 MHz, along with 14 Gbps memory. It supports Dynamic Boost and Resizable BAR, but not WhisperMode or Advanced Optimus.
The XMG Apex is powered by the Ryzen 7 5800H, a new Cezanne APU that just launched and we'll be reviewing in detail soon. There's also 16GB of dual-channel DDR4-3200 memory and a 17-inch 1080p 144Hz display. 1440p laptops are also starting to filter into the market now, but our testing for today will remain at 1080p. We'll look to add 1440p to the mix in the future.
Our second RTX 3060 laptop is another XMG Apex 17 but equipped with a 80-95W GPU power configuration. The laptop is a slightly different model with a thinner chassis and smaller cooler. Clock speeds are 900 MHz base and 1425 MHz boost, also with 14 Gbps memory. This laptop features Dynamic Boost and WhisperMode, but not Resizable BAR or Advanced Optimus. Perhaps the lack of Resizable BAR is down to the use of an Intel CPU. There's also 16GB of dual-channel DDR4-3200 memory and a 17-inch 1080p 144Hz display.
It's interesting to see that XMG and ODM Clevo have decided to make Ryzen 5000 processors the focus of the Apex 17 series. While many aspects to these chassis are similar, the AMD model is notably larger and has better cooling, allowing it to run the GPU at a higher power rating for better performance. This is opposite to previous generations where Intel was always given the higher end designs.
With that said, both of these Apex models are the sort of entry-level chassis options that XMG offers. Core and Neo models sitting above with slimmer builds and more premium materials.
Benchmarks
We're starting off with some older games where we have more comparison data, then move into newer benchmarks with a smaller range of systems. Shadow of the Tomb Raider is up first, and immediately we're seeing pretty decent results.
There wasn't a huge difference between the power configurations of our RTX 3060 laptops in this test, but it did allow the 80-95W model to deliver 17% more performance than a 90W power configuration of the RTX 2060. So a similar power configuration here, just a decent chunk more performance out of the new RTX 30 series GPU.
This places the RTX 3060 slightly above the RTX 2070 Super Max-Q in our charts. Meanwhile for those with a system a couple of generations old, say a GTX 1060 6GB for example, you're looking at more than 65% better performance in the same power class.
In Metro Exodus, the RTX 3060 is able to flex its muscles, especially with the 115W power configuration. In both instances, the new RTX 3060 is pretty similar to an RTX 2070 Super of the same power rating, putting it towards the top of the charts. At 80W we're seeing 16% more performance than the RTX 2060, although this extends to a 30% delta at 115W. Plus, if you're upgrading from an older system or something lower tier, the gains are much more substantial.
Control is extremely GPU limited on laptops, and as such shows some of the highest performance gains for the RTX 3060 over the 2060 at 1080p. We achieved a 27% higher frame rate when comparing at 80-95W, and 21% higher at the maximum 115W configuration.
So generation on generation, in the same sort of laptop design with the same cooler, an RTX 3060 will be giving you a decent step up in terms of frame rate. This puts the 3060 slightly above the last generation RTX 2070 Super, but at a lower price point.
Borderlands 3 shows a solid performance improvement for the RTX 3060, pushing frame rates 17% higher in 80-95W range, and 19% higher in the 115-130W range, over the RTX 2060. This makes the 3060 about 5% faster than the RTX 2070 Super Max-Q in a lower power configuration, or equal to that GPU in a higher power configuration. And while we're not setting new records in the 90W power class with this GPU, we're getting 88% of the performance of the RTX 2080 Super Max-Q in a price range that's about half as expensive.
Red Dead Redemption 2 shows some of the strongest results in favor of the RTX 3060, with the new GPU delivering performance above the RTX 2070 Super in a watt for watt battle.
The 3060 ends up 24% faster than the RTX 3060 in both power classes, and almost twice as fast as the GTX 1060 for people thinking of upgrading from a much older laptop. Really, now is the time to think about ditching your Pascal gaming system for something newer.
Tom Clancy's Rainbow Six Siege is a classic example of a competitive game running at medium settings. With new AMD CPUs in these systems, we're no longer suffering a huge performance penalty choosing an AMD-based laptop, so the end result is both RTX 3060 laptops deliver similar performance.
Large gains for the RTX 3060 in this title over previous generation GPUs, which is going to be especially good if you buy a system with a 240 Hz display.
In Assassin's Creed Valhalla, the RTX 3060 is able to outperform the RTX 2070 Super Max-Q by a couple of frames, delivering a 17 percent performance gain over the RTX 2060 in a similar power class. Especially at 115W, this makes Valhalla quite playable on very high settings at 1080p, which wasn't previously the case.
Cyberpunk 2077 requires a lot of GPU horsepower for decent frame rates at 1080p on a laptop, and ultimately we'd recommend people turn down the quality settings one notch with a mid-range GPU like the RTX 3060. 17% more performance on offer than the RTX 2060 here in the lower power class, however the RTX 3060 does fall behind the RTX 2070 Super in this game.
Watch Dogs Legion, even at 1080p on Ultra settings, is quite punishing on the RTX 3060 and part of that comes down to Ultra settings needing 8GB of VRAM. The 3060 has just 6GB, which in some areas of the benchmark causes stuttering and a somewhat lower 1% low than the RTX 2070 Super despite similar average frame rates.
We're still seeing a substantial 29% gain over the RTX 2060, another 6GB GPU, however we think having more VRAM for this game would be nice if you wanted to play on Ultra settings. With that said, how realistic ultra settings are for a laptop GPU is another question, and I'd probably turn down the preset one notch for actual gaming on a system like this.
Hitman 3 is the newest title in our benchmark suite, and for this test we are using the built-in test set to the Dartmoor level. This is an intensive test on both the CPU and GPU, with the RTX 3060 putting up a good showing relative to other products in the chart.
It is only 15% faster than the RTX 2060 in a watt for watt battle, but utterly obliterates the GTX 1060 configuration which is hamstrung by just a quad-core Intel 7th-gen processor.
The final benchmark we'll be showing in detail today is Dirt 5. The results seen here don't differ too much from the previous results, but this is a newer and more performance intensive title in some ways. With 17 percent more performance than the RTX 2060 on offer, it allows the 80-95W configuration to match the RTX 2070 Super Max-Q.
Performance Breakdown
Time for some head to head comparisons featuring 20 games in our up-to-date laptop GPU benchmark test suite. When comparing the RTX 3060 (80 to 95W) with Dynamic Boost enabled, to the average of all our RTX 2060 laptops running at 90W, the RTX 3060 ends up 19% faster on average in the same power class.
Some results were not as high for the new RTX 30 series GPU, like Gears 5 and Cyberpunk with ray tracing enabled, while other games like Control and Watch Dogs Legion could be nearly 30 percent ahead on Nvidia's new GPU.
In the higher power class -- 115W-130W -- we don't have as many games that can be used for a comparison. However, from the tests ran we can say that the RTX 3060 is 22% faster than the RTX 2060 on average. This suggests that the 3060 is delivering a similar improvement to efficiency over its Turing predecessor regardless of whether you get a mid-tier or higher-end power configuration.
Another useful comparison is that the RTX 3060 provides similar performance to the RTX 2070 Super when you're on a similar power class. The one outlier here is Cyberpunk 2077 with ray tracing enabled, where 6GB of VRAM is not enough and causes a significant performance loss compared to the 8GB-equipped 2070 Super. Remove that result and the 3060 is a couple percent faster on average.
Not unlike what we've observed from previous generations, the higher 115W power configuration is 11% faster on average than the 80W config of the RTX 3060. While there is also a CPU difference at play here, most of our gaming benchmarks are GPU limited, with results ranging from a low single-digit improvement, to an uplift of 20% or more, depending on the game. These two power classes deliver fundamentally different performance and, of course, the 115W model is faster.
For those looking to upgrade coming from a GTX 10 series Pascal GPU of the same class, the RTX 3060 provides a huge 72% performance gain over the GTX 1060 6GB on average. Factored into this is also the uplift moving from a dated Intel quad-core that was commonly used in 2017's laptops, to a new 8-core CPU that will be widespread across today's gaming systems. This is the primary comparison Nvidia is making for RTX 30 laptop GPUs and it makes sense given with these sorts of gains we think considering a gaming laptop upgrade is well worth it, especially for modern games.
The MaxQ naming issue (update)
Update (Feb 5): Shortly after publishing this review, Nvidia announced that they will now require all companies selling RTX laptops to be more transparent about their graphics subsystems. In other words, while Nvidia used to encourage manufacturers to state clocks and power consumption on their product pages, now it requires them to do so. The Max-Q branding can still be used, albeit for different reasons, such as indicating support for Dynamic Boost 2.0, Advanced Optimus, and Whisper Mode 2.0.
Many RTX 30-series laptop listings have yet to be updated to reflect differences in the clock speed and total power consumption. However, manufacturers like Asus, Acer, Razer, Origin, MSI, Alienware, and Gigabyte have already updated some product pages, so things are moving in the right direction for consumers.
The text below belongs to the original review, before Nvidia's change of heart with regards to RTX 30-series laptop GPU branding...
Clearly, the new RTX 3060 laptop GPU delivers on the performance front, that's why it's disappointing Nvidia has decided to confuse users with mixed naming schemes – in particular the removal of Max-Q branding. We've been banging on about this for years now, but the problem is bad enough that even mainstream media is catching on. Laptop makers usually only indicate what's the basic GPU name (e.g. "RTX 3060"), but different power configurations all differ in performance as we just saw in this review, sometimes significantly so.
Nvidia used to mitigate this somewhat by branding the lower power (and slower) variants as "Max-Q" and higher-power laptops with "Max-P." And while there were still more sub-variants between the two extremes, this could at least give you some hint before you bought a new laptop. That's no longer possible with 2021's laptops.
Using today's review as a basic example, we looked at two RTX 3060 laptop GPU configurations that used an 80W and 115W base power level. The performance difference was 10% on average. That's significant enough in our opinion, but we didn't test the even lower power 60W variant of the 3060 which could be 15-20% slower, which is basically an entirely different GPU class at that point.
Now, Nvidia has said that they are encouraging laptop makers to be clear about the power and clock speeds of the laptops they sell. But let's be honest. What maker wants to admit their cooling solution is inadequate and that they're using a slower GPU variant?
The solution is simple, these GPUs should be given different names. The RTX 3060 at 115W could be the RTX 3060MX, the 80W model could be RTX 3060M and the 60W model could be RTX 3060Q. There, solved.
What We Learned
Overall, there's a lot to like from the new RTX 3060 from a performance standpoint. The laptop GPU provides a notable performance uplift over previous parts of the same class and power level, which is something we couldn't say about Nvidia's Super refresh last year.
The upgrade to the Ampere architecture and Samsung 8nm process presents a solid leap for laptop hardware; hardware that's constrained by power and requires new architectures and next-gen process nodes to provide a leap in efficiency and therefore performance per watt.
When we compare two laptop GPUs in the same price segment, relative to its generation – RTX 3060 vs RTX 2060 – we get 20% better performance on average. So if we have two laptops with the same design, same cooling capacity, and likely a similar price tag, the newer RTX 30 series option is going to deliver a decent performance gain in today's games at 1080p. That's exactly what we're looking for.
The generation on generation performance leap with Ampere vs. Turing isn't as large as we got from the Pascal to Turing upgrade on laptops. The RTX 2060, for example, was about 28 percent faster in our 2019 testing compared to the GTX 1060. However, in this instance Nvidia also increased the price tag. That isn't the case with the RTX 3060.
Shopping for a gaming laptop
In today's market, our conclusion above is not factoring in two key data points. First, this price comparison is based off the MSRP. We can't say for sure if gaming laptops will see inflated pricing due to the current terrible market situation for GPU hardware. It also doesn't account for end-of-life discounts on RTX 2060 laptops, so initially there may be a bargain to be had on last-gen hardware. But if we are comparing launch pricing to launch pricing, the RTX 3060 is well positioned and buyers are getting better performance per dollar.
Another way to look at it is that the RTX 3060 matches the performance of the RTX 2070 Super from the previous generation, a GPU that was two steps above in the hierarchy. Those laptops used to cost around $1,800 or more, while some RTX 3060 laptops should be as low as $1,000-1,200. It's hard to make a direct comparison right now as most RTX 30 series laptops aren't available to buy just yet, but the early signs are a very strong value proposition for the RTX 3060 class of laptops.
It's also a promising landscape for those wanting to upgrade from a 4-year-old GTX laptop. Even when you don't factor in a drastic step up in CPU performance -- from say the i7-7700HQ -- new display tech and all the other benefits of modern laptops, the RTX 3060 alone is 70% faster than the GTX 1060 in the same power class. That's enough of a performance gain to justify an upgrade.
From a performance standpoint and even without taking into consideration value-added features like ray tracing, DLSS, Dynamic Boost and so on, Nvidia is delivering the goods right now in the laptop market.
Shopping Shortcuts
GeForce RTX 3060 Laptops on Amazon
GeForce RTX 2060 Laptops on Amazon
Ryzen 9 5980HS Laptops on Amazon
Intel Core i7 Tiger Lake Laptops on Amazon
Ryzen 7 4800U Laptops on Amazon
232 interactions
Sours: https://www.techspot.com/review/2193-geforce-rtx-3060-laptop/
1275
1276
1277
1278
1279