Dining in the dark at Cinemark Movie Bistro
Cinemark converts former Movies 10 in Jackson Township to Cinemark Movie Bistro with restaurant and first-run movies.
JACKSON TWP. A couple of questions quickly came to mind when Cinemark announced last September it was closing the discount second-run theater Movies 10 and converting it to a dine-in theater with first-run movies.
1. If popcorn and soft drinks are pricey at the concession stand, how much will they be charging for a cheeseburger?
2. How good can the food actually be at a movie theater?
During my visit to Cinemark Movie Bistro at 6284 Dressler Road NW on Tuesday afternoon, I found answers to these questions and many others.
Food prices at the bistro seem in line with many sit-down restaurants in the Belden Village area.
A half-pound mushroom Swiss burger served with fries is $13. A trio of sliders — pulled pork, Nashville hot chicken or cheeseburgers — runs $10, with a side of fries $3 extra. A 14-ounce order of wings, traditional or boneless and available in four sauces, is $13. Flatbread pizzas are $10.50 and $12. Three tacos, steak or fish, are $9.75. Chicken fajita nachos are $10. Battered buffalo cauliflower is $8.25.
The food I sampled was freshly prepared restaurant-caliber fare and portions were generous.
The BBQ chicken flatbread, had a good chewy crust, tender cubes of chicken, mozzarella cheese, with ribbons of fresh cilantro, sliced scallions and a drizzle of BBQ sauce.
My dozen meaty, bones-in wings were cooked to crispy perfection, tossed in a full-flavored bourbon molasses sauce, with ranch dressing for dipping. Each taco had a beer-battered filet of mild fish in a soft flour tortilla, with fresh pico de gallo, shredded cabbage and cilantro-cucumber-lime drizzle, served with smoky salsa and a wedge of lime.
"The sauces are homemade, the salsa, the ranch dressing, the honey chipotle mayo. We cut all our own lettuce," said John Rey, the chef at the bistro, whose credentials include Morton's the Steakhouse and Hyde Park Restaurant Group.
He offered a tour of the vast and gleaming kitchen, which replaced one of the movie theaters. "We have eight cooking online tonight," he said. This is clearly not a freezer-and-microwave operation.
Food is ordered and paid for at the concession counter, and then orders are delivered to customers inside the auditorium, using the seat location chosen during ticket buying. Seats are equipped with trays. Rey said the goal is to get food delivered before the feature starts, but this depends on what time customers arrive and place orders. Beverages are purchased in the lobby and carried in by customers.
In addition to a wide food menu -- plus popcorn, soft drinks and candy -- the movie bistro offers a variety of milkshakes from $6 and $6.95, with flavors including Mocho Choco-Latte, Magic Mink Oreo, PB&J and Turtle.
On the alcoholic beverage front, the bistro offers beer in bottles and cans, mostly $5.25 and $5.75, including Corona, Michelob Ultra, Coors Light, Fat Head Bumble Berry and Kentucky Bourbon Barrel Ale. Beers currently available on draft, in 16-, 20- and 24-ounce cups, $6.25 to $9, include Hazy IPA, Stella Artois, Truth IPA, Bud Light and Great Lakes Dortmunder.
Red and white wine are available by the glass ($7.50 to $9.95) and half bottle ($14 to $19). Frozen cocktails, including Jack and Coke, Bacardi and Coke, and regular, strawberry and mango margaritas, are $7.75 and $9.25, depending on size.
"Alcohol has sold really well," said Jeremy Thomas, general manager of the movie bistro. The most popular foods so far are sliders, nachos, pizzas and burgers.
The bistro is one of four discount theaters Cinemark has converted into dine-ins, the others are in Texas and Indiana.
"We want to make sure we're always giving our customers an extraordinary experience," said Alexandria Williams, Cinemark marketing and promotion manager.
The nine auditoriums are equipped with "luxury loungers," which recline and have heated seats in three settings. The once-outdoor ticket window has moved inside to the lobby, and there are three easy-to-operate touch screens for buying tickets and choosing seats.
Ticket prices at Cinemark Movie Bistro are the same as at nearby Tinseltown, also a Cinemark property.
Admission is $5.25 on Tuesdays; to qualify register for free Movie Fan membership at Cinemark.com. The Cinemark Movie Club, $9.99 per month, includes one free movie admission each month (with rollover), no online fees for ticket purchasing, and a 20-percent discount on concessions (not including alcohol).
Wide-release movies will be shown at both Tinseltown and the Movie Bistro, with some showing exclusively at the latter, such as "Downhill" opening Friday.
Sours: https://www.cantonrep.com/news/20200213/dining-in-dark-at-cinemark-movie-bistro
TEXAS MOVIE BISTRO Careers and Employment
Reviews
Usher/Ticket Taker in Lake Worth, TX
Mostly for young adults
There isn't much room for advancement and it isn't the best run business however they are a family and it's a good job to start off with. There's a good bit of walking, cleaning, and stocking.
Consessions in Lake Worth, TX
Working at the bistro
I learned working here that you have to be patient with people and that you have to be disciplined to work. Working here is fun when the job you are doing is complete.
Manager in Lake Worth, TX
Very Friendly atmosphere
Absolutely loved the management and staff. Worked with me through all my difficult scheduling due to football and high school. The theater has been through adversity, but prevails
Assistant Manager in Lake Worth, TX
Fun place to work
The managers care and take the time to train well. Everyone is like a family, and it makes work fun. When we have a suggestion they listen to our opinions.
Concession Worker in Lake Worth, TX
Review
This is a very friendly place to work u would recommend it to anyone it feels like a big family because every one is so close. If someone where to ask me I would recommend it.
See all reviews
What would you say about your employer?
Help fellow job seekers by sharing your unique experience.
Write a review
Questions and answers
People have asked 2 questions about working at TEXAS MOVIE BISTRO. See the answers, explore popular topics and discover unique insights from TEXAS MOVIE BISTRO employees.
How long would it take for them to review your application and call you for a job interview? Is it best to go to the job site and ask the supervisor or manager if they have received your application?
It is best to go online and put an application in at texasmoviebistro.com/employment from there, you can call and ask if the application was received and the manager will ask you a couple of questions and go from there.
See 1 answer
What tips or advice would you give to someone interviewing at TEXAS MOVIE BISTRO?
How long would it take for them to review your application and call you for a job interview? Is it best to go to the job site and ask the supervisor or manager if they have received your application?
It is best to go online and put an application in at texasmoviebistro.com/employment from there, you can call and ask if the application was received and the manager will ask you a couple of questions and go from there.
See 1 answer
What tips or advice would you give to someone interviewing at TEXAS MOVIE BISTRO?
See all Q&A
Interview insights
Insights from 6 Indeed users who have interviewed with TEXAS MOVIE BISTRO within the last 5 years.
Favorable experience
Interview is average
Process takes about a day or two
Explore interviews
Sours: https://www.indeed.com/cmp/Texas-Movie-Bistro
Cinemark Bistro Menu & Prices
Cinemark has grown to become the third largest cinema chain in the United States with more than 500 locations and 600 screens. Recently, they've made the move into the premium food area with their highly anticipated Cinemark bistro menu.
Here are the latest Cinemark Bistro menu prices:
Menu Item
Price

Appetizers

Bavarian Soft Pretzel Sticks
$9.00
Rosemary Fries with Chipotle Mayonnaise
$9.00
Pulled Pork Nachos
$10.00
Salmon Street Style Tacos
$7.00
Roasted Red Pepper Hummus
$7.00
Chicken Wings
$13.00
Vegetable Quesadilla
$8.00
Chicken Quesadilla
$8.00

Entrees

Bistro Burger
$12.00
Mushroom Dijon Burger
$13.00
Southwest Blak Bean Burger
$11.00
Blackened Chicken Sandwich
$11.00
Chicken & Ranch Wrap
$9.00
Fried Chicken Sandwich
$11.00
Grilled Fontina, Mushroom, and Sage Sandwich
$9.00
Pulled Pork Sliders
$9.00
Mini Cheeseburger Sliders
$9.00

Flatbreads

BBQ Chicken Flatbread
$9.75
Pepperoni, Salami, and Bacon Flatbread
$9.75
Margherita Style Flatbread
$9.50

Salads

Caesar Salaad
$8.00
Chicken & Grilled Avocado Salad
$11.00
Bistro Salad
$9.00

Desserts

Caramel Apple Crisp
$8.50
Rockslide Brownie Sundae
$9.00

Classics

Small Candy
$1.85
Large Candy
$3.85
Small Popcorn
$5.75
Large Popcorn
$7.80
Small Water
$4.20
Large Water
$4.90
Small Fountain Drink
$4.35
Large Fountain Drink
$5.35
What's The Best Food On The Bistro Menu?
One of the toughest parts of going to a restaurant is deciding what to order. This is why it's pretty common for people to ask the waiter for recommendations on what the most popular food is.
It's no different when you're ordering from the Cinemark Bistro menu.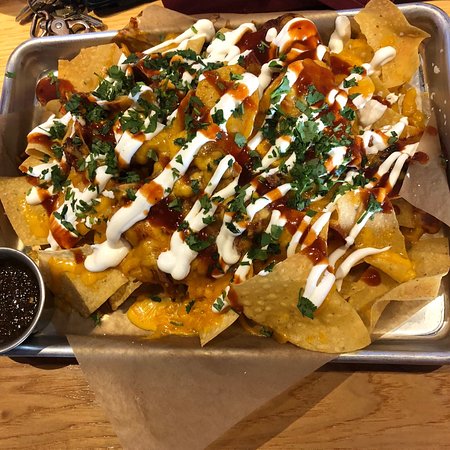 Dive right in and guarantee yourself a good meal with the Pulled Pork Nachos. They're a massive hit at their cinemas, but especially so at the Cinemark Movie Bistro Charlotte.
Nachos not for you? Give their Margherita Flatbread a shot.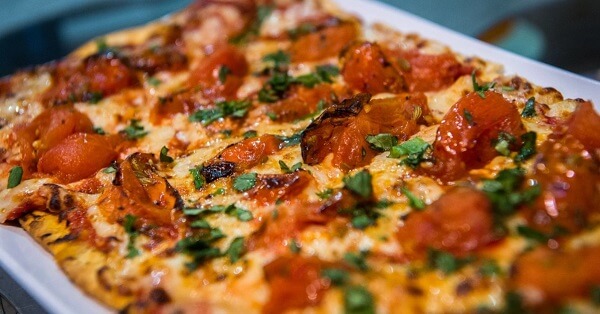 Otherwise – lighten up your movie experience with a simple Caesar Salad. It comes with romaine lettuce, croutons, shredded parmesan, and a nice dressing. You can also add in chicken or salmon for $3.00.
Yes, but not by much. It's difficult for a national theater chain to serve the same menu at all of their locations. Especially when they're spread out all over the country in places such as Fort Collins, Charlotte, Edinburgh, Lake Charles, and even El Paso. And with new bistros opening up such as the one in Boca Raton in Miami, it's going to be even more difficult to keep the consistency.

The logistics involved in sourcing the ingredients and making the meals to the same specifications at all of their cinemas is quite a difficult task. Even for the third largest cinema chain in the country.
Take another premium movie menu, for example, the AMC Dine In menu it also varies (but only a little) at each of their locations. As well, the Cineplex VIP menu being served up to our Canadian friends is also striving to keep their menu consistent across their cinemas.
Is The Bistro Worth The Cost?
That depends on the kind of movie experience you're after.
If you're happy snacking on a tub of Cinemark's popcorn with a fountain drink at your side to wash it down, then probably – no, ordering from the Cinemark bistro menu isn't for you.
On the other hand, if the sound of watching one of the latest blockbusters on the big screen, with a side of Salmon Style Street Tacos accompanied by a fine glass of wine get's you going – you know what to do. Head down to your local Cinemark Bistro and get ordering!
Where Are Cinemark Bistros?
At the moment, there are six (6) Cinemark Bistros currently open to the public.
Here are the exact locations & addresses:
| Name | Location | Address |
| --- | --- | --- |
| Cinemark Bistro Fort Collins | Fort Collins, Colorado | 335 E Foothills Pkwy, Fort Collins, CO 80525, USA |
| Cinemark Bistro Edinburg | Edinburg, Texas | 2001 W Trenton Rd, Edinburg, TX 78539, USA |
| Cinemark Bistro El Paso | El Paso, Texas | Sunland Park Mall, 750 Sunland Park Drive T01, El Paso, TX 79912, USA |
| Cinemark Bistro Lake Charles | Lake Charles, Louisiana | 3416 Derek Dr, Lake Charles, LA 70607, USA |
| Cinemark Bistro Charlotte | Charlotte, North Carolina | 9630 Monroe Rd, Charlotte, NC 28270, USA |
| Cinemark Bistro Boca Raton | Boca Raton, Florida | 3200 Airport Rd, Boca Raton, FL 33431, USA |
Tap on the address to find directions.
About Cinemark
Cinemark is the largest cinema chain in Brazil? Yep! They have a massive 30% market share in the South American country, owing to their excellent efforts in providing the best movie-watching experience money can buy.

Surprisingly, it's not completely clear when Cinemark actually started. Cinemark themselves claimed to have been established in 1984, but there are online records that show it may have been a bit earlier in 1977. Either way, they've been around for a while, so they know how to provide a good cinema experience.
Over the years, they've bought up a few of their competitors, namely Rave Cinemas, Muvico Theaters, and Century Theaters. All of which has led to the company's fantastic growth over the years.
Today, they have over $3 billion in revenues and have cinemas in the US, South America, and even in Taiwan. Here's a recent promotional video showing their expansion into Taiwan:
The move into providing a dining style experience is one which many cinemas have done over the past decade in order to bring consumers back into the theaters following the massive rise in online streaming which allowed everyone to stay home for their entertainment.
Like other theaters around the world with a premium movie experience on offers, such as the Village Cinemas Gold Class and the Hoyts Lux menu, both in Australia, Cinemark have been expanding their Cinemark Bistros to more and more locations.
Talk To Cinemark Bistro Staff
If you'd to get in touch with staff and ask them more questions about the Cinemark bistro menu, send them a message on social media:
Otherwise, you can give them a call on 1-800-246-3627.
Lastly, you can send them a message through their website here.
Conclusion
All in all, Cinemark's premium food offering has proven to be a fan favourite. Thousands of customers are raving about the menu, drinks, and the overall movie-watching experience.
So what are you waiting for? Head on down to your local Cinemark Bistro and dine on their delicious menu!
If you have any further questions about Cinemark's bistro or the prices, leave a comment in the box below.
Enjoy your movie!
Sours: https://www.moviefoodprices.com/cinemark-bistro-menu-prices/
Right. They followed us in the second row. I sighed with relief, and, settling down more comfortably in the chair, put Katya's left hand on her leg.
Bistro movie
But she complains about him in this regard. Paradox: I love when her pussy is wet, and it becomes wet if you masturbate in the anus. But she looks like a decent girl.
Book at my huge writing desk, afraid that someone will enter, or on the floor in my room, when, on the contrarythe apartment is empty, or in the kitchen watching a movie, or talking with you. But you never know places and ways to please yourself. The action begins with the fact that I quietly turn on the music.
Take everything that may be useful to me, and put it next to the bed. There is no light.
You will also like:
Yes, imagine, dear reader, I have had an active sex life since the age of 32. I'm 53 years old, but I bet I have had a lot more sex over the past year than you. Nobody knows about this, all my few friends are sure that I am unhappy just like them, and if they knew that I still spread my legs, especially in front.
1393
1394
1395
1396
1397