Honda CRF 250X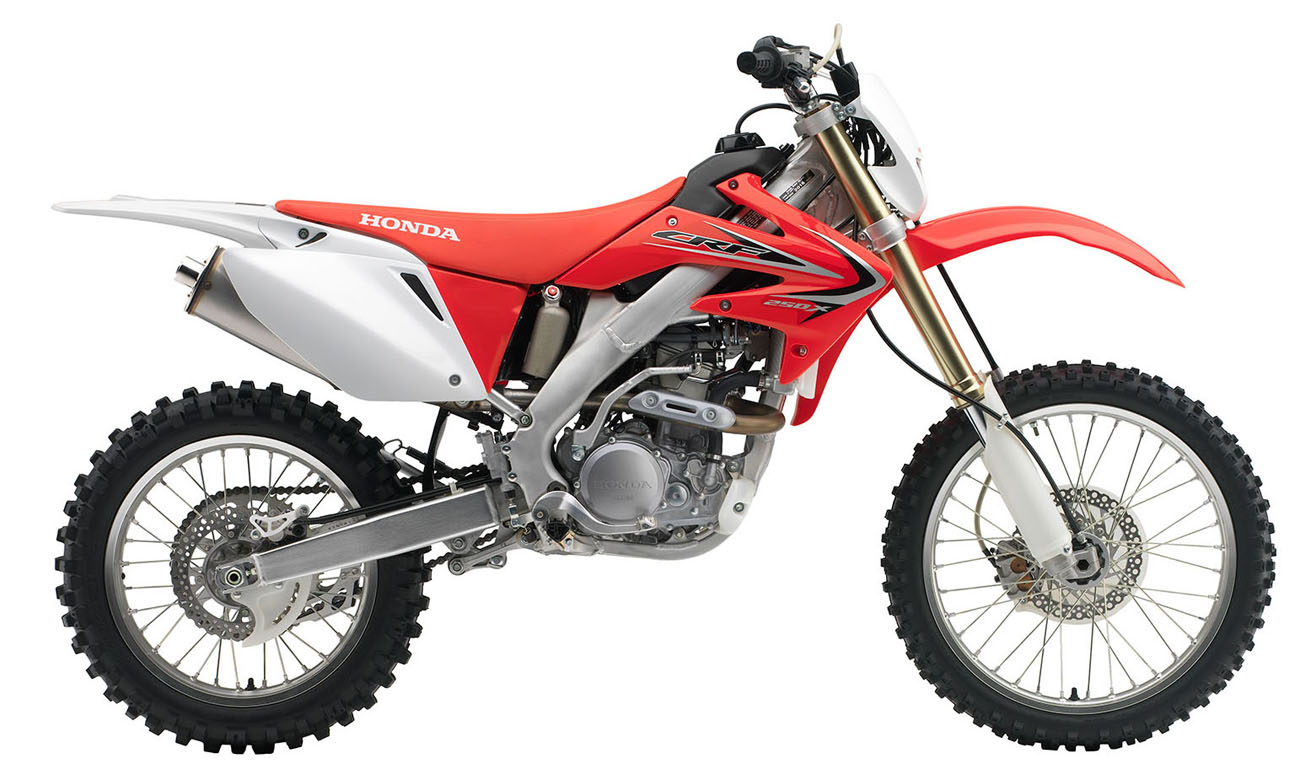 Make Model

Honda CRF 250X

Year

2013 - 14

Engine

Four stroke single cylinder, 4 valves

Capacity

249 cc / 15.2 cu-in
Bore x Stroke
78 x 52.2mm
Cooling System
Liquid cooled
Compression Ratio
12.9:1
Lubrication
Wet sump

Induction

Keihin 37mm flat-slide with throttle position sensor (TPS)

Ignition

CD with electronic advance and lighting coil
Starting
Electric & kick

Max Power

28.5 hp / 21 kW @ 9000 rpm

Max Torque

24.2 Nm / 2.47 kg-m @ 8000 rpm
Clutch
Cable-operated multiplate wet clutch.

Transmission

5 Speed
Final Drive
#520 T-ring-sealed chain; 14T/53T

Front Suspension

47mm inverted Showa cartridge fork with 16-position rebound and 16-position compression damping adjustability
Front Wheel Travel
315 mm / 12.4 in

Rear Suspension

Pro-Link Showa single shock with spring preload, 17-position rebound damping adjustability, and compression damping adjustment separated into low-speed (13 positions) and high-speed (3.5 turns)
Rear Wheel Travel
315 mm / 12.4 in

Front Brakes

Single 240mm disc 2 piston caliper

Rear Brakes

Single 240mm disc 2 piston caliper

Front Tyre

80/100-21

Rear Tyre

110/100-18
Rake
27°
Trail
118 mm / 4.6 in
Dimensions
Length 2174 mm / 85.5 in
Width 827 mm / 32.5 in
Height 1261 mm / 49.6 in
Wheelbase
1480 mm / 58.3 in.
Seat Height
958 mm / 37.7 in
Ground Clearance
346 mm / 13.6 in

Dry Weight

102 kg / 224.8 lbs
Wet Weight
115 kg / 253 lbs

Fuel Capacity

8.6 Litres / 2.27 gal
Skilled off-roaders seek a bike that offers an ideal balance of power and size, performance and handling. That's why we built the CRF250X.
Based on our popular and podium-friendly MX racer, the CRF250X is powered by a four-stroke Unicam® engine modified for optimum off-road riding. We've also specially-tuned the suspension for the trails, and given the rugged transmission wide-ratio gearing to handle whatever conditions you come across.
Then there's the electric starter that puts you on the fast track with the push of a button. So take a look at the CRF250X. We think you'll like what you see.
CRF250X - trail ready
When off-road competition shifts away from the motocross track to enduro, hare scrambles and cross country courses, motorcycle priorities also shift. Canadian forests are characterized by tight single-track trails with more than their fair share of roots and rocks which means out there, agility and compliant suspension become essential attributes. The CRF250X is well suited to the Canadian wilderness with its unique Unicam engine and its trail-tuned suspension. The Unicam engine's single overhead-camshaft offers lower reciprocating mass and a lower centre of gravity than traditional double overhead-cam designs, resulting in superior manoeuvrability and agility. To make sure riders can take full advantage of this competitive advantage, the CRF250X is fitted with sophisticated suspension front and rear that is tuned with just the right amount of flex to allow the wheels to track true over the almost continuous small obstacles encountered on the trail. The suspension is equally adept at handling the bigger obstacles too; with generous suspension travel to soak up logs and rocks while the rubber-mounted aluminum handlebar reduces shock to the rider. The quiet exhaust system with spark arrestor should breeze through pre-race tech and the lightweight electric start provides a better chance at the holeshot in those "dead engine" starts. Light, agile, compliant and backed by Honda durability and reliability, the CRF250X is ready to race.
Dominate in the Dirt.
Along with its powerful and lightweight engine, the CRF250X has dozens of smart features like works-type front and rear brake discs, a narrow fuel tank that's easy to move around, and an 18-inch rear wheel for superior tire selection and traction. In short, all the attention to detail you'd expect in a Honda.
•Lightweight, compact, internal auto decompressor system provides superb cold-starting and hot-starting operation.
•Forged 12.9:1-compression slipper piston is lighter than a conventional design, revving quickly while maintaining excellent cylinder sealing and high-rpm power.
•Swingarm features a dual-axis, double-taper design with a large cast-aluminum cross-member.
•240 mm wave-style front and rear brake discs reduce unsprung weight.
Track Proven.
With its Unicam® cylinder head, this liquid-cooled four-stroke puts out loads of power over a wide rpm band for maximum trail performance.
Easy Starts.
Our push-button electric starter offers all-around convenience, whether you're starting out on your ride or quickly restarting in tough conditions.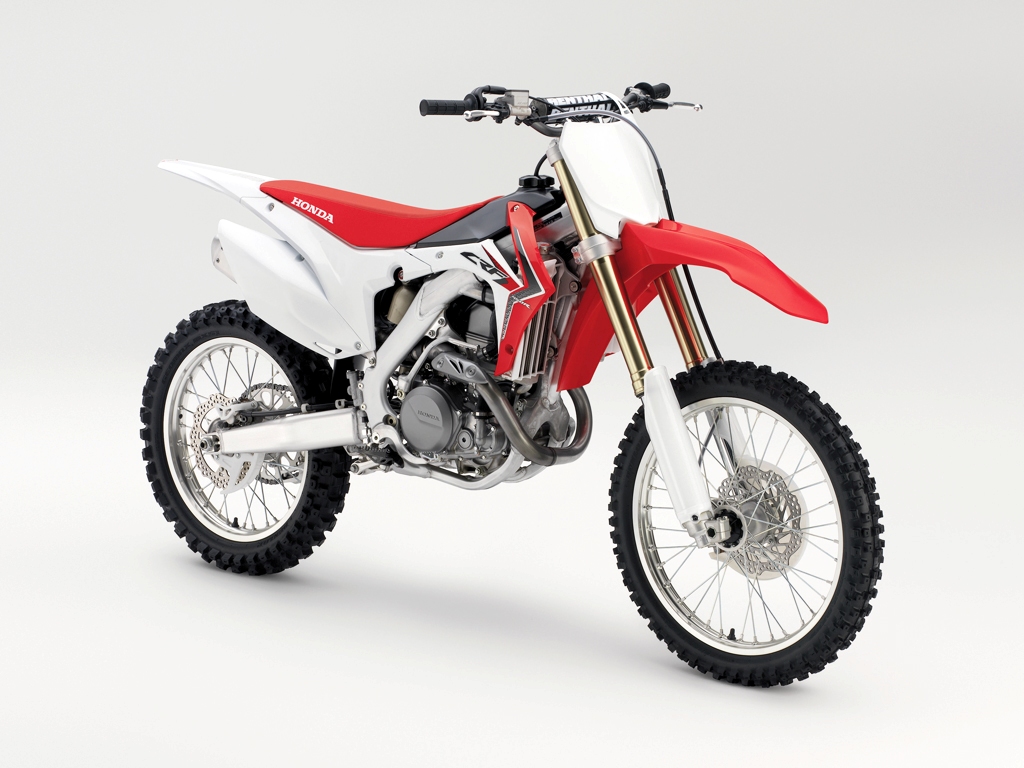 Engine/Drivetrain
Powerful four-stroke 249 cc liquid-cooled four-valve Unicam engine is designed to produce power across a wide rpm band for easy-to-control operation..
Electric starter drives the clutch side of the crankshaft to provide superior lubrication to starter gears, and produce a narrow engine with a short, strong crankshaft..
Lightweight, compact, internal auto decompressor system provides superb cold-starting and hot-starting operation..
Unicam valve train provides the light weight of a compact single-cam design and the optimum combustion chamber shape for maximum power at all engine rpm..
Unicam valve train features a carburized single camshaft that directly actuates two 31 mm titanium intake valves. The camshaft exhaust lobe actuates two 26 mm steel exhaust valves via a forked, low-friction, roller rocker-arm..
Lightweight titanium intake valves permit use of smaller valve springs, reducing overall engine height..
Crankshaft is made of high-strength, low-carbon steel with carburized main journals for maximum durability at sustained high-rpm operation..
Alternator cover, clutch cover and cylinder-head cover are made of magnesium to reduce engine weight..
Forged 12.9:1-compression slipper piston is lighter than a conventional design, revving quickly while maintaining excellent cylinder sealing and high-rpm power..
Double-carburized connecting rod utilizes a big-end needle bearing for maximum high-rpm performance and durability..
Nikasil cylinder lining is lightweight and provides cooler and quieter operation for extended engine life..
37 mm Keihin FCR-type carburetor features four rollers on the flat slide, resulting in very light throttle effort, smooth operation, crisp throttle response and excellent rideability..
Carburetor features a throttle position sensor (TPS) and an accelerator pump that help maintain linear throttle response throughout the rpm range..
Twin-sump lubrication system separates the oil supply for the crankshaft, piston and valve train from the clutch and transmission. This ensures a cool supply of oil to the clutch, eliminates clutch and transmission material contamination of the engine oil, reduces the amount of circulating oil, and permits the use of a smaller oil pump..
Vertically split crankcases feature a built-in oil pump, reducing weight compared to a conventional design..
Exhaust system uses a lightweight stainless steel exhaust header and a lighter muffler equipped with a spark arrester..
Dual radiators feature a refined core area for improved heat dissipation compared to conventional dual-radiator design, and a coolant recovery tank..
Gear-driven balancer reduces vibration and drives the water pump..
Eight clutch plates provide the surface area necessary to handle the engine's torque, while carefully matched clutch springs provide a light feel at the lever..
T-ring-sealed chain is approximately 1.6 mm narrower and stronger compared to conventional chains..
Durable five-speed wide-ratio transmission..
SUSPENSION
Semi-double-cradle twin-spar aluminum frame features a single large-diameter tapered downtube. Two rugged box-section rails attach to the base of the downtube and support the engine. A forged aluminum steering head provides a compact and extremely durable mount for the frame spars and engine downtube. In addition, tall swingarm pivot plates and narrow frame spars create a narrow overall frame cross-section for superb rider comfort and manoeuvrability..
Swingarm features a dual-axis, double-taper design with a large cast-aluminum cross-member..
18-inch rear wheel features the same lightweight rear hub and HRC works-type lightweight aluminum spoke nipples as used on the CRF250R..
Front wheel features large-diameter front axle and wide wheel-bearing span for excellent rigidity..
Rear-axle diameter of 25 mm and large-diameter bearings provide optimum rigidity to withstand torturous off-road conditions..
Lightweight 47 mm inverted Showa twin-chamber cartridge fork with aluminum dampers is derived from the CRF250R and features settings unique to the CRF250X. The fork offers 315 mm (12.4 inches) of travel, and 16-position rebound and 16-position compression damping adjustability. The inner surface of the front fork outer-tubes receives the same honing treatment as works bikes for low-friction operation..
Pro-Link single-shock rear suspension system features a fully adjustable Showa rear damper and 313 mm (12.3 inches) of wheel travel, separate low-speed (13 positions) and high-speed (3.5 turns) compression damping adjusters, and 17-position rebound damping adjustment..
Rear shock damper piston diameter is 50 mm for consistent performance under demanding riding conditions..
Compact dual-piston front brake caliper, anodized aluminum brake pistons and lightweight front brake disc minimize unsprung weight for improved turning and handling..
HRC works-type rear brake system integrates the rear master cylinder and fluid reservoir, eliminating the need for a remote master cylinder reservoir and hose assembly..
240 mm wave-style front and rear brake discs reduce unsprung weight..
Additional Features
Rider ergonomics are optimized by adapting the handlebar, seat and footpeg height to place the rider's legs at the narrowest cross-section of the frame for improved comfort and handling feel..
Resettable, easy-to-read, three-digit odometer..
Powerful 35W halogen headlight features an innovative lens for a wide range of illumination..
Integrated LED taillight in rear fender..
Convenient sidestand..
Seat cushion uses foam construction that follows the shape of the fuel tank, providing a smooth transition to increase rider mobility and comfort..
Non-slip seat cover for increased rider control..
Rear brake pedal and shift lever are made of lightweight aluminum and are designed to complement the riding position..
Wide, cleated, stainless steel footpegs are self-cleaning, resist corrosion, provide excellent grip, and fold for extra ground clearance..
Aluminum Renthal handlebar (971 bend) is rubber-mounted to reduce rider fatigue and improve comfort..
Works-type handlebar grips add to rider comfort..
Adjustable front brake lever..
Quick-adjust clutch..
One-piece cover protects throttle cable by keeping out dirt and water..
Chain guide material offers improved wear resistance, and service life is five times greater than conventional materials..
Removable rear subframe allows easy maintenance..
Easy-access air filter..
Comfortable, durable controls and high-quality fasteners..
Stainless steel clutch cable for long life..

Works-Style Front Brakes
Compact twin-piston front brake caliper, anodized-aluminum brake pistons and lightweight 240mm front disc offers great stopping power while minimizing unsprung weight for improved turning and handling.
Renthal Handlebar
Aluminum Renthal handlebar (971 bend) is rubber-mounted to help reduce rider fatigue and improve comfort.
Electric Starter
Electric start system ensures trouble-free starting in all conditions. Electric starter also drives the clutch side of the crankshaft to provide superior lubrication to starter gears while producing a narrow engine with a short, strong crank.
Dual Radiators
Dual radiators feature a refined core area for improved heat dissipation compared with conventional dual-radiator designs. Coolant recovery tank is located in front of the engine between the frame downtubes for improved center of gravity. Coolant tank is protected by a plastic skidplate.
Gear-Driven Counterbalancer
Gear-Driven Counterbalancer reduces vibration and drives the water pump. Eight clutch plates provide the surface area necessary to handle the engine's massive torque, while carefully matched clutch springs provide a light feel at the lever.
Twin-Sump Lubrication
Twin-sump lubrication system separates the oil supply for the crankshaft, piston and valve train from the clutch and transmission. This ensures a cool supply of oil to the clutch, eliminates clutch and transmission material contamination of the engine oil, reduces the amount of circulating oil and permits the use of a smaller oil pump.

Works-Style Rear Brakes
HRC works-type rear brake system adds a new 240mm brake rotor to its integrated rear master-cylinder and fluid reservoir, a set-up that eliminates the separate reservoir and hose.
Removable Subframe
Removable rear subframe allows easier access to the engine and shock and simplifies maintenance.
Superior Ergonomics
Placing the rider's legs at the narrowest part of the frame improves comfort and handling.
18-Inch Rear Wheel
18-inch rear wheel features same lightweight rear hub and HRC works-type lightweight-aluminum spoke nipples as used on CRF250R.
LED Taillight
LED taillight integrated into rear fender. It's light, compact, and bulletproof.
Compact, Lightweight 249cc Unicam® Engine
Sours: https://www.motorcyclespecs.co.za/model/Honda/honda_crf250x%2013.htm
CRF250X or CRF250R? Those who are very enthusiastic about dirt bikes may have had a thought about getting a new bike. CRF250X and CRF250R are two main examples of very popular bikes. But in deciding which of CRF250X or CRF250R you opt to buy, you must first consider all the factors to avoid misspending your hard-earned money.
Though the CRF250X and the CRF250R started on similar platforms, certain differences between the two designs make each one of them better in its own aspects. The very first factor you should ask yourself is, "What kind of riding are you looking to do with".
---
---
Suspension – CRF250X or CRF250R?
Suspension is one of the parts of the bike that is responsible for smooth and efficient racing. Sometimes, it is considered a vital part of the bike. If you are into racing, then you should pick CRF250R as its suspension is stiffer compare to the other model. It also has a valving set up for racing on tracks which has big jumps and little humps. It may take some time for you to master the CRF250R because it certainly is a huge stepping stone rather than starting with the 250X.
For something more than the usual, lackluster, air-cooled four-stroke trail machine; there is the CRF250X. It has the same style and design as the 250R but with higher performance, inverted fork, and shock setup.  It has a better and easy adjustable suspension made for trail bikes. These specs are greater compared to the usual trail bikes around. With the 250X, you can enjoy long trail rides without getting worn out from the results of a stiff suspension.
---
---
---
Engine – CRF250X or CRF250R?
There is also a quite different when it comes to the engine of the 250R and the 250X. Although they have almost the same engine design, the internal aspects are what make it diverse.
The CRF250R has:
a larger stroke
a little higher compression
a hotter camshaft
a close-ratio transmission
In comparison to Honda 250F, the specs of the 250R are so remarkable.
The CRF250X has:
a less radical cam which makes it more suitable for trails
a smoother power and together with lower compression
a wider transmission ratio with both tight and high speed which makes it suitable at trails
a relatively quieter exhaust and a spark arrestor for state trail riding
A combination of a lower flowing intake and exhaust setup makes the bike less aggressive for beginners.
---
Light Weight vs. Trail Amenities
It is said that the 250X may add up to more weights for its accessories. An example of which are kickstand, headlight / tail light, electric start/ battery, larger capacity gas tank, airbox, and exhaust system. Compared to the 250R, it can handle this much load so well. Those mentioned above are ideal for trail riding but a slight change will be felt in the weight difference f you decided to ride both bikes back to back.
At the end of the day, you should always weigh your options, whether you are into the fast-paced motocross; or in the thrill of the trails type.  Consider all the factors mentioned above and ask yourself what type of bike suits you the best. With careful and right decisions, you can maximize the efficiency of your chosen bike.
---
---
Click here if you want to read more about CRF250 and CRF250x or TTR230 vs CRF230
Sours: https://dirtxtreme.com/crf250x-vs-crf250r-dirt-bike-buy/
Honda's profilation of this bike
Along with its powerful and lightweight engine, the CRF250X has dozens of smart features like works-type front and rear-brake discs, a narrow fuel tank that´s easy to move around and an 18-inch rear wheel for superior tire selection and traction. In short, all the attention to detail you´d expect in a Honda.
General information
Model:
Honda CRF250X
Year:
2016
Category:
Enduro / offroad
Price as new:
US$ 7410. MSRP depends on country, taxes, accessories, etc.
Rating:
3.2 Check out the detailed rating of off-road capabilities, engine performance, maintenance cost, etc. Compare with any other bike.
Engine and transmission
Displacement:
249.0 ccm (15.19 cubic inches)
Engine type:
Single cylinder, four-stroke
Power:
29.4 HP (21.4 kW)) @ 9000 RPM
Torque:
24.2 Nm (2.5 kgf-m or 17.8 ft.lbs) @ 8000 RPM
Compression:
12.9:1
Bore x stroke:
78.0 x 52.2 mm (3.1 x 2.1 inches)
Fuel system:
Carburettor
Fuel control:
Single Overhead Cams (SOHC)
Lubrication system:
Twin-sump lubrication
Cooling system:
Liquid
Gearbox:
5-speed
Transmission type,
final drive:
Chain
Driveline:
#520 T-ring-sealed chain; 14T/53T
Emission details:
Meets current California Air Resource Board (CARB) and EPA off-road emissions standards.
Chassis, suspension, brakes and wheels
Frame type:
Semi-double cradle, aluminium twin-spar
Rake (fork angle):
27.5°
Trail:
118 mm (4.6 inches)
Front suspension:
47mm inverted Showa® cartridge fork with 16-position rebound- and 16-position compression-damping adjustability; 12.4-inches travel
Front wheel travel:
315 mm (12.4 inches)
Rear suspension:
Pro-Link® Showa® single shock with spring-preload, 17-position rebound-damping adjustability, and compression damping adjustment separated into low-speed (13 positions) and high-speed (3.5 turns); 12.3 inches travel
Rear wheel travel:
312 mm (12.3 inches)
Front tire:
80/100-21
Rear tire:
100/100-18
Front brakes:
Single disc. Two-piston calipers.
Diameter:
240 mm (9.4 inches)
Rear brakes:
Single disc
Diameter:
240 mm (9.4 inches)
Wheels:
Aluminium rim/wire spoke
Physical measures and capacities
Weight incl. oil, gas, etc:
115.2 kg (254.0 pounds)
Seat height:
958 mm (37.7 inches) If adjustable, lowest setting.
Overall height:
1261 mm (49.6 inches)
Overall length:
2174 mm (85.6 inches)
Overall width:
827 mm (32.6 inches)
Ground clearance:
345 mm (13.6 inches)
Wheelbase:
1481 mm (58.3 inches)
Fuel capacity:
7.19 litres (1.90 US gallons)
Other specifications
Color options:
Red
Starter:
Electric & kick
Comments:
Model ID: CRF250X.
Update specs
Report missing specs or required updates.
Further information
Insurance costs
Compare US insurance quotes from the nation's top providers.
Finance options
Compare US motorcycle loan quotes from the nation's top providers.
Parts finder
Revzilla offers up to 50% off motorcycle accessories.
Ships to most countries. CMSNL provides online schematics & OEM parts
and ships to Australia, Austria, Bahamas, Belgium, Canada, China, Croatia, Cyprus, Czech Republic, Denmark, Estonia, Finland, France, Germany, Greece, Hong Kong, Hungary, Iceland, India, Ireland, Italy, Japan, Kuwait, Latvia, Lithuania, Luxembourg, Macedonia, Malta, Montenegro, The Netherlands, New Zealand, Norway, Poland, Portugal, South Africa, Spain, Sweden, Switzerland, Taiwan, Ukraine, United Kingdom, The United States and more. Also check out our overview of motorcycle webshops at Bikez.info.
Dirt-bike parts
Dirt-bike parts and gear available from Mega Motor Madness
. Ships to most countries.
Maintenance
Find parts, fluids. filters, maintenance tools and service manuals at Amazon.com.
Ask questions
Join the 16 Honda CRF250X discussion group or the general Honda discussion group.
Related bikes
List related bikes for comparison of specs.
Rating sample for this Honda bike
Engine performance for the 2016 Honda CRF250X:




(69.3 out of 100)

Click here for complete rating. You can also compare bikes.
Pictures, trademarks and logos of third parties are the exclusive property of the respective owners. Technical specifications are subject to change without notice. Bikez.com has been developed by ObjectLabs.
Sours: https://bikez.com/motorcycles/honda_crf250x_2016.php
MXTV - Bike Review - Honda CRF250X
Honda CRF250X Review: The Ultimate all-round off-road bike?
Honda CRF250X Review… Off-road bikes have changed. Where once you could choose from a wide range of genuinely capable trail bikes from the four big Japanese manufacturers, now the sector has become a fierce battleground of incredible enduro machines, all of them made in Europe. Yet despite this, Honda's trusty CRF250X continues to sell by the container full, it's combination of old-school dependability and modern design still delivering the goods on every level. It's yet another classic from the company that bought you the largest selling motorcycle ever made, the Honda Cub.
OK so if you want to enter Erzberg, the little Honda CRF250X may not be your man. But for just about everything else that an off-road rider will want to do in an average riding season, the Honda will do the job competently, efficiently and without complaint. And at the end of the day they will still have half a tank of fuel left.
So we thought we should check out the latest incarnation of the perennial trail favourite. We made a phone call, sent a couple of emails and within a few days we were setting off to rural Devon in the South West of England and the Dave Thorpe Honda Off-road Experience. With the Honda's the bike of choice for all levels of riders and two private forests to play in, the stage was set for our Honda CRF250X review.
THE ENGINE
OK so let's look at what we are dealing with. The Honda CRF250X runs a liquid cooled, 249cc, 78mm x 54mm bore and stroke, single four-stroke power plant. Despite virtually every other manufacturer going for a twin-cam layout, the entire CR range is served by the Unicam four valve design. It's taken until the 2018 factory MX bikes for Honda to let go of this design, and to be fair, you can see why. The SOHC option keeps down the weight, shortens the upper part of the engine, hence keeping the centre of gravity low.  The extremely narrow valve angles keep the combustion wonderfully efficient compared to the necessarily wide set valves on the equivalent DOHC layout. It's a clear question of 'if it's not broke' tech, but in terms of raw power, the quoted output is a modest 29.3 bhp, so not MXGP levels …
Although it's taken aeons to get an electric start on their MX bikes, the CRFX has the electric boot as standard. There's still a kicker, but in reality you'll never need it – that little motor is more reliable than gold prices.
But while the world is heading to the electrics for fuelling too, the Honda keeps a foot in the past with its positively old-fashioned Keihin 37mm flat slide carburettor. Despite the apparent folly of not going with the flow, Honda have been canny here again, keeping with the tried and trusted tech that will never let you down in the middle of nowhere. A carb works even when the battery is flat, when EFI is as useful as a rubber spanner.
The carb has a conventional choke for cold starting, which in reality it does need, and is fed by another old-school relic – a petrol tap with a reserve setting, so much more informative than a tiny light on the dashboard!

Further down into the engine and it's more of the same – old school reliability takes precedence over new and fallible. That translates into an off-road oriented and super-slick five-speed box, served by a cable-operated clutch. Simple, reliable and unlikely to cause issues on the trail (and if it does, you can mend it on the fly, which is more than can be said for a hydraulic seal set).
Try as you might, you cannot fault the CRFs motor. It manages to combine bomb-proof-reliability with genuinely usable power characteristics. What's not to like here?
THE FRAME
As the company that pretty much developed aluminium perimeter frames with their ground breaking 1997 CR motocross bikes, Honda are rightly proud of the technology that has been a staple of Japanese dirt bikes ever since. And while the CRF250X may not have the very latest version, the design is well up to the task. The ally wraps its way round the compact engine on its way down to the swing arm pivot, and a detachable aluminium subframe mounts at the back.  As you'd expect, the tank sits between the rails, keeping the weight nice and low, although at only just over seven litres, the standard tank is actually not that large. The reserve position starts when there is 1.6 litres left.
Suspension wise, the Honda plays it safe again with 47mm USD coil spring Showas up front . They are adjustable compression and rebound damping – and a similarly adjustable Showa shock at back. The shock is actuated via the usual Pro Link system that Honda bought in around 1981. There's 315mm travel at both ends.
Wheelbase for the bike is 1481 mm, almost the same as the motocross bikes. Seat height is a sensible 958 mm and ground clearance is 348 mm – all acceptable for trail and road.
Oh and to finish the weights and measures, the Honda comes in at around 115kg wet – not the lightest, but certainly not the heaviest.
THE REST
OK so lets sum up the rest of the CRFX.  On the standard CRFX the brakes run 240mm rotors at both ends, both grabbed by Nissin calipers. If you choose the road legal version in the UK, you get wavy discs and a bigger 260mm disc up front for better stopping power on the road.  The wheels are the usual 21/18 combination, although the tyre choice will vary according to which model you choose – road legal or off-road only. The Chain is a T ring option, though quite why they couldn't just reach for an O-ring option is a mystery!
Thankfully, the Honda comes with quality Renthal bars as stock, so it's not quite stuck in the trail days of nasty budget steel bars that still get fitted to the CRF250L.
Air filter access is via a user-friendly side opening door that makes changes easier. The seal on the door looks fairly good, so the bike should cope well with reasonably deep water, providing you keep the bow – wave going. Click here for our top tips for Surviving Deep Water Crossings.
As regards to additional kit, this really depends on where you are buying. In the US, you get neither skid plate or hand-guards but you do get stock red plastics. Whereas in the UK the stock X comes with other add-ons, from a Yoshimura Exhaust, different graphics and plastics. In the UK there is also the option of the CRF250 RE – a halfway house option sold with basic equipment to allow owners to make it legal for the blacktop. Then there's  the full RL – road legal- version which is made fully road legal thanks to a collection of aftermarket parts added to the stock X version to meet the regulations. It comes with a full lighting kit, indicators, modified side stand and full registration. In past years they also fitted a GMX aluminium tank, but now they seem to have relaxed a bit and admitted plastic is quite safe enough!
It must be one of the most anticipated bikes ever, but the all new Yamaha Tenere 700 is finally here and, in Europe at least, in the dealerships. But has the bike been worth it – have Yamaha pulled a rabbit from the hat and produced the bike everyone wanted?
Ride Expeditions set out on the next incarnation of the iconic model, taking on roads and trails to get a feel of the 2019 Tenere. And spoiler alert – it's absolutely fantastic and we love it!
THIS IS WHAT WE DO… AND YOU COULD JOIN US!
https://www.youtube.com/watch?v=zE2QsLNmZ4E

CLICK FOR MORE INFO…

HONDA CRF250X ON THE TRAILS
With the details all down and listed, it's time to review how the Honda actually rides. As mentioned, we headed to Devon to ride the 2016 model, although in fairness we've ridden previous incarnations of the CRF250X in South Wales on numerous occasions at the former home of the Dave Thorpe Centre. Honda may release a raft of new versions of their bikes each year, but in reality the 250 Enduro bike has been much the same for the last five or so years. Having hit a winning formula, they've kept the tweaks to the minimum.
Sat on the bike, there's a familiar and quality feel about the cockpit. The ones we are riding are the basic X models rather than the road legal versions. There's lights and a tiny number plate, but little else to worry about. Although the Honda may not be the most exciting bike in the paddock, the sheer quality of everything from the bolts to the welding shines through, And the residuals on all of their bikes show testament to this.
A bit of choke and a quick jab of the magic button fires up the motor, but as the bike is running the stock end can – roughly the size of a fire extinguisher and much the same weight – the sound is not exactly raucous. Think of a cat purring loudly – that's about the sound levels we're talking – friendly to the environment but maybe lacking the visceral roar of a full-on MX pipe.
The clutch, although fine from the off, is maybe a tad prove to fade over time. And with that old school cable, will need a bit of adjustment on a long run, so our advice is to stay on the pipe and off the clutch!  The gearbox makes up for the limitations of the clutch with super-smooth changes and a user-friendly selection of gears to cope with all eventualities. Having a five-speed box means the gears are wider and have a bigger range, so the tap dancing of a six-speeder is simply not there.
Stepping off a full-on two-stroke enduro bike onto the CRF  – as we had – takes a bit of a mind reset. The little Honda's power delivery and quiet low-down torque requires an entirely different riding style, and if you are not careful, lulls you into a much more relaxed approach to off-roading. Don't get us wrong, you can get a hustle going on this bike, it just requires a bit more thought and planning to keep it on the boil if you are trying to make swift progress.
The problem may be the lack of top end punch in stock trim, a problem that could no doubt be alleviated by ditching the standard can and replacing with something a bit less restrictive. Yet, as a trail machine, top-end punch is not exactly an essential, compared to impeccable handling, reliability and fuel economy. And it's here that the Honda CRF250X plays its aces in all three departments.
The Showa suspension is wonderfully compliant for trail speeds, soaking up anything we could throw at it, even without bothering to fine-tune the clickers for our weight, riding style and the terrain. Yes – like the power, you could see that it might be a bit too soft for race speeds, but who buys a CRF250X to race? And if you do, then stiffening up the springers isn't exactly 'splitting-the-atom-difficult'.
Steering geometry on the Honda make changes in direction precise, but the bike's weight tends to make it a tad lazier than the equivalent motocross model. Dropping the forks through the yokes would quicken the turning a tad if you are going to be doing really tricky and tight trails, but can't fight those slightly porky dimensions. It's a small gripe really and most owners will probably never notice a problem, let alone go looking for a solution!
Onto the brakes and again we had zero complaints. The tracks we were on had lots of steep downhills and cross cambers to cope with and the Nissin calipers offer precise and progressive action with plenty of feel and power – just what you want really.
The bike we rode has a trials rear tyre, a requirement from the landowner to reduce surface damage in the forest.  We run a trials hybrid hoop in the UK anyway, so this was neither a problem or a hindrance. Trial tyres have incredible grip on rocky surfaces and as the terrain was littered with rocks, then the tyres performed well. Had the day been more British – as in wet – then the bike might have suffered in the muddy bits, but this would hardly be Honda's fault!
the World's Greatest motorcycle adventures
Colombia, Cambodia, Mongolia & more…
Ride Expeditions run incredible dirt bike holidays in stunning locations across the globe.
VIEW OUR RANGE OF TOURS HERE!

So what else is there to say? The riding position is both neutral & comfortable and the seat is more comfortable than anything that comes out of Austria. The foot pegs – well ,they are stock Honda and as such are narrow and rather unsatisfactory – same as usual then…
COMFORT
The Honda gets top marks here – great riding position, comfortable seat, good bars – the whole nine yards.
DURABILITY
Do you really need to ask? Honda build quality is legendary and the CRF comes through with everything you'd expect. A caveat here: the RL version has non-Honda parts and these lack the usual quality.
VALUE
Given that this bike could easily outlive you, the Honda bosses this category with a full five marks – it's cheap enough to start with at just under £6000 on the road and will deliver years of hassle free riding.
APPEARANCE
The only category to lose out is appearance, and this is just because it's getting a bit dated having gone many years with little change. A refresh to the look of the CRF motocross bikes would help it get a full five. We don't like the UK graphics as much as the US red version.
REVIEW OF THE HONDA CRF250X – THE VERDICT
After a day of riding the Honda in the Devon woods, were we smiling or frowning? Well the answer is obvious: The Honda is just really good at what it was intended for – trail riding and off-road fun. Period.
Like the genius of the sales smashing Honda Cub, the Honda CRF250X remains popular because it is a true everyman bike that riders from Canberra to California can enjoy. With the huge back-up that Honda reliability gives, you can take this bike anywhere on any surface and it will do it well.
On a recent TRF riding trip to Mid Wales last month, all but eleven of the twelve riders took their bikes the 90 miles from Bristol to the start point in their vans. We never really considered the option of riding there. But this is exactly what the guy with the CRF250XRL did, travelling over 100 miles on motorways, dual carriageways, trails and byways complete with tent, sleeping bag and everything for a weekend camping. And once relieved of the kit and caboodle, the little Honda was able to keep pace with the more focussed enduro bikes from dawn til dusk on the trails.
And that is fundamentally the reason for this bike's success. It can do a big trip on the tarmac just as well as it can cope with the gnarliest of trails and if that happens on the same trip, then it doesn't bat an eyelid. It's a genuine all-rounder and in today's market, that is rare.
RIDE EXPEDITIONS REVIEW RATING : HONDA CRF250X
The Honda CRF250X is one great motorcycle, excelling in what it was intended to do.
Yes you can up the spec and performance if you wanted to give it a bit more bite and bark, but to be brutally frank, there isn't much need beyond maybe a freer breathing pipe. In reality, the owners who buy this bike are more likely to go with something like a Rekluse clutch than a full Yoshi system – reaching for additional power is not the priority.
This bike is all about smooth and hassle free riding and as such, the Honda knocks it right out of the park.
JOIN US FOR THE DIRT BIKE ADVENTURE OF A LIFETIME!


VIEW MONGOLIA TOUR INFO



VIEW COLOMBIA TOUR INFO



VIEW CAMBODIA TOUR INFO

Follow us here

Facebook-f


Instagram


Youtube

Do you own a Honda CRF250X? What do you like about it and what are your pet peeves? 
Let us know in the comments section below…
Sours: https://rideexpeditions.com/honda-crf250x-review/
Crf250x honda
Riding Impression: Honda CRF250X
A Quick Look At Honda's Trusty 250cc Four-Stroke Off-Road Machine
By Michael Allen
March 25, 2016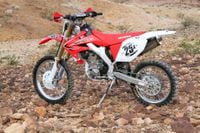 Off-road shootouts are always interesting due to the fact that there are so many different aspects of the bikes to compare. From the gearing to the brightness of the stock headlights, the bikes are vastly different. The genre of off-road 250cc four strokes seems to have surged within the past four years, which is great news if you are in the market for one of these fun off road machines. Among these machines, the Honda is the least changed of all, but the little CRF250X is still a fun, dependable bike with loads of potential. Here's Michael Allen's take on the Honda CRF250X after riding the "class veteran" for several days:
The heart of the Honda CRF250X is a bit outdated performance-wise, which could be partially attributed to it being the only carbureted bike in the shootout. Not having fuel injection isn't all bad, though; when the throttle is rolled on from a stop the power is smooth, unlike most fuel-injected bikes which can feel touchy and jumpy. The Honda has good torque in the lower RPM range and pulls decently into the midrange, but the power really falls off from the midrange to the rev limiter. In a shootout against more technologically advanced bikes, the Honda's engine definitely takes a back seat to the rest of the competition due to a lack of excitement.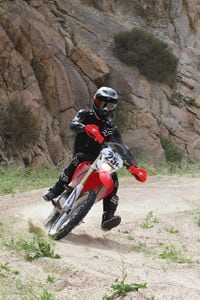 For the beginner, or casual trail rider, the suspension on the Honda is ideal, with an overall soft feeling. Initially the fork is a little harsh, which can cause a slight push in corners, but once in mid stroke it's very plush and compliant at mild trail speeds. The shock has a smooth action all the way through the stroke, but is a tad softer than the fork. When pushed to faster trail speeds or a mild race pace, both ends of the bike tend to blow through the travel and bottom with the fork having an audible metal-to-metal sound. Although this bike's demographic is not the hardcore racer, I feel that the suspension is still a little soft.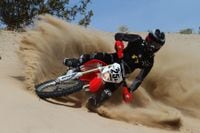 In tighter terrain the Honda can feel a bit heavy, but when the speeds increase the Honda is very stable and tracks straight with minimal front end deflection. The rider compartment as with all Honda's is familiar and comfortable right off the bat. From the levers and grips, to the distance between the foot pegs and the seat, the Honda feels like a handshake from an old friend. In my opinion the Honda is an Ideal bike for a new rider, or a great woman's bike; in fact, my girlfriend bought one, had the seat shaved, got the suspension lowered, and loves it to death.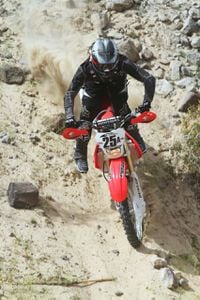 Sours: https://www.dirtrider.com/riding-impression-honda-crf250x/
Honda CRF250X Review - Tips and my first impression of the bike - 2015 Honda CRF250X - GoPro Hero 8
How do you want something new, some unprecedented emotions. Something forbidden, insane. Friday's work day is coming to an end, and my thoughts are driving me crazy.
You will also be interested:
Tired, of course, because the trip was not easy. We got there all night, plus crossing the border, then there all day on our feet, the way back. In short, my wife immediately fell asleep as if she had been killed, but for some reason I could not sleep.
1399
1400
1401
1402
1403