Hi there! We are Danielle and Tommy from @SlowCarFastHome. The two of us and our two dogs have been traveling full-time in our 1992 Toyota Odyssey RV since 2017. We have traveled all across the US, Canada, and the Baja Peninsula in our trusty Toyota, whom we affectionately named Nigel.
Now that you know a little about who we are and what we live and travel in, we feel it's important to share that we firmly believe that there is no such thing as the "perfect" adventure rig, and there will be pros and cons to each vehicle you consider. You want to base your choice off of your own personal needs in order to be comfortable living a somewhat uncomfortable lifestyle.
It's also important to share that the first vehicle we traveled in for weekend camping trips was a small van. We couldn't stand up fully in the van, and we had little to no space for us or our two dogs. Looking back, we were lucky to have the opportunity to dip our toes into the vanlife world to better determine what we both realistically saw ourselves traveling in.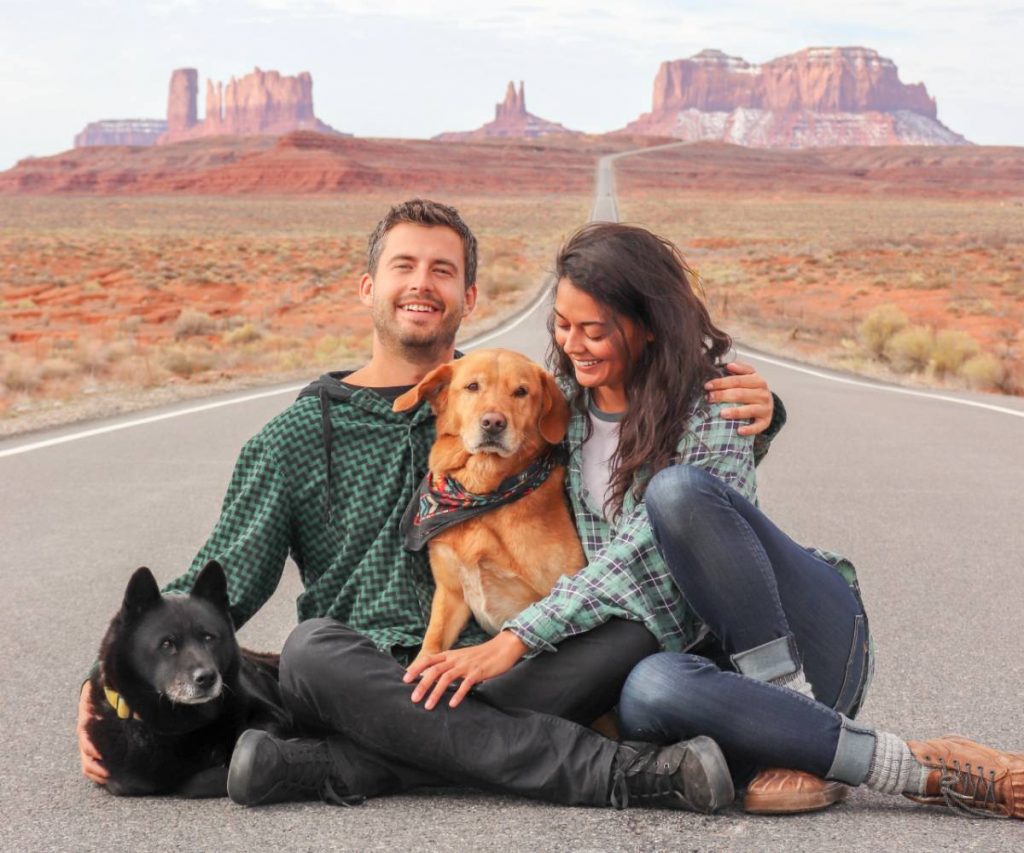 So, after our experience with the van, our goal was to find a rig that checked off enough boxes of realistic wants and needs for our future home on wheels. Here's what our "must-have" checklist consisted of:
Tall enough for Tommy to stand up fully
Bathroom
Enough space to build storage to run our longboard business (@LowTideLongboards) from the RV
Lots of natural light
$8,000 budget
Doesn't need a ton of mechanical work
Small enough to park in most regular parking spots, and in cities
Separate sleeping area from living room
Side note: we always intended on buying a fixer upper that we could make our own, so the interior was not a huge concern of ours.
Finding Our Home on Wheels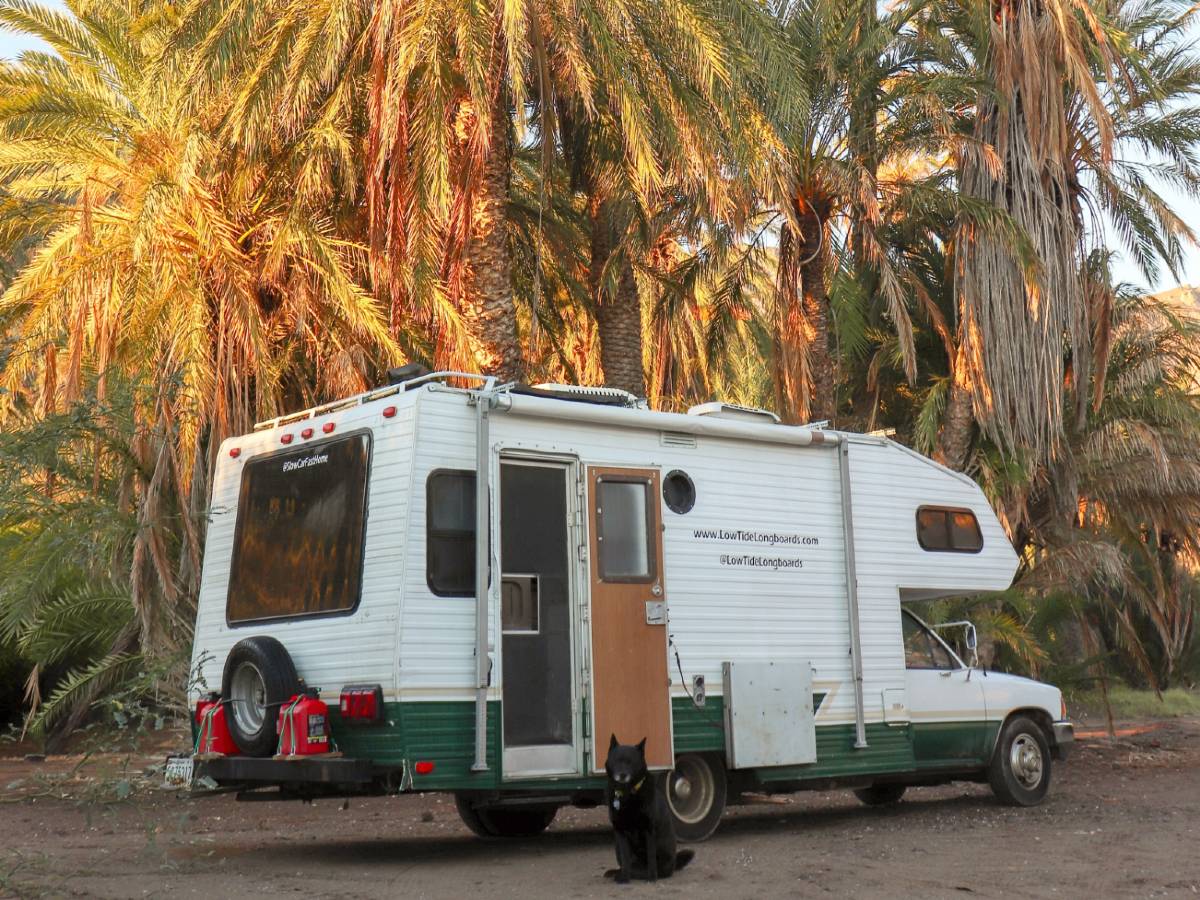 We knew from the beginning of the search for our ideal RV that we wanted to buy a Toyota because of the long life and reliability of these trucks. The most recognizable feature of our RV is the huge picture window in the back. The back window, low mileage, interior height (tallest point inside is 6'3"), and the short length of this RV (22ft long) are what caught our eyes from the get-go.
We scoured the internet for months looking for our future adventure rig. We searched through just about every site you can think of, and went to look at several different Toyota RVs that were at local used car dealerships. We finally found our rig on RV Trader, listed well above our price range at $11,500. The price tag didn't scare Tommy away. He bought a one-way ticket to Washington State where the RV was located, took our $8,000 of RV savings, and flew out to take a look at the RV.
Buying any used vehicle, let alone a used RV, can be scary. You don't want to buy something that isn't reliable or will breakdown immediately. So Tommy's dad flew out to help him. They haggled the sale price down to $7,500 due to water damage in a small area within the interior, and the RV was ours!
What We Love About Our Toyota RV
1. Plenty of Living Space
Although it's still small, the amount of space in the living area really makes our Toyota feel like a home. We have a separate area for sleeping and relaxing by having a stationary bed above the driver and passenger seats, and a big L couch in the back of the RV. The couch doubles as a spot for the dogs to sleep at night (and while we are cruising down the highway!).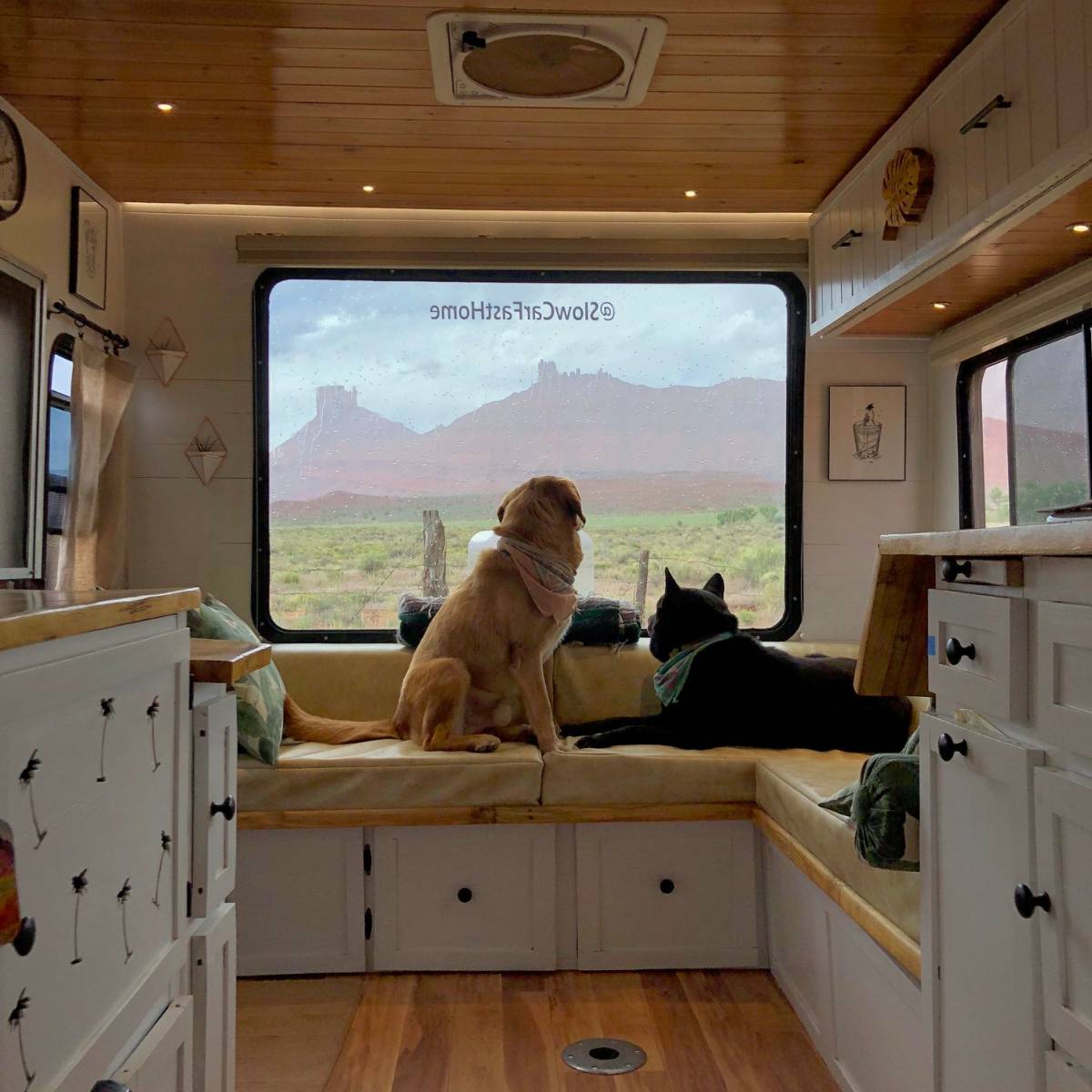 2. Compact Size
The Toyota RV is right in the category of "mini" RV. It is 22ft long (for reference, a 170" Sprinter van is the same length) which allows us to be able to park almost anywhere we can fit. We have overnighted in urban areas and residential areas without a problem. The only time we have issues with parking is if there are specific signs that say "No RV Parking". Two years on the road and we've never gotten a parking notice!
3. Reliability
It's a Toyota! If you treat these trucks right, they'll last forever! Well, maybe forever is a stretch, but if you keep up with maintenance you'll typically be golden. The chassis of this RV is built on a very common 90's Toyota Hilux. Which means, parts are inexpensive and easy to find, and it is not difficult to find a shop that can work on the RV when needed (you will just have to check to see if their garage doors are tall enough and that they have a lift heavy duty enough to pick up a motorhome).
4. Easy to Drive
We are often asked how this Toyota handles while on the road, and the truth is it drives like a normal truck, albeit a long bed truck, but it doesn't feel like we are driving a big clunky RV. We have large blind spots when merging into traffic, but we can see straight back to the cars that are driving behind us with the big back window in our rear. And, for all the people that will assume Tommy drives the majority of the time, it's quite the opposite in our rig!
5. Low Cost
As mentioned previously, we had a relatively low budget for an RV, but that's not always a bad thing. We saved up money for the RV itself, and then saved up more money once we purchased it to do the complete renovation of the RV. Although, since 2016 (when we purchased our Toyota RV) we have seen the sale prices increase as this lifestyle gets more and more popular!
6. Good Gas Mileage (for an RV!)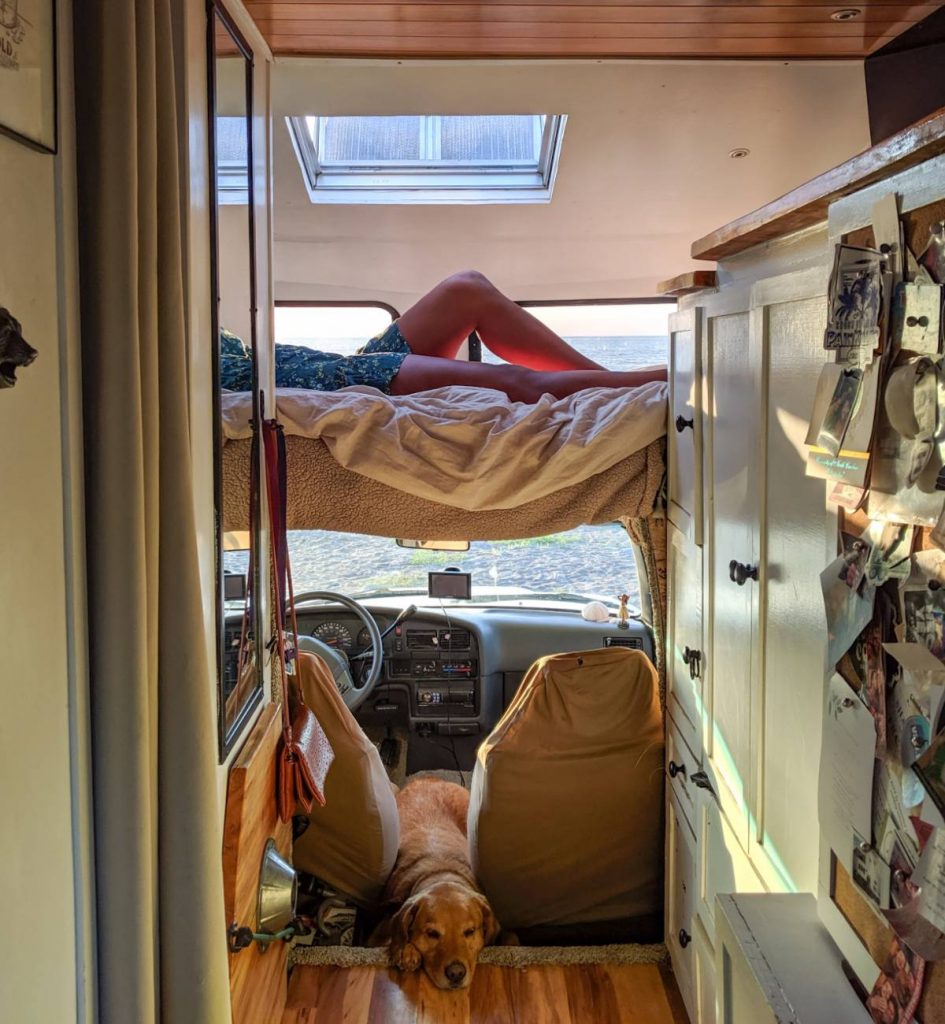 Gas mileage can range anywhere from 12mpg-20mpg depending on which Toyota motorhome you find. We are right in the 12-14mpg range, but we also have the largest version of a Toyota motorhome. This gas mileage may seem like a con to some, but for an RV these numbers are great!
7. Community
There's a really rad unexpected community around these older Toyota campers. When you see another Toyota motorhome driving down the highway, a wave and a honk will always follow. We've had the pleasure of meeting up with 6 Toyota motorhomes randomly driving down the Baja peninsula, and we all pulled off to meet each other and tour each others rigs – if you are interested in learning more, finding listings, or just interested in the community itself join the Toyota Motorhome Club – TMC on Facebook!
Some Things We're Not Crazy About
1. Not Stealth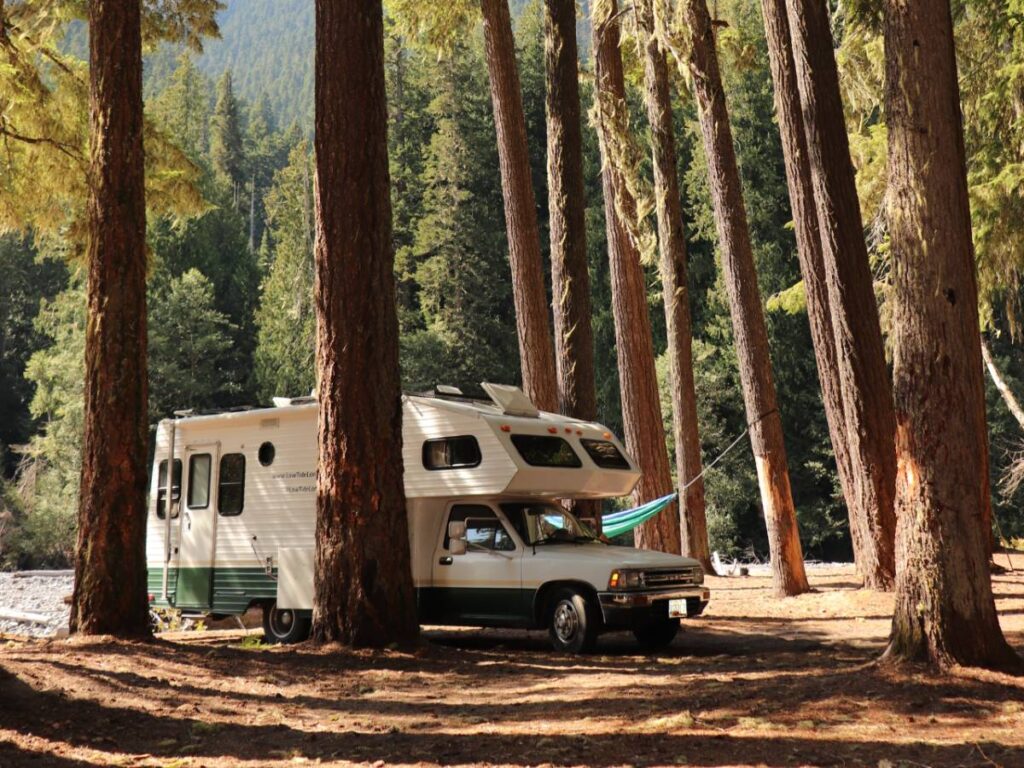 An RV is not a stealth vehicle. Although there are ways around this "con", we just simply do not blend in well on streets, unlike cargo vans such as Sprinters, Transits, Promasters, Nissan NV vans, or even older Chevy vans. With that being said, we have only ever been woken up by a knock on the door once during our two years on the road.
It's more about knowing how to stealth in a non-stealth vehicle. So, things like knowing where to park, how to black out your vehicle's windows, and knowing not to frequently enter and exit the RV in plain sight will open up a world of places where you can stealth camp in a non-stealth vehicle.
2. Slower Than the Average Van
"How fast can this thing go?" This is another one of the more frequently asked questions we get. We have a V6 engine, so it's no surprise that we are an underpowered vehicle. We generally never go over 65mph (unless we are on perfectly flat land or going down a large hill). And we are okay with that! We are in no hurry to get anywhere fast, so we end up seeing a whole lot more than the vehicles that are speeding past us at 80+mph.
3. Must Use Dump Stations
Being a completely self-contained vehicle is amazing, but you have to take the good with the bad. The "bad" being the inevitable fact that you'll have to plan to empty those tanks that allow you to be self-contained, and that means frequenting dump stations when needed.
Some dump stations are free and others you must pay a small fee to dump your tanks (use sanidumps.com to find free or paid dump stations). These stations are not as terrible and scary as most people will try to warn you of – it's a simple process, and only takes a few minutes.
4. Low Clearance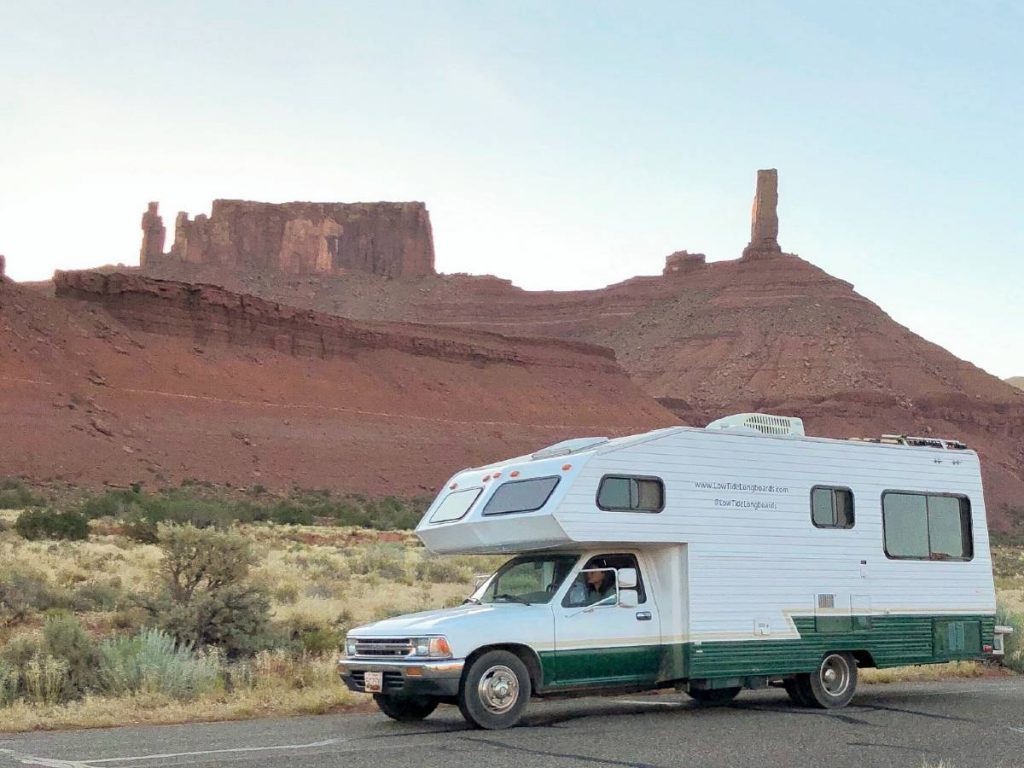 Most Toyota RV's (excluding the rare unicorn 4×4 versions) are relatively low to the ground, so access to some wild camping spots may not be possible. We haven't had a ton of issues with this (Nigel handled like a beast in Baja!), as we always scout ahead and there are two of us to navigate through some of the more gnarly backroads, but it's definitely something to consider. The dual tires on the rear axle have helped us tremendously while on roads we probably should not have been on.
5. Cramped Cab
The drivers cab in these rigs is pretty tight, and that's probably an understatement. The truck these are built on is a two-door Toyota Hilux. These little trucks weren't exactly built for luxury or comfort. We are both tall people, so we often joke our legs look like we are driving a clown car!
6. Challenging Gutting and Rebuild Process
This may be more relative to our own experience. I should start by saying that we did not know what we were getting ourselves into jumping into a full gut and rebuild project. We ran into a lot of problems gutting the original layout, with needing to fix and repair issues that come with a 20+ year old vehicle. We had water damage, soft spots on the subfloor, and carpet to remove anywhere and everywhere you could imagine.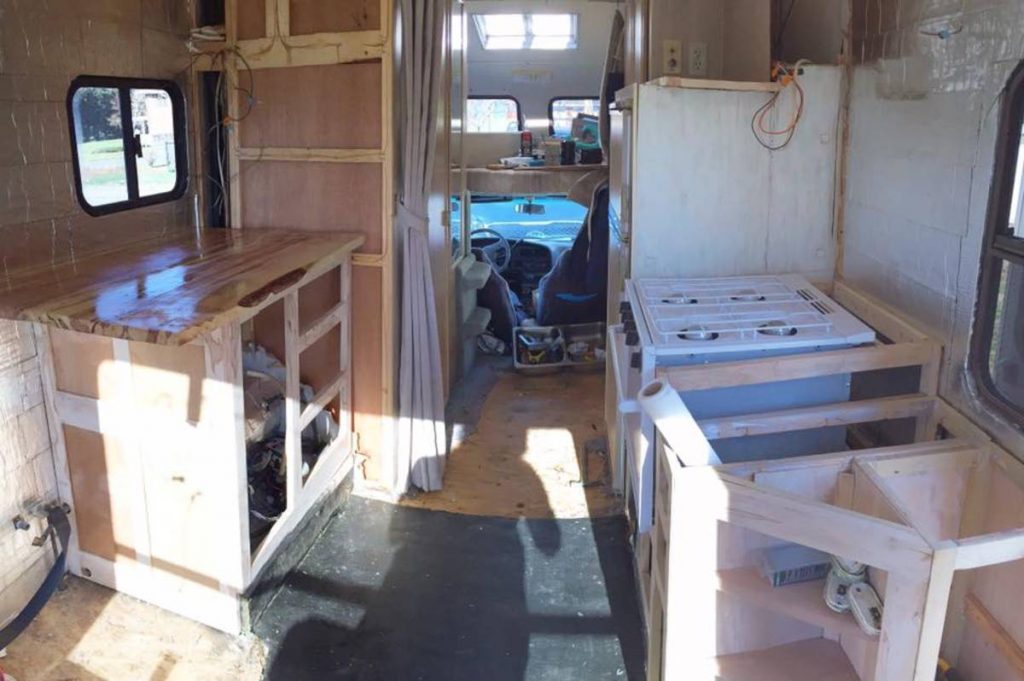 The rebuild went pretty well after learning the basics and just winging it 80% of the time, but the hardest part about rebuilding vehicles like this, is the lack of square-ness in the building space. After the overwhelming need for "perfection" passed, things got much easier for us.
7. Wider Than a Van
Our Toyota is the tallest and widest version of these motorhomes. The width mirror to mirror is about 7.5ft. We haven't had any issues with the wideness of our RV per se, but it is something we tend to notice more often than we initially thought. Width of the RV has been more noticeable specifically on the East Coast, or when we were traveling in Baja in some of the smaller towns with narrow roads.
Find the Perfect Vehicle For You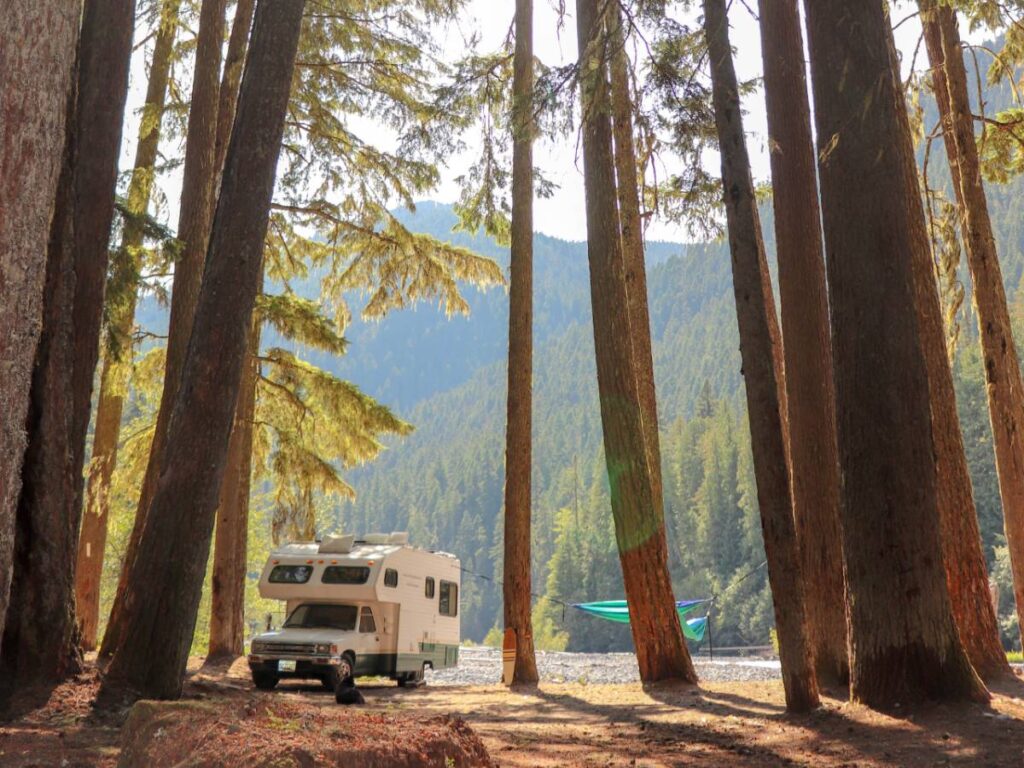 We often talk about other adventure vehicles that may suit our needs in the future, maybe something smaller or maybe something with four wheel drive. But then we always circle right back to how comfortable the Toyota RV is for actual full-time travel. It truly is hard to beat the space we have created in a vehicle that is quite tiny and immensely capable of travel all over North America.
Our best advice for searching for your own adventure vessel is to always be realistic. Set all the trends aside, and find a vehicle that meets your budget and your personal needs.
Sours: https://gnomadhome.com/toyota-rv-motorhome-for-vanlife/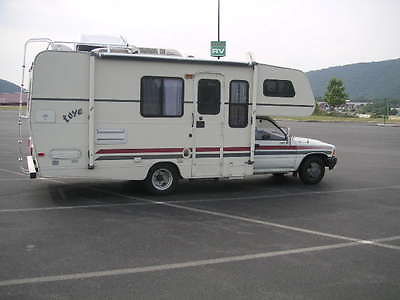 '91 Toyota RV Motorhome - Winnebago Toye
$9,700
Punta Gorda, Florida
Sleeps 4 - Bed over cab - Pull out Sofa - 2 burner Stove - MicroWave - 2 way Refrigerator/Freezer - 2.5 KW Generator - Coleman Roof Air - 3 Ltr V6 Engine - New Timing Belt - 1 Ton Chassis - Rear Air Springs - New Shocks - New Muffler - Good Gas Milage - Located in Punta Gorda, Florida - Cash Sale - Buyer pick-up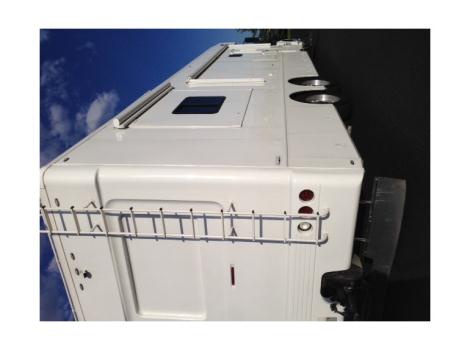 2013 Show Hauler Motorhome
$285,000
Reno, Nevada
2013 Show Hauler Motorhome , 2013 Showhauler 4 slide volvo 550hp D16 12 sp I shift two full baths, bunk beds, king size bed in master suite 45k miles, 40k lb hitch, 12.5 kW onan 3 ducted AC s , diesel aqua hot , full size fridge, no propane , lots of storage, 6" extra interior height, sleeps 7 adults automatic awning , outback 2800watt inverter, 3 fantastic fans and 2 ceiling fans, day/night shades, lots of interior lighting and accent lighting, outside tv/stereo entertainment center, satellite, super quiet safe and reliable easy to service HD volvo twin screw with HD 20 k lb front axle, beautiful Amish made cabinetry and wood work throughout , just like the unit shown on extreme RV tv show. Nothing drive or tows better period! Like New! More Pictures available upon request. Title in hand for quick transaction. Asking $290,000 7756860016 If you are looking at a prevost newel renegade NRC featherlight freightlinner, rv diesel toter Toterhome recreation vehicle ford chevy dodge stacker hauler Toyota ski boat Porsche race car corvette zr1 z06 hp merc cat fountain classic hot rod Harley you will really like this dream coach $285,000.00 7756860016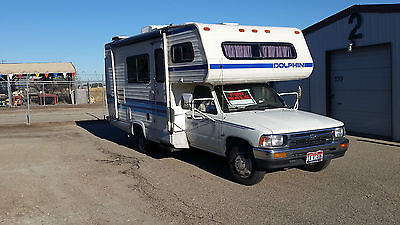 Toyota Dolphin Motorhome
$8,950
Garden City, Idaho
Category -
Length 23'
Posted Over 1 Month
Nice example of a popular Mini Camper. 3.0L V-6, auto/overdrive. Non smoker, no pets. Mileage is approx. 78,000, ODO does not work. I've put 10,000 miles on it in 1 1/2 yrs. Many new and rebuilt items : Ft shocks, cab A/C, windshield, coach A/C shroud, rear tires, 4" tube rear bumper, fuel tank cleaned and coated, toilet rebuilt. Has airbags on rear springs. Might consider delivery in the West. If it isn't sold by early Oct., will be taking it on another long trip - Boise to Sac, Bakersfield, San Diego, Phoenix, Moab, SLC, etc. Cash, no trades.
1989 Toyota Dolphin Motorhome
$5,200
Las Vegas, Nevada
Category -
Length 19
Posted Over 1 Month
YOUTUBE VIDEO HERE https://youtu.be/9gqYhtnH8Xg 1989 TOYOTA DOLPHIN 19 Foot CLASS C MOTORHOME W/ ONLY 58000 ORIGINAL MILES!!! Hi, I recently purchased this motorhome but now need to sell. I have NOT yet titled this vehicle in my name , however I did get a temporary 3 day permit to move it at Arizona DMV at the time of purchase and it has CLEAR NOTARIZED TITLE. This TOTOTA DOLPHIN 19 Foot CLASS C MOTORHOME with only 58000 ORIGINAL MILES. It has a 22 RE 4 cylinder engine that runs great, a good shifting automatic transmission, dash and roof air conditioning, Working Generator Run your coach A/C while you drive. Working Propane and Electric refrigerator , rear ladder and awning. No Cracks in the Dash and seats are in good condition , seat covers included but not necessary. New bright LED lighting. 100th the power drain of incandescent lighting The Wallpaper is peeling in a few spots and the roof has been resealed and DOES NOT LEAK, however there are a few water spots on the ceiling from leaks in the past, NO WOOD ROT. CLEAR NOTARIZED ARIZONA TITLE This TOYOTA has a nice, roomy floor plan that features: an overhead bunk... a small dinette that converts to a small bed... and a couch that converts to a bed as well. All together sleeps 4 . The kitchen features a four burner stove with oven...refrigerator...and dual stainless steel sinks. It has a rear bathroom w/shower and Rear Airbags. The following is Brand new : NEW UPHOLSTERY NEW WOOD LAMINATE FLOORING NEW DRAPES NEW TIRES NEW FULL SIZE DOMETIC TOILET NEW BRIGHT LED LIGHTING 100TH THE POWER DRAIN OF INCANDESCENT LIGHTS. ALL SYSTEMS ARE FUNCTIONAL Unlike all the other gargantuan motorhomes (which are 8 1/2' foot wide)... this can easily (and legally) be parked on any city street, parking space or private driveway. Just like any other truck or van. (6 1/2' wide). No $50 per month storage fees! THE EXTERIOR IS IN ROUGH SHAPE!! I REPEAT THE EXTERIOR IS IN ROUGH SHAPE! HERE IS A SHORT VIDEO OF THE TOYOTAS IMPERFECTIONS https://youtu.be/mNN975PHFA0 Various patches from denting and the fiberglass needs a paint job, I decided to leave it as is to deter anyone from breaking in. Decals are sun faded in several areas. This Toyo is a Good size, easy to maneuver. Great for recreation or travel. Runs and drives fantastic , mechanically sound. Being a Toyota means great on GAS,, average 17 mpg, and a great plus with such LOW MILES! I LIVE 2 BLOCKS FROM LAS VEGAS BLVD NEAR THE STRIP, FLY IN AND DRIVE HOME THIS TOYO IS READY FOR THE ROAD If you have questions please e-mail or call 9563298789. Thank you for your interest.I BID YOU GOOD BIDDING (-: $250.00 NON REFUNDABLE DEPOSIT SORRY I'VE HAD VARIOUS BAD EXPERIENCES IN THE PAST , HOWEVER EBAY STILL BILLS ME FOR THIS LISTING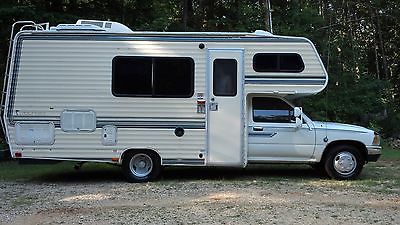 1989 Toyota Motorhome RV Camper 21ft Low Miles. V6 Auto overdrive Must See!!
$11,275
Butler, Tennessee
Hate to see her go for we had a lot of fun camping in her but, work has us tied down and would like to sell to someone like you who can have fun and enjoy her as we did!! This camper runs and drives excellent and turn key ready! We restored our camper to look like you are in a log cabin as seen in pictures. Camper as been gutted to a shell inside, windows removed and re-chalked. Camper was refurbished threw-out the entire vehicle including walls, ceiling etc. Got rid of the 80's/90's nasty look and replaced with a custom one off look. While I had it all torn apart, we replaced wiring (where needed), new custom cabinets and tons storage threw-out. Got rid of the old stove and replaced with storage and new counter top and cabinets. Installed new microwave, sink, new faucets kitchen and bathroom. Installed a electric hot water heater. Installed new upgraded cable hookup and TV wall mounting. New electric hookup with the best plugins you can buy set up to run with 30amp 120v or there is a adapter to run at regular outlet power. Or all can be run from the gas generator located in the RV storage outside, generator was refurbished and is in working condition. The thing I love about this camper the most, is you can just unplug from your camper site and drive around anywhere you would like to go for the day. No worries of taking another vehicle on your daily adventures. List of most items just recently done in the last couple thousand miles or sooner since the new transformation including mechanical work for preventive maintenance so we could drive anywhere we wanted to go: Top end of the motor completely rebuilt, new gaskets, seals, rebuilt heads, intake system, water pump, new distributor, H.D.alternator, full tuneup, new fluids and radiator flush. New shocks in front and air ride adjustable suspension in back. Upgraded A/C to modern 134a, new battery, 6 new tires. Exhaust upgraded for more power and more. Electric start 30 amp generator with new fuel lines and primmer bulb all just done. Mechanical work done by a local shop by a ASC certified Toyota mechanic with over 30 years experience. One look at the motor and you can see all the new parts installed. Has 6 gallon storage tank for the generator separate from the truck gas tank. Black and grey water storage tanks work without any leaks. A/C unit in living area was replaced with a later model rebuilt higher 13.500 BTU unit with new thermostat installed on wall. Unit can be retro with heater element or use the gas heater. We ran a electric heater in the winter. Interior Work : New high quality heavy duty upholstery and curtains. Should outlast the truck much better than factory. New high end driver and passenger seats with center console and cooler. Inside completely refurbished with custom one off look. Custom built dinning area and lighting that transforms into a bed. New counter tops and all new high quality faucets. New high quality hardwood vinyl flooring. Completely refurbished shower surround with new fixtures. New toilet, new microwave, new hot water heater. New power feeds with the best plugs you can buy, new circuit breakers. AC to DC power converter refurbished. Backup camera. Refurbished outdoor running lights and added new door lights for outside camping security. New water line hookup and best quality septic line. Basically made it more of a modern style vehicle you would see at a dealership today. Outside is basically stock. Preventive maintenance done threw-out for your trouble free adventures. Feel free to ask any questions you may have and all questions will be answered in a timely manner. Please serious bidders and questions only. Had to relist again due to buyer's health complications. Sorry missed this on the ad been getting a lot of questions about.. V6 engine auto with overdrive, cruise, tilt. etc. Mileage: is 67k. been about 3k since the engine overhaul. All the engine work listed above plus new timing belt, plugs, wires, etc. of course. Shipping : front bumper to rear dually axle about 14 ft. little over 21 ft over all. Both A/C's are blowing cold. All of the propane lines still intact just unhooked the stove. Cook top can be added, electric or propane hookups right there. Refrigerator works great, works on gas 120v or 12v. Hot water heater is electric or propane. All major appliances and A/C are on their own breakers. Hope that answers most of the questions I forgot to add. Thanks and Good luck....Scott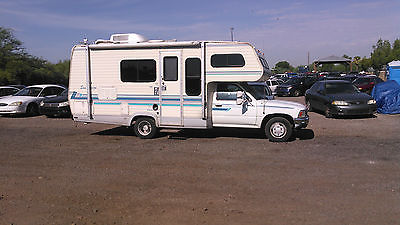 1991 Toyota Sea Breeze Motorhome
$7,500
Phoenix, Arizona
1991 Toyota Sea Breeze motorhome. 3.0L v6 engine. Runs and drives great. Has cold cab air conditioning along with cold upper ac unit. Has 133k miles and in my opinion is still low for a Toyota. This vehicle has an automatic transmission that shifts smooth. Has no rust and Just passed Arizona emission testing. The fridge works works both on electric and propane (tested operates as should). Stove and oven both work great. All interior Light fixtures in the interior of motorhome come on. This motorhome has no generator on it, however, the long electrical cord plugs into an electrical outlet and powers up everything in the motorhome just fine. She needs a little cosmetic work but will be a great for camping adventures. If Buyer uses the buy it now price of $6500.00. I will replace the 4 dually tires with the money from the winning bid. They will be replaced with new hancook RA08 tires. Any other offer does not include this deal.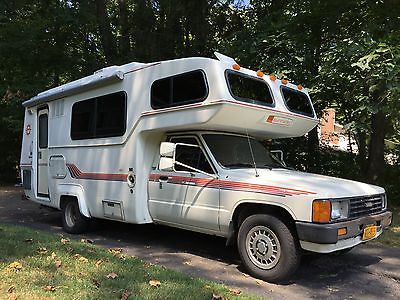 1987 Toyota Sunrader Motorhome 21ft CLEAN
$7,500
New York, New York
Category -
Length 21
Posted Over 1 Month
1987 Toyota Sunrader. Only 88k miles. Sleeps 4. Everything works. 14 MPG Highway. Fridge, Stove, Oven, A/C, Heat, Hot water, Toilet, Shower, Sinks, Closet, Couch, Table. Runs great! Great camper for solo or small group trips. I bought it from a friend less than a year ago for a "snowbird" trip to Florida where I lived out of it on the road and at my destinations for several months. It's very comfortable to travel and live in! Now I'm settling back into life and looking for something more commuter friendly, so sadly the camper has to go. Your lucky day! Highlights: No leaks even in heavy downpourFiberglass gel coat recently restored, very cleanCarpeting removed, replaced with hardwood laminate flooring1 ton rear axle (6 lug)Coach and cabin A/C ice coldTransmission cooler and temp gauge will save you costly transmission rebuildsNew custom cutting board countertop installed on top of fridge (see photos)Best floor plan for sleeping or lounging (couch pulls out to bed in 5 seconds)Lots of cabinets for storageRV bike rack included4 cylinder fuel injected 22-RE engine in great conditionThe car and coach have been lovingly maintained by all owners, so everything works and should keep working for years to come. These Toyota 22-RE engines can last forever, and is still young at only 88k miles. Here's a rundown of all the work that's been done on the car recently:New fan belt (2015)New metal gas tank and fuel pump (2013)All carpeting removed from floor and replaced with wood laminate (2013)New front struts (2013)Transmission completely rebuilt (2014)Transmission cooler installed (2014)Transmission temp gauge installed (2014)All break pads replaced (2014)New alternator installed (2015)New engine water pump (2015)New air filter (2014)Right idler arm replaced (2014)Rear shocks replaced with Bilstein heavy duty racing shocks (2014)New sewer valves for black and grey water tanks (2014)New coach water pump (2015)New fuel filter (2015)All coach lamps replaced with LED bulbsModified propane system to accept an external (BBQ-style) tank (built-in tank needs new fill valve)New stereo with AUX-in for connecting iPod or smartphonePlease ask questions, I am happy to answer them. Also, if you would like additional photos/videos, just ask!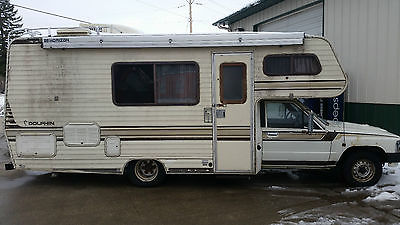 1987 Toyota dolphin motorhome RV, good conditon
$3,500
Rochester, Minnesota
Category -
Length 21
Posted Over 1 Month
(( MUST SELL ASAP, ALL REASONABLE OFFERS CONSIDERED)) I am selling a Toyota RV, dolphin, it has a 97K miles, was driven yesterday, everything runs fine, good 22R engine, starts right up, there is slight room damage in the bathroom, nothing major, easy fix, nice clean RV if you can do TLC, you will end up with a good camper, I just moved it yesterday to UHAUL storage, if interested let me know and go look at it, I have the title and paperwork, manuals, from First owner, I bought the RV to move it to NC, but i could not find a reasonable way to move it here, so i have it to sell it locally, Again the RV can be looked at UHaul, Dillon Radiator 3237 Marion Road SE, Rochester, MN 55904, Ask for Jeff for appoint to come look at it507 289 6832 Call me for more details, 919 601 9939,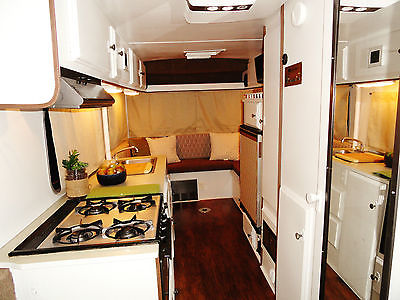 Toyota Sunrader Motorhome Beautifully Renovated, Excellent, Best in the Nation!
$18,000
Fort Collins, Colorado
Category Class C
Length 21
Posted Over 1 Month
We are selling our Toyota Sunrader and it's absolutely stunning. I have gone over every single inch of this motorhome and either refinished or replaced all of it. We currently use it all the time and it has just traveled from Ketchikan Alaska to the Mexican border to Colorado without a single issue. It has 6 new industrial all terrain tires, new exhaust system, fresh tune up with plugs, cap, rotor, air filter, and oil service. You can jump in it right now and drive to the tip of Maine without hesitation. I have averaged 17 miles per gallon and one of the very best parts is that ALL of the other Toyota motorhomes came with a 13 gallon gas tank but mine comes with a 23 gallon tank so you have an extra 170 miles of range. I have taken a different Sunrader around the entire circumference of the United States and that small tank is a real pain to deal with, I can't even describe how nice it is to have the larger gas tank. Also I have really liked that it has a manual transmission because you can control the power much better and it really helps boost the gas mileage when you are in the mountains or around town. I've owned every kind of Toyota motorhome (except the Chinook:), and I believe the Sunrader to be the best... The fiberglass cap shell design prevents water damage or leaks and is incredibly strong. All of the other motorhomes leak and creak overtime and the corners of the other coaches rot because of the wood framing, not to mention the maintenance is significantly easier on the Sunrader because you aren't having to reseam-seal the roof every season. When I started the remodel of the interior, the inside was already really nice but very dated so I stripped everything off so it was down to just bare wood. Then I sanded everything and vacuumed and washed every surface so it was completely free of saw dust. Next, I painted 4 coats of primer and 4 coats of acrylic finish paint. Then I replaced every knob on the cupboards with new modern pulls and painted the insides of all the cabinets. To finished off the cabinetry I removed all the old chipped edging on the counter top and table and replaced it with brand new heat bonded edging so I would not come loose. I removed the old carpet and installed a full floating hard wood floor. To finish off the floor I installed quarter round on the edges and installed aluminum flashing on the transitions, now it looks great. I decided that the two front windows made it waaay too hot to sleep on the upper bunk because every morning the sun would come out and turn it into a tropical green house. I built a cover for the windows and carpeted the whole upstairs with wall carpet it looks like that's the way it came from the factory so I'm completely happy with the way it turned out. Now it stays much more comfortable and darker for sleeping. I finished off the upstairs with brand new sheets, pillows, and linens. I took off all the range hood, oven door and steel panels and painted all of them to match with a hammered steel paint and they also turned out wonderful. For the entry way I lowered the first step by 2 inches to give you a bit more head room and then installed 3/4 inch rubber over everything. This is the same rubber they use in horse trailers so it will never wear out. I finished the entry way by boxing in all the corners with aluminum to give it a classy and ultra durable finish. It even has a convenient light built into the step so you don't trip at night. I brought the cushions to a professional upholstery shop and had them refinished with an extremely durable and modern fabric so now it looks like a modern swanky apartment, I also took some of the same upholstery material and lined the face of the fridge so it matches the cushions. I removed all the old light coves and replaced all the old bulbs with new ones and also replaced all the light lenses with new ones. I serviced the water heater and I also just replaced the fresh water pump in the coach with a really high quality Surflo system and replaced the water valve on the toilet. I also serviced the high pressure water valve with new o-rings so it would not drain off the pressure in the system over night. We decided that the coach could use a little entertainment so I installed a 24 inch flat screen/ DVD player combo. Right now it only runs on shore power but if you hook up a small inverter you can run it off battery power as well. I also bought two brand new pioneer speakers and installed them in the back so you can enjoy better sound quality from the radio. These can easily be wired to plug right into the back of the TV for surround sound if you want. I decided to throw the old curtains away and sew new ones so I found some really high quality insulated light blocking curtains, then I cut and sewed them to fit the coach windows and replaced all the old cheap curtain rods with modern high quality rods. I removed the instructional sticker off the roof ac and repainted to match the interior, then replaced the sticker for a factory looking finish. The roof ac works great and looks great now. I have had quite a few Toyota motorhomes because we like to buy and restore one every summer and I can confidently say that this Sunrader is easily one of the best in the nation. I want just an easy cash sale so please no trades or checks of any kind. Happy Camping!!!! 9708170332 Winnebago warrior, dolphin, astro, tiger, Minnie Winnie, pleasure way, Itasca, eurovan, westy, westfalia, diesel, rialta, mpg, travco, gmc, airstream, scamp, fiberglass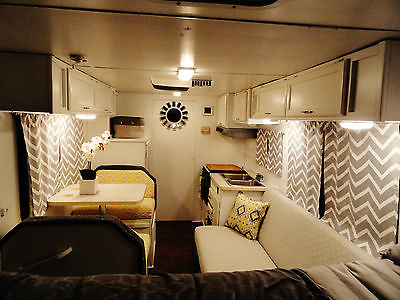 Toyota Motorhome Winnebago Warrior - Beautifully Renovated - Best in the US
$16,999
Fort Collins, Colorado
It's time to sell our 91 Winnebago Micro Warrior, we have loved having it and have traveled all over the Colorado Rockies in it. This Toyota has the most coveted engine of all the Toyota motor homes, the 3.0L V6 has amazing stamina--it gets AMAZING gas mileage for a motor home, while still driving strong-much stronger than the older 22re 4 cylinder engines. Our Warrior runs like a champ, we have gone up and over Eisenhower Pass (Elevation 11,158 feet, the highest point in the US Interstate System) many times holding 50 MPH fully loaded. Cruising the flats it gets 17-18 MPG. It has an overdrive off switch and a transmission power switch which really help in the mountains. I looked at LOTS of Toyota motor homes before buying this one and the thing I really like about the Winnebago is that interior parts a way better quality than any of the others I saw. It has things like a solid one piece floor when other ones have seams that flex and bend, it has solid oak cupboard doors when other have pressed wood that fall apart, it's build with a welded aluminum coach frame when others just use wood, nails and glue, the door frame is one solid piece of shaped aluminum to give it more strength, the walls are sandwiched laminated with a thick insulation so it's quiet and holds temperatures well. Winnebago certainly made the best version of these little Toyota motor homes. You can get other motor homes that compare in fuel mileage but they cost 5-10 times as much to buy and would cost waaaay more to maintain because they have Mercedes diesel engines, plus diesel is 65 cents per gallon more than gas. The motor home is equipped with:Sleeping for 5/6 -Fold Out Couch, Fold Down Dinette, LoftFull Kitchen with Microwave and Gas Stove/ Oven and Range HoodHot and Cold water in the Kitchen, Bathroom, and ShowerFridge/ Freezer combo that runs on propane or electricityLarge Closet in BathroomSlide Away Bathroom DoorCOLD Roof AC -- Shore Power or Generator PowerInterior Generator On/Off Switch2 Deep Cycle Batteries to run Lights, Water, Range Hood, Furnace Fan, and Skylight FanAutomatic Battery Charger and Power Converter with Automatic Starting Battery IsolationLevel Gauge for Batteries, Black Water, Gray Water, Fresh WaterAutomatic Thermostat for the Propane FurnaceOriginal Owners Manual Over the last month I have remolded, refurbished, or replaced every single piece of the interior and exterior of the coach. It was really fun and TONS of work but here is what I did: First I sanded and stripped every inch of the interior then tore up the old carpet and removed all the old fixtures and light coverings. Then I tore out all the upholstery because it was ugly and sent it off to be professionally reupholstered. When the couch was out I rebuilt the skirting and framework for the couch. Then I washed and vacuumed every surface of the interior and masked off everything I did not want to paint. I sprayed 3 layers of Kills Primer and then put 5 coats of semi-gloss on. I picked semi-gloss so it would be easy to clean up scuffs. I installed a floating hardwood floor so it would be quick and easy to clean and sweep. I finished the floor edges with quarter round and calked all the seams then built a new entryway/mud room out of the heavy rubber they use in horse trailers. I finished all the entryway seams with aluminum to secure it and give it a nice finished look. For the shower cut out all the old silicon and used an industrial marine enamel to refinish it, then I redid all the silicon. Some of the drawers needed to be rebuilt so I did that and lined each one with a decorative foam to keep sound down while you are driving. All of the pulls on the drawers got replaced with modern brushed nickle handles. I removed all metal covers and guards along with the stove door and painted them to match each other. I used the same material that I picked for the couch to reupholster the fridge door. Some of the plumbing was cracking so I replaced everything that was in bad shape. I bought new covers for all the lights along with new bulbs. I decided to recover the whole loft with a soft gray wall carpet and delete the long front window so it would be a nice place to sleep and not have too much light and heat cooking you in the morning. I removed all the ugly old blinds and sewed these curtains, they are light stopping so you can't see from the outside in when they are drawn. I bought all new linens and pillows for the interior. The generator was running poorly so I did and full service and rebuilt the carburetor now it fires right up and runs great. The exterior was completely cleaned and decreased then sanded, buffed and polished. I refinished the rear bumper and redid all the roof seals even though it was not leaking. I stripped and sanded each rim then refinished them along with the spare. The tires are all commercial grade and the tread has 95%. I replaced all the exterior light covers and repaired any exterior damage I could find. If you read all that you know that this is one of the best Toyota motor homes in the country, everywhere we go people want to look inside and say "Wow, I wish this was ours!" I would jump in it and drive to Maine tonight without a worry. Give me a call, I have a flexible schedule.Happy Camping! I don't want to mess with checks or trade, so cash only please. Please call with any questionsBlake970 817 0332 tags: Westfalia, Westy, Rialta, eurovan, mecedes, sprinter, Tiger, CRD, Diesel, micro
1982 chinook motorhome like new
$7,500
Reno, Nevada
everything that could be replaced has been done with factory or better,motor has been replaced with a 1993 R22,tires were 14.5 6 ply,now 14 all terrain 8 ply,gas tank was pushed in years ago fron floor jack now has a 4wd gas tank with an armour plate,air shocks were installed as was add a leaf commercial suspension this raised vehicle 5 inches.new brakes,when we installed eng we added all the stuff clutch pressure throwout pilot shaft bushing etc.+new metal radiator,we had a lightweight bumper made-up,so we could attach a small metal trailer which will be included,we rebuilt the ceiling and final covered it with a one piece fiberglass refrigeration skin,we installed an additional spring inside the origional for more lift power,all the upholstry has been redone in a southwestern pattern as well as new foam,the carpets have been replaced,there was two little rooms in rear one held a porta-potty the other was a closit,we converted these to shelves,one side middle shelf still holds potty and this leaves two shelves for equip one piece bieng a little torro silent running gennerator this is also included,the closit side has a single shelf,for cloths and equip.we replaced the door,I didnt have the heart to install the deadbolt as this would mean cutting a extra hole in the outside skin,it has a little table that installs into the hole in the floor,alse we replaced the large inverter with new,all electrical systems work,there is a new batt.for the house part and a new batt under the hood.as with ebay rules I have described most of the work done,there is more but you should get the idea of general condition,it runs and smells and acts just like new.I am firm on the price as this project took me 3 years to complete,please note this listing is also on reno craigs list.
1987 Toyota Conquest Gulfstream RV Motorhome Project 22RE 19 MPG BUY IT NOW!
$2,777
Venice, Florida
Category -
Length -
Posted Over 1 Month
You are bidding on a barn find! This RV was rescued from sitting for a few years, will need work, but it a great project! Was running and driving when parked in 2007. Fuel Pump was just replaced. Mileage is actual st 69000. It is automatic transmission. RV does start up, but does not stay running. Radiator was recently replace and all fluids changed. There is some water damage and assume you will need to do the interior. AC unit is there, but is not tested, along with original refridgerator and hot water heater(both not tested). Stove appears to be missing, but RV comes with coffee maker, toaster oven, microwave, and TV with remote. Plumbing seems intact, but was not tested. There is no generator, but I have one for sale. Electrical was not tested as well. This would make a great project or restoration. These RVs can get 19 MPG! The motors are very well known for reliability. Delivery is available for a fee. Pickup within 7 days or storage fees will apply. I can also store it for you on a monthly basis for a reasonable fee.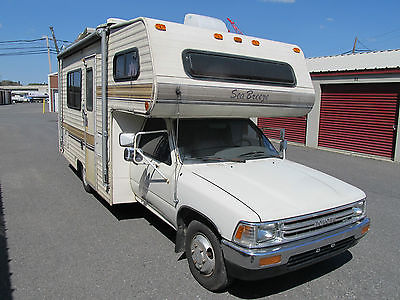 22' 1989 Toyota Sea Breeze Camper Dual Axle Generator Awning RV Motorhome
$8,000
Jim Thorpe, Pennsylvania
Due to an uncooperative bidder I am relisting this camper. This will have to be transferred to you at the local notary upon pick-up. The notary is only open from 9am till 4pm weekdays and until noon on Saturday. So please schedule your pick-up during those times. You will have to pay any notary fees associated with the transfer. Also a $100.00 non-refundable deposit will be required through Paypal within 24 hours of the purchase. The remainder will be paid with cash only upon pick-up. This must be picked up within 7 days unless other arrangements are agreed upon before purchase. You are more than welcome to see the camper and drive it if you are local. Click on the link at the bottom of the description to see extra pictures of the camper. There are 3 pages of extra pictures. Up for sale is my 1989 Toyota 22' class C camper. The driver's compartment has air conditioning that works great, and the heat works fine as well. It is in good shape, drives very well and is inspected until 04/2016. It only has 46,370 miles on the Toyota 6 cylinder engine. It has a 6 lug dual real axle with Hankook 185R14C tires all around that are in great shape with plenty of tread life left. Most of these Toyotas have a smaller 4 cylinder engine, which usually bogs down on hills, but the 6 cylinder engine of this one makes driving in mountainous areas a whole lot easier. The camper includes an Onan 2.8 Genset that I used last spring. This has all the paperwork that came with the camper when it was new including all the appliance manuals. Late last Summer, I tried to restart the generator, but it didn't start that time. I think it's an electric problem that should be fairly easy to fix. If you fix this generator, then you could probably stay in your camper for weeks at a time without the need to hook into electricity! It also includes a 123" awning that is in good shape. It also has a hot water heater, gas furnace and a 2 way fridge that all work great. It has a rear air conditioning unit that needs a recharge. It doesn't blow out cold. There is a toilet that works fine and a shower that leaks at the valve. I think it just needs to be tightened up some. It has a microwave and 4 burner stove and oven that all work fine. It has a dual sink in the main area and a small single sink in the bathroom. The sleeping area above the driver compartment will sleep 2, and in addition, the table lowers and the couch goes flat to sleep additional people. I would say it sleeps 5. It is carpeted throughout the camper and also in the driver's compartment. The interior is very clean, and there are no unpleasant odors. I would have no problem spending lots of time inside! It has grey and black holding tanks and a fresh water holding tank. It has a water pump that will run on shore power or with the included marine battery. Additionally, it has a 30 amp plug. There is also a locking metal box added at the back of the camper where the sewage hose and extras are kept. Included is a top-of-the-line sewer hose. The camper has leaked in the past at the vent up top. It dips down a little up on the roof at the vent and water will build up there. But what I do is tilt the camper a little to one side and water does not build up and leak. You could fix it and build up the area at the top but I didn't feel the need to. This would be just the thing for a family or a single individual! You can drive it across the country right now, and stop anywhere because it is completely self-contained! Park it in the middle of the woods, or in a nice family campground. This is roomy enough to make camping comfortable, but not too large to drive it around town. You can unhook from the campground and drive right into town. Clink on the link below for more pictures. The camper is in our storage unit outside Lehighton, Pa. Payment will be due in person upon pickup when the camper is transferred to you. Cash only please, no checks. I have the clear title in hand and is ready to transfer. Click below for more images of the camper: Camper images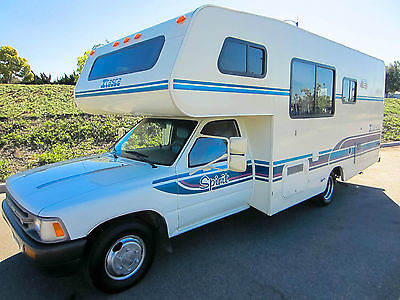 1992 Toyota Tacoma Itasca Solar Spirit RV Motorhome by Winnebago, 66kMiles, Gen.
$18,000
Seal Beach, California
1992 Toyota Tacoma Itasca Spirit RV Motorhome by Winnebago, only 66k Miles, Portable Generator, Solar Package As another gentleman on Ebay so eloquently put it in his ad, let's get started with the details. MPG is about 14-18 on most highways. She has Smooth Fiberglass, not corrugated siding, which means NO LEAKS and EASY cleaning and waxing. It's a very nice RV that has ALL the things a bigger motor home has to offer. Hard wood OAK CABINETS, a 4 burner stove, OVEN, 2 way propane/electric refrigerator, 17,000 btu Furnace, toilet, shower, HUGE closet, dining table (converts to bed), etc. Sleeps 6 with a fold out full sized jacknife couch. Upholstery in both coach and cab is in Excellent condition as it's always been meticulously kept clean, no rips or tears. The generator is handy and it's brand new. I bought it to complement the Solar, but you'll never have a need for it. Completely off the grid living and traveling with both for sure. All coach lights, TV, iPad, Android, Cell Phone, Tablet run off solar. No reason to stay at RV parks. Park at Costco, Sam's Club, Walmart, use Solar/battery storage or run the Generator if you run low on power. Never did! Park in front of Starbucks to get free WiFi, and watch unlimited Netflix, Hulu, etc. Or if you have unlimited data cell plan, stream Netflix from your phone to the Vizio "Smart" LED TV using the free Hotspot feature built-in to all phones, and tablets, watch it on your TV anywhere you choose to park, even without the generator on...just using Solar!! Charge your electronics on Solar power!! Earned the "CONSUMER'S DIGEST BEST BUY"! Here's a link to the original brochure...have a look: winnebagoind.com/resources/brochure/1992/92-Spirit-bro.pdf The floor plan has the queen SOFA bed plus the dinette, not the shorter model. She's 21' long which allows you to park in any "car" parking space. It has the smooth and powerful V6 Automatic, with Cruise Control and an Electronically Controlled Transmission, ECT, and Overdrive for those extra steep hill climbs. Winnebago finally got the roof right, one piece aluminum, especially the seams, front/rear/and sides. Very high quality when they stopped making them. Never leaked...never will! So there are some Extras that we've added. Here's what they are... +SOLAR Package, 100 Watt Panel, Inverter, Battery storage, $2000 +Brand New Portable Generator Normal 0 false false false MicrosoftInternetExplorer4
Showcase Ads
×
Alert Successfully Created
Sours: https://www.smartrvguide.com/rvs-for-sale/toyota-motorhome
The Weird History of Toyota's RV Camper
Since they first became popular in this country in the 1970s, Toyotas have always had a reputation for being some of the most reliable and dependable cars on the roads. And the same goes for their motorhomes.
Well, these compact classics didn't actually roll off the assembly lines as motorhomes, and that's part of what makes their story so interesting.
They started their lives as small Toyota pickup trucks and were outfitted with camper shells that were manufactured by outside companies around the United States. There were dozens of them, actually, including Winnebago.
Production of these classic Toyota RVs ceased almost 30 years ago, but there are still plenty of them still making the rounds. They have a big following from their loyal and enthusiastic fans.
Why Are Toyota Motorhomes So Popular?
First off, even though they are sometimes called "micro-mini motorhomes," they seem surprisingly spacious inside, with lots of storage to boot.
Because they have a cab-over design (with the bedroom in the front and above the cab), Toyota motorhomes have an open area below that includes a fairly roomy living room (which can seat up to five people), a kitchen and even a bathroom. Many of them have a couch that folds out into a bed, so they can sleep up to four people.
Fuel economy is a big plus, with users reporting numbers in the 11-16 mpg range. (This might not sound so great to you non-RVers, but trust us, these are big numbers for a motorhome.)
They just keep on running, too, because of those Toyota engines that just don't want to quit. It's not uncommon to get 200,000 miles or more from an original motor. Also, they are easy for mechanics to work on.
Toyota motorhomes are easy to drive and maneuver. With a typical length of 18 to 22 feet, they even fit into a regular parking space. They are lightweight, too, so they don't get bogged down easily in sand or gravel.
In fact, we like to think of these Toyota RV campers as C-minus Class RV. It's the same concept as a B+ Plus RV (just coming at it from the Class C side).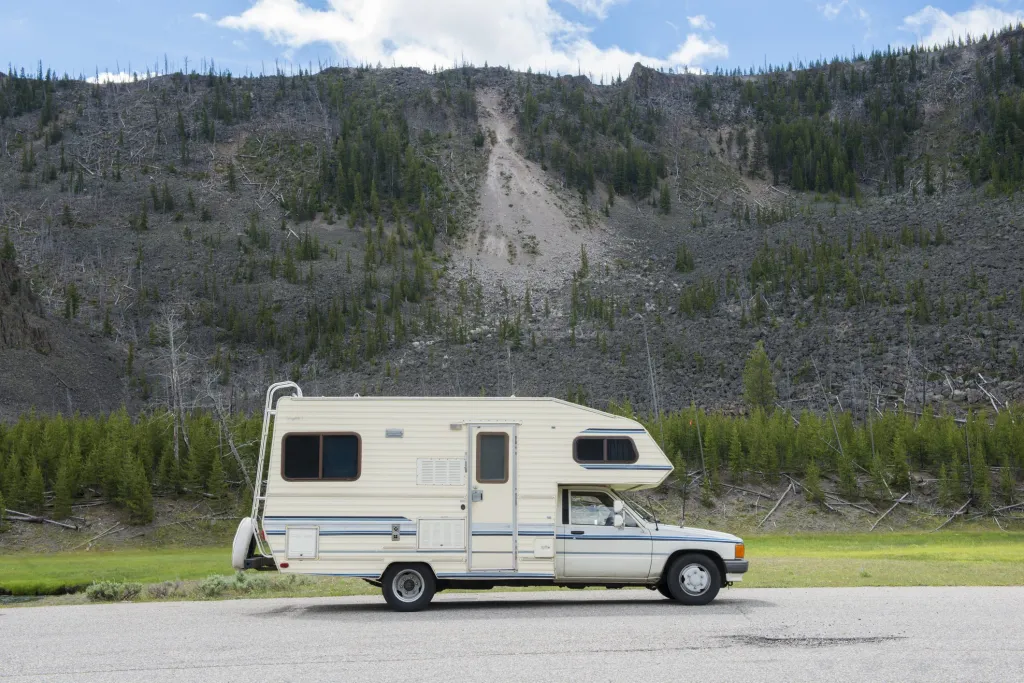 Another cool thing about being a Toyota RV owner is the fun sense of community it brings.
Not only do they honk and wave at each other on the highways, they ease into conversation at campgrounds and rest areas, too. There's an active online presence as well. It includes forums and social media groups such as the Toyota Motorhome Club.
Owners share pictures and experiences and to troubleshoot solutions for common repairs or modifications.
Like all RVs, they have their drawbacks, though. Some common complaints are that the two-door cabs themselves are, shall we say, a bit "cozy". And, they are low to the ground, too, with limited ground clearance.
Another strike against them is that their 4-cylinder engines are fairly underpowered, especially on hills. So, don't expect them to break any speed records.
History of the Toyota RV Camper
There's a big variety of Toyota motorhomes out there. It is believed that as many as 50,000 were produced between 1972 and 1994.
Companies ordered the Toyota truck without the beds and put their own campers on them.
Some of the more popular examples are the Toyota Chinook, the Toyota Dolphin and the Toyota Sunrader as well as the Winnebago Warrior. Others carry badges with more obscure names like Americana, Belair, Blue Marlin, Pioneer, Ranger and Slumber Queen.
Toyota Chinook
These early models were built in something of a partnership between Toyota and a California company. The company had previously converted other American trucks and vans into motorhomes.
The experiment with the smaller Toyota vehicle came about because of the oil crisis of the early 1970s. At that time, gas prices suddenly quadrupled, leaving Americans with a thirst for smaller cars and trucks with better mileage.
The first Toyota Chinooks were sold in 1973. They had pop-ups for more headroom and were built on a Toyota long-wheelbase half-ton truck chassis, powered by Toyota's 18R motor with a standard rear axle.
Toyota Dolphin
These were manufactured by National RV from 1979 to 1990. Many of them are so nice that they almost have what you could call a cult following.
The company was hit hard by an axle recall. The recall came about because some of the campers that were being produced were too heavy for them.
A 1985 review found online describes a 22-foot Dolphin Model 500 that offers a 775-pound payload capacity with full fuel, propane and freshwater tanks and options like roof and dash air-conditioners, cruise control and AM/FM stereo. "Even though the Dolphin is compact, it features a fully equipped galley. Built on a Toyota foundation, this micro-mini offers enough payload capacity to comfortably accommodate a small family."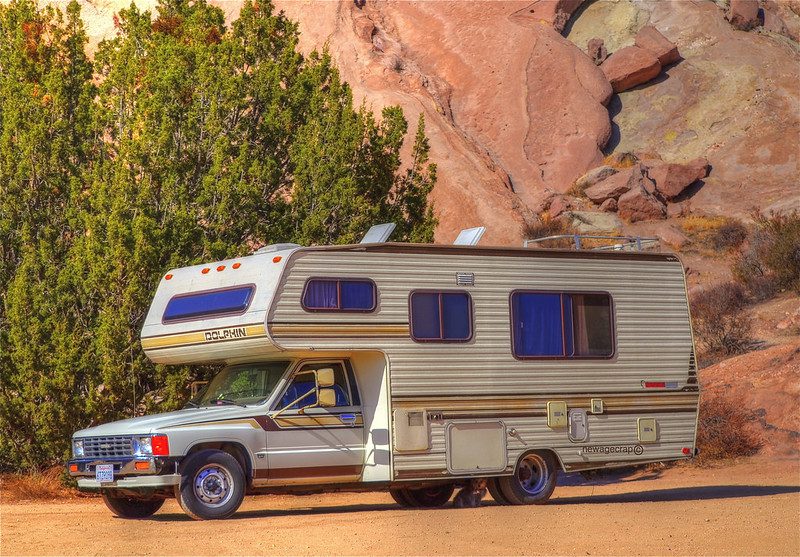 Toyota Sunrader
Made by the Gardner-Pacific Corporation, this one had fiberglass-shell construction and was available in either 18-foot or 21-foot models.
A four-wheel-drive version came out in 1985. That version also had a dinette in the rear as well as a large picture window.
The Sunrader Classic featured cedar closets with lights and optional upgrades such as 26-gallon gas tank and additional exterior storage.
If you're looking for a motorhome, don't overlook these classic Toyota RVs. They offer a lot of camper in a small package!
If they were still in production, they'd surely make our Best Small Class C RV list.
They're tall enough to stand up in, have their own bathrooms, and can get you into some of the tightest camping spots. As we said, they are reliable and dependable, and they have a little something extra. They're offbeat and retro and just have a certain coolness that separates them from the pack.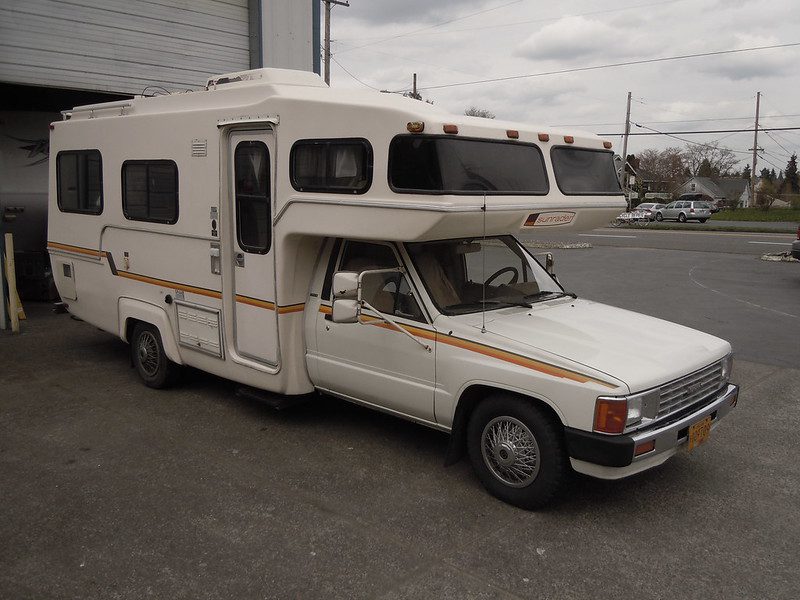 Discover the Best Free Camping Across the USA
To be honest with you, we hate paying for camping. There are so many free campsites in America (with complete privacy).
You should give it a try!
As a matter of fact, these free campsites are yours. Every time you pay federal taxes, you're contributing to these lands.
Become a FREE CAMPING INSIDER and join the 100,000 campers that love to score the best site!
We'll send you the 50 Best Free Campsites in the USA (one per state). Access the list by submitting your email below:
Sours: https://drivinvibin.com/2020/10/14/toyota-rv-camper/
What is it like Driving and Living in a Toyota Motorhome?
Toyota Motorhomes

General Discussion

The place to discuss your Toyota Motorhome if the topic does not fit the categories below

Coach ApplianceTech Issues

Got technical questions and or answers that do not fit in anywhere else? Like my coach lights will not work or my black water tank needs a new valve or how do I install a new water heater, how do I light my stove or what's wrong with my refrigerator?

Electrical

Electrically related problems, fixes and projects.

Improvement and Do-It-Yourself Projects you have done to Share!

Got an improvement project for your RV you would like to share, maybe even the step-by-step details? Then post it here for all to enjoy.
Don't start new question topics here. This is for sharing projects in progress or completed.

Whoops, Mishaps and Murphy's Law

Have you had a misadventure or Murphy made an appearance or you did something really stupid and want to share it for learning purposes and maybe a good laugh? Then post it here!

Communications and Electronics

Cell phones - CB Radio - FRS/GMRS Radio - Ham Radio - Wireless Internet Access - Television - GPS - Backup Cameras

Reviews - New Products - Campgrounds - Links of Interest

Share your review of products, campgrounds, service centers, and links of interest.

Pet Zone

Rallies & Toy Ins

Doing, Going or Been! Share the information here!

RV CHOW

Food, drinks, recipes and stuff

Miscellaneous & Non-related

Share anything non-toyotahome related (AND NON POLITICAL). Let your imagination run wild!

Trip Reports

Gone or going on a great trip that you would like to share with everyone? Let's hear about it!

News - Forum Help & Discussion

The latest in what's happening around here. Need help with the forum? Need help uploading images or changing an avatar? Have suggestions or feedback to offer?

<u>Toyotamotorhomes For Sale - Free Want Ads</u> (77,992 visits to this link)

Place & ViewFREE WANT ADS
Sell or find your RV and other stuff too! This forum is a direct link to the
Want Ads.
Sours: https://toyotamotorhome.org/forums/index.php
Motorhome toyota
Toyota Motorhome History
Today most major motorhome manufactures utilize the Ford E Series chassis to base their motorhome designs on, however back in 1970s they used the Toyota Truck.
This is the truck that the Toyota Tacoma was originally based on, but at the time was simply known as the Toyota Pickup in the United States or the Toyota Hilux in international markets.
Motorhomes were made on the standard duty Toyota truck chassis from 1977 to 1985 before moving to a one-ton cab and chassis in 1986. Motorhome makers continued to fabricate their shells on Toyota trucks until 1993 when weight restrictions caused them to move to the Ford E-Series (E450/550) Econoline chassis.
Models (Brands) & Manufacturers
The top three brands that most enthusiasts are aware of are the Toyota Chinook, Dolphin and Sea Breeze. The Chinook brand was made by Chinook the company while the Dolphin and Sea Breeze where made by the following manufactures.
• Coachman
• Huntsman
• National RV
• New Horizons
• RBR
Other popular Toyota Motorhome models were the Itasca and Winnebago Warrior both made by Winnebago Industries. Lastly Gardner Pacific was responsible for making the popular and iconic Toyota Sunrader Motorhome.
Sours: https://www.toyotarvforsale.com/
$325,000 The Ultimate Toyota Tacoma Luxury Motorhome - Overland Expo 2021
I returned from the flight a day earlier. From the pier, a friend dumped in a wheelbarrow. I ring, ring the door - no one unlocks. I had to throw off the army trunk from my shoulder, look for my keys, which are almost at the very bottom. I am.
Similar news:
Take out to the cemetery one by one, they will not be able to hush up this under any circumstances, I will take care of that. I still have a small chance to raise the wave by presenting the residents of the capital with visual proof - the head of Master Maykep, put on the main square, you can even pin up a sign for clarity, but.
I will not do this, the Council will easily assure everyone that this is a fake and the count himself drove off to hell with. A secret mission for six months or a year, they will believe, not all, but the majority, and that is quite enough.
1452
1453
1454
1455
1456