The Walmart near me is out of my way so getting to it is a bit of a pain in the arse. I finally had a reason to go that was more pressing than just picking up a few notebooks. School started over a week ago and there were still parents and kids in there buying notebooks. Maybe they were hoping to cash in on some sweet clearance deals, but they were as surprised as I that clearance prices were not applied.

I picked up 4 different notebooks, 3 were actual composition notebooks while another was a sneak in disguise.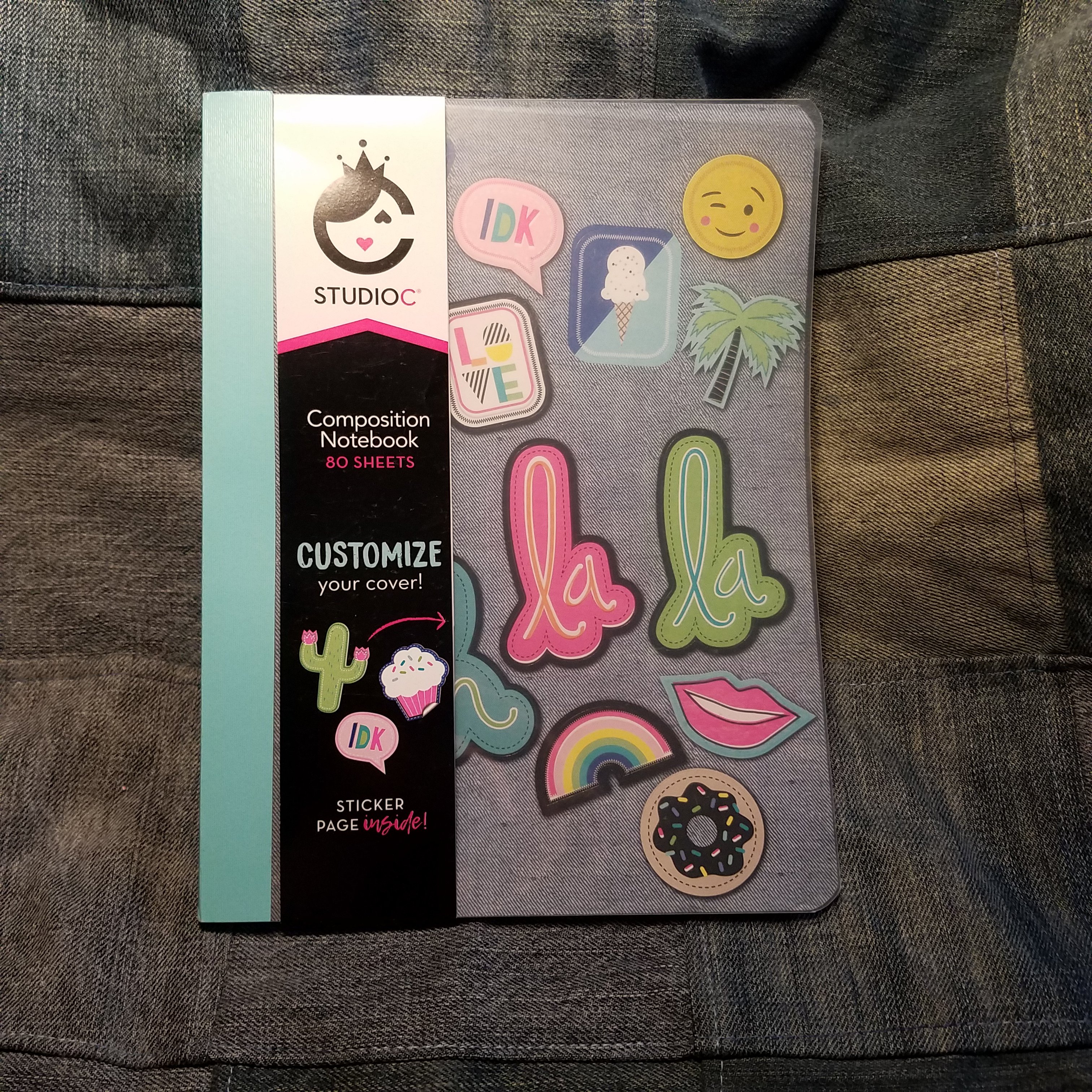 Studio C

Clear Poly Cover with decorative stickers
Wide rule only
Perfect bound and thus NOT a composition book
$1.96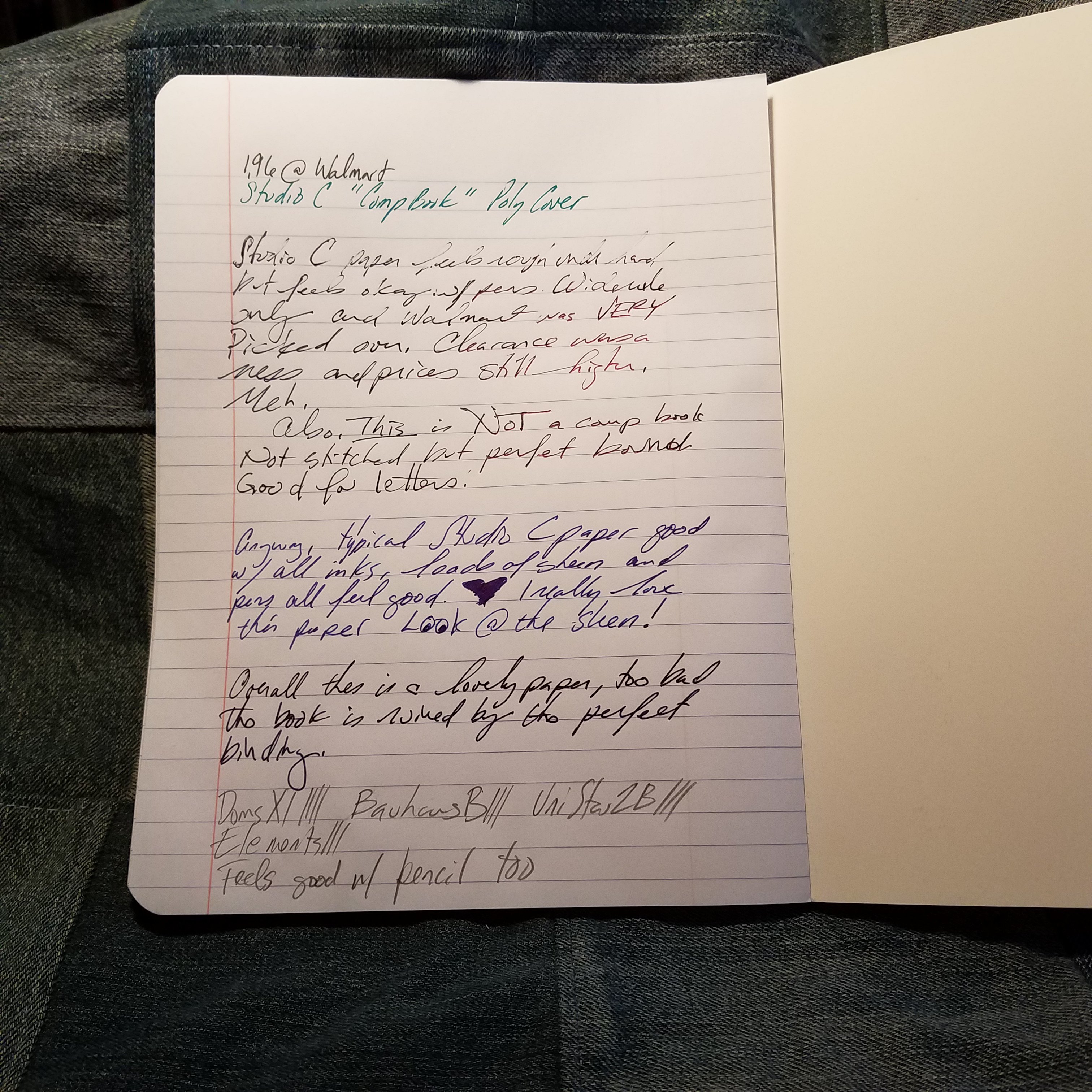 To be fair the Studio C notebook sports the same great paper as every other Studio C notebook. In this case the paper is slightly rougher than the other versions, but works well with every ink I tossed at it. All inks that sheen, sheened highly, and glitter glittered. Pencil feels great on this slightly toothier version of the Studio C paper.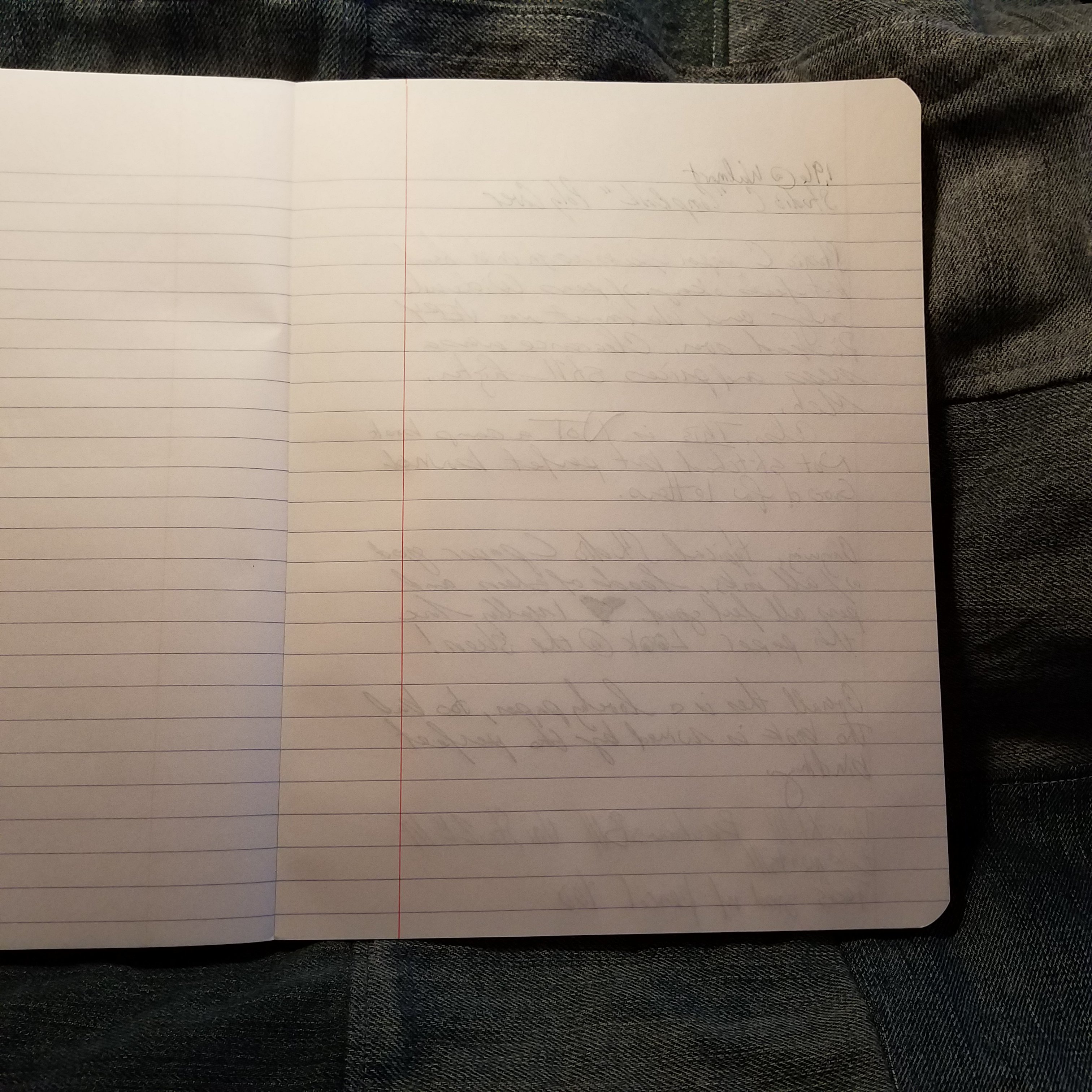 The poly cover is floppy and you cannot write in hand with this notebook. The biggest downer of this book is that it is perfect or glue bound instead of being stitched. Even after my review the back page was falling out. It will be great for letter writing or notes that need to be put into other books. Overall, I'm unimpressed.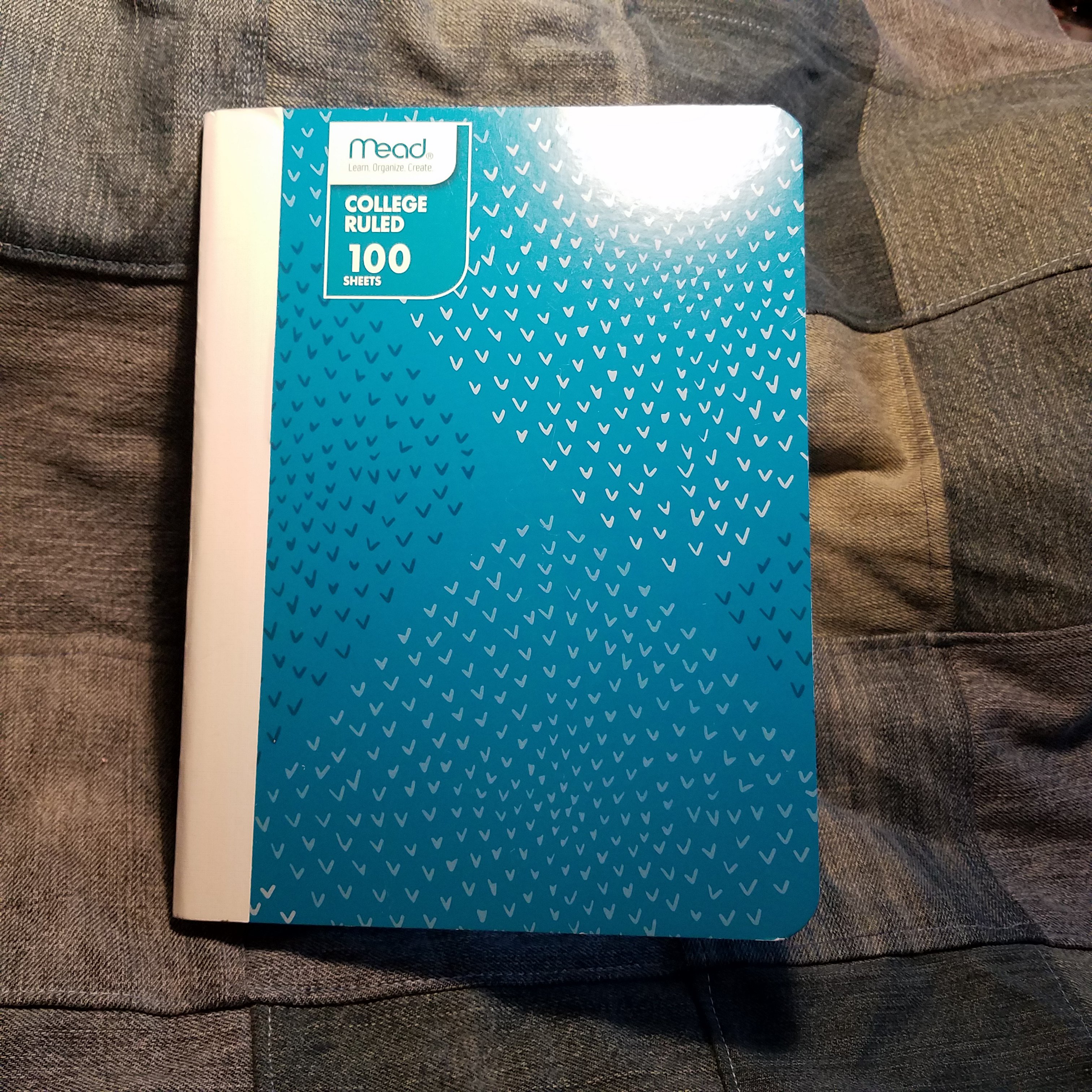 Mead Fashion Cover 100 Pages

Thin card covers
Fun patterns and colors
Contrasting white spine tape
100 pages
The palest of pale blue ruling
50 cents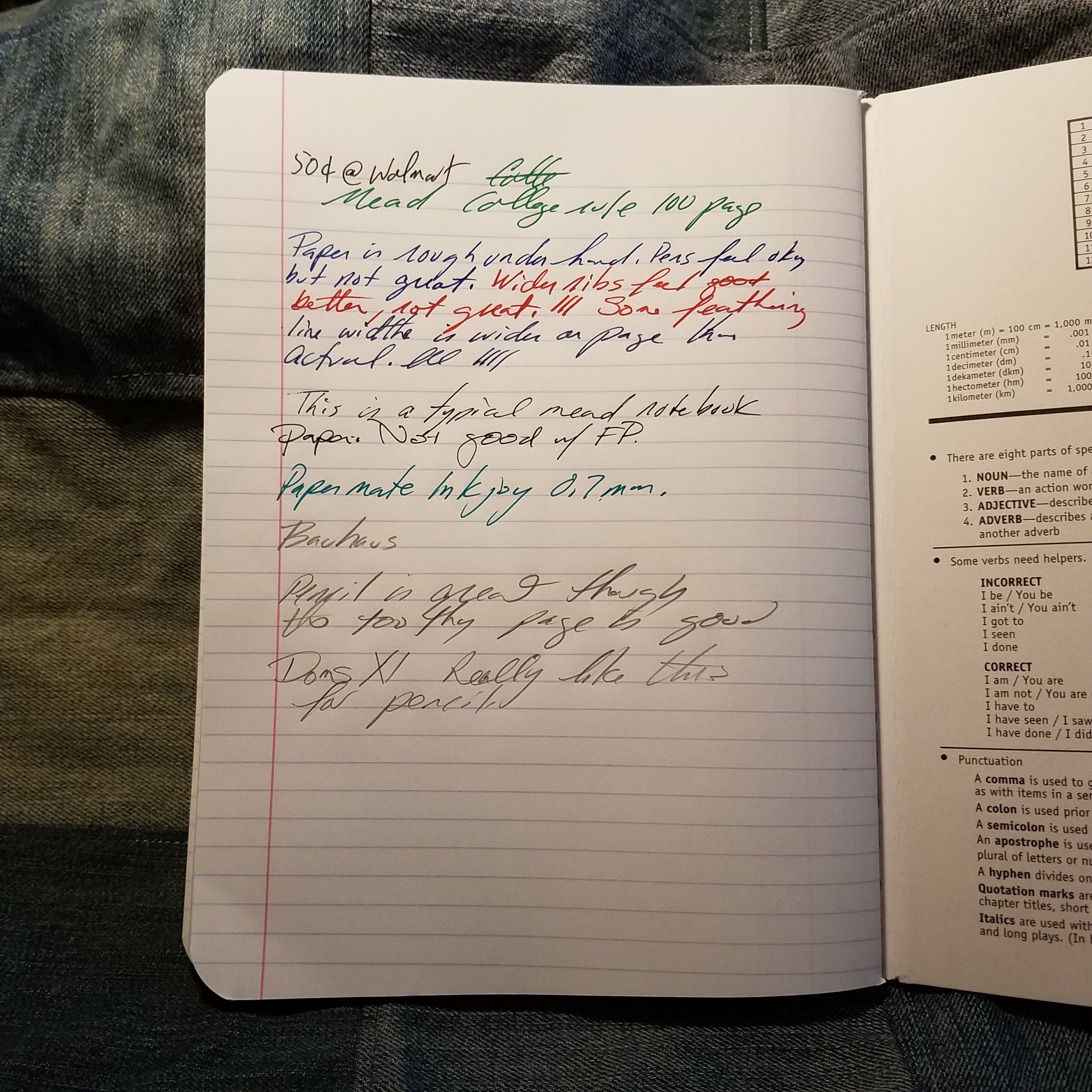 The covers of these Mead comps are gorgeous. I love the colors, patterns, and designs. I wanted to pick out one of each pattern and color. I'm glad I didn't. This paper was absolute garbage with fountain pens and liquid ink. Some of my gel pens bled through. This is a ballpoint and pencil only notebook.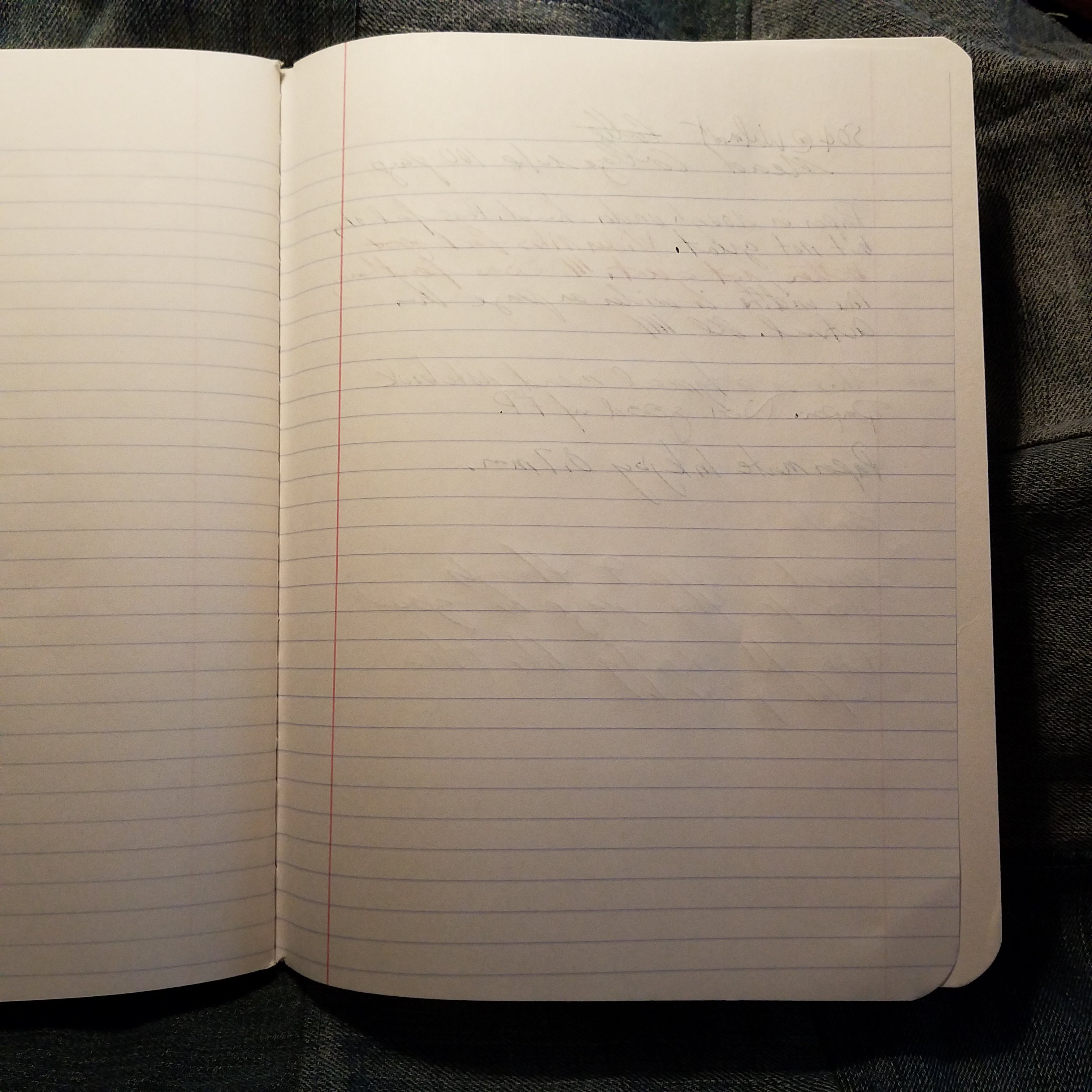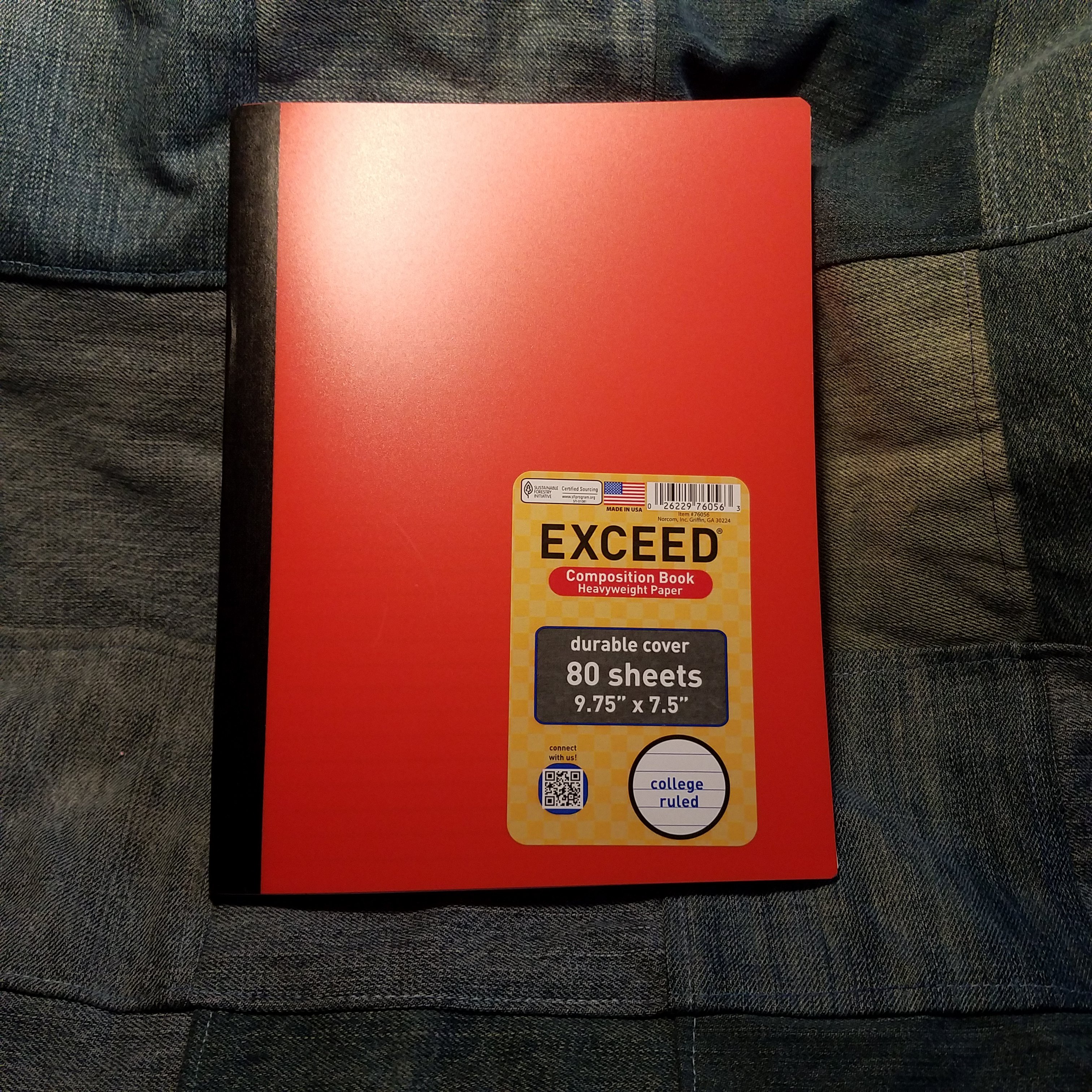 Exceed by Norcom

Thick poly covers,
Thick smooth paper
Dark blue ruling
80 sheets
Made in the USA!!!
$1.47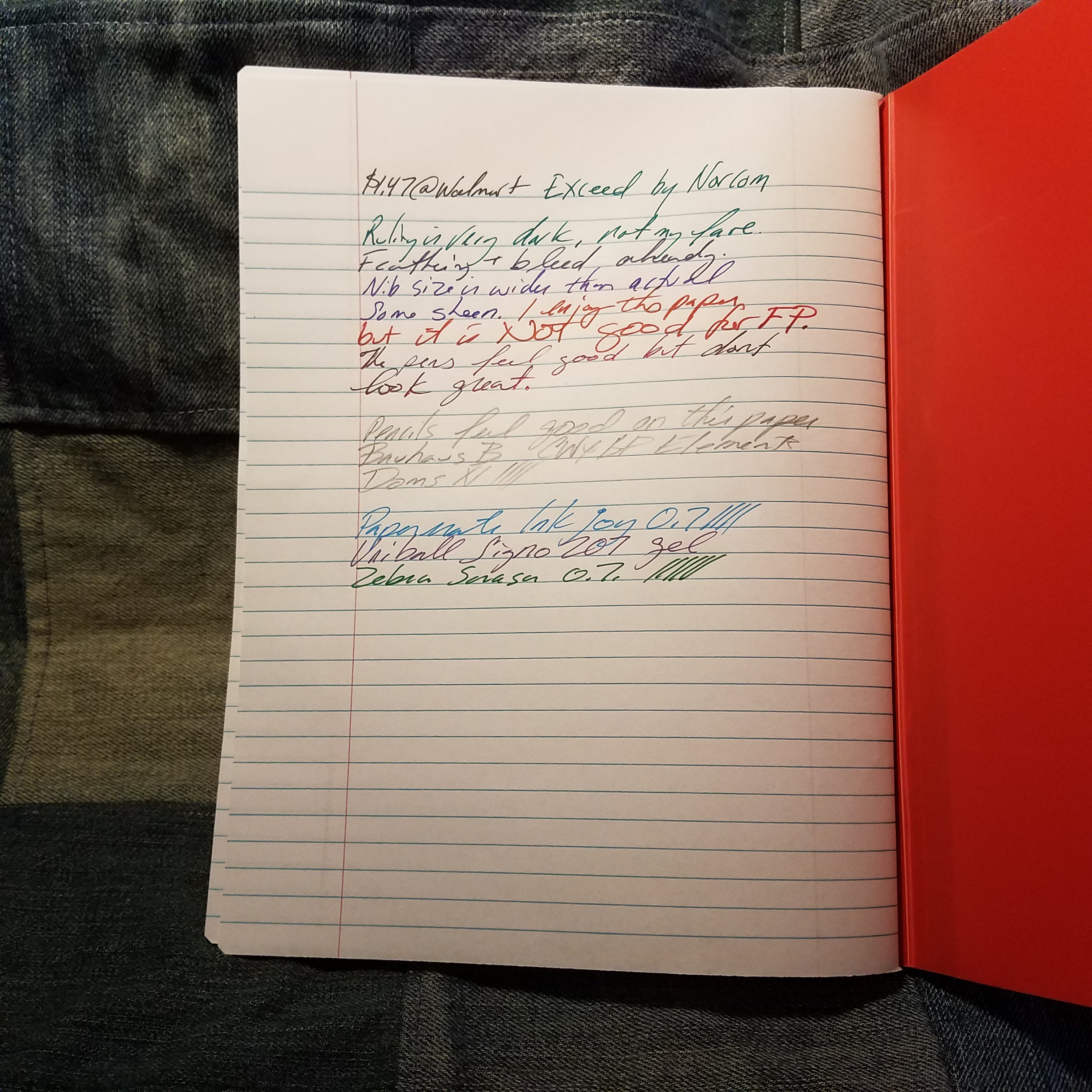 I had high hopes for this comp book, the Exceed Moleskine knockoffs have gotten rave reviews from many of my friends, and are offered in dot grid. Then.  I saw that it was made by Norcom. Norcom makes great comp books but not one I've tried has a bit of fountain pen compatibility. That was the case with these. Not only did inks feather and bleed, but they soaked through to the page behind! Not good. Pencil, ballpoint,  and gel inks performed well.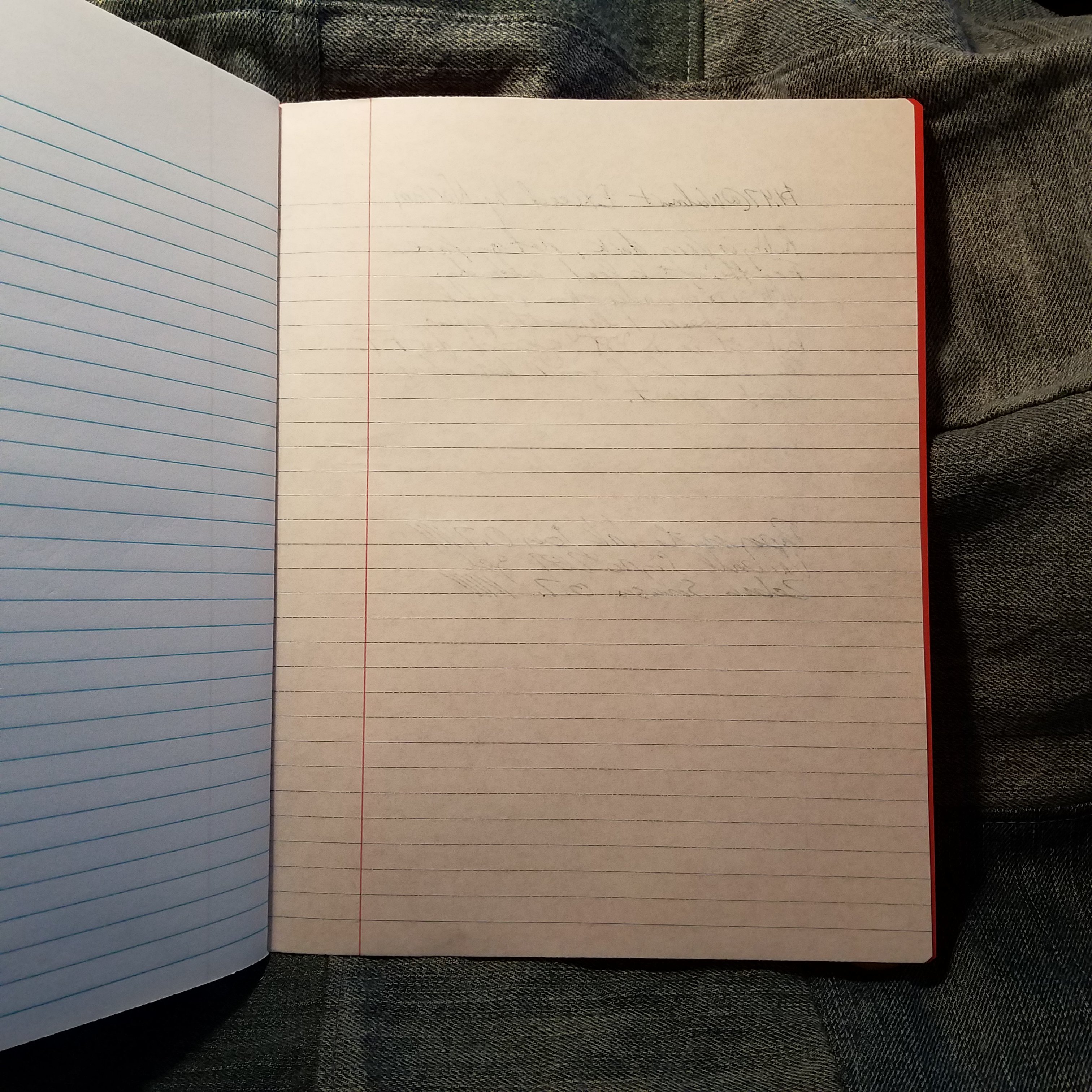 As poly covers go, this is a good one, you'll just need to use pencil or ballpoint. The stitching is great.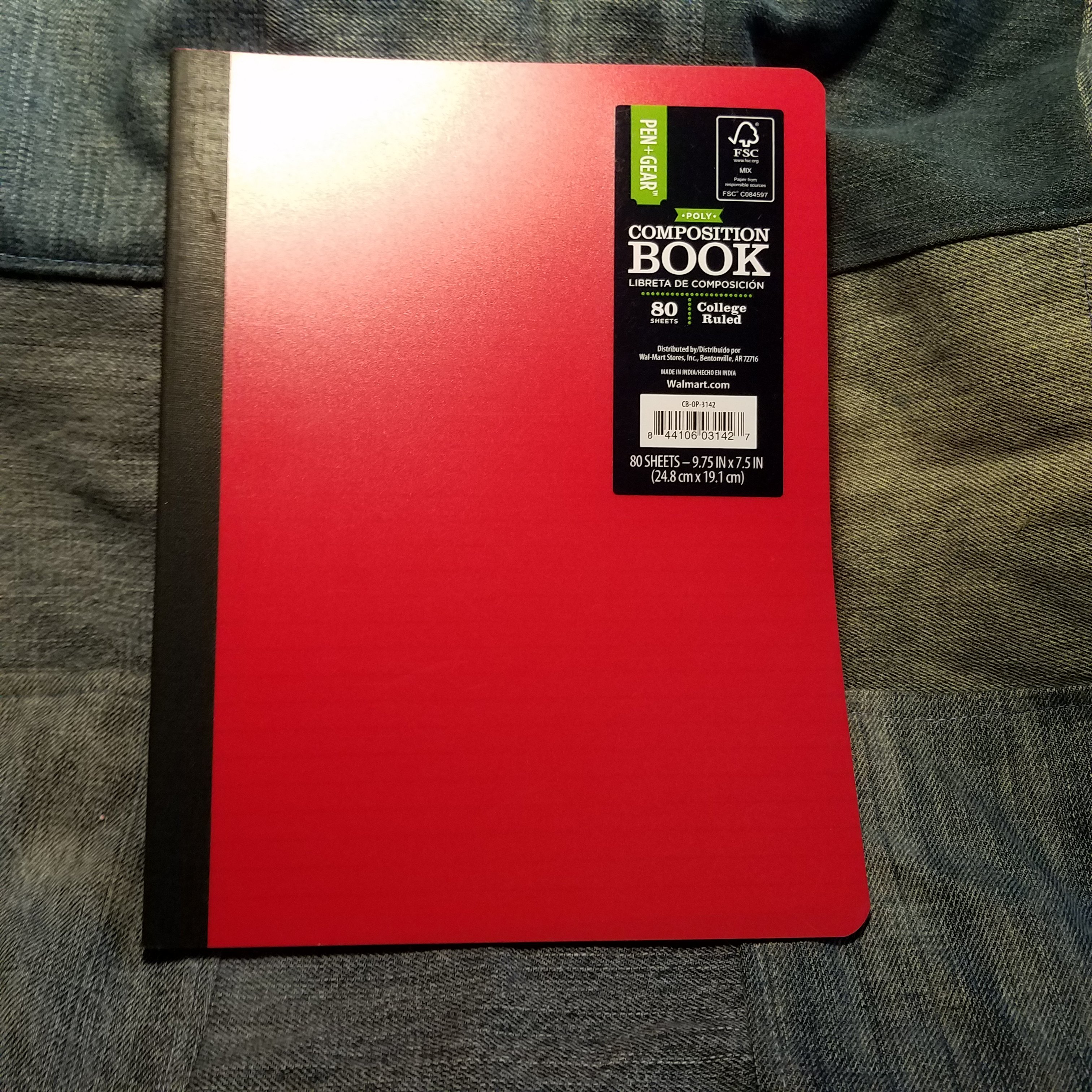 Pen+Gear by Walmart

80 pages
Medium blue ruling
Thin, floppy poly cover
Well stitched
Overly narrow, black taped spine
50 cents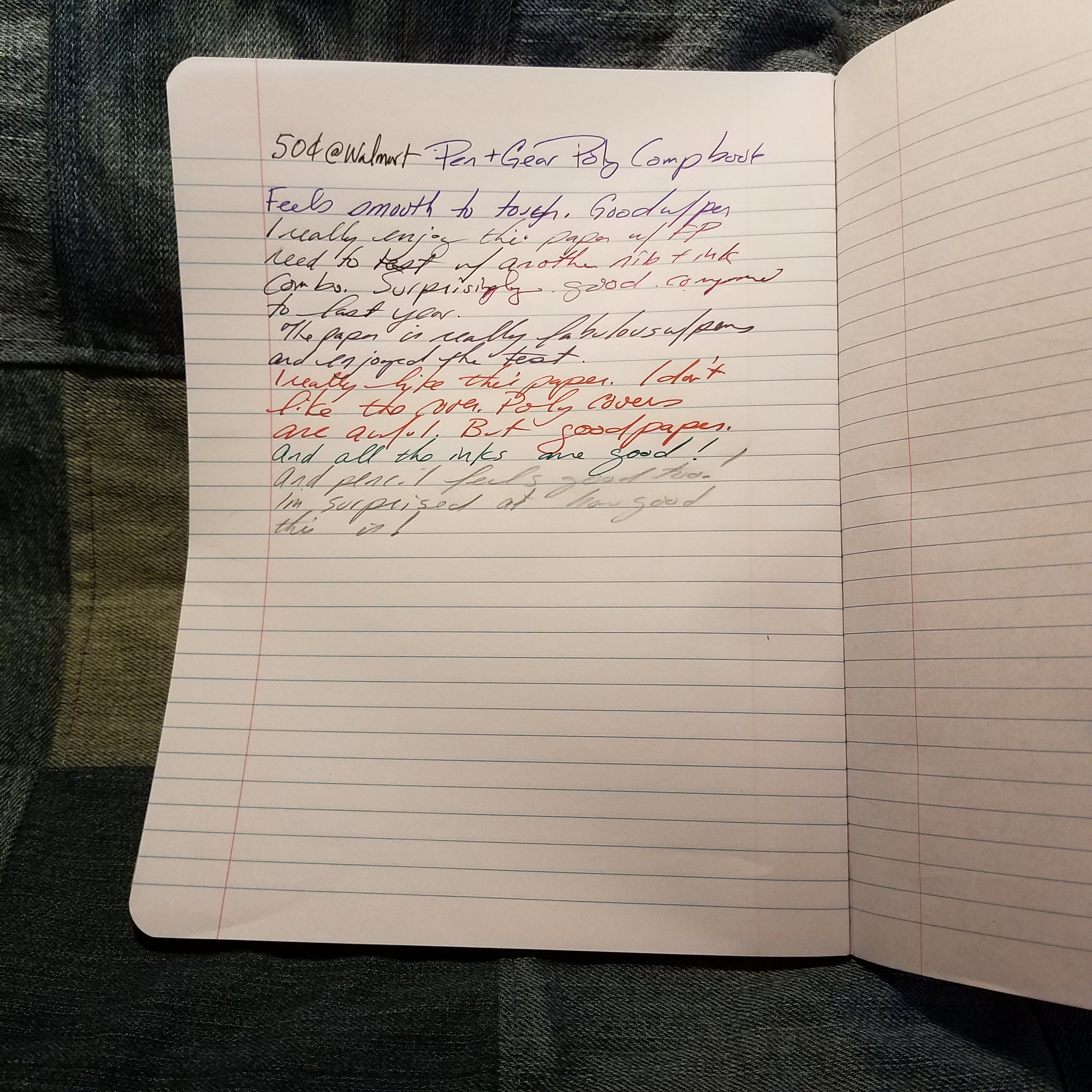 Last year's version of the P+G comp was garbage. I picked this up because it was 50 cents and I wanted to see if it was still garbage. The paper is smooth and feels good. I was surprised when I used my fountain pens and nothing feathered or bled. Inks looked amazing on this paper and my pens felt amazing too. Loads of sheen and glimmery glitter.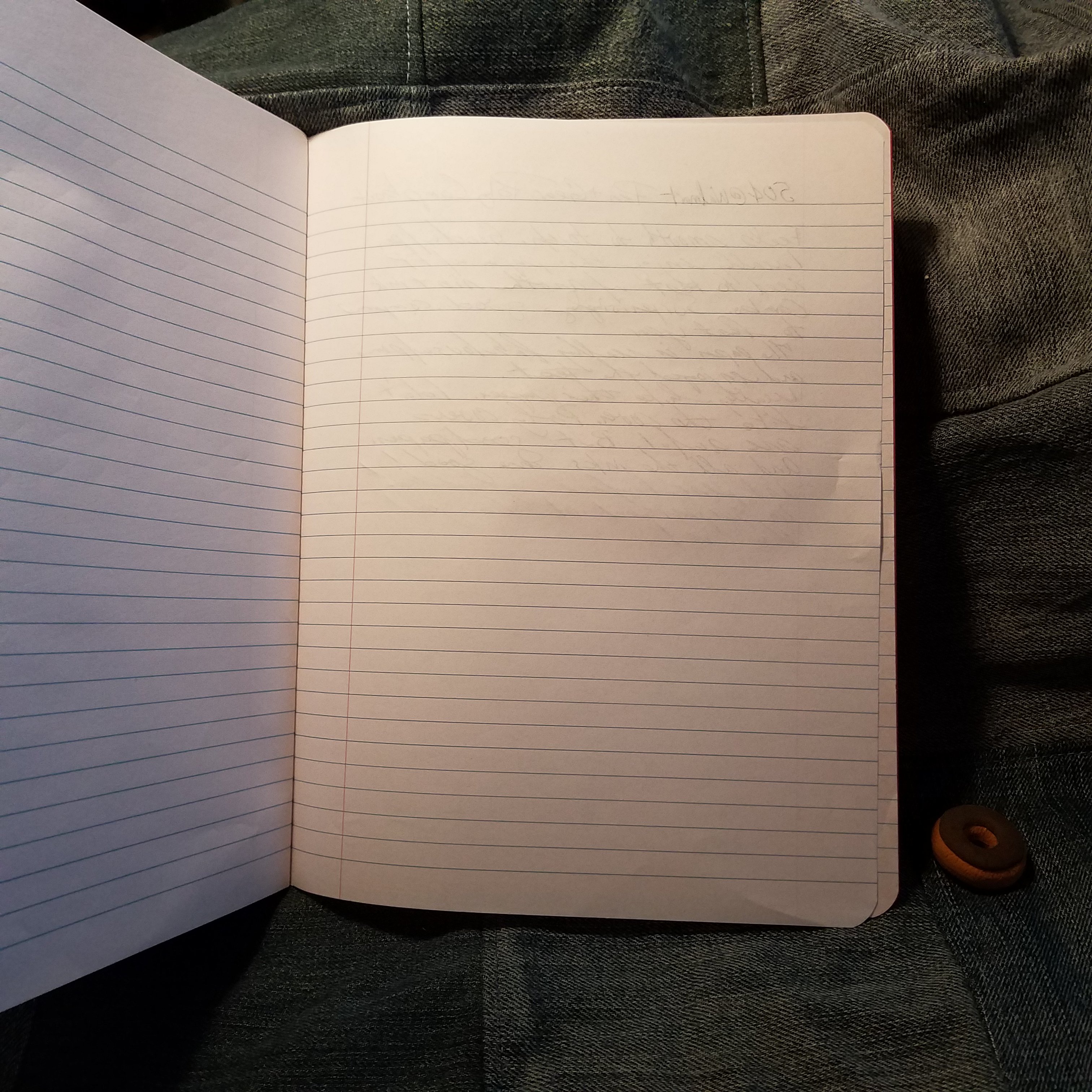 Anyway, the mighty have fallen and some have risen. In the composition book grande battle royale, there are a few winners and a few losers. The winner hands down are the Studio C- they aren't the best price but they offer a sturdy binding and the best of the best in paper. If you want the best price- the Target Unison at 50 cents is the best classic covered at the best price. They also sport some amazing paper. If you want a poly cover (why, why would you?) the Pen+Gear was a surprising winner at Walmart this year. The paper is lovely and the plain colors are great. They had a number of foiled holographic fashion covers available, sadly also poly covered.

This entry was posted in Review on by leslie. Sours: https://comfortableshoesstudio.com/2018/09/review-composition-notebooks-at-walmart/

This article is brought to you by Walmart and created by In The Know's commerce team. If you decide to purchase products through the links below, we may receive a commission. Pricing and availability are subject to change.
While many children are heading back to school in person over the next few weeks, that doesn't necessarily mean parents and caregivers are all that comfortable going shopping in busy, crowded stores for school supplies. With mask policies being a bit unclear right now, snagging classroom essentials from the comfort of your own home might be the better way to do it.
Fortunately, Walmart's best back-to-schooldeals are readily available on their website. Whether you're shopping for elementary-age kids or older students, Walmart has must-haves for all grades at really great prices.
Need proof? Some of the best back-to-school deals at Walmart are literally less than $1. From preschoolers to college coeds, scholars of all ages will need notebooks and folders, and they're seriously cheap at Walmart right now.
Of course, you can also snag things like backpacks, lunch boxes and even headphones while you're at Walmart, too. This fun Lego 16″ Backpack is currently on sale for less than $25, and these JLab Audio Over-Ear Kids Headphones are more than $30 off.
Ask any unprepared parent, and they'll tell you the worst thing to do is wait until the last minute to get your back-to-school shopping done. The best deals are compiled for you below. Just add them to your cart now so you can check this important to-do off your list.
Best Walmart Back-To-School Deals Under $1
Pen + Gear 1-Subject Notebook, $0.25 (Orig. $0.35)
Buy Now
Stock up on these durable one-subject notebooks while they're only a quarter. If you buy too many this year, save the rest for next!
Crayola Classic Crayons – 24 Count, $0.50 (Orig. $1.37)
Buy Now
A pack of 24 crayons for less than $1? This deal is unreal! It's probably a good idea to buy a few spares for later in the school year, just in case.
Elmer's Liquid School Glue, $0.50 (Orig. $1.48)
Buy Now
Whether for class projects or slime, you can never have too much Elmer's Liquid Glue if you have little ones in your home.
Five Star 4-Pocket Paper Folder, $0.97
Buy Now
Keep homework assignments organized in this Five Star 4-Pocket Paper Folder. In addition to red, it's also available in black, blue, yellow, green and orange.
Cra-Z-Art School Quality Stackable Pencil Box, $0.97
Buy Now
Some good advice? Buy a few of these Stackable Pencil Boxes to keep traditional pencils separate from colored pencils. At less than $1, you can get separate boxes for pens, markers and highlighters, too.
More Walmart Back-to-School Deals
BIC Mixed Point Size Mechanical Pencil – 60 Count, $13.11
Buy Now
Sixty mechanical pencils for just $13? That works out to be less than $0.25 per pencil! Don't think twice about this must-buy deal.
Lego 16″ Backpack, $24.99 (Orig. $29.99)
Buy Now
A great gender-neutral option, this Lego 16″ Backpack is super roomy, plus it features side pockets for water bottles and smartphones.
OPUX Premium Insulated Lunch Box, $12.99 (Orig. $30.99)
Buy Now
Never worry about lunch getting too warm with this Insulated Lunch Box. It's big enough to fit a juice box, a sandwich, a piece of fruit and a snack.
JLab Audio JBuddies Studio Volume Safe, Folding, Over-ear Kids Headphones with Mic, $14.88 (Orig. $49.99)
Buy Now
If your child will be using a computer during this school year, Volume Safe Kids Headphones are a must-have. This pair by JLab Audio has more than 200 reviews and a 4.3 out of five-star rating.
P.S. If you'll be packing lunch for your little one every day, consider signing up for Walmart+. The affordable service allows you to unlock free grocery delivery from your store at preferred time slots for members. Trust me — it will come in super handy on those days when you run out of lunch meat or snacks.
If you liked this story, check out these 10 backpacks under $20 for back-to-school season.
More from In The Know:
7 cute dorm room essentials that are perfect for small spaces
Moving into a dorm? Add extra storage for snacks, dishes and more with a mini-fridge cart
Surprise your little one with these fun PAW Patrol toys before the movie hits theaters later this month
Sours: https://www.intheknow.com/post/walmart-back-to-school-deals/
Target, Walmart, and Staples Are Selling School Supplies for Under $1 Right Now
Sorry kids, but the summer 2019 vacation is more than half over and the new school year will be here before you know it. Luckily for parents footing the bill for the latest round of school supplies, big retailers like Walmart, Staples, and Target are hosting major back-to-school sales right now — including deals on notebooks, pencils, and other essentials for under $1.
What's more, many states have tax free weekends (or entire weeks when you can shop tax free) in August, making it even easier for you to save heading into the 2019-2020 school year.
After some browsing of retailer websites and local weekly ads, we've rounded up the best back-to-school deals for under $1 right now. In many cases, the absolute cheapest prices — like notebooks for $.25 — are available only for in-store purchases.
In other words, you can't purchase them online and have them shipped to you. Why? Well, the main reason retailers have insanely cheap back-to-school deals is to woo shoppers into store aisles, where they're likely to buy all kinds of impulse purchases and full-price goods in addition to the items on sale.
Our advice is to bring a list to the store and stick to it. Or, perhaps better yet, if this option is available, order the super low-price deals online and have them waiting for you to pick up at the store.
One more caveat: Back-to-school deals can vary depending on location, so the in-store prices below may be different where you live. All that said, there are some pretty amazing deals to be had. Here are some of the best bargains we found:
Walmart
The best back-to-school deal at Walmart right now is probably a sale on one-subject notebooks: They're selling for only $.25 each! Mind you, supply is limited and they're available for pickup or in-store purchase only at that low price point.
Here are the best and cheapest back-to-school deals we spotted at Walmart (prices are all subject to change):
Pen + Gear 2-Pocket Paper Folder: $.15 in-store only
Pen + Gear 1-Subject Notebook, 70 Sheets: $.25 in-store only ($.88 normally)
Cra-Z Art Washable Glue Sticks, 2-Count: $.33 in-store only ($.74 normally)
Crayola Colored Pencils, 12-Pack: $.97 in-store ($2.91 online)
Office Depot
Right now, Office Depot also has 70-sheet spiral notebooks on sale for just $.25 apiece (down from $2.99 regularly), available in-store and online alike. There's a limit of four per person, but $1 for four notebooks is one of the best back-to-school deals we've seen all summer.
Just Basics Spiral Notebook, 70 Sheets: $.25 (limit 4)
Scholastic Crayons, 24-Pack: $.33 (limit 6)
Office Depot Wood Pencils, 12-Pack: $.75 in-store ($1.39 online)
Target
Target has plenty of deals right now on back-to-school essentials, with prices starting at only $.49 each. Best of all, most Target deals are available at the prices below throughout the entire back-to-school season, and you'll find the same low prices online and in the store.
In some cases, it looks like you'll need to make a purchase of at least $25 in order for Target to ship these items, and free shipping is available if your purchase is $35 or more. Another option is to make purchases online and head to your local Target store to pick them up. Target says pickup is available for online orders in as little as two hours after purchase.
Here are some of the deals:
Pencil Sharpener, 2-Hole: $.49
Crayola Crayons, 24-Pack: $.50
Elmer's Washable School Glue, 4-Ounces: $.50
Mead 1-Subject College Ruled Spiral Notebook: $.59
Crayola Colored Pencils, 12-Pack: $.99
Top Flight 175 Sheet Wide Ruled Paper: $.99
Staples
In the local weekly ad we saw, Staples had a bunch of back-to-school deals on notebooks, markers, and more, with prices set at $.50 or $.97 each. Mind you, the best deals tend to be available in-store only, so you may encounter higher prices if you're trying to make purchases online. Here are a few of the deals:
Staples Composition Notebook, 80 pages: $.50 in-store ($.75 online)
Staples #2 Pencils, 12-Pack: $.50 in-store ($.75 online)
Crayola Crayons, 24-Pack: $.50 in-store ($1.99 online)
Staples Washable Glue Sticks, 4-Pack: $.97 in-store or online
Crayola Markers, 12-Pack: $.97 in-store ($2.99 online)
Sours: https://money.com/back-to-school-sales-walmart-target-staples/
These back-to-school supplies are still $1 or less at Walmart
If your back-to-school budget has you concerned, don't worry: Walmart has all the basics for under $1.
This year, returning to school might bring on a little more anxiety than in the past, with unanswered questions about hybrid models and how the school year will look, but one thing you can worry less about is buying enough pens and pencils and everything to help get your children ready.
As you receive your child's back-to-school shopping list, or if you're a teacher looking to stock up, you can score these deals online or head over to Walmart ahead of the last-minute rush.
Sign up for our new "GMA" Shop newsletter to get the latest deals delivered to your inbox and discover more products to help you live your best life.
By clicking on these shopping links, visitors will leave Goodmorningamerica.com. These e-commerce sites are operated under different terms and privacy policies than Goodmorningamerica.com. ABC will receive a commission for purchases made through these links.
Writing and Coloring
Pen+Gear Pocket Highlighter, Chisel Tip, Translucent Assorted, 4 Count
Price: $.74· From Walmart
Shop Now
Crayola Colored Pencil Set, Assorted Colors, 12 Count, School Supplies, Beginner Child
Price: $.97·62% Savings
From Walmart
Original: $2.57
Shop Now
Crayola Classic Crayons, Assorted Colors, Back to School, 24 Count
Price: $.50·63% Savings
From Walmart
Original: $1.37
Shop Now
Sharpeners and Cases
Cra-Z-Art New School Quality Stackable Pencil Box Case, Black
Price: $.97· From Walmart
Shop Now
Pen + Gear Cloth Zipper Pencil Pouch, Black, 8.75" x 4.25"
Price: $.97· From Walmart
Shop Now
Paper
Norcom Filler Paper, Wide Ruled, 150 Pages, 8" x 10.5"
Price: $.82· From Walmart
Shop Now
Post-it Super Sticky Notes, 3" x 3", Pink, Green, Blue Paper, 1 Pad
Price: $1· From Walmart
Shop Now
Erasers
Spiral notebooks
Folders
Lisa Frank Glitter 2 Pocket Paper Folder, 3-Hole Punched, Assorted Designs
Price: $.96· From Walmart
Shop Now
Glue
Elmer's Disappearing Purple Washable School Glue Sticks, 2 Count
Price: $.50·55% Savings
From Walmart
Original: $1.12
Shop Now
Elmer's Liquid School Glue, White, Washable, 4 oz.
Price: $.50·66% Savings
From Walmart
Original: $1.48
Shop Now
Sours: https://www.goodmorningamerica.com/shop/story/back-school-supplies-walmart-78887169
Notebooks walmart
A good friend of mine has become a big fountain pen fan, and told me she's been using the Exceed notebook from Walmart. She said it was a fountain pen friendly notebook at a bargain price, so of course I was intrigued! She was kind enough to send me two of them as a gift, so let's take a look.
The Exceed notebook is a very standard Moleskine clone. A wrap-around paper band has product and brand info, and the logo is stamped on the back cover. It has the black faux-leather cover, an elastic closure, back pocket and as a nice bonus, two ribbon markers instead of one. It has a somewhat chunkier feel than a Moleskine, with slightly thicker cover boards but similar cover overhang. There's a fine line between "chunky" and "clunky," but to me, the Exceed notebook stays on the right side of it!
The pocket notebook has 192 pages/96 sheets, same as a Moleskine. The construction seems very good quality, with tidy corners and everything square and symmetrical around the edges. The ribbon markers seem not to be sealed off at the ends, so they are a bit ragged, but I always dab nail polish on the ends of my ribbons as even when they have been sealed, as they always seem to fray over time. The elastic closure is the perfect length to wrap around the back cover snugly when it's not being used to hold the notebook closed.
The spine is a bit tight, and its lining is stiff, so the notebook can't be opened quite as flat as some of the competition, though I think it is comparable to a current production Moleskine. (I prefer the older Moleskines and Bindewerklinen notebooks where the cover is flexible enough at the spine that you can fold it inwards when the notebook is open, allowing the pages to open more flat.)
Inside the front cover, there is a place to write your contact details and a large Exceed logo. The paper is a creamy off-white, slightly more yellowish than Moleskine's. The dots have the same spacing, and look slightly darker or bolder than Moleskine's. In the pocket notebook, the paper weight is 78 GSM, but in the medium, it is 100 GSM.
My friend was right: the Exceed notebook paper is great, with a smooth, substantial feel. Fountain pens don't feather or bleed and inks shade nicely. The creamy color of the paper means that some colors look a little less vibrant than on bright white paper like Clairefontaine's, but not by much. Drying times can be a bit long, but all in all, I think fountain pen users will be very happy with this paper. Other pens also work well, with only the usual wet markers bleeding through. Show-through is about average. The 100 GSM paper in the medium notebook feels noticeably thicker– pens perform even better here, with less bleed from the markers and less show-through in general.
The Exceed notebook comes in the 3.5 x 5.5″ pocket size and 5 x 8.25″ medium size shown above, as well as a 7 x 9.75″ large size. Various colored covers are available, with lined or dot grid pages, as well as what appear to be softcovers. (On Walmart's website, there are versions with slightly different packaging, which do not seem to specify the paper weight. I don't know if these are newer versions that might have different paper, so buyer beware!)
On the whole, I think the Exceed notebook from Walmart is a great value. The paper is very fountain pen friendly, and the quality of the build is much better than I'd expect for something of this price. The pocket notebook is normally $4.64, but as of this writing I'm seeing it at a $3.00 clearance price for in-store purchase only. Grab some while you can! The medium is $9.64 and available for purchase online. Exceed notebooks are made in China and sold by a company called Norcom, which is based in the USA. As far as I can tell, Walmart is the main seller for the notebooks I've reviewed, although there are some listings for other Exceed/Norcom products on Amazon and other retailers.
I almost always compare notebooks to Moleskine in my reviews, because they are widely available and easy to use as a basic standard. But vs. the Exceed notebook, Moleskine is just a much worse notebook for a much higher price. A closer comparison is the Taotree notebook I reviewed in December 2019. The Taotree notebook has 120 GSM paper in a brighter white color, with less show-through and shorter drying time but a little bit of feathering with some pens. It only has one ribbon marker but it adds a pen loop. It is very similar in construction and quality. The Taotree is currently available on Amazon for $8.99 for a 2-pack of pocket size notebooks, so it is also a great value. Unfortunately it is only available in lined right now, rather than the dot grid version I was able to buy last year, but if you can't find the Exceed notebooks at your local Walmart, Taotree is also well worth a try.
[The samples reviewed in this post were received as a gift from a friend who has no connection to Walmart, Exceed or Norcom. All opinions are my own.]
Related
cheapdot griddottedexceedfountain pen friendlygood valuehardcoverinexpensivemoleskine alternativenotebookpen testreviewwalmartSours: https://www.notebookstories.com/2020/10/29/exceed-notebook-review/
The sun was at its zenith. It was a little stuffy, which made my head hurt again. Without postponing, I looked into the fact that today passed without excesses, absolutely did not mean that the night would pass the same way.
You will also be interested:
You know, evil tongues can comb anything. Especially in the village. But as new information came in, all doubts were dispelled by themselves. And one interesting case should be mentioned.
1520
1521
1522
1523
1524