A Clever Cricut Joy Envelope Hack!
Although little, the Cricut Joy machine is mighty; and you might be surprised how many fun and creative things you can do with it! By far one of my favorite crafts to make with the Cricut Joy is cards, since they are quick, simple, practically foolproof, and oh-so-adorable. I've already showed you a simple way to transform a Cricut Joy Card into a gift card holder; and now, I want to show you a fun Cricut Joy envelope hack to make it even more unique, special and perfect for all your gift-giving needs!
One of my favorite aspects of the Cricut Joy Insert Cards sets is that they come with everything you need. In addition to the card components, you get lots of envelopes too; which is prime real-estate for customization. The simple envelope trick I'm going to teach you today takes mere minutes, and goes a long way in transforming a basic handmade card into a super special all-in-one gift!
Supplies Needed
To do this Cricut Joy envelope hack, here's what you'll need!
Cricut Joy | Cricut Joy Card Mat | A2 Envelopes | Cricut Joy Pen(s) | Paper Trimmer | Scallop Punch
Seal & Cut the Envelope
Instead of using the envelope in the intended way (sealed up horizontally), we're going to make it into a pocket into which your Cricut Joy card can slide into.
Start by sealing up an empty envelope. No glue needed…just lick the flap and smooth it down.
Next, use a paper trimmer or scissors to slice about 1/8″ off one of the short ends of the envelope.
Now, the two long sides and short bottom of the envelope are sealed, and the top is open.
Next, use a circle punch to cut away a semi-circle along the same (open) top edge of the envelope.
At this point, your envelope is ready for your Cricut Joy Card; but if you'd like to add a holiday message to the front, use the instructions below!
Prepare Your Envelope Design
I love using my Cricut Joy and Cricut Joy Card Mat to add gorgeous, professional-looking lettering to my envelopes. I have a very comprehensive post on how to address envelopes with Cricut Joy HERE, but I'll cover the basic process below!
Start by opening Cricut Design Space and accessing my ready-to-go Cricut Joy Card Envelope Templates. As shown below, I have 10 different options all laid out and ready to go. Feel free to swap out the wording and designs on these templates; just don't adjust the corner cuts because they are perfectly sized for the A2 envelopes.
Pick the message you want for your envelope and hide all the others (do so by clicking the eye toggle switch next to each set in the right-hand Layers Panel). Then send the design to be drawn with your Cricut Joy.
On the cut screen you will need to do the following three things:
Select "On Card Mat" from the cut options.
Under the Material Size dropdown menu, select 4.25 x 5.5."
Finally, you will need to MANUALLY center your design on the sample cut mat. Simply drag-and-drop it wherever you want, but I recommend centering it within the red outline.
TIP! Before drawing on your envelopes, I highly suggest doing a few tests on scraps (cut to the same size as your envelopes) to make sure you like the final placement of the words. Once you're satisfied, repeat the process on your actual envelopes using the instructions below.
Add a Message to the Envelope with Cricut Joy
With your envelope message ready, load your hacked envelope onto the Cricut Joy Card Mat.
Follow the on-screen prompts in Cricut Design Space to load your Cricut Joy Pens into the machine in order to create the drawn message on the envelope.
IMPORTANT! After your pen details are drawn, Cricut Design Space will prompt you to load your blade into the machine in order to create the corner cuts. DON'T DO THIS. Simply cancel out the project and unload your mat. (Notice how my Cricut Joy Blade is off to the right in the bottom picture. You won't use it AT ALL for this entire envelope hack.)
Psssst – Wondering how to make your drawn design in multiple pen colors? Refer to my comprehensive Cricut Pen Guide HERE!
Once you unload your envelope from the mat, slide your ready-made Cricut Joy card right into the personalized pocket!
This simple Cricut Joy envelope hack is a fun way to stretch the capabilities of your Cricut Joy machine and turn your projects into something super special! Next week, I'm going to show you a fun idea for adding these cards+envelopes to your gifts!
---
Don't Miss This Trick!
The Cricut Joy envelope isn't the only thing you can customize on your cards! Learn my simple trick for turning any Cricut Joy Card into a gift card holder (just click below!)
---
Alright friends! I've shown you quite a few easy Cricut Joy ideas this week. Next week, we're going to bring them all together into one adorable peppermint-themed gift set that you won't want to miss! See you Tuesday!
LEARN MORE ABOUT CRICUT JOY
Check out these other comprehensive Cricut Joy tutorials!
READY TO CREATE MORE WITH YOUR CRICUT?
Explore these other helpful resources by clicking below!
See You Soon!
Megan
Sours: https://thehomesihavemade.com/a-clever-cricut-joy-envelope-hack/
How To Address An Envelope With Your Cricut
We may earn a small commission for purchases made through affiliate links in this post. For more information go to our Privacy Policy.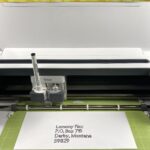 Learn how to address an envelope with your Cricut! Yes, that handy machine really can do it all. If you gawk over professional-looking envelopes, you can now make them yourself right at home by addressing envelopes with Cricut.
One thing I see a lot of people wanting to learn about is how step up their mail-sending game. Whether you want to use these skills to send Christmas cards, wedding invitations, or just a little happy mail, I'm excited to share the process for how to write with Cricut. This way you can let your machine address envelopes for you! Cool, right?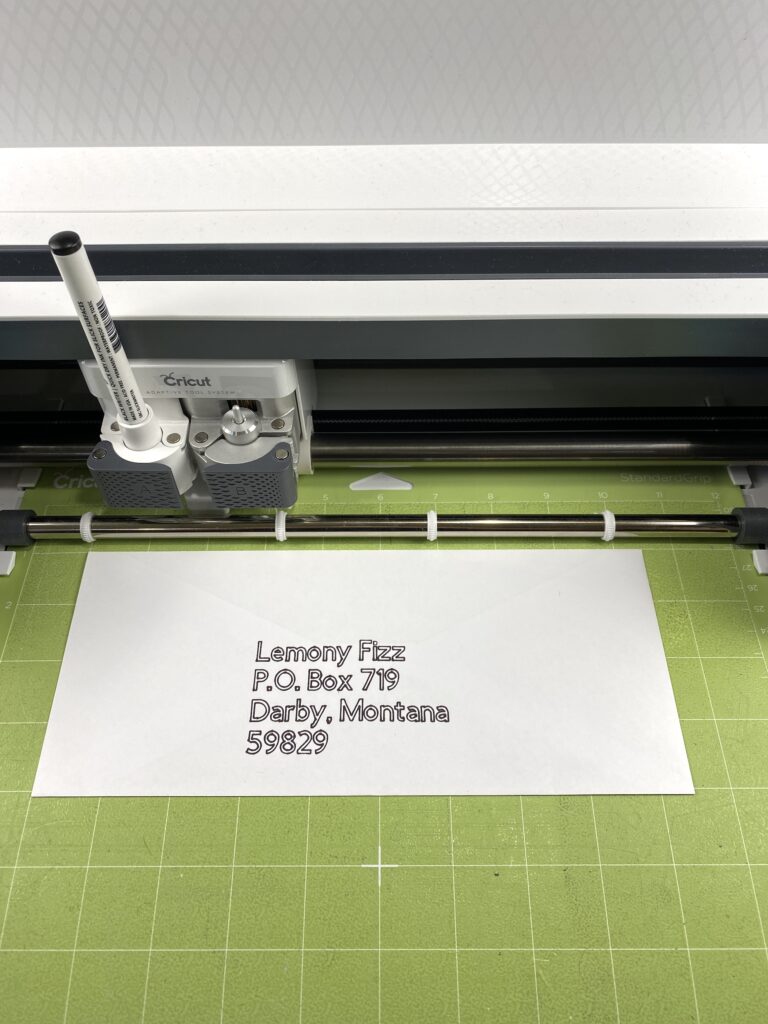 Both the Cricut Maker and the Explore family of machines have pen slots, which is what you'll need in order to address envelopes. But, you can also use your Cricut Joy for addressing envelopes (find out how down below).
Can You Address Envelopes With Cricut?
The answer is YES, you can address envelopes, and even write your letters with Cricut! It may seem like a bit of a lost art, but that's part of what makes it so cool. People truly look forward to getting mail.
Do you address envelopes by hand anymore? A task that was once done regularly is now completed only infrequently. Many people pay bills online and email or call family and friends rather than writing hand letters or sending envelopes in the mail.
In fact, maybe the task is so unfamiliar that you're even wondering "how do I write the address on an envelope?" There are several pieces of information you need to include when addressing an envelope – both for the return address as well as the recipient's address:
Full Name (first and last)
Address (including any apartment numbers, etc)
City
State
Zip Code
Note: Without the complete address on the envelope, your mail may not get delivered. One time I forgot to put a zip code on the recipient's address and it never got delivered to them. I know this because it was returned to me a couple of months later.
P.S. Writing with a Cricut would NOT be my first choice. Finding a font that looks decent is time consuming. The Cricut is meant to cut the outline of images and it wants to "draw" the outline of images. Running paper through a printer is much more cost effective, time efficient, and easier process.
Supplies You'll Need
For this project, you'll need:
There are several pens and markers to choose from for Cricut machines, so here are a couple of tips to help make your choice a little easier.
I think the standard 0.4 black pen works really well for any font.
If you use gel pens, I suggest moving the envelope down to about the 1-inch line on the mat because the left roller can smear the gel writing before it dries.
Addressing Envelopes With Cricut Design Space
Even though you may not address envelopes often, there are sure to be occasions when you want to address them neatly (think: holidays, weddings or important celebrations, etc).
Here's a fun hack: You can use your Cricut for that!
Today's tutorial is going to cover addressing envelopes with Cricut Design Space. Then, I'll share how to write with Cricut so that your machine will do it for you.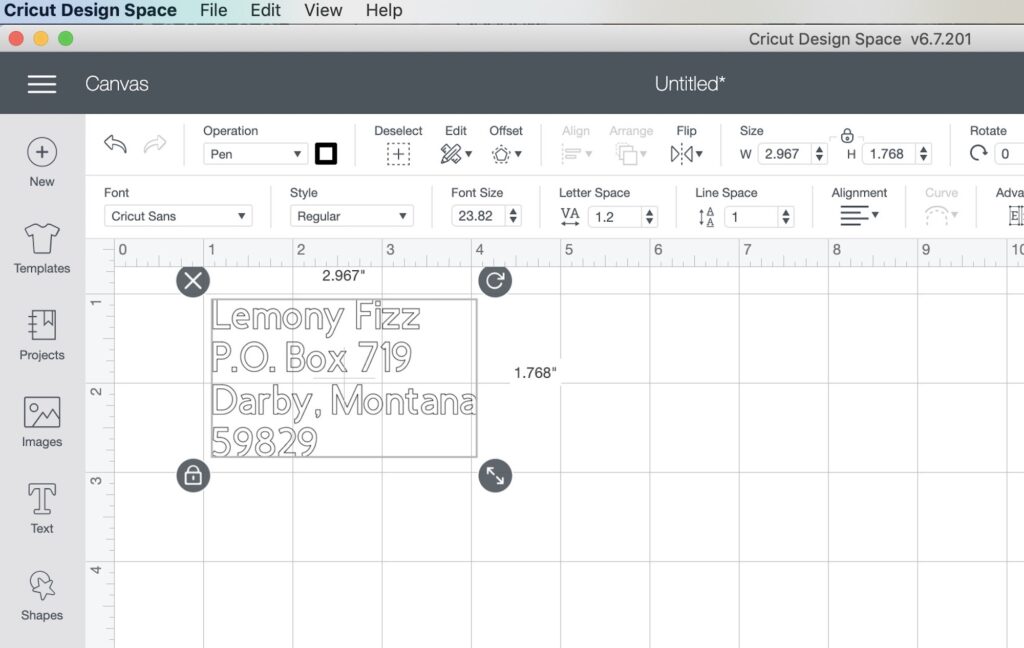 Open the Design Space app and select a new canvas.
Go to shapes and create a rectangle that's the same size as your envelope and put it as your background. You can either drag your shape to the correct size or type in the length and width to create the exact size faster.
Select your envelope's layer and change the color to white.
Next, select the font that you want to use on your envelope.
Pro Tip: Since we aren't cutting, not all fonts will work with writing. To find one that will use the filter and type, "write" to see the fonts that will work with writing.
Let's begin by typing out the return address. Type your name and address, making sure to include the full address.
We need to format the text because your text will be centered with the lines spaced pretty far apart when you first type it out.
Click "edit" at the bottom and select line space. You may need to try different settings for your spacing to get it just right.
Now it's time to align the text to the left. Select "alignment" and "align-left."
Move your text box to the upper left corner of the envelope. Then resize your font by dragging the box until the size looks appropriate for the corner. Reposition the text box again if needed once the text is resized.
Create a new text box and type in the name and full address of the person you are mailing the envelope to.
The text will automatically be aligned to the left. Change the alignment to "center." Then resize the text box and reposition it on the rectangle where the recipient's address would appear.
If you wanted to add a small image or graphic, you could add one from these images.
Note: If you're printing more than one envelope (to send Christmas cards, for example), you'll repeat this process for each address. However, it will be slightly faster because your template will already be set up. All you'll need to do is copy and paste the new address where it goes and click, "make it."
How To Address An Envelope With Your Cricut Maker Or Explore
Now your envelope is addressed in Design Space and ready to go to the Cricut machine for printing. Follow this process to print out your addressed envelope.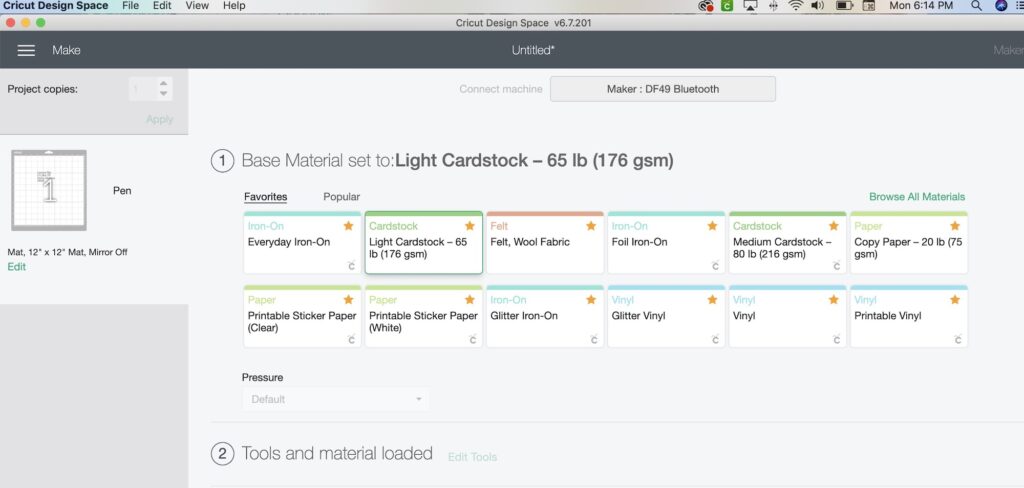 Click "make it" in Design Space – the app will take you to a new screen.
You'll notice that your design is divided across two totally different mats.
To get your envelope to print the way you want it to look, first delete the white rectangle. It was just there for placement reference.
Select both text boxes (by clicking "select all" at the top) and click "actions." Then select "attach." Confued?Learn the difference between "weld" and "attach" here.
In the layers panel, change the setting from "cut" to "write." Then you'll have the opportunity to choose the exact type of pen that you're using. (your Cricut pen will have that information on the side)
Click "make it" then select "replace." Your mat screen will show that your text boxes are already formatted.
Take your envelope and place it in the top left corner of your Cricut mat. Load your mat with the envelope on it into the machine. Press "continue" in Design Space.
Open your Cricut pen and put the lid on the top so you don't lose it! Then, open Clamp A and find the triangle on the side of the pen and gently push the pen down into Clamp A until you hear the triangle snap into place.
Press the flashing button on your Cricut machine and it will begin drawing.
Once the drawing is complete, the unload button will begin flashing. Press that button and the machine will push the mat out toward you. Remove the mat and peel the envelope off of the mat.
Pro Tip: When you remove the mat, it works best if you turn the mat upside down and gently peel the envelope off toward the table. That will prevent your envelope from curling.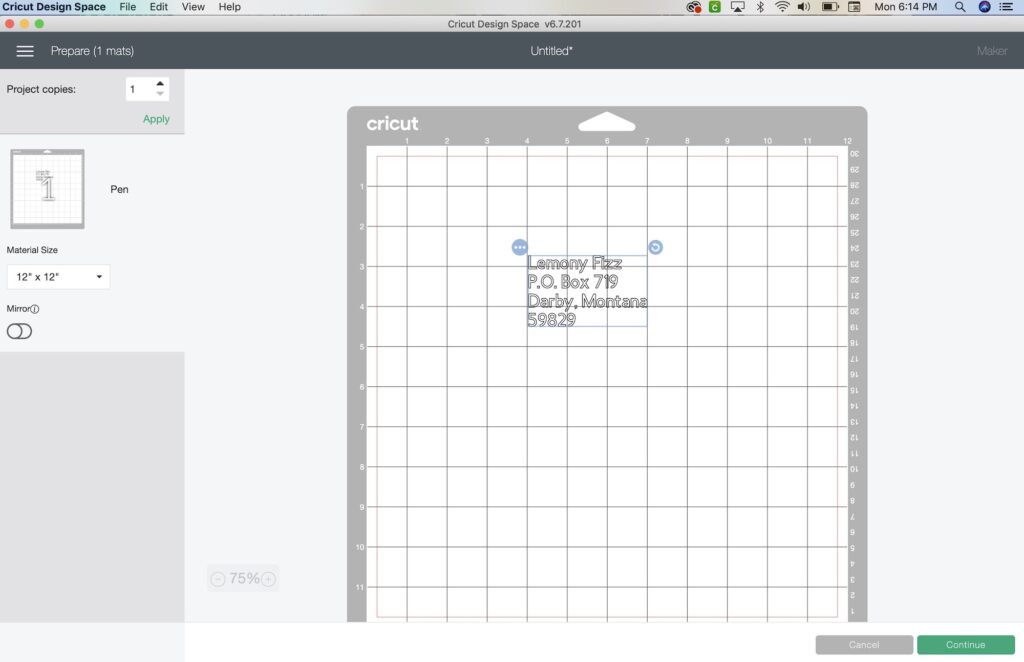 Can Cricut Joy Address Envelopes?
Yes, the Joy can also address envelopes, but there are a few minor differences to the process:
Since the Joy mat is smaller, you will have to turn your envelope sideways.
Add the envelope to the mat by inserting the back flap into the mat pocket to hold the envelope in place.
When you insert the pen, you just set it in the clamp and close it. You do NOT push it down until you hear the click.
Select "go" in the app.
That's it! Once you learn how to address an envelope with your Cricut, you'll start looking for excuses to keep using it. Snail mail is officially back in!
More Cricut Inspiration
Filed Under: Cricut
Sours: https://lemonyfizz.com/how-to-address-an-envelope-with-your-cricut/
I don't know about you guys, but one of my LEAST favorite things to do is to address envelopes. I really despise it, but I've always envied people with beautiful handwriting that send in these gorgeous cards that are perfect from the time they hit  my mailbox to when I open it up and see all their smiling faces on a Christmas card. This year I was determined to learn how to address envelopes using the Cricut Maker. This saved me time and the envelopes turned out to be complete perfection!! Although it seems tedious at first, once you've done one or two it's really not hard at all and I even made a 5×7 envelope template for you to start out with if you're really struggling. Let's walk through how to address envelopes using the Cricut….
What you will learn from this tutorial:
A few important items to note first…
Choose Cricut Writing Fonts
Side note about the fonts, if you decide to change the font, it's important that at the time you are designing your envelope, you choose fonts that are "writing" fonts. See screen shots below of what I'm talking about. It's a filter setting in the font selection process. Writing fonts ensure that you get what you think you're getting from a font versus just the outline of the font if you choose a non-writing font. I hope that makes sense.
Also, cursive fonts can be tricky because you will have to do a lot of moving letters around to get them all to connect nicely. I LOVE the look of cursive fonts on envelopes, but it's not overly practical if you're addressing a lot of envelopes *unless you just LOVE the minutia and have tons of time on your hands! LOL
Draw Setting in Cricut
Another important part, if you do not use my template, is to be sure that when you are adding text that you change the line type in the upper left corner to the Draw setting. This is what tells the Cricut that it's going to Draw instead of cut. This is super important! My template already has this taken care of for you, but if you're going rogue, this is an important step!!
How to Address Envelopes Using Cricut
Step One
So let's get started. You can use my Free Cricut Envelope Template here if you want to get started and have them look the same way as mine. Basically, I started by creating a 5×7 rectangle in Cricut Design space so that I had a template for my 5×7 envelope. You'll notice my template is just a hair larger than 5×7 and this is because my envelope was just a hair larger, as well. If you have a larger or smaller envelope, adjust the rectangle accordingly. The rectangle is really only being used as a template for sizing and placement purposes and you will eventually be hiding the rectangle before you use the Cricut to address the cards.
You will use the fonts to adjust the address names/roads, etc. so that everything looks the way you would like.
Step Two.
Using a Standard Grip Cricut Mat, you will line up the envelope on the same markings that you used in Cricut Design Space. Mine are lined up at the 1″ x 1″ mark. This is where I will place my actual envelope on a Standard Grip Mat and load it into my Cricut Maker.
Step Three
The envelope is loaded into the Cricut Maker. Next, we load our Cricut Pens. I used a green fine tip pen for this job. I loaded it into the left slot of the machine and clamped it into place.
Step Four
We get to arranging our mats. When you hit "Make it" the machine automatically organizes what it thinks it's cutting and drawing into two mats. We're going to combine those mats and then eliminate the cutting portion so it's only drawing.
Once you hit "Make It" in the upper right corner, it will take you to this screen…one thing I do NOT like about Design Space is that all that hard work you just did on the previous screen gets undone when it brings it over to the mats. Here you will see two mats. One for Draw and one for Cut.
Start by selecting Mat 2 (the Cut mat) and hover over the rectangle until three dots appear in the upper left corner. Click on the three dots and select, move to another mat. Move it to Mat One.
Step Five
Now that you have it all on Mat One, you will drag your rectangle back to it's starting position (in this case we selected the 1″ x 1″ mark) and then arrange your text accordingly on the card. This is how it will look once you actually "draw" the envelope.
Step Six
This is a SUPER important step…and I accidentally skipped it several times!! Be sure that once your card is all set up, you hover back over top of your rectangle and get the three dots in the upper left corner to appear. At this step you will HIDE SELECTED…which is the rectangle. Hide the rectangle, otherwise it will cut your envelope!
Once the rectangle is hidden, your template will look like this… and you will hit Continue in the bottom right corner to get to work.
Step Seven
Select your material. Because "envelope" isn't an option, I selected medium card stock. Then I selected my tool so that the Cricut knew it was using a Fine Tip Pen. Then I pushed the Cricut button to get started.
Drawing with the Cricut Pens isn't the fastest job…so be patient. It's really kind of satisfying to watch it draw!
Once it's done drawing, unload your mat and get your card or invitation inserted and you have a beautiful card all made up and ready to go!
This may seem like a ton of work and a lot of steps, but once you get one or two done…it takes maybe 5 minutes per card. I wouldn't necessarily do this for hundreds of cards, but for 15-20 it's fun and not hard at all.
Equipment list:
I hope you enjoyed this easy Cricut tutorial…here's some other Cricut posts you may enjoy:
Pin it for later…
Sours: https://thecardswedrew.com/how-to-address-envelopes-using-cricut/
Writing and Addressing Envelopes With Your Cricut
Disclosure: Some of the links below are affiliate links provided for your convenience.This means, at no additional cost to you, we will earn a commission if you click through and make a purchase.
Today on the blog we're going to give you a tutorial for writing and addressing envelopes with your Cricut. This is a highly requested Cricut tutorial and we get emails and comments about it all the time. This is one of our favorite Cricut tips!
Just think about how much time this would save when doing Christmas cards or wedding invitations or anything of that sort. Combine it with our easy Cricut technique for writing inside cards and you'll be all set! There are so many things you can use your Cricut machine for.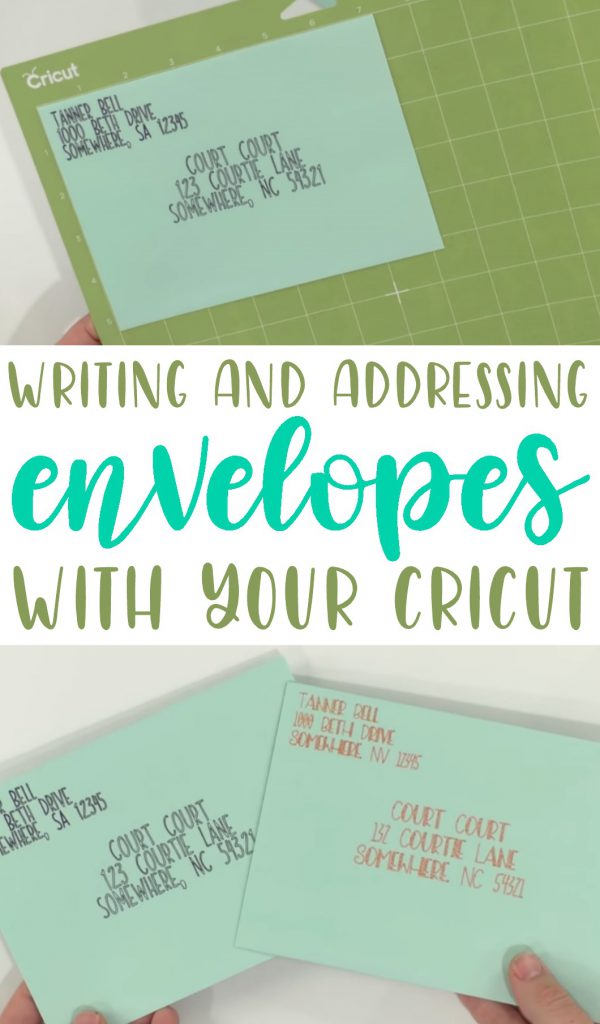 Writing and Addressing Envelopes With Your Cricut
We're going to use our Cricut Maker and Cricut pens to be able to write on our envelopes the return address and the address we're sending our envelope to and it's going to be a lot of fun!
This is about a 5×7 envelope, so we just created a rectangle five by seven and put it as our background. We're using fonts from our membership site Makers Gonna Learn. This is our Gracie Lou font. I think it's perfect for using pens and I love the quirkiness of this font.
We like to work with this so that what we see in Cricut Design Space looks just like our final product. So, we will create layers for our craft project. The first layer will be for the shape and size of the envelope. The next one will be for the return address. The final layer will be for the address of the person you're sending it to.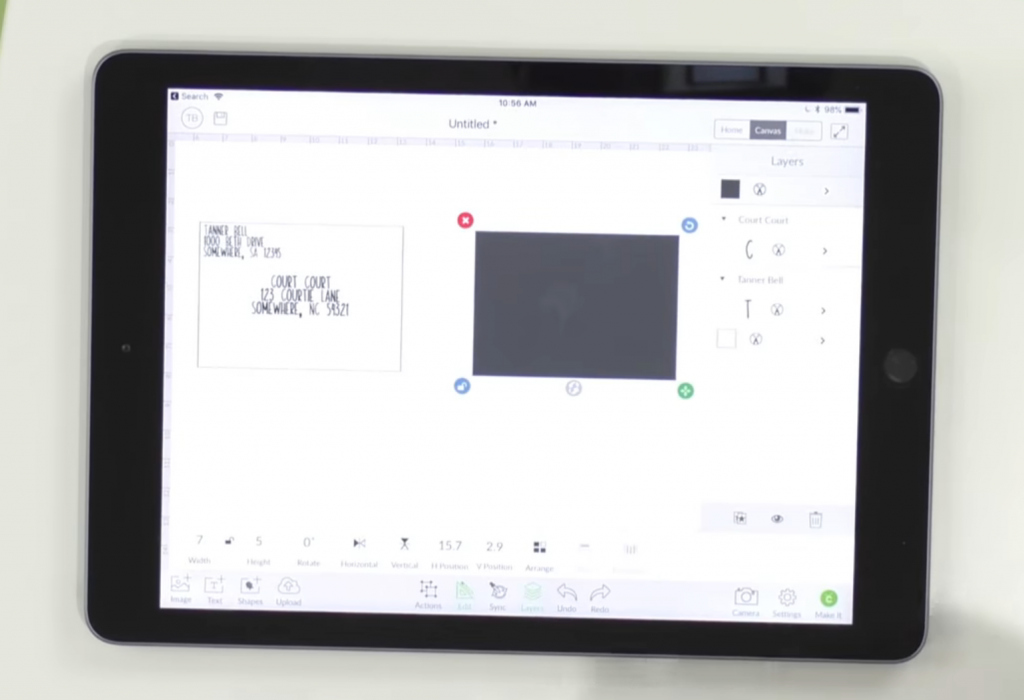 To get started, go to shapes and insert a square. We're going to take this square and select "edit". Next, we're going to make the width 7 and the height is 5. We're going to go ahead and just change the color of the envelope to white by selecting the layer. Next, select "text" and choose System Fonts and then search for Gracie Lou.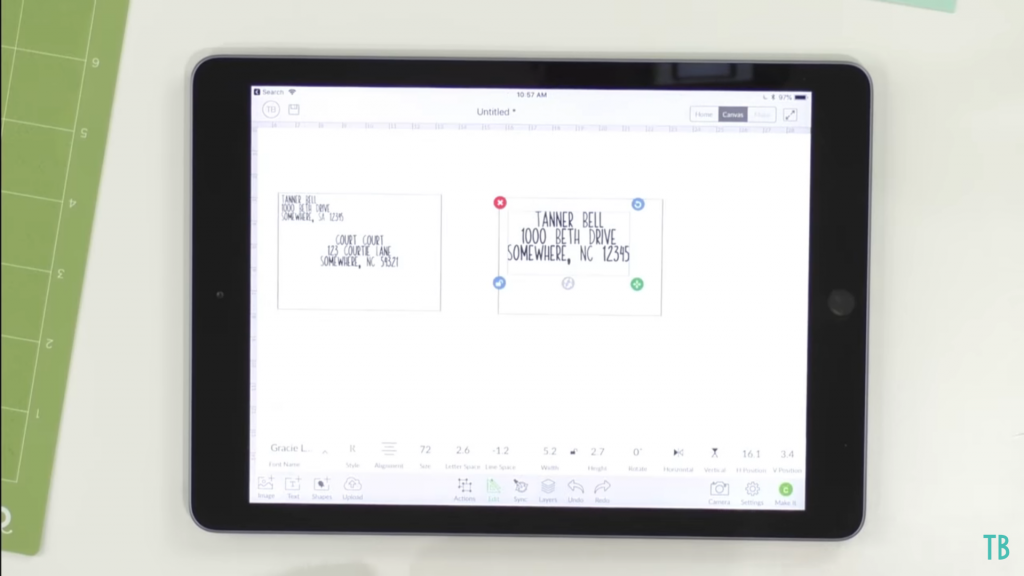 Now, we're going to type out the return address. Adjust the line spacing and then align it to the left. Size it so that it fits well onto your envelope and place it where you need it to be on your envelope.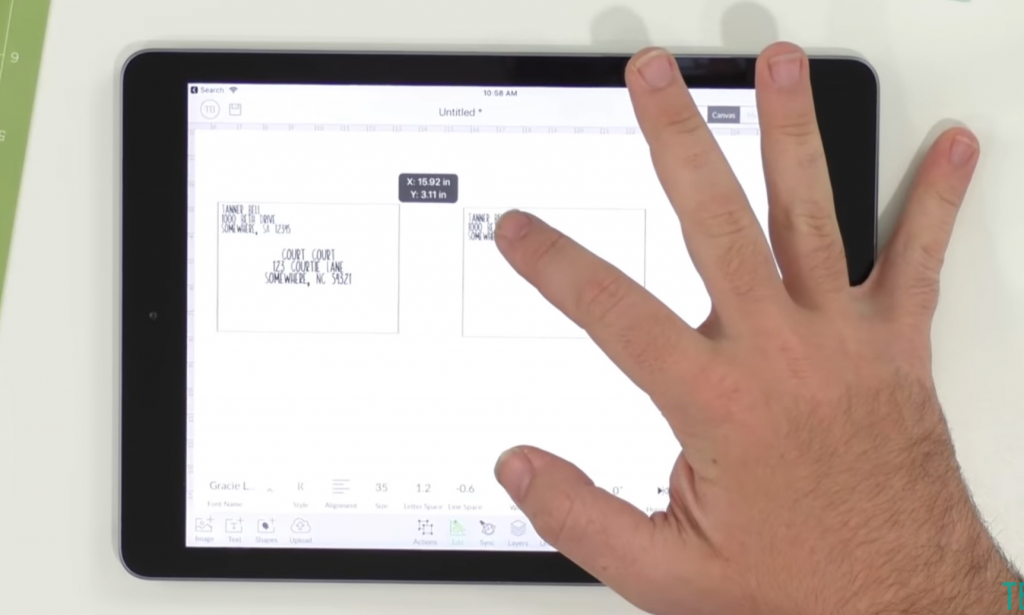 Then what we're going to do is to get another text box and select the Gracie Lou font again. Next, we'll type in the address for the person we're sending this to. Align this to the Center. Then, choose Line Spacing and move it down to where you want it placed on the envelope.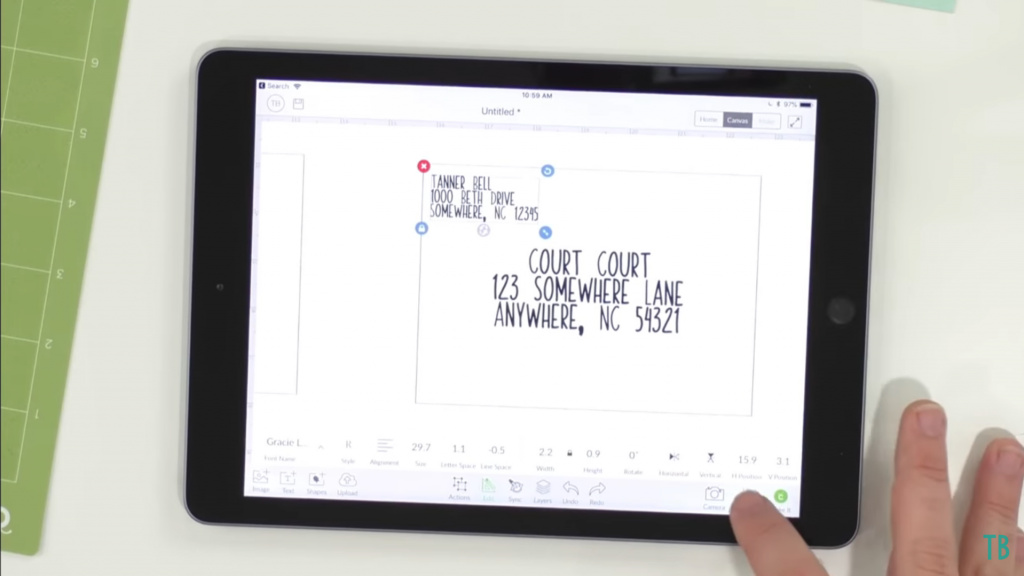 If you press "Make it" at this point, Design Space is going to put this on two totally different mats and we aren't going to get the results we laid out on our canvas. What we need to do to make this stay together is to delete the white rectangle at the back. Remember, this was just for reference on our mat. Then select both sections of text and Attach.
Next, you need to go to Operation and change from Cut to Draw and select the pen you're using. Here, we're using the gel pen 1.0 black. So, just scroll through and find that pen and select it. Then, repeat that for the other text. Now, we can press "Make it".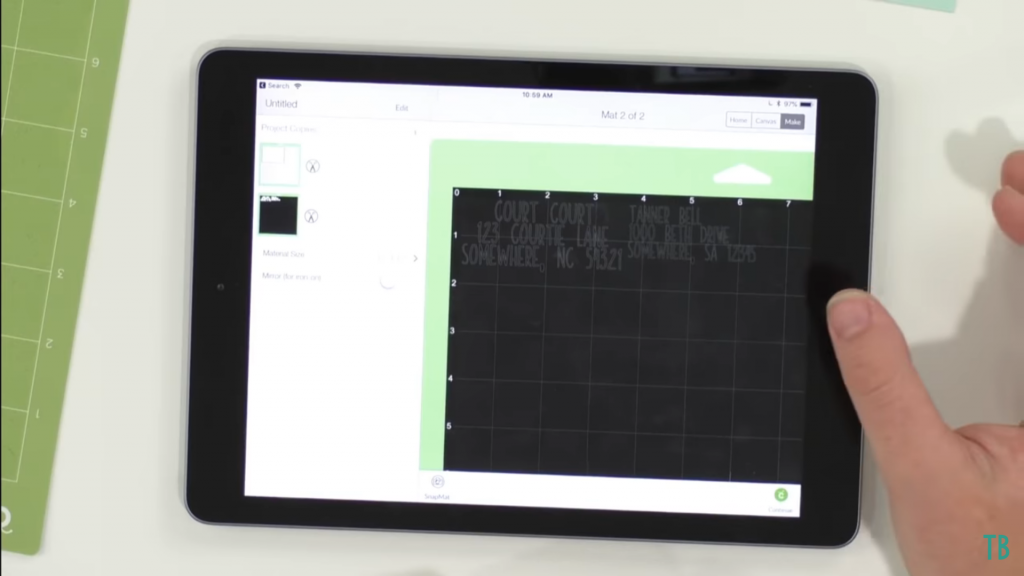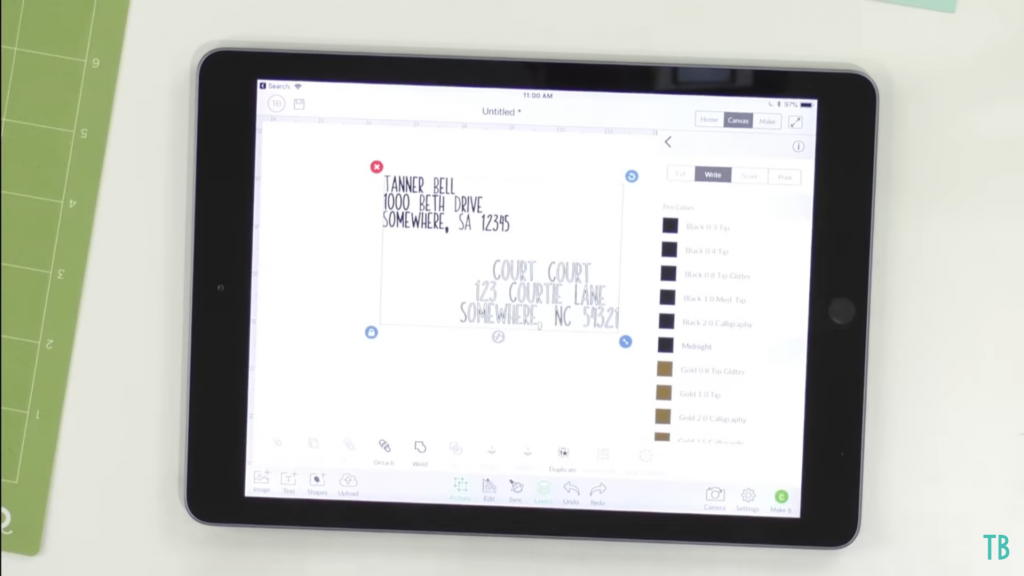 So now, we're able to take one of our envelopes and place it down on our mat right up in the top left-hand corner. Then we can press continue. We're going to connect to our machine and place the pen in the machine.
To do this, simply open clamp A and pop the pen into place. Close clamp A. Once you hear that click, you know you're good to go. Next, we're going to select the light cardstock for the envelope. We're going to use Fast Mode to get our envelope addressed quickly.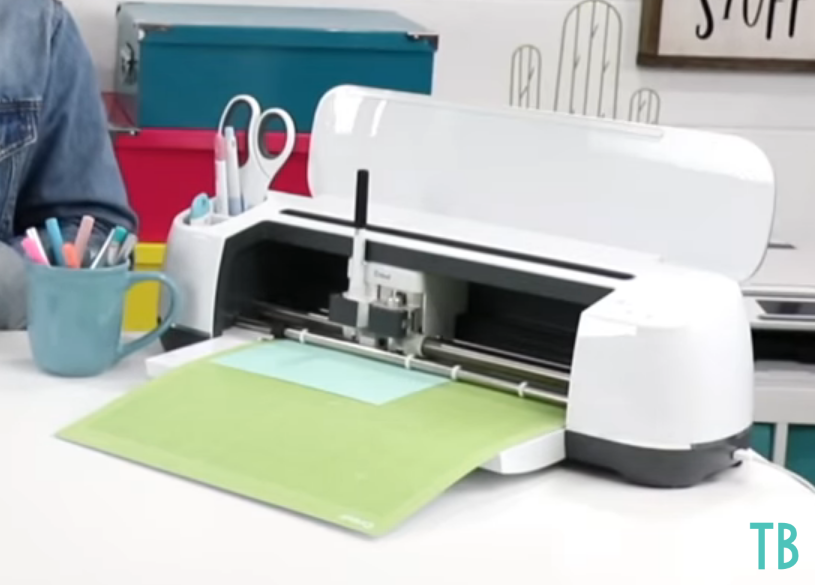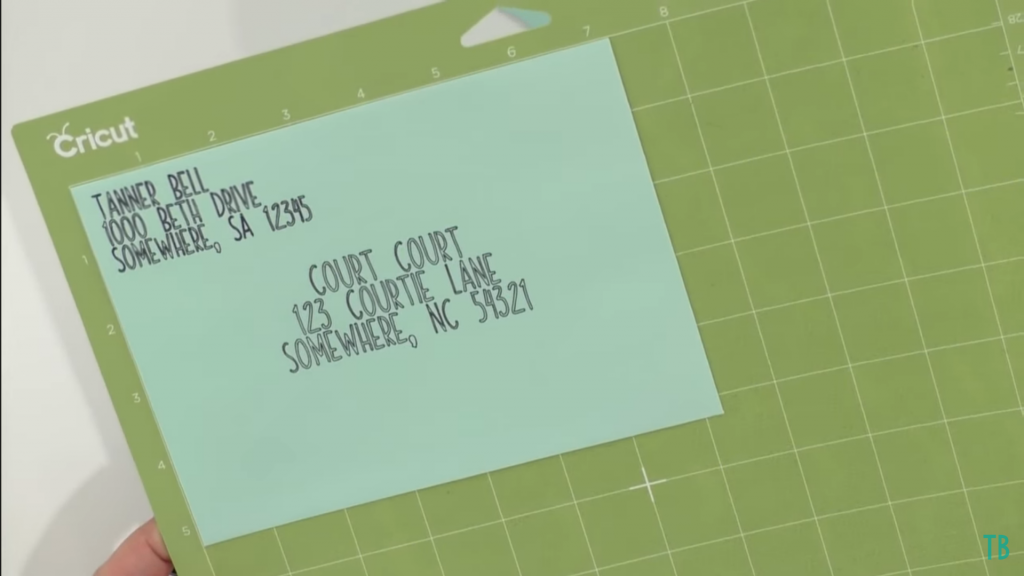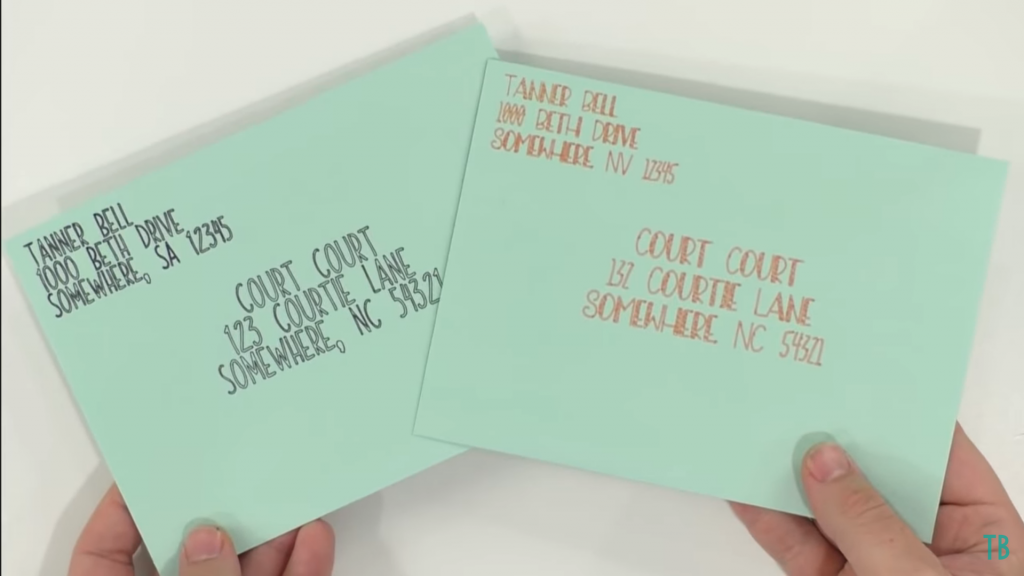 Once you're good to go we'll press the flashing Cricut button and it'll start our drawing. When the drawing has been completed, it lets us know this in Design Space. The flashing Unload button lets us know it's time to remove the mat.
Look at how beautiful this turned out! I love the look of it. It is such a professional look and so easy to do. This is such a fun way to address envelopes.
If you're addressing a lot of envelopes, you can save time by leaving the return address as is and simply changing out who the envelope is addressed to. By creating a template in Design Space, you can quickly copy and paste addresses in to that template and print off as many envelopes as you need!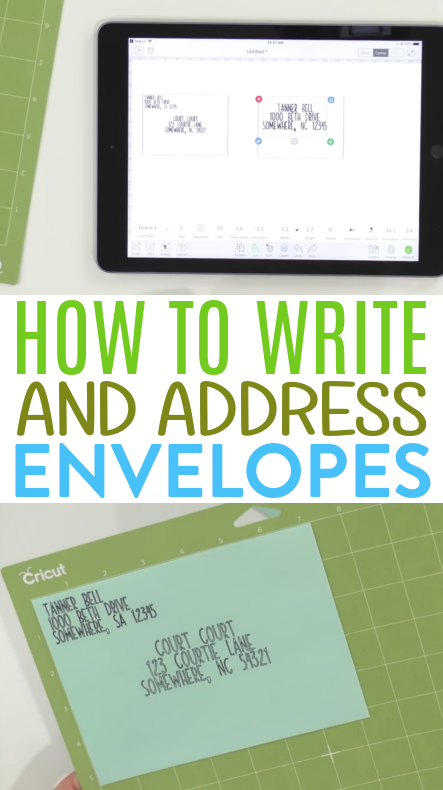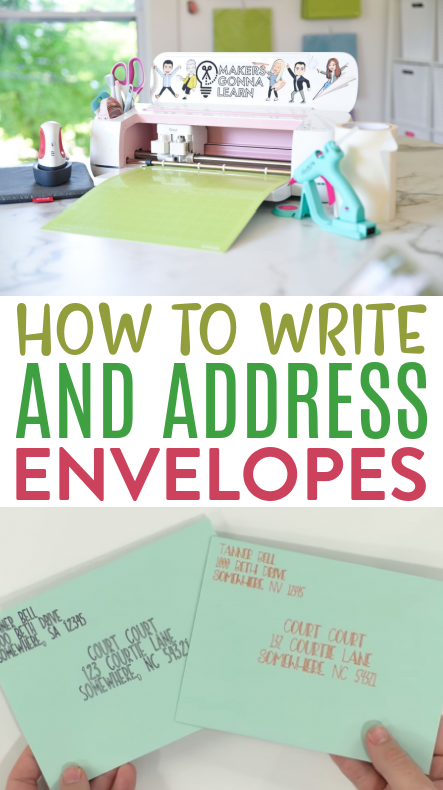 Sours: https://makersgonnalearn.com/writing-and-addressing-envelopes-with-your-cricut/
Envelopes cricut
I am so excited to be partnering with Cricut to bring you this fabulous DIY project, perfect for an engagement party or couple's shower! I have been having so much fun with my Cricut Explore Air™. The possibilities are endless and if you are planning to do any DIYs or wanting to get crafty for your wedding, the Cricut is a must! Personalized, meaningful details are what make a wedding day special and the Cricut Explore Air™ makes it simple and easy to pull it all off. From cute custom tees for your bachelorette bash to table numbers to thank you notes, Cricut is there for every step of planning to make your big day unique.
There are so many great ways to use the Cricut (seriously, there are over 60 materials it can cut! Check out this list), but for this first project I decided to make these cute and easy photo envelope liners. They are a great way to show off your engagement photos for any pre-wedding festivities like engagement parties, showers, and more.
Don't have a Cricut yet? Head over here to grab yours now and start creating your one-of-a-kind wedding!
It's Your Story, Make It Personal
Supplies
Step 1: Print out your favorite image (or more if you want variety!) from your engagement session. Think about space when choosing an image, as you don't want it cropping the two of you off at an odd place. You will need to print your images at least 7 inches wide for a 5 x 7 invitation that this tutorial covers (printing on a full 8 1/2 x 11 page should work fine). Make sure to use a good quality photo printer. I used my Canon PIXMA MG7720 Wireless All-in-One Printer (in gold!) The quality with Canon is gorgeous, perfect for printing photos at home. I love their free Canon PRINT App, which makes printing images super easy and quick, right from my phone. I used Canon's Matte Photo Paper to get that beautiful photo quality, but not the shine from gloss. 
*Images for this tutorial from Dawn Photography from this vintage styled engagement session.
Step 2: Upload the envelope liner template onto Cricut Design Space™. Choose simple image. Since there is no backdrop, you don't have to delete anything and can hit continue next. Then click 'Save as a Cut Image' to save, then insert onto the workspace.
Step 3: Place the image in the top right corner and pull the arrows in the bottom right corner to enlarge until it is 7 inches wide. Now we want to make it easy to fold the flap, so click 'Insert Shape' on the left bar and pick 'Score Line'. Rotate the score line to be horizontal (holding down shift while you rotate ensures a flat line), then enlarge using the corner arrows to make it more than 7 inches long. Drag the score line until it sits along the folding line (see image below for reference). Next, 'shift' click both layers on the right hand side to select both, then click 'attach' to make an attached set. Your Design Space workspace should look like the below.
Save your project now and either click the 'Go' button, or head to the Cricut Design Space™ app on your phone (my preference!) to go from there. Move your attached layers to your preferred cutting place (for me about 2 inches down and 1/4 inch over was perfect for my image).
Step 4: Line up and attach your printed image on your cutting mat. Make sure to add in the scoring stylus to the holder. Set the cutting dial to cardstock and load in the mat. Once ready, click the blinking 'C' on the Cricut and watch it go!
Step 5: Remove the cut out photo from the mat. The more you bend the mat, the easier it is to remove without warping the paper.
Step 6: Fold over the envelop edge along the scored line. The Cricut Scraper tool works as an excellent bone folder to help make the perfect crease.
Step 7: Insert the cut liner into your envelope. Fold the top flap over and use the double sided tape along the edges, making a triangle.
Step 8: Press the liner flap to the envelope, smoothing to ensure it is well attached.
Step 9: Insert your shower invitations, seal, address, and send off to your loved ones!
Sours: http://glamourandgraceblog.com/2016/diy-photo-envelope-liners/
Hello Daydreamers!
In today's tutorial, you're going to learn how to make and address beautiful envelopes with your Cricut Maker or Explorer.
You will learn how to make super cute envelopes, and I will also provide you with 10+ Free SVG envelope templates for your personal projects.
All these templates are so beautiful (insert happy dance) and I can't wait for you to download and play with them all!
Ideally, you will read this tutorial from the beginning because, as we go, we will be implementing the concepts mentioned in the previews steps.
In a nutshell, these are the topics I will be covering in this tutorial.
Materials for Cricut envelopes
Steps for cutting envelopes in Cricut Design Space
Addressing Envelopes with your Cricut

Using Cricut Pens
With sticker paper
With iron-on

Free SVG templates (download the rest of envelopes)
Photos of some of the envelopes you can make
Are you ready?
Let's Daydream Into Reality!
Materials for Cricut Envelopes
The materials for this project are quite simple, but I always like to emphasize that the final look will depend on the quality of the materials you use.
I recommend using high-quality paper and glue if you want professional-looking envelopes and not a kindergarten project.
High-quality paper can be expensive, but you can get good deals at Michael's. I
For the Envelopes
Fine Point Blade
Green Mat (you can also use a new blue mat)
Scoring Wheel or Stylus (if you have an Explore you can only use the stylus).
Cricut Maker/Explorer
Paper
High-quality glue
For Addressing
There are three methods I will teach you, and you'll need these extra tools/materials.
Cricut Pens
Sticker Paper and Printer
Iron-On, iron (or EasyPress mini).
Click on the button down below to follow along.
Practice File
The rest of the Free SVG templates are all in this article at the end of the step by step cutting and addressing process.
Making Envelopes in Cricut Design Space
First, we need to upload the practice file.
Go to the canvas area in Design Space and click on the "Upload" button on the left panel of the canvas. Select "Upload Image" and follow the prompts to upload the template.
Once you upload the file, select it from "Recently uploaded images" and insert it to the canvas.
If you look on the layers panel of the envelope, you will see all the layers that are part of the design.
You'll find:
Two cut lines to close the envelope.
Square that goes where you need folds
The envelope
To edit the envelope, first "Ungroup" the layers. Then select the square and change the "Linetype" to "Score" to tell your machine you need to use either the scoring wheel or the scoring stylus.
The cut lines need to be left with "Cut" as "Linetype.
Last but not least, select all layers and click "Attach" at the bottom of the Layers panel.
Attaching is very important; if you don't do it when you click on "Make it," your project will be all over the place.
Resize Envelope in Design Space
The easiest way to resize an envelope in Cricut Design Space is by creating a "card template."
The card template is an "imaginary" shape sized according to your card size. Click on Shapes (left panel of the canvas) and select a square.
When the square appears in the designing area, select it, and change the size on the top panel area.
Most likely, you'll need to click on the little lock to unlock the square's proportions. The size of the card I wanted to use was 5″ x 3.5″.
Keep in mind that to make envelopes, you will need, in many cases, big sheets of paper.
In my experience, the most beautiful papers come in 12″ x 12″ sheets; therefore, your envelope can't be larger than that size.
There are also limits when sizing in Design Space, and your project can't be larger than 11.5″ x 11.5″; if using a regular mat, or 11.5″ x 23.5″. If Design Space brings an error is usually because your project is too big.
After sizing the square, select the envelope attachment and resize it, so the score lines wrap the card template. Leave a small margin, so you don't have to force the real card inside the envelope.
Once your envelope is sized, delete the card template and click on "Make it."
Cutting Envelope
The picture down below shows where you need to place the paper.
When making envelopes, boxes, or projects where you score, you always need to place your material coated or pretty size down.
Folds need to be towards the score lines, and the only way to do this is by scoring on the back of the paper. You can learn more about scoring with Cricut in this tutorial.
For this envelope (and all the others at the end of the tutorial), you don't need to turn on "Mirror" because everything is proportional mathematically.
As a good practice, I recommend turning on "Mirror" whenever you are placing materials pretty or coated side down.
Click on "Continue."
It's time to select the materials and the tools you are going to use for your envelope. This choice is personal, but I've used cardstock, glitter cardstock, and sometimes, I've used thin patterned paper.
For this envelope, I used "Medium Cardstock."
If you are working with a Cricut Explore machine, you will be using the Scoring Stylus for the folds. The good thing about the stylus is that you can install the Stylus and Fine Point blade simultaneously.
If you have a Cricut Maker, Design Space will select the scoring wheel for making scoring lines, if you don't have it, click on "Edit Tools" and select "Scoring Stylus."
Tip: Check out my Scoring Wheel vs. Scoring Stylus article.
Let's move to real photos!
Place paper on mat coated or pretty side down. The paper I used had color on both sides, so it didn't matter.
Install Scoring "Wheel/Scoring Stylus." and Fine Point blade. Load mat to Cricut and press the flashing go button.
Note: If using the Scoring Wheel, you will need to install it first, then install the blade when your Cricut is done with the score lines.
After cutting, unload the mat; I always bend the mat so gravity can help to remove the paper from the mat. It will also prevent your material from creating unwanted waves.
It's time to assemble the envelope.
It's so easy!
Fold towards the scoring lines and with a high-quality glue (run away from kids glue) connect the envelope.
To close it, insert the little oval along with the two small cuts.
How to Address Envelopes with your Cricut
Addressing envelopes with your Cricut is very easy, and it can give your envelope a nice touch.
You can use any envelope you have on hand or any of the templates I provided you with.
There are three methods I will be covering today:
Addressing with Cricut Pens
Using Sticker Paper and Print then Cut
Addressing with Iron-On (more like decorating).
Addressing Envelopes using Cricut Pens
Using Cricut Pens to address envelopes is the method you'll find across the web.
I love Cricut Pens, but they are so slow. If I was Addressing one envelope, sure, why not. Addressing for a whole wedding, no thank you!
Although we as crafters want the best-looking projects, we also need to be practical.
To teach you this method, let's use the envelope and concepts we used on the previews steps.
Adding an Envelope Guideline
To determine the size of letters and the distribution between the sender and recipient, you need to create a guideline.
The guideline should be the size of your envelope once it's folded. If you have a store-bought envelope, simply make a rectangle in Design Space using the with and height of your envelope.
For envelopes that you make in Design Space, drop a rectangle, unlock its proportions and then resize it, so it fits the middle of what it's supposed to be the backside of the envelope.
Hide the envelope so you can have a clean workspace.
Add Text
Click on the Text button (left panel on the canvas) and type it in a paragraph with the sender's information and then another with the receiver's address.
same number you got after resizing the sender's info.
Tip: You can also center the receiver's info by selecting the text, then click on "Alignment" and select "Center."
Before you do anything else, you need to make sure you are using a writing font.
The font you have is set to "Cut" and we don't want to cut, we want to write.
If you don't have Cricut Access, this may cost. Your machine usually comes with a free writing font, but in case it doesn't, you can always use a regular font and change the Linetype from "Cut" to "Draw."
When drawing fonts instead of writing, you'll have hollow letters. You can get around this using free fonts that are very thin. To see some of them, check out this Free & Paid Fonts for Cricut article I wrote.
Cricut has charming writing fonts that you can use for your projects.
To change the font, select one paragraph at the time and click on "Font" (top panel).
A big window will slide open with the different types of fonts Cricut had. Click on "Filter" (upper-right corner of the window) and select writing.
I picked the font "Giraffe" for this example. You want to pick something easy to read and understand. After changing fonts, you may have to resize and organize the paragraphs using the guideline one more time.
Once size and placement are ready, delete or hide the guideline and attach both the sender's and the receiver's paragraphs.
For more information about fonts and Cricut pens, check out these two helpful articles I wrote:
Click on "Make it" to write!
The mat preview looks a little bit different when using pens. Since we are not cutting anything, the mat color will be white.
Cricut always places things on the upper-left corner of the mat, but there's a little caveat.
Cricut doesn't start writing or cutting right on 0. There's always a 0.25″ x 0.25″ added on each corner of the mat.
If you want to measure, go ahead, but if you like easy like me, visualize you are placing the envelope right at 1″ from the top and the left side of the mat and move the text to that area, leaving a small margin.
Click on continue, select the material you're using, install the pen you want to use.
Let's move to real photos again!
Place the envelope on the mat making sure it's not moving. Remember where the text is located on the mat preview, that's where you Cricut will write.
Once the pen is installed, load mat, tap on the go button, and there you have it, a beautifully addressed envelope.
Doesn't it look lovely?
Can you tell I love all things yellow, dreamy, and sunny?
Addressing Envelopes using Sticker and Print then Cut.
Another way to addressing envelopes is by using sticker paper, and the Print then Cut method.
Print then Cut is a very robust setting; if you get lost, you can learn more about it this tutorial I wrote.
If I were sending tons of invitations or Christmas cards, this is the method I would choose.
It's fast, and it's also pretty!
Maybe it's not as cool as the first one, but trust me, using Cricut Pens for a single envelope will take you a long time.
Just think about it, is the person keeping or tossing the envelope?
Important: If using patterned paper, this method is essential because pens are hard to read on busy paper.
Labels for Addressing Envelopes with Sticker Paper
Making labels to address envelopes is quite easy!
At this point, you know how to add shapes and write text on the canvas.
Something cool is and that many don't know is that you can use writing fonts if you want to give your text a handwritten style, that's one of the main reasons people decide to use Cricut pens.
If using a physical envelope, with a ruler, visualize and measure two rectangles—one for the sender, the other one receiver. Then in Design Space, add these rectangles with text over them.
On the other hand, if you are making your envelopes in Design Space, you can directly make two rectangles (for sender and receiver) and place the text on them as I show you in the screenshot down below.
Once you measure, hide the envelope, and copy-paste the rectangles by selecting them and pressing Ctrl+C and then Ctrl+V.
Sticker paper is expensive, and you want to use it as much as you can.
Down below, you can see I made enough labels for four envelopes, and I also changed some of the fonts. The first four rectangles have writing fonts, and the other four have regular fonts.
Important: You can make enough labels until the entire project is 9.25″ x 6.75."
Before sending the project to print and then to cut, select all the rectangles and text and click on flatten located at the bottom of the Layers panel.
Check out how different the project looks now. The blade will go through the edges of each rectangle, and it will preserve the text inside it!
Now, click on "Make it."
Here's a preview of how the project will look like after you print; this is how you should also place your project on the mat.
Now, send the project to your home printer by following the prompts.
I decided to use Silhouette's sticker paper and choose "Sticker Paper, Removable." I don't like Cricut's sticker paper is very thick, and it gets stuck in my printer.
If you aren't using Cricut's sticker paper, don't select this material in Design Space because it will cut through the entire sticker sheet.
Place the printed copy on the mat, load to your Cricut, and see the magic happening before your eyes!
When Cricut is done cutting, unload mat, and place stickers on the envelope.
For these envelopes I used two heavy patterned papers. If I had used the pens, the text would've been tough to read.
I think they look fantastic, and in my opinion, It's a better way to address envelopes than with Cricut Pens.
Don't you think?
Addressing Envelopes using Iron-On/HTV
Many times you will be handing over envelopes personally!
Maybe it's a birthday party, a baby shower, or just a special celebration you're going to.
If that's the case, you can have a little extra fun using Iron-On and address/decorate your envelopes.
If you've never worked with Iron-On before, I recommend you read this complete guide on Heat Transfer Vinyl; it covers everything you need to know about this material.
Download the practice file down below and upload it to Cricut Design Space.
Practice File – Words.
Ungroup the file, and weld each of the words/phrases, so you have a single layer per expression. You can cut all of them, but I am using the "You're Awesome" design for this example.
Resize it, so it fits the back of your envelope, and when you're ready, click on make it.
When using Iron-On, you need to place your material pretty/shiny side down on the mat, making sure to turn-on "Mirror."
For this project, I used Everyday Iron-On.
Install Fine Point blade, place Iron-On shiny side down on the mat, load it, and press the flashing go button.
When Cricut is done cutting, remove the vinyl from the mat, and use a weeder to get rid of the negative parts of the design.
Place design on the back of your envelope. Cricut recommends you use heat transfer tape when using iron-on on paper.
I used tape in this case, but, many times, I've skipped this step. Once you have the right amount of experience with iron-on and paper, I think you can forgo this step.
Practice first, though!
To transfer the Iron-On, you can use a regular iron (use heat resistant tape in this case) or and EasyPress Mini.
To find the exact temperature and directions, it's always good to go to Cricut's Heat Guide.
According to Cricut's Guide, the combination of materials I am using (everyday iron-on and cardstock), these are the steps to follow.
"Place iron-on material face down, liner side up
Secure with tape, avoiding image area
Press while moving with light pressure at low setting for 25 s (Note: Overlap iron-on edges by 0.5 in / 1.3 cm)
Slowly remove liner while cool".
These settings will change if you use other types of iron-on such as foil, or, holographic, etc.
If using a regular iron, you can use the same principles; I would set the temperature to 3/4 of the heat your iron can take.
Here are the other envelopes I made!
The "Happy Birthday" one I made using foil iron-on.
Doesn't it look stunning?
Free SVG Envelope Templates
Just as I promise, here are more envelope template you can use for your personal projects.
Some of them don't even require glue!
They are all so beautiful, simply click on the download buttons on each image. At this time, they only work when working from desktop or laptop computers.
Oh!
And just so you know, I also have a library full of free SVG files and Printables for all of my subscribers, a.k.a Daydreamers. You can see a preview right here or get access by filling this form.
More Envelopes ideas made with Cricut
Here are more pics using the free SVG templates that I have for you in this article.
One of the cutest envelopes is the kitty one. There's a caveat, though. I included some whiskers. If you want your Cricut to score, cut, and draw, you'll need to break the rules.
To score, you need the paper side down, but to draw, you need it facing forward. Big decisions that only you can make!
You can also delete the whiskers, it looks just as cute, or do them with a ruler.
The sky is the limit!
Look how using different papers you can give an envelope a different appearance.
You can use the golden one for a wedding, and the pink one for a regular birthday party.
Sours: https://www.daydreamintoreality.com/cricut-envelopes/
You will also like:
How to Address Envelopes with Cricut Joy
As I mentioned a few months ago, I've been making homemade cards more than ever thanks to my Cricut Joy (see the tutorial here!). But today I want to show you how to take your mail up a notch by learning how to address envelopes with Cricut Joy. You are going to love how easy it is to make your mail look ah-mazing (especially if you hate your handwriting!), and just wait until you see all the adorable monograms and stickers I made to decorate my envelopes even more! I've never been more excited to send some homemade cards!
I wish I could take credit for this idea. My sister actually sent us an Easter card with the most gorgeous Cricut writing on the envelope, and I instantly knew I had to do a tutorial. While I was at it, I came up with a whole slew of fun stickers, medallions and return address labels using a bunch of the new papers and labels made for Cricut Joy. Get ready to use this little machine in lots of new and fabulous ways!
Below are the materials and supplies used in this project!
Before we dive into stickers and labels, let me first show you how to address envelopes with Cricut Joy.
The thing that makes addressing envelopes so quick and easy for Cricut Joy is the Card Mat. You can load the envelope right onto the Card Mat; and when your text is formatted correctly, Cricut Joy will write perfectly-placed addresses for you! Although it takes a bit of trial-and-error, once you get the spacing setup, you can save your Design Space file and use it over and over for quick addressing!
How to Format Text for Envelopes
If you'd like to use my Envelope Templates, just click HERE!
To figure out the spacing for your envelope, start by placing three things on your Design Canvas:
First, drop a square onto the canvas and size it to match your envelope (standard A2 envelopes are 4.375″ x 5.75″). NOTE: You will delete/hide this rectangle before cutting, as it is intended to just be a reference/placeholder.
Next, insert a text box and type out your address data. Be sure to change it to a "Writing" font you like.
Then, locate the Insert Card Corners image set and select a set of corners. NOTE: It doesn't matter which corners you pick, as they won't be cut/drawn but are to help with placement.
With these three elements on your canvas, set your alignment and Attach it together so it translates just right to the envelope:
First, use the Center Alignment tool (top toolbar) to align the envelope placeholder and the corners cuts so they are perfectly centered (horizontally and vertically) on top of each other.
Next, place the text block anywhere you want it. I like my text in the exact middle of the envelope. Use the envelope placeholder to help you visualize where the text should go and how it will look.
Once you have your text placement exactly where you want it, prep the design to run through your Cricut Joy:
First, hide or delete the envelope placeholder so it won't be cut.
Next, make sure the text is set to "Draw" and the corners are set to "Cut"
Finally, Attach the words and corners together so they maintain their spacing once you hit the green "Make It" button.
Pssstt – Don't understand why or how to "Attach" everything? See my tutorial here!
If you want to add additional drawn details (like frames, designs or a return address), you can format them in the same way:
Use the envelope placeholder to get a sense for the spacing of various text boxes, embellishments and a set of corners.
Hide the envelope placeholder.
Attach all the text/corner elements together.
My envelope with the return address written directly on the envelope looks like this:
Once you have your designs formatted, you will likely need to run an envelope or two through your Cricut Joy to make sure the spacing comes out just right. Don't hesitate to Detach the elements, make adjustments, and re-Attach until the spacing ends up exactly as you want it. Finally, be sure to save your file so you can easily pull it up, swap the text, and use it over and over!
Getting the text spacing figured out is the "trickiest" part of this whole project. Once you have it ready to go, click the green "Make It" button and get your Card Mat and envelopes ready to go.
To use envelopes with the Card Mat, simply slide the flap under the clear layer on the Card Mat…
Then fold the envelope over the clear sticky layer and smooth it down so it's nice and secure.
With your favorite pen loaded into Cricut Joy, load your mat and click the green "Go" button in Design Space.
I highly recommend using either Fine or Extra Fine pens for addressing envelopes so the text is nice and crisp. If you choose to use Markers, consider spacing out the letters so they don't overlap due to the heavier line weight.
Important! Once the text part of the design is complete, Design Space will prompt you to load your Fine Point Blade in order to continue cutting the corner slits. Don't do this! Just cancel the design and unload your envelope so that the only thing on your envelope is the pen writing,
Once done, you can load up another envelope to make as many as you need!
Using Labels to Address Envelopes
If you don't have the patience or interest to futz with the text placement on envelopes, there is an even easier way to address your envelopes with labels!
By cutting the label shape from regular sticker paper, Adhesive-Backed Deluxe Paper, or the new Smart Label Writable Paper, you can make pretty address labels to stick directly on the envelope…anywhere you want it!
You can make an address sticker just like any other label you'd make with a Cricut:
Pick out a shape you love and make sure it is set to "Cut"
Type out your recipient's address and set it to "Draw" in your favorite font.
Attach the shape and text together and click the green "Make It" button.
You can access my envelope labels HERE!
Write and cut the designs on any sticker-type paper you like. Loaded below is the Smart Label Writable Paper (no mat needed!)
Then just peel-and-stick your designs directly to your envelopes!
Beyond just address labels, you can make return address labels, stickers and any other decoration you can think of!
How to Make Happy Mail Stickers
I had so much fun going through various image sets in the Design Space library, just picking out cute shapes that would make fun envelope stickers (most are from the Close to My Heart – Artistry set). After choosing a variety of banners and shapes, I just typed out words, names and monograms to fit each one. Ensuring the shape was set to "Cut" and the details/words were set to "Draw," I Attached them to each other just as I did the labels above.
If you'd like to access my Happy Mail Stickers, please click HERE!
In mere minutes, I had adorable stickers written, cut and ready to go!
Wouldn't these be so fun on wedding invitations, birth announcements, or other special mail?!? And with various papers and pens now available, the options for customization and personalization really are endless!
TIP! Want to make a full sheet of return address labels? Design your label once and then increase the project count on the final cut screen. On a single sheet of Smart Label Writable Paper, you could easily get 50 labels!
How to Make Monogram Stickers
I think my absolute favorite part of this whole "pretty mail" project is the monogram stickers. Each of these is just our last initial written in a different font and sized really big. When attached to various round shapes, they become super classy monogram stickers. By swapping the fonts, shapes and pen colors, you can give them so many different looks!
If you'd like to access my Monogram Decals, please click HERE!
I sized and laid out these stickers to take advantage of every inch of the Smart Label Vinyl. If you need a bunch, you can cut all 48″ worth of label material at once!
These labels were written with both Extra Fine and Fine pens onto Smart Label Vinyl, so I can literally peel them off just like stickers!
But the same concept could be used on the patterned Adhesive-Backed Deluxe Papers for a totally different look!
Whether you're addressing envelopes or just want to make some labels or stickers to dress up your mail, the Cricut Joy + pens give you so many fun options!
Now that I have a bunch of templates and sticker designs all set up, writing/cutting new copies is as quick as pulling up the file and loading my machine. Since I pretty much hate my handwriting, I am so excited to have a way to easily create some gorgeous mail!
LEARN MORE ABOUT CRICUT JOY
Check out these other comprehensive Cricut Joy tutorials!
READY TO CREATE MORE WITH YOUR CRICUT?
Explore these other helpful resources by clicking below!
See You Soon!
Megan
Sours: https://thehomesihavemade.com/how-to-address-envelopes-with-cricut-joy/
1602
1603
1604
1605
1606