STAR Paragon Inflatable Kayak Review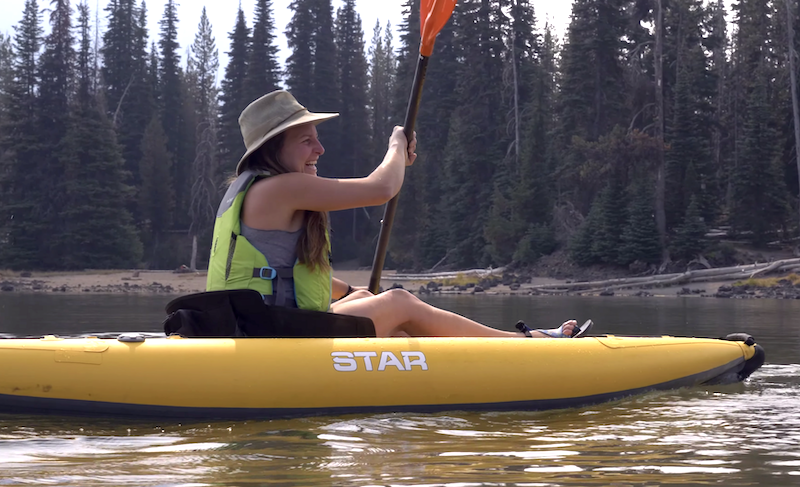 The STAR Paragon inflatable kayak impressed me. This kayak tracks well and is ideal for flat water paddling.
If you haven't heard of STAR inflatables before they are a subsidiary of NRS, which is a great paddlesports company that has been around since 1972.
The Paragon is their flat water IK that comes in three different sizes. For the sake of this review we will be talking about the smaller solo model but much of the features and points relate to all three models.
One of the things that makes the Paragon stand out is the keel inserts at the bow and stern, which really help to keep it moving forward smoothly and gliding straight.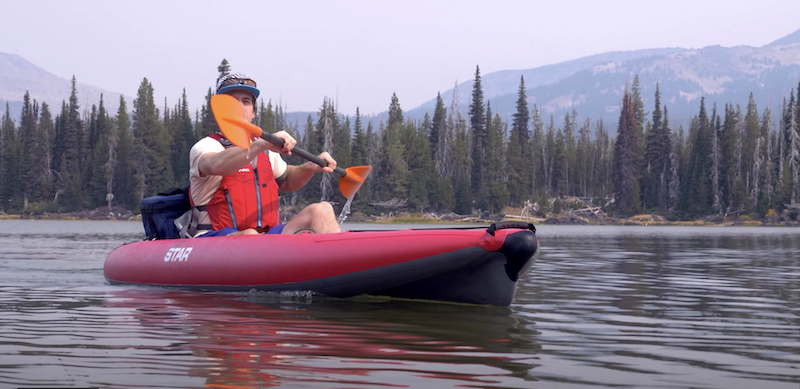 The width of 36" is a nice size as it's wide enough to provide excellent stability for even brand new paddlers – it's nearly impossible to tip. Yet it's not so wide that it drags.
The Paragon provides a very comfortable ride and although it's not the fastest in the flat water category, the smooth glide and easy maneuverability makes it feel really nice to paddle.
For the size it's heavier than one would expect but it's made solid and consequently feels solid in the water. Also with the heavier weight there is less chance of getting blown in the wind.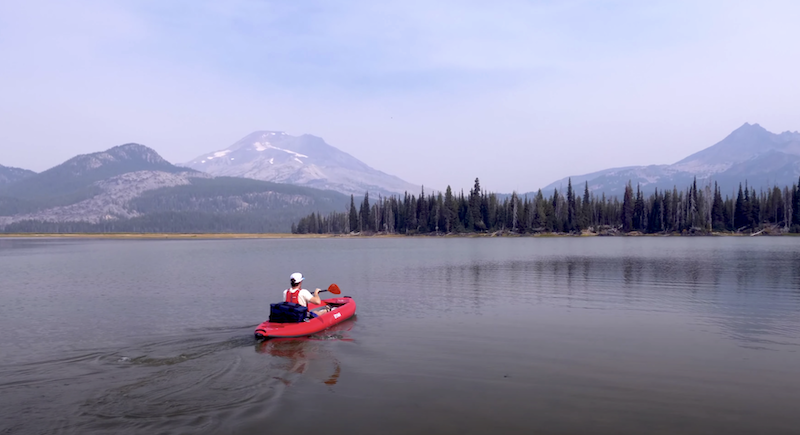 The STAR Paragon tends to hold its own in the water even in rougher conditions.
Although not a large kayak it is suitable for those who are at most 6'2" tall. If you need more leg room take a look at either the XL or the tandem Paragon.
SPECS
EXTERIOR L x W
11'2" x 36"
WEIGHT
40 LBS.
MAX LOAD
275 LBS.
STABILITY
PERFORMANCE
WARRANTY
3 YEARS
PRICE
CHECK PRICE
IMPORTANT FEATURES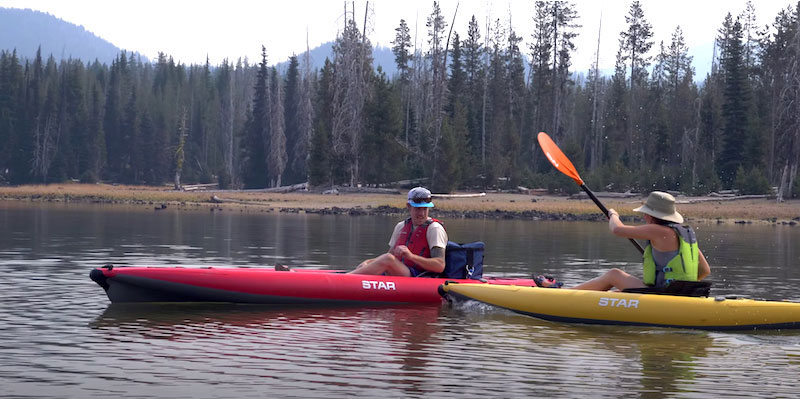 There's some great features to be aware of on this kayak.
LOADS OF D-RINGS
There are 10 stainless steel D-rings that can be used for securing the seat and gear.
The D-rings are well positioned to secure gear or a small cooler at the back with extra space for gear up front.
HANDLES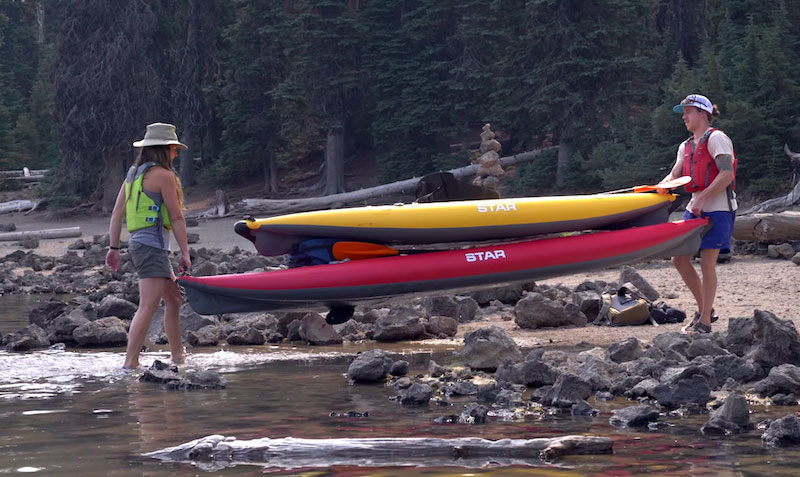 The two reinforced carry handles, one at the bow and one at the stern make it easy for two people to carry or to grab from the water.
HIGH-PRESSURE RIGID FLOOR

We are seeing more and more high-pressure drop-stitch floors with the better inflatable kayaks.
It's a really important feature as it provides more rigidity and a better performance.
I notice a huge difference in the performance level of inflatable kayaks that have a high-pressure floor than with those that don't.
BOW AND STERN SPLASH COVERS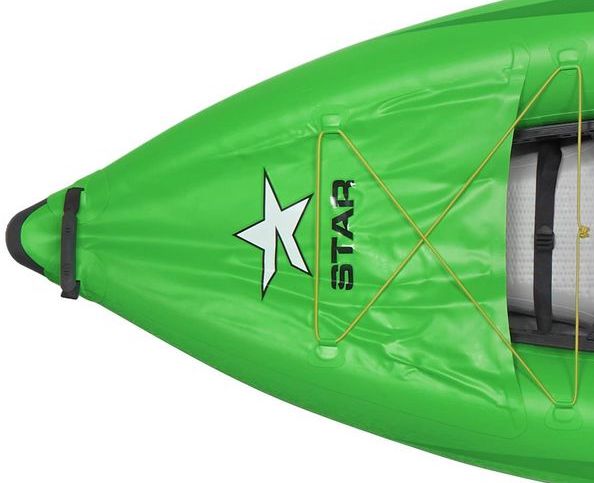 The front and back splash covers provide some protection for gear from splashes and from the elements.
With an open cockpit inflatable kayak it's nice to have a little 'under cover' space for backpacks or dry bags.
BOW AND STERN DECK RIGGING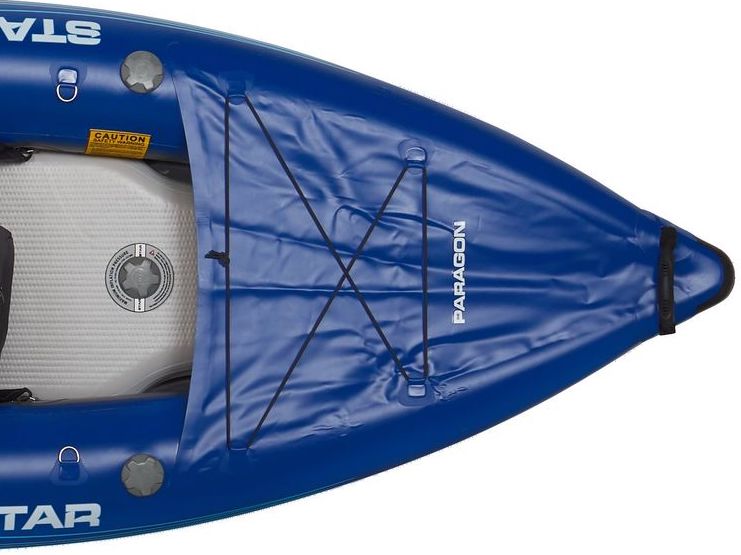 The bungee deck rigging on both the front and back splash covers are an excellent space for storing dry bags that can get wet and extra gear for longer adventures.
You can easily fit a couple dry bags under them or even camping gear if going on overnight excursions.
RIGID KEEL INSERTS
Without these rigid keel inserts this would be a completely different review.
They make a huge difference in the overall performance of the STAR Paragon and really help this kayak to cut through the water with less drag.
Inflatable kayaks are not known for perfect tracking by any means but there's a few IK's out there now that include rigid keels such as these to help with glide and tracking.
They work and they are an excellent feature.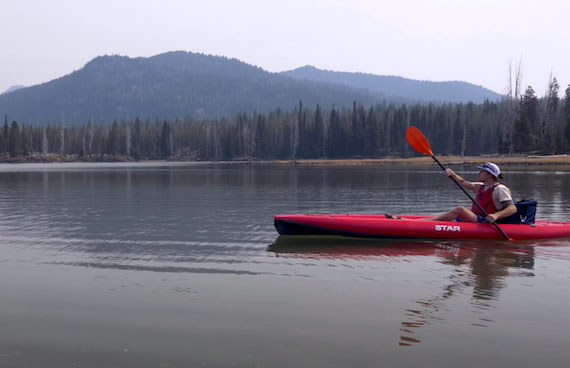 The only downside to the rigid keel inserts is that they make for a bulkier package when the kayak is deflated, rolled up and stored away.
However they are totally worth the extra weight and bulk for the better performance.
LEAFIELD C7 VALVE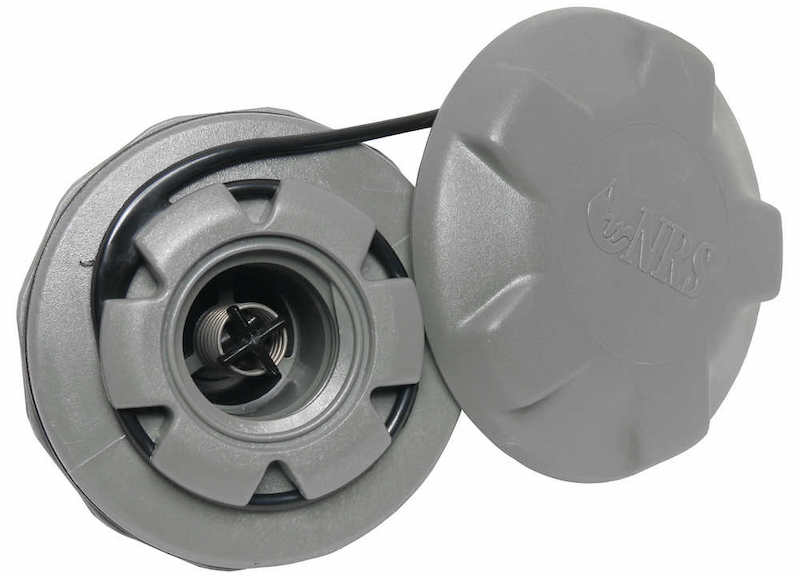 NRS uses the Leafield C7 valve for all of their inflatable kayaks and inflatable SUP's. It's a good quality valve and easy to use.
REMOVABLE ALL-WATER FIN

The curved touring fin slides easily into the fin box and clips into the place.
You definitely want to use the fin and it greatly helps with tracking.
However I do have a beef with the fin. It's a small all-water fin that although helpful isn't ideal for flat water touring, which is what this kayak is designed for.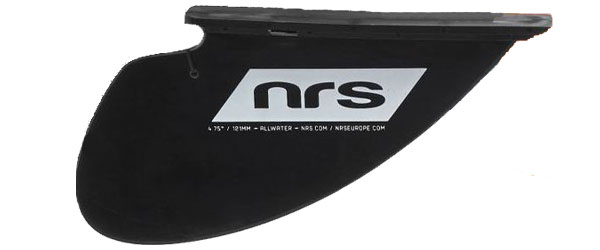 I would personally prefer to see a longer touring fin. I think a longer fin would improve the performance of the Paragon even more.
HIGH-BACK SEAT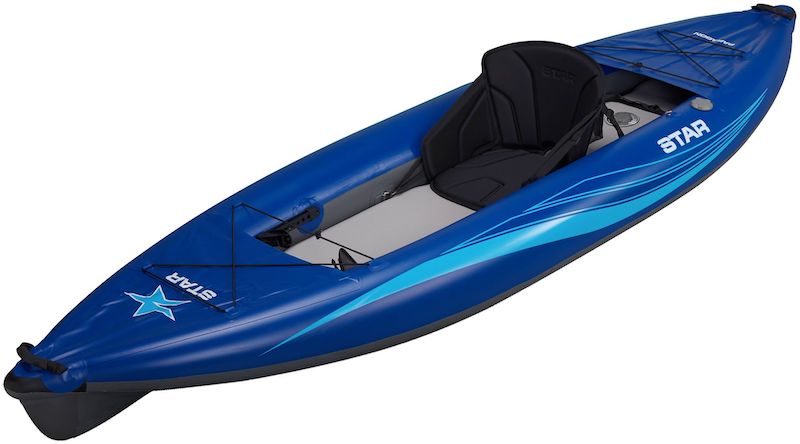 I have mixed feelings on the seat. It is easy to install and clips to the side D-rings. It does have a high back and is fairly comfortable.
You can pull the straps to make the back more or less rigid. It also includes a zippered pouch and a cup holder on the back of the seat.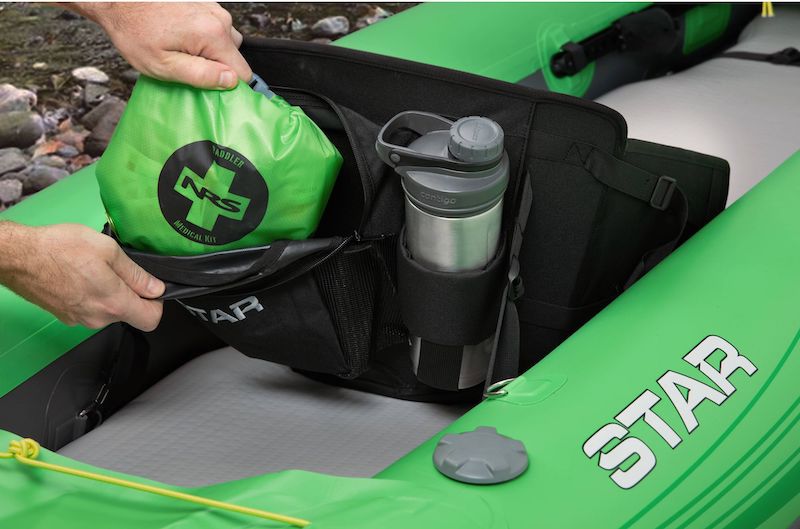 However I have used better. It could use a little extra padding and support in my opinion.
If you wanted to switch the seat out down the road you could easily do that. You simply need another seat that secures to D-rings.
My favourite is the one that comes with the Sea Eagle kayaks – You can see it here.
FOOT BRACES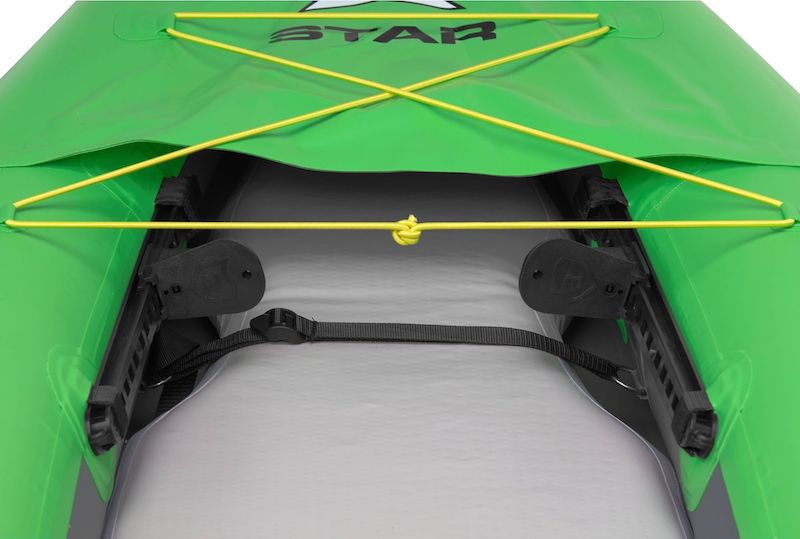 I love the foot braces. It's only in a past couple of years that we've started to see inflatable kayaks that include foot braces.
As you can imagine they make a big difference.
With your feet braced on the foot pegs you can paddle more efficiently, with more power and with less strain your back.
I definitely like that they are included in the package. They can be adjusted based on your height.
WHAT'S IN THE BOX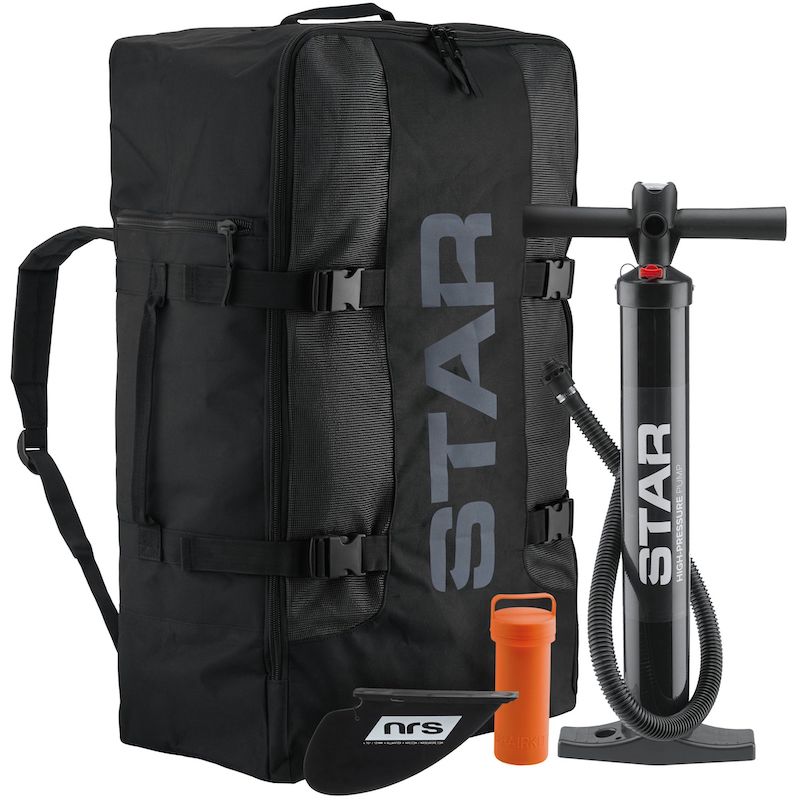 Kayak Hull
1 Removable High-Back Seat
Foot Braces
Hand Pump
Carry Bag
1 Removable All-Water Fin
SETUP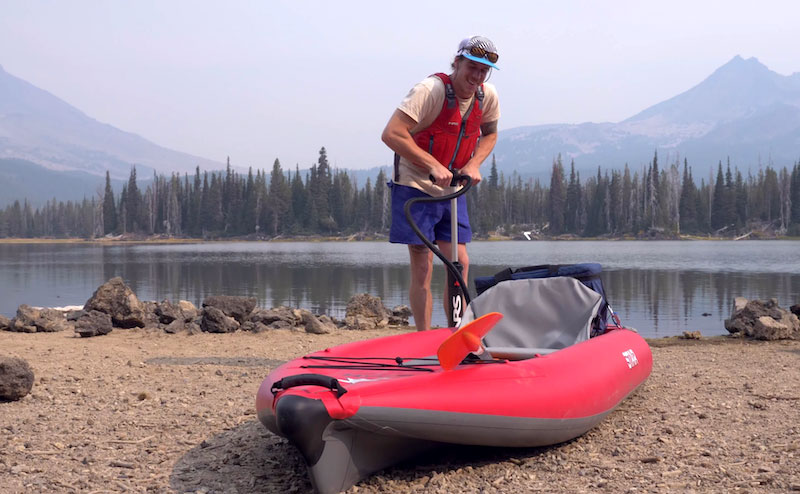 With three air chambers to inflate (one on the floor and one on each side) it will take approximately 7-10 minutes to inflate depending on you pumping speed.
The double action hand pump allows you to inflate the floor to a higher air pressure and overall just makes pumping easier.
Once inflated secure the fin and attach the seat.
After use allow a little extra time to dry it out properly. Pull up the floor and dump any water that has gathered under there.
LOAD CAPACITY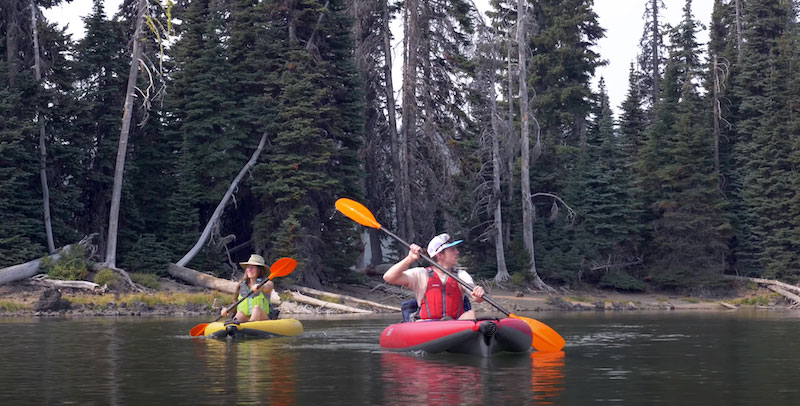 NRS states that the load capacity is 275 lbs. I would say that is a conservative number. This is a well made kayak and it can likely hold a fair amount more.
However for optimal performance 275 lbs. or less is recommended.
CONSTRUCTION
The 1000 denier PVC material is what you want to see in a durable inflatable kayak.
The material is strong and when inflated you can tell the difference between this one and those with cheaper construction.
WARRANTY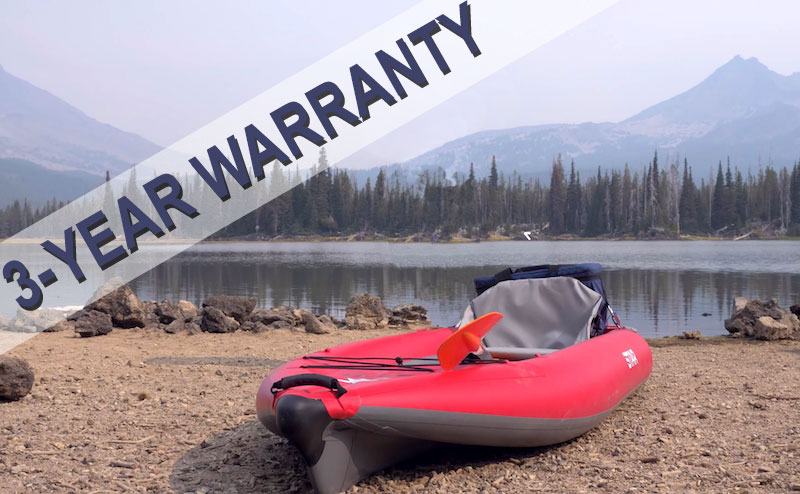 I was really happy to see that NRS is providing a solid 3-year warranty with their STAR inflatable kayaks.
It basically covers everything outside of normal wear and tear.
ANY COMPLAINTS?
I only have a couple complaints…
For one it's a little heavier than I would like for the size. The heavier weight means it takes a little more effort to paddle and carry. However it also keeps it very solid in the water, which is nice when dealing with wind.
Also the seat could use a little extra padding and more back support.
BOTTOM LINE
In conclusion the Paragon is a really nice comfortable ride. It's a solid kayak that can easily be transported to the water in the trunk of your car. No roof racks needed. 🙂
It's not overly spacious but has enough room for one rider up to 6'2" tall and a couple bags of gear.
You do get a little wet when paddling the Paragon but that's not uncommon with open decked inflatable kayaks.
With the 3-year warranty you're covered. For the price it's a good buy.
WHERE TO FIND THE BEST DEAL
Click Here For The Best Deal On The STAR Paragon Inflatable Kayak PLUS Free Shipping At NRS.com.
Did You Know?
By clicking on the above seller links you can help keep InflatableKayakWorld.com growing. When you make a purchase after clicking on our links, the retailer will contribute a portion of the sale to help support this site. It won't cost you anything extra and it's a simple way to help us fund our kayak and gear reviews. Thanks!
Sours: https://www.inflatablekayakworld.com/star-paragon-inflatable-kayak-review/
NRS Star Challenger Fish Inflatable Fishing Kayak
Designed for the human-powered pursuit of fish, the Star Challenger Fish Inflatable Fishing Kayak gives anglers a stable platform to sit, stand, cast, and catch the adventure. Plus, the Challenger Fish comes rigged and ready to rival the best sit-on-top fishing kayaks. Inflatable sit-on-top fishing kayak featuring a screened self-bailing deck. The rigid high-pressure (L x W x D) 10'8" x 38" x 6" (325cm x 96.5cm x 15.25cm) drop-stitch deck has 9" (23cm) side tubes for outstanding stability. Stand and move around with confidence. This material lets NRS build inflatables with flat surfaces that can be inflated to rock-hard rigidity. You get hard-shell performance along with the easy transportation and storage of an inflatable. What makes this possible? Tens of thousands of fine threads.

The process starts by joining two pieces of polyester woven support fabric with thousands of fine polyester thread lengths. This base material is made in strips from five to ten feet in width, and up to 400 needle heads may be used in the setup. Each needle sews a continuous, evenly spaced thread, back and forth between the two pieces of woven fabric, locking them together into an incredibly strong unit. These drop-stitch sewing machines are marvels of complexity. When a change is made in the spacing distance between the two pieces of woven fabric, it can take over 20 days to remove and replace the required needles.

Next, an air-tight coating is applied to the outer surfaces of both sides of the material. The sidewall material is made of polyester base fabric that is coated on both sides. Polyester thread is used throughout because it is strong, durable and has very little stretch. The actual assembly process involves labor-intensive gluing of the sidewall material to the top and bottom pieces of the drop-stitch material. Then a wide seam tape is glued over each lap seam for a bomber, air-tight final product. What you have now is a super strong construction that can be inflated to pressures up to 20 psi (1.48 bars). Drop stitch a high tech material that lets NRS build new, innovative inflatables that are stretching boating world boundaries. Innovation, NRS-style.

Comfortable aluminum-framed suspended-mesh seat sits you up high enough for good visibility and easier standing. Seat back folds down for easier transport. Rigging options include five Yak-Attack Switch-Pad Flexible Surface Mounts for attaching rod holders, fish finders, anchor locks, etc., plus bow and stern daisy chains. Stern fin plate, with included all-water fin, for enhanced tracking. Ultra-comfortable aluminum-framed suspended-mesh seat with a collapsible seatback for easy transport. Using top-quality Leafield C7 inflation valves for easy inflation and deflation.

The Star Challenger Fish Inflatable Fishing Kayak weighs 27 lbs. (12.25 kg), has a load capacity of 275 lbs. (125 kg), the boats bow, and stern kick are 12" (30.5cm), is a 3-chamber design for safety and the PVC material weight/denier is 30 oz./1000 (850.5 g/1000). Four D-rings for lashing points, two handles for easy transport to and from the water and a center compartment width of 20" (51cm). Included with the boat are an all water fin, seat, carry bag, pump, repair kit and owner's manual.
NRS Star Challenger Fish Inflatable Fishing Kayak:
Designed for Human-Powered Pursuit of Fish
Gives Anglers Stable Platform to Sit, Stand, Cast, & Catch-the-Adventure
Rigged & Ready to Rival Best Sit-On-Top Fishing Kayaks
Drop-Stitch, Self-Draining Deck
Comfortable Seat, & Numerous Lashing Points
High-Pressure Drop-Stitch Floor Creates Extremely Stable Platform
Hard-Shell Performance w/Easy Transportation & Storage of Inflatable
Polyester Woven Support Fabric w/Thousands of Fine Polyester Thread
Built w/Advanced-Formula PVC Material Using State-of-the-Art Seam Welding Technology
PVC Material & Welding: Result, Superior Abrasion Resistance, Longevity & Air Retention
Top-Quality Leafield-C7 Valves Ensure Trouble Free Inflation/Deflation
3-Chamber Design for Safety
Innovation, NRS-Style
Dimensions:
(L x W x D): 10'8" x 38" x 6" (325cm x 96.5cm x 15.25cm)
Side Tubes: 9" (23cm)
Bow & Stern Kick: 12" (30.5cm)
Center Compartment Width: 20" (51cm)
Ultra-Comfortable Aluminum-Framed Suspended-Mesh Seat
Seat w/Collapsible Seatback for Easy Transport
Load Capacity: 275 lbs. (125 kg)
Weight (empty):½27 lbs. (12.25 kg)
Tube & Floor PVC Material Weight/Denier: 30 oz. /1000 (850 g/1000)
Two Handles for Easy Transport
Includes:
All Water Fin
Seat
Carry Bag
Pump
Repair Kit
Owner's Manual
Sours: https://www.sunnysports.com/p-stacfk/nrs-star-challenger-fish-inflatable-fishing-kayak
Kayaks allow for maximum maneuverability through the narrowest streams but are tough enough to let you outlast the most challenging whitewater. Their highly versatile frame enables you to go from gently cruising calm lakes to slicing through massive waves, guaranteeing the best adventures.
NRS's partnership with Star enables them to cater to a significantly broader market, letting you look no further for your next kayaking adventure. Their unbeatable performance that does not compromise portability allows you to go from trekking on foot to paddling water in a snap.
NRS Kayaks Reviewed
The brand's kayak line grew significantly since its collaboration with Star Inflatables. We review each of their kayak series below.
#1. NRS MaverIK: I Performance and II
The only kayak offering by the brand, the NRS MaverIK is the perfect all-around whitewater companion that promises an excellent performance every time. Its sturdy construction promises the ideal compromise between speed and stability to let all paddlers experience ride the rapids.
Having pre-installed attachments for foot braces and thigh straps lessen your worries as you ensure your security through challenging whitewater. This hardware lets you know what accessories to look for to have an accurate fit on your kayak.
Pennel Orca comprising on the MaverIK's fabric, guarantees excellent durability that can withstand the constant beating. It boasts of ample flexibility to resist abrasions and immediate damage caused by Ultraviolet rays.
Multiple air chambers with Leafield C7 valves ensure the kayak's rigidity and your safety if one is gets punctured. The same valves let you get to paddling immediately with its high-speed inflation rate. Packing and transporting the MaverIK will be more comfortable with a relatively lightweight and compact frame when deflated.
Its self-bailing floor ensures that you will stay afloat despite constant crashing, allowing you to focus on paddling. A Leafield A6 Pressure Relief Valve, ensures the kayak's air pressure remains optimal, letting you finish the course safely.
MaverIK's reduced waterline makes excellently agile, allowing for maximum maneuverability. The high bow and stern lets you resurface effortlessly and have better control of direction, guaranteeing swifter turns. Despite the shortness, its tubes are massive enough to ensure your stability, making this kayak forgiving for beginners finding their footing.
Check Price on NRS
---
#2. Star Raven I and II
Star Raven's highly versatile construction lets you go from lazy river cruising to battling it out with more challenging waves in a snap. This kayak series offers enough carrying capacity to allow a buddy to join you or haul in more gear for multi-day camping trips.
A drop-stitched, Polyvinyl Chloride floor insert improves the kayak's self-bailing capacity, letting you leave the pail at home. This type of floor promises excellent rigidity to ensure that the raft stays upright despite the constant movement, ensuring your stability.
Padded folding seats provide ample back support as you paddle, letting you be more comfortable the entire trip. Its quick detachment from D-rings on the kayak's interior gives you full control of deck space, allowing for better weight distribution. Star provides extra fasteners to secure the seats, ensuring your safety as you traverse whitewater.
Leafield Inflation and Pressure Relief valves keep the multiple air chambers of this kayak at optimal levels, ensuring your safety throughout the course. These air chambers, combined with the sturdy floor, ensure your stability as you paddle.
Welding the seams of the excellently durable Polyvinyl Chloride material ensures that this tear apart easily, letting you get your money's worth. This construction process strengthens the kayak's ability to remain airtight and resist punctures, with the fabric significantly reducing wear and tear from UV rays.
Reinforced handles on Raven's front and rear allow for more comfortable transfers to and from the water. The same feature lets you flip the kayak quickly if it tips over, allowing for faster re-entry.
Check Price on NRS
---
#3. Star Outlaw
The best NRS and Star have to offer commercial camping and rentals; the Star Outlaw kayak promises excellent durability to withstand constant use. Weekend cruises on the lake will be a breeze with this kayak's superior maneuverability.
A consistent curve on the massive enough tubes ensures excellent tracking making this kayak series usable for all paddlers. Its ample stability makes the Star Outlaw very forgiving, letting beginners work on their footing without risking balance.
Using Polyvinyl Chloride on the fabric makes it highly resistant to damage, ensuring the kayak will remain airtight despite everyday use. Star's state-of-the-art welding of the seams guarantees that it will stay together and stay rigid, lengthening the kayak's lifespan.
A drop-stitched PVC floor insert helps keep your balance as you maneuver the kayak, letting you focus on paddling than balance. The same floor type, secured by two straps on each end, guarantees the utmost comfort, allowing you to stay in the water longer. Inflatable thwarts with easy installation on its attachments give you ample back support as you traverse the lake.
Assembling the kayak is very convenient, with its fast inflating Leafield valves on each air chamber. Grab handles aid for the most convenient transfers to and from the water, letting you straight to paddling effortlessly. The same handles help you flip the Outlaw quickly if it tips over. If you get the kayak punctured, repair kits included enable you to make temporary repairs, letting you finish the trip.
Check Price on NRS
---
#4. Star Viper and Viper XL
Star's Viper and Viper XL makes you forget about needing a hard-shell kayak with its unbeatable performance. Its rigid construction makes it the perfect choice for battling the most challenging whitewater, letting you come out victorious as you slice through rapids.
Displacement airbags on both ends of the kayak improve buoyancy and add power as you resurface after dives. The added floatation devices also serve as a backrest and a step pad to secure your stance as you paddle. Its self-bailing, drop-stitched floor insert ensures the kayak's rigidity and keeps excess water out of the raft, letting you focus on battling with the waves.
The intensified rocker allows you to punch holes and slice through waves and allows for effortless resurfacing after steep dives. Having a high stern provides better control of direction, optimizing the Viper's maneuverability for smoother turns. Its reduced waterline allows maximum energy transfers from paddling to the water, guaranteeing optimal speed for less effort.
Both Viper and Viper XL comes with thigh straps that lock you in place, assuring your safety as you paddle. Welding the seams of the excellently durable PVC fabric ensures that the raft remains airtight and will take the beating of constant impact. Its multiple air chambers efficiently trap air with the Leafield valves that also allow for fast inflation.
The self-bailing, drop-stitched floor ensures the raft's integrity, keeping your stability, and reducing capsizing risk by expelling excess water immediately. Its increased thickness lets you sit on top of the waterline, giving you a better view ahead and planning your moves efficiently.
Check Price on NRS
---
#5. Star Paragon
Having fin inserts on the front and rear sets the Star Paragon apart from all other kayaks in this review. This added feature lets you have full control of drag, allowing for optimized tracking capacity. Like the Viper series, the excellent overall performance does away with the need for hard-shell kayaks with the most convenient portability and storage.
Its non-self-bailing, drop-stitched floor insert ensures the Paragon series' rigidity, promising that the kayak will stay upright throughout the entire trip. This floor type makes the kayak suitable for touring or light fishing on flat water.
The ergonomic, high-back seat provides ample support and is adjustable for optimal comfort. It also lets you have a more stable stance as you paddle, allowing gain more speed with every swing. Splash guards on the front and back also serve as storage to ensure that your gear stays dry. Bungee decks also allow you to secure added rigs, lessening your worries as you paddle.
Leafield valves on its multiple air chambers assure the kayak's rigidity and lets you have more paddling time with its quick inflation and deflation. A repair kit included in the purchase allows you to do a temporary repair if one section gets punctured, letting you finish your trip. The inclusion of a fin explicitly made for the Paragon enables you to decide on the kind of movement suitable for your trip.
Check Price on NRS
---
NRS Kayak Types
Getting yourself familiarized with the different types of kayaks lets you decide accordingly, letting you maximize its capabilities. We differentiate each one below to allow for smarter decision-making.
Creek Boats
Creek boats usually have massive volumes that are distributed evenly to allow for better buoyancy. This feature also helps the kayak resurface quickly due to the added stability on the bow and stern. The less pointed ends of these boats reduce the risk of spinning out, allowing for maximum control. They are usually longer than other kayaks to let you tread narrower creeks comfortably.
Play Boats
As the name suggests, these boats are mainly used for freestyle rafting, letting you do spins and punches effortlessly. The significantly reduced volume in these kayaks requires more training as this feature increases its agility. Having flat decks allows them to sink for better vertical tricks, with the volume concentrated on the cockpit allowing for stability. A planing hull keeps these boats stable as they gain speed, letting you maintain balance as you paddle.
Downriver Boats
Downriver boats are a good compromise between a creek and playboats, offering ample stability with enough maneuverability to let you pull a few tricks. The mid to high-volume bow and stern reduce the build-up of excess water, ensuring your buoyancy and stability throughout the entire course. They will be shorter than creek boats but significantly longer than play rafts to guarantee better tracking and movement control.
---
About Northwest River Supplies
Business professor and avid river sports enthusiast Bill Parks' determination to get his startup company off the ground made Northwest River Supplies the brand today. His perseverance to work for something he has always been passionate about pushed him to strive harder to put NRS among the most trusted rafting equipment brands.
Despite the lack of budget, he took a risk with the money he had and created his first rafting gear catalog in his garage in 1972. His success didn't cloud his judgment, for as he approached retirement, he made sure that the people who contribute to NRS's achievement were not to be swept under the rug. Instead of selling the company to end his career with a huge payday, Parks made a way to make NRS completely employee-owned before he left. This move ensured that his employees' loyalty and service were duly recognized as he moved on to the next phase.
The brand takes pride in manufacturing products with the Ultimate Utility, reassuring their consumers that everything they produce is highly versatile. This concept guarantees that each purchase lets you go to all adventures worry-free, promising that you get your money's worth with their rigid construction.
Testing the products firsthand in their home base at Moscow, Idaho assures you that all their products perform excellently, promising the best adventures. NRS takes pride in its keen attention to customer needs that guarantees you of getting the best.
---
Conclusion
The decision to diversify and collaborate with Star Inflatables shows how Northwest River Supplies values customer needs. Admitting their limitation and striving to improve it shows humility, assuring you of their dedication to provide the best.
We hope this review of what NRS offers for your next kayaking trip helps narrow your search. While their list is pretty extensive, it is best to learn the basics to allow for more practical decision-making. Check out our other articles below for more product reviews.
---
Frequently Asked Questions
Q: What is a Chine?
A: The chine is what makes the raft's hull shape round or edged – this is the line where the tubes and the bottom connect. Hard chines allow for more stability, keeping the raft plane despite wavy conditions. Play boats usually have this to let paddlers set up their moves with enough agility. On the other hand, soft chines lessen contact with rocks on shallow waters, allowing for a smoother glide. This sleek finish allows for a more predictable response, letting you have more control of the raft's movement.
Q: What is a Rocker?
A: The rocker is the curve of a raft's bow and stern towards its bottom. A flat bottom that ends with aggressively angled ends of the raft is called a Kick Rocker. Pulling off tricks is more comfortable since the flat base allows ample stability to set up your moves. The gradual curve of a Continuous Rocker allows for increased maneuverability, letting you do swifter turns. Diving with Continuous Rockers will be more comfortable with the reduced water contact of the raft's ends.
Q: What are float bags?
A: Float bags are removable air chambers that you put on the bow and stern for added stability. Most of the time, these double as dry bags where you can keep your essentials as you paddle. If the raft starts taking in water, their volume reduces the amount you have to bail, improving your safety. Not all rafts can accommodate these bags; some do not need them at all since pre-installed stern bags serve the same purpose.
Related Resources
Sours: https://surfhungry.com/nrs-kayaks-review/
NRS Purchases STAR Rafts
Adding to its already robust market share in the rafting world, NRS recently completed its purchase of STAR Rafts, a raft manufacturer that has been in business since 1993.
"The label has been synonymous with quality and value, in both product and service, since their founding," says NRS Marketing Director Mark Deming. "We've watched Wayne Dull and his team grow STAR from its beginnings as All River Equipment into the recognized label it's become today."
Deming adds that NRS made the purchase to augment its already-strong lineup. "We purchased Star for reasons similar to why we purchased WRSI a few years back," he says. "The Star name and products will help us satisfy market demand not currently being met by the NRS label. On the other side of the coin, our service, logistics and marketing strength will empower Star to reach new levels of success."
While Deming says that NRS has always been known for building premium inflatable watercraft, the Star line will enable it to offer a better price-point offering. "Our hand-built Otter and Expedition Series rafts carry a relatively high price tag, but demand remains so high that our small factory is running around the clock to keep up," he says. "The Star brand will allow us to offer high-quality inflatable boats at prices within reach of a broader range of consumers, along with the manufacturing capabilities to meet that wider demand."
While NRS doesn't have plans to fold the Star label into the NRS brand, it plans instead to leverage NRS's resources and capabilities to build up Star. As for any new technologies and/or products that may arise from the acquisition, he says exciting things are in store.
"We're keeping our cards close to our chest for now, but suffice it to stay that the Star product line is going to see some changes," he says. "The Star label gives us freedom to innovate with new technologies and designs to bring rafters, paddlers and anglers exciting new choices in the near future."
The article was originally published on Canoe & Kayak
For access to exclusive gear videos, celebrity interviews, and more, subscribe on YouTube!
Sours: https://www.mensjournal.com/adventure/nrs-purchases-star-rafts/
Star nrs
The NRS/Star Inflatables Super Holiday Day 20% Off Sale starts now at AirKayaks.

Get 20% off all in-stock NRS or Star Inflatable kayaks, paddle boards; life vests and gear during the Super Holiday Day Sale from November 15th through December 2nd.

Shop early for the best selection, with life vests starting at $47.96 and kayaks as low as $596. Free US shipping via UPS ground on orders over $398.
Visit the NRS/Star Inflatables product pages at www.AirKayaks.com for details or to purchase.
Sours: https://goairkayaks.com/2019/11/15/sale-20-off-nrs-star-inflatables-kayaks-sups-and-gear/
The All-Star Team began in 2014 at NRS Trailers and P&P Trailer Sales, with the goal of promoting young athletes whose families haul with NRS Trailers and P&P Trailer Sales. With the support of NRS Trailers and P&P Trailer Sales, NRS World, and sponsors including Wrangler, Resistol, Justin Boots, and Weston Ryder, a spot on the All-Star Team has become a highly sought-after position!
Beginning with the 2021-2022 season, the All-Star Team will now represent NRS Trailers and P&P Trailer Sales, P&P Trailer Sales, and National Trailer Source, the premier horse and livestock trailer dealership chain in the United States, formed by NRS Trailers and P&P Trailer Sales and P&P Trailer Sales in early 2021.
To see who made the 2021-2022 team, visit the All-Star page on on Facebook!
All Star Team
Abree Brock
Amelia Herman
Ashley Hunt
Austin Bebout
Ayden Bebout
Bailey Holmes
Becca Cox
Blaine Gray
Brogan Sims
Chloe King
Jade Chambers
Jake Holmes
Kaegen (KJ) Ashkar
NameKaegen (KJ)Ashkar
Kerstin Freeman
NameKerstinFreeman
Maggie Dooley
McKinlee Paschal
NameMcKinleePaschal
Preston Paschal
NamePrestonPaschal
Seth Brock
Sydney Valentino
NameSydneyValentino
Tyler Calhoun
Contact USSours: https://www.nrstrailers.com/team
You will also like:
How are you. The Countess asked somewhat anxiously. Instead of answering, I pressed my lips to hers. Of course, Columbine immediately joined us.
1673
1674
1675
1676
1677