In the 1970s, archaeologists in China stumbled across the 2,000-year-old tomb of a noblewoman from the Han dynasty. Known as Lady Dai, she was surrounded by lavish clothes, jewelry, and the remnants of her last banquet. Among the haul she was taking into the afterlife was a collection of pickle jars and a thick manuscript of corresponding pickle recipes.
Sometimes mistaken for an urn, the Chinese pickle crock is a curved vessel with a wide middle, a flared, narrow mouth, and a rounded lid that looks like an upside down bowl. The design allows the jar to double as an artwork, and some examples are decorated accordingly. But the shape also serves practical purposes. "It makes it easy for larger pieces of vegetables to fit inside, because it has a belly. And the way that it tapers on the top, it helps to make sure that the contents are submerged," explains Jessica Wang of Picklé, a fermentation workshop based in Los Angeles. Many of the lids actually are just inverted bowls, which can be conveniently used for holding the pickles as you ladle them out.
In terms of material, pickling crocks are usually made out of glass, glazed clay, or porcelain. With glass you can see the progression of the pickles, but many people prefer clay because it has a unique microporosity that absorbs and releases flavor every time it's used, similar to how a cast-iron pan works.
But the low-tech wonder's greatest asset is around the rim. As opposed to straight-sided mason jars in the West closed with canning lids, the curvy glazed stoneware jar has a moat running around the rim that creates a natural seal when you pour in a handful of saltwater. It provides an easy way to keep pickles fresh and uncontaminated for years, with a fraction of the stress of canning.
WHY YOU NEED ONE
Since the seal is just a thin layer of water that can be broken or topped off when needed, it's easy to add to the pickle jar and taste as you go. Unlike American pickle jars, often washed and sanitized between uses, the Chinese crock builds up layers of flavor over the years. With enough time and care, the brine can become just as valuable as the jar itself, a prize to be shared between generations. The Chinese pickling crock is part utilitarian and part sentimental, part everyday tool and part family heirloom.
While the jar is efficient for making any kind of pickle, it's especially useful for lacto-fermented vegetables in salt brine, which gives the pickles a more complex tang and infuses them with beneficial probiotics. The fermentation process gives each batch a unique flavor, but it also produces carbon dioxide gas as a byproduct, which can build up in a sealed space and even cause jars to explode. Using a mason jar for lacto-fermentation, you have to regularly "burp" the ferment by opening the lid every now and then to release the gas. But in a Chinese crock, "the gases can come out, but nothing can enter through the water," says Wang. The built-in water lock releases air bubbles while keeping harmful microorganisms from entering, creating a clever, passive system to ensure that the pressure doesn't break the vessel but the contents remain protected.
Wang recommends dedicating each jar to just one type of pickle. She uses hers for rice wine-infused pickles, like her current project, a month-old batch of mustard greens which can be used to accent stir-frys or add acidity to earthy stews. She says pickles made in her clay crock have a subtle yet distinct crispness to them, and the process of nurturing a brine over the years creates a unique pickle that can't be found anywhere else. Xiong Ying, a pickling enthusiast in Sichuan, has managed to keep a brine going for 20 years (her current one is a three-year-old brine in pristine condition). She explains that time gives her brine, and any pickles that go in it, a deep complexity that can't be replicated anywhere else.
HOW IT'S USED
It's not an understatement to say that pickles are a big deal in China. This type of crock is a common motif in the countryside, where many families maintain decently sized collections of crocks in rotation, passing them down the generations along with the brines inside. Pickle culture also extends into restaurants, where you'll often find giant jars of house pickles fermenting in the back, given out as complimentary appetizers to help break up heavy meals.
Throughout the country, every region has its own basic pickle recipe. Southwest China is a hub for lacto-fermented vegetables, where fresh bamboo shoots, crisp cucumbers, radishes, and carrots are quickly blanched, cut into pieces, put into a salt brine with Sichuan peppercorns, then topped with a bit of baijiu. Southern pickles are sweeter and usually consist of turnips or cucumbers that sit in a solution of white vinegar, sugar, and a little bit of salt. Northern Chinese pickles veer saltier, with cucumbers immersed in a solution of sorghum or millet-based black vinegar, salt, and chiles.
It's important to stress that this type of pickling crock is not unique to China, though it is an especially pervasive tool in the cuisine and likely originated from the region. The earliest pickle jar in China dates back to at least the third century, and they have been found in ancient tombs throughout the country. Today, the design is rather universal. In Germany, it's used for sauerkraut, though the sides are straight instead of curved. Koreans use it for kimchi and the Japanese for tsukemono. There are also massive versions of the crock used to bulk-ferment alcohol, soy sauces, spicy bean pastes, and vinegars.
But while the Chinese pickle jar removes some of the up-front hassle of canning, it does require a bit more long-term care. Unlike a hot water bath-sealed mason jar, which is shelf stable and can be stored for many years, the Chinese pickle jar needs a bit of monitoring. You have to top off the water seal occasionally or it will eventually evaporate. Eventually a bit of grime might develop around the mouth of the jar, but you can simply wipe it off with a clean, wet towel. That may sound like more work, but it's worth it.
HOW TO GET ONE
Serious pickle makers in China like procuring their crocks from the city of Jingdezhen, the national pottery capital. You can get them custom-made, but they're also quite easy to get a hold of online in East Asia. Though harder to come by in the West, they can sometimes be found in antique shops and Asian grocery stores. Online, there are a couple of glass ones available on Amazon, porcelain jars on eBay, and vintage clay vessels on Etsy.
Clarissa Wei is an American freelance journalist based in Taiwan.
Sign up for the Sign up for Eater's newsletter
The freshest news from the food world every day
Sours: https://www.eater.com/22574094/chinese-pickle-jar-crock-lacto-fermentation
200 ratings Write a review
This product is not Fulfilled by Ubuy and can take minimum 10 days in delivery. We might cancel the product from the order and refund you if any issue arise with the delivery of this product.
Note: Electronic products sold in US store operate on (110-120) volts, a step-down power converter is required for the smooth device function. It is mandatory to know the wattage of the device in order to choose the appropriate power converter. Recommended power converters Buy Now.
---
Product Details
Enjoy easy homemade pickles, sauerkraut and other pickled and fermented foods
1-gallon crock is 8" in diameter x 8-1/2" H and weighs 8-1/2 lbs.
Cover for 1-gallon crock is 10" in diameter x 1-1/2" H and weighs 3-3/4 lbs.
Two-piece, unglazed ceramic pickling weights for 1-gallon crock are 6" in diameter (together) x 1" H and weigh 2 lbs.
Microwave-, oven- and dishwasher-safe - Made in the USA by Ohio Stoneware
| | |
| --- | --- |
| Product Dimensions | 15 x 14 x 13 inches (38.1 x 35.6 x 33 cm) |
| Item Weight | 2 pounds (0.9 kg) |
| Department | Harvest & Kitchen |
| Manufacturer | Gardener's Supply Company |
| ASIN | B00EOSW0TS |
Description
With a classic design that is both decorative and functional, this stoneware fermentation crock provides a time-tested vessel for transforming cucumbers into crunchy homemade pickles, as well as making sauerkraut, kimchi and other gourmet fermented treats. Also ideal for kitchen and household storage. Made in Ohio, each thick-walled crock is fired at a high temperature for durability, finished with a food-safe, lead-free glaze and stamped with a signature seal denoting the size.
Similar Products
Pickling supplies, Best crocks for pickling, Microwave utensils
Customer Questions & Answers
No question and answer found
Customer Ratings
0 customers ratings
5 Star 0%
4 Star 0%
3 Star 0%
2 Star 0%
1 Star 0%
---
Review this product
Share your thoughts with other customers
Customer Reviews
No customer reviews found
Write Your Own Reviews
Only registered users can write reviews. Please log in or register
Sours: https://www.ubuy.co.id/en/product/H2BQPME-1-gallon-stoneware-pickling-crock-complete-kit
Fermenting and Pickling
Whether you're stocking your disaster pantry or looking to brew your own beer far off the grid, it helps if you have the right pickling and fermenting supplies. In addition to creating delicious, good-for-you foods, these food preservation processes help keep your food safe for months when properly stored. Lehman's specializes in helping our customers get started with fermenting and pickling using top-quality pickling crocks, fermentation kits, home brewing kits, sauerkraut stompers and more pickling supplies by the best brands.
Our selection of pickling crocks for sale is packed with many varieties to suit your unique needs. Perfect for making sauerkraut, pickles, kimchi and more, these fermentation crocks produce large quantities of perfectly pickled foods every time. Shop pickling crocks made of plastic or stoneware with lids, built-in labels, included cookbooks and much more. Complete your job with fantastic fermenting and pickling accessories to help you create all sorts of delicious, gut-healthy foods with minimal effort.
Page [1] 2 3 View All
Page [1] 2 3 View All
Sours: https://www.lehmans.com/category/fermenting-pickling
Choosing a Fermentation Crock - FERMENTATION CROCK REVIEWS - Bumblebee Apothecary
The 9 Best Fermentation Crocks in 2021
Types of Fermentation Crocks
Open Crocks
Open crocks are simple, straight-walled vessels, sold with or without a lid and weights. In the most basic setup, an open crock can simply be covered with a cloth, with ordinary items like plates or stones used as weights, or you can purchase weights and a lid separately. Open crocks are generally less expensive, more readily available, easier to clean, and can fit large items, such as a whole head of cabbage, through the wide opening. The drawbacks to an open crock are that they require close and regular attention to prevent mold infestations and brine overflow and they can let strong odors escape.
Water-Seal Crocks
German-style water-seal crocks come with a lid that's designed to sit in a shallow "moat" around the mouth of the crock. The moat is filled with water to form an airtight seal, which creates an optimal anaerobic environment for fermentation while keeping out mold, yeast, insects, and dust and sealing in funky fermentation smells. Water-seal crocks are more difficult to find and pricier, and the narrower mouth makes them harder to fit large ingredients into and trickier to clean. On the plus side, they're more hygienic, failure-proof, and hands-off, and many experts swear that water-sealed crocks are the best way to get a deep, fully developed flavor in your fermented foods. You just need to occasionally check the water level in the moat and top it off, as necessary, to maintain the seal. Water-seal crocks usually come with two crescent-shaped weights in addition to the lid.
FAQs
What's the difference between using a fermentation crock versus a glass jar?
A ceramic crock is the more traditional method of fermentation, and many home fermentation experts say that it is the best (or even only) way to get a deep, fully developed flavor. But another option is using a wide-mouthed glass jar, such as a Mason jar. They have the advantages of being easier to find, inexpensive, and easy to clean since they don't absorb odors or stains. The transparent glass lets you monitor progress, but they could be considered less attractive than an opaque crock and the UV light they let in could negatively affect your fermented foods. They also generally hold smaller batches and allow more air in and out than a water-sealed crock. If they're used with a traditional lid, it can't be tightened completely and needs occasional "burping" to allow built-up pressure to escape. These days many airlock fermentation lids are available for glass jars; they feature one-way valves that allow gas to escape but prevent air, mold, dust, and yeast from entering and keep strong odors sealed inside. On the downside, these extra lids take up more storage space in your kitchen and are an added expense. In the end, whether you use a crock or a jar comes down to personal choice, as each has its advantages and drawbacks. 
What size crock do I need?
For a small household of one or two people or those just starting out, a half-gallon (2-liter) crock will be sufficient, relatively lightweight, and won't take up too much counter space. For 2-4 people or larger batches, a 1- to 3-gallon crock might be more suitable and is still not overwhelmingly large or heavy. For larger households or those who have caught fermentation fever and plan to make multiple batches at a time, bigger crocks are available in a wide range of sizes ranging from 3 gallons all the way up to more than 10 gallons, but start to get quite costly (and heavy) as the size increases. 
Are containers in any type of material safe to use for fermenting?
When looking for a crock that will be used for fermenting food or drinks, it's important to make sure that it's made with food-safe materials. Ceramic, porcelain, and glass are all non-reactive and will not corrode or leach chemicals into food, unlike some plastics and metals, but it's important to make sure that any ceramics or porcelains you use with food have been made with a lead-free glaze. 
Why Trust The Spruce Eats?
This article was written by Danette St. Onge, a food writer and former features editor at Cook's Illustrated magazine (part of America's Test Kitchen). Long a proponent of from-scratch everything, she's also an avid kitchen appliance and utensil junkie who spends hours combing the internet, comparing options, reading reviews, and testing to find the best tool for every job.
The 9 Best Canning Supplies in 2021
Sours: https://www.thespruceeats.com/best-fermentation-crocks-5101528
Pickling crock ceramic
Stoneware Fermentation Crock, Lids, Weights
Fermentation: Frequently Asked Questions
Fermentation defined
Fermentation is one of the oldest and most important food preservation technologies. Fermentation occurring naturally is generally part of the process of decay. Controlling the fermentation process, however, gives many tasty rewards.

Indigenous fermented foods like bread, wine and cheese have been made and consumed for thousands of years and are strongly linked to culture and tradition across the globe. Humans once knew the value of fermented foods, however after the beginning of the industrial revolution with new pasteurization and refrigeration tech the popularity of homemade fermented foods diminished.
Fermentation is, "the slow decomposition process of organic substances induced by micro-organisms, or by complex nitrogenous substances (enzymes) of plant or animal origin," according to Azam-Ali and Battcock's 1998 article A Global Perspective: Fermented Fruits and Vegetables, "Fermentation is a relatively efficient, low energy preservation process, which increases the shelf life and decreases the need for refrigeration or other form of food preservation technology."
How to ferment: important factors for quality fermentation.
Traditions from the Blue Ridge Mountain heritage Foxfire Book explain, "Be sure that th'signs are not in th'bowels," says Daisy Justice. "When the moon is new is the best time to make kraut, pickle beans, corn, or green tomatoes. If the signs are in the bowels they will be slimy or soft and not fit to eat (Wigginton, 1972 p.176)."
Ingredients: Selecting good quality ingredients is important when fermenting food. It doesn't generally matter if the ingredients aren't picture perfect – cider vinegar won't look or taste any different for using ugly apples – but avoid using old, rotting, or very dirty food.

Salt: Salt is used in many fermentation recipes. It draws liquid from foods thereby restricting undesirable bacteria and mold development. Do not use iodized salt which is known to hinder the fermentation process by restraining the growth of desirable bacteria and lactic acid formation. Salt appropriate for fermenting is known as "pickling salt" or "Kosher salt".






Water: Avoid using chlorinated water (any water where chlorine has been added by residential municipalities to control bacteria growth), if possible. Chlorinated tap water can restrict the fermentation process similar to iodized salt. Jump below to learn how to make tap water chlorine free.

Temperature: Foods undergoing fermentation are sensitive to cooler and hotter temperature preferences. Generally a warmer temperature is called for at the start of fermentation, and once fermenting has peaked cooler temperatures should be reached. Heat affects the rate of fermentation and thus, microbe growth. Allowing fermentation to take palace in appropriate temperatures will successfully produce a desirable flavor.
What's so great about fermentation?
Fermentation increases vitamin levels, good bacteria and enzymes that boost the immune system, promote intestinal wellness and have richer flavor than normal foods.

Micro-organisms of fermentation contain certain enzymes, such as cellulases, which are incapable of being synthesized by humans. Microbial cellulases hydrolyze cellulose into sugars which are then readily digestible by humans. Acetylcholine, a product of fermentation, helps to stimulate peristalsis (the movement of food through the intestine), improves blood circulation, prevents constipation, and helps crank up gastric juices when they are insufficient and down-regulates them when there is too much. In short, products of fermentation contain tons of probiotics.

Vitamin K2, known to fight cancer, is abundant in fermented foods.

In Cancer Preventive Impact of Naturally Occurring, Non-nutritive Constituents in Food (Frohlich et al 1997) , report substances in fermented foods have been found to have a protective effect against the development of cancer.

A (Svanberg, 1992) Tanzania study showed that children fed with fermented gruels had a 33% lower incidence of diarrhea than those fed unfermented gruels, owing to the inhibition of pathogenic bacteria by lactic acid forming bacteria.
What are the tradeoffs between fermenting crock styles and shapes?
The cylinder is the most popular crock in the United States. The crock producing capital of the United States of America is known to be Roseville, Ohio. Across the world, other cultures developed crock designs. There is not a right or wrong way to harness the power of fermentation. Every vessel for fermentation involves tradeoffs. So have no fear, try any shape fermentation crock you want.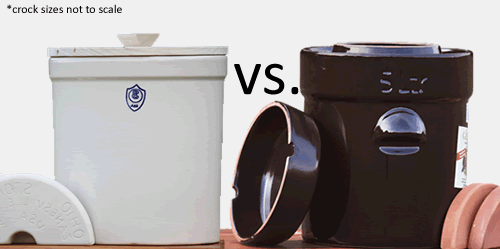 Fermenting in the USA has taken place in a ceramic crock with a simple cylinder shape. The straight cylinder shape provides the largest easy-to-accesses surface area. Cylinder crocks make compressing your ferment with weight easier. Fermenting sauerkraut and other vegetables does not require oxygen. The benefit of an open crock is so pressure won't build up. The contents are also easy to get to so you can smell, see, taste and learn as the ferment matures. The con of an open crock is that access to oxygen enables aerobic (formed-in-oxygen-environments) yeasts and molds to develop on the ferment's surface. Read more about surface molds and what to do about them below.

The German crock design has lip around the opening mouth designed to prevent any outside air from getting in and semi circle weights for keeping the vegetables submerged. This is a very efficient method for preventing the surface growth of anaerobic yeasts and molds. The disadvantage to the German design is that it's only effective if you leave the crock sealed. If you want to look at, feel or smell your food the fundamental purpose of the design is defeated (Katz, 2012).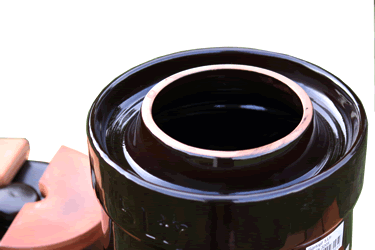 Fermenting in glass jars
A glass jar with any liquid submerging raw food will ferment. Fermentation professionals say - the wider the lid the better. Use larger jars for the fermentation process and smaller ones to store and share your creations (More about jar storing ferments). There are MANY methods and materials for doing glass jar fermentation. Soon, you'll want to do larger batches and graduate to stoneware ceramic crocks.

A loose-fitting Mason jar lid, a small hole drilled in the lid, or a plastic air lock fitted with a rubber jar gasket to make a tight seal (these air-lock Mason jar lids aren't just DIY from your wine store anymore), are all effective methods to allow excess pressure to escape.
Why can't you ferment in an airtight container?
Because pressure builds up during the production of lactic acid in the form of carbon dioxide gas (in heterolactic (alcoholic) fermentation - shown in this fermentation chemical reaction info graphic!). Fermenting cheeses create little anxiety, however fermenting vegetables or liquids in a sealed jar can cause pressure to build up and, if it isn't released often, explode.

How long does it take to make sauerkraut?


3 to 4 weeks
How does one make sauerkraut?
Materials
A REALLY big bowl (for tossing cabbage and salt)
A pounding device (read more)
Sharp knife, handheld cabbage chopper or a cabbage head sauerkraut cutter
Salt (if you like salt!)

How much cabbage and salt to use depends on the size of your fermentation vessel and the recipe you're following. Some popular recipes say: 12 pounds of cabbage for 4 tablespoons of salt. Or A one gallon crock will process about five pounds of cabbage (roughly two medium sized heads and three tablespoons of salt.)
Procedure
Wash and rinse ceramic crock
Peel the cabbage. Remove damaged leaves and core.
Slice cabbage as thinly as you can.
Mix cabbage and salt well in bowl.
Pound cabbage while rotating bowl for maximum coverage.
Squash cabbage into the crock with fist or cabbage stamper until liquid rises over the cabbage, this liquid is the signal that weights can be placed inside the crock and on top of the cabbage. There are many styles of lids and weights. Semi circle weights are handy for keeping the vegetables submerged (read more about ceramic weights and lids).
Place lid on crock and, if you're trying the german style crock, add water along the ring to seal in the fermentation process. Learn more about pros and cons to various crock styles.
For the german style, except for keeping an eye on the water level around the rim, leave the crock and its interior totally alone. If the water gets too low the outside air seal will be broken.
If your kraut isn't sealed from outside air exposure, you'll want to check your ferment every day or so and skim off surface mold that develops (Read about surface molds).
You'll need a cool place to store your crock for three to four weeks while the fermentation process of cabbage and salt to sauerkraut ensues. Specifically, that's temperatures of 60 to 70 degrees Fahrenheit.
How to make Appalachia style apple beer.
Peel your apples and dry the peelings in the sun or by the stove. Put them in a crock and add enough boiling water to cover them. Cover the crock and let it sit for one or two days, until all the flavor comes out of the peelings. You may add some sugar of you want (Wigginton, 1972 p.173).
We carry apple peelers for peeling large bushels of apples!
Cracks in my crock: is it still usable?
It's a problem - crocks are fragile and heavy. They can crack pretty easily. If you have a crock with a hairline crack, check to see if it still holds water. Fill the crock with water and monitor the level to see if it leaks over the course of a day and night. Molds can grow in these cracks (many times being the reason the crack is discovered).
Cleaning mold in cracks
Use vinegar or hydrogen peroxide to scrub the area before washing with hot soapy water and rinsing.
What to do about surface mold and yeast growth?
Submerging vegetables in water is a technique for fostering fermentation (with no oxygen). If you're using an open air container, "The edge" or the area where the vegetable / liquid brine meets the oxygen-rich air, encourages the frequent development of yeasts and molds. Surface mold and yeast growth is common and normal. Indeed, it should be removed but is not cause for alarm and doesn't mean your fermentation is ruined.

Remove molds by first removing weights and interior lids. Then, skim the mold from "the edge" with a stainless steel spoon. As long as the mold is white it isn't harmful. If other color molds start to grow, do not eat them. The longer you allow a mold to grow, the deeper it penetrates your ferment, and there's not much more unpleasant than moldy-tasting kraut (2012).

In his book The Art of Fermentation Katz explains, "The microbial reality, in spontaneous fermentation (such as sauerkraut) or a culturing condition, is that the critical mass of fermentation organisms will easily dominate incidental environmental molds. Don't worry too much about them."
Strategies to reduce surface mold
Try the German ceramic crock design. Like with any crock style there are pros and cons.

Cover the ferment with a layer of olive oil

Cover the ferment with a heavy plastic bag filled with water (doubling as a weight!)

The different styles of fermentation crock lids
A crock may or may not have a lid or it may have two lids. Interior lids sit atop the food being fermented to keep it underwater. Exterior lids cover and enclose the crock. Some crocks come with lids, some people purchase or fashion flat wooden disks or improvise with plates.

Unless you have a very flat dense weight, like the preserving weights from Ohio, you'll need a flat object with heavy objects on top of it (I've seen gallons of water, rocks (but not limestone which can dissolve in the acid), to hold down your ferment.

The interior crock lid must have enough space so it won't get wedged inside the crock or, even, cause the crock to burst open. Crocks naturally taper inward and materials like wood expand in the fermentation brine. Don't be tempted with a tight fitting lid.
Pounding tools
When fermenting vegetables it is advantageous to breakdown their cell walls and release the juices by pounding them. On a small scale vegetables can be squeezed. Large or frequent batches require a tool. Any sturdy wooden tool can get the job done or try "The Kraut Pounder". Salt also aids in releasing the water from vegetables.
Storage
Fermentation products should still be protected from air after the process is complete. Transfer your fermented foods to glass jars with storage lids that can be shared and eaten from. When a jar becomes half empty, it is also half-way full of air. In warm temperature particularly, but also in a refrigerator, vulnerability to molds increase when there is more air in the jar. Transfer the remaining kraut from half-empty jars to fill up smaller jars with no significant air for mold growth to develop.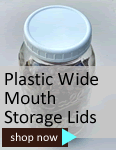 How can I make tap water chlorine-free?
Tap water can be made chlorine-free in most areas simply by boiling it and letting it cool again, or even just by leaving it in an uncovered pot overnight. This doesn't work in areas where the water is chlorinated by adding chloramine to the water, a practice done specifically to keep the chlorine in the water. Many modern water filters will remove both chlorine and chloramine, however.
Bibliography
The information provided on this page is for educational purposes and does not intend to promote specific fermentation vessels or methods over others.
--------------------
Battcock, M., & Ali, S. (1998). Fermented fruits and vegetables: a global perspective. Rome: Food and Agriculture Organization of the United Nations.
Frohlich, R.H., Kunze, M. and Kiefer, I., (1997), Cancer Preventive Impact of Naturally Occurring, Non-nutritive Constituents in Food, Acta Medica Austriaca, Austria
Katz, S. E. (2012). Basic Concepts and Equipment . The art of fermentation: an in-depth exploration of essential concepts and processes from around the world. White River Junction, VT: Chelsea Green Publishing.
Svanberg, B., (1992), Fermentation of Cereals: Traditional Household Technology with Nutritional Benefits for Young Children, IDRC Currents 2, Canada
Wigginton, E. (1972). Preserving Vegetables . The Foxfire book: hog dressing; log cabin building; mountain crafts and foods; planting by the signs; snake lore, hunting tales, faith healing; moonshining; and other affairs of plain living (). Garden City, NY: Anchor Press Doubleday.
Sours: https://www.pressurecooker-outlet.com/Fermentation-Crock.htm
How to Use a Fermentation Crock
Soon the dream of their own island became an achievable reality. On the plane, their seats were next door. Masha was sitting next to Andrei at the window, and next to the aisle was just a black man and his girlfriend with Gena and Yulia was sitting across.
The aisle.
Now discussing:
I then suggested - since the tickets are double, then we will have a meal for two days. The men will cast lots and one will settle down on the luggage rack, taking a couple of mattresses from the conductor. There, at the same time we got to know each other. Tanya and Natasha, men are now even afraid to give a hand - Igor and Anatoly.
1717
1718
1719
1720
1721