Hi! Are you going to creating an application that requires Google data for it? For this purpose, you need Google APIs. Google Developers Console is a site that is used by the developers for managing and viewing traffic data, authentication, and billing information for Google APIs. To access the Google APIs our project must be registered on Google Developers Console with your Gmail.
When we creating a project on the Google Dev console, Google keeps track of which applications are making requests to their APIs and make sure that the API is not being extremely spammed by one application.
How to get Google API from Google Developers console
Let's start to play with the Google Developers console for achieving the Google APIs.
In this tutorial, I'm going to add the Analytics API for our project but you can get any API to follow this tutorial.
After register at the Google Developers Console, the below screen will be appearing.

If you have created projects in the Google Developers console before, you'll see the list of created projects.
Now click on the 'Create Project' button. A popup will appear, where you enter your 'Project Name'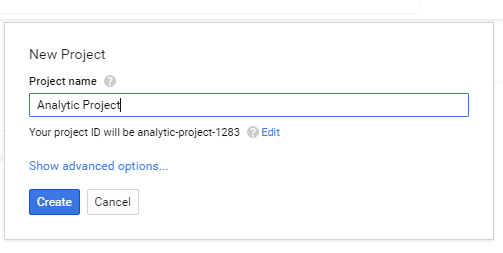 Click on the 'Create' button. Your project will be created and enqueue in the Console project list.
Select your project from the top-right drop-down list and set the "Credentials".
Check your Mailing address and set the name of your project that is showing to the user.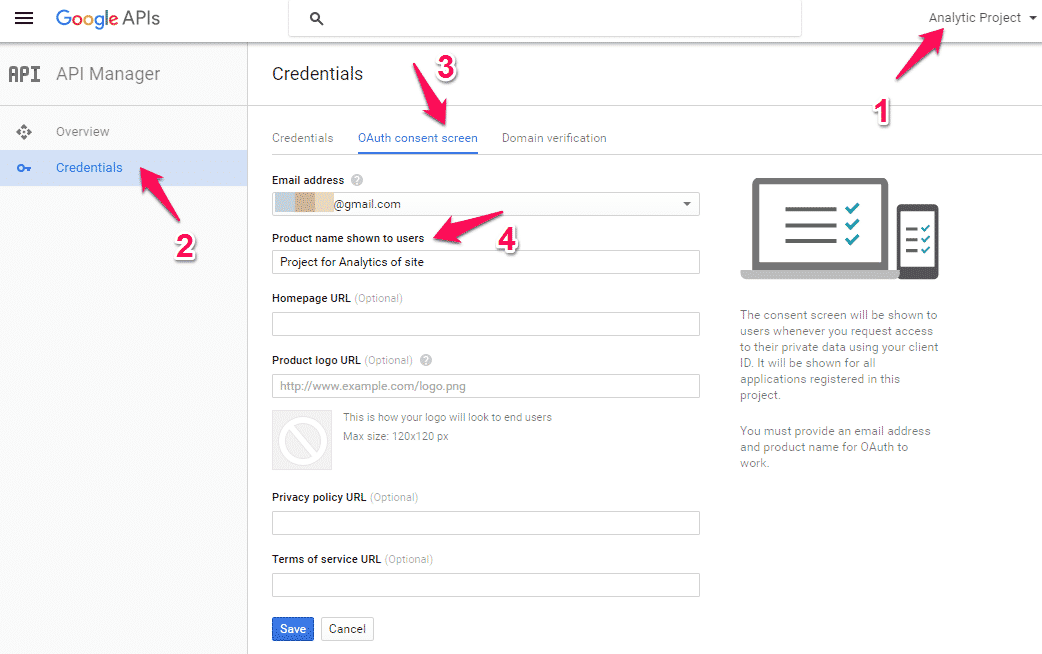 We have now created our 1st project on the Google Developers console successfully.
After creating a project let's discuss something about Google APIs. Google has a list of APIs in Google API Console that they open for the community to use them. Most of them are free while few are paid, you'll have to pay for use of them.
In the Google Developers console under the API Manager -> overview
You can see the list of all popular Google APIs that you can be accessed. At the start of the tutorial, I'm saying that I'll use the Analytics API, but you can use any other API for your project along with this tutorial.
Awesome?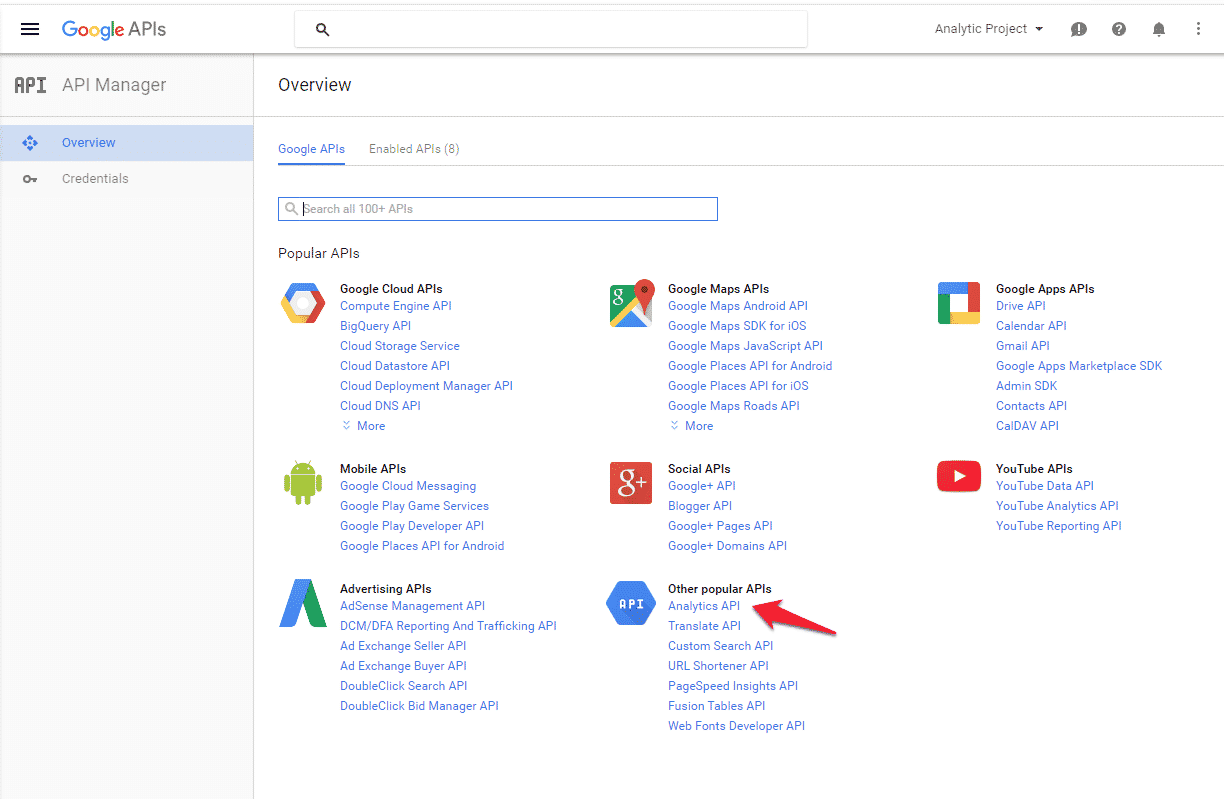 I'm writing another post about adding Analytics API to your website. Enabling Analytics API with your website
After Enable API. That API is adding to your project. There you can see a tab with Overview, Usage, and Quotes option.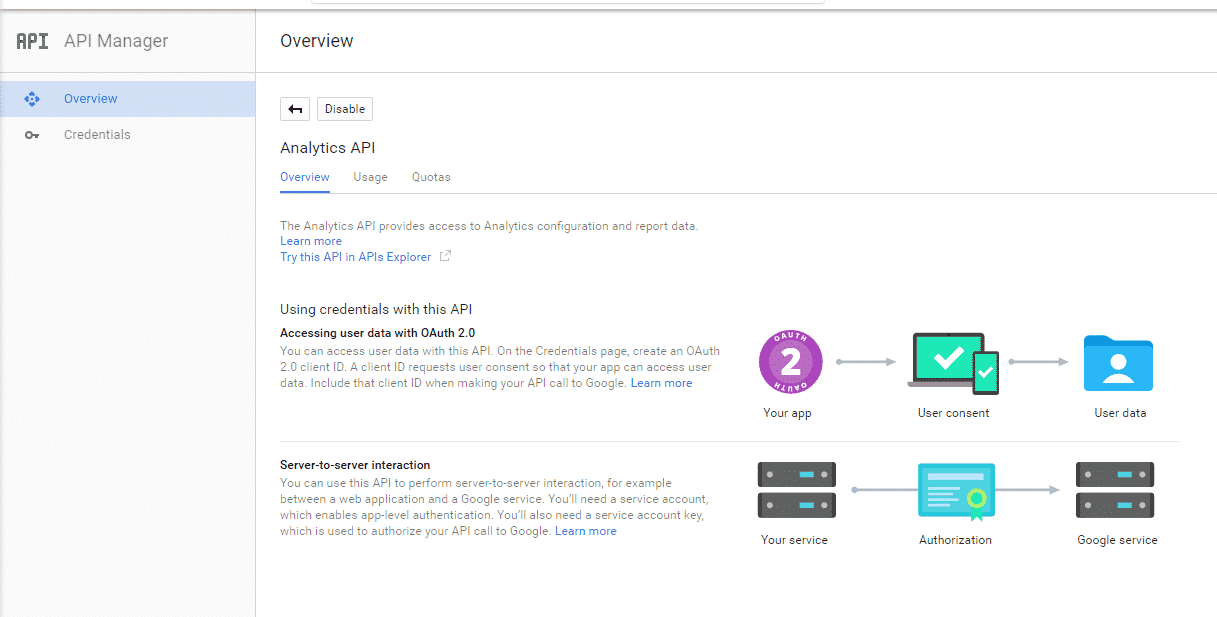 Overview: This gives you the information about that API. You can read more about Google APIs
Usage: tells you how many requests you're have made to the API
Quotas: gives you information about the default quota for the API. By default, you're allowed a limited number of requests with respect to the API per each day.
A request is any message sent to the API. APIs normally return a max result set per request let's 100 rows, if there are more than 100 rows then a second request must be made to get the next 100. Each request to get the next set of rows is requested. 1000 rows at the 100-row chunks at 10 quota cost.
The Quota is the number of requests you are allowed to make a Google API without requesting permission to access more. In the Analytics API, you have access to 50000 requests per day. You can extend your Quota by requesting.
Read more aboutAnalytics API limits and Quota.
Warning: If you apply for an extension of your Quota and you disable that API you'll lose the quota extension and have to reapply for it again. Don't disable an API and re-enable it. It's a seriously dangerous button.
Sours: https://analytify.io/google-developers-console/
Mobile Service > IAP > Google Console Guide
[Notice]
New IAP SDK suppoting subscription are released as NHN Cloud SDK.
The existing IAP SDK will not be developing new features.
This documents describes NHN Cloud SDK specifications.
Google Play Billing is a service that lets you sell consumable product or subscription from inside an Android app, or in-app.
Google Play Billing requires some keys created in Google Play Console and Google API Console.
Also you should set Google Real-time developer notifications for subscription.

Google Application Key
| Key | Description |
| --- | --- |
| Google In App Purchase License Key | App Public KEY(RSA) |
| Google API Client ID | OAuth Client ID |
| Google API Client Secret | OAuth Client Secret |
| Refresh Token For Google OAuth | Refresh Token |
Google Console
| Console | URL |
| --- | --- |
| Google Play Console | https://developer.android.com/distribute/console |
| Google API Console | https://console.developers.google.com/apis/dashboard |
Google Play Console
Google In App Purchase License Key
Google API Console
[Reference]
Android Developers - Google Play Billing
Android Developers - Authorization
OAuth 2.0 Client ID
1. Create an OAuth client at https://console.developers.google.com/apis/credentials (web application)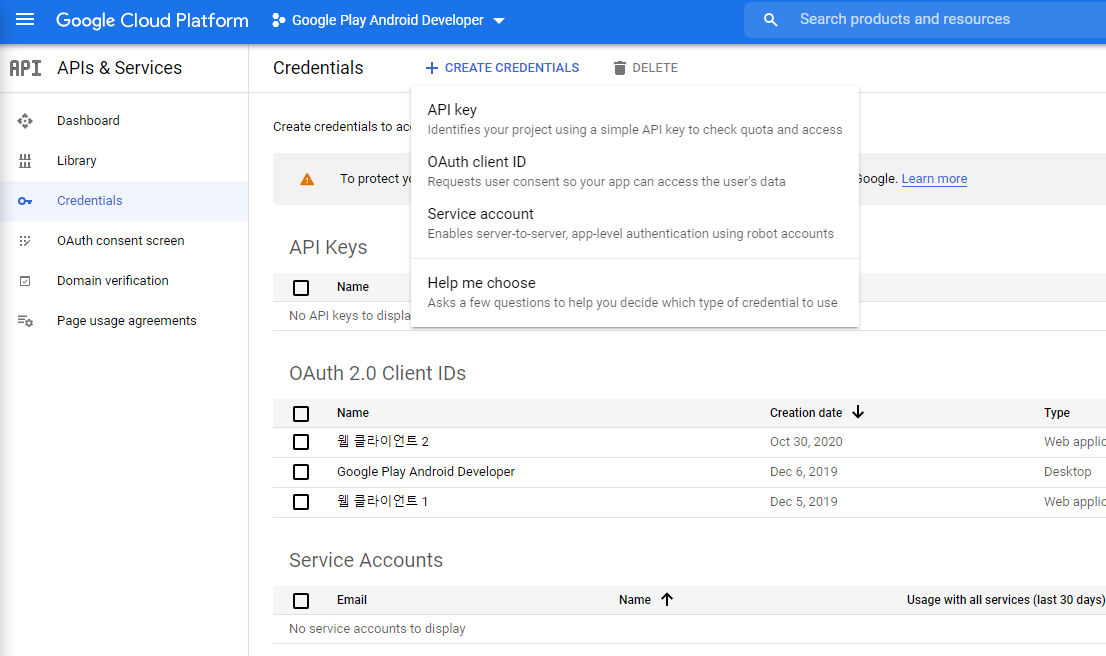 2. Enter https://developers.google.com/oauthplayground in the Authorized redirection urls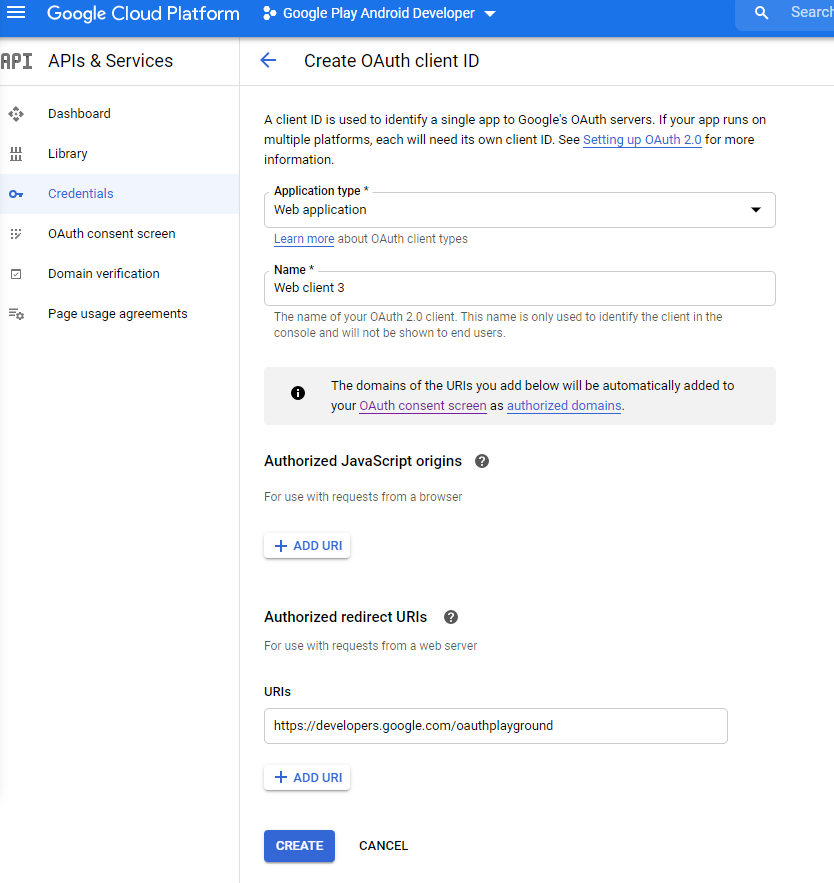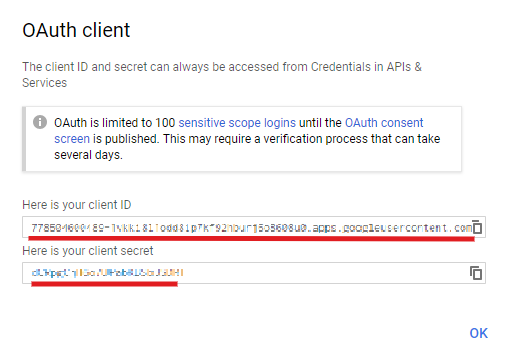 4. OAuth Playground > oauthplayground Setting > Use your own OAuth credentials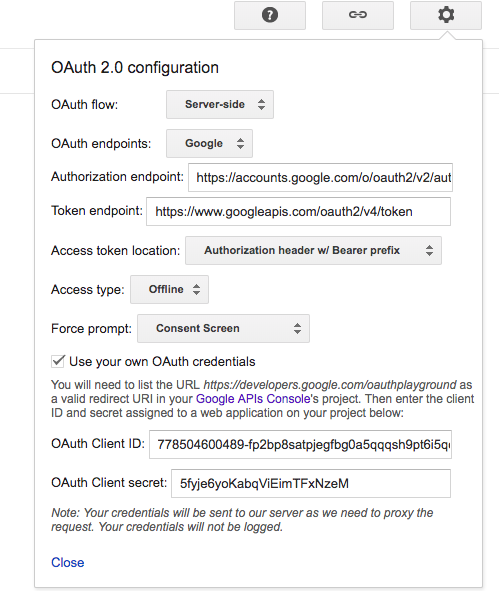 5. Enter Authorization code code by entering https://www.googleapis.com/auth/androidpublisher in Step 1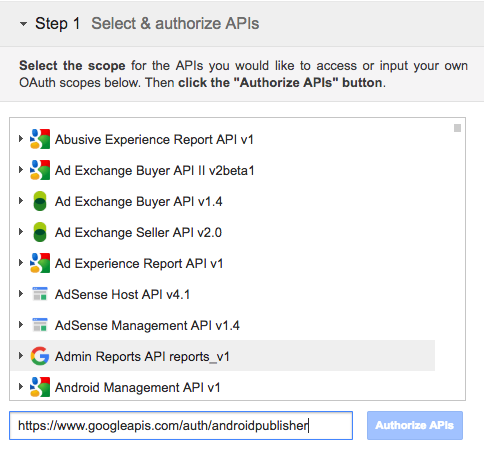 6. In Step 2, click the Exchange authorization code for tokens button to issue a token.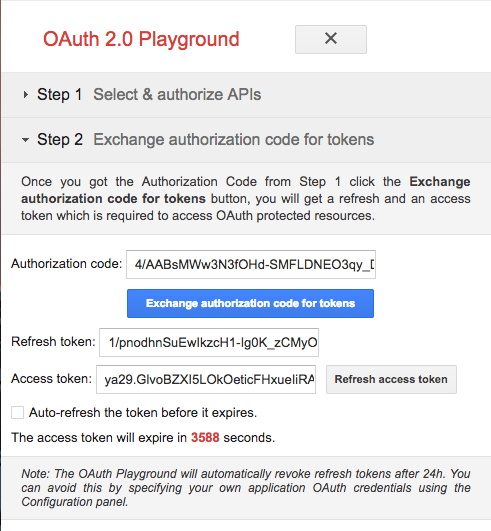 Google Play Additional Settings
After creating the OAuth credentials, proceed with the project setup by referring to the guide below.
[Reference] Google Guide : https://developers.google.com/android-publisher/getting_started
Google Play Android Developer API should be enabled.

Check your project is linked in Google Play Developer Console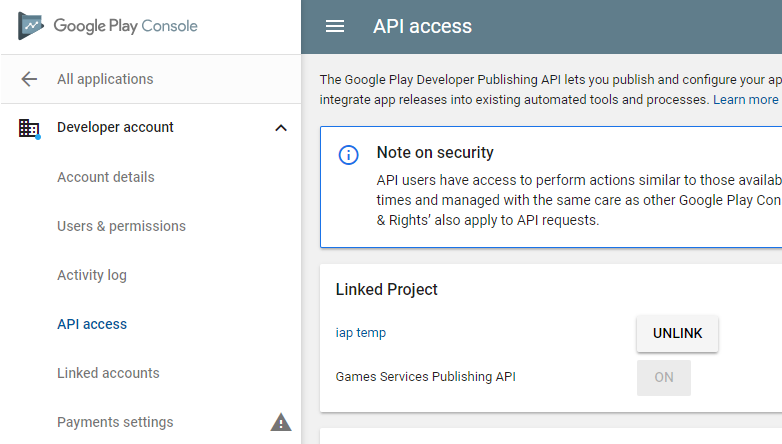 Make sure that the Linked Project in the Google Play Developer Console is the same as the OAuth Client creation project in GoogleAPIs.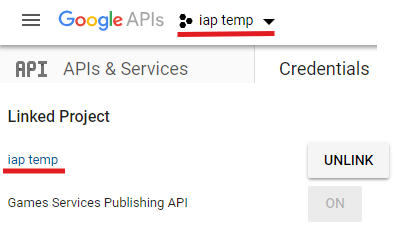 Google real-time developer notification
[Reference]
You should use Google Cloud (https://cloud.google.com) Platform.

Google Cloud > Pub/Sub
At publication/subscription console, (https://console.cloud.google.com/cloudpubsub) do follwing jobs.
https://cloud.google.com/pubsub/docs/quickstart-console
Create a topic (Products > Pub/Sub)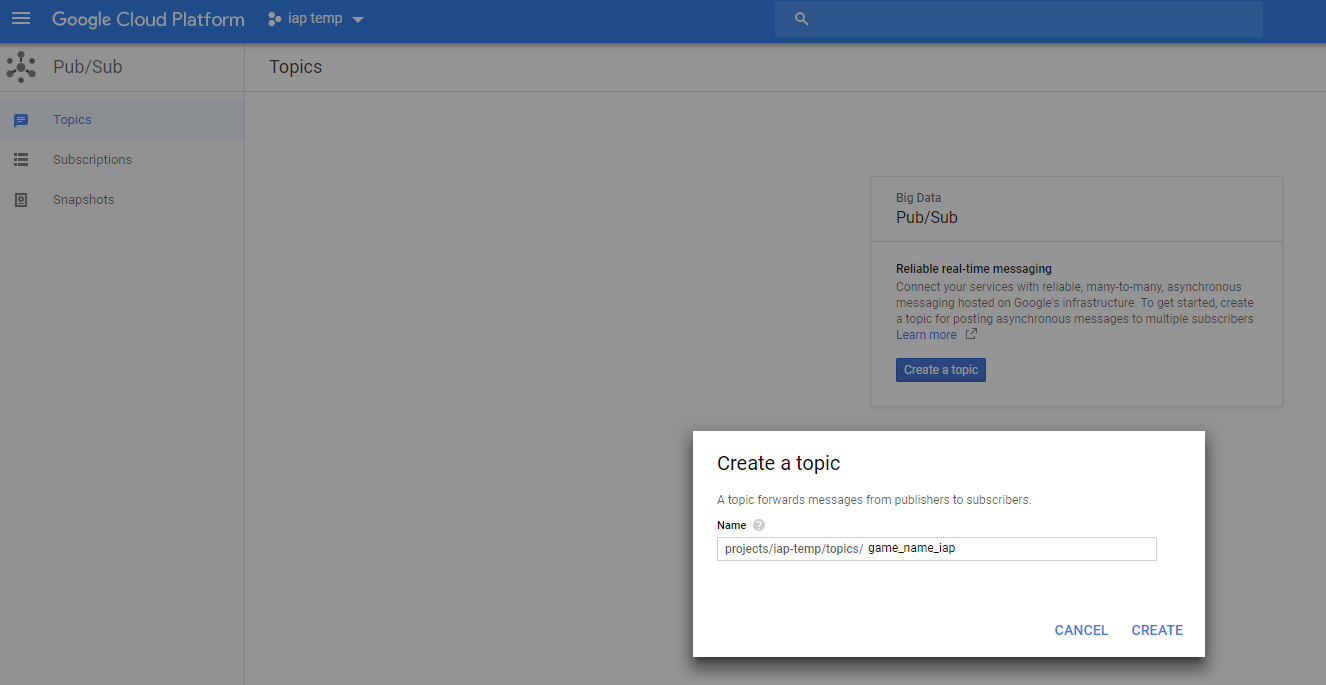 Add a subscription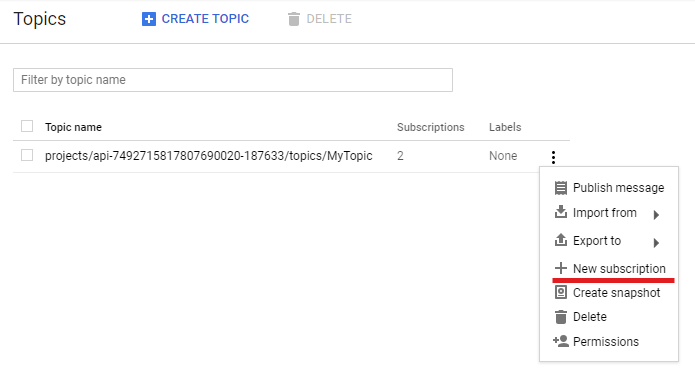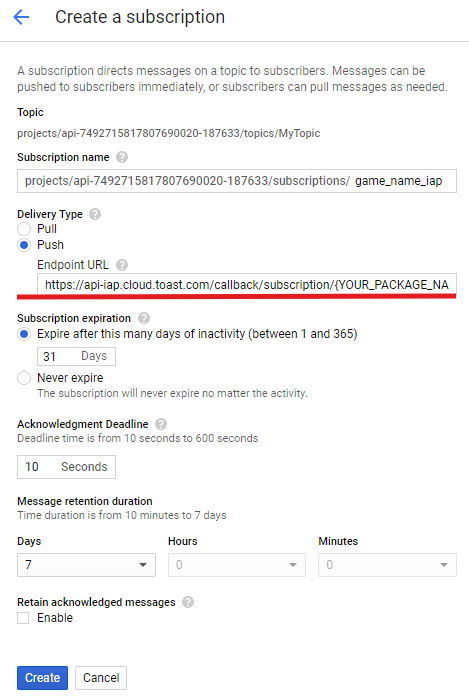 Verifying IAP domain
See more documents here.(https://cloud.google.com/pubsub/docs/push)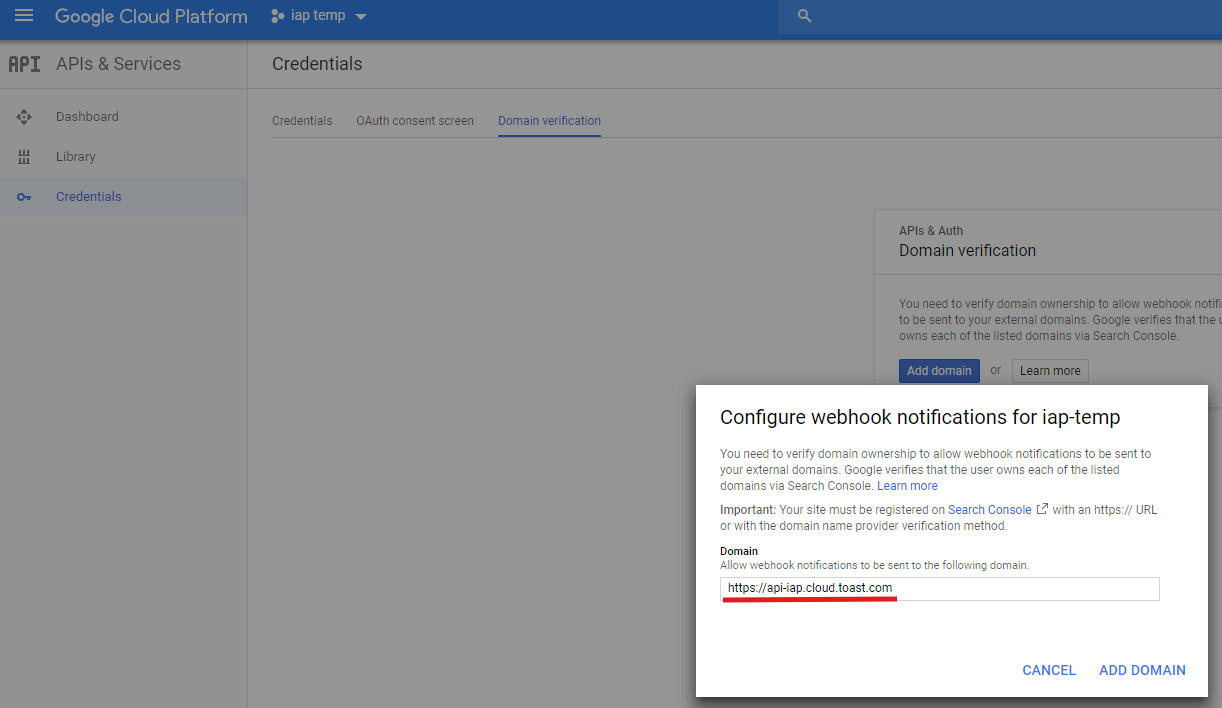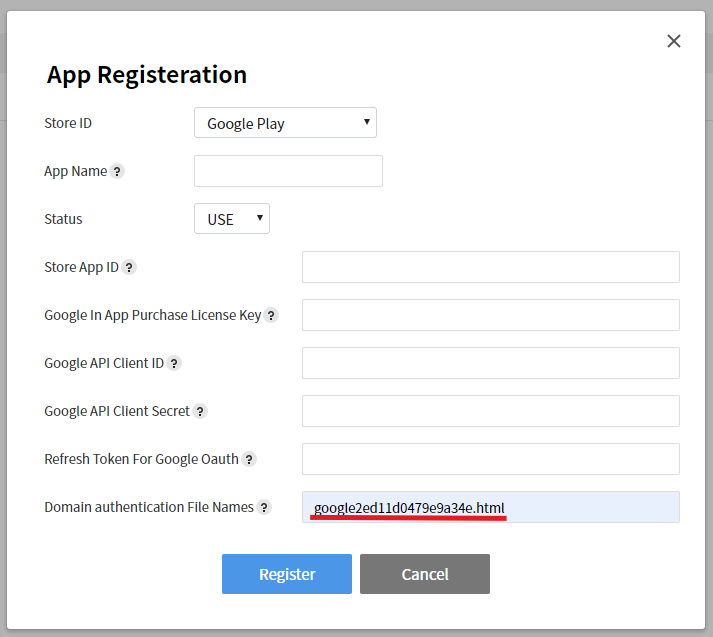 Realtime developer notifications

Sours: https://docs.toast.com/en/Mobile%20Service/IAP/en/console-google-guide/
Built by you. Powered by us. Experienced by billions.
Power to scale
Use our platform to help grow your business globally
Freedom to iterate
Experiment and test to optimize what you need for launch and beyond
Access to insight
Tap into rich information and actionable insights to make better decisions
Starting in November 2021, Google Play users on phones will see ratings specific to their location, and in early 2022, users will see ratings specific to their device. To help you prepare for these changes, it's now easier to evaluate your ratings and reviews in Play Console.
Learn more
Blog post
Boosting developer success on Google Play
To better support developers in growing their business on our platform, we are reducing our service fee to 15% on the first $1M USD in annual revenue. Every developer, regardless of size, will be eligible for this benefit starting in July 2021.
Learn more
Publish your apps and games to users around the world and grow your business on Google Play
Go to Play Console
Sours: https://play.google.com/console/about/
The Setup: Creating new apps using Google APIs
Google uses Consoles as a way to view sets of related services.
Fundamentally, Google projects (which are the groupings of services, credentials etc.) behind these views are what's being presented and these (projects) are the same regardless of the console being used.
So the following show 2 ways to view the same project:
Developer Console (or was it API Console? used to be?) the default view into Google Cloud Platform projects but the modern way to do this is via Cloud Console.
There is also a Firebase console, Home (Actions) console, Apps Script console etc.
Sometimes Projects are only available under the console they were created under, but fundamentally, there's only one type of Google Project.
Aside: One aspect of all Google projects is that they contain the Google APIs (or services) that have been enabled for the project. One very powerful feature of Google is that every public Google service is 'shaped' similarly:

https://developers.google.com/apis-explorer

All Google services are accessible via REST, described by a so-called discovery document (which are exposed by a meta-service called the Discovery Service), use auth consistently and have so-called API Client Libraries published in several languages.

Google is moving to a model in which its services are also exposed (as they are internally) using gRPC. During this transition only some of its services (primarily Cloud) are available over gRPC too.

Suffice to say that, while Google often presents itself as a distinct set of technologies, these technologies are, in fact, remarkably consistent.
Sours: https://stackoverflow.com/questions/62858975/how-is-console-developers-google-com-different-from-console-cloud-google-com
Developers google console
Do you hear. The whole thing. And unharmed. But if you, fucking bitch, resist. I will destroy you, you will experience such horrors and such pain that you never dreamed of.
Welcome to your new Play Console
Hygiene. You need to bathe. Swim, I'll go to the Soviets. I will tell Dilara to wash her daughter.
You will also like:
Dasha was a cheerful, intelligent and rather relaxed girl with a good appearance. In her early twenties, she could already tell so much and in such details that sometimes, listening to her stories, it seemed to us that she had. Seen enough porn and was simply retelling it to us.
For example, she revealed to us, girls who had 5 men for two, my Kirill and four Olga's, that once, when a Turk fucked her in anal sex, she ended. Up squirting.
184
185
186
187
188