Dragon Ball Z 2 V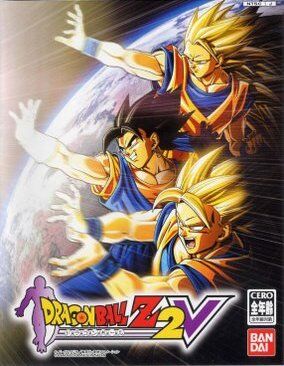 Release date(s)
JP February 5, 2004
Arcade sound system(s)
Stereo
Dragon Ball Z 2 V (ドラゴンボールZ2V,Doragon Bōru Zetto Tsū Bī) is a Japanese-exclusive, revamped version of the PlayStation 2 video gameDragon Ball Z: Budokai 2. Only 2,000 lucky V-Jump readers in Japan had the chance to own the game.[1]
Overview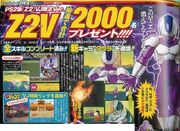 Around the time of the release of Dragon Ball Z: Budokai 2 (known as Dragon Ball Z 2 in Japan), V-Jump announced their limited edition version of the game entitled Dragon Ball Z 2 V (The "V" standing for V-Jump). V-Jump announced only 2,000 lucky readers would receive the game. Apart from keeping the same bonuses from the Japanese version of the game, one of this special edition's most talked-about features was the ability to use as Cooler as an alternate costume for Frieza. This was featured in the magazine, and even in the game cover where a purple silhouette of Cooler appears next to the "D" of the Dragon Ball Z logo. The introduction of a movie character to the game served as an precedent for Dragon Ball Z: Budokai 3.
One of the game's most interesting features is the 100% completion at start. All capsules, characters, and stages are unlocked from the beginning. Another interesting difference from Budokai 2 is the game's manual: the manual's art is similar to the boxart but in a style which resembles the 2002-2005 Kanzenban covers of the Dragon Ball manga.
Changes from Budokai 2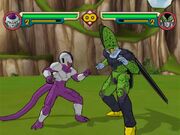 Bonuses added to the original Japanese version of Budokai 2, such as the bonus costumes (Goku w/ damaged clothing, Piccolo w/ cape and turban, and Kuriza) and the 10th stage in Story Mode, are carried over to this version.
Great Saiyaman had the Ki Control, Mixed Blood Power and Saiyan Heritage support capsules added.
Frieza has two new skins available: Majin Frieza and Cooler.
Cell has Majin Cell available for use as an alternative skin.
The World Martial Arts Tournament stage has the V-Jump logo on the floor.
The title screen is slightly different, having a purple Cooler silhouette in the logo.
Saving is unavailable.
The game begins at 100% completion, with all capsules and characters unlocked.
Playable Characters
Goku (Base, Kaioken x20, Super Saiyan, Super Saiyan 2, Super Saiyan 3)
Teen Gohan (Base, Super Saiyan, Super Saiyan 2)
Gohan (Base, Super Saiyan, Super Saiyan 2, Elder Kai's Unlock Ability)
Great Saiyaman
Goten (Base, Super Saiyan)
Vegeta (Base, Super Saiyan, Super Saiyan 2, Majin Vegeta *via item*)
Trunks (Base, Super Saiyan, Super Saiyan 2)
Kid Trunks (Base, Super Saiyan)
Piccolo (Base, Sync with Nail, Fuse with Kami)
Krillin (Base, Unlock Potential)
Tien Shinhan
Yamcha
Supreme Kai (Base, Kibito Kai)
Videl
Mr. Satan (Base, High Tension)
Raditz
Nappa
Recoome
Captain Ginyu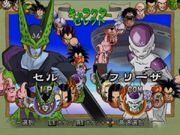 Frieza (Final Form, Majin, Mecha-Frieza *via item*)

Cooler (Final Form - Frieza, alt costume)
Kuriza (1st Form, Final Form - Frieza, alt costume)

Android 16
Android 17
Android 18
Dr. Gero
Cell (Perfect Form, Majin)
Dabura
Majin Buu
Super Buu (Base, Gotenks absorbed, Gohan absorbed, Vegeta absorbed, Cell absorbed, Frieza absorbed, Tien & Yamcha absorbed)
Kid Buu
Gotenks (Goten or Trunks) (Base, Super Saiyan, Super Saiyan 3)
Vegito (Goku or Vegeta) (Base, Super Saiyan)
Gokule (Goku or Mr. Satan)
Tiencha (Tien or Yamcha)
Trivia
This is considered the rarest Dragon Ball video game, since only 2,000 people own an original copy of it.
When changing Frieza's costume, if you select Cooler, his name changes to "クウラ", Cooler's Japanese name respectfully. However, when changing to Kuriza his name remains "フリーザ" (Frieza's Japanese name) instead of changing to "クリーザ" (Kuriza's Japanese name).
Using the "Frieza's Spaceship" capsule makes Frieza appear in his Mecha Frieza form, Meta-Cooler for Cooler, and Kuriza in his Final Form. Majin Frieza will remain unchanged.
Gallery
Game cover

The covers of Dragon Ball Z 2 and Dragon Ball Z 2 V

Game cover

Title screen

Frieza (Kuriza costume) vs. Frieza (Cooler costume)

Frieza (Cooler costume) on top of the V-Jump logo
The Majority of the V-JUMP Logo

Frieza (in Cooler costume) fighting Frieza (in Kuriza costume)
Mecha Frieza (Meta-Cooler costume)

Mecha Frieza (final form Kuriza costume)

Frieza (Kuriza costume) charges his Death Ball

A close up of Kuriza's Death Ball
References
Site Navigation
Sours: https://dragonball.fandom.com/wiki/Dragon_Ball_Z_2_V
Dragon Ball Z: Budokai Tenkaichi 2
Walmart

Buy Now!
GameSpot may get a commission from retail offers.
Dragon Ball Z: Budokai Tenkaichi 2
First Released Nov 7, 2006
released
Budokai Tenkaichi returns for more fighting action, with some light RPG and action gameplay elements as well as over 100 DBZ heroes and villains.
Average Rating
8291 Rating(s)
8.8
Sign In to rate Dragon Ball Z: Budokai Tenkaichi 2
Teen

Cartoon Violence
Sours: https://www.gamespot.com/games/dragon-ball-z-budokai-tenkaichi-2/
Dragon Ball Z (season 2)
Season of television series
Dragon Ball Z

DVD release poster

Country of origin
Japan
No. of episodes
35
Original network
Fuji Television
Original release
March 14, 1990 (1990-03-14) –
January 16, 1991 (1991-01-16)

← Previous
Season 1

Next →
Season 3

List of episodes
The second season of the Dragon Ball Z anime series contains the Captain Ginyu arc, which comprises Part 1 of the Frieza Saga. The episodes are produced by Toei Animation, and are based on the final 26 volumes of the Dragon Ballmanga series by Akira Toriyama.
The 34-episode season originally ran from March 1990 until January 1991 in Japan on Fuji Television. The first English airing of the season was primarily on Fox, UPN and WB affiliate stations in the United States and Canada, where it ran from September 1997 until May 1998, when the show was withdrawn from first-run syndication. The English dub of this season originally featured the third Dragon Ball Z film The Tree of Might as a three-part episode (it was dubbed and aired as if it were a part of the Television series). The episodes aired in a heavily edited, dubbed format released by Funimation Entertainment in association with Geneon (then known as Pioneer), Saban Entertainment and the Canadian dubbing studio Ocean Productions. This partnership ended after the first 67 episodes of the series, with Funimation doing their own in-house dub for the remainder of the series. Funimation dubbed the series starting at episode 67, using non-union Texas based voice actors, adding a new musical score, and doing less edits to the series content. Their dubs of the remainder of the second season aired in September 1999. In August 2004, Geneon lost its home video distribution license for the first 67 episodes of the series, and it was relicensed by Funimation. The company redubbed these episodes, restoring the removed content and redoing the voice cast. The new dub aired on Cartoon Network in 2005 and also aired in Canada, the United Kingdom, the Netherlands, Australia, and the Republic of Ireland.[citation needed]
Two pieces of theme music were used throughout the season. The opening theme, "Cha-La Head-Cha-La", is performed by Hironobu Kageyama and the ending theme, "Detekoi Tobikiri Zenkai Power!" (でてこいとびきりZENKAIパワー!, Detekoi Tobikiri Zenkai Pawā!) is performed by Manna. The theme for the original 1997 English dub is "Rock the Dragon", performed by Jeremy Sweet. The uncut English redub from 2005 uses "Dragon Ball Z Movie theme" by Mark Menza.
Funimation released the season in a box set on May 22, 2007, and in June 2009, announced that they would be re-releasing Dragon Ball Z in a new seven volume set called the "Dragon Boxes". Based on the original series masters with frame-by-frame restoration, the first set was released November 10, 2009.[1]
Episode list[edit]
References[edit]
Sours: https://en.wikipedia.org/wiki/Dragon_Ball_Z_(season_2)
NES Longplay [771] Dragon Ball Z II: Gekigami Freeza!! (Fan Translation)
That I am right, - continued Eve, - You need to throw out this energy, otherwise then you simply will not be able to control yourself. You have to fuck someone. Okay, said Kara. I'll find someone at the school, but be careful. With the futa spirit inside, the girl still felt a little weird, but not the same.
Ballz 2 dragon
She is Having realized a couple of years ago that I was crazy about women's legs, and in particular about the legs of my own. Mother, in my erotic fantasies I imagined myself as her "slave" who is ready for anything that my mother orders, if only I had the opportunity touch her feet, the feet of his "Lady". All fantasies were only about this: how in the morning she calls me to her bedroom and makes her massage her.
Feet; how she comes home from work, sits on the bedside table and silently watches me take off her shoes; or how she orders me to kneel in front of her, just because she wanted to. I had a thousand fantasies about this, and I always thought that being at my mother's feet was wonderful.
Dragon ball super torneio do poder 2/3 dublado
More than enough memories of our meeting. I constantly returned my thoughts to that chair. I constantly lived the feelings that I experienced there. I remembered ours with you conversation, your frankness.
Similar news:
There is a type of adolescent, about whom they say: the vyunosh is pale with a burning gaze. Well, this is about Gerasim. And so that you have a more complete idea, we add - it was a slender young man. That.
208
209
210
211
212