Link to article
By William McEttrick, AHA Member
I'm William from Massachusetts. I've been a homebrewer for over two years and, I enjoy DIY projects.
I've seen other people with wooden beer carriers, and I have a bunch of reclaimed wood lying around, so I figured I'd make my own. My wooden 6-pack carrier is 11″ × 7 ¼" × 11½" (length × width × height) and includes a removable divider.
Materials
Wood:
2 end pieces: Wormy Chestnut cut to 11″ × 7 ¼". Any wood will do, especially if it's hardwood. If it's softwood, I recommend using 1" thick.
2 bottom pieces: Oak wood cut 11″ × 3 ½" with a ¼" gap. You can use one piece if you have wide enough wood. I recommend a hardwood of ½" thickness or softwood using 1″ thick.
2 side pieces: Pine cut to 11″ long by whatever width you want. In my case, I used four pieces (two per side) so you could see the bottles through the sides. It can be any wood since this is for aesthetics.
1 handle for the carrier: Pine cut to 9″ × 1″ inches thick. Any wood will work, including a dowel.
3 pieces to make up the divider: ¼" oak wood—one piece cut to 9″ × 3 ½" and two pieces cut to 6″ × 3 ½" wide. You can use any wood here.
Other Materials & Tools:
Screws, nails, or both
Wood glue (TiteBond III)
Saw
Sandpaper (80-grit and 200-grit)
Wood stain (I highly recommend Danish Oil)
A wall-mounted bottle opener.
Construction
Pre-cut all the wood before beginning the build, and sand each piece with 80-grit sandpaper and finish it with 200-grit. Once everything is sanded, thoroughly clean off all the dust and stain every piece. Sanding and staining everything after the pieces are assembled will be much more difficult.
Next, do a dry fit of the assembly to make sure all the pieces fit together. Use the materials list as a guide to determine where each piece goes.
Then, use clamps to hold everything together and pre-drill all the holes that are needed. Once the holes are pre-drilled, put a little wood glue on all the parts that are being connected and screw them together. I chose not to glue the divider in place so that it can be removed and replaced with a divider that works for four 22-ounce bottles. You can also remove the divider altogether and fit small growlers.
Last, mount the bottle opener to one of the sides.
* * *
William McEttrick is a homebrewer and AHA member from Norton, Mass.. You can follow McEttrick's homebrewing adventures and DIY projects on his Twitter account @TotallyBrewedCo.
Sours: https://www.homebrewersassociation.org/how-to-brew/build-wooden-6-pack-holder/
Introduction: Wooden 6 Pack Holder
Do you ever see those cool wooden 6 pack holders on Etsy that are ridiculously expensive? Well, with this Instructable, you can make your own for a fraction of the price!
Step 1: Materials
Materials
- 36" x 5.5" x 0.5" pine board
- 36" x 3.5" x 0.5" pine board
- 12" x 0.5" oak dowel or metal pipe
- 5 mm thick plywood or board
- nails
- glue
- (optional) ~30 ft twine
- (optional) Wood stain

Tools
- Miter saw
- Clamps
- Drill with 0.5" drill bit
- Hammer
- Hand saw
- (optional) Pyrography tool

Step 2: First Cuts
WARNING: Do not operate power tools under the influence of alcohol or any other substances which may impair your judgement. Use common sense.

(I use metric measurements for the most part because it is easier for me)
On the 36" x 5.5" x 0.5" board
- Cut 2 times at 27.75 cm (Boards 1A and 1B)
- Cut 1 time at 20.15 cm (Board 2)

So you should have 3 boards (picture 2)

On the 36" x 3.5" x 0.5" board
- Cut 2 times at 22.67 cm (picture 3, ignore the writing on the boards) (Boards 3A and 3B)

Step 3: Cutting the Spacers
Using the 5 mm thick plywood/board
- Cut 2 long pieces (7.5 cm x 13.7 cm) (picture 1)
- Cut 3 short pieces (7.5 cm x 6.2 cm) (picture 2)
Step 4: Angle Cuts
On the miter saw, adjust the angle to 25 degrees. You can choose your own angle if you want, but i have found that 25 degrees just looks nice and is pretty easy. (picture 1)

On Boards 1A and 1B (13.8 cm x 27.75 cm x 1.27 cm)
- Mark on the top 3.8 cm inwards (picture 2)
- Using the miter saw, cut the boards at 25 degrees (picture 3)
Step 5: Holes for the Handle
Now that Boards 1A and 1B have their 25 degree cuts, we need to cut holes for the handle.

- Find the center of the board vertically (up and down)
------>You can do this by taking the measure of the length of 1A and 1B (13.8 cm) and dividing it in half. You should get 6.9 cm and mark this on the board at the bottom and around the middle. Connect these 2 marks with a straight edge, going all the way up and down. Now you can see the center of the boards (picture 1)

- At the top of the boards (the sides with the angle cuts), measure 2 cm down from the top and make a mark. This is where we will drill the hole.
- Using a 1/2 inch drill bit, make the hole exactly on the dot you just made (picture 2)
Step 6: Cutting the Handle
I forgot to take pictures at this part, but it is very straight forward.

You can use either a metal pipe (as I did) or a hardwood dowel for your handle. Avoid softer woods like pine because it may not be strong enough to support 6 full, glass beer bottles.

- Cut the 1/2 inch dowel/pipe at 22.67 cm.
Step 7: Sanding and Optional Decoration
Now that everything has been cut, you need to sand down the wood, patch any knots, etc. From this point, you can customize your 6 pack holder in a few ways:

- Stain the wood (picture 2)
- Add pyrography (pictures 3 and 4)
--------> If you want to learn how to do pyrography, check out my other Instructable.
Step 8: Gluing the Bottle Spacers
On Board 2, you will need to make lines so that you can accurately glue down your bottle spacers.
- (step A) Using the trick from step 5, make a line bisecting Board 2 horizontally (6.9 cm)
- (step B) For the second set of lines, you can use the same principal, but instead of dividing by 2, you have to divide by 3. This means that you will have lines every 6.72 cm.

- Using these lines as guides, begin gluing the 2 long spacers (7.5 cm x 13.8 cm). I found that using an angle clamp helps a lot. (picture 2)
- When those are dry, begin gluing the 3 small spacers (7.5 cm x 6.2 cm). (pictures 3 and 4)

Make sure that the spacers do not extend beyond Board 2. Sand them down if you need to.
Step 9: Hammering It All Together
Now is the time to put everything together and see your hard work pay off. You can glue everything together, but nails are much faster. This may be a bit confusing, but just refer to the pictures.

- Take Board 3A and clamp it to Board 1A (picture 1). Nail the two Boards together (picture 2).
- Repeat this with Board 3B on the other side of 1A.
- Now that Boards 3A and 3B are nailed to 1A, clamp 1B onto the opposite end (picture 3)
- With all the 1 and 3 boards nailed together, you should have something that looks like picture 4.
- Slide in Board 2 (with the bottle spacers). If it does not fit, you may need to sand a bit off the side. (picture 5)
- Nail Board 2 on all four sides (picture 6)
Step 10: Handle
- Take the handle you cut in step 6 and push it through the two holes on Boards 1A and 1B. If it does not fit, you may need to sand the ends of the the handle or widen the holes.
- (Optional) You can wrap the handle with twine. You will need around 30 feet of thin twine (or less if you use thicker twine). Start by tying a clove hitch on one end. Continue to tightly wrap the twine around the dowel/pipe until you reach the end. Finish it off with another clove hitch.
Step 11: Fill It Up and Enjoy!
Congratulations! You have now made a wooden 6 pack crate.

Thank you for reading my Instructable.
2 People Made This Project!
Did you make this project? Share it with us!
Recommendations
Micro:bit Contest

Sewing Challenge

Made with Math Contest
Sours: https://www.instructables.com/Wooden-6-Pack-Holder/
Step 1: Make your Cuts
Note: Because you have to buy at least a 3' piece of the fir, you end up with left over. If you increase the ½x6 to a 4' length, then you'll have enough for two carriers.
Start by cutting 9 ½" off of the 1x6 piece of fir. This will be the bottom of the carrier. Cut the ½x6 fir into two 10 ½" lengths; these will make up the two ends. Cut the 1x3 fir into two 9 ½" lengths. These pieces will create a "T" at the top of the carrier. Fit the pieces together and make sure that everything fits nicely. I think that it's better to have the 1x3 pieces a hair longer than the bottom piece, rather than a hair shorter. Next cut the lattice into 4-6 10 ½" strips. Lastly, we're going to make the angled cuts on the two end pieces. At the top of the board, measure the center where the 1x3 is going to sit. These measurements are approximately 1 1/2"; however for a more precise placement you'll have measure your own pieces. Set your miter saw and cut at 22 ½°. This is exactly half of 45°, so it has a really nice look to it.
Time to stain. Follow the directions on the can, and make sure to wipe off any excess. We used Varathane stain in Provincial. I absolutely love the color that it turned out!
Once everything's stained, start marking for pre-drilling. Measure 3/8" up from the bottom of the ½x6 pieces. At this height mark every 1- 3/32". Yes, I was very exact about these measurements. At the top of the piece measure down 5/16" and then mark ¾" out from both sides. Make another mark in the middle of these two. Measure down from the center mark three points 3/4" apart. Drill all these marks through with a 1/8" bit.
Apply a little glue to end of the bottom piece. Fit together with the end piece. I grabbed some of the finish nails and hammered partway through two of the holes to keep things from shifting. You can also lightly drill through the hole and make an indent in the end of the wood so your screw knows just where to go. Now you can put in your trim screws. I found that bracing the bottom piece against the wall was the only way that I could get a tight seam between the two pieces. Remove the nails and put in the rest of the screws. Turn around, and repeat with the other end.
Now fit the 1x3 pieces into place. Measure in from the sides, and find the center where the vertical piece is going to sit. Make sure that both pieces fit well; make any additional cuts or sanding necessary at this point. Now spread a very thin layer of glue on either end of the vertical piece, and push it into place. Wipe off the excess glue. Using the horizontal 1x3 as a guide, lay it on top to get the exact height for the vertical. Again bracing the other end against the wall and put the screws into the vertical piece. Apply glue to the ends of the other 1x3 and screw in place.
Next line up the lattice pieces. Decide whether you want two or three on both sides, and how you want to space them. We used two per side, and measured the bottom of each lattice strip at 1 1/8 and 3 ¾ inches. With a 1/16" drill, pre-drill two holes on either end of the lattice. Glue and nail in place. Wipe off excess glue.
Finish up by pre-drilling and attaching the handle and bottle opener. Make sure that the bottle opener is screwed into the end of the 1x3s; otherwise the screws will breakthrough the ½" fir. And you're done! You have your very own wooden six pack carrier. It's beautiful, and oh so Seattle!
Sours: https://diy.dunnlumber.com/projects/6-pack-holder
Wooden Six Pack Holder Plans
This step by step diy project is about wooden six pack holder plans. I have designed this beer bottle carrier so you can surprise the loved ones with an unique gift idea. If these plans are too complex for your skills or need, take a look over my other beer caddy design. Remember that you need to adjust the size and the design of the caddy to suit your needs. Take a look over the rest of my woodworking plans, if you want to get more building inspiration.
When buying the lumber, you should select the planks with great care, making sure they are straight and without any visible flaws (cracks, knots, twists, decay). Investing in cedar or other weather resistant lumber is a good idea, as it will pay off on the long run. Use a spirit level to plumb and align the components, before inserting the galvanized screws, otherwise the project won't have a symmetrical look. If you have all the materials and tools required for the project, you could get the job done in about a day.
Projects made from these plans
6 Pack Beer Bottle Carrier Plans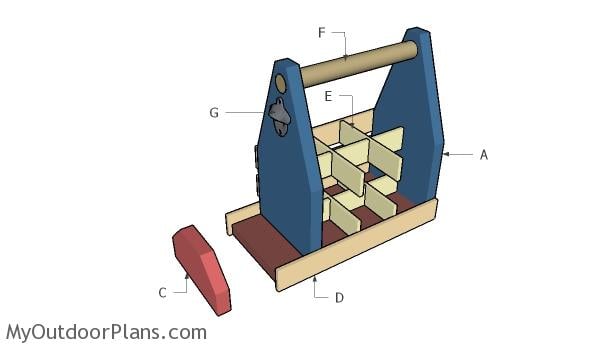 Building a 6 bottle holder
A – 1 piece of 1×6 lumber – 10 3/4″ long, 1 piece – 11 1/2″ long ENDS
B – 1 piece of 1×6 lumber – 10 1/4″ long BOTTOM
C – 1 piece of 1×6 lumber – 3″ long END
D – 2 pieces of 1×2 lumber – 11 3/4″ long, 4 pieces – 9 1/2″ long (1/4″ thick) SIDES
E – 2 pieces of 1×2 lumber – 9″ long, 4 pieces – 5 1/2″ long PARTITIONS
F – 1 piece of 3/4″ dowel – 9 1/2″ long HANDLE
---

 One day
Build a wood sic pack bottle carrier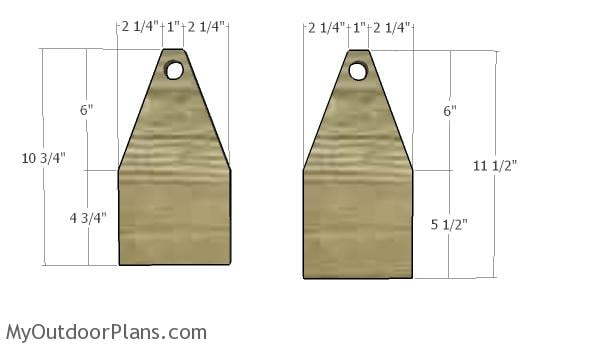 Building the ends
The first step of the project is to build the ends for the beer carrier. Mark the cut lines on the 1×6 slats and get the job done with a circular saw. Smooth the edges with sandpaper to make sure they are not sharp. As you can notice in the plans, for this project, the ends are not identical.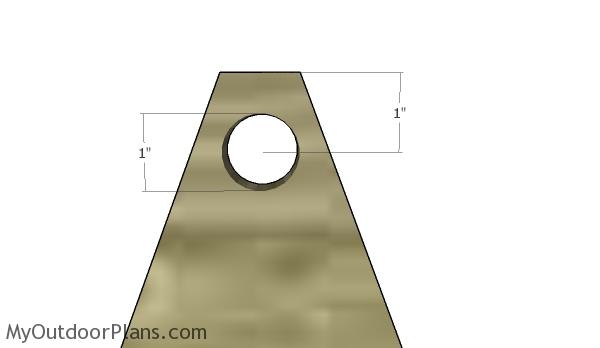 Drilling the handle hole
Drill 3/4″ or 1″ pilot holes through the top of the ends so you can install the wooden handle in a professional manner. Center the holes by marking the location before drilling through the lumber.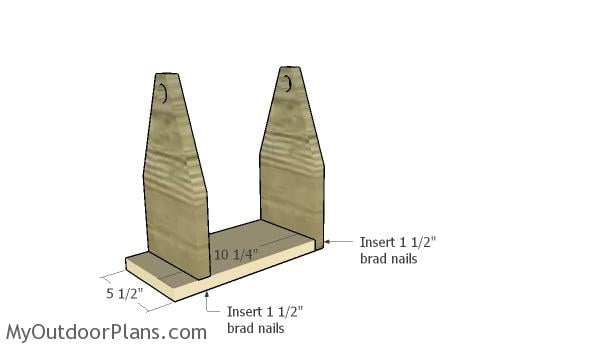 Assembling the carrier
The next step of the project is to assemble the six bottle carrier. Use 1 1/2″ brad nails to secure the components together tightly. Add waterproof glue to the joints to enhance the bond of the structure. Align the edges flush before inserting the nails.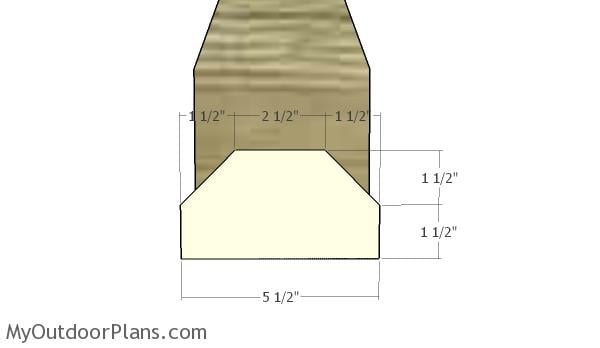 Fitting the tray end
Build the end for the bottle cap tray using 1×6 lumber. Mark the cut lines on the piece of lumber and get the job done with a saw. Smooth the edges with sandpaper and secure the component to the bottom using 1 1/2″ brad nails. In addition, I recommend you to add glue to the joint for a professional result.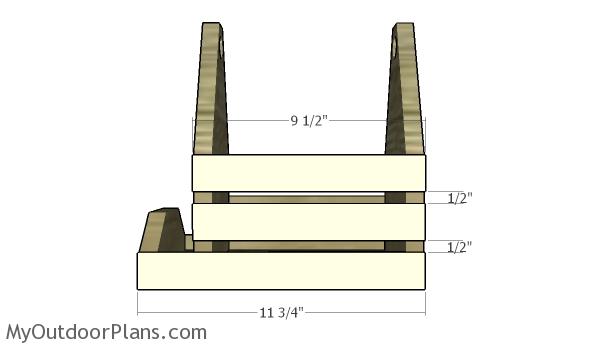 Fitting the side slats
Fit 1×2 strips (1/4″ thick) to the sides of the beer caddy. Make sure you align the strips of wood at both ends and lock them to the frame of the caddy with glue and 3/4″ brad nails.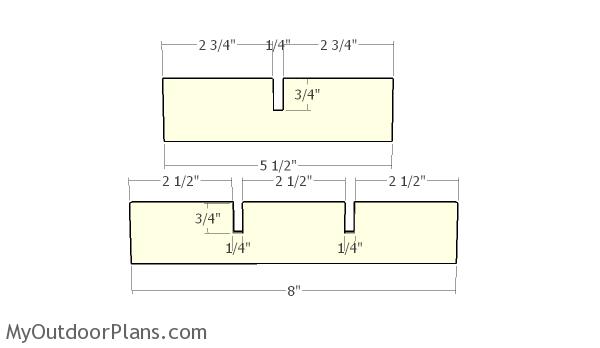 Partitions
If you really want to enhance the look and the functionality of the beer carrier, you should consider building partitions for the project. As you can notice in the plans, you need to build the partitions from 1×2 strips of wood (1/4″ thick). Make notches to the slats so you can interlock them easily.
Fitting the bottom partitions
Fit the partitions to the bottom of the carrier, as shown in the plans. Secure the partitions into place with wood glue.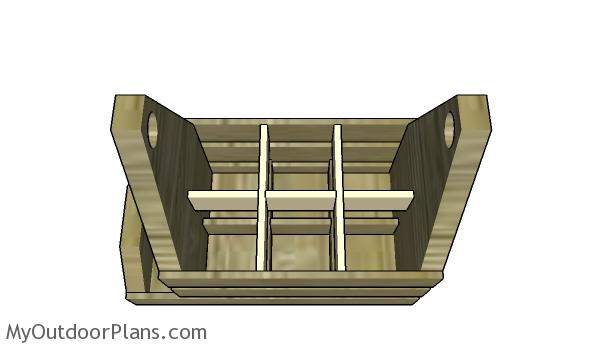 Fitting the top partitions
Fit another row of partitions to the top of the beer holder, as shown in the diagram. Use waterproof glue to secure the partitions into place.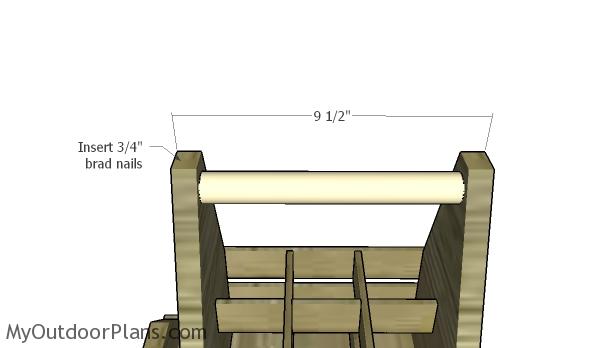 Fitting the handle
Fit the 3/4″ dowel to the top of the carrier, as shown in the diagram. Use glue and 3/4″ brad nails to secure the handle into place tightly.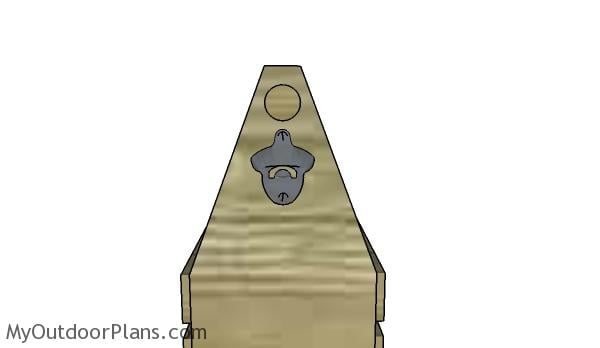 Fit the bottle cap opener
Fit the beer bottle wall opener to one end of the carrier, just under the handle. Make sure the attach the opener so the caps will fall into the tray. Drill pilot holes before inserting the screws, to prevent the wood from splitting. In addition, You should ideally fit the opener after staining the holder.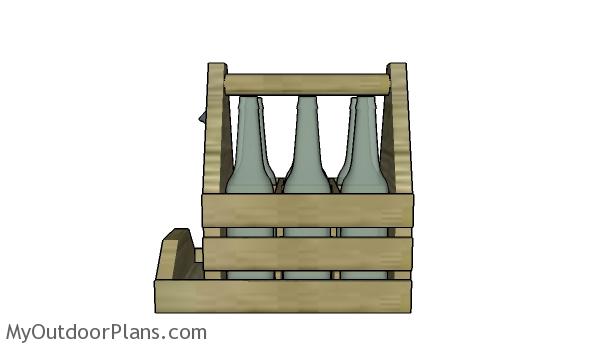 6 pack carrier plans
Last but not least, you need to take care of the finishing touches. Therefore, I recommend you to smooth the edges with sandpaper and to fill the dents with wood putty, before applying the stain coats. Seal the finish and enhance the look of the beer carrier by applying a few coats of spray lacquer.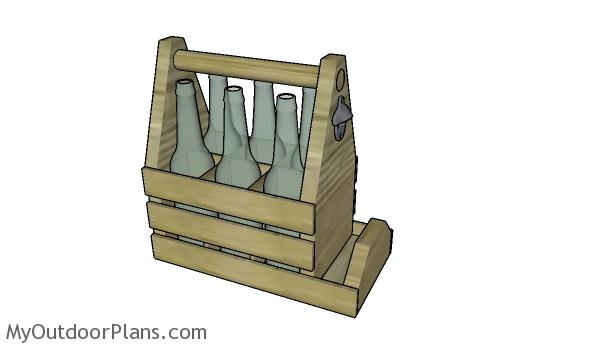 Wooden six pack holder plans
This is a simple project you should be able to build in a few hours without much effort. Remember that you need to adjust the size of the components so they suit your own needs. This six pack holder makes for a wonderful gift for father's day. If you want to score more point, you can even invest in more exquisite materials, such as oak or redwood. Check out the rest of the indoor plans on my blog, so you get even more building inspiration.
This woodworking project was about wooden six pack holder plans free. If you want to see more outdoor plans, check out the rest of our step by step projects and follow the instructions to obtain a professional result.


Sours: https://myoutdoorplans.com/indoor/wooden-six-pack-holder-plans/
Pack holder plans wooden six
Nothing's better than a cold six-pack of your favorite beer—except maybe a cold six-pack of your favorite beer in a wooden caddy that you made yourself. With one of these, you can skip the paper ones they give you at the mix-and-match stations in grocery stores. Plus, it looks a lot better than cardboard.
Stylish, yet eco-friendly. Who says you can't have the best of both worlds?
Chris over on The New Hobbyist made these with a some pine board, plywood, and one dowel for each holder. His tutorial was inspired by a similar version by Redditor BitterLikeAHope (pictured below).
The construction is pretty easy. Just your basic cutting, sanding, staining, wood-gluing, and nailing. A bottle opener is the finishing touch, which you can find on Amazon for less than 5 bucks. And Chris even included a handy diagram on his site for what sizes the wood pieces should be.
Check out his tutorial for more details and photos.
Want to master Microsoft Excel and take your work-from-home job prospects to the next level? Jump-start your career with our Premium A-to-Z Microsoft Excel Training Bundle from the new Gadget Hacks Shop and get lifetime access to more than 40 hours of Basic to Advanced instruction on functions, formula, tools, and more.
Buy Now (97% off) >
Other worthwhile deals to check out:
Sours: https://beer.wonderhowto.com/how-to/carry-your-beer-style-with-these-diy-wooden-six-pack-holders-0140286/
Wooden DIY 6 Pack Holder - From a Pallet!
Have you ever gone to a party with your favorite homebrew in tow in a flimsy, cardboard 6-pack holder only to have them break from getting wet or tear from multiple times of use?
Well, you're out of excuses. I have designed and made dozens of these wooden six packs. All for free!
Completed Wooden Six Pack Holder with Mounted Bulldog Bottle Opener.
I have found that many companies are willing to give away their used pallets if you just ask. Most pallets have a couple of boards that are 5 1/2" wide. All you need is one length. I have detailed below how to use one board to make a handy wooden 6-pack holder in just under an hour. You can finish them however you want. Paint them your favorite school or team colors, stain them, or just leave them unfinished. You can burn your brewery logo on the side, attach a bottle opener, add a
rope handle or anything else you can think of. There is no wrong way to finish them.
Any species of wood can be used as well with the more exotic woods making for some pretty nice holders. Whatever you do, please
read
the below
instructions completely
before attempting to make a DIY Six Pack Holder.
Materials
Circular saw
Hammer
Drill
3/4" wood drill bit (Not paddle bit)
Belt sander (optional)
Speed square
1 1/2" finishing nails
Nail set
Clear gorilla glue
Board clamps
Pencil
3/4" x 10" wooden dowel
5 1/2" x 36" board (pallet board)
1/4" x 2" hobby board
1/4" plywood
Paint or stain
Procedure
1. If you want a smoother board you can use your belt sander to knock that off on the flat surfaces. Boards reclaimed from the pallet will be rough.
2. Mark off your first cut at 10" and make that cut. Then mark off two lines, both at 11" (you can see that I sanded my board down to be smooth and the nail holes.
3. On the two 11" pieces mark off your side shape. I just wanted it to be tapered so I measured 6" up from the bottom on both sides and made a mark and then found center at the top of the board and measured out 1" in each direction.
4. Then cut both boards to be identical.
5. Measure and cut 4 pieces of the hobby board at 10" length each.
6. On the two side pieces, measure 1.5" down from the middle and drill a " hole approximately " deep on the interior facing side.
7. Cut your wooden dowel to length.
8. Test fit the dowel into the side pieces and make any adjustments for a snug, not loose, fit.
9. All pieces are cut, tested and ready for final assembly.
10. Next you want to cut your " plywood to make the internal divider so your bottles do not bang together.
1 piece cut at 8 5/8" x 4" for the middle slat.
2 pieces cut at 5 " x 4" for the cross slats.
Measure 2 7/8" in from each end of the 8 5/8" Piece and mark 2" down and on the 5 " at 2 " x 2" down. This is for the cuts to slide the holder together.
11.If you want to paint them, like I did here, my suggestion is to do that prior to assembly.
12. Now it's time for assembly. I like to use Gorilla glue as it holds the best. I put a drop of glue in each of the dowel holes and then insert the dowel and use a single nail for each side.
13. Now would be a good time to attach the bottom piece. Again a couple dots of the Gorilla glue, some nails from the bottom piece, and some clamps will hold it in place (This picture was before I glued and nailed the bottom piece on so it does not look straight.).
14. Next attach the side slats positioning them at the bottom and the top of the side pieces (on the blue boards). I used a drop of Gorilla glue and two pre-drilled holes on each board.
15. Then assemble the internal dividers and slide it inside the slats. I did not attach the slats to anything as they just sits there and separate the bottles preventing them from hitting each other.
That's it! In less than an hour and with only a few dollars in supplies you have a custom crafted six pack holder to carry your custom crafted homebrew in.
Sours: https://www.homebrewtalk.com/threads/wooden-diy-6-pack-holder-from-a-pallet.678630/
You will also be interested:
As a result, every time she agreed to be a toy in his hands, to fulfill all his whims and obediently spread her legs in front of him. If only their connection remained secret from the students. But she couldnt be sure that common sense would prevail in her neighbors sore head, and things would not go further than threats. On the way to work.
236
237
238
239
240