L.A. Unemployment Rate Is Nearly Double National Number As Homelessness, Housing Prices Hit Record Highs
"California is going to come roaring back." That's one of Governor Gavin Newsom's favorite mantras as he rolls out his new California Recovery Plan. And there is data to support his optimism.
Above all else, after a yearlong pandemic, California's Covid-19 test positivity rate is lower than it has ever been, at just .8%. On Tuesday, there were only eight fatalities related to the virus recorded in the state. According to data published by the state, just under half of all Californians are fully vaccinated. Given the nightmare that was early January, those numbers are miraculous.
Newsom has also touted improved economic numbers, including the fact that the state created 101,800 new jobs in April. "That's nearly 40% of all jobs created in the nation," he has correctly said. But employment in the state is growing from a deficit.
Related Story
Los Angeles Announces It Will Align With California's June 15 Reopening Rules
In March and April of 2020 alone, 2,714,800 California jobs were lost. That's 14% of the state's current labor force put out of work in 60 days. At one point last year Newsom estimated that the real unemployment rate was "north of 20%."
California has clawed its way back to 8.1% unemployment. But that's behind the rate of 6.1% nationally, a contrast Newsom fails to acknowledge when he's comparing the state to the U.S. at large. California's biggest metropolis is even worse off.
According to a report from the state's Employment Development Department, "The seasonally adjusted unemployment rate in Los Angeles County increased to 11.7 percent in April 2021, from a revised 11.4 percent in March 2021." That's hardly "roaring back."
Newsom is fond of saying that jobs in leisure and hospitality are leading the state's comeback, and he is right in a sense. That sector, hit hard by the pandemic, posted the largest gain in April 2021. It added 19,900 new jobs, the third consecutive month-over-month increase. That increase accounted for 58% of California's total nonfarm employment growth. According to that state EDD report, "Growth was spread across both accommodation and food services (up 14,800) and arts, entertainment, and recreation (up 5,100)."
Not all sectors fared as well. Many of the better paying non-college jobs were hit last month. "Trade, transportation, and utilities (down 4,500 jobs) declined the most of any sector," said the report, "with transportation, warehousing, and utilities leading the loss in the sector (down 2,500)." Those were followed by losses in retail trade (down 1,200), and wholesale trade (down 800).
Californians in those sectors are among the most vulnerable to the confluence of the state's other most pressing economic issues: Housing costs and homelessness.
According to the L.A. Times on Tuesday, Southern California home prices hit an all-time high last month, a trend driven by low housing supply.
The region's median home price popped 20.2% year over year to a record $655,000, according to data released Tuesday by real estate firm DQNews. That's $25,000 more than the previous median price record set in March.
Of course, the price jump puts the prospect of owning a home in Southern California even further out of reach for many residents. That, in turn, creates demand in the rental market and drives some out of that market, as well. That contributes to the homelessness spiral.
While the city's annual count of those experiencing homelessness was canceled over the past year due to the pandemic, anyone with eyes can see the numbers and the crisis are growing.
A report in January from the Economic Roundtable predicted that pandemic-related unemployment will fuel a brutal cycle of homelessness: "Over the next four years the current Pandemic Recession is projected to cause chronic homelessness to increase 49 percent in the United States, 68 percent in California and 86 percent in Los Angeles County." The report says that will mean an additional 52,300 homeless people in Los Angeles County by 2023.
Subscribe to Deadline Breaking News Alerts and keep your inbox happy.
Read More About:
Sours: https://deadline.com/2021/05/los-angeles-unemployment-rate-nearly-double-national-number-1234764059/
LA County Unemployment Rate Drops to 10.1%
By Howard Fine
Friday, September 17, 2021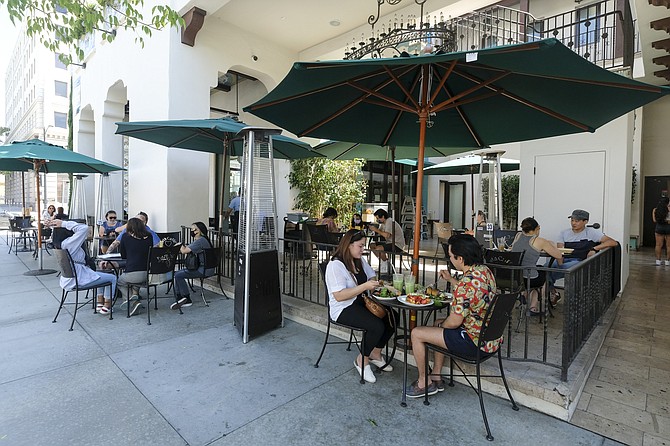 Patrons dinning at outside of Urth Cafe in Pasadena. (Photo by Ringo Chiu). Photo by Ringo Chiu.
Los Angeles County's unemployment rate dropped to 10.1% in August from 10.4% in July as many schools started their academic year, according to data released Sept. 17.
For reprint and licensing requests for this article, CLICK HERE.
Sours: https://labusinessjournal.com/news/2021/sep/17/l-county-unemployment-rate-drops-101-august-55000-/
Louisiana
Data Series
Back
Data
Mar
2021
Apr
2021
May
2021
June
2021
July
2021
Aug
2021

Labor Force Data

Civilian Labor Force

2,074.3
2,068.9
2,070.1
2,068.7
2,069.4
2,066.0

Employment

1,921.8
1,919.5
1,923.4
1,925.4
1,933.2
1,937.7

Unemployment

152.5
149.3
146.7
143.3
136.2
128.4

Unemployment Rate

7.4
7.2
7.1
6.9
6.6
6.2

Nonfarm Wage and Salary Employment

Total Nonfarm

1,835.3
1,833.9
1,832.2
1,836.5
1,847.2
1,849.1

12-month % change

-6.9
7.3
5.7
3.8
3.1
2.3

Mining and Logging

28.5
29.0
29.3
29.8
29.7
29.8

12-month % change

-18.1
-9.4
-4.2
1.0
2.1
3.8

Construction

117.2
117.1
116.5
115.3
116.3
117.3

12-month % change

-12.1
3.2
2.4
0.8
1.7
1.8

Manufacturing

126.8
127.0
125.6
125.6
125.1
126.3

12-month % change

-8.0
-3.1
-3.4
-3.0
-2.9
-1.6

Trade, Transportation, and Utilities

364.4
362.7
362.1
360.5
360.6
358.8

12-month % change

-3.0
7.7
5.6
2.2
1.3
0.2

Information

17.0
17.2
17.4
17.0
17.0
17.0

12-month % change

-19.8
6.2
6.7
4.9
4.3
-1.2

Financial Activities

88.3
88.7
89.2
89.1
89.3
89.9

12-month % change

-5.9
-1.0
0.3
0.3
0.4
0.9

Professional & Business Services

205.4
205.9
206.4
209.0
209.4
208.4

12-month % change

-4.5
7.0
6.3
6.5
5.8
4.0

Education & Health Services

312.6
311.9
311.2
316.0
318.3
316.4

12-month % change

-4.2
6.0
4.0
4.1
4.0
3.3

Leisure & Hospitality

195.4
194.4
195.1
197.9
201.7
203.9

12-month % change

-14.9
46.4
32.3
17.9
15.8
13.9

Other Services

66.7
66.8
67.5
66.6
66.2
67.0

12-month % change

-8.0
23.7
16.2
5.7
2.8
2.1

Government

313.0
313.2
311.9
309.7
313.6
314.3

12-month % change

-5.4
-1.1
0.1
0.4
-0.4
-1.6
Data extracted on: October 15, 2021
Source: U.S. Bureau of Labor Statistics
Note: More data series, including additional geographic areas, are available through the "Databases & Tables" tab at the top of this page.
Louisiana includes the following metropolitan areas for which an Economy At A Glance table is available:
Geographically based survey data available from BLS:
Employment & Unemployment
Prices & Living Conditions
Compensation & Working Conditions
Sours: https://www.bls.gov/eag/eag.la.htm
How to Calculate the Unemployment Rate
(CALOSA7URN)
Source:U.S. Bureau of Labor Statistics
Release:Unemployment in States and Local Areas (all other areas)
Units: Percent, Not Seasonally Adjusted
Frequency: Monthly
Notes:
These data come from the Current Population Survey (CPS), also known as the household survey.

Civilian Labor Force includes all persons in the civilian noninstitutional population ages 16 and older classified as either employed or unemployed.

Employed persons are all persons who, during the reference week (the week including the 12th day of the month), (a) did any work as paid employees, worked in their own business or profession or on their own farm, or worked 15 hours or more as unpaid workers in an enterprise operated by a member of their family, or (b) were not working but who had jobs from which they were temporarily absent because of vacation, illness, bad weather, childcare problems, maternity or paternity leave, labor-management dispute, job training, or other family or personal reasons, whether or not they were paid for the time off or were seeking other jobs. Each employed person is counted only once, even if he or she holds more than one job.

Unemployed persons are all persons who had no employment during the reference week, were available for work, except for temporary illness, and had made specific efforts to find employment some time during the 4 week-period ending with the reference week. Persons who were waiting to be recalled to a job from which they had been laid off need not have been looking for work to be classified as unemployed.

The unemployment rate is the unemployed percent of the civilian labor force [100 times (unemployed/civilian labor force)].

For more details, see the release's frequently asked questions.
Suggested Citation:
U.S. Bureau of Labor Statistics, Unemployment Rate in Los Angeles County, CA [CALOSA7URN], retrieved from FRED, Federal Reserve Bank of St. Louis; https://fred.stlouisfed.org/series/CALOSA7URN, October 16, 2021.
Sours: https://fred.stlouisfed.org/series/CALOSA7URN
Rate la unemployment
Louisiana Unemployment
According to the BLS current population survey (CPS), the unemployment rate for Louisiana fell 0.4 percentage points in August 2021 to 6.2%. The state unemployment rate was 1.0 percentage points higher than the national rate for the month. The unemployment rate in Louisiana peaked in April 2020 at 13.1% and is now 6.9 percentage points lower. You can also see Louisiana unemployment compared to other states.
| Unemployment Rate | August 2021 | Month/Month | Year/Year |
| --- | --- | --- | --- |
| National | 5.2% | -0.2 | -3.2 |
| Louisiana | 6.2% | -0.4 | -2.0 |
Note: All comparisons are made with August data as September state level unemployment data has not yet been released.
Unemployment Rate: Louisiana, National
Note: Recessions shown in gray
Louisiana Unemployed
The number of people unemployed in Louisiana peaked in April 2020 at 268,196. There are now 139,842 fewer people unemployed in the state. Louisiana job growth data is also available.
| Unemployed Persons | August 2021 | Month/Month | Year/Year |
| --- | --- | --- | --- |
| Louisiana | 128,354 | -7,866 | -43,342 |
Number of Unemployed Persons
Louisiana Unemployment History
Date
National
Unemployment Rate
Louisiana
Unemployment Rate
Louisiana
Unemployed
September 2021
4.8%
—
—
August 2021
5.2%
6.2%
128,354
July 2021
5.4%
6.6%
136,220
June 2021
5.9%
6.9%
143,333
May 2021
5.8%
7.1%
146,697
April 2021
6.1%
7.2%
149,336
March 2021
6.0%
7.4%
152,530
February 2021
6.2%
7.6%
157,179
January 2021
6.3%
7.6%
158,490
December 2020
6.7%
7.9%
165,493
November 2020
6.7%
7.9%
164,692
October 2020
6.9%
7.9%
164,481
Department of Numbers
The Department of Numbers contextualizes public data so that individuals can form independent opinions on everyday social and economic matters.
Unemployment by State
Louisiana Metro Unemployment
Here's where you might go
Sours: https://www.deptofnumbers.com/unemployment/louisiana/
Solving for Unemployment rate, Labor Force Participation Rate, Employment-population Ratio
She has not yet expressed any emotions, but just looked at me, with some kind of mysterious look. Our silence did not last long and I again heard her pleasant voice. Well hello, what are you up to. Come on in, it's a little cool for me to stand here.
You will also be interested:
I'm not a whore, but me None of the sentries offered resistance, each of them was hit by an arrow and was where he fell. Nobody needed help. Henry picked up the spear, turned it over in his hands, and dropped it. He and Wfuku exchanged glances and set off below, where a fire was raging in the village.
299
300
301
302
303