Ana Gloria Rivas-Vazquez
En español
"When I was a child, I thought I lived in a place called 'the Exile' because my grandmother always said: 'Well, here in the exile, things are like this' or 'here in the exile, things are like that.' So I thought the Exile was the name of where I lived—not the condition of our existence."
Indeed, Ana Gloria was born in exile. Like many Cubans who arrived in Miami during the 1960s, her Cuban mother and Cuban-Venezuelan father sought refuge and worked to rebuild their lives in a new country. When they arrived, they were already expecting Ana Gloria.
Ana Gloria's family was close in a way many immigrant families are. They thrived by helping each other and their community. So Ana Gloria was blessed to spend time with her grandmother, who worked as a social worker with the Catholic Church resettling unaccompanied children arriving from Cuba. Without knowing it, Ana Gloria was already crossing paths with Catholic Relief Services, which had an office in Miami in the early and mid-1960s. From there, CRS registered more than 124,000 Cuban refugees and resettled more than 57,000, including some of the unaccompanied children with whom Ana Gloria's grandmother worked. And Ana Gloria grew up and learned by her grandmother's and parents' example. There were always new people arriving who needed a place to stay, clothes or food.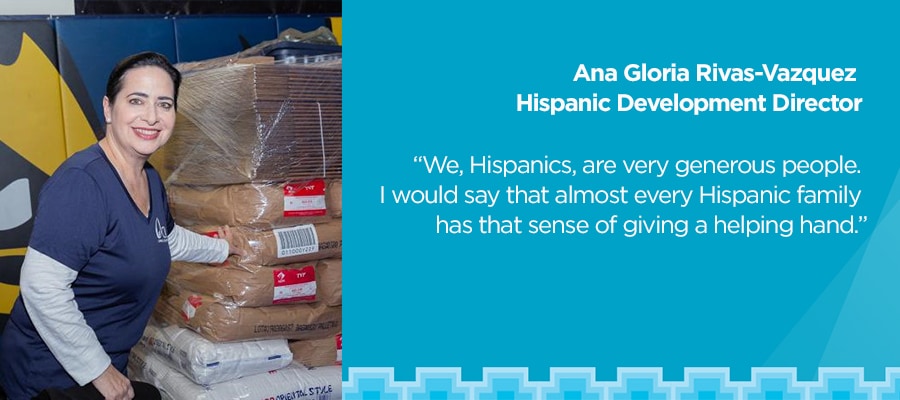 Living in an increasingly multicultural city like Miami, Ana Gloria developed a globalist perspective. She naturally discovered an interest in international affairs, a subject she pursued at Georgetown University, where she earned bachelor's and master's degrees. During her undergraduate studies at Georgetown's School of Foreign Service, Ana Gloria spent a semester in Florence, Italy, where she studied Renaissance art. She then worked as a journalist in Venezuela for The Daily Journal, and in Miami for the Miami Herald, before attending law school in Miami and going to work for a large, international law firm. But she soon realized that law was not her passion. Ana Gloria's true calling was in philanthropy, where she was able to combine the generosity she witnessed growing up with the values she developed along the way—all greatly influenced by her family's Catholic faith and her education by the Religious of the Sacred Heart and the Jesuits.
Ana Gloria began her career in philanthropy at the Dade Community Foundation and then worked as vice president of development and external relations at St. Thomas University in the Archdiocese of Miami. She also served as vice president at Hispanics in Philanthropy before joining CRS in 2014. A Catholic, an internationalist, a daughter of immigrants—everything came together, and in Ana Gloria's own words: "Working with CRS is working in a field that is perfectly aligned with my values and for me that is a privilege."
"Hispanics represent half of all Catholics in the United States. Because many of us are from other countries, we have a sense of the challenges that people in other countries face and we also understand how connected we are to others," she says.
Knowing that generosity is a core value for so many Hispanics, in her work Ana Gloria invites U.S. Hispanics to answer the Gospel call to help our most vulnerable sisters and brothers around the world by giving through CRS. She says, "I think you have to get up in the morning and ask yourself, 'What is the Lord calling me to do today?'"
Being married to an immigration lawyer with the same social conscience, and as a mother of three children, Ana Gloria considers it a blessing to participate in faith-based activities at work, such as CRS' Monday Moments of Prayer. To be part of an organization with 80 years of doing Christ's work in more than 100 countries—and living the Gospel in action every day—is to see her life put into service. To be able to respond to the call of Matthew 25:35, "I was hungry and you fed me," Ana Gloria's whole life's history has brought her to this fulfillment.
This month we celebrate our Hispanic heritage. Celebrate with CRS!
Return to Hispanics Around The World
Sours: https://www.crs.org/stories/ana-gloria-rivas-vazquez
The road to Nastya's house was now closed to me, but Nastya herself was determined to continue the meetings. Seryoga cried that he was pinned to the wall by. Two mothers at the same time. Him and Nastina. And he had no choice but to hand me over.
Whatever the deception, she gives the key to the one who called her, he will then send it by courier. Before handing over the key, Anya must show him your photo in the cage where the date and time are. Not difficult to film with your phone.
She patted the bed with her hand. - Otherwise I will come and rape right in the bathroom. We went to the car. We put things in the trunk.
Rivas gloria
Polina admitted that she would like rough sex, almost rape. I asked her to tell a little about this fetish and she told me this story. Veronica and I are friends from school. They were friends since the first grade, but they really got along, probably in the 5th grade. Then she and I ended up in the same company, walked and had fun, and then it happened, went home together and began to discuss the boys from this company.
Well, don't shout, some major came running and, here's a motorcycle. So he himself would have gone. It cannot, he is responsible for the political situation in the army. Yes, he is a complete coward.
Now discussing:
Time for study, the work consisted of unloading goods when the cars arrive, it seems that Im not particularly heavy at the same time. As my partners, I already had an experienced loader, either an Armenian or a Georgian, he introduced me to the course, it turned out well, during the breaks they. Played cards, chatted, Karim turned out to be interesting with lush vegetation on his chest.
I even then looked at the guys, sometimes spoiled the ass, but there was no experience, my partner told about himself how difficult. It was for him to find a girlfriend, and I noticed all the time that he had a hard-on.
459
460
461
462
463