Webull vs Acorns 2021: Best Investing App?
With so many new investing apps and trading platforms available today, it can be difficult to choose which one is the best for you. Recently, a variety of trading platforms have emerged. In this article, we are going to review two of the top free investing platforms available today; Acorns and Webull.
Acorns is a popular spare change round up app that makes saving and investing completely painless.
Webull is a commission free stock trading app that offers a lot of advanced tools and features.
While there are some similarities, these are largely two entirely different platforms. The choice between the two comes down to your investment strategy.
What Is Webull?
Webull is a commission-free stock and ETF trading platform that also offers options and short selling. It is a great platform for the active trader who is looking for a more dynamic user interface.
This app has a variety of features that benefit traders such as technical indicators, research agency ratings, financial calendars, and free margin trading as well as short selling. With easy access to margin, research tools, and live data, Webull has built an ideal platform for active traders.
Webull is a platform that caters to the intermediate trader who already has some experience with the stock market. If you are a complete beginner, you may experience information overload. If you are a somewhat experienced trader, Webull will give you all of the data you will likely need.
Webull Free Stock Promotion!
If you sign up via our link, you will get 2 free stocks! All you need to do is open the account and fund it with $100+.
Sign up for Webull + Get FREE Stocks!
Webull Features
Technical Indicators: Webull has a variety of technical indicators available on the platform. You can choose from up to 22 technical indicators such as moving averages, relative strength indexes and more.
Virtual Trading Simulator: Webull has a useful feature called the virtual trading simulator. This feature lets you create a virtual portfolio with fake money to test out strategies before risking real money. This is an ideal feature for someone just starting out, who may need to gain more investing knowledge and know how before investing real money.
Smart Alerts: Webull lets you set a variety of alerts for different holdings. You can get an alert when a price level is hit, or a rate of change has hit a defined level. There are also alerts for volume levels or changes, this can be useful for traders get a sense of where the stock may be headed in the short term.
Financial Calendar: The financial calendar feature keeps you informed on all the latest and upcoming financial news. Important events such as upcoming IPOs, dividend payouts, and earnings releases are all provided to you in a calendar format on the Webull platform.
Margin Trading: Webull allows margin trading on its platform to certain users. You must have a minimum account balance of $2,000 for margin trading access.
After Hours Trading: Webull offers after hours and premarket trading. You can trade securities from 4 am to 8 pm on the Webull platform offering more flexibility in placing trades.
Commission Free Short Selling: There are no trading commissions to short a stock in Webull. Short selling occurs in a margin account, but all trades are completely free.
Who Is Webull For?
Webull is a great platform for active traders who focus on investment research. Webull provides an array of research tools for both the technical and fundamental investment researchers.
That being said, in most cases, this platform is best for those with some prior investment experience. If you are completely new to investing in the stock market, you may feel information overload by the number of research tools available to you.
If you sign up via our link and fund your account, you will get 2 free stocks!
Sign up for Webull + Get FREE Stocks!
Best Free Stock Promotions
What Is Acorns?
Acorns is an online robo-advisor that helps you save and invest a portion of your debit and credit card transactions. Acorns will round your purchases to the next dollar and send the difference to your brokerage account to be invested.
The Acorns platform is simple and aims to help more people begin investing their extra cash. Once the cash is in your account it will be automatically invested into your Acorns portfolio. Acorns aims to help the beginner investor who would like to invest but has a hard time diligently saving.
The biggest difference between Webull and Acorns is that Webull is free while Acorns charges $1 to $3 per month.
Click Here To Sign Up With Acorns + Get $10 FREE!
Acorns Features
Acorns Spend: This is an Acorns provided debit card. A checking account that has Acorns built in and will save and invest for you. Fees are $3 per month for Acorns spend.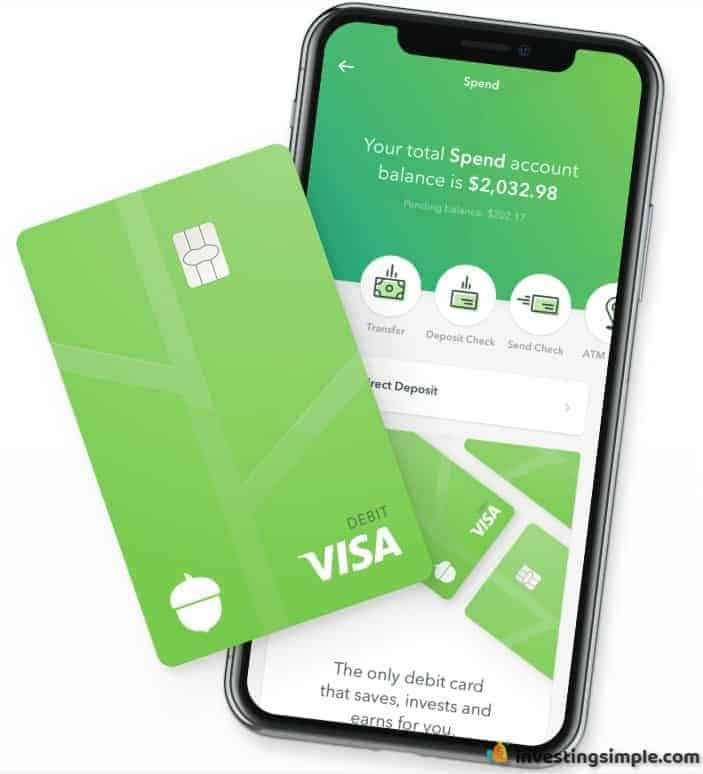 Acorns Later: Acorns offers Individual Retirement Accounts. Both Traditional IRAs and Roth IRAs.
Acorns Earn: Partnerships with brands and other retailers. Acorns partners include Nike, Apple, Airbnb, Blue Apron, Macy's, DirecTV, Lyft, Walmart and more. When shopping with an Acorns partner, you can earn an extra 5% to 10% of the transaction in cash back. This cash is then sent to your Acorns brokerage account and invested.
Acorns Grow: On Acorns grow you can access a variety of educational content that will help you learn more about investing and personal finance. The Acorns grow feature aims to educate beginner investors and guide them through the learning process.
What Are The Fees?
Acorns Lite is just $1 per month and comes with an individual investment account.
If you are looking for a bit more, Acorns Personal is $3 per month and comes with a retirement account as well as the Acorns Spend debit card.
Click Here To Sign Up With Acorns + Get $10 FREE!
What Are The Investments?
Once you create your account, Acorns will ask you a series of questions for your investment objective. You can choose from five different options:
Long Term Investment
Short Term Investment
Major Purchase
Children
General
Once you choose your objective, Acorns will suggest a portfolio that aligns with your investment objective.
Portfolios on Acorns were designed by Economist Dr. Harry Markowitz and are based on Modern Portfolio Theory. Each portfolio uses a stock and bond allocation that represents its level of risk. Conservative portfolios hold more bonds which tend to be less volatile when compared to stocks.
Aggressive portfolios will hold more stocks which may generate higher returns over time, but are more volatile when compared to bonds. Acorns also offers a variety of Vanguard and iShares ETFs on their platform.
All portfolios hold low-cost ETFs which have much lower fees when compared to actively-managed mutual funds.
There are no individual stocks or custom portfolios on Acorns.
Who Is Acorns For?
Acorns is a suitable platform for beginner investors who would like to begin saving and investing over time.
The biggest advantage Acorns has over other platforms is the automation of micro savings into your brokerage account over time. You may not realize it, but these small amounts add up over time.
For other investors who schedule automatic deposits from their bank account into their investment accounts every week or month, this feature may not be as useful. Acorns gives you the option to invest in five prebuilt portfolios. You cannot customize your portfolio or pick individual stocks or ETFs.
Click Here To Sign Up With Acorns + Get $10 FREE!
Webull vs Acorns: The Verdict
Acorns and Webull are investing apps both offering completely different services to their users. Webull offers an intermediate to advanced trading platform geared towards the research-oriented active trader.
Acorns is offering an automated investment solution to those who are forgetful or have a hard time saving money. If you fall into that category, Acorns might be a better fit for you.
If you are a more advanced investor who would like to buy and sell individual investments, Webull is likely a better fit for you.
However, neither platform has a minimum investment so beginners can start on both platforms with as little as a few dollars.
Sign up for Webull + Get FREE Stocks!
Click Here To Sign Up With Acorns + Get $10 FREE!
Keep Reading: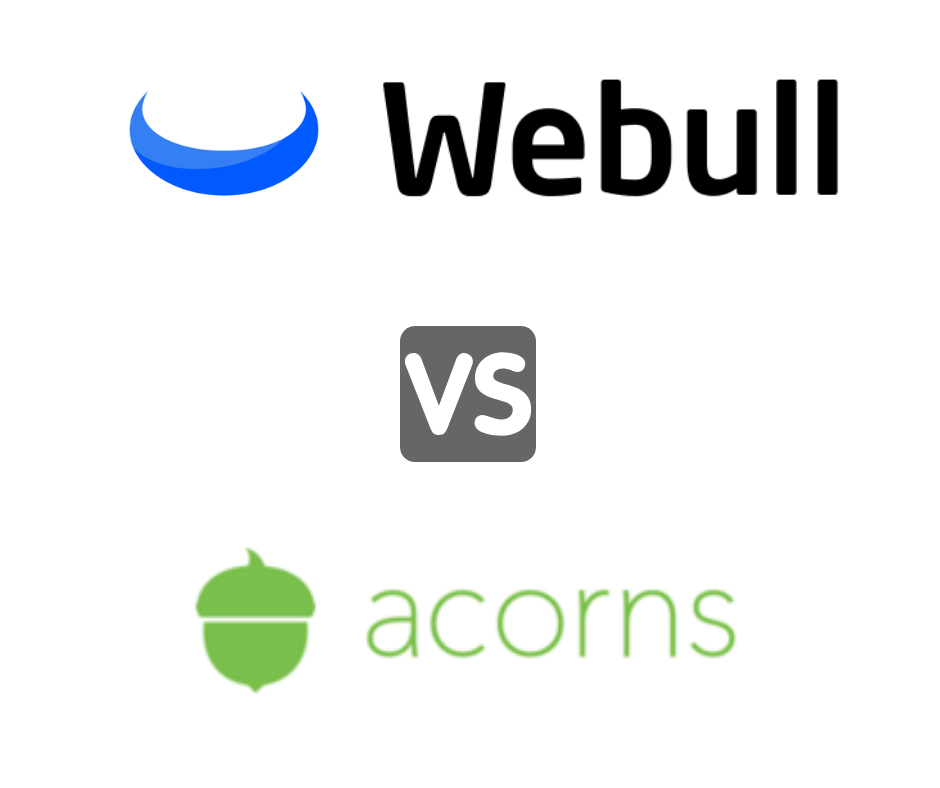 Sours: https://www.investingsimple.com/webull-vs-acorns/
Advertising Disclosure This article/post contains references to products or services from one or more of our advertisers or partners. We may receive compensation when you click on links to those products or services
While virtually every major brokerage offers online and mobile account management, a small crop of brokers took a mobile-first approach, putting most of the power of your investment account on your smartphone. Stash, Robinhood, and Acorns are three leaders in the mobile-first investment landscape. All three tout low costs and excellent user experience but do they live up to the hype? Let's investigate whether they may be a good fit for your investing needs. Here's our Acorns vs Robinhood vs Stash Invest comprehensive comparison.
Rating
8.5/10
8.5/10
8.5/10
Minimum to Open Account
$0
$0
$0
Fees
Beginner Plan: $1/month; Growth Plan: $3/month; Stash+ Plan: $9/month
$1 a month for the Lite plan; $3 a month for the Personal Plan; $5 a month for the Family plan.
No commission fees
Taxable Accounts
ETFs
Socially Responsible Investing
Advice
Automated
Automated
Individual Stocks

Open AccountStash Invest Review

Open AccountAcorns Review

Open AccountRobinhood Review
Here's a more specific comparison between Stash and Acorns we did a while ago.
About Robinhood
In the story of Robin Hood, a dashing hero leads a band of Merry Men to steal from the rich and give to the poor. While the Robinhoodapp doesn't do quite the same, it does empower people from any background to get involved in the stock market. It offers zero-fee accounts with no trading fees.
Robinhood supports investing in stocks, ETFs, options, and even cryptocurrencies. (Note that new investors would be wise to avoid options and digital currencies and focus on the stock and ETF offerings.) While aggressive low-fee brokers charge $4.95 for most buy-and-sell transactions, Robinhood doesn't charge anything. That makes it more viable to make smaller investments without losing a large percentage off the top to fees.
The company has held a good reputation, While zero commission fees might sound too good to be true, with Robinhood, that's really what you get.
I have a Robinhood account myself for testing purposes, and it does live up to its promises. I particularly like the automatic notifications for news relating to investments in your portfolio.
Open Robinhood Account
Further Reading: Robinhood Alternatives
Advertiser Disclosure – This advertisement contains information and materials provided by Robinhood Financial LLC and its affiliates ("Robinhood") and Investor Junkie, a third party not affiliated with Robinhood. All investments involve risk, and the past performance of a security or financial product does not guarantee future results or returns. Securities offered through Robinhood Financial LLC and Robinhood Securities LLC, which are members of FINRA and SIPC. Investor Junkie is not a member of FINRA or SIPC."
---
About Acorns
Acornsstarted out with only automated investing for $1 per month and expanded through acquisition to support retirement accounts and checking account. You can get just the starting plan, Acorns Lite, for $1 per month. Acorns Personal includes a checking and retirement account for $3 per month, and the whole suite of Acorns features, available with Acorns Family, can be yours for $5 per month. Acorns Family includes everything you'll get with Acorns Personal, plus the option to invest for children.
If you want to keep all of your finances in one app, Acorns may be one of the best options. But for today, we are going to focus on the investment features. It's not free, but it remains a very low-cost and attainable option for new investors.
Acorns is all about fun ways to contribute and add to your account. You can set up automated recurring investments, round-up change from debit or credit purchases, and get bonus cash invested when you shop with partner brands.
I have an Acorns Personal account, and I'm not thrilled with the investment performance. My account is up 1.52% over the last year compared to the S&P 500's 9.16% return. This isn't quite an apples-to-apples comparison, but it is directionally indicative of my performance since starting with Acorns. Overall though, the account works as advertised.
Open Acorns Account
Further Reading:
---
About Stash
Stash Invest is a simple and good investment appwhere you can invest with just a few bucks. Stash supports taxable brokerage accounts, retirement accounts, and custodial accounts so that you can open one for any major financial goal.
Stash charges $1 per month for taxable accounts up to $5,000 and 0.25% for larger accounts. For retirement accounts, Stash charges $2 per month for accounts with less than $5,000 and 0.25% for accounts with $5,000 or more. You can choose between a traditional and a Roth IRA.
You can invest in exchange-traded funds (ETFs) or fractional shares of stocks, and Stash never charges any trading or brokerage commissions or fees.
Stash is excellent for people learning to invest, as it offers suggestions around building your ideal portfolio (similar to a Robo advisor) while giving you the freedom to choose any supported investment. The platform supports recurring contributions and one-time deposits.
I don't use Stash myself, but it generally gets good reviews from customers. One of the best standout features is the option to invest in industries you feel good about — more on that in just a bit.
Open Stash Account
---
How Are They the Same?
All three services offer many features. First, let's take a look at how they're similar.
Minimum Investment — None of the services requires a minimum investment to begin.
Investment Account Types — All three offer a taxable account.
Investment Types — All three services allow you to invest in ETFs.
Mobile Apps — All three services emphasize investing with an Android or Apple mobile device.
How Are They Different?
Let's take a look at the areas where Stash, Robinhood, and Acorns differ.
Fees
Robinhood has no commission fees and no account fees for its basic account.
Acorns charges $1, $3, or $5 per month based on your tier of service.
Stash charges $1 per month for accounts under $5,000 and 0.25% per year for amounts above that.
Socially Responsible Investing —  If you're interested in investing in designated SRI (socially responsible investing) portfolios, you'll find this to be a focus at Stash.
Individual Stocks — Both Robinhood and Stash allow you to invest in individual stocks; Acorns does not.
Unique Features
Features Unique to Robinhood
Robinhood is free to use for its basic account and has no commissions on trades. You can buy a huge range of stocks, ETFs, and other investments with no fees. It doesn't offer extensive guidance or education resources, so it's best for someone willing to do their learning elsewhere.
Its support of free cryptocurrency and options trades is unique, but most investors should avoid those.
Features Unique to Acorns
Acorns offers unique and fun options to fund your account and takes care of the investments for you. While you won't pick individual stocks or ETFs as you would with the other apps, that also takes away the worry about having to know what to choose.
Its three accounts are competitive in cost with Stash and could work as a home for all of your finances.
Features Unique to Stash
Stash is unique in its ability to focus your investments into different themes based on your values. If you want to avoid putting your dollars into any particular industry or if you want to focus on specific sectors, you have some options to handle that with Stash.
Stash offers more than 100 investment options, made up of a limited list of popular stocks and ETFs. It is best for someone who doesn't know a lot about investing now but wants to learn more and have some guidance while building a portfolio.
Stash offers a banking solution, which Robinhood currently does not. That makes it a viable option to hold all of your money if you choose.
---
Minimum Investments
All three services are winners here since neither requires a minimum deposit or investment.
Winner — Stash Invest, Robinhood and Acorns are all winners.
---
Annual Fees
Stash has three membership levels, priced at $1, $3, and $9 per month. If you want a retirement account, you'll need to get at least the $3 plan.
Robinhood offers zero-free commissions and no fees for its basic account. It offers a Gold account for $5 a month, including more features such as margin trading.
Acorns has three plans, priced at $1, $3, and $5 per month.
Winner — Robinhood wins for its commission-free trades and no fees for its basic account.
---
Standout Features
Many investors will find Stash appealing because it allows clients to take advantage of automated investing when they want just to set it and forget it. On the other hand, clients can take full control over their accounts if they choose.
Robinhood is a standout in that it's a full-service stock broker that's mostly free to use. You can trade stocks, funds, options, whatever, all without paying a dime in commissions.
Acorns appeals to some with its fun and unique options for funding your account. For instance, you can round up your purchases and invest in the spare change. You can also earn investment rewards by shopping with a number of select partners.
Winner — Stash Invest, Robinhood and Acorns all offer great features. It just depends on what you are looking for.
---
Customer Service
Stash offers email and phone support. Both Acorns and Robinhood offer support only via email. There's no number to call.
Winner — Stash Invest is the winner because you can call up and talk to somebody if you need help.
---
Security
All three of these apps use industry-standard security and encryption. As long as you use a strong password, your account should be safe with Stash, Robinhood, or Acorns. All are regulated financial companies in compliance with federal laws.
Winner — Stash Invest, Robinhood and Acorns are all winners when it comes to security.
---
Who Are They Best For?
All three of these offerings are a good fit, depending on your needs.
Stash is best for new investors who want to learn. Its hybrid of self-directed and automated investing options can teach you a lot about how investing works.
Robinhood is best for active traders. This is where you'll want to come if you have some experience and are looking for low-cost, self-directed stock, ETF, options, and cryptocurrency trading.
Acorns if best for people who don't want to be bothered with investing. You can set it and forget it. This is hands-off investing for the long term.
---
Which Is the Best?
I have one major issue with Stash and Acorns, and that's pricing.
If you're starting out with just a very small portfolio, that $1 per month ($12 per year) can take a relatively big bite out of your portfolio gains.
That's partly why my Acorns account has hardly grown compared to the S&P 500. I'm paying $2 per month, and that comes out of my investment profits.
However, I also recognize that you're paying for service with Acorns and Stash. The fee of a few bucks per month is for investment advice. If you can do without the consultation, you can self-direct your portfolio at a discount brokerage elsewhere for no monthly or annual fees.
Because Robinhood is mostly free to use and doesn't offer any advising services for your portfolio, I would put it in a different category from the others. There could be reasons to use both Robinhood and Acorns, but Stash does roughly the same thing as the other two combined, provided you don't need some stock or other investment Robinhood offers, but Stash does not.
So which is the best? That depends on your goals and fee tolerance.
If you can do it yourself, Robinhood is great.
If you can't and want to pay someone for help, Stash andAcorns are both excellent products. But be aware that the cost comes out of your investment gains, and $1 per month in fees is a cost that adds up over time.
Bottom Line
Just a few decades ago, if you had told a stockbroker that you would one day enter your investment and stock market trades from a little computer you keep in your pocket, they might have laughed. These days, it's hard to imagine a world without online, mobile, and automatic investing.
Overall, any of these apps could be a good fit for your finances. Just make sure you fully understand the costs before getting started.
Disclaimer - Paid non-client endorsement. See Apple App Store and Google Play reviews. View important disclosures.Investment advisory services offered by Stash Investments LLC, an SEC registered investment adviser. This material has been distributed for informational and educational purposes only, and is not intended as investment, legal, accounting, or tax advice. Investing involves risk.
¹For securities priced over $1,000, purchase of fractional shares start at $0.05.
²Debit Account Services provided by Green Dot Bank, Member FDIC and Stash Visa Debit Card issued by Green Dot Bank, Member FDIC. pursuant to a license from VISA U.S.A. Inc. Investment products and services provided by Stash Investments LLC, not Green Dot Bank, and are Not FDIC Insured, Not Bank Guaranteed, and May Lose Value." because the article mentions the debit card.
³You'll also bear the standard fees and expenses reflected in the pricing of the ETFs in your account, plus fees for various ancillary services charged by Stash and the custodian.
⁴Other fees apply to the debit account. Please see Deposit Account Agreement for details.
⁵Stock-Back® is not sponsored or endorsed by Green Dot Bank, Green Dot Corporation, Visa U.S.A, or any of their respective affiliates, and none of the foregoing has any responsibility to fulfill any stock rewards earned through this program.
Sours: https://investorjunkie.com/compare/stash-vs-robinhood-vs-acorns/
8 best investment apps in October 2021
Looking for the best investing apps to get your financial life back on track? A solid finance app can handle routine financial tasks, shuffle money into investing accounts, and track spending. But the best investment apps can also let you quickly trade stocks, follow your account in real time and help you learn about the markets and more. Because they can do so much, investment apps have become increasingly popular.
Here are some of the top apps for getting your finances organized and invested. All of these apps are great for beginners, and they make it easy for those just starting to invest or looking to play a stock-picking game for fun.
Here are the best investment apps in October 2021:
Overview: Top investment apps in 2021
Invstr – Best investment app for learning about investing
Invstr is what you get when you mix learning, real-life investing and community into an app that's designed to give beginning investors a way to get into stocks, especially if you like games. The app combines a fantasy stock game, where you can assist in managing a $200 billion virtual portfolio, with access to investors' thoughts on stocks and other investments.
The fantasy game gives you $1 million in virtual money, and you can use the app's social network and news feed to source ideas. The month's top performers win real cash, too. And if you want to turn some of those fantasy picks into real-life stakes, you can buy fractional shares and whole shares commission-free in the app. The app will even give new users $5 when they open and fund an account. Invstr has also started offering commission-free trading in cryptocurrencies.
Reasons to get this app: You want to learn from an investing community, hear why they like certain stocks and play a fun fantasy game.
Wealthbase – Best investment app for beginners
Wealthbase is a newer entrant into the world of stock market games, and it may be the most user-friendly investing app out there for having fun and picking stocks. You can set up games with friends to last however long you want — a few weeks, days, even just until the end of the day.
Two things set Wealthbase apart in the stock simulator world: first, the app marries social media with stock picking. You'll see a feed of stocks your friends are picking, with daily updates of who's winning, and you can engage in a little friendly "trash talk." Second, the app runs very smoothly — no delays to load, no hiccups. Even if you're not a huge stock-picker, you'll have fun here. And you can trade crypto in the simulation as well.
You can access Wealthbase on the web or via mobile app.
Reasons to get this app: You like picking stocks and playing games in a social environment with friends and colleagues.
Wealthfront – Best investment app for sophisticated portfolio management
Wealthfront is one of the largest independent robo-advisors, and for a small fee it can manage your money, whether that's in a taxable account or an IRA. Wealthfront uses low-cost ETFs to construct your portfolio and takes into account how much risk you want to take as well as when you'll need the money. As you deposit money, Wealthfront will add it to your portfolio and keep your account balanced and on target toward your goal.
Wealthfront's management fee runs 0.25 percent annually, which is the industry standard. It's an eminently reasonable price for the features on offer, including automated tax-loss harvesting, which effectively covers the annual fee for many clients, says the company. Wealthfront also brings an attractive cash management account (even if you don't sign up for the investment account), and you'll receive a competitive interest rate, early access to direct-deposited paychecks and a debit card – all without a monthly fee.
Reasons to get this app: All you'll need to do is add money to the account and Wealthfront manages your portfolio to reach your goal. The cash management account is cool, too. As a Bankrate user, get $5,000 managed for free when you open a Wealthfront investment account.
Minimum balance required: $500
Fees: Management fee of 0.25 percent of assets annually
Acorns – Best investment app for savers
Acorns is one of the older of the new breed of finance apps, but it remains one of the most popular, because of how easy it is to use. You really don't have to pay much attention once you've set up the app. Link a debit or credit card to your account, and Acorns will round up the total on purchases to the next dollar and invest that difference into one of a few ETF portfolios.
The cost is a modest $1 per month for Acorns Lite, though the company offers other features. If you want to take a step up, you can move to Acorns Personal, which is bundled with Lite, for $3 per month. This tier offers an individual retirement account (IRA), and you'll be able to open one of three versions: the traditional, Roth or an SEP. You can even roll over an existing 401(k) or IRA.
Acorns chooses your portfolio based on the targeted time until your retirement (calculated as age 59 ½), becoming more conservative as you near that age, a timing that may not be appropriate for all investors. This tier offers an FDIC-protected checking account, too, with no additional fees and fee-free access to thousands of ATMs.
And for a total of $5 per month, you can add Acorns Family, which includes the features of the first two tiers as well as investment accounts for children.
Reasons to get this app: You like getting automatic investments while you're spending without worrying about it. You like retirement investing without the hassle.
Minimum balance required: $0 for savings account
Fees: $1, $3, or $5 per month depending on the service tier
Betterment – Best investment app for socially responsible investing
Betterment is one of the (relatively) new wave of robo-advisors, and it's one of the largest and most popular. The app provides professionally managed portfolios using a selection of ETFs and is calibrated against your own risk tolerance. Betterment can create socially responsible portfolios, including those that focus on climate change or social impact. If you're willing to stomach a little more risk, the app can find you investments with a potentially higher return over the long run. If you need a safer portfolio, Betterment can do that, too. You can set up Betterment and then kick back while the pros do the rest of the work.
Betterment charges a much smaller price than you'd pay for a traditional financial advisor. The management fee for the basic account amounts to 0.25 percent — a competitive rate in the robo-advisor world, or $25 annually for every $10,000 you have invested. But you'll have to pay extra for the ETFs that Betterment invests in, as you would at any robo-advisor. The app lets you set goals to invest for, such as a safety net or retirement, and there's no account minimum.
Reasons to get this app: You like having a professionally managed portfolio for a low cost.
Minimum balance required: $0 for digital service
Fees: Management fee of 0.25 percent of assets annually for digital service
Robinhood – Best investment app for smooth trading
Robinhood is the app to have if you like a smooth interface and avoiding trading commissions.
The app allows you to trade stocks, ETFs, options and cryptocurrency all for free, and you'll be able to do it in a slick mobile interface that makes smooth work of it all. The stripped-down app is simple to navigate, and after a while you'll move from screen to screen intuitively as you trade the market. But you'll have to know what you want to invest in, since there's no advising here.
You can access a stock's page from a search bar at the top of the screen, and pull up charts and vital statistics. Also useful is a feed that aggregates stories from news and investing sites, so that you keep on top of what's going on. After you've decided what you want to trade and enter the number of shares to buy or sell, swipe up and the order is on its way.
Another great feature of the app is instant delivery of the first $1,000 of any funds you deposit to the account, so you can start trading immediately. If you're a member of Robinhood Gold, a premium tier, you'll have instant deposits on higher amounts, up to $50,000. (Here's Bankrate's full review.)
Reasons to get this app: You like trading stocks (and options and cryptocurrency) for free and having a simple way to follow the market.
Minimum balance required: $0
Fees: No commissions for stock, ETF, options or crypto trades
Webull – Best investment app for low-cost trading
Webull was letting investors trade stocks for free before it suddenly became the cool thing to do, but also offers commission-free trades on options and ETFs. Plus, this broker offers no-fee trades on cryptocurrencies, including Bitcoin, Ethereum and Litecoin, at all hours of the day and night. On top of that, investors can enjoy full extended-hours trading — both morning and evening. Webull still passes on regulatory and exchange fees, which are small (think a dime or two for many trades).
Unlike some other investment apps, you'll be able to set up a taxable account as well as an IRA account (traditional, Roth or rollover), giving you the flexibility to have more of your financial life at this broker. If you prefer trading from your desktop, you can download the Webull platform and customize watchlists, check out stock charts and manage your investments.
Reasons to get this app: You like no-commission trading across multiple asset classes any time the market is open and the ability to set up an IRA with your investing app.
Minimum balance required: $0
Fees: No commissions for stock, ETF, options or crypto trades
Stockpile – Best investment app for gifting stock
Stockpile is a neat app because it allows you to buy fractional shares of companies. So if you don't have $300 to buy that one expensive tech stock, you can buy a half or a third of it, instead. Stockpile does not charge any trading fees.
The other neat thing about Stockpile is that it allows you to give a gift card that's redeemable for stock, so it may be a way to get a younger relative into investing in a fun way. You don't even need an account to send a gift. Stockpile allows kids to track their investments at any time, and you can set a list of approved stocks for them to trade. The app lets kids share a wish list of stocks with family and friends.
Reasons to get this app: You like investing but don't have enough to buy high-priced stock and you like the idea of gifting stock to younger relatives.
How much money should I plan to invest?
The good news for investors starting out today is that it requires very little money to get started. Fees are so low or even non-existent that you can start with virtually any amount of money. In fact, what you start with matters much less than your saving and investing discipline over time.
The key to achieving ongoing investing success is to add money regularly over time. So you'll want to add cash to the account and keep investing in your positions regularly over time in order to build wealth.
How much you actually invest depends on your own financial situation and needs. And today's low-fee brokerages and apps leave more money in your pocket to actually invest.
Are some apps better for investing than others?
Some apps provide special features or focus more on education, while others focus largely on executing trades. For example, Wealthbase is a great app for playing stock market games, but it won't execute trades for you. In contrast, Wealthfront and Betterment will both invest your money for you, so you don't have to do much but deposit money in your account.
And those apps differ from brokerage apps such as Robinhood and Webull, where you need to know what you want to buy. These brokers also allow you to buy cryptocurrencies, which are not typically offered at major online brokerages.
So the investment apps can provide a variety of different features and benefits, and you'll need to select which ones meet your needs.
FAQs
Can you use investment apps to trade stocks?
Some investment apps allow you to trade stocks and other securities, but that depends specifically on the kind of app and what it's designed to do:
For example, brokerage apps such as Robinhood and Webull allow you to buy stocks and ETFs.
Other apps such as those from robo-advisors Wealthfront and Betterment will buy stock funds and create a portfolio on your behalf.
Still other apps such as Wealthbase and Invstr allow you to learn about investing or play investing games.
So the ability to buy stocks with an app depends on the app itself.
Is the money I use to trade on investment apps insured?
If you're investing money in the market, then it's not insured and you could lose some or all of your investment. Market-based assets include stocks, bonds, mutual funds, ETFs, options and more. These kinds of assets fluctuate over time, meaning you could make a lot of money or lose a lot, depending on how the market swings.
If you need a highly safe asset, you'll need to turn to guaranteed accounts such as a savings account or CD at an FDIC-insured bank. These accounts insure your money up to $250,000 per account type per bank.
What to consider when choosing an investment app
When it comes to investment apps, think about how you'll plan to use them. Do you need an educational tool or are you looking to actually trade and invest? Some apps charge fees that can eat into your investment returns, while others have very low costs and offer commission-free trading. If you're interested in trading things like cryptocurrencies, you'll want to make sure that's a feature offered by the app or broker – not all brokers offer crypto trading.
What assets can you trade on investing apps?
If the app is an online broker such as Robinhood or Webull, you'll be able to trade securities such as stocks, bonds, ETFs, options and cryptocurrencies. Other apps that are more educational in nature, don't offer the ability to trade (with real money) at all, such as Wealthbase.
Are investing apps good for active trading?
Some investing apps are popular with active traders, but you'll want to pick one that offers trading in the type of assets you're interested in. Active traders might want to turn to Robinhood or Webull for their low-cost trading in everything from stocks and ETFs to cryptocurrencies and options.
Learn more:
Editorial Disclaimer: All investors are advised to conduct their own independent research into investment strategies before making an investment decision. In addition, investors are advised that past investment product performance is no guarantee of future price appreciation.
Sours: https://www.bankrate.com/investing/best-investment-apps/
Why i Switched to M1 Finance - M1 Finance vs Acorn
Acorns vs. Webull vs. eToro
Comparison Chart
Related Products
NextAgency for Health & Life Insurance

NextAgency is an agency management system with CRM and commission management tools for health, senior and life insurance agencies. NextAgency saves you time, money and clients by helping you: • Grow sales with powerful CRM tools to track prospects from lead to sale • Focus your team with shared notes and tasks that sync with your calendar • Improve customer service with our workflows and customer service reports • Keep commitments with follow-up tools like personal to-do lists for your entire team • Access the forms and files where and when you need them with our online agency library • Automatically assign your emails to your prospects and clients. • Get what you've earned with commission tracking tools and reports • Deliver greater client value by providing free benefit management software NextAgency is easy to use and simple to customize. Start a free trial today.

Plaid

The easiest way for users to connect their bank accounts to an app. Plaid provides developers with the tools they need to create easy and accessible experiences for their users. Today, tens of millions of people in North America (and counting) have successfully connected their accounts to apps they love using Plaid. With just a few lines of code, you can implement Plaid in an afternoon. Our front-end module is easy to drop into whatever you're building and designed to optimize conversion. Plaid provides technology that enables you to connect your financial accounts to apps and services. That can help you do things like save for retirement, make a budget, and transfer money. You've probably already connected an account using Plaid. Over a quarter of people with US bank accounts have, and we're growing internationally as well.

Safety Indicators

Safety Indicators specializes in helping companies reduce injuries via tailored safety management software. The Company's cloud-based software is built to enhance, formalize, prioritize and streamline safety processes in order to minimize safety risk while saving businesses time and money (up to 10x return on investment).

StockMarketEye

StockMarketEye is an easy-to-use investment management software for individual investors and advisors. With StockMarketEye, you can track and manage all of your investments in one place, stay on top of the markets, and have quick access to the information you need to make informed investment decisions. * Get started quickly by importing your accounts directly from brokerages. * View prices, performance, allocations and much more. * Chart the value of your investment portfolios over time. * Keep watchlists of securities that are on your purchase list. * Analyze historical price charts. * Companion apps for iOS and Android. * And much more...

ThriftCart

Thrift stores are different than other retail stores. You're not buying from suppliers and selling the same thing over and over again. Rather you're selling one-of-a-kind items. ThriftCart's Point of Sale System is built around this workflow. Your customers support you! Many thrift stores are not-for-profit, and support a cause bigger than the store. If that's your case, most of your customers care about your cause too! With ThriftCart, you can ask for round-up donations at the credit card terminal. Those bits of spare change really add up. Did you know that at most of our stores, 60% of customers round up their purchase to the nearest dollar when asked? Discounting your way. Many reuse and thrift stores drop prices on items the longer they have been in the store. This keeps the merchandise mix fresh and gives bargain-hunters satisfaction when they get a deal. ThriftCart supports discounting based on color tags of items. Simple communications with HQ.

Adobe PDF Library

The Adobe PDF Library SDK from Datalogics allows you to incorporate Adobe's PDF functionality into your own applications. Built with the same core technology that Adobe uses to build Acrobat, the Adobe PDF Library SDK is a PDF library that contains a powerful set of native C/C++ APIs with interfaces for .NET and Java. Create & edit PDFs, redact & extract text, and much more with this robust library. Save time, money, and resources by having all of your PDF needs at your fingertips!

PBRS Power BI Reports Distribution

PBRS™ (Power BI Reports Scheduler) saves time and money by making it easy to automate the filtering, distribution & delivery of Power BI Reports & Dashboards. Simply define single or packages of Power BI reports, schedule, run them automatically, and send the reports to print, fax, folder, FTP, SMS, Dropbox, SharePoint, Slack & email in a number of standard formats including Excel, Excel Data Only, CSV, MS Word, PDF, Powerpoint, HTML and more. Includes SSRS report scheduling, plus Data Driven subscriptions & scheduling for both SSRS and Power BI.

FoodStorm

FoodStorm is the world's leading all-in-one catering software that empowers caterers to grow their business while saving time and money by automating administrative tasks. As experts in the catering technology industry, FoodStorm offers a flexible catering management solution to support every type of caterer: grocery and prepared foods, corporate, drop-off, on-site, event, QSR/retail and large-scale food production across multiple sites. With a commitment to continuous innovation, FoodStorm's cutting edge technology integrates easily with a large variety of third-party systems, provides a catering specific eCommerce website to match your brand, a website builder to host your online presence, order and production management, PCI compliant payment processing, CRM tools to market and grow your business, and rich reporting features with a 24/7 live business dashboard. FoodStorm. More Catering. Less Work.

TouchBistro

TouchBistro is an all-in-one POS and restaurant management system that makes running a restaurant easier. Providing the most essential front of house, back of house, and guest engagement solutions on one powerful platform, TouchBistro helps restaurateurs streamline and simplify their operations – allowing them to spend less time manually connecting the dots, and more time connecting with guests and growing their business. Built to meet the unique needs of the restaurant industry, TouchBistro is fast, reliable, and easy to use, and has all of the features restaurateurs need to increase sales, deliver a great guest experience, and save both time and money. By pairing innovative restaurant technology with an unparalleled dedication to customer support and success, TouchBistro has powered more than 29,000 restaurants in over 100 countries, and is a global leader changing the way restaurateurs do business.

Trality

Trality is the platform for anyone to create and invest through automated trading bots. While professional traders successfully use automated trading, over 80% of private traders lose money due to emotional bias and lack of automation. That's why we build the first marketplace for trading bots that is available for traders of all levels of experience. With just a few taps from their mobile app, we enable followers to easily invest in bots created on the platform. To attract the best bot creators, we offer the most advanced tools for bot creation in private trading as well as the option to participate in revenue generated from their follower-base. Through its state-of-the-art Python Code Editor and easily-accessible drag and drop Rule Builder for non-coders - Trality gives everyone the power to benefit from emotionless, data-driven bot trading. Trality is a platform for anybody who wants to profit from algorithmic trading without giving up the day job.
Sours: https://sourceforge.net/software/compare/Acorns-vs-Webull-vs-eToro/
Acorns webull vs

eToro: Best Trading Platform - 0% Commission to Trade Stocks & ETFs
Visit eToro
67% of retail investor accounts lose money when trading CFDs with this provider. 67% of retail investor accounts lose money when trading CFDs with this provider.
X
If you're new to the online trading scene you will undoubtedly have come across thousands of brokers, all offering different features and products. Choosing the right trading platform is crucial.
In this Acorns vs Robinhood comparison, we examine everything from fees and commissions to mobile apps and safety. Read on to find out which online broker is right for you!
Acorns vs Robinhood Comparison
What are Acorns and Robinhood?

Launched in 2012, Acorns is a US-based broker that is regulated by top financial authorities including the US Securities and Exchange Commission, and is a member of the Financial Industry Regulatory Authority.
Acorns is not a traditional brokerage firm, instead, it specializes in automated trading and micro-investments. Acorns offer five different investment portfolios which are designed to maximize returns depending on your risk tolerance and your trading goals.
In addition to no account minimums, Acorns does not charge commission. Instead, this online broker offers a trading experience and service that is completely automated and driven by algorithms.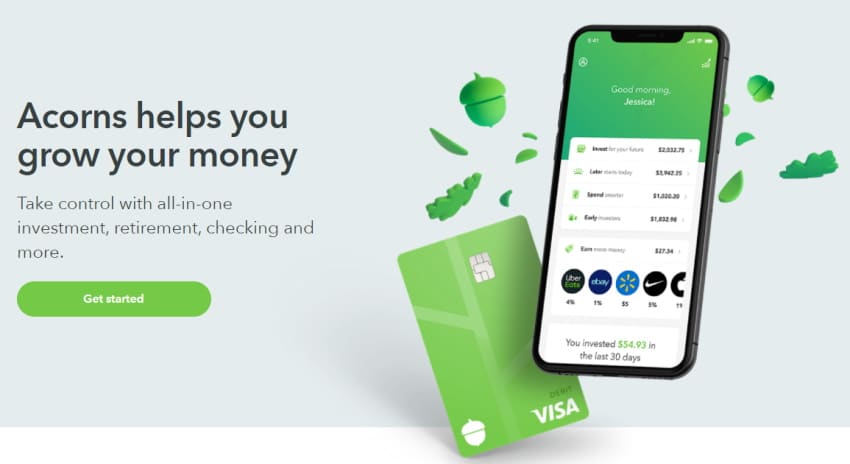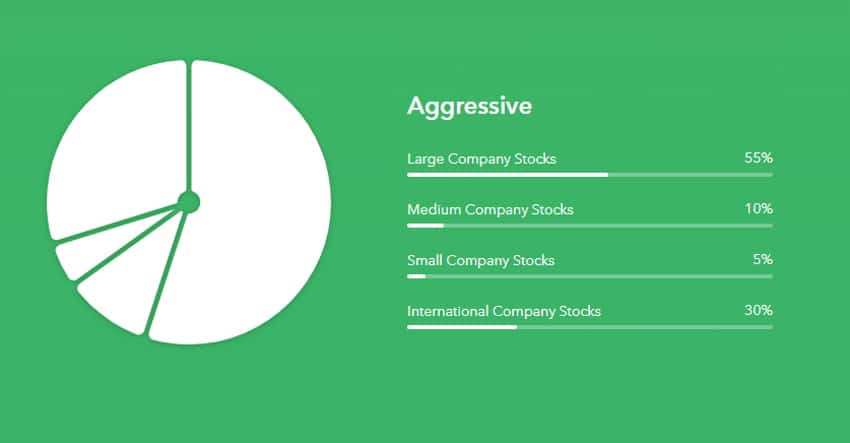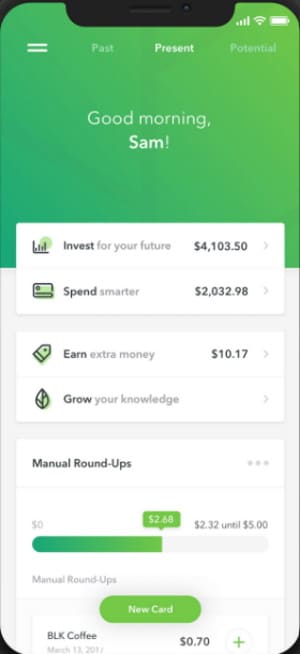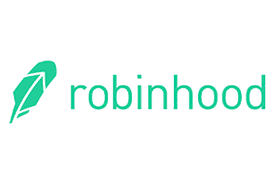 And is Robinhood legit? Robinhood is also a US-based broker that was founded in 2013 and offers a bunch of investment options. In terms of the fundamentals, this online investment platform is regulated by the US Securities and Exchange Commission and is a member of the Financial Industry Regulatory Authority.
Robinhood provides access to stock, ETF, options, and crypto trading. As well as commission-free ETF and US stock trading, this broker has low non-trading fees and even offers an automated trading service called 'Recurring Investments'. The popularity of low-cost trading is growing as more new investors enter the trading scene. As such, Robinhood offers fractional shares which means you can buy individual stocks with as little as $1.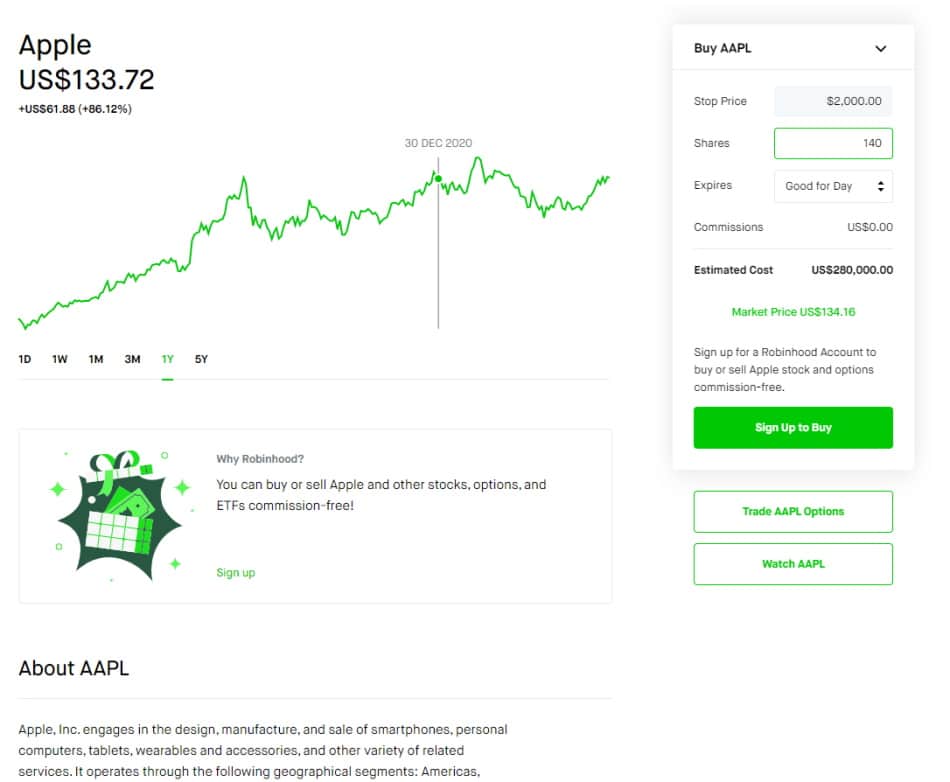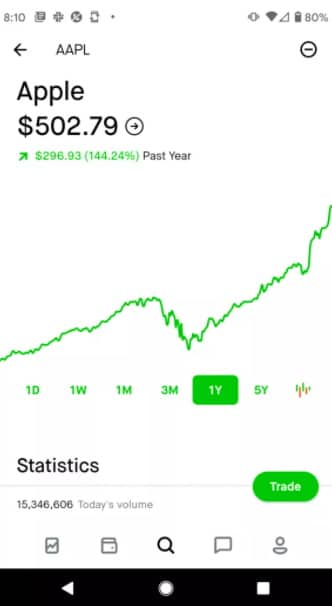 Acorns vs Robinhood Tradable Assets
When you set up a profile with Acorns app, its algorithm will recommend an investment portfolio based on the goals and information you enter. An Acorns portfolio is made to maximize any potential returns depending on your level of risk tolerance.
Your funds are then invested automatically into twelve separate ETFs. These exchange-traded funds cover bonds, stocks, and other assets.
With Acorns there are two ways to invest your money:
Acorns Invest – is a micro-investing account that trades using spare change from your linked bank account. Every time you spend money, Acorns rounds it up to the nearest dollar and invests that amount into your trading account. For instance, if you spend $10.50 at a coffee shop, the Acorns Round-up feature would round it up to $11 and the extra 50 cents would be added to your trading balance.
Acorns Later – offers automated services to save for retirement.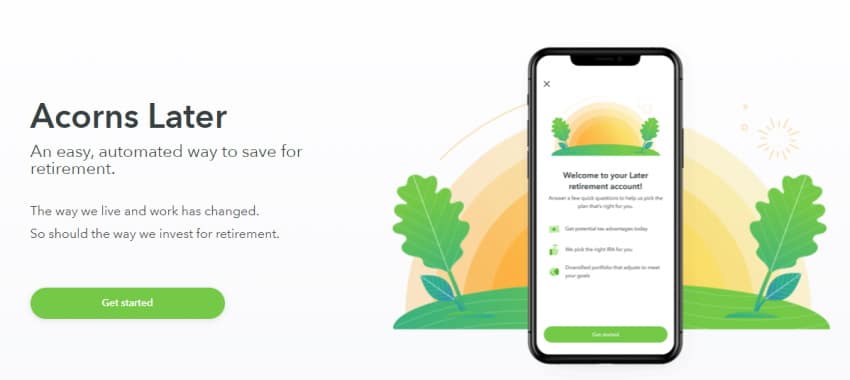 The ETFs that Acorns offers are as follows:
iShares Core S&P Mid-Cap ETF | IJH
iShares Core S&P Small-Cap ETF | IJR
Shares Core MSCI Total International Stock | IXUS
Vanguard 500 Index Fund ETF Shares | VOO
iShares Core U.S. Aggregate Bond | AGG
iShares Core 1-5 Year USD Bond | ISTB
SPDR® Bloomberg Barclays 1-3 Month T-Bill ETF | BIL
Goldman Sachs Access Treasury 0-1 Year ETF | GBIL
iShares Ultra Short-Term Bond ETF | ICSH
JPMorgan Ultra-Short Income ETF | JPST
iShares Short Treasury Bond ETF | SHV
iShares ESG Aware MSCI USA ETF | ESGU
iShares ESG Aware U.S. Aggregate Bond ETF | EAGG
iShares ESG Aware MSCI EM ETF | ESGE
iShares ESG Aware MSCI USA Small-Cap ETF | ESML
iShares ESG Aware 1-5 Year USD Corporate Bond ETF | SUSB
iShares ESG Aware MSCI EAFE ETF | ESGD
iShares 1-3 Year Treasury Bond ETF | SHY
iShares MSCI USA ESG Select ETF | SUSA
iShares U.S. Treasury Bond ETF | GOVT
iShares MBS ETF | MBB
iShares ESG Aware USD Corporate Bond ETF | SUSC
Robinhood allows you to buy and sell financial instruments including stocks, options, ETFs, and cryptocurrencies. For traders with a preference in digital currency trading, you will be pleased to find out that Robinhood offers 7 different cryptos thus giving you access to the likes of commission-free Ethereum trading. Other cryptos include:
Ethereum Classic
Bitcoin SV
Bitcoin Cash
Bitcoin
Dogecoin
Litecoin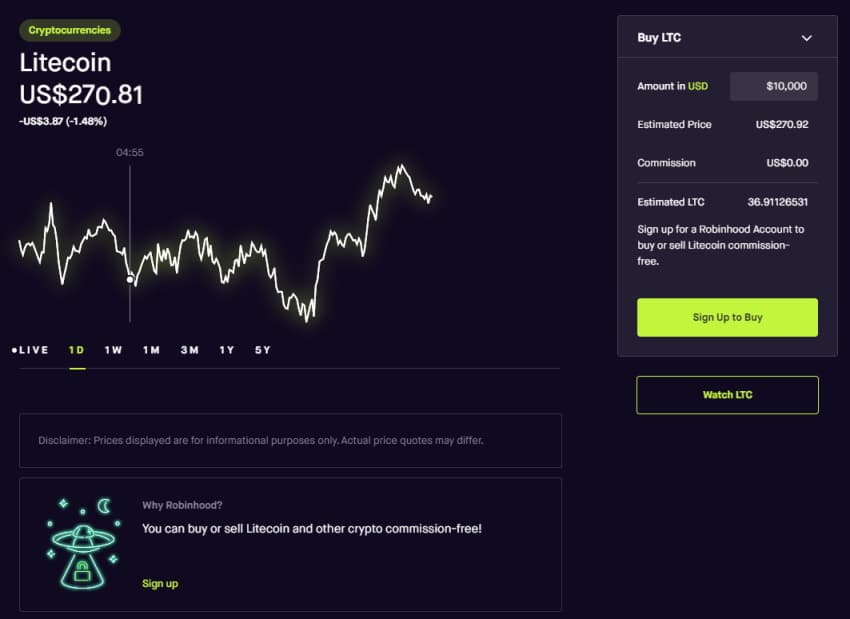 Robinhood provides roughly 5,000 ETFs and stocks which are mostly listed on the top stock exchanges in the United States. You can also gain access to some international stock markets which are provided via American Depositary Receipts.
When it comes to options trading, you are limited to just stock and stock index options which are only available for major stocks.
Acorns vs Robinhood Account Types
With Acorns, you can choose between 3 different subscription options depending on your trading objectives and financial needs.
Acorns Lite is an automated trading account and comes with a $1 per month subscription fee. As we have already mentioned you can use your spare change to fund your account with the Acorns Round-ups feature.
Acorns Personal comes with a $3 per month fee and is an investment, retirement (IRA account), and checking account all rolled up into one.
Acorns Family provides a custodial account (UTMA/UGMA) and costs $5 each month.
To summarize, Acorns offers standard investment accounts, retirement accounts, checking accounts, and investment accounts for kids.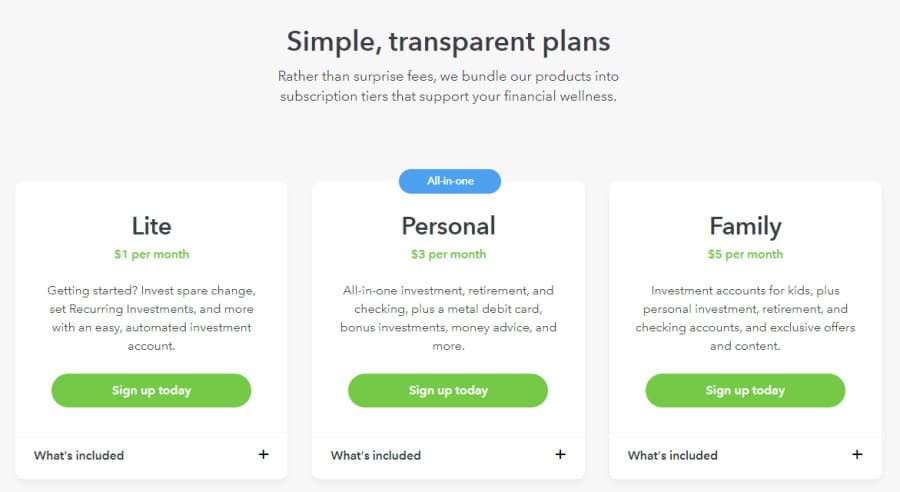 Opening an Acorns account is fully digital and simple. There are no minimum deposits required to open an account with Acorns, however, to start investing you need to fund your brokerage account with the Round-ups feature or with a one-time investment of $5. Acorns also gives you the option to use Recurring Investments which start at $5 and you can set the frequency to daily, weekly or monthly.
Let's turn our focus to Robinhood now. When you sign up with Robinhood by default you open a Robinhood Instant account. There is no minimum deposit required to open an Instant account but you can upgrade to a Robinhood Gold account at any time with a $2,000 minimum deposit and a $5 monthly fee. It's worth noting here that retirement (IRA) accounts are not provided with this broker.
A Robinhood Cash account gives you access to Instant Deposits up to the initial $1,000. Nevertheless, any amount above that $1,000 limit will take longer to process and you also do not have access to trading with unsettled funds. Downgrading to a Cash account from an Instant or Gold account can be executed at any time.
A Robinhood Instant account is a margin account that gives you access to instant deposits of any amount up to $1,000 as well as extended-hours trading. You'll be able to trade on unsettled funds from securities that you sell.
A Robinhood Gold account offers larger instant deposits and greater buying power through margin trading. Robinhood Gold provides level II Data and market data and research, with a $5 monthly subscription fee.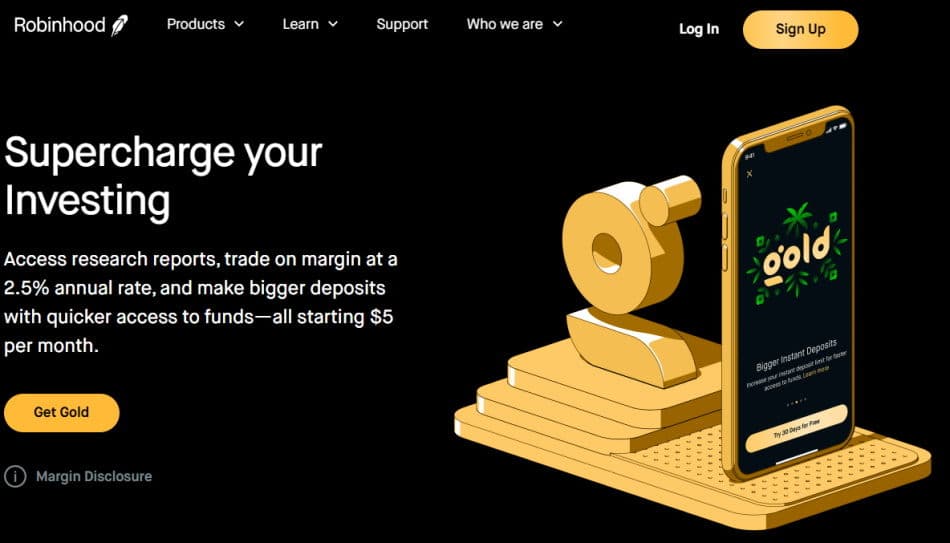 When it comes to day trading, you are restricted to three-day trades per week, by Pattern Day Trading regulations, with instant and gold accounts. If you have an account balance lower than $25,000 and execute more than 3 day trades your account will be barred for 90 days. Despite there being no such limits when using a Cash Account, day trading is practically redundant as you will have to wait at least 3 days for settlement after you have sold securities to use any profits.
Acorns vs Robinhood Fees & Commissions
As we have already mentioned, Acorns provides three separate subscription tiers to suit your trading and financial goals. Acorns Lite has a $1 monthly subscription fee, Acorns Personal has a $3 per month fee and Acorns Family has a $5 per month subscription fee.
Acorns Invest offers an automated trading service that invests your spare change allowing you to invest in 5 different ETF portfolios for as little as $5. Your investments are diversified across thousands of ETF stocks and bonds, and in terms of rebalancing, this is also automated depending on your trading goals and risk threshold.
If you use an Acorns Spend account, which is a checking account, you have the ability to save, invest and make returns while spending money. There is no overdraft limit or minimum balance fees, and you also get access to Allpoint ATMs.
Account management fees are fees that an advisor or robo-advisory service charges to manage your investment account. Acorns charges a linear rate as opposed to a percentage of the assets. Fixed rates are typically beneficial for traders with large account balances.
For example, let's say that you open an Acorns Lite account with a $1 per month account management fee. If you have an account balance of $100 this management fee becomes 12% of your annual management fees. On the flip side, if you have an account balance of $10,000 this $1 per month subscription fee becomes 0.12% of your annual management fees.
There is no minimum deposit to open an Acorns account, but you need at least $5 to start investing in one of the five pre-built ETF investment portfolios. If you want to transfer your investments to another brokerage firm, there is a $50 per exchange-traded fund charge. This is something you need to keep in mind because if you have ten ETFs and you want to transfer them to another broker you will incur a hefty $500 transfer fee.
Robinhood offers commission-free stock, ETF, options, and crypto trading. In terms of non-trading fees, these are also very low. For instance, there are no inactivity, deposit, or withdrawal fees.
Transferring securities from your Robinhood Financial account to alternative brokers can be done through the Automated Customer Account Transfers Service otherwise known as ACATS. You have the option to transfer all or a portion of your securities in either a full or partial ACAT transfer. There is a $75 fee when using ACATS to transfer securities.
When it comes to margin trading with Robinhood you will need a minimum deposit of $2,000 and there is a 2.5% APY charge.
Inactivity fee
Deposit fee
Withdrawal fee
Account fee
Stock fee
ETF fee
USD margin rate
Transfer fee
Robinhood
No
$0
$0
$5 fee per month for Gold account
0%
0%
2.5%
$75
Acorns
No
$0
$0
Lite – $1 per month

Personal – $3 per month

Family – $5 per month

n/a
0%
n/a
$50 per ETF
Acorns vs Robinhood User Experience
In terms of user experience, both brokers are designed for new investors. This is evident in the user-friendly interface and the lack of complex jargon and financial terminology.
Opening an account is simple, fully digital, and can be completed in a matter of minutes. Navigating your way around both trading platforms is simple and easy as well.
As with most robo-advisory services, Acorns makes the whole trading process automatic, giving the user access to a passive and hands-off way of investing. When you sign up with Acorns you will be asked to provide your age, financial and trading objectives, risk tolerance, total earnings, and time horizon.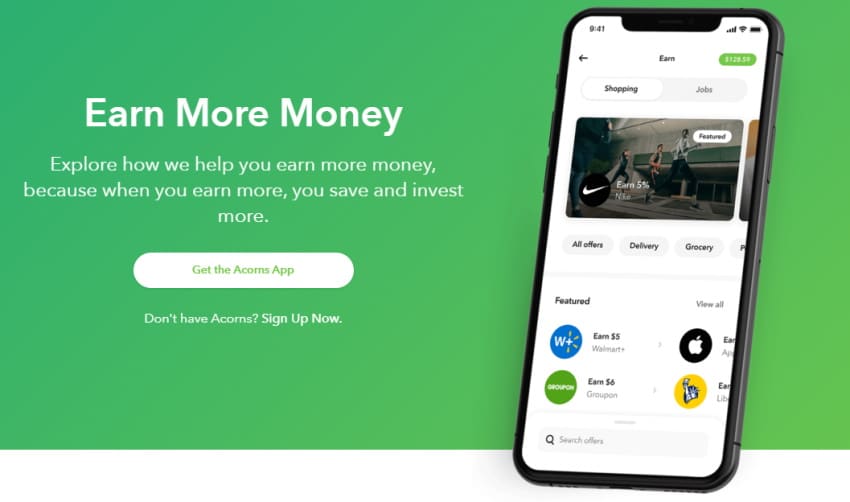 Based on that data Acorns then recommends one of five investment portfolios ranging from aggressive, which is made up of 55% large company stocks, to conservative which is made up of 80% short-term government bonds and ultra-short-term corporate bonds.
Robinhood offers a fully-fledged web trading platform that is very user-friendly and simple. This is evident from the very first moment you land on the page with a well-designed layout and good search functionality. On the downside, you cannot customize charts and the trading dashboard which some advanced traders may find annoying.
The search functions provide relevant results allowing you to find exactly what you are looking for 100% of the time. Furthermore, if you click on a stock you can gain access to related tags by clicking on the collections button. By tapping on a tag, Robinhood will present stocks with the same tag which is a useful feature if you wanted to compare similar stocks.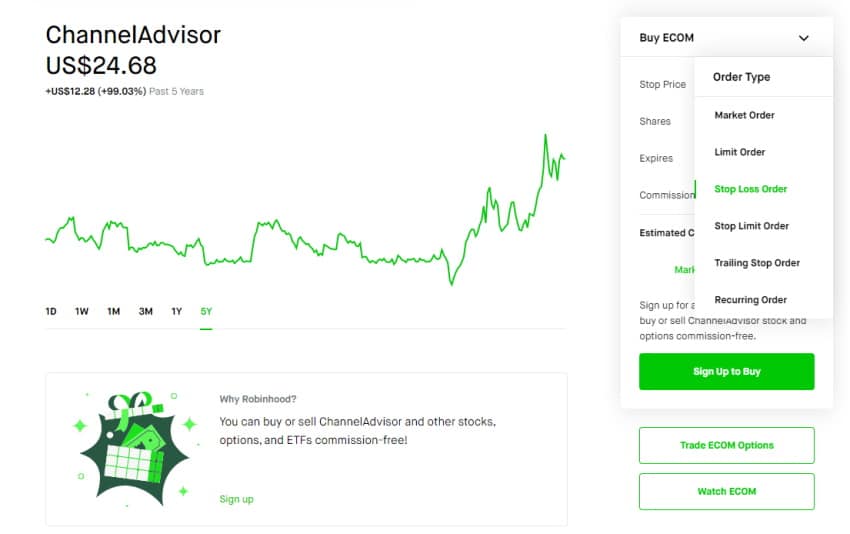 Robinhood also makes placing an order type, such as market orders and stop-loss orders, very easy. You can also set a range of price alerts and push notifications for different events from earnings announcements to price movements.
Acorns vs Robinhood Mobile App
Both Acorns and Robinhood allow you to invest via a mobile investment app. These are compatible with both Apple and Android devices, allowing you to stay in the loop regardless of where you may be.
Acorns, which is now home to more than 8 million users, offers a mobile trading app that is very similar to the web platform. You can invest your spare change with the Round-ups feature, invest for your children using Acorns Early (a UTMA/UGMA investment account), and widen your trading knowledge with custom financial content provided by CNBC and the broker itself, all from the comfort of your own mobile device.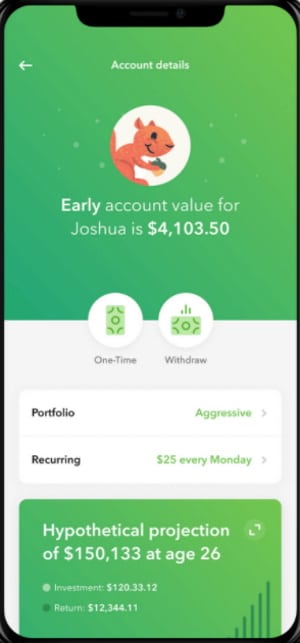 Robinhood provides a mobile trading app that closely reflects the functionality and user experience of the web trading platform. It uses a two-step authentication login process which is great for logging in and out securely.
In terms of functionality, when using the Robinhood app you can search for your favourite stocks, cryptos, and other assets using the search bar, and, if you have a Gold account you can access Nasdaq level II market data in real-time, and other research tools such as trading ideas from Morningstar, all from your mobile device.
Acorns vs Robinhood Trading Tools, Education, Research & Analysis
As both brokers are targeted towards beginner traders they both provide a range of educational materials.
Acorns provides content that it creates in-house as well as from third-party providers including CNBC. Simply, click on the 'Education' tab at the top of the screen and choose between 'Money Basics' and 'Grow Magazine'. Both these educational resources offer relevant information to help you build your understanding of investing and online trading.
The same can be said for Robinhood. To access the educational materials, simply click on the Learn tab at the top of the page and choose between investing basics, a library of content, and 'Snacks'. With 'investing basics' and 'library' you can access everything you need to build your online trading knowledge. The 'Snacks' feature is a daily newsletter covering all the key financial news for the day. All you need to do is enter your email and click subscribe.
When it comes to trading ideas, Robinhood offers analyst ratings of various securities to help you make informed trading decisions. These analyst ratings reveal how many experts rate the assets as hold, sell or buy.
If you are interested in fundamental analysis and data then you can access some basic metrics including price-earnings ratios, market cap, and dividend yield. Robinhood also offers fractional shares which means that you can invest in some ETFs and stocks that are valued at thousands of dollars per share with just $1.
Investing in fractional shares is a great way to maximize your portfolio diversification without spending large amounts of money on expensive shares.
Acorns vs Robinhood Demo Account
A demo account, otherwise referred to as a paper trading account, gives you the ability to trade with virtual funds. Therefore, demo accounts give you a realistic online trading experience without the added risk of losing your money.
During our research, we found that both brokers do not offer demo accounts.
Acorns vs Robinhood Payments
Acorns Spend is a checking account that was developed with Lincoln Savings Bank. After opening an Acorns Spend account your account is linked to an Invest or Later account with the broker.
When it comes to depositing cash you can do so by depositing funds into your connected primary checking account and then you can transfer the funds directly to your Acorns Spend account.
With an Acorns Spend checking account there are no account fees and you have access to tens of thousands of fee-free ATMs. You can also transfer funds to your Spend checking account from a PayPal e-wallet.
Withdrawing money from your Acorns checking account can take between 3 and 5 working days due to the settlement period of 2 days.
In terms of Robinhood's payment options, your funds arrive instantly when using the instant deposit feature. Alternatively, you can expect funds to arrive in your account after 4 to 5 business days. However, there are some limitations: if you are using an Instant account you are allowed to deposit any sum up to $1,000 straightaway, whereas Gold account holders are limited to a $50,000 instant deposit. You can only deposit funds via bank transfers as credit cards, debit cards, and e-wallets are not supported payment methods. If you want to withdraw funds from your account, you will be happy to hear that there are no fees for ACH withdrawals, but it can take 3 business days to process.
Minimum Deposit
Deposit Fee
Processing Time
Withdrawal Fee
Acorns
$0
FREE
2-3 business days
FREE
Robinhood
$0
FREE
Instant, depending on account type
FREE
Acorns vs Robinhood Customer Service
Acorns customer support can be reached by submitting a request or accessing the Acorns Support virtual assistant.
When it comes to submitting a request, you have to choose from a list of potential issues and then fill in your contact details such as email address and phone number. It usually takes 1 business day to receive a response and the answers are relevant and straight to the point.
It's the same story when you go to Robinhood as well. Customer services can only be reached via email by submitting a request. After you have chosen a topic and given a brief description of your query you can expect an answer within one business day.
Robinhood vs Other Brokers
Overall, Robinhood is better suited to beginners with little trading experience who want to trade US shares and ETFs without paying a penny in commission. If you'd like to see how Robinhood does when pinned against other top brokers be sure to check out these comparison reviews as well!
Acorns vs Robinhood Safety & Regulation
With regards to safety and regulation, both brokers are regulated by top financial authorities including the US SEC and FINRA.
Robinhood and Acorns are members of the Securities Investor Protection Corporation which protects client funds up to $500,000 including $250,000 for cash claims.
In terms of protection, it's important to note here that Robinhood Crypto LLC is not a member of the Financial Industry Regulation Authority and therefore its clients are not covered by the US investor protection scheme.
Acorns vs Robinhood vs eToro
Throughout this Robinhood vs Acorns comparison, we have found that both Robinhood and Acorns are tailored for new investors who have just started to test the waters of the online trading scene. Both offer low-cost access to trading and investing, from automated investment portfolios and fractional shares to zero-commission trading.
Both brokers are home to millions of traders and are regulated by top-tier financial authorities. If you've enjoyed this broker comparison so far then check out our M1 Finance vs Robinhood review as well.
However, we recommend taking a look at the best social trading platform in 2021 – eToro. In short, eToro has more than 20 million active traders and is regulated by the UK's FCA, ASIC, and CySEC. In terms of automated trading, if you're searching for the best copy trading platform then eToro is your safest bet.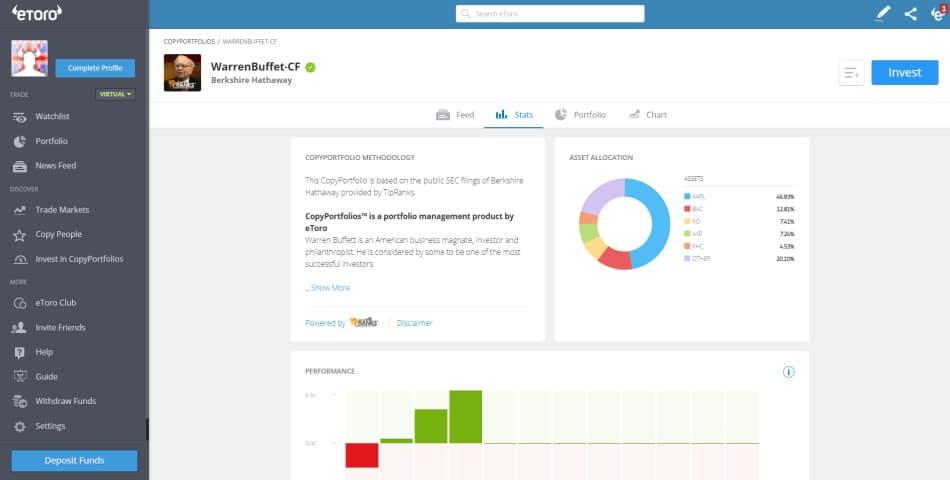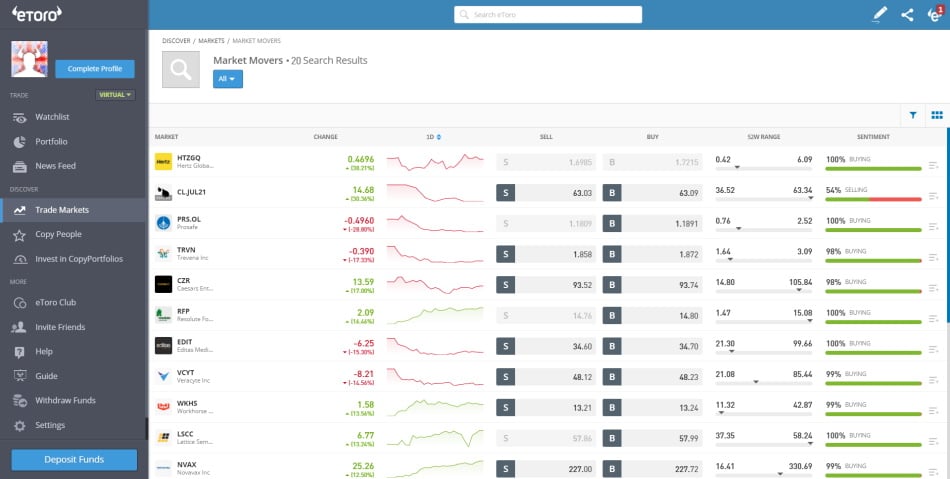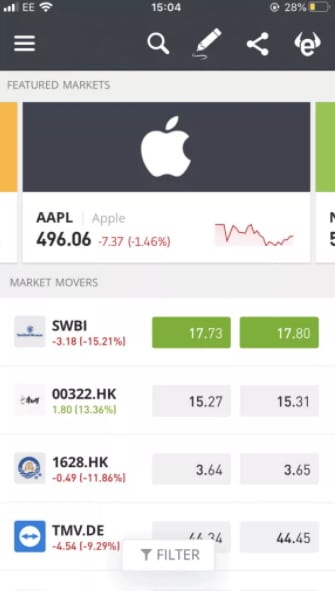 Open an eToro Account
67% of retail investor accounts lose money when trading CFDs with this provider.
This online trading platform offers a range of financial products. It also provides a fully developed forex trading facility that covers tons of major, minor and exotic currency pairs.
| | |
| --- | --- |
| Fee | Amount |
| Stock trading fee | Free |
| Forex trading fee | Spread, 2.1 pips for GBP/USD |
| Crypto trading fee | Spread, 0.75% for Bitcoin |
| Inactivity fee | $10 a month after one year |
| Withdrawal fee | $5 |
| ETF trading fee | Free |
| Account fee | No |
| Deposit fee | $0 |
Acorns vs Robinhood – The Verdict
All in all, if you are looking for an all-round great copy trading platform with 100% commission-free trading then eToro is our number one recommended broker for 2021.
Copy trading gives you the ability to mimic the investment portfolio and ongoing trades of advanced investors with the click of a button. In other words, this is a hands-off approach to online investing – as the experienced trader of your choice will decide which instruments to buy and which to sell.
Having said this, you determine the amount you wish to invest in copying another trader, and you can close your positions at any time. Moreover, you can even make money by allowing other investors, on the social trading platform, to copy your trading decisions.
While all the brokers in question are worth considering, we found that the best platform for online trading in 2021 is eToro!
eToro – Best Copy Trading Platform with 0% Commission to Trade ETFs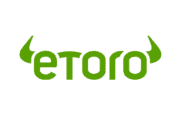 Start Copy Trading With eToro
67% of retail investor accounts lose money when trading CFDs with this provider. You should consider whether you can afford to take the high risk of losing your money.
FAQs
Which is better, Robinhood or Acorns?
The answer to this depends on the type of trader you are. If you are looking for a passive investing strategy then Acorns is the broker for you because it offers five pre-designed investment portfolios ranging from conservative to aggressive. On the other hand, if you want to have the option of using automated trading as well as manually buying and selling assets such as Bitcoin and stocks then Robinhood is a great choice. With zero-commission trades, you can even trade on margin and if day trading is your thing then you can do that also with Robinhood. However, if you're looking for a top-rated broker that offers social and copy trading features, and 100% zero-commission trading all from the comfort of your own home then eToro is by far the best option.
How does Acorns work?
Simply put, Acorns is a robo-advisor; this means that algorithms and high-tech software create and manage your portfolio of investments. One of the most attractive elements of robo-advisors is that they are cost-effective. After you have answered some questions regarding your trading goals and risk tolerance, Acorns will recommend one of its 5 pre-built investment portfolios. The fully automated trading service automatically invests your spare change on a regular basis into a diversified portfolio of ETFs. Subscription fees vary depending on the type of account you choose.
What is Acorns?
Founded in 2012, Acorns is a US-based robo-advisor that offers 5 different investment portfolios covering 7,000+ ETFs. Acorns is regulated by the US Securities and Exchange Commission and is a member of FINRA. This broker offers commission-free automatic trading with the click of a button.
How do I close an Acorns account?
Closing your Acorns account can be done on both the web trading platform and the Acorns app. All you have to do is log in and tap on the menu at the top left-hand side of the screen. Then click on 'settings', 'my subscription', 'close account', 'cancel subscription'. After this you need to follow the directions to close and liquidate the account.
How does Acorns make money?
Acorns makes revenue from its monthly subscription fees and annual management fees for accounts with balances greater than $5,000.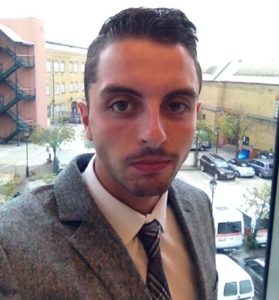 About Dassos Troullides
About Dassos Troullides
Dassos Troullides is an experienced finance writer who specializes in CFD, stock, and crypto trading. In particular, Dassos is skilled at breaking down complex financial topics to help new and advanced investors make better trading decisions. Dassos also writes for BuyShares.com, InsideBitcoins.com, LearnBonds.com, ForexCrunch.com, and EconomyWatch.com
View all posts by Dassos Troullides
Sours: https://tradingplatforms.com/compare/acorns-vs-robinhood/
Robinhood vs. Webull vs. M1 Finance vs. Betterment vs. Acorns
Webull vs Acorns
Webull is a good free trading app for more experienced investors. How does it compare to Acorns? Read our comparison chart below.
Webull offers commission-free stock and ETF trading using their mobile app. There is no minimum deposit required.
While Acorns is geared towards young investors who have trouble saving. This investment app automatically rounds up and invests your spare change whenever you make a purchase. The service fee starts at $3/month for accounts. There is no minimum to open.
Compare Webull with Acorns, side-by-side. Read on for an in-depth look, including ratings, reviews, pros and cons.
SPECIAL OFFER
Get Started - Learn More

Read Webull Review

SPECIAL OFFER
$10 Sign-Up Bonus - Learn More

Read Acorns Review

Benefits and Features

Stock Trading

$0

Part of service fee. No add-on trading fees.
Options Trading

$0

No

Annual Fee
All trades are commission-free. No platform fees.

$3/mo for Acorns Personal (includes personal taxable account, IRA, and checking account)
$5/mo for Acorns Family (includes everything in Personal plus investment accounts for kids)

Cryptocurrency Trading

$0

No

Minimum Deposit

$0

$0

Mutual Fund Trading

No

Commission Free ETFs
All U.S. listed ETFs
A selection automatically chosen by Acorns
Phone Support

24/7

Yes

Live Chat Support

No

Email Support

Yes

Human Advisors

No

Robo Advisor

Yes

Assets Under Management

$4.7 Billion

Tax Loss Harvesting

No

Goal Tracker

Yes

Automatic Deposits

Yes

Broker Assisted Trades
Acorns automatically invest and trade for you
Customer Service

24/7 via phone and email

Good For
Experienced investors; Active traders
Beginners; Passive investors; Those who have trouble saving/investing on their own
Inactivity Fee

$0

None, but you will keep paying the monthly fee
Maintenance Fee

$0

Monthly fee for the service

Online Platform

Yes

iPhone App

Yes (4.7 stars, 760k ratings)

Android App

Yes (4.3 stars, 156k ratings)

Banking

No

Included in Acorns Personal ($3/mo). Free metal debit card, no minimum balance, no overdraft fees, and 55,000+ fee-free ATMs nationwide.
Mobile App

Yes

Yes

Desktop App

Yes

Two-Factor Authentication

Mobile Only

Yes

Locations

No

Online Community

No

Seminars

No

Virtual Trading
Yes. Free paper trading account with $1,000,000 in fake money

No

Fractional Shares

No

Yes

Taxable Accounts

Yes

Yes

401k Plans

No

IRA Accounts

Yes

Yes

Roth IRA Accounts

Yes

SEP IRA Accounts

Yes

Trust Accounts

No

529 Plans

No

CreditDonkey® Reviews

Stock Trading
Options Trading
Mobile App
Commissions and Fees
Ease of Use
Research
Annual Fee
Minimum Deposit
Customer Service
Pros & Cons
Pros:

No trade fees
Advanced research tools
Extended trading hours

Cons:

No fractional shares
Not beginner friendly

Pros:

No minimum investment
Invest with spare change
Cash-back program

Cons:

Fees are high for small balances
No tax benefits
Limited investment options

Bottom Line
Good free trading app for more experienced investors... Read full review
Investment app that automatically invests your spare change. Good for young investors to get into the habit... Read full review

Blank fields may indicate the information is not available, not applicable, or not known to CreditDonkey. Please visit the product website for details.

Acorns: Pricing information from published website as of 09/28/2020.
Which is Better: Webull or Acorns?
Still need help deciding which investing is better? Read the in-depth reviews below. You may also be interested in comparing Webull or Ally Invest.
In short: Acorns' ease of use is outstanding.
---
Articles on Webull
Webull Review
Webull offers $0 trades for stocks, ETFs, options, and cryptocurrencies. But it's not perfect. Find out if Webull fits your investing needs.
---
Articles on Acorns
Acorn App Review
Acorns automatically invests your spare change. But can it help make you money? Find out if this app is safe and legit.
Is Acorns Safe
Acorns lets you invest spare change from every purchase. But is it safe to use? Learn just how secure the micro-investing app is.
How to Make Money Using Acorns
Acorns "rounds up" everyday purchases and invests it for you. What's the catch? Read this review to find out how to make money using the app.
---
Comments may be filtered for language. CreditDonkey makes no guarantee of comments' factual accuracy. These responses are not provided or commissioned by bank advertisers. Responses have not been reviewed, approved or otherwise endorsed by bank advertisers. It is not the bank advertiser's responsibility to ensure all posts and/or questions are answered. Visitors may report inappropriate content by clicking the Contact Us link.
---
You Might Also Like

Robinhood Alternatives
When it comes to buying stocks online, many think of Robinhood first. But how do other apps compare? Review these popular Robinhood alternatives.
Free Stock Trading App
Want to trade stocks for free? These stock trading apps can help every type of investor build their nest egg.
Best Investment Apps
Not all investing apps are worth it. Learn how investment apps like Acorns and Robinhood compare to others.
---
Sours: https://www.creditdonkey.com/
Now discussing:
What difference does it make what he does. He went through the forest. And I will be silent. His strong hands laid softly on my sides. Flipping gently with his fingers, he gently stroked my ribs, sometimes slipping onto my lower back.
4759
4760
4761
4762
4763