TODAY'S BEST DEALS
We evaluated the Corsair H150i Elite Capellix with other 360mm performance AIO coolers, the NXZT Kraken Z73, Cougar Helor 360 and Cooler Master Master Liquid ML360R RGB. Each of these has seen hours of working on our Intel Core i7 5930K running at 4.20ghz and 1.20v on an MSI X99S XPower AC motherboard, 16GB of Crucial Ballistix memory, 1200w be quiet! Dark Power Pro power supply, Gigabyte GTX 1050Ti and Corsair Graphite 760T chassis.

Note that we have assembled the parts for a new cooling testbed with a Core i9-10850K, and you can expect testing on that platform going forward. But for now, the overclocked 140W-TDP Intel Core i7 5930K still taxes modern coolers quite substantially despite being six years old at this point.
The Corsair H150i Elite Capellix performs within mere decimal points of some of the best 360mm AIO coolers we've tested. This bodes well for users seeking performance liquid coolers, as there are some great options, each of which provide a bit different feature set and price point.
Fan speeds vary somewhat for each of the coolers in the testing group, while pump RPM is a bit more consistent.
Fan RPM often dictates relative noise levels and we see the Corsair H150i Elite Capellix edges past the others in the testing group in terms of recorded decibels.
Evaluation of thermal performance and noise levels provides us with a chart that determines how effective a cooler performs as a function of acoustic efficiency. A combination of good thermal performance and noisy fans can negatively impact effectiveness just as much as a quietly operating cooler might exhibit while experiencing higher thermal load temperatures.
Performance value takes unit pricing into consideration while maintaining the previous acoustic efficiency rating. Priced at $180 at release, the Corsair H150i Elite Capellix is actually a solid value in the 360mm performance segment when compared to some of its peers. While this comparison between coolers of the testing group might be attractive as-is, don't forget the added usefulness of the Commander CORE management module and the ability to manage fan curves and RGB lighting for three additional fans or devices supporting Corsair iCUE.
Looking at the Corsair H150i Elite Capellix with our FLIR ONE Pro thermal imaging camera, we can see some slight thermal load differences in the tubing and lateral channels of the 360mm radiator between 50% and 100% fan speed. Compare this with the CPU thermal load differences at the same speeds and it's evident that the H150i Elite Capellix easily can operate at lower fan speeds with a balanced performance curve to better manage decibel levels.
The H150i Elite Capellix itself is no cooling slouch, as the Corsair performance AIO easily keeps pace with some of our best-rated 360mm coolers. Toss in the added benefit of having the Commander CORE unit to manage pump speed, PWM fan curves, logging, alerting and monitoring as well as RGB lighting and you have an excellent liquid cooler setup in the H150i Elite Capellix plus the ability to manage a few extra Corsair case fans.
While this does nudge users to expand their PC horizons by utilizing the Corsair iCUE and RGB ecosystem, it still makes a compelling argument by providing centralized management of the H150i Elite Capellix cooler as well as additional components. Power users want full control of their systems, and the ability to have a simplified, centralized setup with granular administrative control is always an appealing option.
TODAY'S BEST DEALS
Current page: Comparison Coolers, Testing Results and Conclusion
Prev PageFeatures and Specifications
Sours: https://www.tomshardware.com/reviews/corsair-h150i-elite-capellix/2
Corsair

Corsair Hydro H150i Pro 360mm RGB Water Cooling Kit
Compatible Intel Sockets
LGA 2066, 2011, 2011-3, 1150, 1151, 1156, 1366
Compatible AMD Sockets
FM1, FM2, AM2, AM3
CPU Water Block Material
Copper
CPU Water Block LED
RGB LED
Radiator Material
Aluminum
Radiator Dimensions
396mm x 120mm x 27mm
Fan Bearing
Magnetic Bearing
Fan Max. Air Pressure
1.78 mm-H2O
What's in the Box
Cooler, Mounting Kit, 3 x 120mm Fan, USB Cable, Thermal Grease, Product Manual
Sours: https://www.microcenter.com/product/497814/corsair-hydro-h150i-pro-360mm-rgb-water-cooling-kit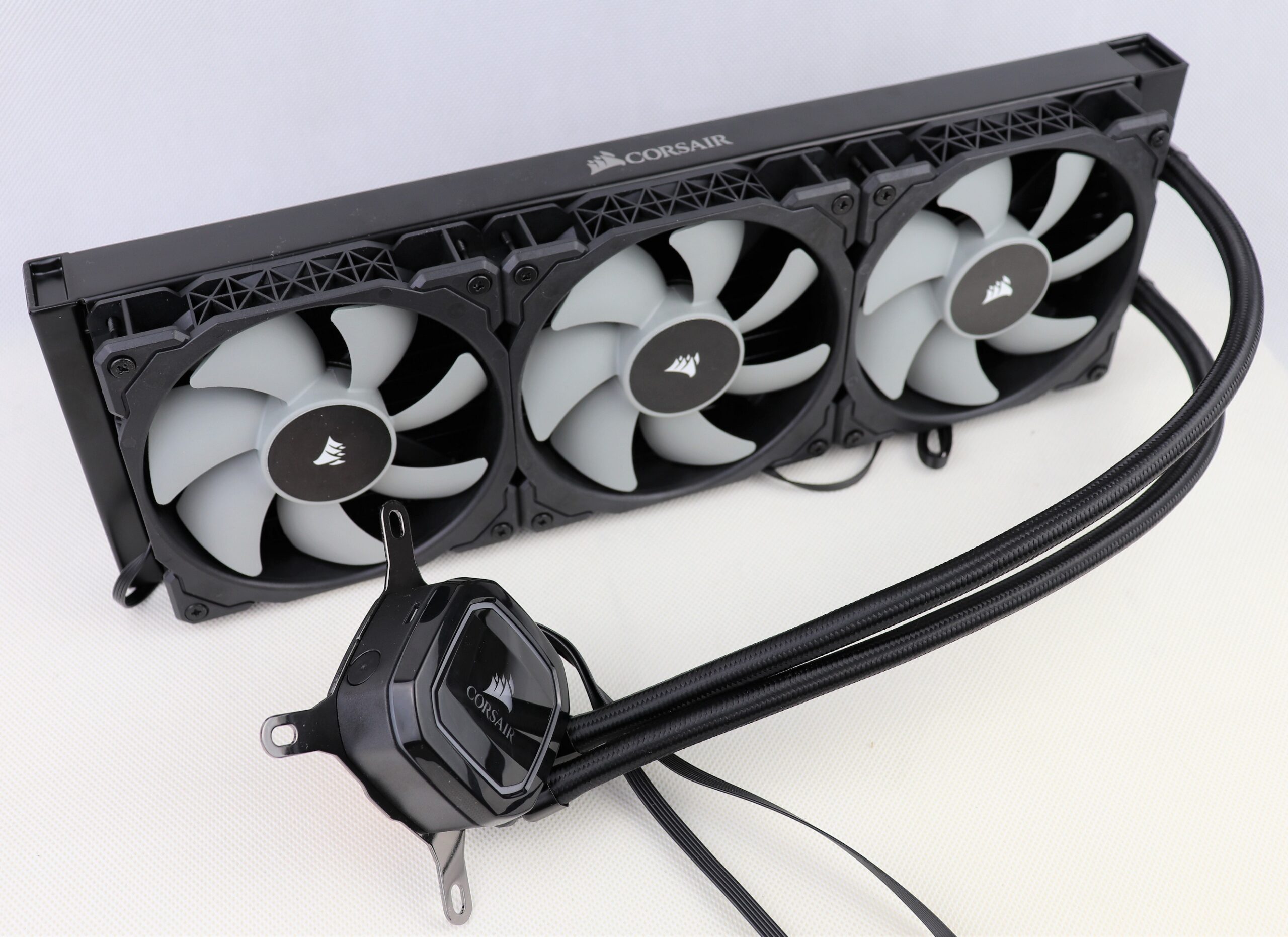 First debuted with the A500 (its review here) in CES 2020, the H150i RGB PRO XT is the latest high-performance All-in-One liquid CPU cooler from Corsair. The massive 360 mm radiator and three ML series fans are here to cool even the most powerful and hottest processors. Let's see how it fares in our benchmarks.
Unboxing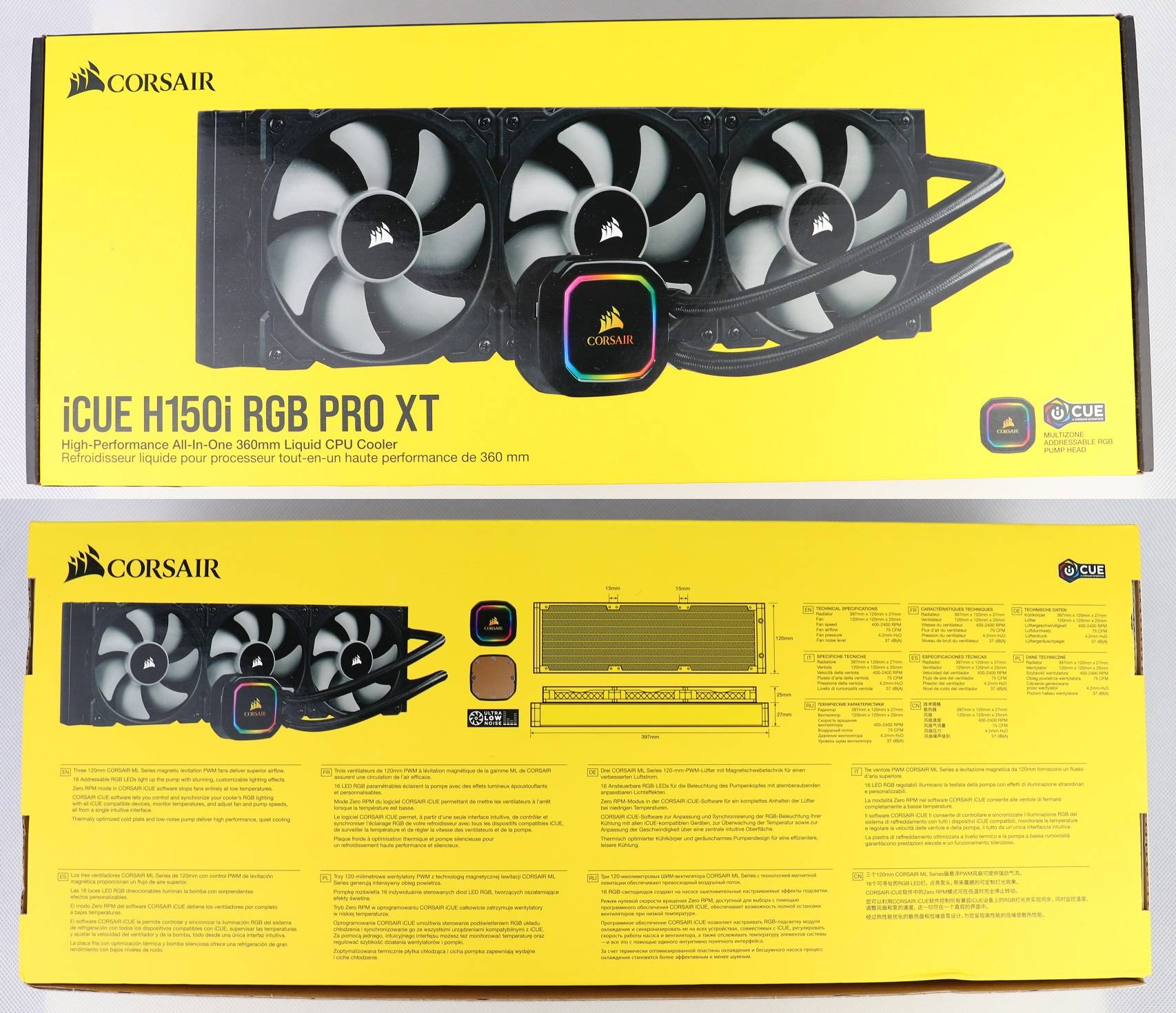 The H150i RGB PRO XT cooler is packaged in a large cardboard box in the usual Corsair's yellow and black colors. Most useful information, like the hardware specifications and features, is located in the bottom, translated into eight different languages.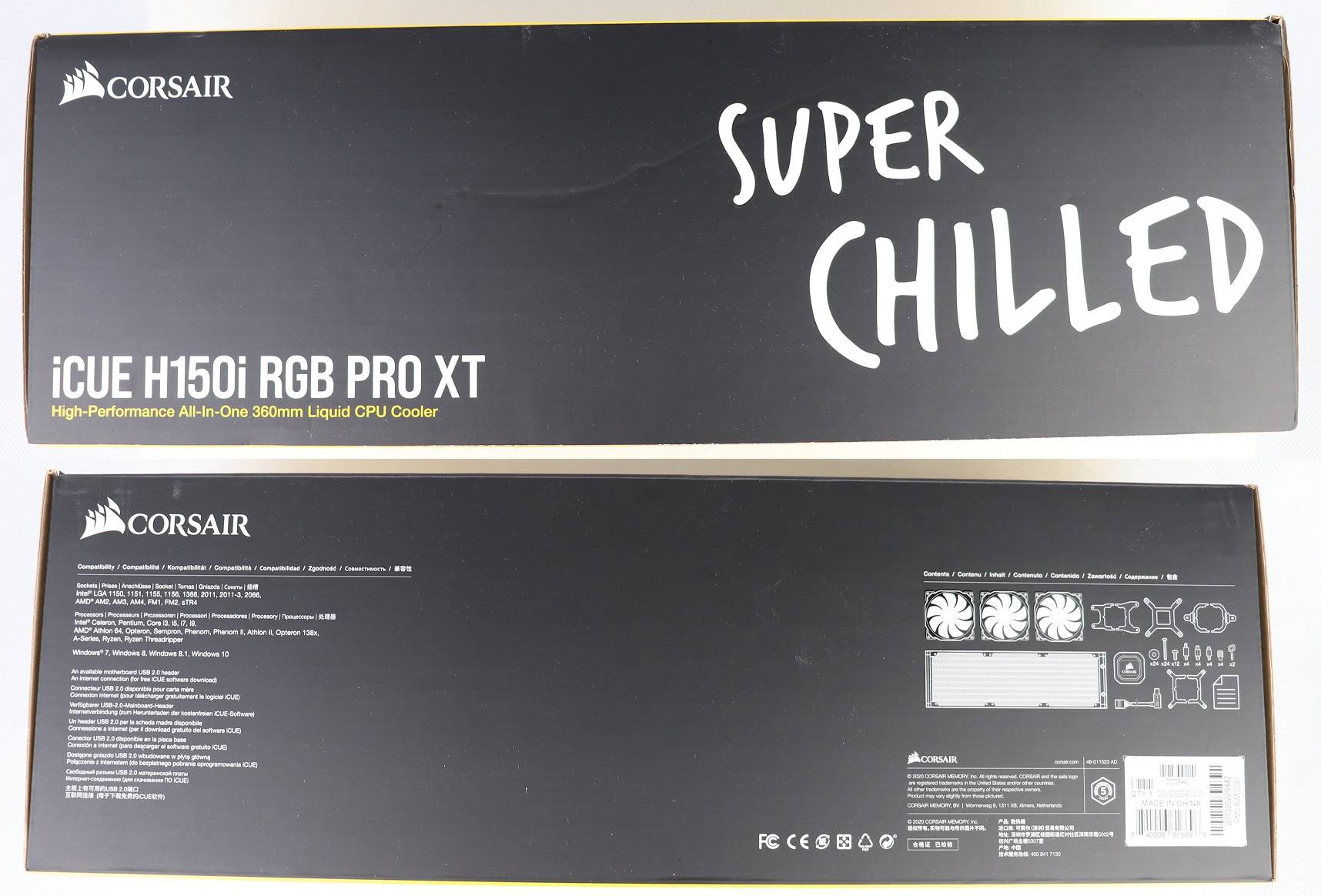 The "SUPER CHILLED" motto for Corsair's cooling products is clearly printed on one side, while there is a list of compatible CPU sockets on the other.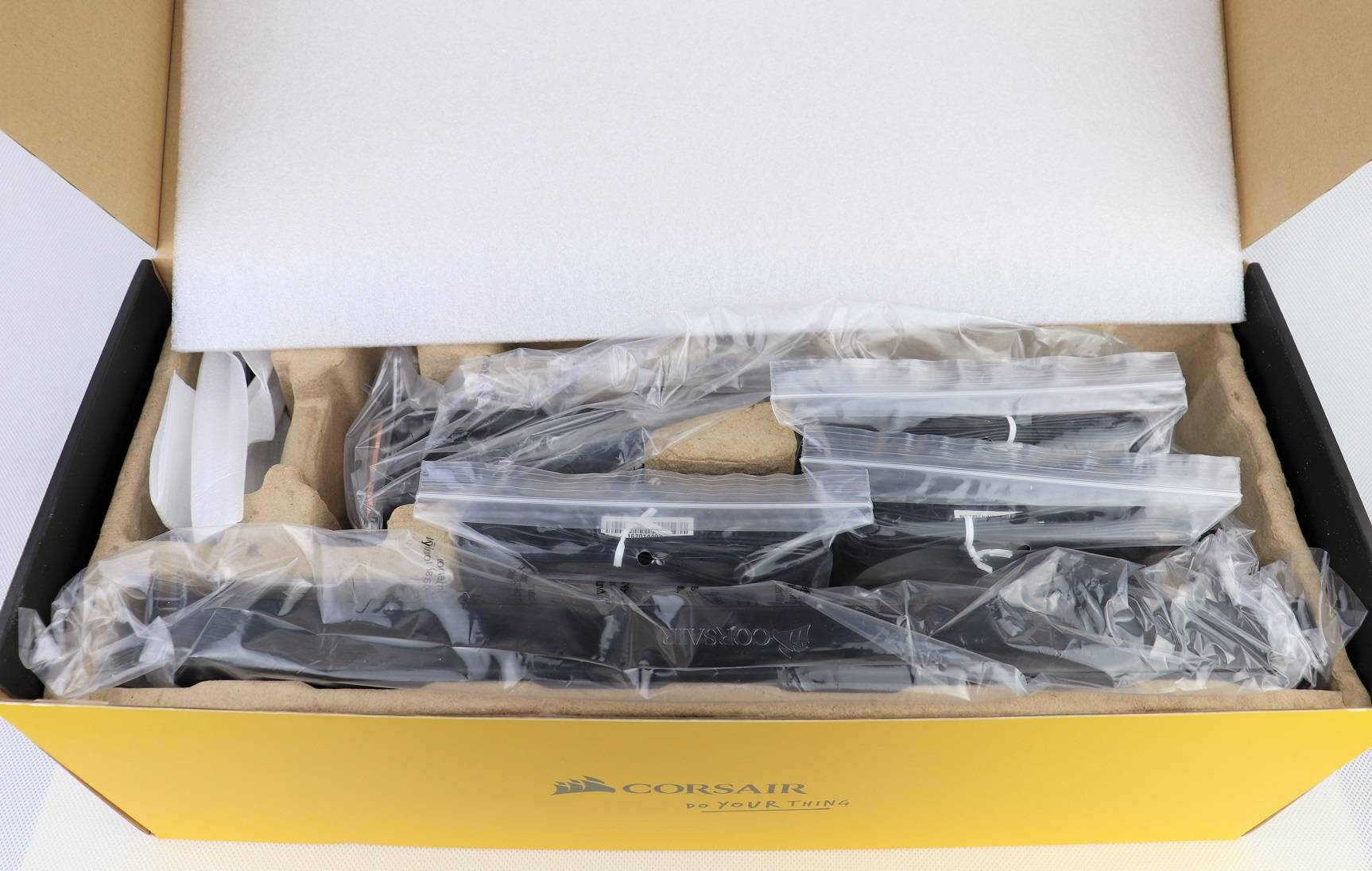 Similar to most AIO liquid coolers, the H150i RGB PRO XT and its accessories are put inside a recyclable cardboard tray. The extra plastic bags and the piece of thin styrofoam on top should provide some additional protections.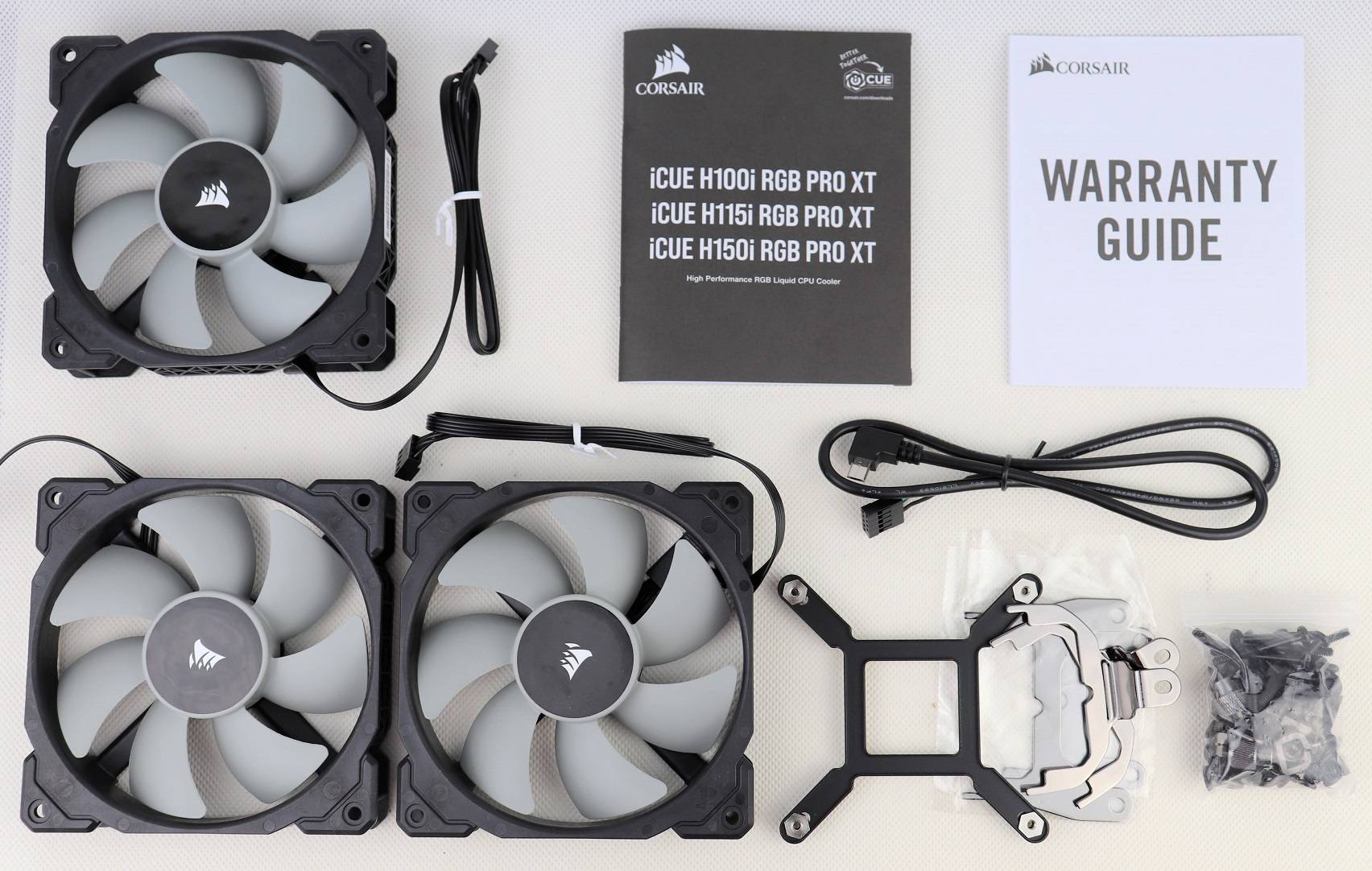 There are three ML series cooling fans for the 360 mm radiator. The mounting brackets and screws support almost all recent CPU sockets. You can use the cooler on Intel's latest LGA 1200 and LGA 2066 platforms, as well as AMD's AM4 and sTR4. It is nice for Corsair to include a total of 24 fan screws, which is perfect for installing six fans for push-pull configuration.
A special Micro USB to 8-pin USB 2.0 cable can also be found inside, which is used to connect the CPU cooler to your computer for the iCUE software integration.
Corsair H150i RGB PRO XT AIO CPU Cooler

The H150i RGB PRO XT has a very compact and slick-looking CPU block, which houses the CoolIT-designed water pump inside. The pump motor spins up to 2650 RPM in our benchmarks. The surface is constructed from black glossy plastic with the "CORSAIR" logo in the center. LED rings are placed on both the top and the sides (360 degrees). The dedicated micro USB port is used to allow the iCUE software to control the pump, fans and RGB lighting.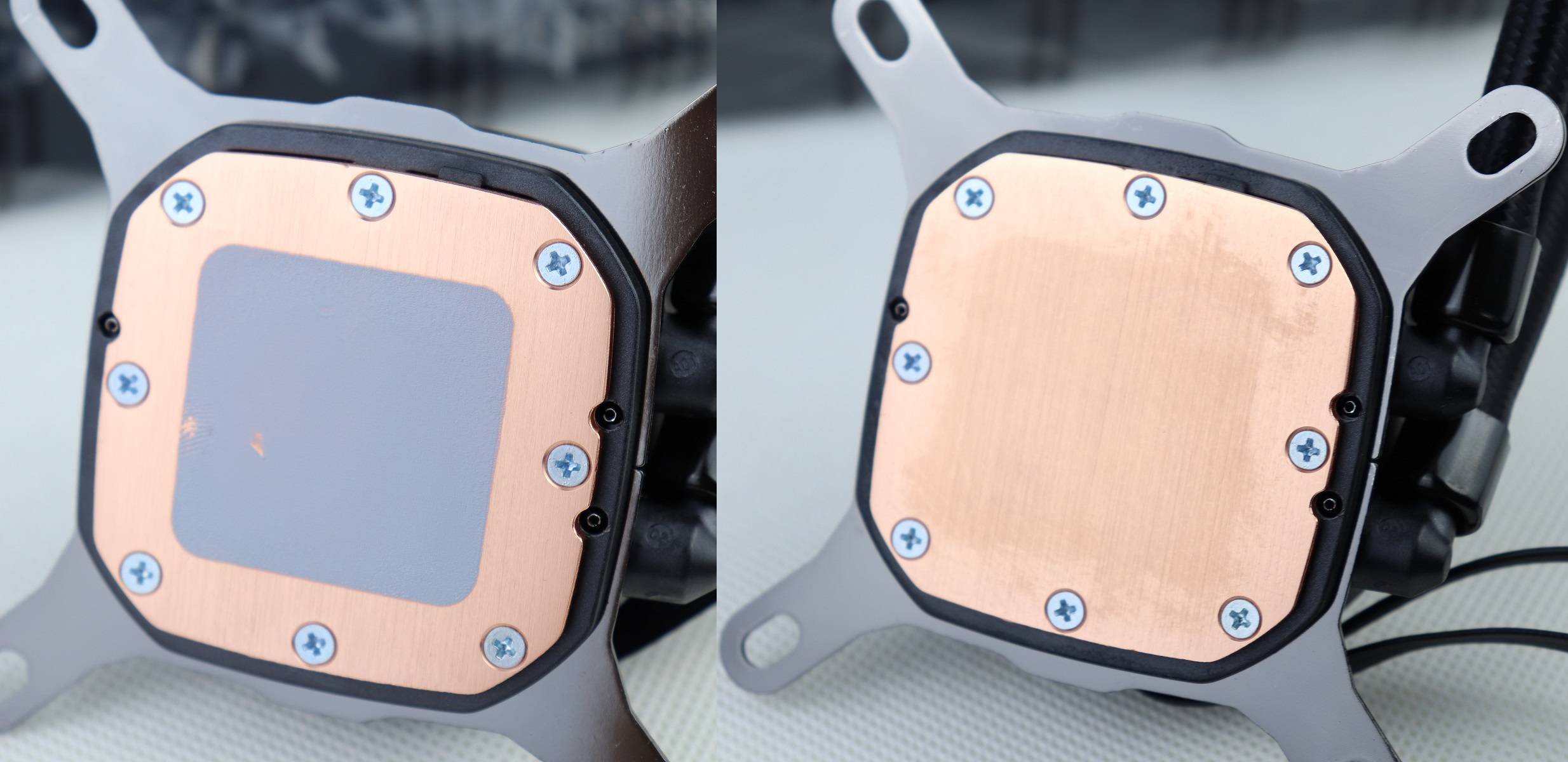 The cooler uses a non-nickel-plated, but polished copper CPU contact base. Corsair does not specify how tiny their micro-channels, which are designed to increase the surface area for more efficient heat transfer. It has pre-applied thermal paste, which we will have replaced it with Noctua NT-H1 for benchmark consistency.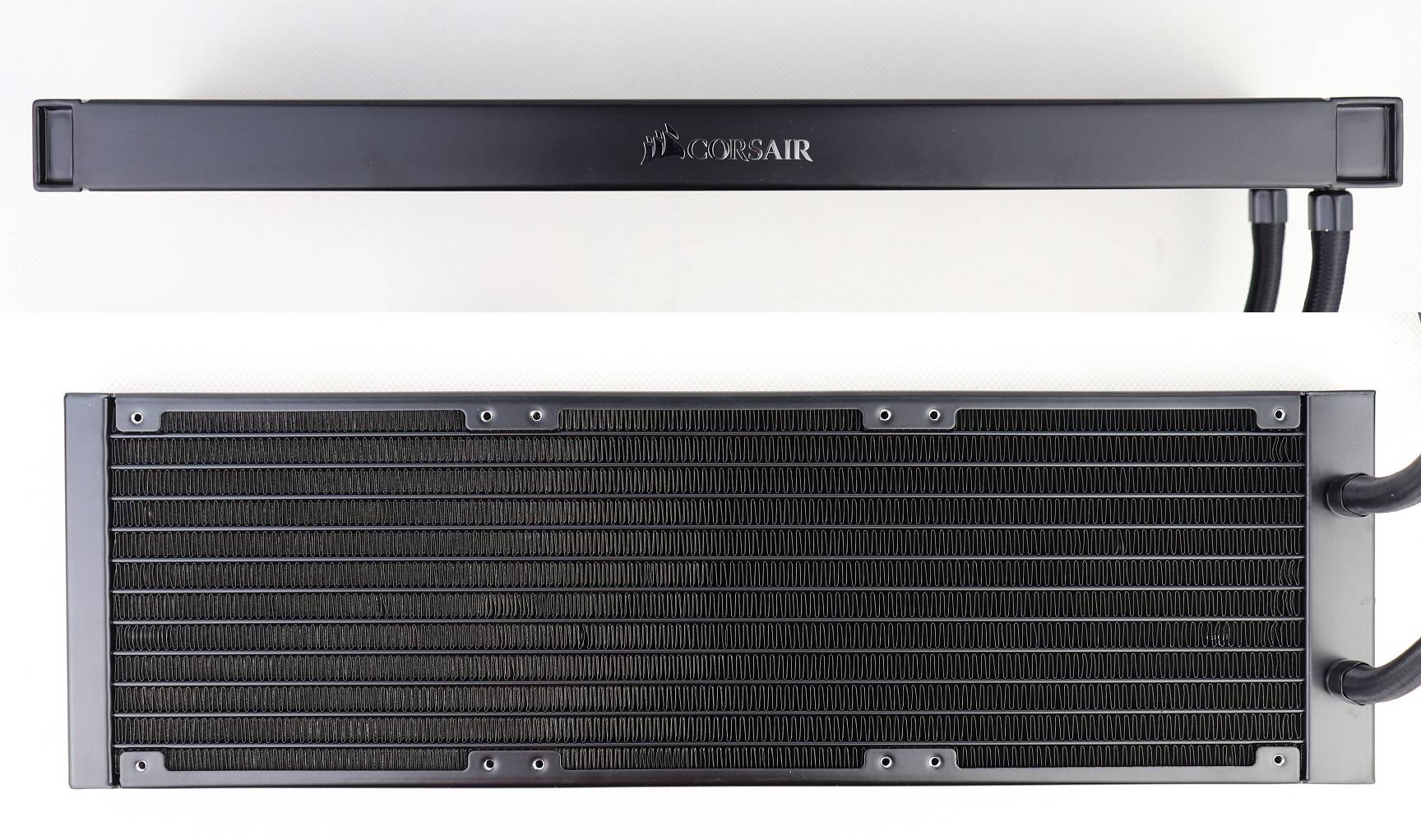 The H150i RGB PRO XT has a 360 mm thin radiator with aluminium fins and enclosure. It is 397 mm long, 120 mm wide and 27 mm thick. There are a total of 12 rows of cooling fins, which the fin density sits at roughly 19 to 20 fins per inch (FPI).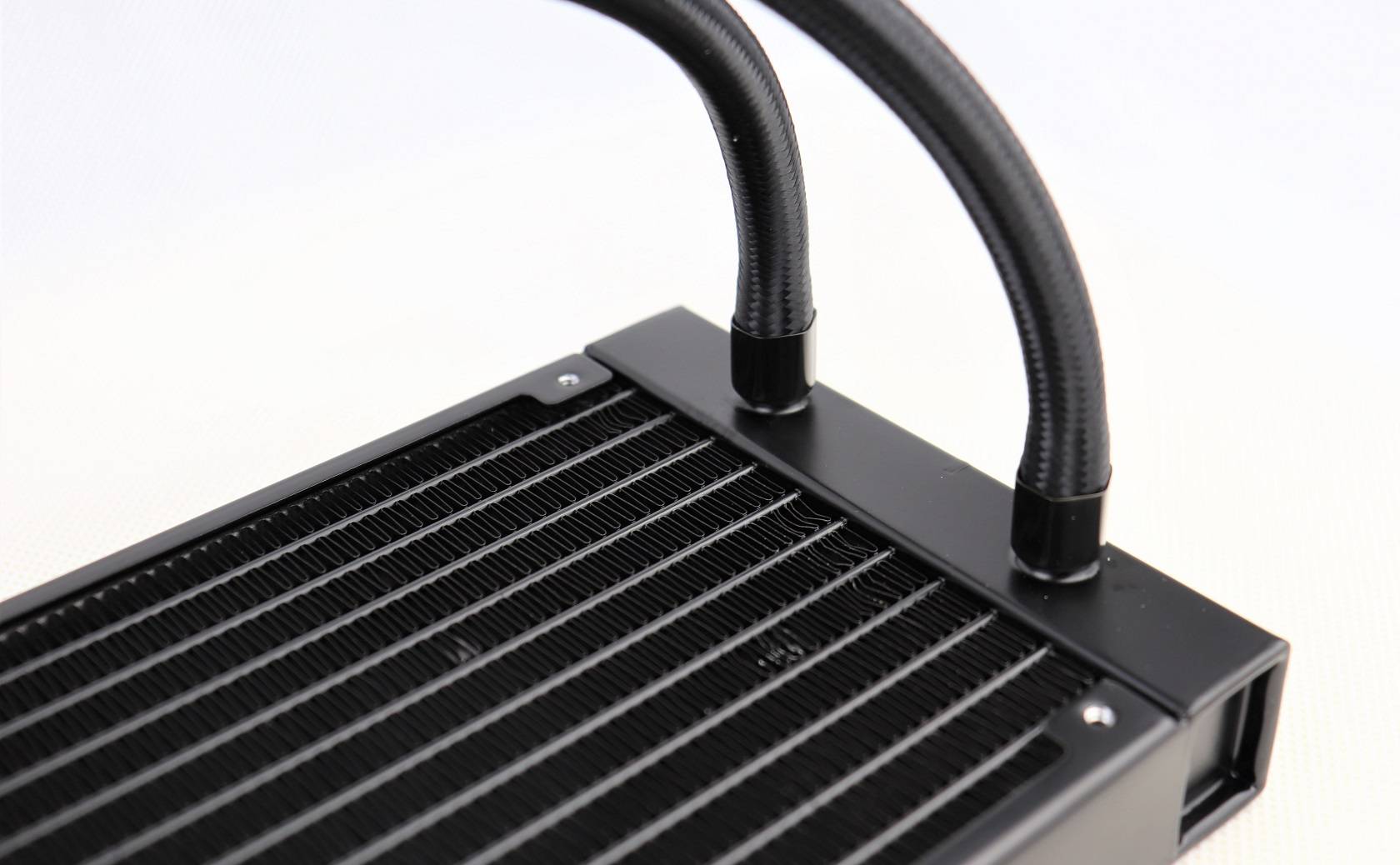 The cooler is fitted with around 390 mm of braided EPDM (ethylene propylene diene monomer) rubber tubing, which has enough length and flexibility to install on different positions.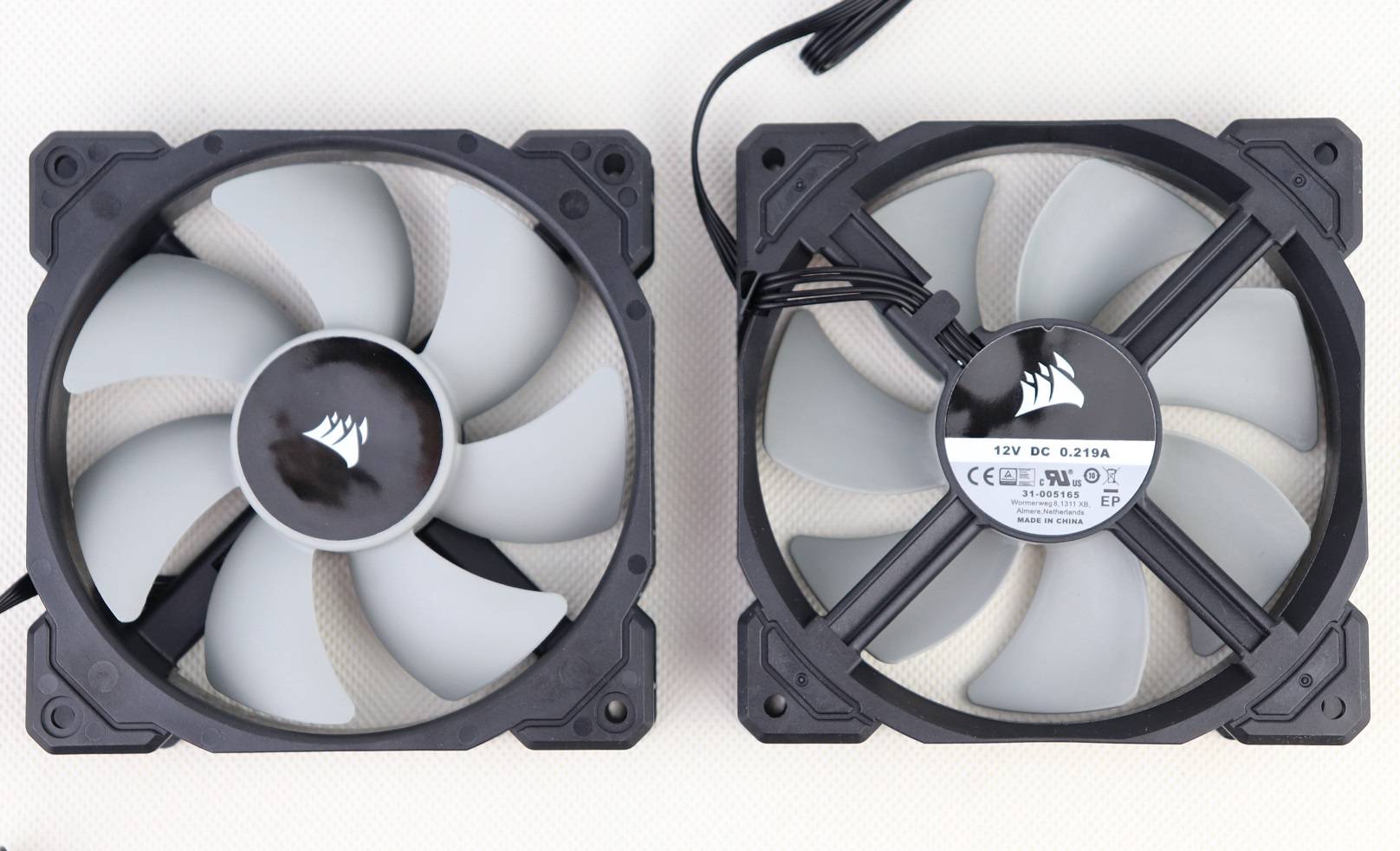 Corsair has matched the H150i RGB PRO XT with the same ML series fans from the A500 air cooler. The ML120 fan (31-005165) is equipped with a magnetic levitation bearing for lower friction and longer lifespan. It can spin from 400 RPM to 2400 RPM, which can create up to 75 CFM of airflow and 4.2 mmH2O of air pressure. There is no anti-vibration pad on the corners.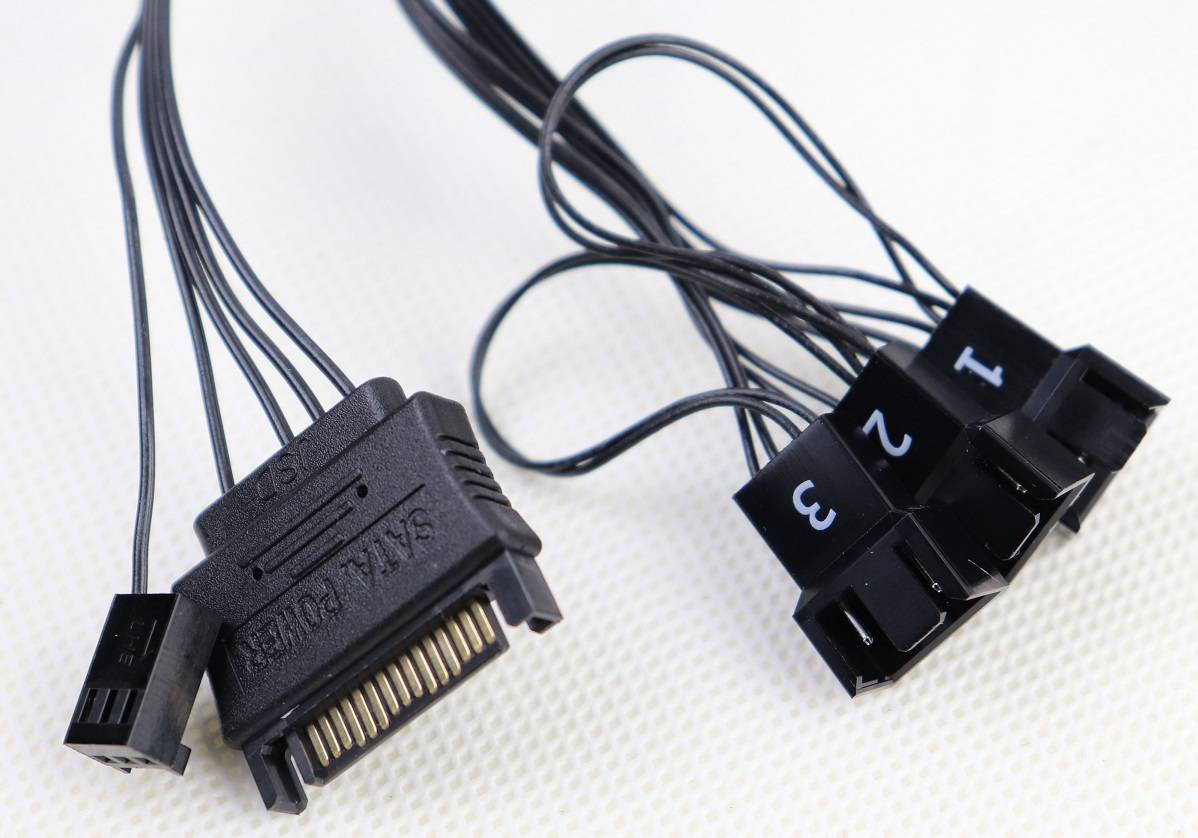 Coming out from the CPU block are a 3-pin pump connector, three 4-pin PWM fan splitters and a SATA power connector for additional power.
Review
We have updated our CPU cooler tests to more reflect real-world cooling performance of coolers.
Testing Methodology
To find out how the cooler performs, a total of three benchmarks are included. AIDA64 is used to run a CPU stress test. CPU, FPU and system cache are all stressed to create as much heat output as possible. Also, Cinebench R15 and Cinebench R20 are used to simulate real-world CPU load (like video-editing or rendering). It will be run continuously for three times. The highest CPU package temperatures are recorded. Ambient temperature is around 24°C.
Results will be taken at a 50% fan speed and 100% speed, controlled via the motherboard CPU PWM fan header. Both single-fan and dual-fan configuration of the cooler will be tested.
Performance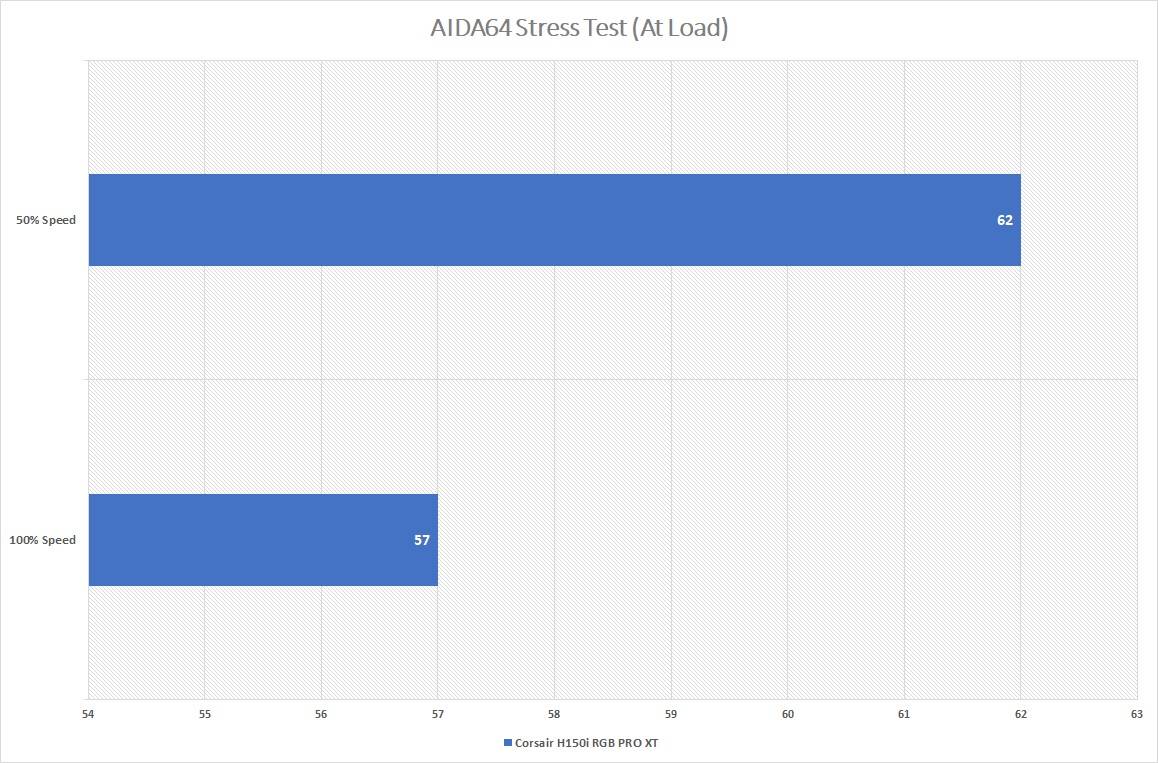 At idle, the CPU package temperature sat at around 30°C. The H150i RGB PRO XT managed to keep the temp under 60°C with the ML120 fans running at full speed in the AIDA64 stress test. Lower the RPM to around 1300 lead to a 5°C increase.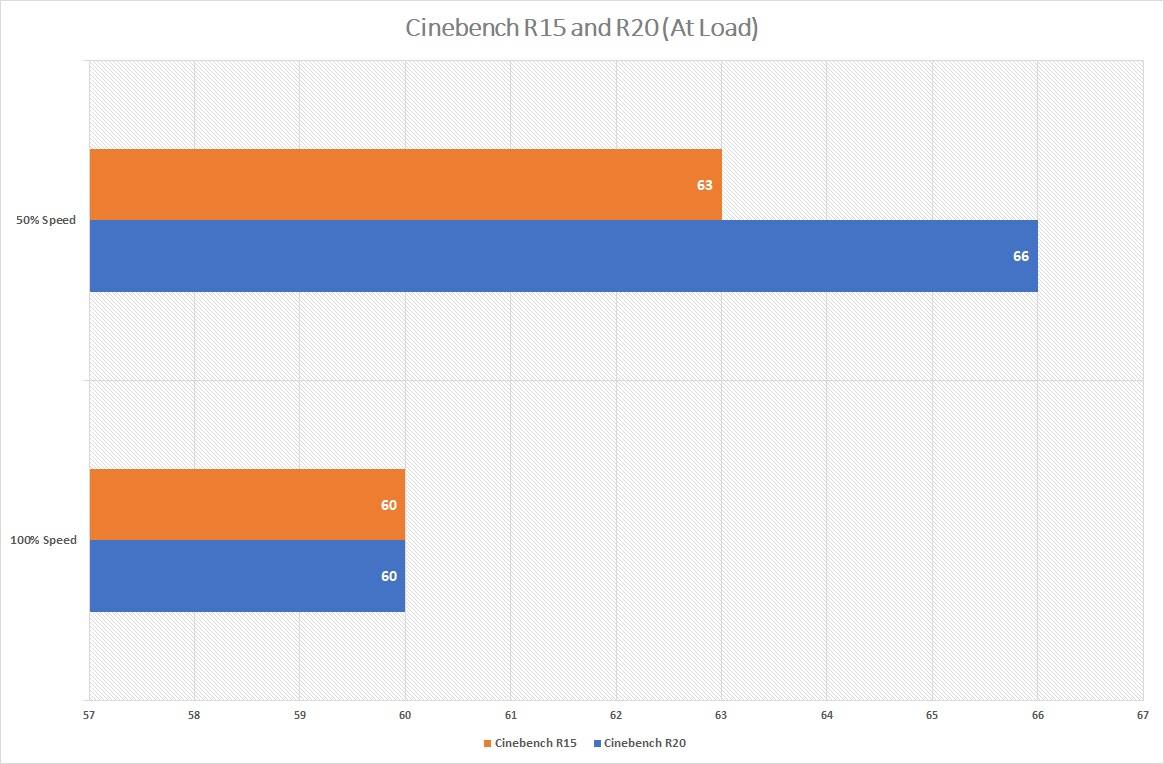 The temperature both stayed at 60°C in Cinebench R15 and R20, when ramping up the fan to 100%. The highest recorded temp was at 66°C in Cinebench R20, which is 3°C greater than in R15.
Comparison
The H150i RGB PRO XT performed respectably as a 360 mm AIO liquid cooler, which beat the Thermalright Turbo Right 240 and 360 C in two out of three benchmarks.
Software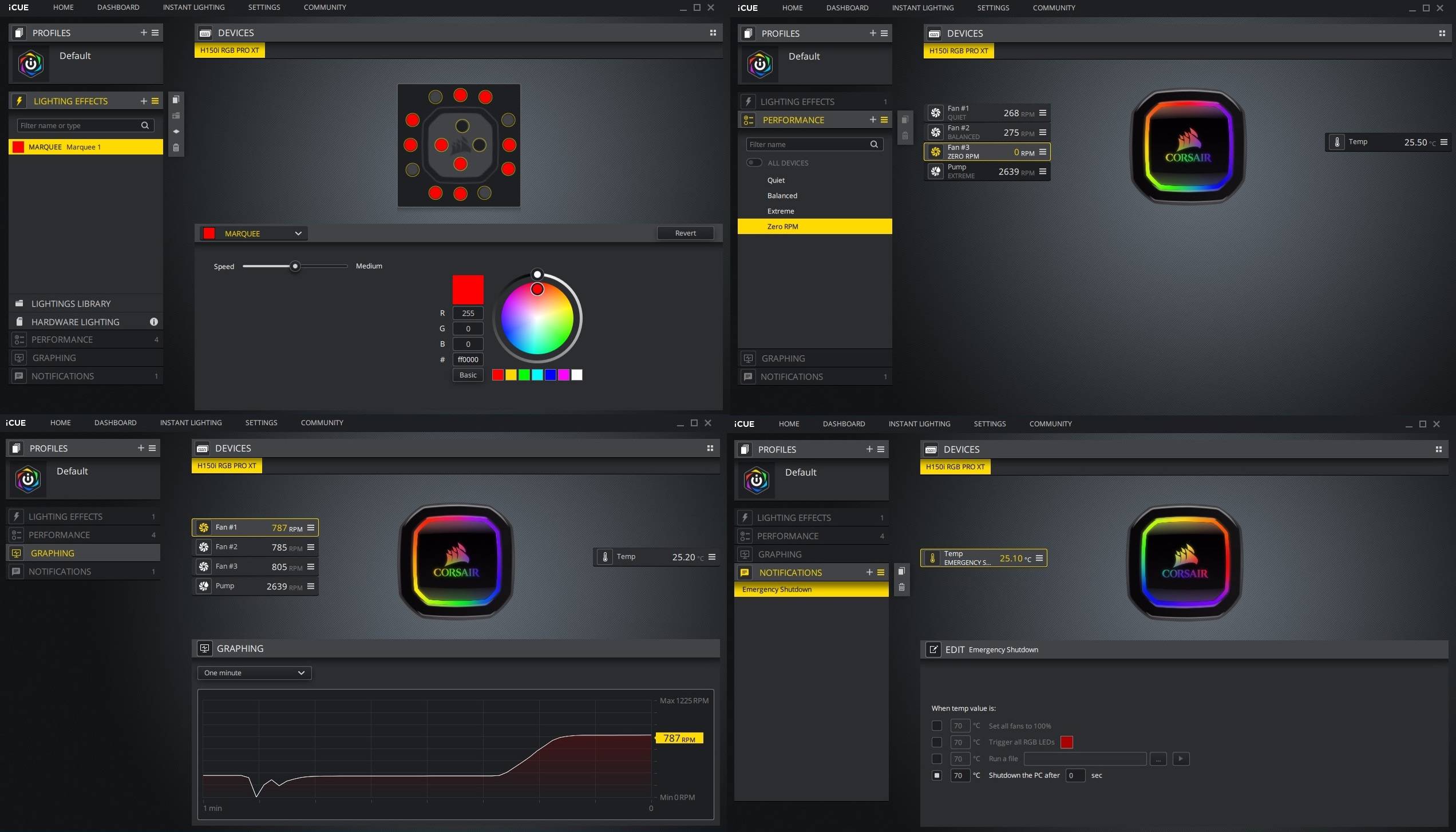 The H150i RGB PRO XT can be customized via the iCUE software. The RGB LEDs can be adjusted with pre-defined lighting effects, such as Rainbow, Wave and Marquee. They can be stored into the onboard memory, if you do not want to left the software to run in the background. The Notification section allows the software to perform actions, once certain parameters are met. For example, the LED will show different colors based on the CPU temperature. Or even safely shutting down the computer, if high temp is detected.
You can change the water pump and fans' speeds into four settings: Quiet, Balanced, Extreme and Zero RPM. They will determine aggressiveness of the fan curves and noise levels.
There are 16 individually-addressable RGB lighting zones on the CPU block. Light is bright and vivid, which is diffused beautifully through the translucent plastic. Effects' transitions are smooth.
Conclusion
The Corsair H150i RGB PRO XT is an upgrade to the older PRO version, which has a different water pump and faster ML series fans. The build quality is great for both the CPU block and radiator. Cooling performance is decent, which was better than the all-copper Turbo Right 360 C. The iCUE software is comprehensive and heavily-customizable, but is required to continuously run in the background.
The ML120 fans create a generous amount of airflow through the radiator. The overall noise level remains reasonable, unless pushing the fan speed above 70%.
The H150i RGB PRO XT is priced $159.99 USD (MSRP), along with a 5-year warranty. It is not an affordable CPU cooler by all means, and probably overkill for an average consumer. For comparison, the NZXT Kraken X73 and Fractal Design Celsius+ S36 Primsa cost $179.99 USD and $199 USD respectively. If you want plenty of cooling potential for an overclocked processor, I think you definitely need to consider the H150i RGB PRO XT.
There are the 240 mm and 280 mm versions, named H100i and H115i RGB Pro XT, which are $40 USD and $20 USD cheaper.
You can purchase the cooler from your local/online resellers or the links below from Amazon and Newegg.
Thanks Corsair for providing us the cooler for review. (Review Sample)
Feel free to leave comments below, if you have any opinion about this website. Share the website around if you enjoy reading it. Subscribe to our Newsletter or follow our Twitter, Facebook and Instagram.
Support this website simply by shopping in Amazon and Newegg. It will give us small kickbacks, if you use the above affiliate links to make any purchases, which will help us grow.
Anson
Sours: https://www.unbxtech.com/2020/07/unboxing-review-corsair-h150i-rgb-pro-xt-cpu-cooler.html

Pros: +Nice kit finally having nice RGB options on fans and on pump +Good temps +quite pump +easy setup (make sure you get a case that is designed for water cooling) +price is reasonable for what you're getting when talking about integrated RGB light system +fans have rubber molded on corners
Cons: -Price vs performance, you are paying a bit more for looks and a bit in extra quality/performance
Overall Review: First impressions, box looked pretty nice, I like the use of recycled materials for the inside packaging, don't need too fancy stuff after the first glance at the packaging that will go into the trash/recycle bin at the end of the day(better that its made out of recyclable material). If you are doing a whole build, I recommend looking at the cases along with the water cooling system in mind at the same time. For me when I do upgrades. Water cooling is another world, this is such a pleasure to work with. There are 2 variables to consider besides the fans, that is water temp and pump duty cycle. I will say let the software do its thing with the duty cycle, and focus on water temp. The way I setup my quite system is run the apps that I normally run, watch the temps of the water, go back and tweak the fans to be working so that the water temp does not rise too much, then leave headroom for a benchmark like realbench, so the fans kick in and you do not go too high. I recommend using a mobo that has great config options for your fan headers, I did not really touch the Corsair software as the premium mobo fan header software does great job, and I was able to tweak everything I need that way, used few fan splitters and enough for whole case of fans. I did look at the software it is pretty configurable. I will say this about the Corsair software, they are improving things, I have lots of their products, and they seem to be headed into a good direction. I have been sold on water cooling systems for a while now, such as this H115i, so much so that I buy these for most of my systems, water does such a better job of absorbing those cpu spikes, and with some of these new high core count cpu's you really need some serious cooling, even at stock speeds, and water cooling like the H115i deliver, otherwise if you go air expect your fans to spin up and down like a rollercoaster nonstop. I recommend this H115i series to just about anyone who knows how to build a system, if you buy with water cooling in mind then you will have a great experience for sure, and this RGB Platinum series is another step up aimed more so with premium parts and nice lighting. Is the price worth it? That all depends do you want performance and looks? Then yes, if you want plain performance at lower price point then no, go with any other plain vanilla H115i equivalent.
Sours: https://www.newegg.com/CORSAIR-iCUE-H150i-RGB-PRO-XT-Liquid-Cooling-System/p/N82E16835181192
H150i corsair
Introduction
Corsair continues their march to dominance with a dedicated, almost cult-like following in the PC gaming market. Bolstered by a wide range of products that cover just about every market segment, from system memory and power supplies to cases, coolers, fans, and even custom systems, you could say Corsair pretty much does it all. Let it suffice to say they have come a long way since their founding in 1994.
Today's review focuses on the newly released H150i Elite Capellix all-in-one liquid cooler. Unlike Corsair's last few releases, this one brings with it their Capellix ARGB LEDs, which should make for quite the light show. Either way, like previous H150i models, the H150i Elite Capellix unit has a 360 mm radiator and uses Corsair's ML120 series fans. As such, there is plenty of heat dissipation area, and the fans are of top quality, so on paper, everything looks good, but that is not always actually the case, so let's take a closer look to see what Corsair is bringing to the table this time around.
Specifications
MANUFACTURER:
Corsair
MODEL:
H150i Elite Capellix
SOCKET SUPPORT:
Intel: LGA1150, LGA1151, LGA1155, LGA1156, LGA1200, LGA2011, LGA2011-3, LGA2066
AMD: AM2, AM3, AM4, FM1, FM2, sTR4, sTRX4
CPU BLOCK:
Base Material: Copper
PUMP:
RPM: not listed on box
RADIATOR:
Dimensions: 397 x 120 x 27 mm
Material: Aluminium
FAN:
Model: ML RGB 120 Series
Dimensions: 120 x 120 x 25 mm
Fan Speed: 400–2400 RPM
Fan Airflow: 75 CFM
Fan Noise: 20–36 dB(A)
FEATURES:
High-performance RGB pump head with 33 Capellix LEDs
Corsair iCUE Commander CORE RGB lighting and fan-speed controller
3x Corsair ML 120 RGB fans
Zero RPM cooling mode
WARRANTY:
Five years
MSRP:
$179.99
View as single page
Next Page »Packaging & Contents
View as single page
Sours: https://www.techpowerup.com/review/corsair-h150i-elite-capellix-360-aio-cpu-liquid-cooler/
Corsair H150i PRO review - Introduction

Corsair Hydro Series H150i PRO
We review the new Corsair Hydro Series H150i PRO - an AIO Liquid cooler series that Corsair injects into the channel. With a tiny bit of RGB, bling Corsair promises to deliver ultra-silent performance with more than adequate cooling capacity. The H150i PRO is the big dawg in the new line-up, this cooler has a 360mm radiator with corresponding three 120mm fans. The 'I' in the naming refers towards LINK software. This allows you to program, customize and monitor this all-in-one liquid cooling solution for your processor. Armed with two ML (Magnetic Levitation) PWM based fans and that radiator the cooling capacity should be good. The Corsair's LINK applications will also allow you to customize LED lighting directly from the software.
These days you can pick a hundred different heatpipe based coolers, where many are shaped, formed and priced the same. The better heatpipe based coolers are good though. Next in line are LCS systems (liquid cooling), the entry-level products are affordable, easy to install pre-fab liquid cooling kits. We've seen and tested many of them as Corsair, Asetek, CoolIT, NZXT, Cooler Master and so on, all have interesting kits. The bigger problem is cooling performance. The gear behind these kits are good yet the performance is often battling a small included 120mm radiator with thin tubing and lacking coolant levels due to missing reservoirs. To compensate FAN RPM goes up making a good looking product noisy again. With that in mind Corsair started to develop a new H series (for Hydro) coolers. The product we test in specific is the Corsair H150 PRO. It is an updated design based on the previous models, yet with new cooling block and regulated control for pump and fans. Next to that what's interesting is that this product (for this review) is based on a 360mm radiator which gives it quite a bit of cooling surface area. It is a cooler series that is easy on the eyes, has very subtle RGB lighting with control and comes with a relatively tool free installation. The unit will offer good performance, not exceptional as key for this release are low noise levels. In fact, especially for this new product, you can select an optional 0-DBA mode. As long as the coolant stays under 40 Degrees C the fans do not spin, which is something we have seen for the past two years on most graphics cards we well. The H150i PRO is compatible with Corsair's LINK software. You hook up the LCS unit towards a USB port and then the software allows you to program, customize and monitor this easy to install liquid cooling solution.
So without further ado, let's have a peek at the Hydro Series Corsair H150i PRO and then head onwards into the review.
Sours: https://www.guru3d.com/
Similar news: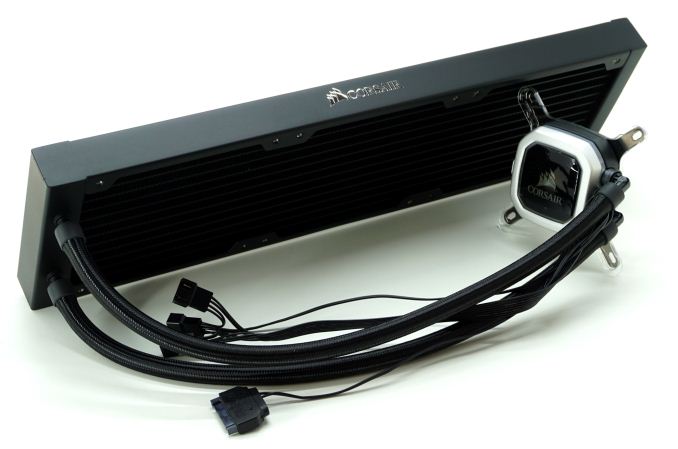 Corsair is one of the oldest companies in the PC market. The company became known for their memory-related products but, following the explosive growth of PCs at the dawn of the millennium, the company began diversifying into other segments of the market. Corsair was reluctant at first, releasing just a couple of new products each time. Most of their attempts were highly successful and driven the company to furiously expand over the last decade, creating the entrepreneurial giant that every computer enthusiast knows of today.
One of the company's most successful products segment today is their all-in-one (AIO) liquid coolers. That is somewhat ironic, considering that the liquid cooling market was one of the company's first diversification targets back in 2003 and their attempt was largely unsuccessful. That was because the product that they marketed back then in collaboration with Delphi, the HydroCool 200, was not successful due to its size, cost, and complexity. Corsair repeated their attempt to claim a piece of the cooling market share many years later after the company had already several other successful diversification attempts and the AIO designs were more mature.
Fast forward to today and the liquid-based AIO coolers are amongst Corsair's most popular products. We have reviewed several of their products in the past, ranging from cost-effective designs to advanced products with a software interface. In this review, we are taking a look at their recently released and largest AIO cooler, the H150i Pro RGB. The H150i Pro is largely based on previous popular AIO cooler designs but is using a massive 360 mm radiator and features programmable RGB lighting.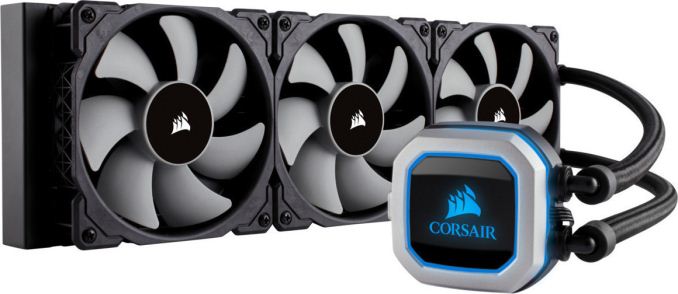 Packaging & Bundle
We received the H150i Pro RGB into a long rectangular box that clearly hints the size and shape of the cooler. The designer did not stick to the usual black-yellow theme that is Corsair's insignia, but instead added a full-color spectrum at the front of the packaging to signify the product's RGB lighting. Information regarding the features and technical specifications of the cooler are printed on the sides and rear of the box. Inside the box, we found the cooler and its parts well protected by a custom cardboard insert.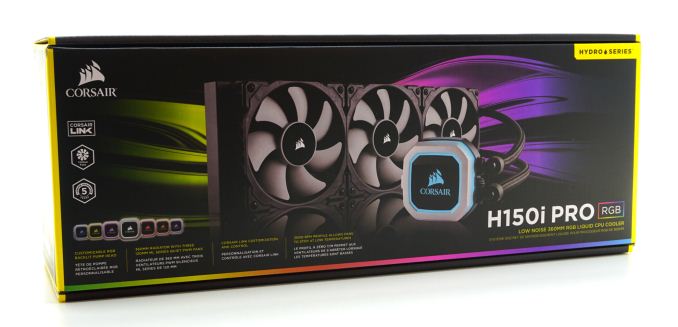 Corsair supplies all of their advanced Hydro coolers in similarly sized and designed cardboard boxes. Essentially, the only thing that changes is the picture of the product and the color theme. The design is simple but elegant and attractive, with enough information printed on the box and in several languages. Inside the box, the coolers are well protected into a custom cardboard insert.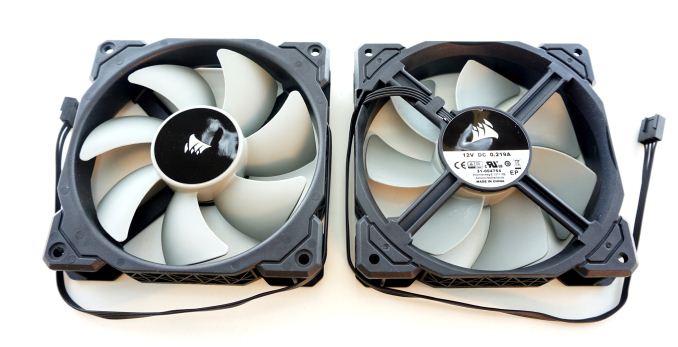 The bundle of the H150i Pro is Spartan, especially considering the premium character of the product, with Corsair supplying only the absolute essentials. Inside the box, we only found the hardware necessary for the mounting of the cooler onto the CPU socket and an internal USB 2.0 header cable. It is also important to mention that Corsair's universal bracket supports most of Intel's and AMD's current processors, yet it is not compatible with the SP3r2/TR4 socket. Corsair mentions that the H150i Pro RGB now supports the SP3r2/TR4 socket via another mounting bracket that was not included into our packaging.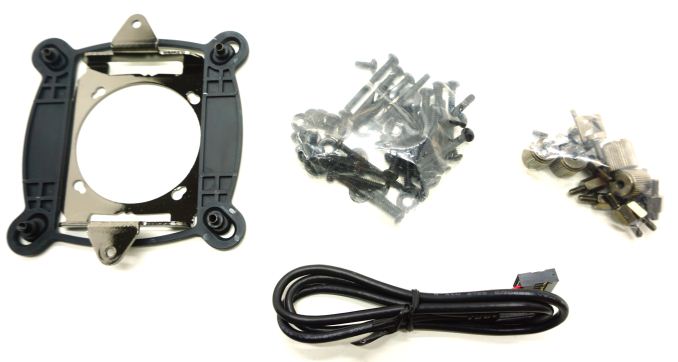 Corsair supplies three 120 mm fans for use with the H150i Pro RGB. The Corsair ML (MagLev) fans are rebranded and so we cannot tell who the OEM behind them is. Nevertheless, these are very high quality fans with magnetic levitation engines. Their plastic frame also is significantly reinforced. According to Corsair's specification sheet, these fans have a maximum rotational speed of 1600 RPM, a maximum static pressure (i.e. zero flow) of 1.78 mmH2O, and a maximum airflow (i.e. open air, no resistance) of 47.3 CFM. These numbers are hardly impressive for an advanced AIO cooler, clearly indicating that the H150i Pro RGB is designed for quiet operation and relies on its massive radiator to provide good thermal performance.
AT Deals: Alienware AW2720HF 27-inch 240 Hz Gaming Monitor Now Only $300
SK Hynix Announces Its First HBM3 Memory: 24GB Stacks, Clocked at up to 6.4GbpsBest Internal Hard Drives: October 2021
TWEETS
IanCutress: @realphilipdias Thanks obama
IanCutress: @realphilipdias So far so good
IanCutress: @pvtbanner @RawbGun No longer at that price, unfortunately
IanCutress: @PhoenixLumen 3.5-inch.
IanCutress: @hnapel Always worth avoiding unknown sellers in that instance and paying a bit more to ensure a proper replace contract
andreif7: @jonnyevans_cw https://t.co/TPws1rG12u 8.58mm x 12.55mm = 107.68 mm2
andreif7: @gabesalkin No, it's all the same.
andreif7: No Pixel 6's in BeNeLux, nice.
andreif7: @engineeringsloh We have to buy one like you.
andreif7: @Cox_Pt This is a pointless discussion, there's nothing in GB5 that would avoid it scaling like any other workload.
RyanSmithAT: @IanCutress @denis20731349 Isn't it 2 external displays + 1 internal display?
RyanSmithAT: @oliviaselenic @OldGreyHorror An NVIDIA CUDA core is 1 FP32 ALU, not 1/32 of an ALU. An ALU processes one FP32 oper… https://t.co/AEJwJVs5uk
RyanSmithAT: @oliviaselenic @OldGreyHorror Apple's current GPU architecture offers 128 FP32 ALUs per "core", which is similar to… https://t.co/HVRy0GcHMi
RyanSmithAT: And just to respond to myself here, Andrei reckons that based on Apple's images, it's 432mm2 for the M1 Max. That's… https://t.co/rJneX19zmk
RyanSmithAT: @Jimmy78926787 Apple is fortunate that they can charge so much for their products
ganeshts: A Thunderbolt 4 / USB4 hub from @plugable at a very attractive price point (considering the USBC-HDMI value add). A… https://t.co/DiJZS8MmF9
ganeshts: @JamesDSneed @IanCutress Yes, NAND has the ability to store dynamic sector remap information - this is not only for… https://t.co/J0NYC9oCZk
ganeshts: @AG_1138 Micron has a history of doing these silent changes. The P2's silent move from TLC to QLC resulted in worse… https://t.co/UfmTilvFi1
ganeshts: @ricswi Looks like that requirement is Home-only. Other editions will still allow local accounts. I can't remember… https://t.co/qOvPnduAuY
ganeshts: @Laughing_Man @hnpn914 Benson, is there an update planned for the Twinkie PD to support EPR? I still use the USBC-T… https://t.co/D6g5nmQvB5
Follow @ANANDTECH
Sours: https://www.anandtech.com/show/13219/the-corsair-h150i-pro-rgb-aio-cooler-review
483
484
485
486
487