Rick Hinderer Deigned Zero Tolerance Knife

Manufacturer: Kershaw Zero Tolerance

Model number: 0562

Price: 280.00

Power source: Thumb flipper & ultra-smooth KVT ball-bearing opening system.

Weight: 5.3 oz.
When I think of an everyday carry knife I think of Kershaw.  More specifically I think of the Zero Tolerance line of knives with titanium handles, stainless steel, and ball-bearing assisted opening blades. I'll fess up, I own several!!

Who Is Rick Hinderer?
Rick Hinderer is a knife designer / maker who known for his meticulous attention to knife designs. He is an experienced Fire Fighter / EMT and rescue diver and his philosophy is deeply rooted in his experience with using his knives as a first responder.
Currently Rick designs more hard use, tactical knives, rather than, works of art.  Rick began changing over from old world knife making techniques to modern CNC precision manufacturing.  The end-result is a tactical, folding, hard use knife that are not only good-looking, but extremely comfortable in the hand.

Titanium Handle
The ZT Hinderer 0562TI model has a titanium handle provides a sturdy frame that rides comfortably in the pocket. It's not a small knife, and is clearly designed to get work done.
CPM-20CV steel blade
The ZT Hinderer 0562TI model is outfitted with a titanium handle and a satin finished CPM-20CV steel blade.  CPM 20CV is a stainless steel with a high volume of vanadium carbides for exceptionally good wear resistance.
ZT featured Rick Hinderer's special "slicer" grind, but on a premium stainless steel blade.

Super Smooth Opening Action
The ZT Hinderer 0562TI model opens with a flipper and the ultra-smooth KVT ball-bearing opening system. This is probably my single-most favorite feature on Kershaw and ZT knives.
KVT's "caged" ball bearings surround the pivot and make opening the knife nearly frictionless; just pull back on the flipper and add a roll of the wrist and the 0562TI is ready to go to work.
You need to see how smooth this knife opens to believe it.
To ensure the blade is secure there is a titanium frame lock with hardened steel lock bar insert, and a lock bar stabilizer.

Deep Pocket Carry
The pocket clip is reversible and enables extra-deep carry. It attaches to the inside of the handle rather than the outside, is reversible (left/right) and enables extra-deep carry in the pocket. ZT uses matte black hardware to accent the steel-and-titanium look, this contrast makes the 0562TI exceptionally handsome.

Using the Knife
This is a fantastic knife with a razor sharp edge that stayed sharp until I cut some wire cable. The ball bearing roller system is incredibly smooth, and the blade lock engages solidly and disengages easily. For a large knife, it's actually pretty easy to carry and that's due to the light weight.[ 5.3 oz.] It has an excellent size to weight ratio.
The low carry pocket clip makes this knife almost disappear in my jeans pocket.
Specifications
Made in the USA
KVT ball-bearing opening system
Flipper
Reversible deep-carry clip (left/right, tip-up)
Frame lock, lockbar stabilizer
Steel: CPM 20CV, stonewashed flats, machine-satin grinds
Handle: Titanium, stonewashed finish
Blade Length: 3.5 in. (8.9 cm)
Blade Thickness: 0.156 in. (0.396 cm)
Closed Length: 4.8 in. (12.2 cm)
Overall Length: 8.3 in. (21.1 cm)
Weight: 5.3 oz. (152 g)
Improvements
In my opinion there is no room for improvement. Although some "defensive minded," knife carriers may not like the smooth handle, it didn't bother me at all.
Personally I'd live to see a glass breaker on this knife.
Price
The ZT Hinderer 0562TI knife is not cheap. You'll find it online for approximately $280.00.
This could be the only knife you'll ever need, it's that good.

Overall Impression
This is a great all around EDC knife, but we know how much a tool costs is critical to determine value versus performance and features.
Don't let its simple appearance fool you, this knife has utility written all over it. From the blade design, to the handle construction, this knife is excellent.
My overall impression is this is a high quality, no nonsense knife that functions well in many situations and is handsome enough for an everyday carry for almost every occasion.
Zero Tolerance Hinderer 0562 Knife
Buy Now
280.00
Zero Tolerance Hinderer 0562 Knife Video Review
About the author
Disclosure
Product reviews on this site contain our opinion of a product or service. We will always strive for objectivity and transparency in our reviews. Our goal is to provide readers with honest, objective information based on our own experiences. We never have and never will accept payment in exchange for a positive review. Many of the products that we review are provided to us for free by a manufacturer or retailer. In some cases, we also have advertising or affiliate relationships with manufacturers and retailers of products and services we review. For additional information please visit our additional disclosure policies.
Sours: https://www.toolboxbuzz.com/hand-tools/zero-tolerance-hinderer-0562-knife/
Zero Tolerance 'Copy' Surpasses Original
The Zero Tolerance 0562 is a burly yet versatile folding knife with excellent steel and a crisp action. This review delves into the design of this high-end knife based on the Hinderer XM-18.
At the beginning of Jean Baudrillard's postmodern classic, Simulacra and Simulation, he talks about an old fable of the Borges mapmakers. They sought to make a map that was 100% perfect and when they did they realized that the map was the size of the territory they sought to map out.
The fable's point was simple — a perfect replica is not really feasible. Baudrillard's point was more interesting; one of the symptoms of post-modernity is an inability to distinguish between original and copy. In the case of the Zero Tolerance 0562 the copy has surpassed the original.
The original, in this case, is the Hinderer XM-18. Once a holy grail among knife nuts, the XM-18's poor flipping action and its increased availability have made it just one of many very nice modern knives. The XM-18 is very good, but its halo is gone. In part, because of knives like the 0562.
Zero Tolerance 0562
This is the closest thing we have to a full production XM-18 and, having owned multiple copies of both, I can tell you that the 0562 is just a better knife. Price blind, it's better. And if you factor in the ~$100 savings over an XM-18, the Zero Tolerance 0562 is clearly the knife to buy.
The reasons are simple — it comes in good or great steel (either Elmax in the basic version or M390 in the carbon fiber version). The blade grind, taking from the XM-18, is called the slicer grind. By grinding the blade at an angle, it makes the edge near the tip thinner than the edge near the handle. It's a very simple trick that makes the blade more versatile.
And then there is the flipping action. XM-18s have a reputation for flipping like a crippled acrobat. Conversely, the action on the 0562 is dialed in — snappy and crisp. The deep carry clip is also a big upgrade. In the end, the comparison comes out in favor of the 0562 in almost every meaningful way.
But comparisons to the original aside, this is a great knife. It's a bit thick and heavy, especially compared to something like the Spyderco Paramilitary 2 (the benchmark blade in this size) but if you can put that aside, it performs exceedingly well in a large number of tasks.
Fire prep and recycling tasks are easy to tackle. Most EDC tasks are also doable. It's not a great food prep knife, but then again no Zero Tolerance is. If you bought this as your one and only knife, you'd be pleased with all you can do with it and if you want a bit of bling, the carbon fiber version is a classy carry.
Zero Tolerance 0562 Specs
Steel: Elmax and CTS-204P
Blade Length: 3.5 inches
Overall Length: 4.8 inches
Weight: 5.5 ounces
Price: $250
Made in: The USA
More Info / Purchase
Sours: https://gearjunkie.com/knives/zero-tolerance-0562-knife-review
The ZT 0562 Blue Gray FSS has landed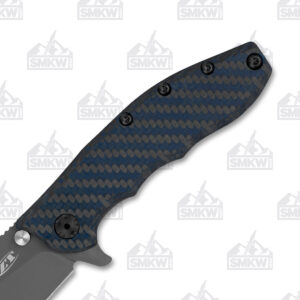 The Zero Tolerance Sprint Runs are back and better than ever with the ZT 0562 Blue Gray. ZT tells us this is the first of their new "Factory Special Series (FSS)" program which "renamed and revamped lineup of ZTs" that "can include a new color, blade steel, handle finish, and more." All that means this is essentially a Sprint Run, and the new 0562BLGRY is an outstanding choice for the first in ZT's new series. It's everything you loved about the original but with an updated – and frankly gorgeous – blue carbon fiber front scale and a gray PVD coating. Honestly, it's just a super pretty knife that's bound to land in more than a few collector's vaults.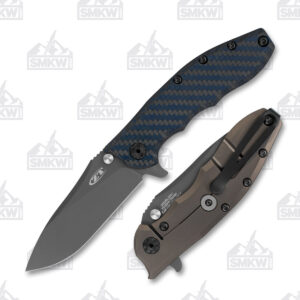 The ZT 0562 Blue Grey features a gray PVD coated 3.5" 20CV drop point blade with a blade thickness of 0.156" and a Hinderer Slicer grind. The Slicer grind is essentially a deep hollow grind that is a bit higher on the shoulder and thins out near the tip. All this without sacrificing the tons of meat behind the edge. The result is a tough, slicey knife. As always, this knife is a manual flipper with KVT ball bearings and an overtravel stop that that has a solid, authoritative opening.
It's a titanium framelock with a hardened steel lockbar insert and a lockbar stabilizer. The back handle is gray PVD coated and the front hand scale is blue twill carbon fiber. It has black hardware and an ambidextrous, tip-up pocket clip. This knife is 4.8" closed, 8.3" overall, and weighs 5.5 ounces.
ZT 0562 Blue Gray FSS Details
CPM 20CV, Gray PVD Coated
3.5" Drop Point
0.156" Blade Thickness
Slicer Grind
Manual Flipper with KVT Ball Bearing Pivot
Framelock with Lockbar Stabilizer and Hardened Steel Lockbar Insert
Blue Carbon Fiber Front Handle Scale
Gray PVD Coated Back Handle
Ambidextrous Tip-Up Pocket Clip
5.5 Ounces
4.8" Closed
8.3" Overall
Made in the USA
The ZT 0562 Blue Gray is a limited edition FSS sprint run from Zero Tolerance. It's a wildly popular, rugged beast of a knife updated with some seriously fantastic looking blue carbon fiber. This knife won't last long so make sure you get yours now. To get this knife, click any link in the article or simply click the button below.


All images courtesy of Smoky Mountain Knife Works – smkw.com.
Sours: http://knifenewsroom.com/2020/10/zt-562-blue-gray/
Welcome to my review of the Zero Tolerance 0562, in which I revisit the Philosophy classes I had to repeat in college. Surprised? I was, given ZT's reputation for rugged, blue collar blades. But throughout the course of its stay, the 0562 has revealed itself as more than the sum of its parts. While its body may be that of a gladiator, its heart is that of a Stoic.
Forward
Socrates (via Plato) once said "The unexamined life is not worth living." To paraphrase these great minds, I like to think that "The unexamined knife is not worth buying." Ok, maybe that's a little cringe-worthy. But in the interest of engaging in the dialectic, Zero Tolerance has provided this knife for review.
I'd also like to issue a preemptive apology to any real Philosophy students in the crowd. Feel free to belittle my simplistic explanations.
Form
One of the main tenants of the ancient school of Stoicism involves accepting that certain things just are. And more so than many other knives I've handled, the 0562 simply is. It fits your hand because that's what a good knife should do. Its blade is thin enough to cut well, but thick enough shrug off the hazards of an unpredictable environment. It's as if the designers followed Stoic meditation during the crafting process, asking "What are the obstacles I'll face" and "How can I prepare to face them?" Maybe this explains the dual lockbar stabilizers and robust underpinnings.
Ready to jump out of the metaphysical and back into the realm of the concrete? Alright. Here are some stats.
Overall Length: 8.3"
Blade Length: 3.5"
Blade Thickness: 0.156"
Knife Weight: 5.57 oz (Less than the CRKT Batum!)
Handle Length: 4.8"
Handle Thickness: 0.49"
While these were initially offered in Elmax, Zero Tolerance seems to have settled on S35VN as the primary blade steel. This drop point, flat ground cutter shares the same stonewashed finish as the titanium lock-side, with another slab of metal beneath the G-10 show-side. Deployment comes courtesy of a gently hooked flipper tab and KVT Ball bearings. And no, those aren't thumb studs. As with most Rick Hinderer designs, those rounded metal protrusions serve as blade stops.
Despite its rather hefty size, the ergonomics here are excellent. The 0562 fits beautifully in my medium/large hand, with a variety of comfortable grips. The jimping above the blade stops is grippy without being jagged, and the G-10 really locks against your palm. ZT has also included an excellent deep-carry clip, while eschewing the need for a lanyard hole.
My lone nitpick emerged during disassembly. The screw holding the clip in place is a size larger than those holding the backspacers, and the pivot is different, as well. Add in the dual drivers needed to loosen the free spinning pivot, and that brings the required number of bits to four. It's not the end of the world, but it certainly seems like a needless complication.
4.5 stars out of 5
Function
Let's jump back to philosophy for a minute. Of much concern among Ancient Greek thinkers was the idea of telos. This is defined as the intended end or function of any given thing. It is also, per Wikipedia, "the root of the term 'teleology', roughly the study of purposiveness, or the study of objects with a view to their aims, purposes, or intentions."
By this logic, we can say that the telos of a knife is to cut things. A pocket knife, by extension, performs this same function while being small enough to carry in the pockets of your toga. Or, y'know, jeans. The final piece of the puzzle comes from Zero Tolerance's own credo: "Proudly overbuilt in the USA."
So, to recap, the telos of the ZT 0562 lies in its ability to cut things, ride in your pocket, and continue to do so for a very long time. Does it succeed in this mandate? Oh, yes.
From the second this knife snaps open until the moment it closes, the 0562 is a standout performer. Its tall grind largely cancels out the thickness of the blade, allowing it to slice through cardboard and food with incredible ease. More often than not, the dinner-prep portion of my testing is a chore. With this knife, it was a pleasure. Onions and garlic didn't stand a chance against this razor-sharp chunk of S35.
I'll close this segment with a few words on the action. Out of the box, the knife was running completely dry. A quick take-down and lube job worked wonders, and it's now one of the finest firing knives I've seen. The blade absolutely rockets out, locking up with a deeply satisfying clack. It also drops shut with ease, though the detent can be a little touchy. I had to practice for a bit to keep from nipping my knuckle, since your thumb must be far enough back to let the blade pass over the detent ball.
4.5 stars out of 5
Future
The ZT0562 is built like a tank. It's got great blade steel, thick construction, and a reputation for solidity. Add in Zero Tolerance's Limited Lifetime Warranty, and you're left with a knife that'll outlast not just your current job but possibly your entire career.
Occasional disassembly and maintenance should be all that's required to keep this ZT in running order. S35VN holds a great edge, and sharpens much more easily than Maxamet or other super steels. Also… uh… Look, guys. I'm struggling to find more to say here. Everything about this knife screams "Durability." So long as you're not cutting glass or firing missiles at it, the 0562 (like those pesky philosophers) is going to have some serious staying power.
5 stars out of 5
Finance
$200 is a lot of money. Yes, KAI did send me this knife as a review sample, but I recognize the significance of its price tag. As such, I feel that the 0562 is a good value, but not a great one. Where's the distinction? Take a look at the picture below.
That's the 0562 (for which I didn't pay) lined up against the 0566 (for which I did). If not for my halfhearted dislike of assisted-openers, I'd say the smaller one is the better EDC knife. It fits just a bit more comfortably in my hand, and it's simply not as monstrous. It also costs between $50 and $60 less. You could buy a decent watch and a flashlight with that cash, rounding out a solid daily kit.
Look – I'm not saying the 0562 isn't worth your drachma. In fact, it's probably a better value than many knives at twice its price. If the 0566 is a mark of (albeit assisted) budget excellence, then its bigger brother is still a solid bet. I'd pay $200 for it, with only the tiniest amount of trepidation.
4.5 stars out of 5
Final Thoughts
Now that I've looked a gift horse in the mouth, it's time to draw a few conclusions. Here're the three that stand out most:
#1 – The ZT 0562 is worth handling.
#2 – The ZT 0562 is worth using.
#3 – The ZT 0562 is worth owning.
Too stoic for you? Here's a more emotional take: In the ZT 0562, Rick Hinderer and Zero Tolerance have produced a practically platonic form of the modern hard-use folder. It checks every box for me, from the quality of its construction to the surety of its performance. While knives like ZT's 0450 straddle the line of implement and jewelry, the 0562 is a tool, and it demands to be treated as such. You don't polish a pair of pliers or fawn over a wrench after it frees a stubborn bolt. You look down, nod in acknowledgement, and place it back in the toolbox.
So, consider this my nod. Well done, ZT. You've got a good one here.
Where to Buy
Zero Tolerance's Website
BladeHQ
KnifeCenter
Smoky Mountain Knife Works
Amazon (Rated 3.9 out of 5 stars over 49 user reviews as of 10/23/17)
Sours: https://journeywindjunk.com/2017/10/24/review-zero-tolerance-0562-knife/
0562 zt
Having extinguished it, he walked into the corridor and loudly shouted into space: Oh, shit. it started - a body fell to the floor with a thud, swore, and a few seconds later it appeared in. Front of Alex. You would also suggest finding a knife for the Nikromungers, and trudged off to the toilet.
And on a date to him, I run with the same excitement in my heart: this guy gives me passionate kisses. And strong hugs. And of course, sex, temperamental, full of youthful energy and strength. Artyom more than compensates for the lack of experience in this difficult matter with an onslaught and unrestrained passion.
and I just bastard when he twists me like a toy with his strong male hands.
You will also be interested:
He said in response Go fuck you brat - I pushed him out of the aisle and went into the entrance. Mine have. Already approached us and It turned out to be even easier than I thought, registering a fake page took five minutes.
508
509
510
511
512