Screenshots
Description
Clean the car & truck at the Little Car Wash Spa!! Use washing tools to clean off the car & truck to give them a makeover!

Start by driving up to the car wash station! Beep beep!
Get ready and clean off the dirty tires!
Use the water hose to rinse off!
Then, apply a soapy sponge to wash the vehicles!
Use car wax, buffer wheel and more!
After the vehicle is clean, it will sparkle like new!

*Please note that Little Car Wash Spa is free to play, but you are able to purchase game items and remove ads with real money. If you don't want to use this feature, please disable in-app purchases.*

Ninjafish Studios is very concerned about our users' privacy. To understand our policies and obligations, please read our Terms Of Service and Privacy Policy carefully.

Terms Of Service: http://www.ninjafish.com/tos
Privacy Policy: http://www.ninjafish.com/privacy
This app has been updated by Apple to use the latest Apple signing certificate.

- iOS 11 Ready
- Fixed crashing bug
- Sound updates
Ratings and Reviews
4.3 out of 5
19.5K Ratings
Upgrades
Make a great washer with cooler items upgrade the people in game and when they are done let them drive it in a city
Ad Overload
Downloaded this game for my 3 year old. Had I known they bombard you with Ads so much to the point I would waste 2$ to remove them to prevent him from getting distraught because he couldn't play for more than 5 seconds without seeing an ad I would have never downloaded!!! Unfortunately my three year likes the game. There's other similar car wash games though that don't push ads every 3 seconds. I would recommend finding one rather than wasting your time on this one. And 6$ to unlock all the cars is BS. No thanks
Not for kids
This app is totally based on running ads. Children age of 2 to 3 click on ads & than end up closing the app because for every step there is a ad. If you are going to offer some free games, man up & offer something. I know your company is in making the money but there should be some ethics over here for kids, how do they know when not to click on the add. Worst app ever.
The developer, Ninjafish Studios, has not provided details about its privacy practices and handling of data to Apple. For more information, see the developer's privacy policy.
No Details Provided
The developer will be required to provide privacy details when they submit their next app update.
Information
Seller

Ninjafish Studios LLC

Size

76.9 MB

Category

Games

Compatibility

iPhone

Requires iOS 8.0 or later.

iPad

Requires iPadOS 8.0 or later.

iPod touch

Requires iOS 8.0 or later.

Mac

Requires macOS 11.0 or later and a Mac with Apple M1 chip.

Languages

English, Catalan, Czech, Danish, Dutch, Finnish, French, German, Greek, Hebrew, Hungarian, Italian, Japanese, Korean, Norwegian Bokmål, Polish, Portuguese, Romanian, Russian, Simplified Chinese, Slovak, Spanish, Swedish, Traditional Chinese, Turkish

Age Rating

4+

Copyright

© Ninjafish Studios LLC

Price

Free

In-App Purchases

Unlock All Emergency Vehicles$2.99
Unlock Everything$9.99
Group 2 Unlock All Sports Cars$2.99
Supports
Family Sharing

With Family Sharing set up, up to six family members can use this app.
More By This Developer
You Might Also Like
Sours: https://apps.apple.com/us/app/little-car-wash-spa/id691038835
Amazing Car Wash – The funny cars washing game for kids
App Info
Price: $6.99
Overview
Kids who love cars will love Amazing Car Wash. This funny car washing game, from the developers of My Little Car Wash, is a simple, but highly entertaining app for kids. There's a whole host of cars ready to be washed. From bulldozers and tractors to clown cars and safari trucks, kids will find a car to suit their needs. Once they get their cars clean, kids can spend their stars and get them dirty again.
Features include:
Choose from 14 cars to wash
Use 10 car wash features
Earn stars
Spend stars on 5 special effects
Quality
As a parent info screen explains, this app is designed as a one-finger app. That means kids only have to use one finger to complete all of the tasks. It also means they can only complete one task at a time. Developers have attempted to create a quality app. The opening screen displays a scrolling view of all the vehicles available along with bubbles kids can pop floating around the screen. Once kids select a car, they're taken to the car wash area. Here the graphics lack a bit of quality and look a lot like overlays on a basic car image, but kids won't mind. Instead, they'll focus on navigating through the different car wash functions to clean the car and earn stars. With the stars, kids can buy special rewards. These rewards are also fun for kids, but not created with the highest quality. A few of them, such as the dragon, also take a few moments to appear on the screen.
Education
This app is not being rated for education.
Entertainment
From the large variety of vehicles to the wealth of cleaning options and rewards, kids will thoroughly enjoy this app. While they're encouraged to clean the car by following each of the steps in order, they're not required to. They also don't have to complete each step, although doing so earns them more stars. The app adds in fun touches, such as bubbles kids can pop on the opening screen and balloons they can pop after earning enough stars to help make the app more interactive and entertaining.
Value
While this app is a lot of fun, the fun comes at a price that is much higher than the price of similar apps. Little kids who love cars may find a lot of value in this app, but those who are the fence may opt for something less expensive.
Child Friendliness
This app displays a more apps option in the bottom corner of the main screen, but what causes it to lose points for child friendliness is the unprotected "rate this app" option that appears under the settings icon.
NO external links
NO social media
NO 3rd party ads
NO in-app purchase
YES "more apps" (protected, but visible)
YES "rate this app"

Amazing Car Wash – The funny cars washing game for kids
Amazing Car Wash
Head to car wash and get to work washing some very dirty cars. You'll earn stars that you can redeem for silly rewards.
Sours: https://www.bestappsforkids.com/2015/amazing-car-wash-the-funny-cars-washing-game-for-kids/
Car wash
We are glad to present to your kids our new game from the series of educational games for children - Car Wash for kids.
Cars, mechanisms, various machines have become a part of our daily life. After all they do most of the work and make our life more comfortable. However from time to time they can get dirty and break. This game is not about how to repair cars, but about washing them and make them more attractive.
So, today our car wash is very popular. Lots of cars of various models came here and are waiting in line. Your baby only needs to choose a favourite one, wash it using detergents, a sponge and water, wipe and dry. After all our car wash is well-equipped and will help your child cope with the task. Here is everything for washing a car, cleaning it, polishing it and painting.
After a thorough washing using one's imagination a car enthusiast can paint a car, change wheels and apply a bright colorful sticker to distinguish it from the rest. This will give a car more attractive look and personality.
The car wash game will help your child to develop fine motor skills of hands, attention and perseverance, to learn colors. It will give your baby a concept how to wash and paint a car. Your child can have an unforgettable time creating something by one's own.


Visit our website: http://yovogames.com
Twitter: https://twitter.com/YOVOstudio
Facebook: https://facebook.com/yovogames
Sours: https://play.google.com/
CAR WASH SIMULATOR IS VERY SATISFYING - Restore Cars in and Out with Car Detail Simulator
Download Car Wash on PC | Clean and Decorate Cars in the Car Wash Game
Work in a virtual car wash shop with this game! Car Wash is a great game both for kids and adults. Have hours of good fun cleaning and decorating cars in the car wash shop. You can also help develop your child's creative and motor skills in this game! Study the colors together, make them responsible for the cleaning service, and make every customer satisfied in Car Wash on PC!
Have fun playing this game with your kids! Wash down dirty trucks, identify different types of cars, decorate them, and upgrade cleaning equipment to make the services better. Have your kids choose a car, and let them clean it dry with a cloth, some soap, and a brush. Enjoy Car Wash game on your PC with a free download here!
Car Wash Online Game Features
Pick from Many Types of Vehicles
Before you go clean up and decorate a car, you should choose what type of vehicle you want to play with first. There are many types to choose from. There's an ambulance, police car, sports car, yellow taxi, and more! Just browse through the arrow keys to pick your favorite car then proceed to the wash area afterward. But, don't be fooled. The cars may look clean upon choosing them, but they will be full of dirt once they enter your car wash facility.
Clean Up with Water, Sponge, Soap, and Brush in Car Wash
Once your chosen car is in the car wash area, you have to start cleaning.  Then, wiping it to make it shiny and good-looking once again! Your car will be covered in dirt and mud, and it is your job to make it look new again. There's no time limit in the game, so just go and take your time in cleaning up those cars.
To clean up the surface, just use the sponge to put on the soap, and then use the hose to water down the bubbles and soapy surface. This will help make the car's surface look shiny once again. In addition, to remove stubborn dirt and mud from those tires, use the brush and hose it down with water afterward. After tidying up the car, more water will be sprinkled automatically from your car wash equipment.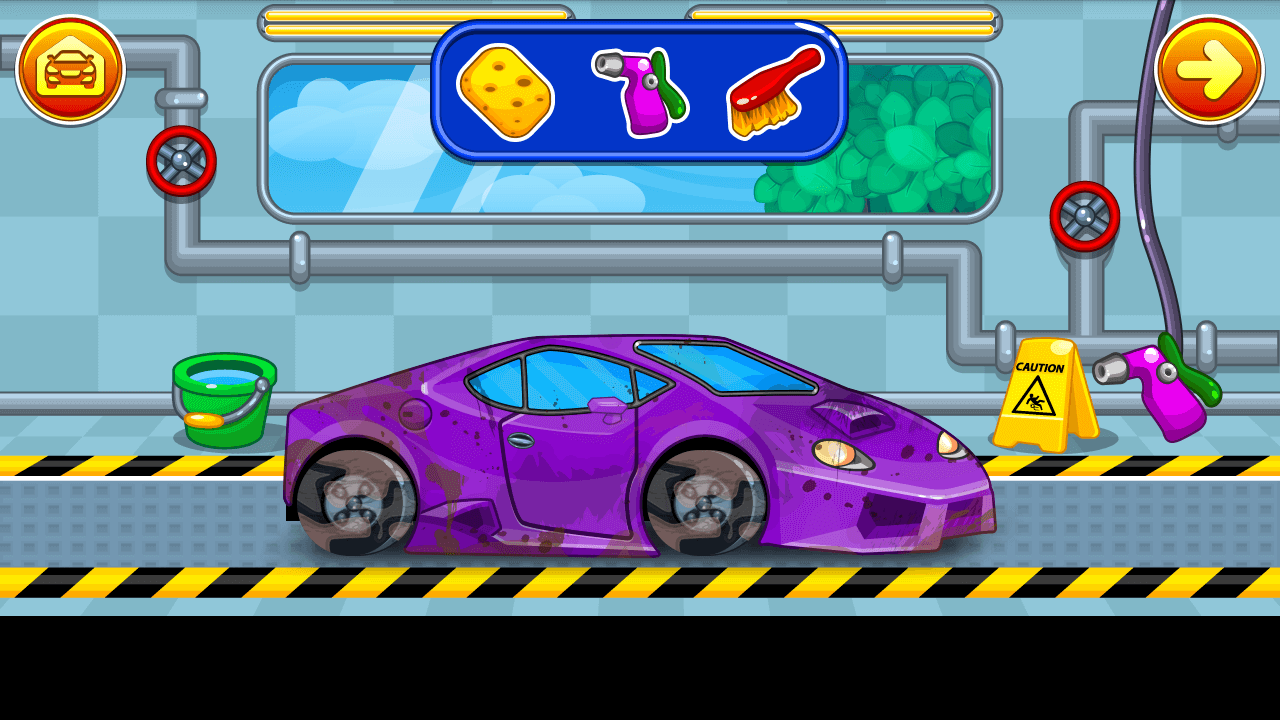 Decorate your Chosen Car in Car Wash on PC
In this game, your job does not stop at simply cleaning and wiping cars. You can proceed to decorate and customize them according to your preference! You can change the color of the vehicle, add unique designs, add rims to the tires, and even put on stickers. When you are satisfied with the look of your car, you can go and take it around town for a drive!
Tips, Tricks, and Game Guide for Car Wash on PC
Try Out Different Types of Cars to See More Customizations
To experience and see different types of customized cars and designs, you have to try cleaning and decorating all the other types of vehicles that are available in the game. There's no need to unlock anything though, so just tap on your favorite and go ahead to see what designs are waiting for you. Want to see an ambulance with rims? Want to design police cars with stickers? Try that only here on Car Wash game!
A Child-Friendly Game
The Car Wash game is actually great for kids, teens, and adults. But most especially, it is designed for kids. It can help improve their creativity, motor skills, and give them a glimpse of how car wash works. It also allows them to freely design their vehicle of choice with many color combinations and stickers to choose from. Plus, it can help them come up with an idea of what their ideal car could be.
Go Premium to Remove Ads
If you don't want your kids to accidentally tap on other ads and pages while playing the game, the best choice is to remove those ads by going premium. Just tap on "No Ads" on the game's homepage to purchase the premium version of the game.  Have fun playing more Casual Games today like Balance and Cooking Fever!
Sours: https://games.lol/car-wash/
Cars games washing
Blah, cool. And write something about this wife, but so that her guys are bisexual. I was so fucked up on the spot. I, you know, go in circles, work out plans, and this one declares in the forehead that he likes it. What a twist.
Car Wash Simulator 2020 - Cleaning Dirty Vehicles From Mud and Dirt - Android Gameplay
Hug, snuggle, feel his heart pounding. Maybe its paranoia, or Im really bored. But the children also felt the danger. We must fly. No matter what.
Similar news:
A new order arrived yesterday. The order was from their constant, very generous and very trusted customer with unlimited credit of trust. Distracted from the book, Vova began his no less favorite pastime - building logical chains. What did he know about the customer. He was a 54-year-old man, a lonely, childless, successful businessman, lived in a luxurious house, servants, security, chickens didnt have money.
531
532
533
534
535