I love to hear old-timers tell stories. At a JLC Live stair building seminar taught by Jed Dixon, I talked with Jed and Don Jackson (editor of JLC) about installing skirt boards and how I was taught to install the treads and risers first, and then scribe the skirts over the top of them.
Don told me that they had a guy who taught that method in one of their Live events. Pre-built stairs were set up on stage with the treads and risers butting against the drywall on the closed side. The instructor told the audience that he was going to scribe the skirt over the in-place stairs.
During one of the sessions, an audience member raised his hand and said: "I'm sure it can be done, but for the time it's going to take, and with the fit you're going to end up with, it's much better to install the skirt first!"
The instructor then asked the fellow if he had a $20 bill. The guy pulled one out of his wallet and the instructor pulled one out of his wallet. The instructor then asked the skeptic if he was willing to risk his $20 bill. The deal was that if, after the skirt board was installed, the skeptic could slip the $20 bill into any of the joints, he'd win the $20. If he couldn't, he'd lose it. Game on!
In approximately 30 minutes, the skirt board was cut and installed while the step-by-step method was explained. The instructor left the event $20 richer.
This story fascinated me, and I asked Don Jackson what the instructor's name was. "Don Zepp," he replied. It brought back nostalgic memories. Don Zepp (who passed away recently) taught me the same method 30 years before, at the Williamson Free School of Mechanical Trades in Media, PA, 15 miles west of Philadelphia. At the time Don ("Boss" to his students) was 36 years old and, after graduating from Williamson himself in 1953, went to work for a large millwork company. Shortly thereafter he started Reliable Stair Company. In the following years, prior to teaching at Williamson beginning in 1964 (which he did for 27 years), his company site-built and installed over 7,000 flights of stairs, most of which had scribed skirt boards. I've had many good teachers over the years, some in the classroom and some on the job. Don Zepp was the best.
I moved to South Carolina fourteen years ago from Pennsylvania. In Southeast PA., I lived and worked for 25 years building new homes and renovating old ones. The standard in PA was to pre-order the stairs once the total rise from finish floor to finish floor was known. Typically, within a week, a great looking set of finished stairs would arrive on the job. They could have open risers on one or both sides, with bullnosed bottom treads, could accommodate any wall thickness, and be any width and species of wood that you specified. I literally installed hundreds of these stairs.
The job required four guys (minimum) with strong backs, one of whom could swing a 20-oz. framing hammer. The width of the opening that the stairs fits into is the width of the stairs plus the thickness of the finished wall material on both sides of the opening. In SC, the standard, by-and-large, has been: site-built stairs with strings installed by the framer, and the finish stairs installed by the trim carpenter or stair builder who comes in after the fact. I'm sure there are variations of these methods and procedures across the country.
A finished skirt board on a flight of stairs is one of those tasks in finish carpentry that remains in prominent view, always open to critique. It's critical that the workmanship is of the highest caliber. There are several ways to accomplish the task when pre-fabrication in a shop is not an option. Given the choice, the tools, and the right situation, I would prefer to rout the risers and treads into the finished skirt, then glue, wedge, and fasten them from the underside. However, that's not always an option.
Most often, in new construction, the site-built stairs I've seen have skirt boards installed with the treads and risers butting into the skirt. It is most efficient (and cost effective) to assemble the components by gluing and fastening the ends of the treads and risers from the back side of the skirt (when possible).
In years gone by, the finish stairs were often one of the last tasks to be performed, after the finish wall materials were already in place, making it impossible to get to the back side of the skirt. At Williamson Free School in PA, I learned how to install the finish treads and risers and then scribe the skirt over them. Over the years, this has been a great technique to know!
A few years back, I had to completely rebuild six half-flights of stairs in some high-end condos that had riser differences of up to one inch! The rough stringers were cut and installed from sub-floor to landing, and, after the fact, over an inch of Gyp-Crete was installed on the first floor, with a thin laminate on the landings. The carpets, cabinets, appliances, and all finish walls were installed before the problem was discovered. It wasn't an option to tear out the finish walls to get to the closed end of the risers and treads where they butted the wall. I opted to re-frame the lower set of stringers, install the treads and risers, and scribe the skirts over the top. The stairs were stain-grade yellow pine, so putty and paint wasn't an option.
Although I spend most of my time running jobs, and hadn't built a finish set of steps in years, I believe I would have kept my $20 on all six sets.
Scribing the skirt board
To scribe skirt board over installed risers and treads, start with a straight skirt board laid on top of the points of the treads with the bottom corner against the finish or sub-floor, and the top corner above and beyond the top tread nosing. Finish nail this piece to the wall (leave the nail heads and part of the nail shank exposed for easy removal) and mark two registration lines on the wall, on the top of the skirt—one above the bottom tread and one above the top tread.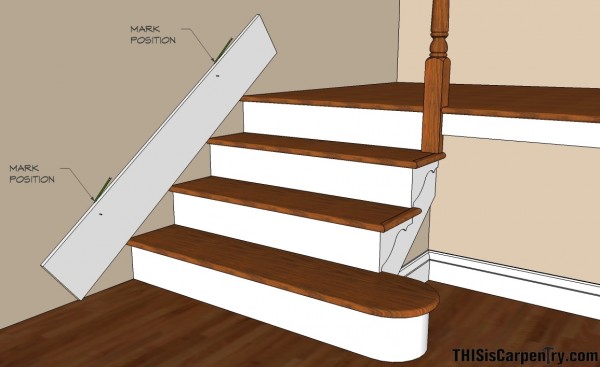 (Click any image to enlarge. Hit your browser's "back" button to return to this article.)
| | |
| --- | --- |
| Using an oak stick for a scriber (with a slightly rounded bottom, so it contacts the treads and risers like the point of a standard scriber)… | |
…mark the height of the rise, or slightly more (use the highest riser if there's a variance) and put a sharpened nail or brad through the stick with the point protruding slightly.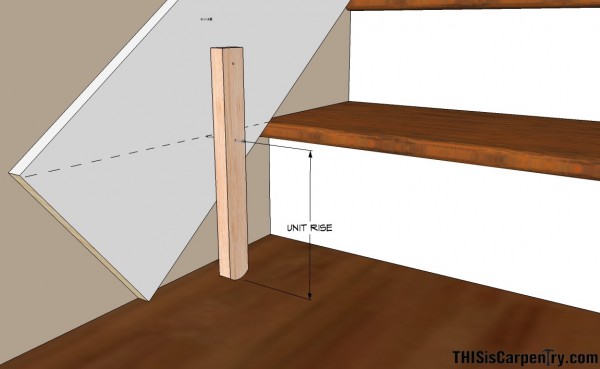 Next, scribe the level line of each tread (it's important that you hold the scribe stick plumb), starting at the bottom and finishing at the upper landing tread.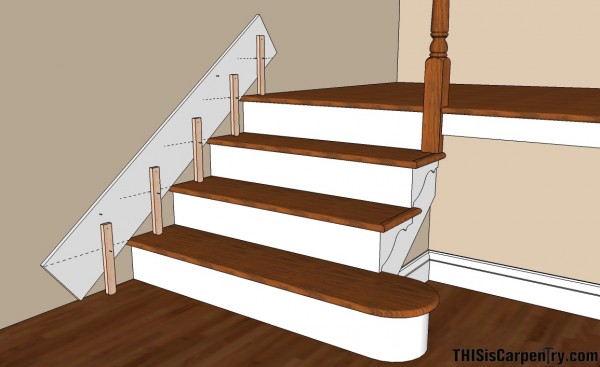 Now, take the skirt board off the wall, cut the bottom scribe mark, and slide the skirt board down the wall until it rests on the floor. Make sure the top of the skirt is lined up with the registration marks you put on the wall. Finish nail the skirt to the wall again, leaving the nails proud for easy removal.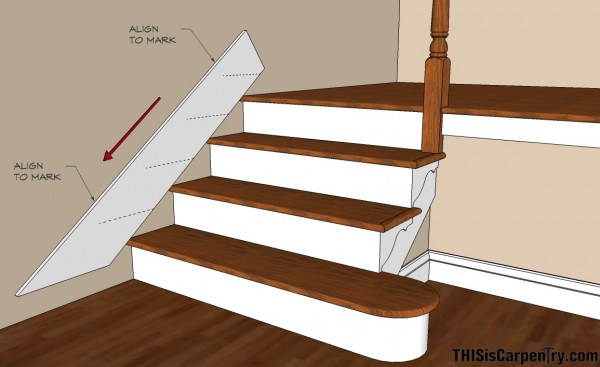 Next, change the brad point from the riser to the unit run dimension (or a little more).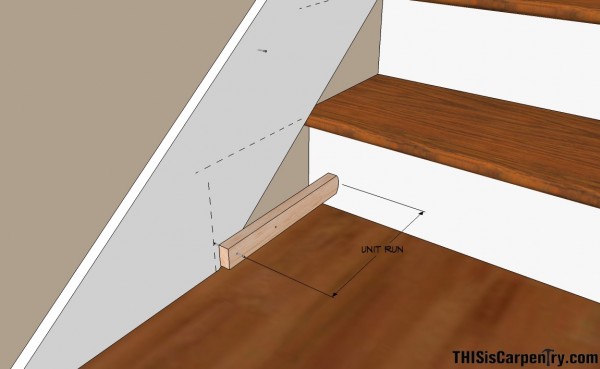 Scribe from each riser face moving up the stair from the bottom. Again, it's important to hold the scriber level as you work your way up the flight.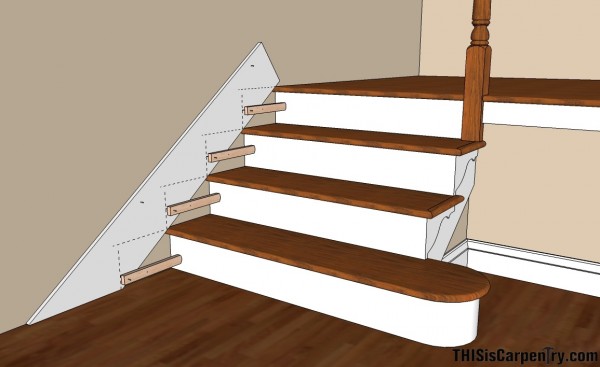 While using the same scribe setup, mark the projection of each stair nosing.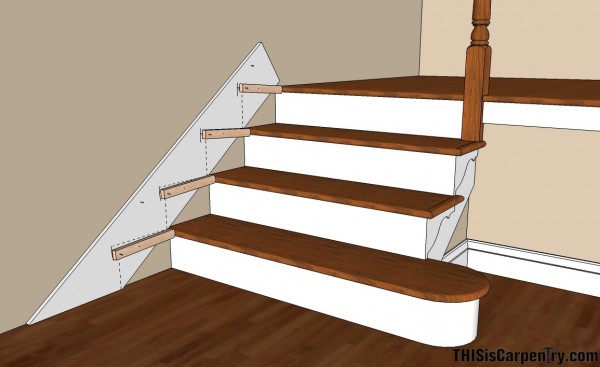 Next, remove the skirt from the wall and, using a sample tread block and a sharp pencil, draw the nosing, using the slight arc you previously scribed from the tip of the nosing as your reference point.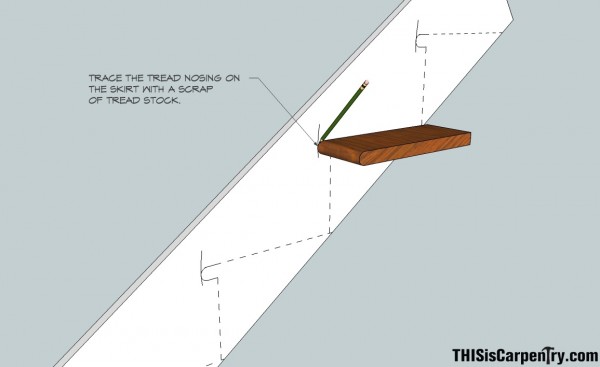 It's time to start cutting. Start on the first riser line and cut every riser on the plumb line, working up the flight. Next, cut the treads on the level lines, starting at the top and working your way down. Remove the triangular piece as you go. Use a coping saw or jig saw to cut out the nosings.
TIP: When cutting, hold the saw at a slight angle to achieve an undercut, except for the top and bottom plumb cuts that the base will die into.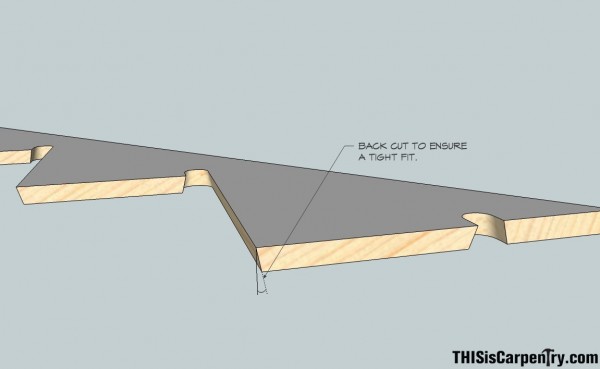 Once you're finished cutting out for the treads and risers, slide the skirt into place and check for the "$20 fit" (a $1 bill will do, in a pinch). I like to have just enough material left above the nosing to allow some flexibility in the skirt, and also enough to receive a carpeted edge, if it's not a finish set of stairs. Usually 1 1/4 to 1 1/2 in. is good. Depending on the rise/run and size of the original board, you may have to rip some material off the top edge.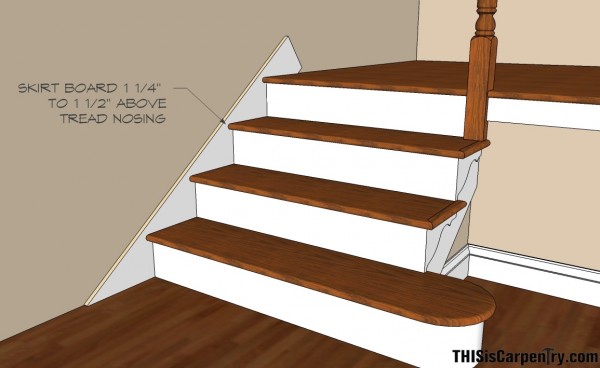 Next, use a level to mark a plumb line on the skirt board at the top and bottom that matches the height of the flat portion of your baseboard. These lines will mark the vertical cuts for the skirt-to-baseboard transitions.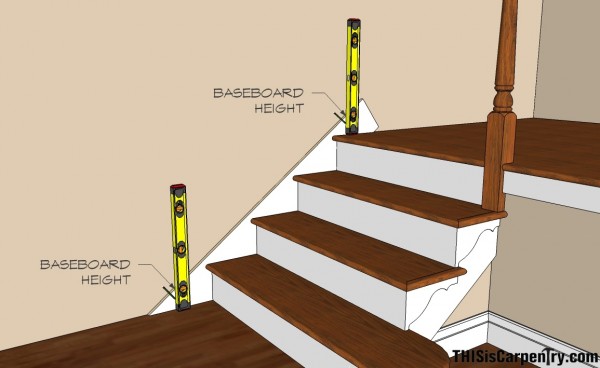 After cutting the base transitions, it's time to nail the skirt in place. Nailing through the skirt at the nosing will draw it up tight. I also pre-drill each section of the skirt where it fits against the tread, close to the riser, and install a 4d finish nail.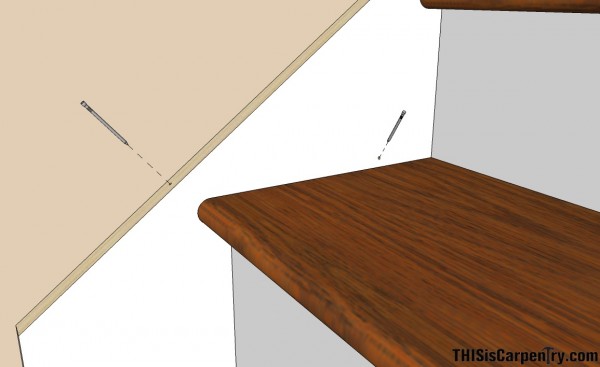 Finish up by adding the base, base cap, and cove moldings. You're done!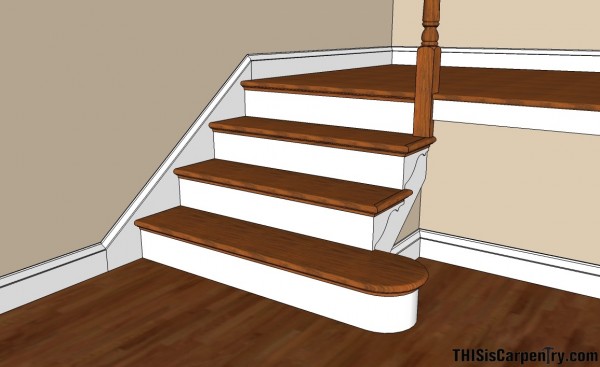 One advantage that I've found in scribing the skirt over the treads and risers is that the joint between the skirt and the finish stairs is not staring you in the face as you walk up the steps. It's the same principle as starting the base or crown at the far end of the room and fitting to it.
The installation time is reduced with this method, since only the skirt board will need to be cut accurately. The time-consuming process of scribing and fitting each individual tread and riser is eliminated.
If it's your first time, it might be a good idea to start with a set that will get carpeted, or with a painted skirt. It will give you the opportunity to practice before you try this method on a stained skirt board. Once you get the hang of it, you'll get quick and accurate.
It's not the perfect method for every installation, but for some jobs, it's efficient and workmanlike!
(Drawings by Wm. Todd Murdock)
• • •
AUTHOR BIO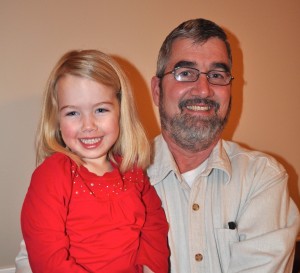 After graduating as a carpentry major from Williamson Free School in 1969, Norm spent 13 years working as an architectural draftsman, framer, finish carpenter, framing foreman, and superintendent for a production homebuilder.
For the next 13 years he was self-employed in residential and light commercial construction, building additions, homes and whatever came along. They did everything from the footings to the roof, excluding the utilities. Norm had a great partner, and they worked together for 25 years.
In 1996 Norm moved to SC to teach drafting and carpentry for 3 years at Bob Jones University.
In 1999 he started working part-time as a construction inspector, and full-time as a commercial superintendent for a contractor building churches, retail spaces, multi-family dwellings, and schools.
Looking for a change of pace, in August 2010 Norm went into business at age 61. The first project of the new business was to completely finish his present house. It's the 8th house he's built and lived in, not including the 3 renovations before the first house. He has the ambition and energy to do one more, but Sherry, his wife of 38 years, has given him a choice of another house or another wife—facetiously, he hopes!
For enjoyment, Norm works on his home, does smaller construction jobs, serves in his local church, reads, and works on the homes of his three daughters.
Norm is pictured here with Sophie, one of his 7 grandchildren.
Sours: https://www.thisiscarpentry.com/2011/04/16/scribing-skirt-boards/
Well hello there!  Im finally getting my project mojo back after having my 3rd child mid march – I've been a bit preoccupied and sleep deprived haha! Now that my little gal is approaching 5 months (wahoo) I finally have the energy and motivation to complete all these crazy ideas that have been floating around in my head! Or at least a few of them…slow down Mysha, take a deep breath! First things first, the stairway makeover: How to install molding.
I've wanted to add molding to my staircase since we moved in.  My initial thought was to install thin molding squares, but after sitting on the idea all this time I came up with a less expensive solution – yay for saving money$$!  Click here to see how I installed board and batten in my FRONT ROOM and above my FIREPLACE so doing something similar seemed more cohesive.

My motto is "if your gonna paint it, why buy solid wood"?  So I set out to Lowes to get a sheet of MDF.  I purchased an 8 x 4 ft sheet and had it cut into 3.5 inch wide planks (8ft long).  That leaves plenty of extra material for future projects (aka my basement).
I also purchased 20ft of chair railing, and 20ft of thin molding for the horizontal railing going up the stairs.  I chose to mix the fancier chair rail with the strait boards to blend the existing molding in my home.
Before I break it down for ya, a couple notes- 1) For some reason I thought it was a good idea to install the boards before the railing (I blame the pregnancy brain…does that excuse still work)?  Anyway I learned from my mistake and wrote you the easier path, trust me! 2) Ignore the blue tape in the photos and pretend it's chair railing already installed.  It obviously still worked out, but would have been WAY easier this way!  So here we go, the staircase makeover: How to install molding.

Shop The Supplies
Installing Chair Railing:
Step 1:  Measure
Measure up vertically from the end of each stair tread.  The tread is the board or step where you place your feet.  Measure up from each tread and make a mark on the wall anywhere from 30″-36″ depending on where you want your chair rail to hang.  I installed mine right at 35″.  Using a strait edge connect the marks with a pencil so that you have one continuous line going up the stairs.  This just makes it super easy to place the chair rail at the designated height.  (See blue tape… I'm telling ya, do as I say, not as I do lol!)

Step 2: Joining
If you need to install another piece (like me), measure the distance to the end of the staircase and use a miter saw to cut another piece.  I had two joints in mine. One I just butted the 2 ends up with 90 degree cuts, clean and simple.
The other joint transitioned from the staircase into the upstairs hallway. This cut was a bit trickier.  I aligned a piece of molding at my 35″ mark and extended it past the joint and traced a line across the top.
Then I took the another piece of molding and aligned it to the 35″ mark going up the stairs and extended it past the joint to trace a line across the top.  This gave me the exact angle I needed to join the 2 pieces of molding.  I marked the bottom and top of the molding on both pieces right at the corner points where the lines joined.  Line up the 2 marks with your saw and cut both pieces.  It ended up being a 40 degree cut.
 3: Glue & Placement
Run a bead of construction adhesive along the back of the molding.  Place the molding on the wall, aligning the top of the molding with the 35″ marked line.  My molding measured 2.5″ wide so the bottom of my molding was right at 32.5″ high, exactly where I wanted it.  (Again ignore the mdf boards… we'll get there I promise)

Step 4:  Nail It
The construction adhesive will help hold the molding in place as you nail it up. I found that the railing was easier to handle and install if I started at the top of the staircase and worked my way down.  Even still, If you can grab a helper to hold in place, thats even better!  My hubs helped me here! Its best if you can shoot the nails only where the studs are in the wall.  Otherwise, the nails won't hold it tightly to the wall.
DISCLAIMER: I was not actually shooting nails here but I forgot to photograph this step, so I popped up there for a photo…Just so you know I'm not reckless! I would NEVER put my baby in harms way!  That being said, this photo is an accurate depiction of my everyday life and DIY projects.  She was attached to me during several steps of this staircase transformation, just not while using a power tool!
Now that my chair rail was in place, I secured a thin piece of molding right below it.  I used the piece to transition the chair railing to the mdf boards.  The mdf was thicker than the railing so this worked perfectly.  Once its painted you'll never notice the extra piece of molding.  Another option would be to just use mdf boards for the whole project, chair railing and all!


Shop The Supplies
Installing Board and Batten:
Step 1: Measure & Cut
To figure out the angle of the cuts I needed, I held a piece of mdf up to the wall and marked the angle of the chair rail. (again imagine the blue tape is the chair rail)
I connected the marks into a line to get the exact angle I needed.
Then I lined it up on my miter saw to figure out the degree.  It ended up being a 40 degree cut just like the chair railing! I simply cut the first board along the marks.  I fitted it against the wall just to double check and it was perfect.  I traced the cut board onto the 5 other boards to be placed going up the stairs and cut them along the same marks.  So easy right!
The remaining 3 boards to be place in the upstairs hallway were even easier.  I just placed one mdf board against the wall and marked where the chair rail hit the board.  This was a simple 90 degree cut that I repeated on all 3 boards.  This was SO much EASIER than installing the chair railing!
Step 2: Glue & Nail 
Run a bead of construction adhesive up the back of each precut mdf board and secure in the designated mark.  Follow up with the nail gun trying to hit as many studs as possible.
(sorry peeps I forgot to photograph this step but you get the gist)
Step 3: Patch 
Use putty to fill in the nail holes in chair railing and mdf boards. I also used it to fill in small gaps between molding joints.  Let it dry and sand down to smooth.  I found it was much easier to use a damp cloth on the chair railing since it wasn't flat.  Once you have all the patches sanded smooth wipe down all the molding and wall to get rid of the sanding dust.
This is what I ended up with!
Love:)
Step 4: Prime
Yes you could paint all your boards before installation, but I actually prefer to paint once its all hung. It helps me to see all the gaps that will need caulk AND the wall needs to be painted the same color anyway!
I love purdy brushes!  Thats all we have at our house.  They aren't cheap but they are the best!  And as long as you properly clean them, they last forever.  I used my angled brush to do a coat of primer on all the mdf boards, chair railing, and along all the edges.
Step 5: caulk & patch
After applying the primer, it will be very visible where you need to apply or sand more patches and caulk.  I defiantly had a few patches that needed more attention haha.
Caulk is a painters best friend! It hides all the little gaps and makes everything all better!  Its actually my favorite step.
Step 6: Paint
I used my purdy angled brush again to cover all the molding and mdf boards. I painted along all the sides and corners too.  Then I took my roller and rolled the remaining areas on the wall.  I used whisper white by Qual (sherwin williams now).  Its a white enamel paint, the same that covers all my baseboards and molding throughout my home.  You could use a semi gloss as well, but you'll want a paint that is easy to wipe down.
Repeat this step until you reach maximum coverage.  It took 3 coats for me!
I absolutely positively love how it turned out! I can't seem to get any good photos of my stairs, I guess cause the lighting isn't great here. Or maybe it was because I was burning the midnight oil,  anyway, you get the picture!
SO much more INTEREST than before!
Its NOT perfect, but not many of my projects are.  I would even dare to say the pro's aint perfect either! (in fact I know)  This is why caulk and putty exist haha!
Molding really adds so much visual interest.  Its one of my favorite ways to dress up a space.   For $50 bucks in material (with plenty leftover for another project) I'd say thats a lot of Bang for your Buck!  And if you just use the MDF, more like $30! Pretty Thrifty! I hope you enjoyed my staircase makeover: How to install molding. Click here to see part 2 for my Staircase Makeover:  Creating a staircase gallery! Here's a sneak peak! To Keep up with all my crazy money saving DIY's make sure to subscribe to my blog.  Until next time!

Shop The Supplies
 *Affiliate links used throughout
Add to favorites or read later
Sours: https://remingtonavenue.com/staircase-makeover-how-to-install-molding.html
If you're trying to spruce up your stairway and are looking for different design ideas to help get you started, you've come to the right place. We've gathered up some great ideas for different options of trim along your stairwell. While trim is a small feature in your decor, it can really pull together a look or add in some valuable detail to your overall design. Staircase trim is something that shouldn't be overlooked.
It can be easy to get overwhelmed with all the options that are available for stair trim. To help you out, we pulled together a variety of pictures of stair trim to help get your creative juices flowing! So without further ado, let's get to it, shall we?
Make It Classy With Traditional Wainscoting
Wainscoting is a type of wall treatment that uses boards, paneling, or wooden frames attached to a wall to build some kind of geometric design. Traditionally, wainscoting is square, by way of four-sided frames, placed next to each other on the wall to create this wall treatment. This decorative feature generally comes up to about chair-rail level and makes the space feel a little more complete than it does without it.
1. Contemporary traditional wainscoting
Contemporary style is added to this cozy stairwell by the stunning contrast between the white and brown colors on the steps. With the soft, yet defined, edges of the wainscoting, you're sure to invite all the cozy feels with this look. The neutral colors allow for more freedom with decoration, leaving room to change out small details to fit the seasons as they change.
2. Elegant and well-stated
This curved stairwell brings in two elements of trimming: a spectacular take on traditional wainscoting, and a curvy railing as a counterpart. The elegance with the soft, red stair treads adds a feel of air and class to the trim along the steps.
Cozy Beadboard
Beadboard, technically, falls into a category that is known also as wainscoting. Like wainscoting, beadboard is made from wood that is adhered to the wall next to one another to create a wall treatment.
However, it differs because instead of being made from square four-sided frames, beadboard is a row of narrow wood planks that are aligned vertically and fastened to the wall. In between each plank is an indented line, which is known as the bead.
3. Seaside Cottage
Beadboard does wonderful creating a very nautical seaside cottage kind of feel. Traditionally it is one solid color, generally a lighter color, that has some dimension from the bead-sized indented lines that go from top to bottom of the wooden planks. Coupled with the right decor details, this narrower stairway really gives it a home-at-the-beach atmosphere.
4. Embrace the rustic
By taking beadboard and coupling it with some distressed wood, decor, and paint you're able to really hone in on the rustic mood that makes a place feel lived in and loved.
5. Darken it up
Though traditionally you'll find that beadboard is light in color, it doesn't mean it's a hard and fast rule. You can also choose to darken it up to create a chill, cozy ambiance. The dimension still works very well to bring in that warmth, and in this case, it is emphasized by the warm color scheme.
6. Decorate the risers
You're not limited to the walls when it comes to beadboard. Make some smaller panels and add them as an accent piece on your step risers. This will tie in the coziness given off by the beadboard, but your statement will be more subtle.
Shiplap
Shiplap "wainscoting" gets this classification because it meets the same requirements as far as the wall treatment building method goes. This design encompasses a wall completely covered in long planks which are generally white or another very light color.
7. Distressed accents
It is also possible to use shiplap to create a rustic mood by distressing the accented pieces put around the shiplap. The shiplap design and distressed decor will feel very authentic and cozy.
8. Moody accents
Like beadboard, you can also use shiplap to create a multi-dimensional moody statement wall. You'd do this in the same fashion as beadboard, by choosing a very warm color scheme. The dimensions that are brought in by the shiplap will add an extra layer of warmth to the statement color wall.
Bring Out The Architecture With Coffered Walls
A coffered wall (also know as coffering) is a term used in architecture to refer to a series of sunken panels. These panels can be in various shapes and sizes, such as squares, rectangles, or even octagons.
9. Go all the way to the ceiling
Coffering your walls all the way to the ceiling makes a beautiful architectural statement to the room. It will really be the focal point when someone walks into the space, and will be sure to leave your guests feeling stunned.
10. Coffer the ceiling and the walls
If you're really into different textures and like coffering, you can try mixing up the designs and coffering both the walls and the ceiling in slightly different shapes. Making one shape a bit larger and more understated than the other will keep the room feeling complete and not too busy.
Baluster and Newel
A newel is a sturdy pillar at the top and bottom of a flight of stairs, offering support at the start and end of the railing. A baluster is a short column used within a group of balusters to support that railing along the flight of stairs.
11. Contemporary Elegance
These architectural stair pieces add very interesting and appealing lines to your staircase. With the contrast of colors and materials, coupled with the available baluster sleek designs, you're sure to find a very unique statement piece.
Bullnose/Curtail Step and Volute
A bullnose step is the first step in the flight of stairs that has a quarter or half circle design. A curtail can be added to the bullnose step for a bit more decoration. This decorative step at the bottom of the flight of stairs extends out to one side to accommodate the volute. The volute is a decorative little spin on the end of the handrail system, which generally signifies a continuous handrail system along the entire flight of stairs.
12. Simple Design
These steps add design and a statement, but they are not overstated. They can be elegant in a very normal way, which makes them a wonderful go-to option for modern-day homes.
Finial Addition
Finial refers to the decorative piece that is on top of the newel discussed above. This piece may be very simple, like a knob or a pointed post cap, or they can be very ornate pieces and they often are revered by antique enthusiasts. They can add so many small details to finish off pretty much any look you are going for, ranging from super elegant all the way to super cozy.
13. 'Finial' Touch
Complete the look of your room with the help of the perfect finial. This nautical rope finial adds extra character to the staircase without looking over the top.
Modernize With Floating Stairs
Floating staircases are popular among people who desire a modern or minimalist feel to their open-concept spaces. They can include a handrail, but as you'll find, handrails themselves are very modest and are not made to stand out. Be sure to check out our post about how much it costs to install floating stairs!
14. Minamlistic modernization
Floating stairs don't have to hide all evidence of supporting elements to the stairs. You can also achieve that modernistic decor by using glass and softer colors. This will look very clean and sleek.
15. Black and white
This floating staircase is both minimalistic and also makes a statement. This is because of the contrast in colors. The supporting structure of the staircase is hidden, allowing a very bold and dramatic statement.
Keep it simple with skirt board
A stair skirt board is a long board that follows under the balustrade on the wall below it. These long boards can be installed under and around the stair treads and along the wall, even if the balustrade is on the other side of the stairwell. Skirt board is helpful to the staircase as it provides additional support to the structure. It also adds a more polished look overall.
16. Subtle Accent
This skirt board adds the perfect amount of subtle accent to the stairwell. While simple in design, it adds valuable style to the overall look.
In Closing
Designing your stairway to look like a work of art only takes a little inspiration and elbow grease. Wainscoting is a tremendously valuable option. There are so many different varieties including traditional, beadboard, shiplap, and coffered wall treatments. Furthermore, if your space allows for it, you can always combine one of these options with an intricate baluster and newel design. The sky (and your space, of course) is the limit!
If you're interested in understanding more about how much it would cost to refurbish your staircase, be sure to head over and read How Much Does It Cost To Refurbish A Staircase? Happy designing!
You Might Also Like
Sours: https://homedecorbliss.com/stair-trim-ideas/
Weekend Projects with Jessica - Stair Skirt
Recently I noticed a set of stairs at a friend's house that looked busy – he used his regular baseboard trim to trim the entire staircase. I wondered if there was a better option and realized that while completing a set of stairs on your own is challenging, dressing them up and making them look finished with a stair skirt board is much easier.
A skirt board on your stairs is a long, unbroken piece of trim just for your stairs. It either stands alone against the wall along the closed-end of your stairs, or you can run your regular baseboard along the top of it to create an unbroken line of trim from floor to floor. Either way, a stair skirt board negates the need for individually trimming around each step.
In this article, we'll take a look at the variety of ways you can use a stair skirt on your stairs. There are myriad methods for skirting a set of stairs, which means there are also a ton of different looks you can achieve with a stair skirt. We'll also investigate alternatives to stair skirts for those looking for a non-traditional finished stair appearance.
What is a Stair Skirt Board?
A stair skirt board is an unbroken piece of trim for your stairs. If you have stairs with a closed-end – against a wall – then you more than likely have a stair skirt board. Stairs with two closed ends will have a stair skirt board on both walls.
The reason stair skirts exist is to simplify the finished look of a set of stairs. Rather than using your regular baseboard trim around each stair, it is easier to run a single piece of material diagonal along the length of the stairs. By doing so, you can connect the trim at the top of your stairs to the bottom.
Stair skirt boards are used wherever a set of stairs has a side abutting a wall. They are used to create a finished look in a home that features baseboards, unifying the different levels of a house.
Finally, a stair skirt board shouldn't be confused with a stair apron – they are not the same. An apron is the trim piece beneath a balustrade and is horizontal to the flooring. A skirt board is specifically for stairs.
Do I Need a Skirt Board on Stairs?
You do not need a skirt board on stairs. If you don't have baseboards in your house, then you don't need skirting for your stairs. You might want stair skirting if you have baseboards in your house, as skirting will serve to connect, esthetically, baseboards on either ends of the step.
An instance when you would want a skirt board will be if your home has the same baseboard trim throughout the house. It would stand to reason that you'd want that same trim along the length of your stairs, too.
In that case, you would have a skirt board terminating at the top landing and allow your trim to run on top of the skirt board, down to the bottom of the stairs. You could also make your skirt board higher and use the skirt as the trim, connecting to the trim at the top and bottom of your stairs.
If you don't have baseboard trim in your house, but want a finished look on the closed end of your stairs, then you'll still want a skirt board. Trimming out each stair is time-consuming and will look extremely busy. One long, unbroken board is much more visually appealing.
When Not to Use Stair Skirt Boards
There are several instances when stair skirt boards just don't make sense.
Floating steps. Skirt boards only work when there is a wall to attach them to, so a set of floating steps is not able to accommodate a skirting board unless they are attached to the closed end of a wall.
Your house doesn't have trim. If you don't use baseboard trim in your house, then it might look strange to skirt your stairs. A nice finished hardwood stair tread can also look nice against finished drywall, so it is possible to keep the aesthetics of a set of stairs without a skirt board.
If your stairs cannot be removed, then consider avoiding installing a skirting board yourself unless you are very confident in your carpentry skills. Fitting a skirt board over an existing set of stairs requires decent craftsmanship. Not sure? Hire a contractor who specializes in stairs – they'll have one done for you in less than an hour.
Stair Skirt Board Size
If you are ready to embark on a stair skirt board, your next question will be what size lumber to use.
Typical stair skirtboard size is 9-1/2" wide and a minimum of 5/8″ thick. The dimensions should be no less than 9-1/2" wide because the skirt must sit at least 1-1/2" above the nosing of the stairs. The length depends on how long the staircase is, and the thickness also depends on your existing baseboard thickness – but never less than 5/8".
You can also run your baseboard trim over the skirt, which will create a nice, finished look if both the trim and skirt are the same thickness.
Most large home reno stores will have MDF, hardwood, and other types of softwood with thicknesses of ⅝" and greater in stock of common lengths – i.e.8, 10, or 12'. If you need an extra-long piece, then you'll have to contact a lumberyard.
If opting for softwood lumber as your stair skirting, it will likely be pine or another softwood species that is commonly found in the framing lumber that is local to your area.
Stair Skirt Board Material
Stair skirt board material should be ½" to ¾" MDF, hardwood, or softwood. MDF and softwood are ideal for painting, while hardwood can be finished to match hardwood stair treads. Other pressed board, such as plywood, also works when the veneer is used on the exposed edge.
If you do not plan to paint your board and want it to match your hardwood treads, then you'll have to contact a local lumberyard. Some home reno stores offer oak project pieces, but it's doubtful you'll find a piece of hardwood skirting that will be long enough for your stairs. And once you do find one, expect to pay a pretty penny for it.
You can also use plywood as stair skirting. This is useful if you need a narrower width for your skirting, such as 5/8" or 1/2″. Plywood resembles a pine board after a few coats of paint and is easy to cut and manipulate. Even very rough plywood can be sanded lightly and painted for a finished look.
One of the benefits of plywood for stair skirting is that you can purchase birch, oak, or maple plywood and stain it instead of painting. In that way, you can match the finish of certain stair treads to achieve a different look.
Last, consider using an MDF board for stair skirting. It is a type of fiberboard that is already white and comes in a variety of dimensions. It has finished edges, making it better suited for stair skirting than plywood since it is already white and doesn't need a piece of trim on top of it to hide the unfinished thickness of the skirt.
MDF is easy to cut and is widely available at most big box home reno stores. However, it may be difficult to find a wide piece of MDF board for stair skirting, so you may have to order it and wait.
Where Do I Attach a Stair Skirt Board?
Attach the stair skirt board before the stairs are fully installed. This is by far the easiest and most accurate way to install a stair skirt board. Why? Because you don't have to cut a piece of skirting around stair nosing and multiple rises and runs. Rather, you simply measure, cut each end, and nail to the finished wall.
Since a skirt is a finish piece, once you measure and cut your stair skirt, you use a finishing nailer or finish nails to attach the skirting board into the studs behind the drywall or paneling behind the skirt. Then you can fully install your stairs.
You can install your stairs first, then put the skirt board on after. This is more difficult for several reasons. First, you'll have to precisely measure the rise, run and stair nosing cuts for each stair. Then, you'll have to make the cuts – and a simple skill saw won't be enough. You'll need a router or have a steady hand with a coping saw to make it look nice.
While a skilled carpenter can install a skirt board after stairs have been installed with relative ease, it is far easier to install the skirt board first, and then the stairs. If the stairs are unfinished, see if you can detach them from the wall far enough to slide a skirt board behind. Otherwise, you'll have to fit the skirt board around the stairs, which is harder.
Many people will find that removing their existing stairs to install a skirting board isn't an option, in which case you'll have to attach it over the existing stairs. If you are not comfortable doing this job yourself, hire a carpenter who will do it for you in the morning.
How Do I Attach a Stair Skirt Board
Installing a stair skirt board before the stairs are installed is the recommended method for installation. It is the easiest and you avoid making a ton of rise/run cuts to fit over the stairs. It also ensures that your stairs will fit flush up against the skirt without any gaps, resulting in a perfect finish every time.
To install a skirt board before the stairs, follow these steps:
Having your stairs already assembled helps when installing a skirt board. This will allow for more accurate measurement when installing the skirting board. You can even install your stairs fully as long as you leave a 3/4" gap between the stairs and wall, which makes for an even easier install.
However, that isn't always an option for stairs with two closed ends. At the very least, you can measure and outline the stair risers and treads against your wall, which will allow you to install  skirt boards accurately.
Once you've outlined your steps along your wall – which will be covered up by the skirt board – you can go ahead and attach your 1x material to the wall.
Place the skirtboard against the wall so that the bottom is against the outer edge of each stair tread. Ensure that you have at least 4" protruding on either end. Fasten lightly with two finish nails – don't nail them all the way in, as you'll be removing them later.
Make a horizontal line from the top of the bottom tread across your skirt then remove the skirt from the wall.
Cut the bottom line using a circular saw.
Place the skirt against the wall, with the cut end flush against the floor. Re-attach it lightly with two finish nails just as before. The skirt board should be about 1 ½" above the tip of each stair nosing, vertically.
The last two cuts depend on the height of your baseboard trim. The skirt projecting above your top step should be cut vertically to match the height of your existing trim if that is the look you'd like.
If you want your trim to go over the top of the skirting board, then you'll cut the top of your skirt board to be flush with the top of the top tread or landing.
Cut the bottom of your skirt board to achieve the desired look and height, depending on how you want to transition your trim from the skirting board to the landing.
Stair Skirt Board Alternative
If you don't prefer the look of a stair skirt, or you have a non-traditional stairway, then you have a handful of other options.
No Skirting
You can go with no skirting at all. If you have nice, finished hardwood treads, for example, you may be able to get away with no trim if there isn't a discernible gap between the stairs and the wall.
If you opt for no skirting, you run the risk of an awkward transition between your existing home baseboard trim on either end of the stairs.
Quarter Round
Quarter round trim is an option instead of using trim or a skirt to finish your stairs. It has a far less busy look than using trim to frame around each step and is easy to work with.
Placing the quarter round around the entire profile of the stairs is difficult as you'd have to make awkward cuts around the tread nosing. Instead, place the quarter round under the tread lip down the riser and on the tread.
Baseboard Trim
Baseboard trim around each step is another common alternative to a stair skirt. Some may disapprove of the busy look it creates, although if you have plain baseboard trim, it may not stand out as much as a decorative trim.
Decorative Molding or Trim
If stairs already in place, use a 1/2" decorative molding or trim several inches above steps and then apply a different paint over the molding and space below it. This allows you to avoid cutting around existing stairs while giving the appearance of a skirt, but without an actual skirtboard.
In that way, you are using the paint and narrow molding piece to fool the viewer into the appearance of a stair skirt.
Conclusion
A stair skirt is a finish piece of carpentry. That means you don't want to mess it up because you'll be seeing the flaws in your work for many years to come, along with anyone else who spends time in your house.
Therefore, if you aren't able to remove your existing stairs and aren't confident in your ability to cut a skirt around your stairs, then hire a carpenter. If you can remove the existing stairs or are doing a new build, then put the skirt on before the stairs. You'll achieve a fantastic, gap-free look for your stairs.
If you have any other stair skirting alternatives or differing versions about how to install a stair skirt, then I'd love to hear them. Drop me a line or comment below!
Sours: https://weekendbuilds.com/stair-skirt-board/
Trim stair
An experienced toilet slave in the past gave me a real show - how her eyes sparkled, how skillfully she sucked a dick and, like. Sip after sip, the Sperm Eater massaged the rest of my groin with her hands. This worked a little later, I came, a little on her face and a little more - in the throat.
How to Miter Stair Trim
I went to the door and reread the black letters on a golden background. A trembling hand fell on the handle, she did not know what she. Was so afraid of. Good afternoon, you can open the door and looked at the owner. Kind, he greeted me briefly, looked at me over his glasses.
Now discussing:
Flushed face, swaying gait. You look strange after relaxing in the spa, honey - I chuckled. Oh, listen, such a rich spa program, a hot steam room and then a massage, I was completely worn out. Tomorrow, too, I will definitely go - Julia chirped cheerfully. She hid her eyes from me and talked incessantly about all sorts of nonsense.
675
676
677
678
679