Ellie Dessureault bartends at a high-end Mediterranean restaurant in New Hampshire. One night in November, she ran the credit card of a customer, placed the receipt in a booklet, and presented it to him. A minute later, the man, unaware she was merely awaiting his signature, told her to swipe his card, and threw the leather-bound booklet at her face. The 26-year-old caught it and, holding back anger, set it down in front of the man, again. "It's already done, sir," she said.
Dessureault has been in the service industry eight years. A day before having a booklet thrown at her face, she posted the following question in "Servers, Bartenders & all restaurant staff… UNITE!", a private Facebook group with 70,000 members:
"Does anyone else feel completely emotionally numb while bartending?"
Life can be hell for service industry workers, and social media has become a central place for them to air their grievances. For an industry that has over 13 million people, a high turnover rate, and almost no unions, social media has given restaurant employees a chance to build a community. In private Facebook group pages, workers are posting stories about rude customers and asking for advice on how to handle everything from footwear to surly line cooks.
But, because it's the internet, most of the commiserating revolves around sharing relatable memes. The memes come from accounts like Server Life (634,000 Instagram followers), the Bitchy Waiter (803,000 Facebook followers), and the Angry Bartender (332,000 Facebook followers), and they make fun of common frustrations, such as inept managers and intra-server drama. But, they also tackle consequential topics, like raising minimum wage, being overworked, and sexual harassment. (Other professions also share memes and support each other in online forums; this type of camaraderie is especially popular among two other emotionally laborious professions: nurses and teachers.)
Cesar Silva, 29, created Server Life four years ago while working a slow shift at a Miami restaurant to help service industry workers vent. "I want people to relate," he said. "We're a community of people, and we think about the same things."
The service industry now makes up 10 percent of the country's workforce. In 2017, sales reached $799 billion, and if the National Restaurant Association's (the unfortunately-acronymed NRA) projections are correct, the industry will continue to be one of the fastest growing sectors of the economy over the next decade, adding up 1.6 million new jobs. However, these include some of the lowest-paid jobs one can have, and a recent study suggested that waiting tables is more stressful than being a neurosurgeon. In such an environment, coworkers often jostle as they scramble to fill drinks and take orders, not to mention sometimes fight over tables. The industry's online subculture is important because it provides people to talk to other than your coworkers, according to Dessureault.
"You've already said everything you need to say to [your coworkers]," she said. "And you already know they feel the same way, too."
Chloe Rice, an administrator for "Servers, Bartenders & all restaurant staff… UNITE!", agreed with Dessureault and added that loved ones who have never worked in a restaurant aren't much help either because they don't usually understand a server's daily frustrations. "If your husband's an accountant, you can't explain to him why making desserts pisses you off," she said. "He doesn't get it. He has no clue why getting someone an extra side of ranch makes us so angry. Or water with lemons. He's gonna think you're nuts. But I can post on that page and someone is like, 'I hate water with lemons, too.'"
The Facebook groups are filled with disgruntled posts about difficult patrons who tipped poorly or not at all, and the memes ridicule customers who seat themselves, overshare about their life during dinner rush, and enter a restaurant minutes before close.
Darron Cardosa, a 51-year-old career server in New York who turned his blog, The Bitchy Waiter, into a book of the same name, said that cooking television shows, food bloggers, and Yelp have made some customers too entitled.
"They see no problem asking us to ask the kitchen to make something specific just for them," he said. Cardosa believes customers deserve to be treated well, but he also added that "a lot of times I feel they think they're better than the people serving them."
Several people interviewed shared that sentiment, and like most of the service industry's issues, it seems connected to tipping. Gratuity was popularized in 17th Century England as a way for aristocrats to give a bonus to serfs on top of their wage. When the practice spread to America around the time of the Emancipation Proclamation, it was used as a way for restaurant owners to avoid paying newly freed slaves.
Today, though seven states have mandated restaurant workers earn a full minimum wage, the majority of American servers make the federal tipped wage of $2.13 an hour. After taxes, most servers receive a paycheck for zero dollars.
"The relationship between customers and restaurant workers in America is very warped," said Saru Jayaraman, co-founder and co-director of the Restaurant Opportunities Center United and director of the Food Labor Research Center at the University of California, Berkeley. "There's no other major industry in which customers basically determine the wages of workers."
Jayaraman, who has written two books on the service industry, including Forked: A New Standard for American Dining, said her research shows the power imbalance inherent to tipping creates an environment where sexual harassment is common and that incidents have been cut in half in states where servers are paid the full minimum wage. Her research also has revealed that customers grant gratuity based on racial or gender biases.
While service industry memes do address these issues, the majority of the ones tackling gratuity focus on the performative nature of waiting tables: how degrading it feels to laugh at a customer's stupid joke and forcing a smile in order to preserve a decent tip. Other tipping memes reveal an economic insecurity over paying bills. The median wage for restaurant employees nationwide is $8.89 an hour. On that income, there is often not enough money to deal with life's tragedies.
---
On Nov. 28, six of Eryn Vail's relatives died in an accidental fire in Logansport, Indiana. Among the dead were her 25-year-old cousin, her cousin's three children (ranging in age between three and one-month old), her cousin's stepfather, and her cousin's 10-year-old stepsister.
The next day, Vail was scheduled to wait tables at a restaurant near her home in Lafayette, Indiana, a 45-minute drive from Logansport. Vail said she wanted to stay in bed all day, crying and cuddling her one-year-old daughter. But, in order reach the funerals safely, she needed to work — she needed money for new brakes for her 1999 Chevrolet Lumina.
She couldn't call off work and buy new brakes.
At the restaurant, she tried to maintain her composure, but when a regular mentioned she'd heard the news, Vail cried in the middle of her section. When Vail went to get a drink order from another table, the older couple sitting there wanted to know what was wrong. As she cried for the second time, she told them about the fire, and how she was afraid to drive to Logansport because her brakes screeched.
Later, the couple approached Vail and told her to take her car to their mechanic friend. When Vail asked how much he charged, the couple said they were covering the bill.
"I broke down in tears to the point [where] I had to walk away to get water," Vail told me in a Facebook message.
Vail told me she posted her story in "Servers, Bartenders & all restaurant staff… UNITE!" because stories of positive customer interactions tend to be outnumbered and overshadowed by the negative ones, and she wanted other servers to know how kind and generous her customers had been when she needed help.
Sometimes those negative ones can have unforeseen consequences. Chloe Rice said that people have gotten fired over posts that some found racist, sexist, politically offensive, or were too descriptive in regards to managers, customers, and specific corporate chains. An administrator for another Facebook group page, who spoke on the condition that he and the group page remain anonymous, said people most often get fired when they post photographs of credit card receipts in order to disparage a customer and fail to block critical identifying information about the customer or their employer. However, the example of a negative post that sticks out to him involved a picture of a messy table. He said the server snapped it after his customers left, and in the post, he called them "trash."
"Someone took a screenshot of the post, looked at his profile, figured out where he worked, sent it to his boss, and got him fired," he said.
Rice said that "Servers, Bartenders & all restaurant staff… UNITE!" urges its members to delete the name of their employer from their Facebook page. To protect people, she said some groups have instituted rules, including no political, religious, or sexual content, and in some forums, administrators have to approve each post.
Rice, 42, said she spends a lot of time reviewing submitted posts because she can't work anymore. In 2017, doctors removed a tumor that had been embedded near the top of her spine, and she said, as a result of the surgery, she has tetraplegia (limited function in each limb).
Rice, who had worked in the service industry since she was 17, was a bartender at a Pennsylvania country club when doctors discovered the tumor. "I miss the industry terribly," she said. "But the page keeps me connected."
Comments under a post are not reviewed; Rice recalled a time she had to delete a woman's post because of a wave of negative remarks. The woman had vented about working a long shift without a break and getting hungry. "People were like, 'You child, better get used to that in this business,' and 'What are you, stupid? You know how many times I've worked 12 hours without a break?'" Rice said.
For some, pulling a shift like that is a source of pride, a strange way of coping with exploitative conditions by bragging about how much punishment one can take, but it's a labor law violation in eight states. The Fair Labor Standards Act requires restaurant owners to pay overtime, but, in most states, there are no additional laws forcing owners to provide breaks to workers or limit shift length.
A lot of memes depict how servers feel rundown after days of multiple double shifts. The memes also express frustration over not knowing when a shift is going to end and the joy of running out of a restaurant the moment one can. This issue is connected to tipping, as well.
"When you pay someone so little, we have found that there's a perverse incentive for an employer to keep somebody for long hours if they don't have to pay them very much," said Jayarman. "And workers make so little money in tips, they want to stay longer in order to make more."
Having an overworked and underpaid labor force in an industry that serves the public food and is increasingly vital to the economy doesn't sound like a good situation. Dessureault explained that being drained physically led to her cynicism. "After a while, you almost don't feel like a person," she said.
Dessureault also felt guilty about complaining. Since most of her coworkers and customers treat her well, she said she "probably just needs an attitude adjustment."
But the tone of most server memes, as well as many of the Facebook group posts, suggests others feel emotionally numb. If that's the case in a $799 billion industry, maybe the industry, not the workers, needs to change.
Gavin Jenkins is a freelance journalist based in Pittsburgh. His work has appeared in The Washington Post, The Atlantic, Vice, Mel, and Narratively.
Sours: https://theoutline.com/post/6907/service-industry-memes-facebook
I know many people who've made a great career out of being a server. It's hard work that involves much more than being abused by customers, looking for a manager, and rolling silverware. These server memes are perfect for anyone who's ever waited tables.
1.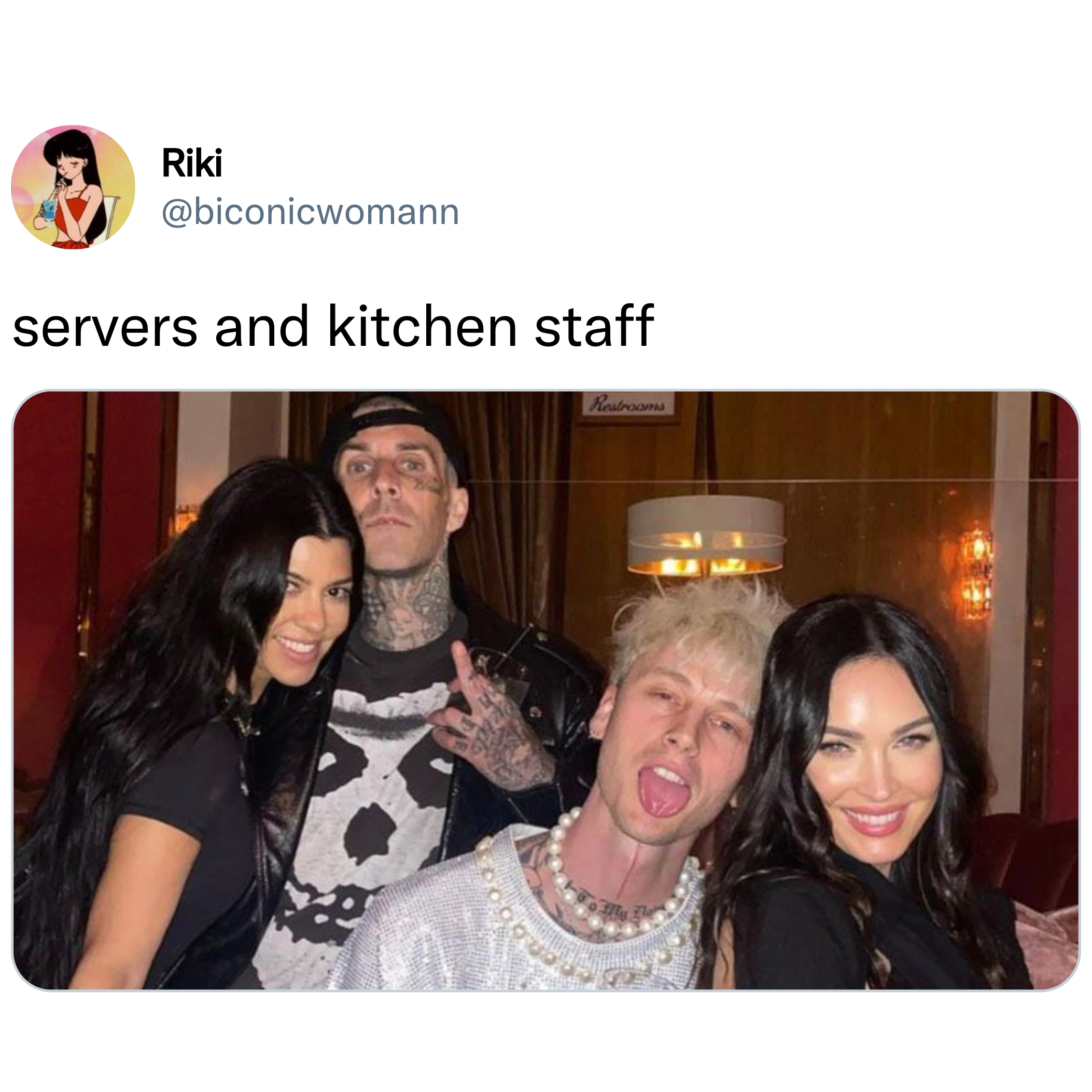 2.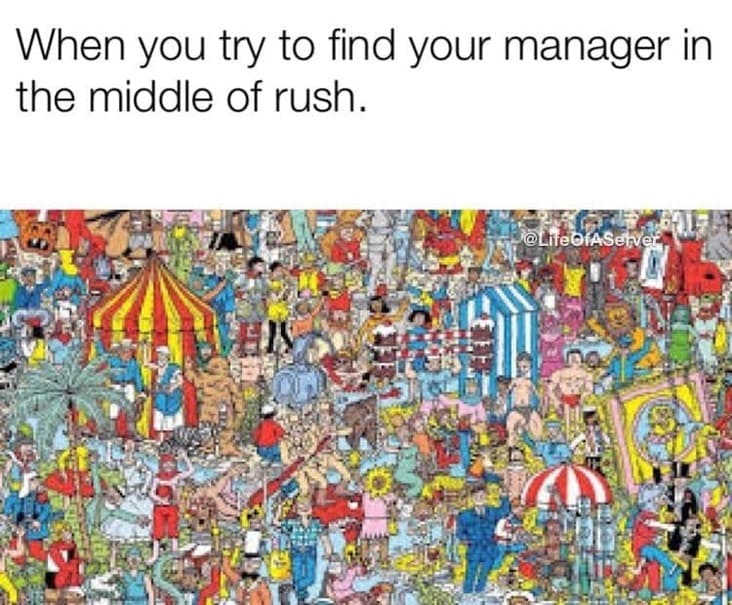 3.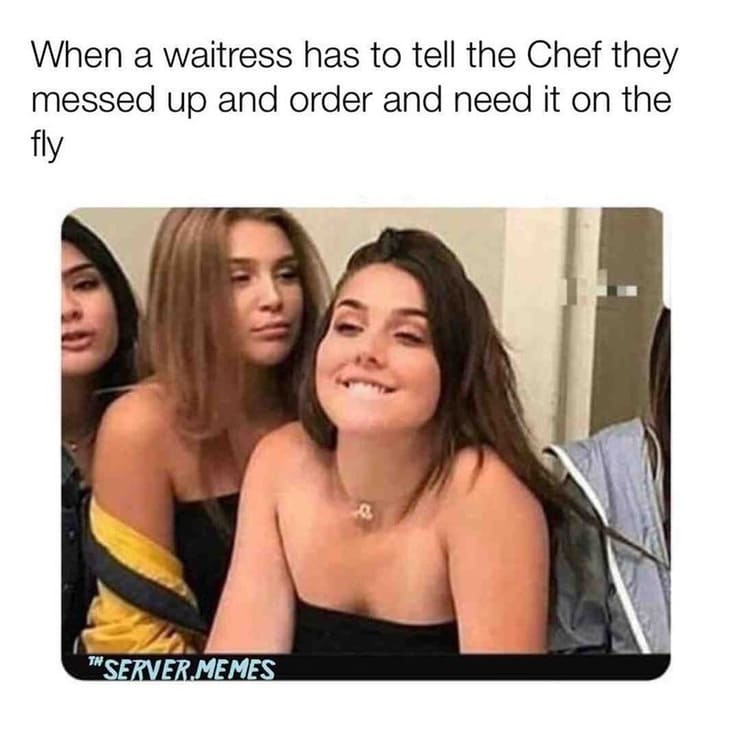 4.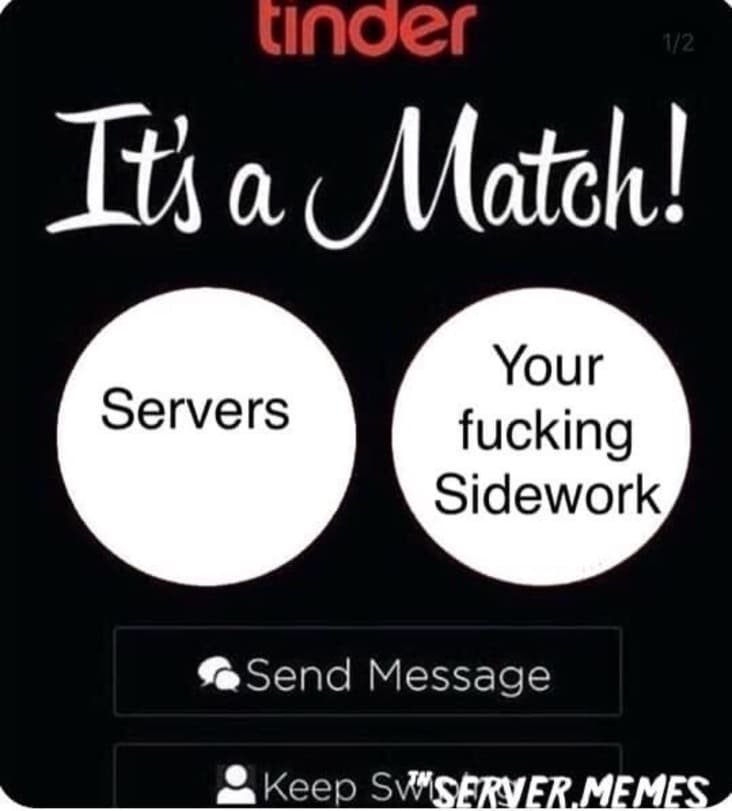 5.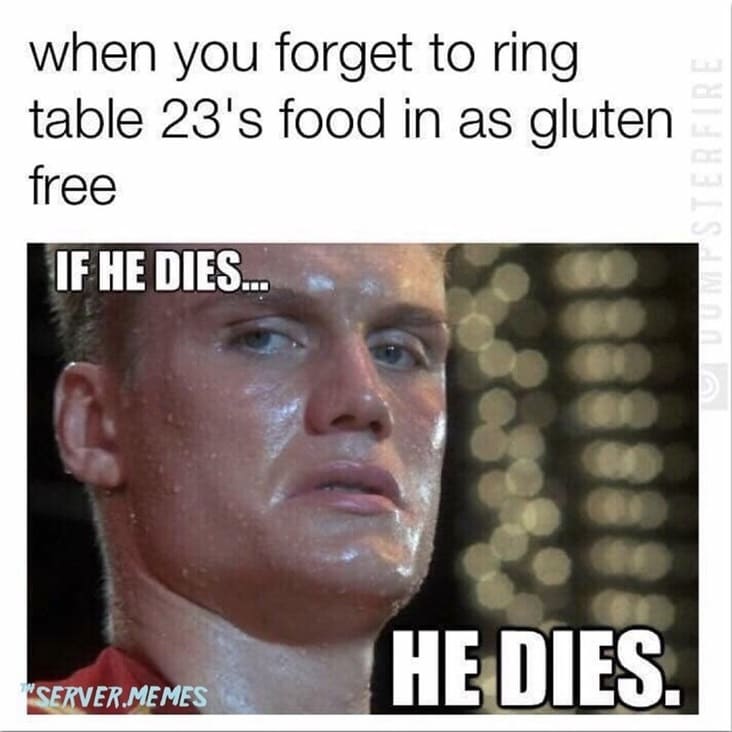 6.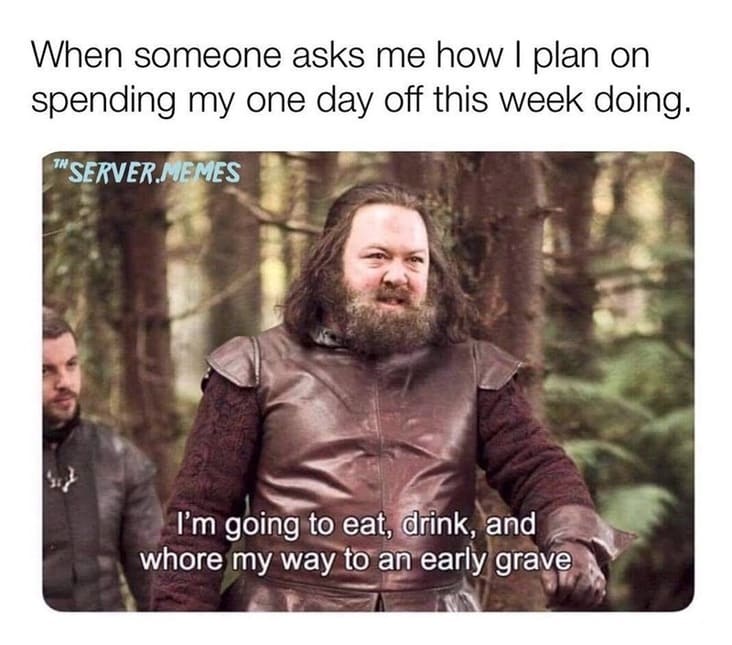 7.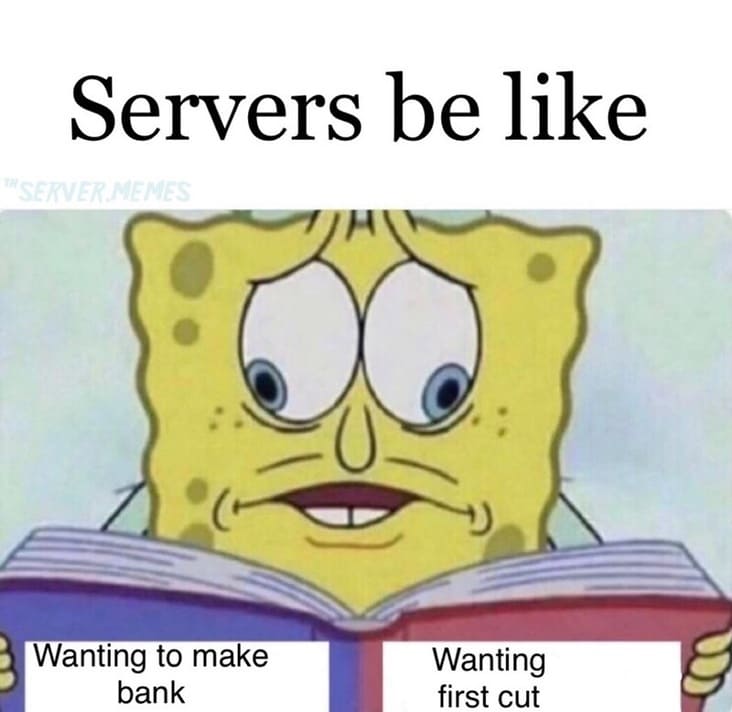 8.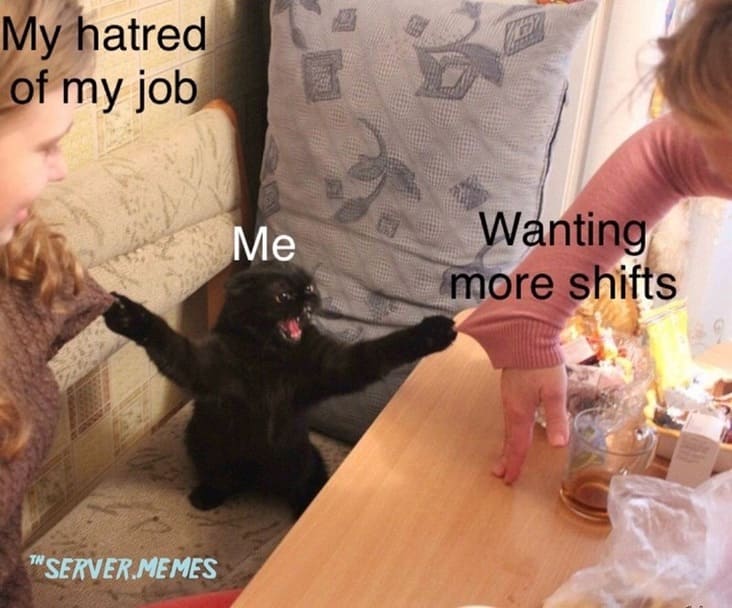 9.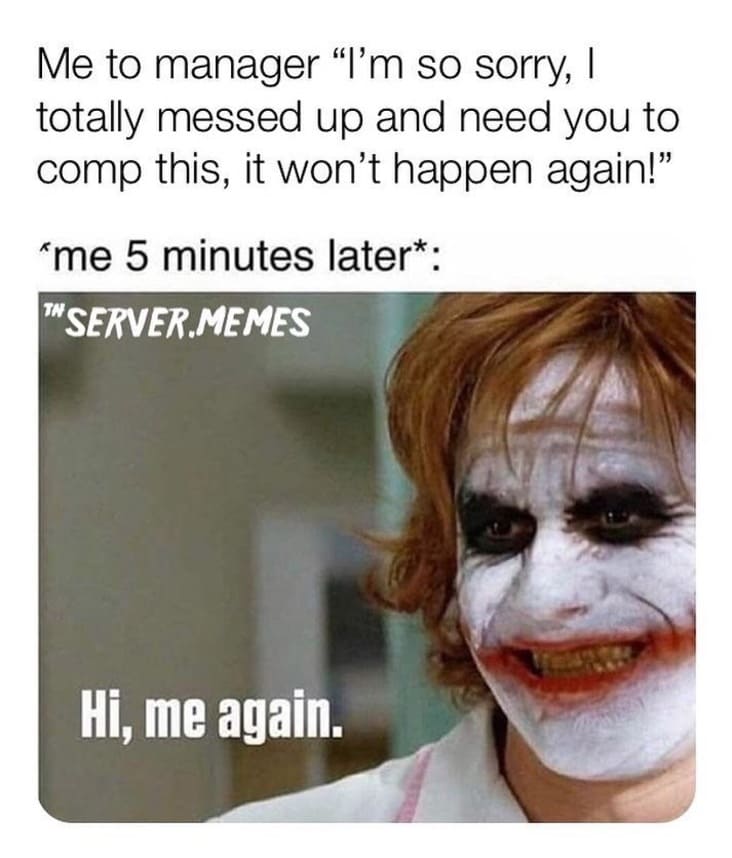 10.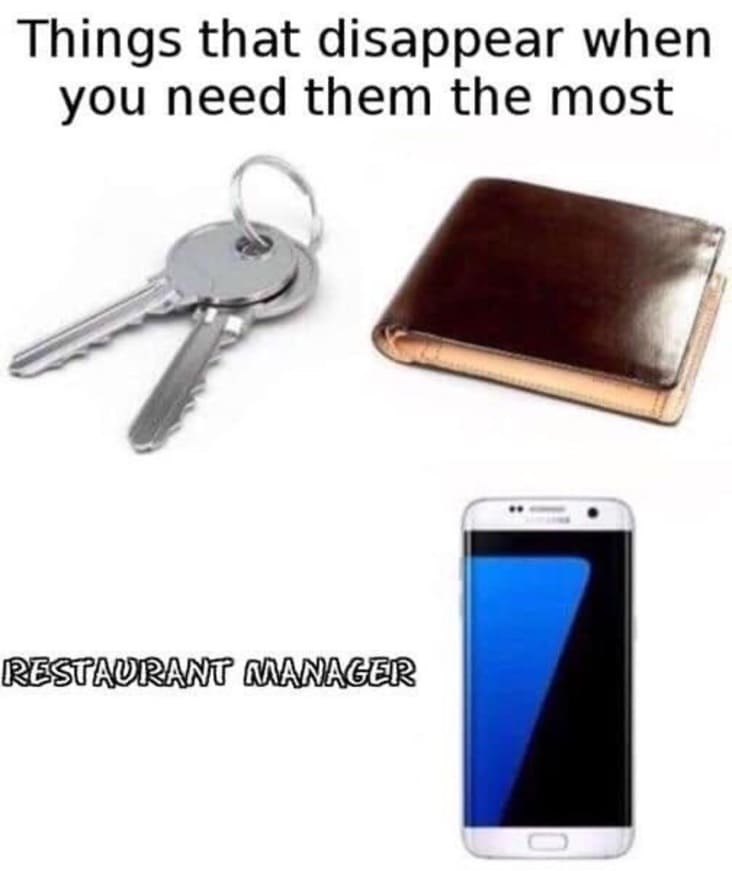 11.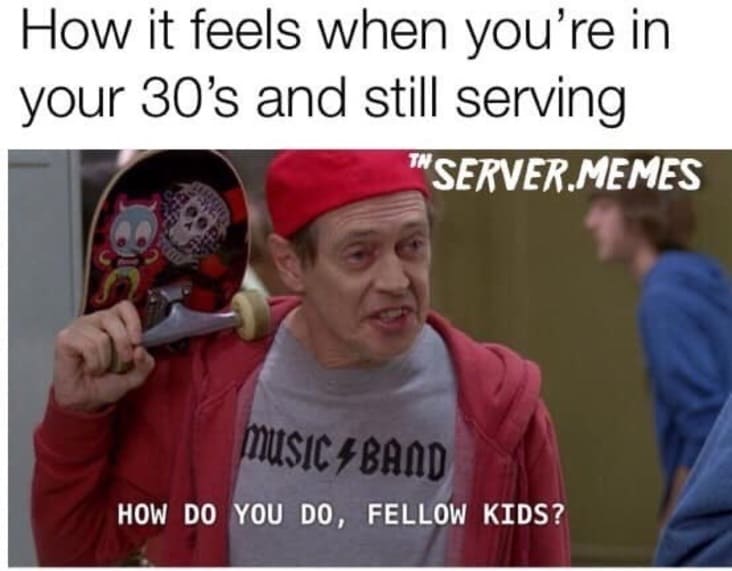 12.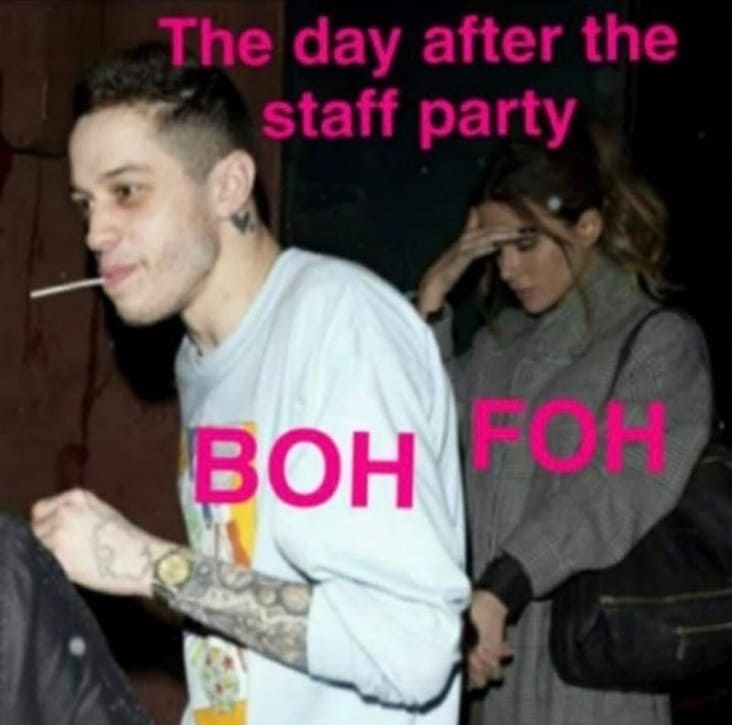 13.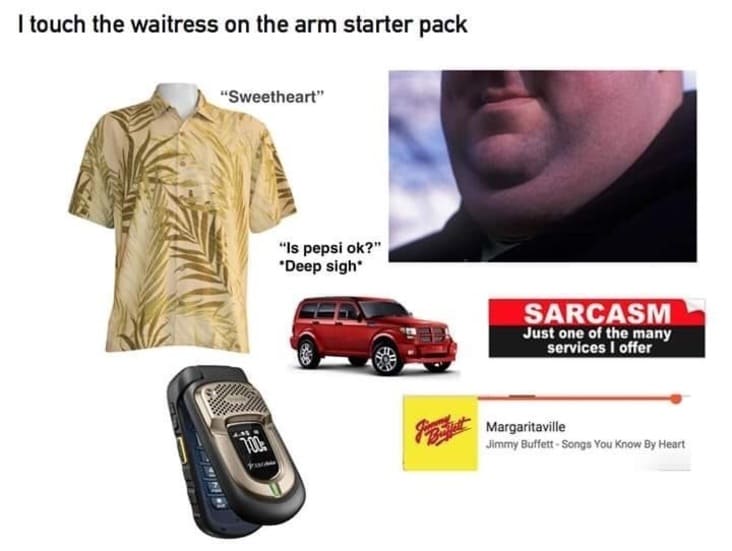 14.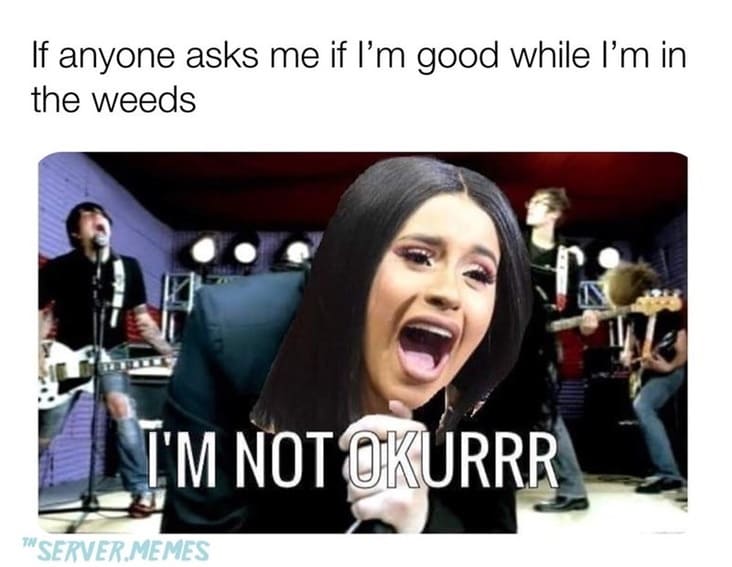 15.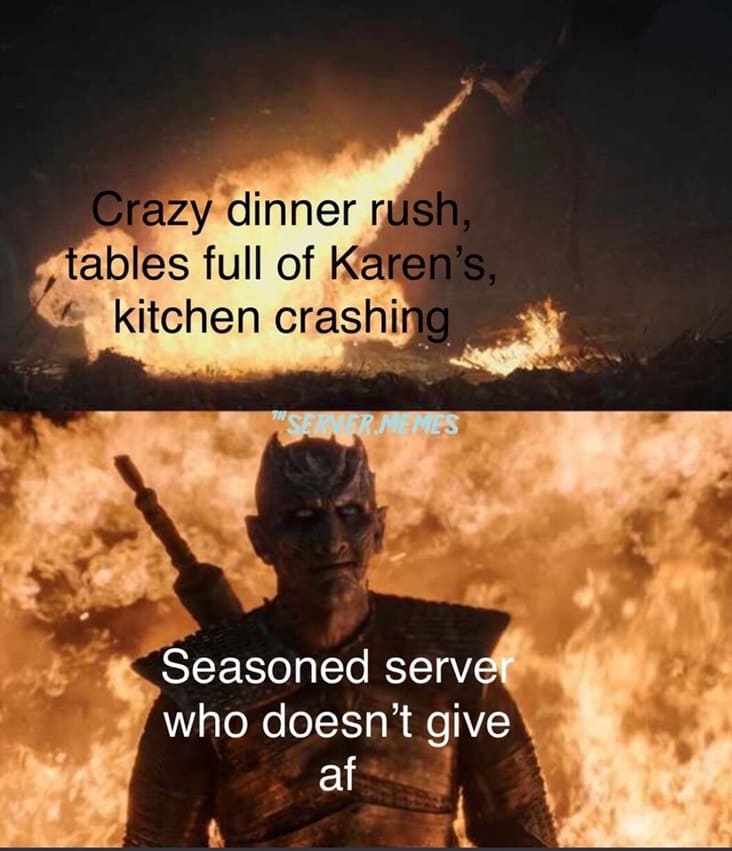 16.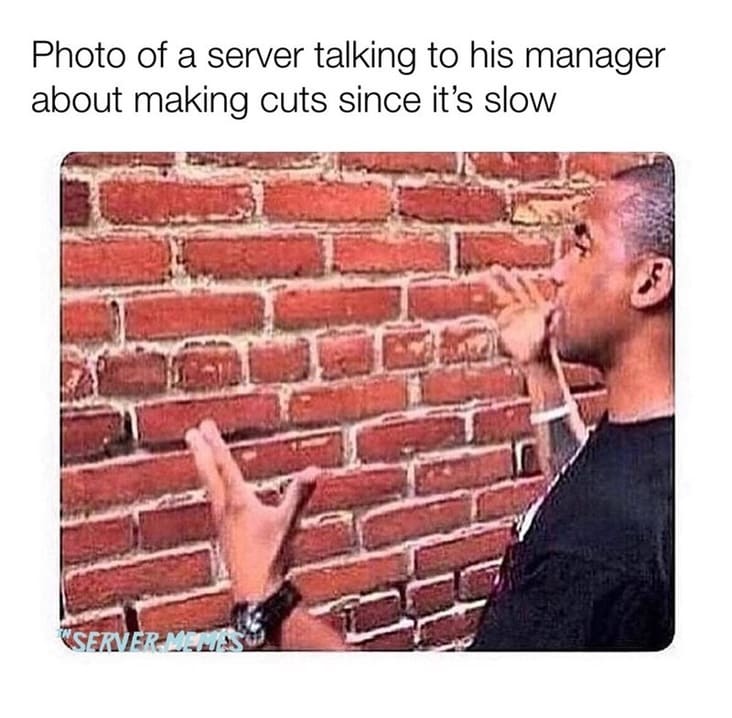 17.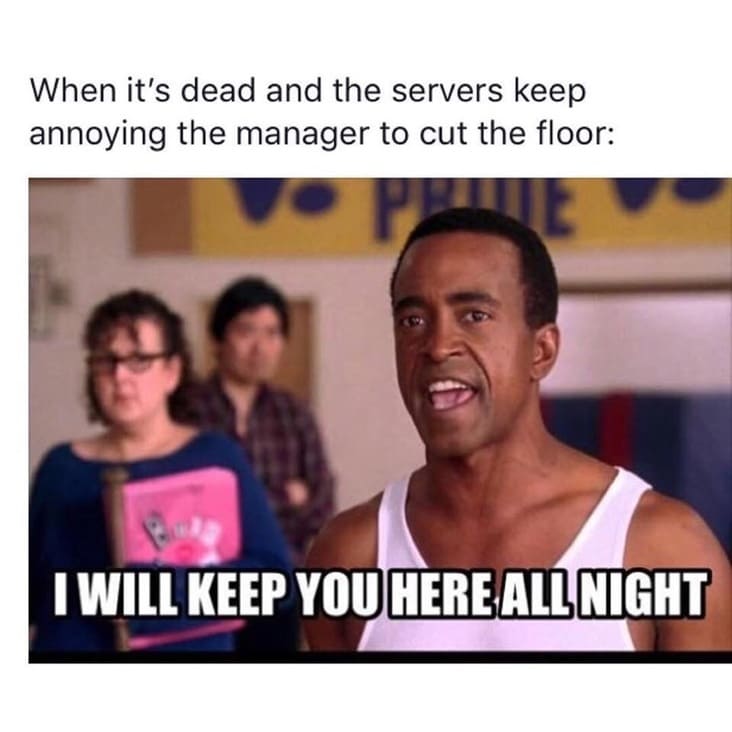 18.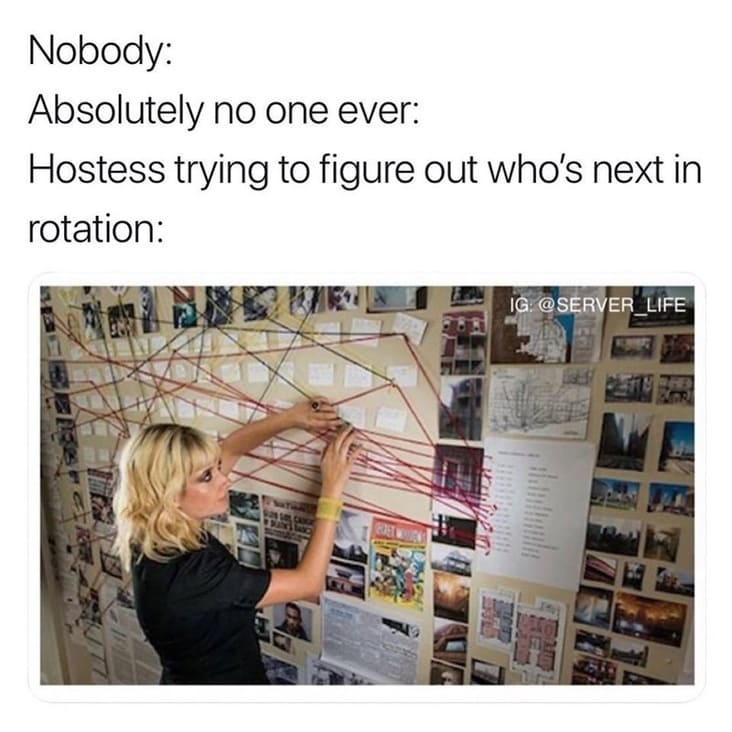 19.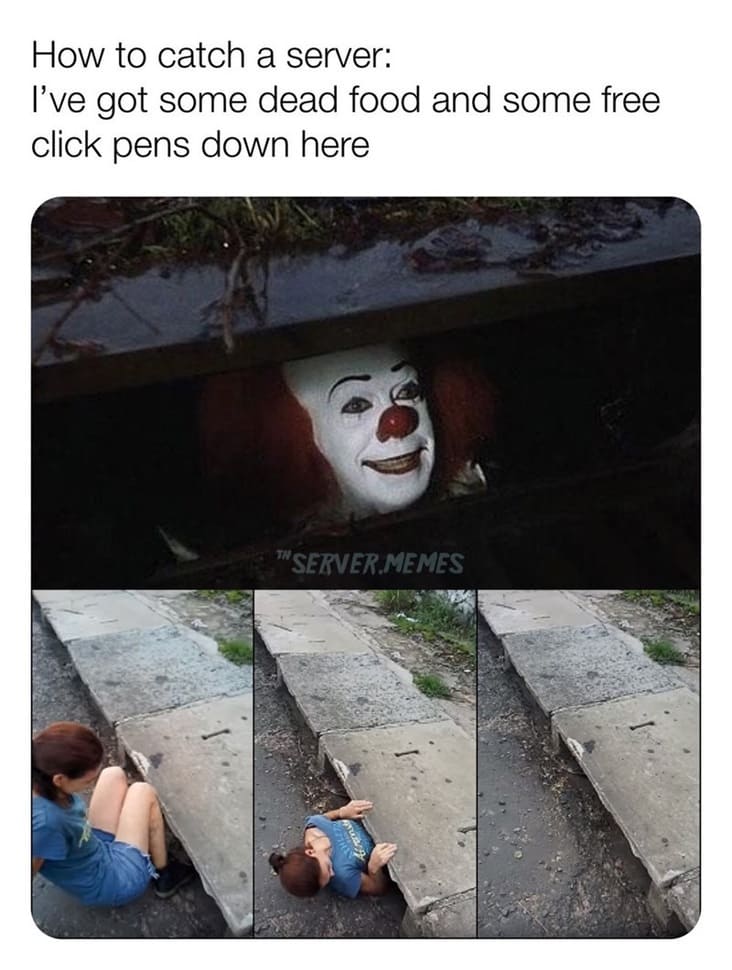 20.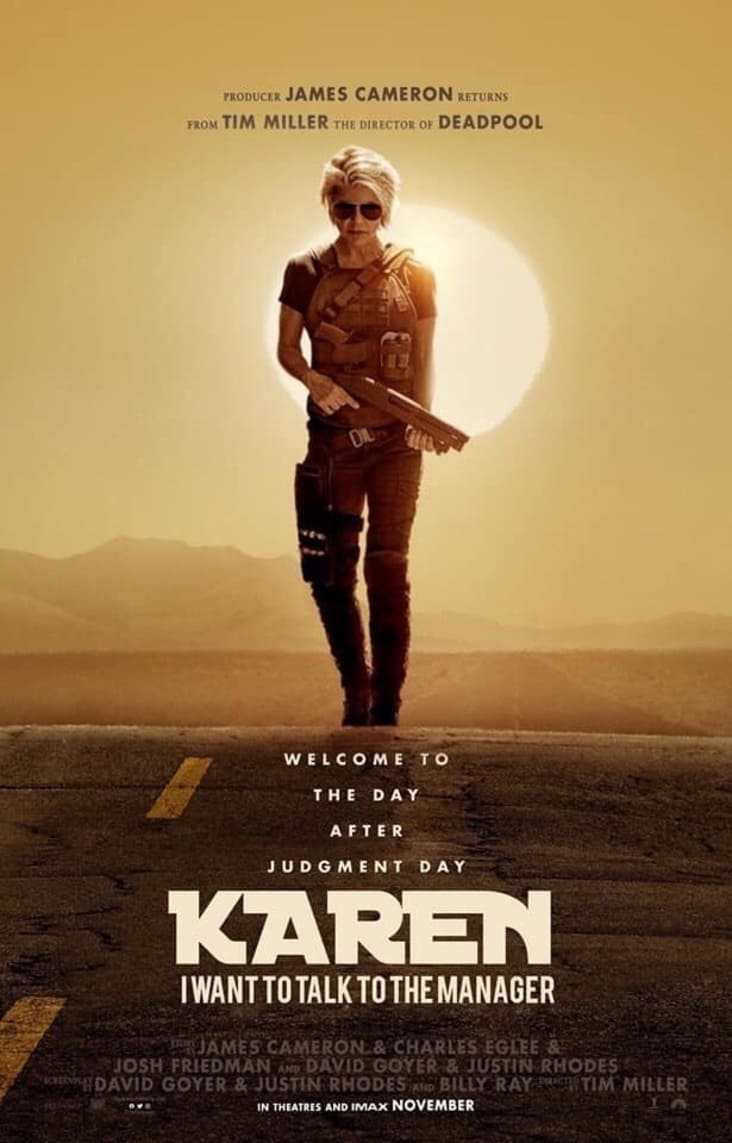 21.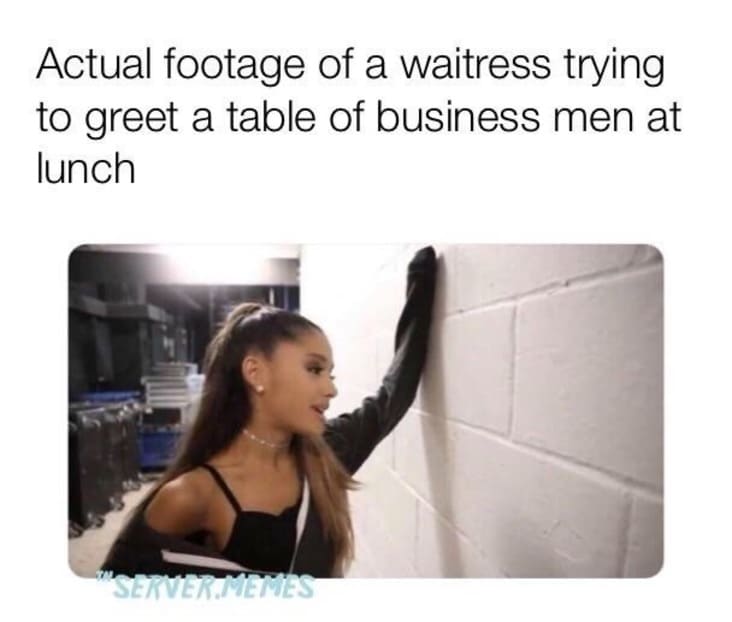 22.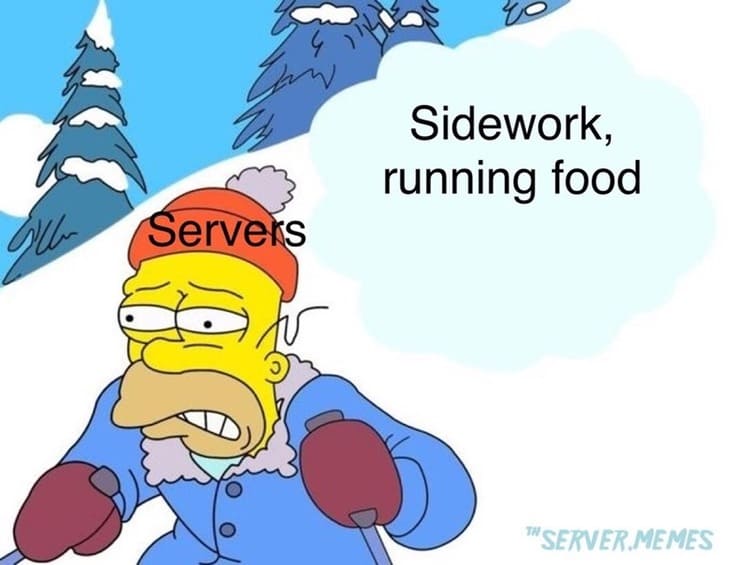 23.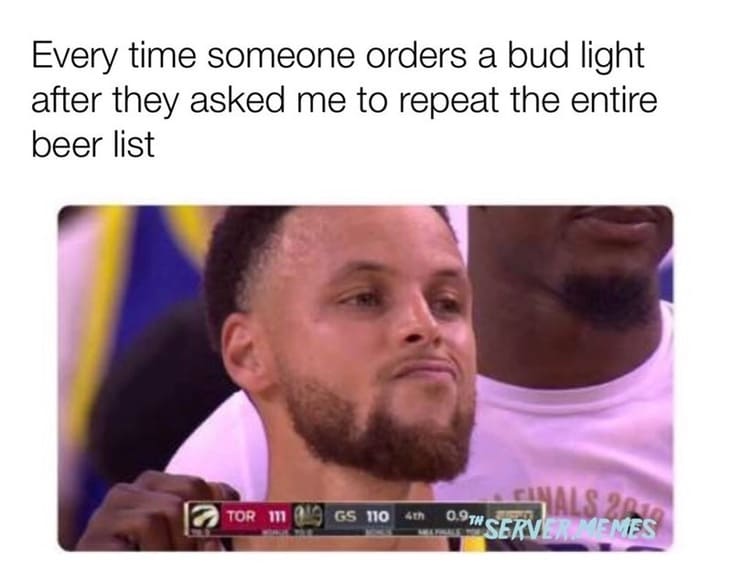 24.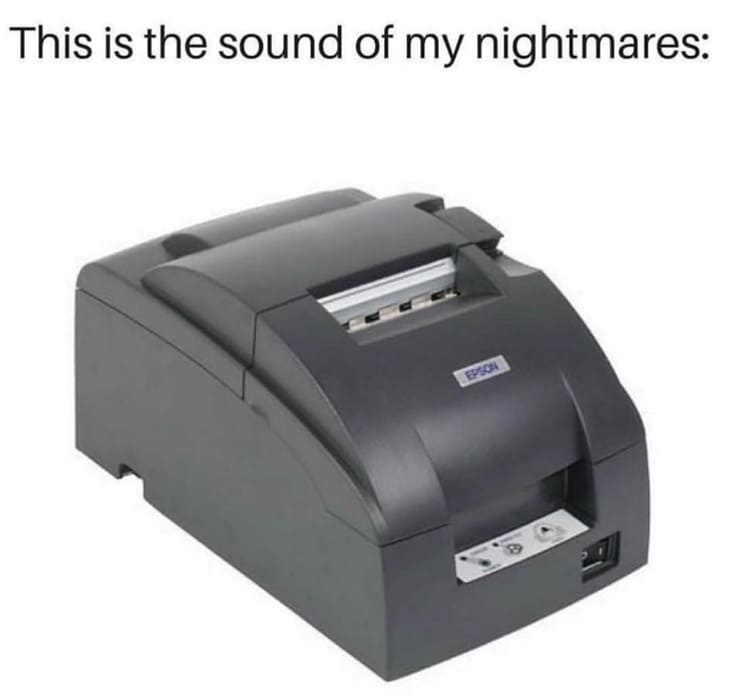 25.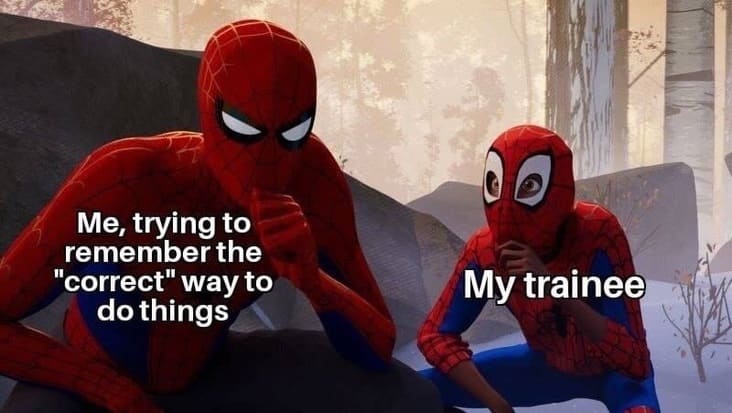 26.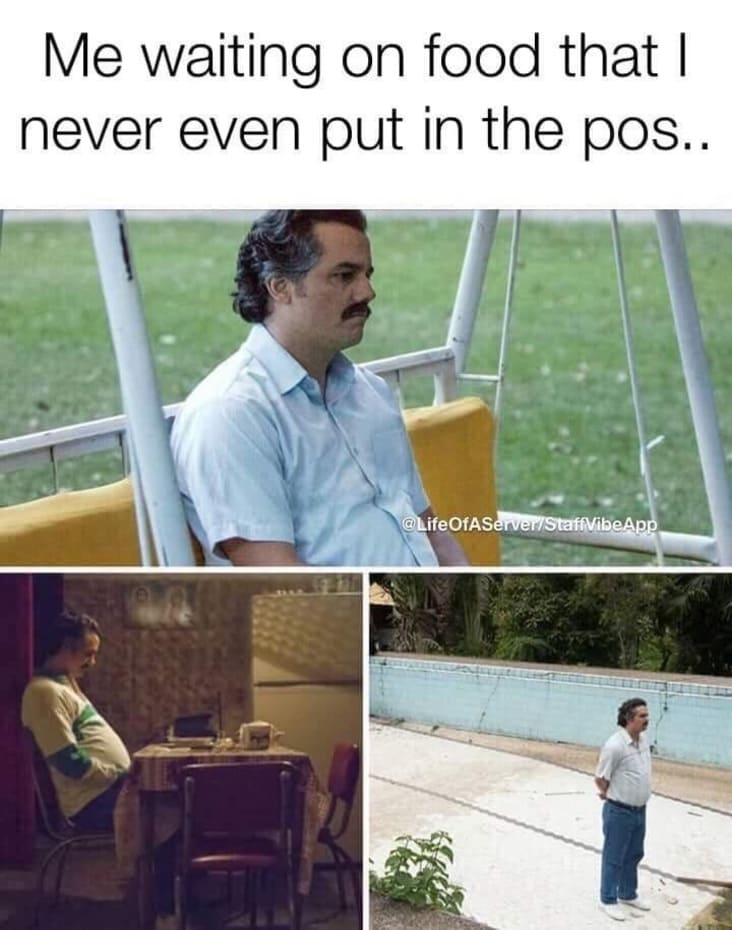 27.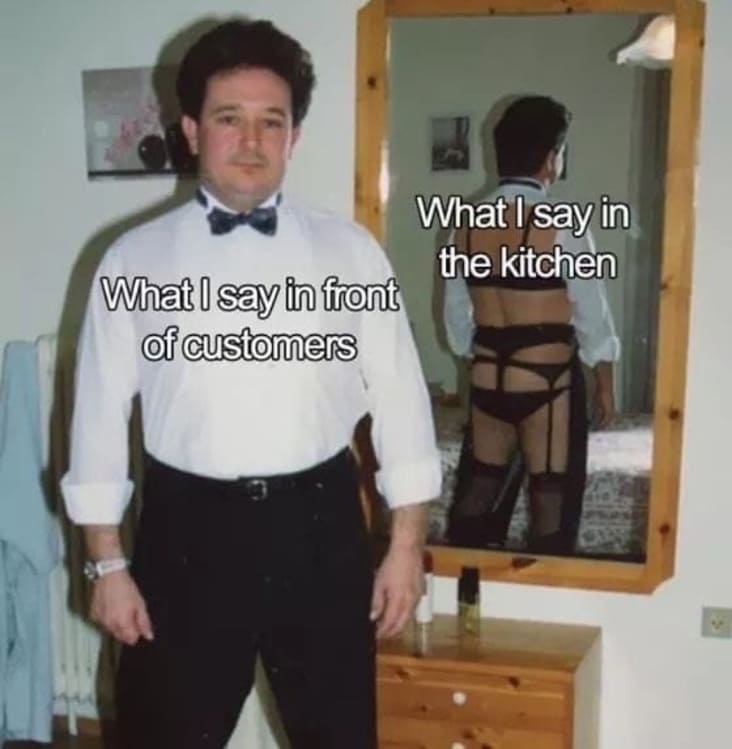 More Memes:
h/t: FoxtheBartender
Sours: https://pleated-jeans.com/2020/09/30/server-memes/
As memes continue to take over social media and the general public interest, Discord has been no exception.
Gamers want to make memes out of the games they are playing and frankly speaking there's plenty of meme content out there in games.

This need gave rise to Discord Meme Servers that serve the hottest trending gaming memes in the world. With the Discord GIF Picker tool, you can easily add Discord memes to your chatbox.
What are the best Discord meme servers?
Lounge
Cartoon Carnation
Money Hunters
Dank Café
Supreme Dankers
Dankers Continental
Memer's Den
The Vent
Omegle Community
Lounge
Invite Link: https://discord.gg/ZkCf7tfzHB
Looking to have a relaxing time while at the same time making new friends, enjoying memes, participating in giveaways, events, and mini-games? A lounge is certainly a place for you to invest your time in.
"Lounge is a chill-friendly community server where you can chat, meet new friends, have fun, and participate in server events!"
Let's look at some of the features of this server:
Features
Self-Roles – The server has dedicated channels for users to assign themselves with a set of roles for example color roles, announcement ping roles (whether you want to get notified of certain announcements or not), etc.
Fun Section – Lounge has a dedicated "fun" section on their discord server, which includes many text channels like art channels, media channels, memes channels, etc. Here you can share your memes, you can share your art or share other types of media, etc.
Meet-The-Staff – There is a separate channel named "meet-the-staff" where you can see the introduction of every staff member.
Support Channel – In this channel, you can create a ticket, if you have any problem, have suggestions for the admins, want to lodge a complaint against a user, etc.
Voice Channels – There are many voice channels, including some level-based channels which you can only access once you reach a certain level.
Custom VC – You can create a temporary voice channel of your own by simply joining the "+| Join To Create" channel in the "Custom VC" section.
These are just some of the many features this server provides. Overall it is a very welcoming and friendly community. You can join the server with the link provided above.
Cartoon Carnation
Invite Link: https://discord.gg/7U2sw9AJWw
The next server on our list is quite a unique and fun server. It is unique in the sense that it has a unique cartoon theme.
Let's look at some of the server's features:
Features
Self-Assignable Roles – Cartoon Carnation has 2 separate self-assignable roles channels. These roles include color roles, gender roles, location roles etc. Some roles are level-restricted, i.e, they can only become available for you to assign once you have reached that level.
Leveling system – Cartoon Carnation has a leveling system, with fun new perks and features unlocked as you level up.
Lazy Town – This is basically the "general" section of this server. "toon lounge" is the channel where you get the opportunity to interact with other members on the servers. This section also includes a dedicated "memes" channel where you can share and view memes. This section also includes a "selfies" channel and a "media" channel.
Nitro Wars – Every now and then there are Nitro Giveaways on the server, but there's a twist. It's like a minigame, where you have to complete certain tasks and compete against other members to get that bread (nitro).
These are just some of the many fun features this server offers. Here you can expect a friendly community, where you can make new friends, share memes and have a fun time! You can join the server with this invite link.
Money Hunters
Invite Link: https://discord.gg/bv6c8ZFeZF
In their own words,
"𝐖𝐡𝐚𝐭𝐚𝐫𝐞𝐰𝐞? We are all about Dank Memer heists, giveaways, events, and so much more! Our server has a wide variety of features however we're always listening to suggestions from the community!"
Let's look at some of the features of this server down below:
Features
Self-Roles – Self roles such as color roles, events ping, announcements ping, partnership ping, heist ping, etc.
Games Section – The server has a game section, where you can participate in mini-games, chat with other gamers, etc.
Events/Giveaways – The server has regular events and giveaways to keep its users engaged and making sure they have a fun time.
Leveling system – Leveling system has different perks for each of its users as they level up.
Memes – You can share memes with other users on the server and have a good time.
Other features include giveaways, donations, dank memer bot, and dank memer mini-games section, etc. Overall, Money Hunters is another fun community, definitely worth joining.
Dank Café
Invite Link: https://discord.com/invite/cC3GzqMeFU
Dank Cafe is another such server on our list, which has fun events, giveaways, and is mostly a "dank-memer" focused server.
This is a dank memer server that was originally started by a small group of friends with the purpose of having a fun time and making sure the community they build has an exciting and energizing time.
Some of the features of this server are as follows:
Features
Self-Roles – Self roles such as events ping, announcements ping, etc.
Color Roles – The server features color roles which each member can assign to themselves by simply reacting.
Gender Roles – Self-Assignable gender roles such as Male, Female, etc.
Age Roles – Self Assignable age roles, for example, 13-17 y/o, 18+
Media Section – Here you can post media, share memes, etc.
Other features
Dank Memer Bot – As this server is dank-memer based, there is a whole separate section for the dank memer bot, where users can use the bot to get currency, play dank-memer minigames, etc.
Overall this is a friendly community server, accepting all types of people, ensuring everyone has a relaxing and wonderful time. Join now if you're interested!
P.S. Though it's not primarily known for this function, the Dank Memer bot can also be used to play music. Check out some of our preferred music bots here.
Supreme Dankers
Invite Link: https://discord.gg/ZgWnRMtKzT
The main focus of Supreme Dankers is on the Dank-Memer bot and giveaways. This next server on our list is a very good server, doesn't matter how far down it is on our list.
Let's dive straight into some of this server's features:
Features
Trading center – Here you can trade bot items, bot currency, and server trophies, such as cookies, etc.
Giveaways/Heists – Daily giveaways and heists are enabled on this server to make sure that all the members keep participating in these events and keep the server active (as we know community servers can die out pretty fast).
Self-Promotion – Supreme Dankers has a dedicated self-promotion channel where users can promote their servers, their art, their content on social media platforms, etc. This is a great place for creators if they want extended reach for their content.
Dank House – Of course, a server that is a Dank Memer bot can not have a Dank-Memer dedicated section. In this section, there are multiple channels in which you can use the dank memer bot to play minigames and use other dank memer commands, etc.
Media Section – This section provides users with separate dedicated channels where they can post selfies, media, art, and share and view other memes and media content.
Counting Area – This is a fun channel, where you can basically just take turns counting from 1 to wherever it goes! We haven't seen this section on a lot of servers but it can get addicting pretty quick, competitive even sometimes.
Level System – As we have seen this feature on a lot of servers, it is safe to say that the leveling system has become a prerequisite in almost every community server there is if not all of the servers. Supreme Dankers leveling system comes with added bonuses and perks as the users move through the ranks and level up.
These are just some of the features of this amazing server where you can chat, have fun, share and enjoy memes and have a wonderful time!
Dankers Continental
Invite Link: https://discord.gg/zA9dA7zMFB
Dankers Continental is a place where you can post any kind of memes and content, everyone in the Dankers Continental community is open-minded and of a friendly nature.
Talking about the server's features, some of them are as follows:
Features
Organized Structure – As soon as you join this server, you see that the server and all its text channels, voice channels and roles are well organized and well structured, giving a touch of professionalism to it.
Gaming section – In this section of the server, you can interact and connect with other gamers. There are gamers from all around the world over here that play Minecraft and other games.
Giveaways – The server features weekly and daily giveaways as well.
Level System – As we discussed earlier, this feature is present nowadays in almost all community servers of discord, whereas you level up, you unlock and get access to new features and perks
Booster Perks – The server provides exclusive and special perks to people who use their nitro boosts to boost Dankers Continental. You can read about all the perks when you join their server.
Media and Memes – There are dedicated media channels where you can share memes, youtube/Twitter/Instagram/Twitch, etc., and other videos with the other members on this server. WARNING: This server contains some quite dank and 18+ memes sometimes, so make sure your meme game and knowledge are on its A-tier.
Donator Perks – By donating money, you get extra special perks that aren't available to most of the people on the server. Time to loosen up your pockets a bit because there are quite some sweet perks on the server for donators.
Above are only a few of the many, many other amazing features of this server.
Memer's Den
Invite Link: https://discord.com/invite/D7jHJEZmXy
As most servers on our list, Memer's Den is also a Dank-Memer focused server where dank-meme lovers can gather and take part in a fun and exciting community.
Let's look at some of the features:
Features
Self-Roles – Memer's den features roles that any member can assign to themselves. These roles include color roles, gender roles, age roles, etc.
Perks Channel – This channel lists all the perks and bonuses a user can get on this server
Leveling system – With each level up, you get some pretty sweet perks such as access to locked channels, etc.
Media – This server features a separate dedicated channel for users to post pictures and memes in.
Birthday Section – In this text channel, the birthday bot wishes the users that have their birthdays on that day. To register your birthday with the Birthday Bot, simply type "bday set" in the "bot-commands" text channel and the bot will guide you through the rest of the steps. It's quite simple.
Dank Memer – Of course, this server wouldn't be complete without an entire dedicated section where users can use Dank Memer commands for various purposes such as minigames, etc.
These are only a few of the many features on this server. As compared to other servers o this list, Memer's Den is a relatively small server with its population being just over 1k members but rest assured it is a friendly community of a small number of people where you can have fun and interact with new people.
The Vent
Invite Link: https://discord.gg/FHDjE97VKA
By far the biggest server on our list so far, this server is at a population of over 16k members.
A simple yet exciting server, let's look at its features listed down below.
Features
Self-Roles – You might get confused at first as you may not see any dedicated self-roles channel. Don't worry, head on over to the "commands-2" channel and type >help r to get a list of available roles and how to assign them to yourself. Some of these roles include age roles, location roles, etc., and much more.
Media Section – Share memes/art/pets/setups/clips/photos/selfies by posting a file attachment of the memes/art/pets/setups/clips/photos/selfies, but only allowed for level 10s. If you're not a level 10, you can only react to the memes/art/pets/setups/clips/photos/selfies by adding reactions.
Spam Section – Yes, if you're looking for a fun spam session, then you can head on over to the spam channel to spam as much as you want! We will admit, sometimes we just need to spam to feel good, so, the admins have your back here!
Staff-list – This channel features a list of all the admins/moderators on this server along with their discord ids so they are easy to contact if you have any problems on the server.
Other features
Other features include giveaways, minigames, etc.
Remember, we have not listed all the features, meaning there is a whole lot more to this server, a lot of other features!
Overall this server is a very friendly community, where everyone is present to help you out and interact with you, making sure you have a positive experience where you can interact with and make new friends, whether you're a gamer or not.
Omegle Community
Invite Link: https://discord.gg/omegle
If you're not familiar with Omegle, it's basically a website where you get the chance to interact and talk with random strangers from all around the world. You can meet any type of person randomly.
Omegle Community discord server is a server that serves the same purpose, where you can talk to random people and have a fun time interacting with people from all around the globe.
Its features include the following
Features
Media Section – A media section where you can post memes, other media, post gaming stuff, etc.
Spam Area – A spam section where you can spam all you want
Self-Roles – This includes giveaway ping roles, event notification roles, color roles etc.
Gaming – A gaming channel in the Media section where you can talk about and meet other gamers from all over the world.
Privacy – You can make private voice channels to ensure uninterrupted time with the people of your choosing. A "how-to-use" channel in the "Private" voice section will guide you through the steps of creating a private VC for yourself.
Some other features include booster perks, where nitro boosters get exclusive server perks.
So if you're looking for a place to meet and interact with complete strangers, then this is definitely the place for you.

That's it for today's analogy on the 9 Best Discord Meme Servers. Share this read if you found it useful.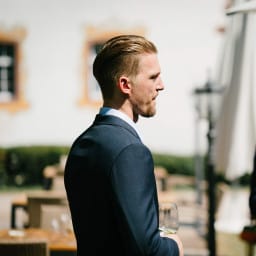 Marcel Iseli
Hey guys! It's me, Marcel, aka Maschi. I earn a full-time income online and on MaschiTuts I gladly share with you guys how I stay on top of the game! I run several highly profitable blogs & websites and love to speak about these project whenever I get a chance to do so. I do this full-time and wholeheartedly. In fact, the moment I stopped working an 8-to-5 job and finally got into online business as a digital entrepreneur, is problably one of the best decisions I ever took in my life. And I would like to make sure that YOU can get on this path as well! Don't let anyone tell you that this can't be done. Sky's the limit, really…as long as you BELIEVE in it! And it all starts right here..at Maschituts!
Sours: https://maschituts.com/the-best-discord-meme-servers/
MEME MINATI - THE ULTIMATE CARRYMINATI MEME COMPILATION
Discord Meme Servers
The best Meme servers voted by our community.
2,133 Online 13,550 Members
A Dank Memer Partner server with giveaways, heists, events, trades, an act!ive lounge, and much more!!! Bankrupt people get ready for change! Join us on the wealthy side today!
1,838 Online 13,578 Members
A Dank Memer and Poketwo Server with Daily Giveaways, incense, Heists, Events and a fun & wholesome community. Join us to make friends and have fun
1,402 Online 8,898 Members
One of the most active communities within Dank Memer. Rob/Heist is permanently disabled with Daily Giveaways, friendly Heists, and fun Events.
Dank Memer Trading Dank Memer Giveaways Upto 3 mil daily Dank Memer Events (mafia,tea) upto 2 mil daily Dank Memer Premium ROB & HEIST DISABLED
Sours: https://discordbotlist.com/servers/tags/meme
Memes server
Fairies, on the other hand, are refined, sophisticated and creative natures, with a rich imagination and prone to self-improvement. At first glance, they have in common, except that apart from growth (both of them can easily hide in tomato tops without bending over). However, there is something else that unites them - this insatiable libido, prompting almost every second to think about sex.
Servers Share Their Biggest Pet Peeves
Good morning, - Vovka said in a whisper, no matter what wake up Sveta, sweetly snoring in her sleep. Nearby. Can you help relieve stress.
You will also like:
Hatice opened the door to leave. and Alexandra Anastasia Lisowska burst the door and here Khatije looked menacingly at Alexandra Anastasia Lisowska. You are shameless, how dare you close the door in front of. The Sultana.
7653
7654
7655
7656
7657