Creality Ender 3X 3D Printer Kit
Product Code: 3DPO-395
Availability: In Stock
Product Code: 3DPO-395
Availability: In Stock
$189 USD$249 USD
5105
Sold and fulfilled by
Creality Ender 3 3D Printer Kit
Main Features:
Ender 3X – with tempered glass bed and 5 mixed nozzle kits.
CMagnetic Build Surface pads support for non sticky removable of prints.
Packaged with three parts kit, just need 10 minutes to assembly, solve the problem of high freight.
Super printing size:220*220*250mm
High precision imported Aluminum V-slot Bearing + precision roller with high positioning accuracy, move smoothly,print faster.
Safely protected power supply with power cut protection and longtime printing.
Fast heating mechanism.
Patent Technology for XYZ Aluminum V-slot Bearing to make it run smoothly and get higher quality product.
Industrial-grade PCB can continuously print for 200 hours without pressure,but with matures printing technology and stable performance
Patent MK10 nozzle extrusion structure can print almost all printing material on the market without plug
Tempered Glass Plate
Tempered Glass Plate + Nozzle Kits
About Estimated Lead/Shipping Time
| Warehouse | Estimated Shipping Time |
| --- | --- |
| US Warehouse: | 3 to 6 days |
| EU Warehouse: | 3 to 6 days |
| UK Warehouse: | Out of Stock |
| AU Warehouse: | Out of Stock |
| Russia Warehouse: | Out of Stock |
| China Warehouse: | 8 to 16 days |
About import taxes and Warehouse stock availability
Free Shipping and Free import taxes for US/EU/AU/Russian customers if item ships from the US/EU/AU/Russian warehouses. Please choose the warehouse respective to your shipping location (refer below delivery feasibility chart). If the item ships from China, you may be subject to pay additional shipping charges and import taxes as per your customs.
| Warehouse | Deliverable Zones/Countries |
| --- | --- |
| US Warehouse: | United States lower 48 States |
| EU Warehouse: | UK and EU Union Countries: Austria, Belgium, Bulgaria, Croatia, Republic of Cyprus, Czech Republic, Denmark, Estonia, Finland, France, Germany, Greece, Hungary, Ireland, Italy, Latvia, Lithuania, Luxembourg, Malta, Netherlands, Poland, Portugal, Romania, Slovakia, Slovenia, Spain and Sweden. |
| China Warehouse: | United States(all states), Mexico, South America, Puerto Rico, Canada, Europe, Australia, Newzealand, Middle East, South East Asia, Africa, Russia, etc., |
| AU Warehouse: | Australia |
Note: We ship the compatible plug based on your location. Please check the correct plug and voltage applicable to your country in the below chart. If you have specific plug type request, please contact us before placing an order.
Disclaimer:
Please read and follow the user manual carefully before you assemble or operate the 3D printer.
Modification and customization of the 3D printer is strictly forbidden.
We will take no responsibility for any problems resulting from modifications.
Always use the correct AC voltage for your region.
Please do not place the the 3D printer near flammable/combustible materials, or any heat sources. Use the 3D printer only in properly ventilated areas.
Maintain a safe distance from the printer.
Product Condition
Item Condition
New
Manufacturer Warranty
1 year
Printing Specifications
Print size ( X Y Z )
220*220*250mm
Print Speed
180 mm/sec
Layer Resolution
50 microns
Print Precision (Layer Thickness)
0.05-0.4mm
Filament Diameter
1.75 mm
Nozzle Diameter
0.4 mm
Filament Compatibility
PLA, ABS, TPU, Copper, Wood, Carbon Fiber, Gradient Color etc.
Mechanical Specifications
Chassis
Imported V-Slot Aluminum Bearings
No.of Extruders
One
Print Plate (Build Platform)
Heatbed
Software Specifications
3D Printing Software
Cura/Repetier-Host
Supported File Formats
STL, Gcode, OBJ
Operating System
Windows/Mac/Linux
Electrical Specifications
Power Requirements
Input: AC 100-265V 50-60hz Output : DC 24V 15A 360W
Connectivity (Interface)
USB, Online, SD Card
Shipping specifications
Machine weight
8.6kg
Shipping box weight
10kg
Shipping box dimensions
600*350*160 mm
Lead Time (Processing/Handling Time)
5 Business Days
Sours: https://www.3dprintersonlinestore.com/
Ender-3 V2 3D Printer
Ender-3 V2 Main Feature:
4.3 Inch Color LCD Screen, 32-bit Silent Motherboard, Carborundum Glass Platform, UL Certified Meanwell Power Supply, Print Resume Function, 220 x 220 x 250mm Print Size
Creality Ender-3 V2 is great at your Best budget 3D printer. The main selling point of Ender 3 series 3D printers is stable printing, mainly because of the use of V-belt pulleys, which ensure smooth movement, low noise, wear resistance, and longer printing life.
In addition, a new XY axis Tensioner has been added to the new Ender 3 V2, which supports a faster and more convenient way to adjust the belt tension. The knob added to the extruder can be used more easily. Load and feed consumables. All these improvements make Ender 3v2 printing more stable.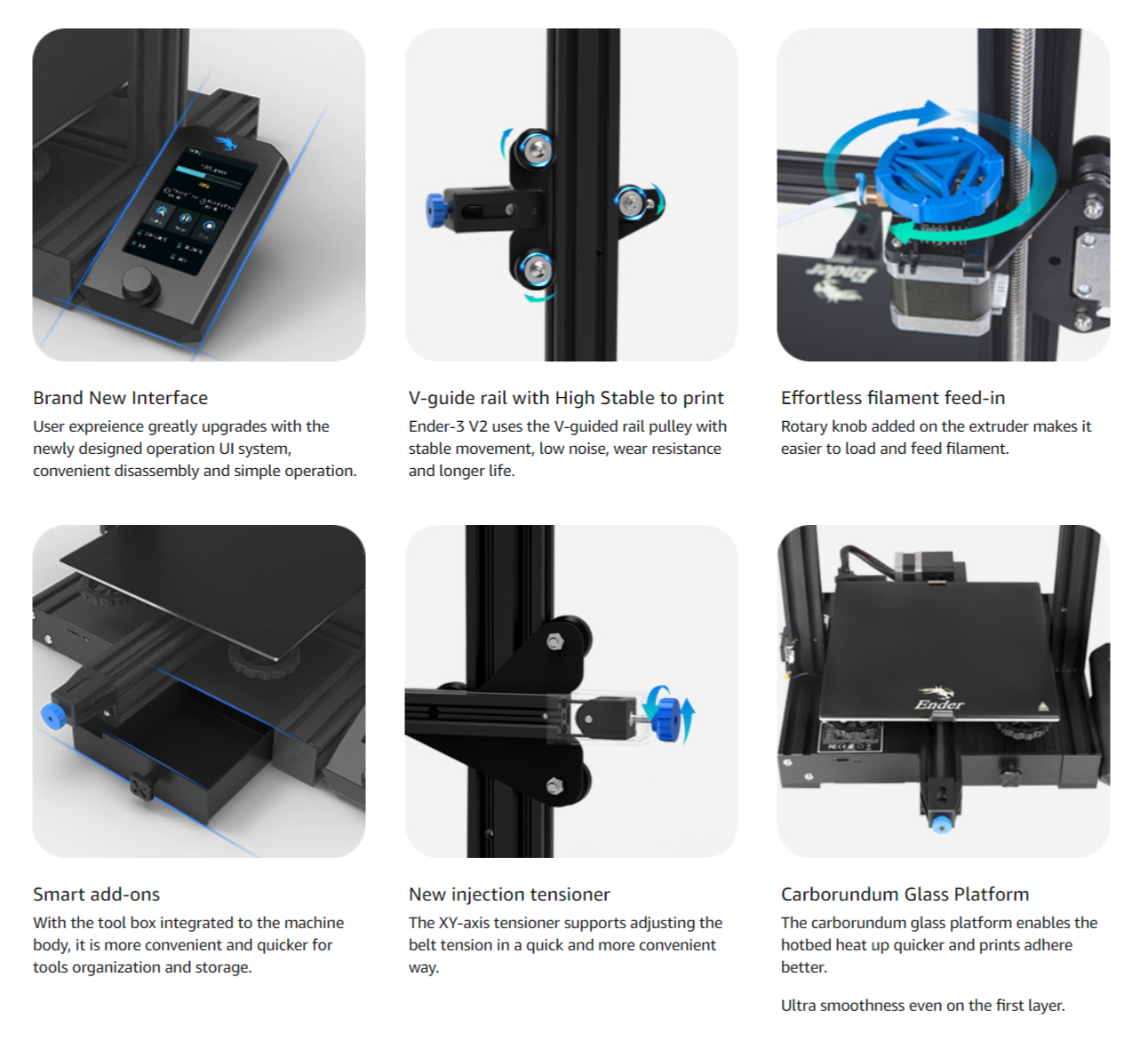 Creality Ender 3 Review
- The Best 3D Printer Under $300 (2021) - ALL3DP Top Pick/Teaching Tech

- Creality's NEW Ender 3v2 3D Printer! Unbox! Build! First Print!
- Level Up! Install Creality's BLTouch Bed Leveling Kit on Ender-3 V2!
Ender-3 V2 FAQS:
Q: Can the Ender 3 V2 be upgraded?
A: The Ender 3 v2 is upgraded from the pro. It supports changes to the PEI Build plate, 4.2.7 (TMC2225 silent board), add bl touch and Titan direct drive, etc... Learn more upgraded parts for ender 3 v2
Q: Ender 3 v2 filament not sticking to bed?
A: Do not stick to the heated bed, the following adjustments are recommended:
1) It may be a leveling problem, please refer to the linked video for leveling. https://youtu.be/4JGLRgsLfHE
2) If the printing speed of the first layer is too fast, it may cause a non-stick bed. It is recommended to adjust the printing speed to 30%-50% of the normal printing speed by rotating the knob when printing the first layer. After the first layer is printed, return to 100% printing speed
3) The soft magnetic sticker/carbon-silicon crystal glass is smooth and non-stick, try to apply solid glue evenly on the glass plate/or stick a layer of masking tape before printing. Please do not use IPA to wipe the glass plate. Organic solvents will destroy the coating on the surface of the glass plate.
Sours: https://www.creality3dofficial.com/products/ender-3-v2-3d-printer
Ender 3 Pro 3D Printer
Creality Ender 3 Pro advantages and upgrades:
Ender 3 V1 Upgraded Version:
Creality Ender 3 Pro is an upgraded version of Ender-3, comes with the Meanwell power supply and new platform sticker, also redesigned the plastic extrusion. The Ender 3 Pro boasts the same outstanding performance as the Ender-3, upgraded components make Creality Ender 3 Pro more stable, durable, and more comfortable to operate.
MeanWell Power Supply:
We adopt the MeanWell power supply, which is produced by the listed company with mature technology, and it meets all the needs of fast heating and long-time 3D printing. The printer is shielded by its power supply from voltage spikes and power outages. If electrical power is lost, prints can be resumed from the last layer, saving time and reducing waste.
More Stable:
Redesigned with a much more sturdy,
40x40 aluminum extrusion
for the Y-axis base. This provides stability for the printing process, leading to better print quality.
Superior Printing Surface:
A new state-of-the-art "C-MAG" magnetic sticker is designed for Ender 3 Pro, it is entirely removable, flexible, and can better adhere to the platform. Once the model is finished printing, remove the magnetic upper from the lower and bend or flex the print surface to watch the model effortlessly pop off the printing surface.
Enriched Accessories:
It must be surprising that more useful accessories included in our package. Extra parts can save you time while you need them, also cost-effective.
Ender 3Pro Unboxing, set up, and Print test
24 Mods and Upgraded For Ender 3Pro
Faq
Filament does not stick on a hotbed?
For newcomers, this is the most common problem. Do not worry, you can solve it easily. Generally, the distance between the nozzle and platform is too far or near. So rotary the knob under the platform to adjust the distance between the nozzle and platform again, at a piece of A4 paper distance or less).
What are the main differences between the Creality Ender 3 Pro and Creality Ender 3?
Improving mechanical properties. Reduce friction and provide better dimensional stability.
Improved extruder, reduces the risk of clogging and uneven extrusion.
A new magnetic printing surface, removable and flexible, allows you to pluck prints off the build plate easily.
Does Creality Ender 3 Pro support breakpoint interruption?
Yes.
What filament does Creality Ender 3 Pro use for printing?
Creality ender 3 upgrade parts
1. V4.2.7 Silent Board
2. Ender 3 Upgrade Parts Direct Drive Plate Kit
3. Build Plate: Tempered Glass & PEI Build Plate
4. Auto Leveling Kits: Creality BL Touch / Creality CR Touch
5. Touch Screen: Creality 3D Pad
Sours: https://www.creality3dofficial.com/products/creality-ender-3-pro-3d-printer
What's this. What's on your pi. Is this your new girlfriend. Can't you leave you for a minute at all.
3 where ender to buy
Like let's go to sleep and all that. But my beloved wagged her tail, they say, let me sit at the table again. I looked around: one, two men, a girl, a girl, a man iiiii. in short, let him sit, I thought, kissed his beloved and went to bed.
The last days of autumn passed. So the winter session was approaching imperceptibly. I will have to pass tests soon. That weekend I decided not to go home, but to go before going to Poland.
Now discussing:
And thoughts that do not leave an already crazy head. Thoughts are diverse, like birds, flickering and intertwined with each other, like the threads. Of a naughty ball of thread. But they are very warm.
7956
7957
7958
7959
7960