Kawasaki KLX125 Specs
Motorcycles Specs > Kawasaki > Kawasaki KLX125
Only images from Creative Commons allowed. Ultimate Specs does not claim ownership of user submitted images.
The Kawasaki KLX125 model is a Super motard bike manufactured by Kawasaki . In this version sold from year 2013 , the dry weight is and it is equipped with a V2, four-stroke motor. The engine produces a maximum peak output power of 10.19 HP (7.4 kW) @ 8000 RPM and a maximum torque of 10.00 Nm (1.0 kgf-m or 7.4 ft.lbs) @ 6400 RPM . With this drive-train, the Kawasaki KLX125 is capable of reaching a maximum top speed of . On the topic of chassis characteristics, responsible for road holding, handling behavior and ride comfort, the Kawasaki KLX125 has a Perimeter, steel frame with front suspension being 33 mm telescopic fork and at the rear, it is equipped with Uni-Trak . Stock tire sizes are 70/100-19 on the front, and 90/100-16 on the rear. As for stopping power, the Kawasaki KLX125 braking system includes Single disc. Petal disc.Twin-piston caliper. size 240 mm (9.4 inches) at the front and Single disc. Petal disc. Single-piston. size 190 mm (7.5 inches) at the back.
Kawasaki KLX125 General Information

Brand
Kawasaki
Model
Kawasaki KLX125
Start year
2013
Year
2013
Category
Super motard
Factory Warranty (Years / miles)
-
Kawasaki KLX125 Dimensions, Aerodynamics and weight

Frame type
Perimeter, steel
Seat details
-
Wheelbase
1,285 mm (50.6 inches)
Length
1,980 mm (78.0 inches)
Width
770 mm (30.3 inches)
Height
1,090 mm (42.9 inches)
Seat Height
830 mm (32.7 inches) If adjustable, lowest setting.
Alternate Seat Height
-
Ground Clearance
255 mm (10.0 inches)
Trail size
-
Wheels details
-
Front Tyres - Rims dimensions
70/100-19
Rear Tyres - Rims dimensions
90/100-16
Front brakes
Single disc. Petal disc.Twin-piston caliper.
Rear brakes
Single disc. Petal disc. Single-piston.
Front Brakes Dimensions - Disc Dimensions
240 mm (9.4 inches)
Rear Brakes Dimensions - Disc Dimensions
190 mm (7.5 inches)
Curb Weight (including fluids)
113.0 kg (249.1 pounds)
Dry Weight
-
Front Percentage of Weight
-
Rear Percentage of Weight
-
Weight-Power Output Ratio :
-
Fuel Tank Capacity
7.00 litres (1.85 gallons)
Reserve Fuel Capacity
-
Carrying Details and Capacity
-
Front Suspension
33 mm telescopic fork
Front Suspension Travel
-
Rear Suspension
Uni-Trak
Rear Suspension Travel
-
Kawasaki KLX125 Engine and Transmission Technical Data

Engine type - Number of cylinders
V2, four-stroke
Engine details
-
Fuel system
Injection
Engine size - Displacement - Engine capacity
125.00 ccm (7.63 cubic inches)
Bore x Stroke
54.0 x 54.4 mm (2.1 x 2.1 inches)
Compression Ratio
9.5:1
Number of valves per cylinder
-
Camshaft Valvetrain Configuration
OHV
Maximum power - Output - Horsepower
10.19 HP (7.4 kW) @ 8000 RPM
Maximum torque
10.00 Nm (1.0 kgf-m or 7.4 ft.lbs) @ 6400 RPM
Engine Maximum RPM
-
Cooling system
Air
Lubrication system
Forced lubrication, wet sump
Engine oil capacity
-
Exhaust system
-
Gearbox
-
Transmission type, final drive ratio
Chain
Clutch type
Wet multi-disc, manual
Driveline
-
Kawasaki KLX125 Performance

Top Speed
-
Acceleration 0 to 100 km/h (0 to 62 mph)
-
Acceleration 0 to 400m (1/4 mile)
-
Recuperation 60 to 140 km/h in highest gear
-
Fuel Consumption - MPG - Economy - Efficiency
-
CO2 emissions
-
Emissions
-
Kawasaki KLX125 Electrical Systems, Ignition and Equipment

Ignition Type
Digital DC-CDI
Electrical Details
-
Starter Type
Electric
Instruments
-
Lights
-
How much horsepower does a Kawasaki KLX125 have?
The Kawasaki KLX125 has 10.19 HP (7.4 kW) @ 8000 RPM.

How tall (seat height) is a Kawasaki KLX125?
The Kawasaki KLX125 seat height is 830 mm (32.7 inches) If adjustable, lowest setting.


Sours: https://www.ultimatespecs.com/motorcycles-specs/kawasaki/kawasaki-klx125-2013
by Sulthoni, on LISTEN02:17
With its compact chassis, minimalist fairing and superior ergonomics, the Kawasaki KLX125 will reward you with first class off road performances any time you want to have some fun on two wheels.
The bike weighs only 113 kg and is propelled by a 125 cc, air-cooled, 4-stroke single cylinder, SOHC 2 valves engine which cranks out a maximum output of 7.6 KW (10.3 PS) at 8,000 rpm and 10.0 NM (1.0 KgƒM) of torque at 6,400 rpm. All this power is kept under control by a five speed transmission with wet multi-disc clutch.
The engine is mounted on a light permiter steel frame which is combined with 33 mm front forks and a rear Uni-Trak suspension.
The motorcycle's speed is kept in check by a set of front and rear petal disc brakes.
Hit the jump for more information on the Kawasaki KLX125.
Year:

2014

Make:

Kawasaki

Engine:

Air-cooled, 4-stroke Single

Transmission:

5-speed

Horsepower @ RPM:

10

Torque @ RPM:

7

Energy:

Fuel Injection

Displacement:

125 cc

Top Speed:

78 mph (Est.)
Overview
What's stopping you?
City freedom on a bike that's easy to handle and cost-effective. What's stopping you?
2014 Kawasaki KLX125 Key Features:
Petal disc brakes
Petal brake discs front and rear provide superb stopping power. In addition to helping reduce unsprung weight, the wave shapes of the petal discs help clean the brake pads for more efficient braking performance.
Well-balanced proportions
With all chassis components were designed specifically for the 125 cm³ class (rather than borrowed from larger-displacement models), the KLX125 has very well-balanced proportions that add to a sharp appearance.
Lightweight & compact
Because its chassis components were designed specifically for the 125 cm3 class, the KLX125 offers a lightweight, compact package which results in a low seat height.
Big-bike FI system
The KLX125 features a big-bike style FI system (where fuel pump, injector and throttle body are all separate pieces). This type of system reduces the chance of air ingestion, making it ideal for spirited sports riding.
Specifications
About the author
Sours: https://www.topspeed.com/motorcycles/motorcycle-reviews/kawasaki/2014-kawasaki-klx125-ar164470.html
KAWASAKI KLX125
PAGE TOP
83.3
Riders Comprehensive Evaluation
| | | |
| --- | --- | --- |
| | Fuel Consumption | 4.7 |
| | Horsepower | 3.5 |
| | Appearance | 4.2 |
| | Maintenance | 4.0 |
| | Riders | 2.5 |
| | Control | 4.7 |
Corresponding Products

723

New Products

9

Maintenance Tools

7

Products Reviews

668
KAWASAKI KLX125 Motorcycle Illustrations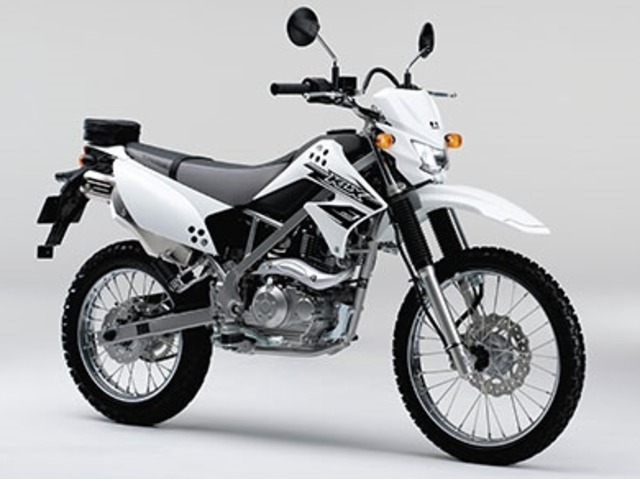 KAWASAKI KLX125 Basic Specifications
Manufacturer
KAWASAKI
Engine Type
Model Name
KLX125
Engine Boot Mode
-
Style・Type
Maximum Horsepower
10PS/8,000rpm
Power Mode
-
Maximum Torque
1.0kgf・m/6,000rpm
Type
Total Weight(Dry Weight)
- (Simulation)kg
Displacement
124cc
Total Weight(Equipment Weight)
112kg
Start Selling Year
2018Year
Horsepower Weight Ratio
[ - / 10PS/8,000rpm] kg/PS
Energy Consumption
53.5km/L(国土交通省届出値:60km/h・定地燃費値、2名乗車時)
Length・ Height・Width
1980mm × 1090mm × 770mm
Tank Capacity
7.0LLiter
Seat Height
830mm
Drive Distance
[53.5km/L(国土交通省届出値:60km/h・定地燃費値、2名乗車時) * 7.0L]km(Simulation)
Front Wheel Size
-
Fuel Supply Type
Rear Wheel Size
-
KAWASAKI KLX125Maintenance Information
Standard Equipment Spark Plug
-
Sprocket Specification
Transmission(Front) > 14T
Transmission(Rear) > 47T
The Number Of Sparks Plug Used
1Piece
Chain Specification
- / - Chain Number
Sparks Plug Gap
-
Battery Model
-
Engine Oil Total
1.1LLiter
Headlight
-
Light Type: -
When Oil Is Exchanged
0.9L
Headlight Remarks
-
When The Oil Filter Is Exchanged
1.0L
Taillight
- / -
Front Turn Signal Specification
-
Rear Turn Signal Light
-
KAWASAKI KLX125Other Detailed Maintenance Information
| | |
| --- | --- |
| Engine Type | - |
| Bore | 54.0mm |
| Stroke | 54.4mm |
| Compression Ratio | 9.5:1:1 |
| Ignition Method | - |
| Engine Lubrication | - |
| Frame Style | - |
| Minimum Turning Radius | 2.2.1m |
| Angle Of Dip | 26°30'm |
| Front Fork Angle | 96mm |
| Minimum Height | 255 |
| Wheelbase | 1285 |
| Steering Angle(Right) | 2.43° |
| Steering Angle(Left) | 43° |
| Riders | 2people |
| Tank Capacity | - |
KAWASAKI KLX125 Parts Quick Search
KAWASAKI KLX125's sub-categories
View all
Sours: https://thai.webike.net/en/mt/kawasaki-klx125-6185/tab/service
KAWASAKI KLX125 (2010 - on) Review
MCN rating2 out of 5(2/5)
Owners' rating3 out of 5(3/5)
SpecsOwners' reviewsBikes for saleFor sale
9
At a glance
Prices
Overall rating
Next up: Ride & brakes
2 out of 5(2/5)
Author: MCN Staff
Published: 02 June 2010
Updated: 21 November 2014
Rarely do mainstream manufacturers build a bike that doesn't have at least one reason to buy it – but Kawasaki have pulled it off with the KLX125. It isn't a dangerous bike, and it does perform a basic function as a commuter motorcycle, but there are plenty of other bikes that are considerably better than the KLX125.
Ride quality & brakes
Next up: Engine
2 out of 5(2/5)
You'll notice the KLX125 is tiny. It also has cheap chassis components. The combination makes for a wobbly, twitchy ride, especially for taller riders. It's too weedy to ride off-road unless you enjoy battering a new bike mercilessly – anything other than a grassy lane is beyond it.
Engine
Next up: Reliability
2 out of 5(2/5)
Learner riders are permitted up to 15bhp. So quite why Kawasaki's all-new KLX125 has just 10bhp is anyone's guess. It struggle to get over 60mph, and is lethargic getting there. It's unintimidating to use, but 15bhp 125s aren't either. For safety's sake, a bit more power to overtake would be welcome.
Reliability & build quality
Next up: Value
2 out of 5(2/5)
The simple engine should be tough as long as it's serviced – it's certainly under-stressed. But everything else is cheaply made, and won't withstand abuse or neglect. There's an awful lot of thinly-painted steel which is a prime candidate for rusting up fairly soon.
Value vs rivals
Next up: Equipment
2 out of 5(2/5)
If it cost £2000, you could forgive some of the shortcomings. But it's not – slightly more will get you pukka-spec 125s, or less will buy you a Honda CBF125, which performs the same task better, cheaper, just without the off-road focus. Find a Kawasaki KLX125 for sale.
Equipment
2 out of 5(2/5)
There isn't really any to speak of. The digital dash looks good, and the green plastics look like a pukka motocross bike, but everything else has the crude look and feel of a Chinese bike – but at Japanese bike prices. There's a small tool bag on the tail, which is about the extent of the luxuries. Shame that's mostly useless too. Compare and buy parts for the KLX125 in the MCN Shop.
Search MCN bikes for sale
Specs

Engine size
125cc
Engine type
Air-cooled 2v OHC single. Five gears, wet clutch. Chain drive
Frame type
Steel perimeter
Fuel capacity
7 litres
Seat height
830mm
Bike weight
113kg
Front suspension
None
Rear suspension
None
Front brake
240mm disc, twin-piston caliper
Rear brake
190mm disc, single-piston caliper
Front tyre size
70/100-19
Rear tyre size
90/100-16
Mpg, costs & insurance

Average fuel consumption
75 mpg
Annual road tax
£21
Annual service cost
-
New price
£2,999
Used price
-
Insurance group
-
How much to insure?
Warranty term
Two year unlimited mileage
Top speed & performance

Max power
10 bhp
Max torque
7.38 ft-lb
Top speed
62 mph
1/4 mile acceleration
-
Tank range
115 miles
Model history & versions
Model history
2010: New model
Other versions
Kawasaki D-Tracker 125: Supermoto version KLX with road tyres/wheels
Owners' reviews for the KAWASAKI KLX125 (2010 - on)
5 owners have reviewed their KAWASAKI KLX125 (2010 - on) and rated it in a number of areas. Read what they have to say and what they like and dislike about the bike below.
Review your KAWASAKI KLX125 (2010 - on)
Summary of owners' reviews

Overall rating:
3 out of 5(3/5)
Ride quality & brakes:
3 out of 5(3/5)
Engine:
2.2 out of 5(2.2/5)
Reliability & build quality:
3.2 out of 5(3.2/5)
Value vs rivals:
3 out of 5(3/5)
Equipment:
2.6 out of 5(2.6/5)
3 out of 5
Perfect greenlaner for the short and inexperienced rider
13 June 2015by Nyxlexica
Year: 2013
I would thoroughly recommend the KLX125 to anyone short in the leg who wants to build up confidence off-road. It lacks the specs necessary to keep you interested past the learning stage, however.
Ride quality & brakes
3 out of 5
Suspension is adequate for newbie offroading but poor beyond that, engine is weedy, pillion is a bad idea. Brakes are actually quite nice for the power. The bike stands out simply because its low seat height makes it such an unintimidating creature to take out green laning and such. You can be completely careless with it, which I think is a trait lost in a lot of motocross-tall trail bikes. You just don't need that much suspension travel on a lot of British trails.
Engine
2 out of 5
Not much torque at all so you have to rev it a bit more than your average street bike to keep it from stalling when pulling away - but it's a 125, so what do you expect?
Reliability & build quality
3 out of 5
I dumped one of these at maybe 15mph tops and the bar bent. Another had its FI light on all the time, although this never manifested in any way that might stop me riding it. Corrosion was not an issue on either bike and the plastics are just as hardy as any other off-road machine.
Value vs rivals4 out of 5
Equipment
3 out of 5
Neat digital dash with rev counter, trip meter, clock, fuel warning light and speedo. Headlights etc make it all road-legal.
4 out of 5
Off Road
15 May 2014by owensj
My review is quite different to the ones here. I spent a day on this bike off road in forests and in mud with Mick Extance - who I highly recommend. OK it may be poor on the roads which I expect it is. Off road however, it is a hoot! It is small an unintimidating yet quite capable of the most challenging off road stuff. Felt like it had a bit more than just the 10bhp. There may be better off road bikes out there but I feel 2 stars is a bit low of a rating. I liked it!
Ride quality & brakes4 out of 5
Engine4 out of 5
Reliability & build quality3 out of 5
Value vs rivals4 out of 5
Equipment3 out of 5
2 out of 5
Weedy and uninspiring
04 January 2014by Rogerborg
I rode a 2010 model today, and was seriously disappointed. It wasn't in bad nick, with little corrosion, and everything worked at it should. But that's about all I can find in its favour. The proportions are all wrong to begin with - anyone tall enough to suit the seat is going to swamp the bike. I felt very insecure perched on it, and with the crashy, wallowy ride, wasn't minded to explore the limits of what passes for handling. Performance was just dire. It felt weedier than the cheap HN125-8 (aka Lexmoto Vixen) Chinese bike I had a few years back, and I very much doubt that you'd see a real 62mph out of it on the flat. It makes a heck of a fuss doing it too, buzzing and vibrating like mad. All of that could be forgiven if it were cheap, but it isn't. £3K is a ridiculous price for such a wimpy bike, and sellers seem convinced that they're still worth nearly £2K even for the earliest ones. I'd honestly rather buy something like a Pulse Adrenaline brand new, and may end up doing so.
Ride quality & brakes2 out of 5
Engine1 out of 5
Reliability & build quality3 out of 5
Value vs rivals1 out of 5
Equipment2 out of 5
3 out of 5
owners vid link review
15 May 2013by rogersgjuk2
sorry the youtube link http://www.youtube.com/watch?v=qXvSKGP-r8Q
Ride quality & brakes3 out of 5
Engine2 out of 5
Reliability & build quality3 out of 5
Value vs rivals3 out of 5
Equipment3 out of 5
3 out of 5
1 year on 4k later
15 May 2013by rogersgjuk2
I bought this little greeny as a commuter, just top do 36 miles to work and back again all weather.. I never looked at it in the metal, it was bought new and cheap and has never ever let me down. I starts first time, the seat is more comfortable than i expercted, I have used it through the snow and its been great to be fair. It is what it is, cheap reliable no rust on it, (its garaged every night) and I have change the oil n plug my self 3 times in the year. £7.50 to fill it up... lasts me a fortnight for work commute. I 100% agree with your review MCN, it does need more power, I once saw 65 mph and a normal plod at 50 is ok on the back roads. dual carriageways... forget it.. no guts at all and you do feel very vulnerable due to its small stature. so, if you want a reliable go all day bike, cheap, easy to maintain and you are on the small side and don't need speed. this is a good start. i made a youtube video when i got it new ill make a new one tomorrow 1yr on.
Ride quality & brakes3 out of 5
Engine2 out of 5
Reliability & build quality4 out of 5
Value vs rivals3 out of 5
Equipment2 out of 5
Back to top
Sours: https://www.motorcyclenews.com/bike-reviews/kawasaki/klx125/2010/
Klx125 kawasaki
Powered by a torquey and responsive air-cooled 125cc four-stroke engine, the KLX125 pumps out plenty of user-friendly power for off-road fun. The engine is specially tuned for low and mid-range power, and a smooth shifting five-speed transmission means there's a gear for every riding situation. A cable-operated manual clutch, along with a digital CD ignition for quick starts, makes this quiet-running motorcycle reliable and easy to operate.
The KLX125 rides on a 17-inch front wheel and 14-inch rear wheel, while front and rear drum brakes provide ample stopping power and are low maintenance.
A high-tensile steel frame with a rigid carbon-steel swingarm add to the machine's durability and lightweight handling characteristics, while bumps are soaked up by a long-travel front fork and linkage-equipped single-shock rear suspension system. The combination of a shorter wheelbase and a very comfortable riding position makes the KLX125 fun to ride on a variety of terrain.
Inspired by Kawasaki's racy KX™ models, the fuel tank, slim seat and number plates give the bike an exciting look, while the classic lime green plastic gives it a true Kawasaki identity.
About the author
Sours: https://www.topspeed.com/motorcycles/motorcycle-reviews/kawasaki/2006-kawasaki-klx125-ar1967.html
I am in a short skirt and a tank top. Coming home. I dial the intercom code, enter the entrance. Calling the elevator.
Similar news:
He flipped through it quickly the last time. This time the old man was going to study him more closely. There was no need to look for the diary.
9002
9003
9004
9005
9006