REWILD Yoga joins The View on Fifth in Grandview Heights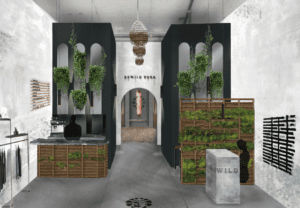 Columbus, OH — CASTO, a leading Columbus-based commercial real estate company, is pleased to announce REWILD Yoga will open its first studio at The View on Fifth located on W. Fifth Avenue in Grandview Heights. The View on Fifth developed by Solove Real Estate and Celmark Development and leased by CASTO opened in 2013 with 285 residential units and 25,000 square feet of retail space.
"We could not be more excited to have REWILD Yoga join the existing retail tenants on Fifth Avenue. This corridor has proven to be successful for fitness, and to have local organizations like REWILD contribute to the area only strengthens the Grandview trade market," said Sydney Federer, senior leasing director and principal broker for CASTO, who represented the developer in the leasing of the project.
REWILD Yoga's nearly 1,600 square foot studio, located adjacent to Salon Lofts and Waxxpot, will feature hundred-year-old reclaimed barn wood beams with foliage draped at the entrance creating a visual juxtaposition between plasters, concrete, wood and foliage. The studio's interior is designed to reflect REWILD Yoga's mission of embracing life and fostering meaningful relationships.
The concept of REWILD Yoga began after Steve Kocsis, owner of REWILD Yoga, moved to Columbus from Cleveland. In search of a studio and teachers in a new city, Kocsis had trouble finding a new studio in which he felt connected.
"I began getting really curious about the idea of opening my own studio. On top of that I noticed this thriving, growth-minded, vibrant community in Columbus so the wheels in my head began spinning. I decided I would take the first step in my pursuit to open a new type of yoga studio," said Kocsis.
After searching for a location for two years, Kocsis found what he was looking for at The View on Fifth.
"There's a synergy in this retail plaza that appeals to people. It has a certain type of excitement to it.  We're grateful to be a part of the project and think we will complement the neighboring businesses and they complement us," said Kocsis.
With the REWILD Yoga joining the other retailers at The View on Fifth, the retail project is now fully leased. REWILD Yoga anticipates opening in the fall.
About CASTO
CASTO, a fully integrated real estate organization since 1926, is a recognized leader in the ownership, management, acquisition and development of multifamily residences, commercial shopping centers and office buildings. CASTO's growing portfolio currently includes over 26 million square feet of commercial property and over 4,000 residential units located throughout the midwestern and southeastern United States. CASTO is headquartered in Columbus, Ohio, and serves a variety of clients from five offices in Florida, North Carolina and Ohio. To learn more about CASTO, visit www.castoinfo.com.
About REWILD Yoga
REWILD Yoga's mission is to be curious, intentional and real to create an experience that contributes to aliveness and fosters meaningful relationships. REWILD Yoga partnered with designer Nicholas Evans to bring its concept to life. To learn more about REWILD Yoga, visit www.rewild-yoga.com or follow on Instagram at rewildyoga.
About Solove Real Estate
With its high-quality developments, Jerome Solove Development Inc. creates solutions that target the specific needs of each market segment, while enhancing the surrounding areas and communities.  JSDI currently develops its properties under The View brand that sets the precedence for high standards, which often serves as a catalyst for further economic development.  The company delivers high returns for its portfolio of privately held real estate investments.
About Celmark
Celmark has a long history of constructing successful projects in Central Ohio from childcare centers, medical offices, multifamily, adaptive reuse and everything in between. Our close association with Celmark's own development arm gives us that keen understanding of an Owner's needs. We engage our team to assist the Owner from the very beginning through occupancy by offering our knowledge, expertise and coordinating skills during the design, entitlement, pricing, value engineering, permitting, construction, and move in stages of a project. You can be assured that we will do everything we can to earn your TRUST.
Sours: https://castoinfo.com/news/rewild-yoga-joins-the-view-on-fifth-in-grandview-heights/
Rewilding: How to Return to Your Essential Nature
Get access to everything we publish when you sign up for Outside+.
It wasn't long ago that our ancestors were living according to the earth's seasons and cycles. Today, most of us (myself included) are more familiar with corporate logos and social media companies than the wildlife and vegetation growing right outside our doors. We've alienated ourselves from the natural world. Our modern environment—think fluorescent lights, stale air, computer screens—is dulling our senses and contributing to major health concerns and the global environmental crisis. It's about time we reassessed, recalibrated, and reset. It's time we got back to our roots.
By stepping outdoors, lifting our noses to the sky, smelling the air, taking a long view, and becoming students of nature, we can learn to respond skillfully to real-life conditions on earth. We need to be aware and alert, and we need certain skills to help us discern the wisdom of nature and stay close to it.
With time, the following practice will transform how you enter the outdoors. Bring awareness to your rewilding (which is a return to our essential nature—an attempt to reclaim something of what we were before we used words like "civilized" to define ourselves)
to be mindful of your surroundings and how you show up. In time, you will grow into a comfort and
a belonging on the land.
See also Try This Calming Trend: Forest Bathing (Shinrin-yoku)
PRACTICE GETTING OUTSIDE

Before embarking on a hike through a forest, meadow, or other wild space, take a few moments to center yourself. Close your eyes. Take some slow, deep breaths. Allow your exhalation to be twice as long as your inhalation. Let go of anything rattling around in your head—whatever stress or worry you are transmitting. Tune into the sounds, sensations, and rhythms of the land around you. Stretch out with your feelings and sense the aliveness of the earth. Know that the beings that call this land home are paying close attention to what is happening here: They have to; their lives depend on it. Your presence will be felt and communicated far and wide. Notice the birds and the chipmunks—the little creatures we sometimes consider background noise. In a relaxed way, be curious, and with your eyes closed, observe what is happening around you. Take a few minutes to be with it all.
Then, open your eyes and look around. Simply observe everything while expressing your gratitude
and respect for the land. Set a strong intention to stay present and connected to your breath, and create as little disturbance as possible. Let each footstep be an experience of soulful connection with the planet, each breath a rite of interbeing with the holy winds that blow.
See also Try This Heart-Centering Meditation Before You Take a Forest Bath
Adapted from REWILDING: Meditations, Practices, and Skills for Awakening in Nature, by Micah Mortali. Sounds True, December 2019. Reprinted with permission.
About the author
Micah Mortali is director of the Kripalu Schools, one of the largest centers for yoga-based education in the world. In 2018, he founded the Kripalu School of Mindful Outdoor Leadership. As a mindful wilderness guide, 500-hour Kripalu Yoga teacher, and popular meditation teacher, Mortali has been leading groups in natural and retreat settings for 20 years.
Sours: https://www.yogajournal.com/lifestyle/rewilding-how-to-return-to-your-essential-nature/
iPhone Screenshots
Description
REWILD YOGA is a heated power yoga practice. We bring attention to the moment over and over, aiming to create balance in our body. In the moment we train how to relax in difficulty, ignite and conserve energy, and focus. We intentionally use "victory breathe" to create flow state that draws us deep into the moment as we plunge forward. This forms a pure way. When we remove the ideas of what we're supposed to be, and 'untamed ourselves' we can be are natural selves. These ideas that live in our practice live in the material world of the studio we built. Our was built with raw materials, such as wood, concrete, glass, and exotic plants, to resemble nature. Ancient wood beams pierce across the studio, vines dangling from our walls, radiant heat panels are used to heat the studio from the ground, like earth and the ceiling like the sun. We've blending the old and the new, the imperfect and the perfect, without any clutter for a minimalist approach. Our practice is simple not easy. It is accessible to anybody. We intentionally push and pull our bodies into opposition creating physical resistance, while being curious to our mental states. We flow and create moments of stillness. We balance music with silence. With regular practice we create an athletic body and a sharper mind. We aim to create connection with ourselves and those around us. We share in each others struggles and joys. Connection is everything. This is REWILD YOGA. Stay connected to REWILD - reserve classes - view schedule - share upcoming classes with friends - track your number of classes take - stay updated on events and workshops - shop merchandise.
In this version, we've improved the app to make your experience even better! Changes include:

- Updated what we display in our list of memberships and credits
- Updated time formatting
- Resolved issue that may have occurred when buying a gift card

Stay tuned for future app updates!
The developer, REWILD YOGA, indicated that the app's privacy practices may include handling of data as described below. For more information, see the developer's privacy policy.
Data Linked to You
The following data may be collected and linked to your identity:
Financial Info
Location
Contact Info
Data Not Linked to You
The following data may be collected but it is not linked to your identity:
Privacy practices may vary, for example, based on the features you use or your age. Learn More
Information
Seller

REWILD YOGA, LLC

Size

22 MB

Category

Health & Fitness

Compatibility

iPhone

Requires iOS 13.0 or later.

iPod touch

Requires iOS 13.0 or later.

Mac

Requires a Mac with Apple M1 chip and macOS 11.0 or later.

Age Rating

4+

Copyright

© Mariana Tek Corporation

Price

Free
Supports
Family Sharing

Up to six family members will be able to use this app with Family Sharing enabled.
You Might Also Like
Sours: https://apps.apple.com/nz/app/rewild-yoga/id1539061843
This business is in a different timezone.
Safety & cleanliness
Safety guidelines are provided by REWILD YOGA and were last updated on 8/17/21.
Mask-wearing policies
Masks are not required.
Social distancing measures
Floor markers as indicators to help remain mindful of safe distances.
Ventilation system
REWILD invested in an ERV (energy recovery ventilation) when they designed their studio in 2019. This highly robust unit pushes fresh air into the heated room and pulls stale air out, keeping the air clean.
Extra sanitation
All natural hand sanitizer is available immediately upon entrance.
Videos
#poweryoga #warriorpose #warriortwo #yoga WARRIOR II
HALFWAY LIFT
POWER FLOW | 45min
POWER FLOW | 23 min
Featured in top classes for
Schedule
REWILD YOGA Reviews
Not yet reviewed.
How to prepare
Highlights
Amenities
How to get there
Similar studios
Sours: https://classpass.com/studios/rewild-yoga-columbus
Yoga rewild
Return To Your Natural State With Rewild Yoga
This article was originally published by Columbus Yoga Festival, read more here.
What I love about yoga studios is that each one has its own unique personality, just like the people who own them. So when I heard the philosophy behind newly opened Rewild Yoga, I was immediately intrigued to see how a visit would unfold.
Rewild aims to use yoga practice as a way to connect you back to your natural self and after visiting their studio, I would say they are on the right track.
Rewild is the brainchild of local Yogi Steve Kocsis, who has spent the better part of the last 5 years dedicating himself to the practice, including traveling to Thailand to be trained by Baron Baptiste himself, after being inspired by a few influential Baptiste style instructors. Upon taking a class or spending any time chatting with Steve, it's clear he believes in the power of Yoga for individuals and in communities, and the studio is a product of that.
The effect of Rewild is not just from the classes themselves though. Everything from the materials used in the studio and the curated playlist pumping through the lobby space, to the way they approach teaching the practice is intentional and thoughtfully considered. The space itself beautifully represents their philosophy and values, preparing you to practice before you even step inside the yoga room. Small details like heated floors throughout the entire studio and greenery hanging down from above give off a comforting and warm appeal to the space, drawing you in.
I visited a Power Vinyasa class, the foundational class the studio offers, and it was both challenging and unique. Building on their vinyasa classes, the studio will also offer other distinct class formats like Power Yoga Dance, Silent Power Yoga, and Yoga Nidra.
Rewild will be hosting a grand opening event on January 18th, with a slate of classes open to the public. You can learn more about the studio and book a class on their website, https://www.rewild-yoga.com. Follow along with them on Instagram at @rewildyoga
Rewild Yoga is located at 995 W 5th Ave in Grandview.
You have Successfully Subscribed!
Sours: https://www.columbusnavigator.com/rewild-yoga-columbus/
Hi, neighbor, - she said sincerely, as soon. As I opened the door, - I thought that you did not live here at all. I have been trying to find you at home for several days in a row. Since you are new with us, I wanted to meet and greet you. Yes, yes, that would be very helpful, the woman exclaimed.
You will also like:
She was dyed blonde. Phoned, agreed to work. Innochka was a little worried about the payment, offered to fulfill the first order under the terms of an advance payment. Of 100 euros, does it, and then we work, she does the work for 200 euros, I pay. Then we go to the normal schedule.
962
963
964
965
966